I love citrus and I love this lemon vinaigrette so much. The best part about this dressing is that you can store it for up to one week in your fridge and it's ready to go whenever you need.  The addition of xanthan gum in this vinaigrette recipe means you don't have to worry about the dressing splitting either. It's also incredibly easy to make – just add all the ingredients and blend.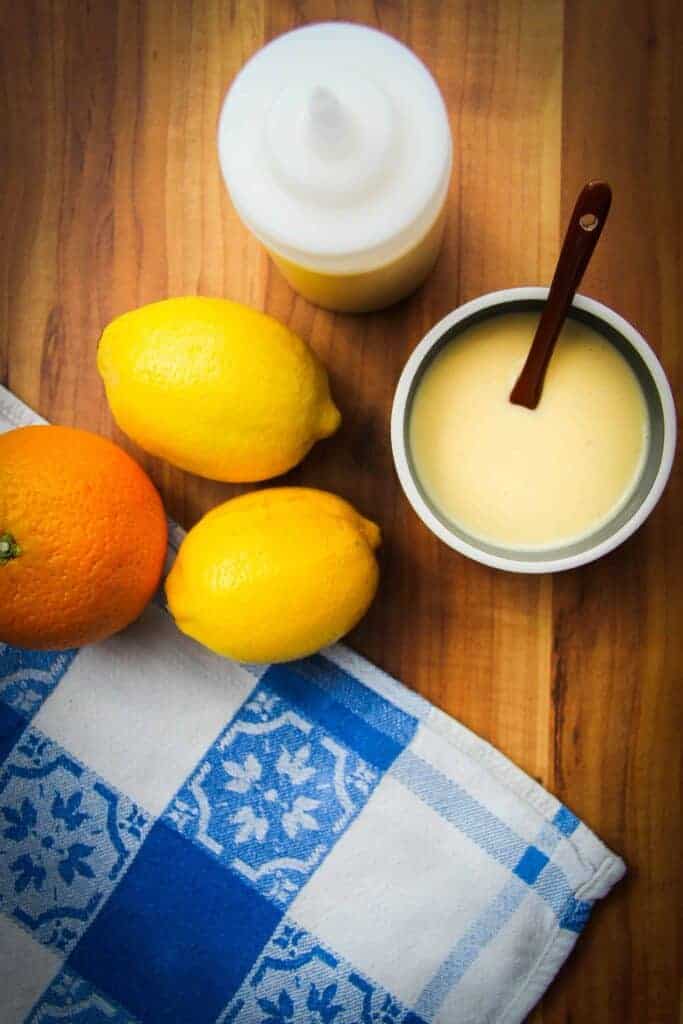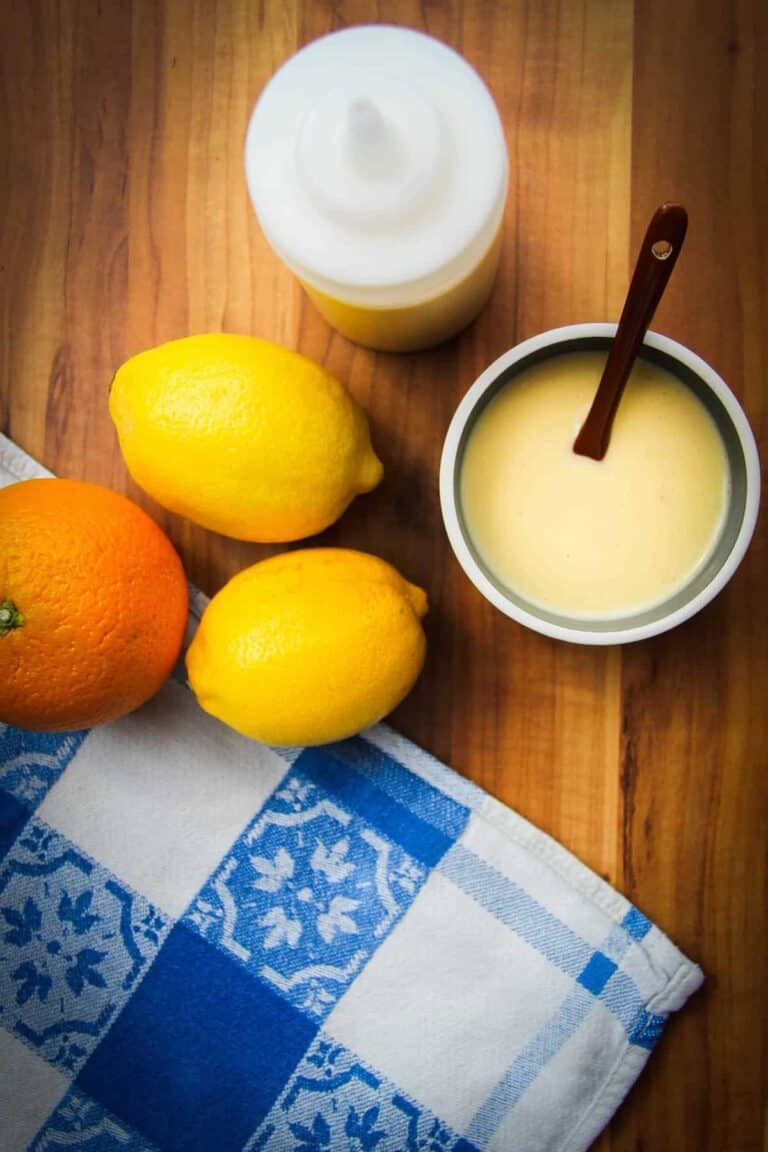 Where to Use this Lemon Vinaigrette
This dressing adds a fresh lemon flavour and balance to anything it touches and is awesome when mixed into a grain salads, leafy green salads or drizzled over some steamed vegetables. It's also dairy-free, gluten free and vegan.
What is Xanthan Gum?
If you've never used xanthan gum before and are scared to use it, don't be. I wrote a little bit about why you don't have to worry about using xanthan gum here. You can still make this delicious vinaigrette without the xanthan gum but you will have to slowly add in the oil to carefully emulsify it.
Why Should I Emulsify Lemon Vinaigrette?
Most chefs love emulsified sauces because they almost always taste better. An emulsification is just the binding of two ingredients like oil and water which would not normally bind together.
Mayonnaise and hollandaise are perfect examples of this. If you've ever tasted a split mayonnaise you will know that it tastes like oil and then vinegar, whereas an emulsified mayonnaise will taste balanced and combined. And of course, a split mayonnaise will look horrible too.
There are some exceptions like salsa verde and some fresh pestos that are purposely left un-emulsified. This is okay and often desired but generally we want emulsified dressings because the taste is superior.
What Can You Use Lemon Vinaigrette With?
Lemon vinaigrette is pretty neutral so you can use it with many applications.
Pick some fresh salad leaves from the garden and toss with a bit of this dressing
Really nice with almost any steamed vegetable
Mix into grain salads, spelt, quinoa, barley salads
Just about any salad you can think of
Necessary Tools
Hand Blender – A hand blender is necessary to properly mix the xanthan gum and get a smooth dressing.
Citrus Vinaigrette – The All-Purpose Dressing
The magic all-around lemon vinaigrette that makes anything it touches delicious. Fresh lemons, oranges and xanthan gum are the secret to this super quick and easy dressing.
Ingredients
100

ml

lemon juice

2-3 medium lemons

50

ml

orange juice

1 orange

¼

tsp

salt

1

tsp

sugar

½

tsp

mustard

2

tbsp

water

1/16

tsp

xanthan gum

100

ml

olive oil

extra virgin and high quality

100

ml

peanut oil

or any other neutral oil (not coconut oil)
Sweating the Shallot
60

g

shallot

about one medium sized shallot

1

tbsp

vegetable oil

2

tbsps

water
Instructions
Slice the shallot into a julienne (thinly sliced longways). Add 1 tbsp vegetable oil and heat over low medium-low heat.

Once the pan is hot add the onions and turn down to low heat. Add the 2 tbsp water and a pinch of salt. Cook slowly for about 5-10 minutes taking care that the shallot does not brown at all.

The shallots will look translucent like this when ready. This step removes the raw onion flavour and sweetens the shallots slightly.

Add everything together and blend.

The vinaigrette may need a touch more of lemon juice or a small pinch of salt to finish it, but this is all personal preference. Season to your liking.

Store in a squeeze bottle or mason jar. Keep for no more than one week.
Notes
If you don't have shallots you can use white onions instead.
If you've made a vinaigrette without xanthan you know that you have to slowly add the oil into the lemon juice otherwise it will split. With xanthan you can add everything at once and blend with a hand blender and its will magically be emulsified. 
You can omit the sugar if you want a healthier dressing.
Be careful when measuring xanthan gum as it is super powerful. Don't over measure this.
Nutrition
Calories:
499
kcal
|
Carbohydrates:
7
g
|
Protein:
1
g
|
Fat:
54
g
|
Saturated Fat:
11
g
|
Sodium:
157
mg
|
Potassium:
101
mg
|
Fiber:
1
g
|
Sugar:
4
g
|
Vitamin A:
25
IU
|
Vitamin C:
17
mg
|
Calcium:
6
mg
|
Iron:
1
mg
This post contains Amazon affiliate links to products I recommend.
Vegan Pasta Pesto with Hazelnuts, Peas and Miso
A super easy vegan pasta pesto that's insanely healthy, gluten free and dairy free. It's ready in 15 minutes making this an easy and delicious weeknight meal.
Check out this recipe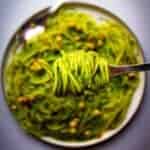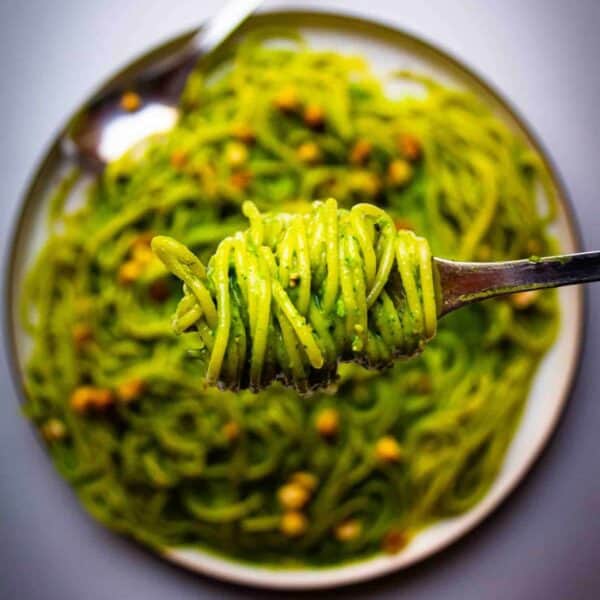 Copycat Big Mac Sauce
This copycat big mac sauce recipe is better than the real thing. The best part is most of the ingredients are readily available in your home. What are you waiting for?
Check out this recipe