This peanut sauce is so good I want to dunk everything in it.
This is meant to go with my chicken satay recipe but you could drizzle this over steamed vegetables, pork chops or fried green beans for a few other tasty options.
Making the sauce is so much fun because the house will smell amazing while you prepare it.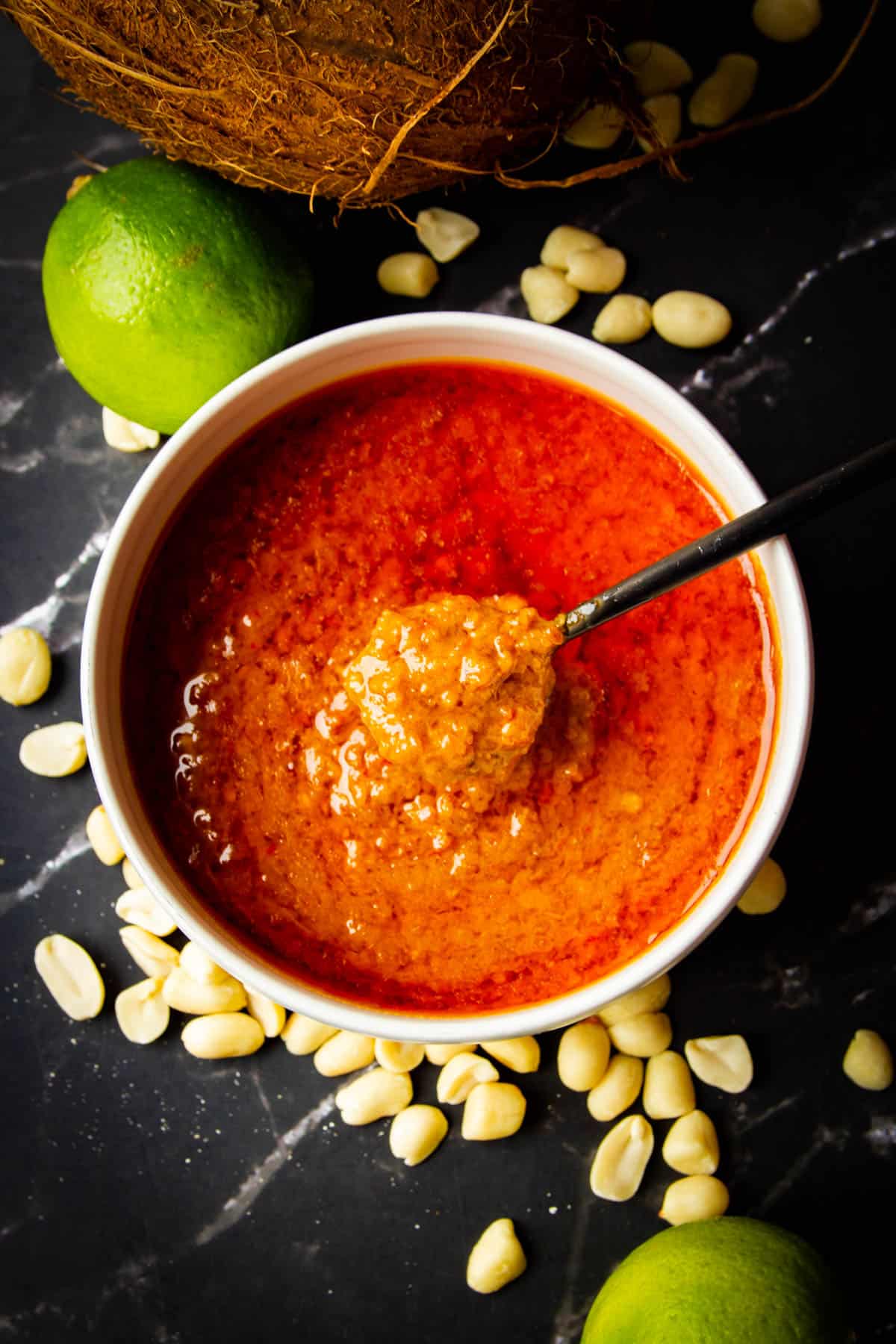 How to Make Peanut Sauce
The sauce requires some ingredients that may be difficult to find. Tamarind and kecap manis are essential for this sauce.
Kecap Manis – Essentially a sweetened and flavoured soy sauce that is used extensively in Indonesian cuisine. Kecap Manis is widely available here in the Netherlands but can be difficult to find elsewhere. If you can't find it then add 1 tsp of palm/white sugar to every tbsp of soy sauce.
Palm Sugar – I love this stuff. Slightly less sweet than normal sugar and gives a rich flavour to the dish. You can substitute with brown sugar but add half as much as palm sugar is less sweet.
Tamarind – Probably the hardest to find but you can't omit this one. Tamarind pulp that is de-seeded is exactly what you want. This gives the sauce a nice sour flavour and brown colour.
Lemongrass – Sometimes difficult to find but the aroma is second to none.
Plain, blanched peanuts – Roasting the peanuts yourself not only smells amazing but also makes the sauce tastier.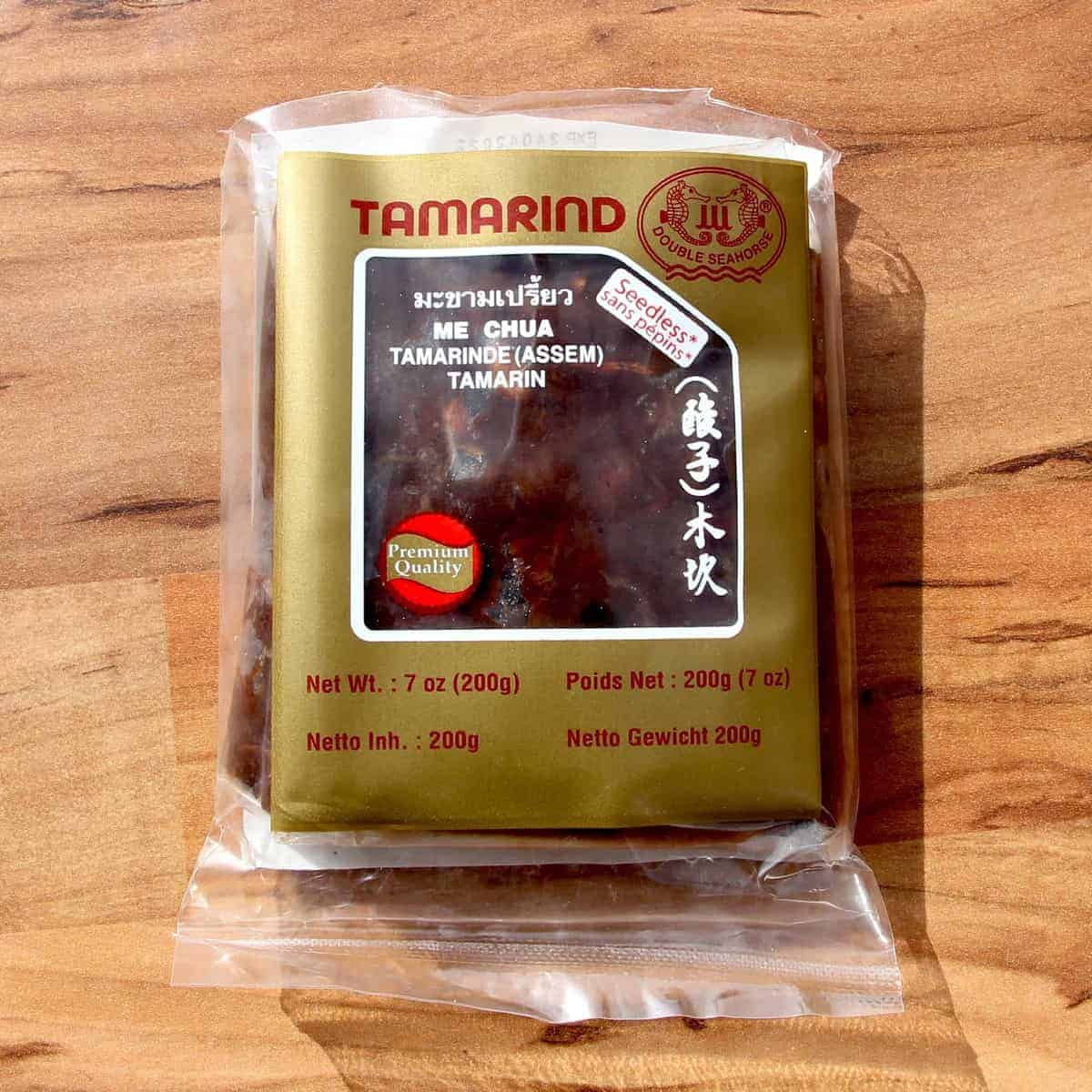 Is There a Quicker Peanut Sauce?
Sometimes you're in a rush and you don't have time to make the real deal.
No problem.
This recipe is way faster, requires no cooking and is still 100x better than any store-bought peanut sauce.
Fast Peanut Sauce
150ml roasted and salted peanuts
½ lime, juiced and zested
1 tbsp smooth peanut butter
¼ cup coconut milk
½ clove garlic
½ fresh chili
½ tsp ginger
2 tbsp kecap manis (or 2 tbsp soy sauce with 2 tsp sugar)
¼ cup coconut milk
A couple of drops of Worcestershire/fish sauce
Blitz everything together in a food processor. Add salt to taste. If the sauce is too thick add a bit more coconut milk or water until it's nice and saucy.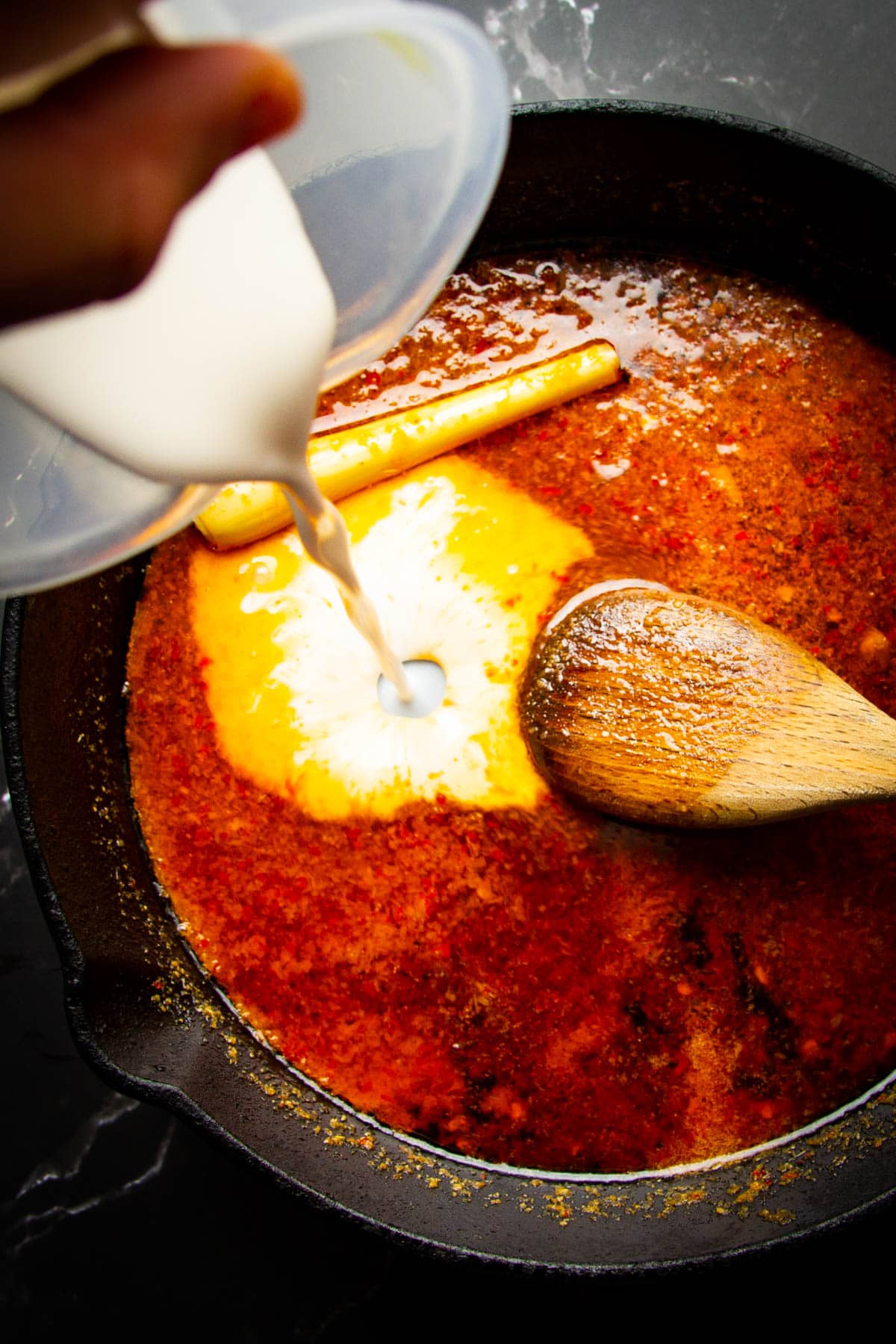 Sweet and Spicy Peanut Sauce – The Real Deal
A delicious recipe for peanut sauce that is a must-have with chicken satay. Sweet, tangy, slightly spicy makes and the perfect accompaniment to any steamed vegetable, rice, chicken or pork dish.
Ingredients
For the Spice Paste
8

g

garlic, peeled

(2 cloves)

7

g

ginger, peeled

(about the same amount as the garlic)

13

g

lemongrass, chopped finely

(½ stalk)

1

whole

chili

85

g

peanut oil, or vegetable oil

(¼ cup)
The Rest
½

stalk

lemongrass

65

g

peanuts, unsalted, not roasted

(¼ cup)

16

g

kecap manis

(1 tbsp)

10

g

palm sugar

(3 tsp)

¼

piece

lime, juiced

87

g

coconut milk

(¼ cup)

5

g

salt

(1 tsp)
Tamarind Water
22

g

tamarind pulp, de-seeded

(1 tbsp)

62

g

hot water

(¼ cup)
Instructions
Set the oven to 190°C/375°F and roast the nuts on a tray until dark brown, about 7 minutes.

Pulse the nuts in the food processor until fine but not a paste.

Add the hot water to the tamarind and let sit for 10 minutes.

Blend all the ingredients for the spice paste together.

Strain the water from the soaked tamarind pulp. Discard the pulp and set aside the tamarind water.

Cook the spice paste over low heat for about 5 minutes until it smells aromatic. Add the lemongrass stock.

Add all of the other ingredients except the peanuts and cook out until slightly thickened. About 5-10 minutes.

Once slightly thickened, add the peanuts and turn off the heat. Check the seasoning.

Let cool slightly and serve at room temperature. Enjoy!
Notes
If the sauce is too thick just add 1 or 2 tbsps of hot water and mix. 
This sauce will keep for up to a week in the fridge and freezes well.
You'll notice that the sauce splits but this is how it's meant to be served.
This recipe is inspired by Rasa Malaysia's authentic peanut sauce which I think is prepared well. 
Nutrition
Calories:
374
kcal
|
Carbohydrates:
16
g
|
Protein:
5
g
|
Fat:
34
g
|
Saturated Fat:
9
g
|
Polyunsaturated Fat:
9
g
|
Monounsaturated Fat:
14
g
|
Sodium:
568
mg
|
Potassium:
247
mg
|
Fiber:
2
g
|
Sugar:
9
g
|
Vitamin A:
7
IU
|
Vitamin C:
3
mg
|
Calcium:
26
mg
|
Iron:
2
mg
Want More Recipes?
These Charcoal Grilled Chicken Satays
Charcoal Grilled Chicken Satays
Charcoal grilled chicken satays are an easy crowd pleaser. Juicy pieces of coconut-marinated chicken thigh grilled over charcoal fire and served with an incredible peanut sauce.
Check out this recipe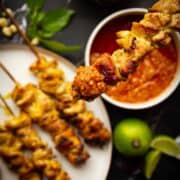 My Ultimate Pressure Cooked Beef Pho
Pho Tai – The Ultimate Beef Bone Broth
How to make Pho Tai – a Vietnamese beef bone soup with rice noodles, basil, ginger and thinly sliced beef. This recipe uses the instant pot to make it in 3 hours start to finish.
Check out this recipe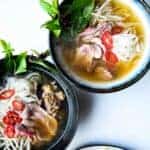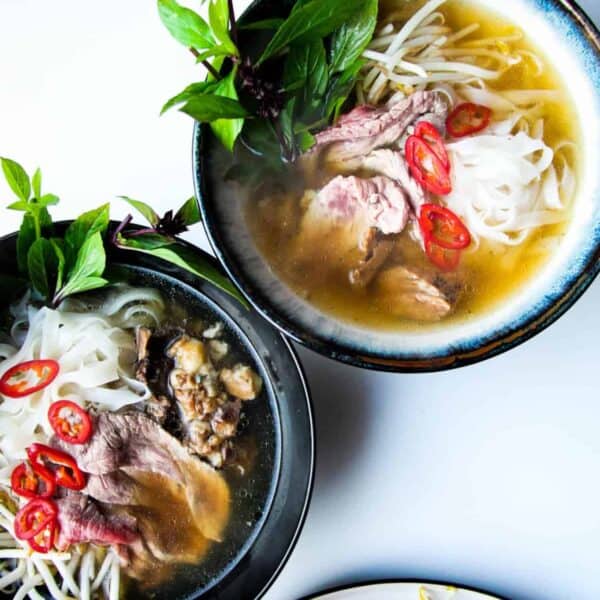 Copycat Big Mac Sauce
This copycat big mac sauce recipe is better than the real thing. The best part is most of the ingredients are readily available in your home. What are you waiting for?
Check out this recipe