I LOVE making this dish because it's made with minimal ingredients typically found in my fridge, it's insanely delicious and it's super QUICK to prepare.
If you push for it, you can have this on the table in under 20 minutes.
I'm happy to have this one in my recipe repertoire for those dangerous days when my fiancé and I are not just hungry, but HANGRY and we need food *rightnow*.
I've also discovered that the secret to enjoying loads of healthy steamed vegetables is to smother them in gochujang mayo.
Literally, any steamed vegetable + gochujang mayo equals a winning combination for me.
This dish is gluten-free, vegetarian and almost keto. Unfortunately, gochujang contains a little bit of sugar which may not be suitable for most on the keto diet.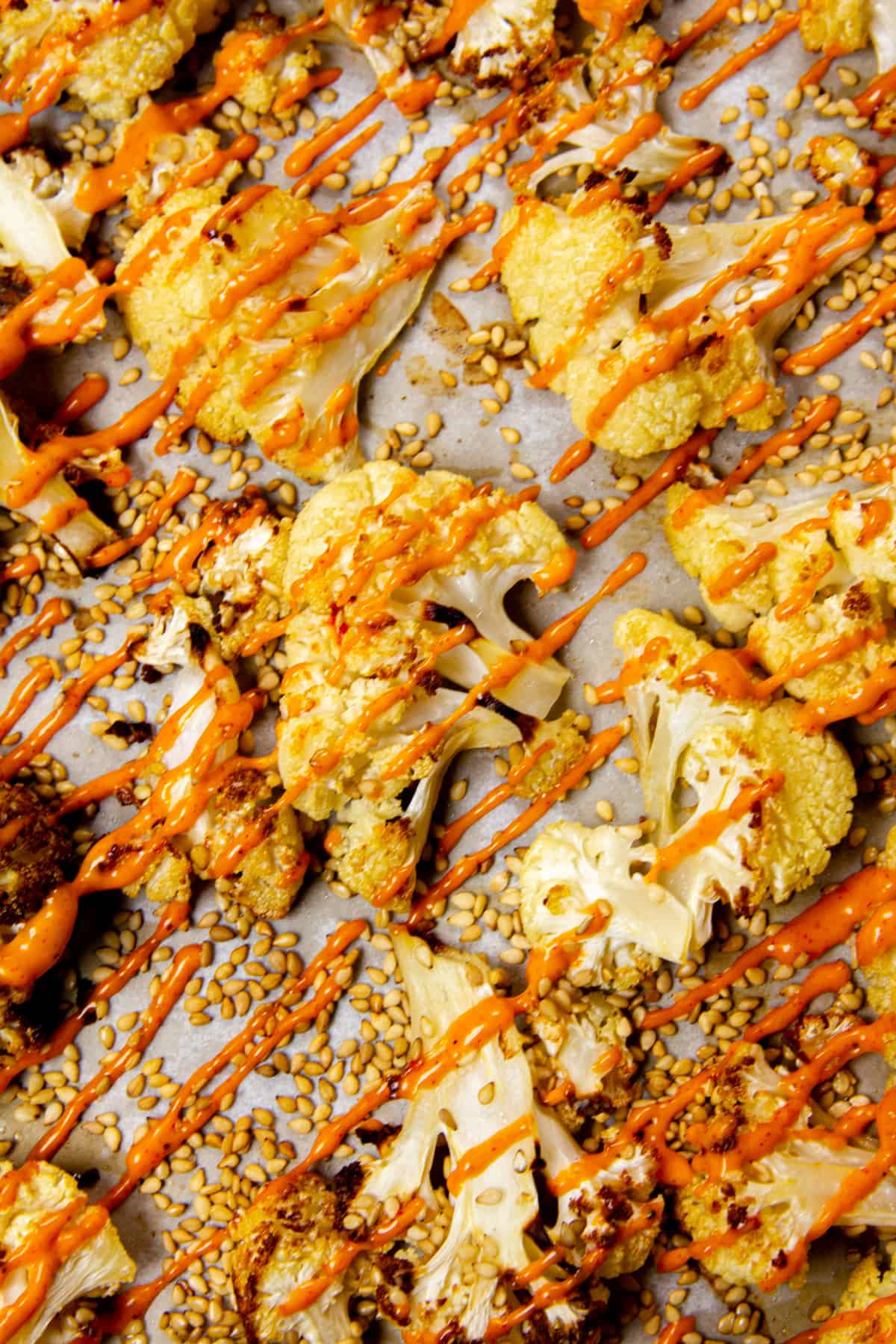 What is Gochujang?
If you like spicy fermented foods and have not tasted gochujang yet, you're in for a treat.
This Korean, fermented chili paste is made from rice (or sometimes soybeans), Korean chili flakes (gochu-garu), yeotgireum (a Korean malt powder) and salt.
Traditionally gochujang is fermented in giant clay pots, called jangdok until a dark red colour is achieved. [1]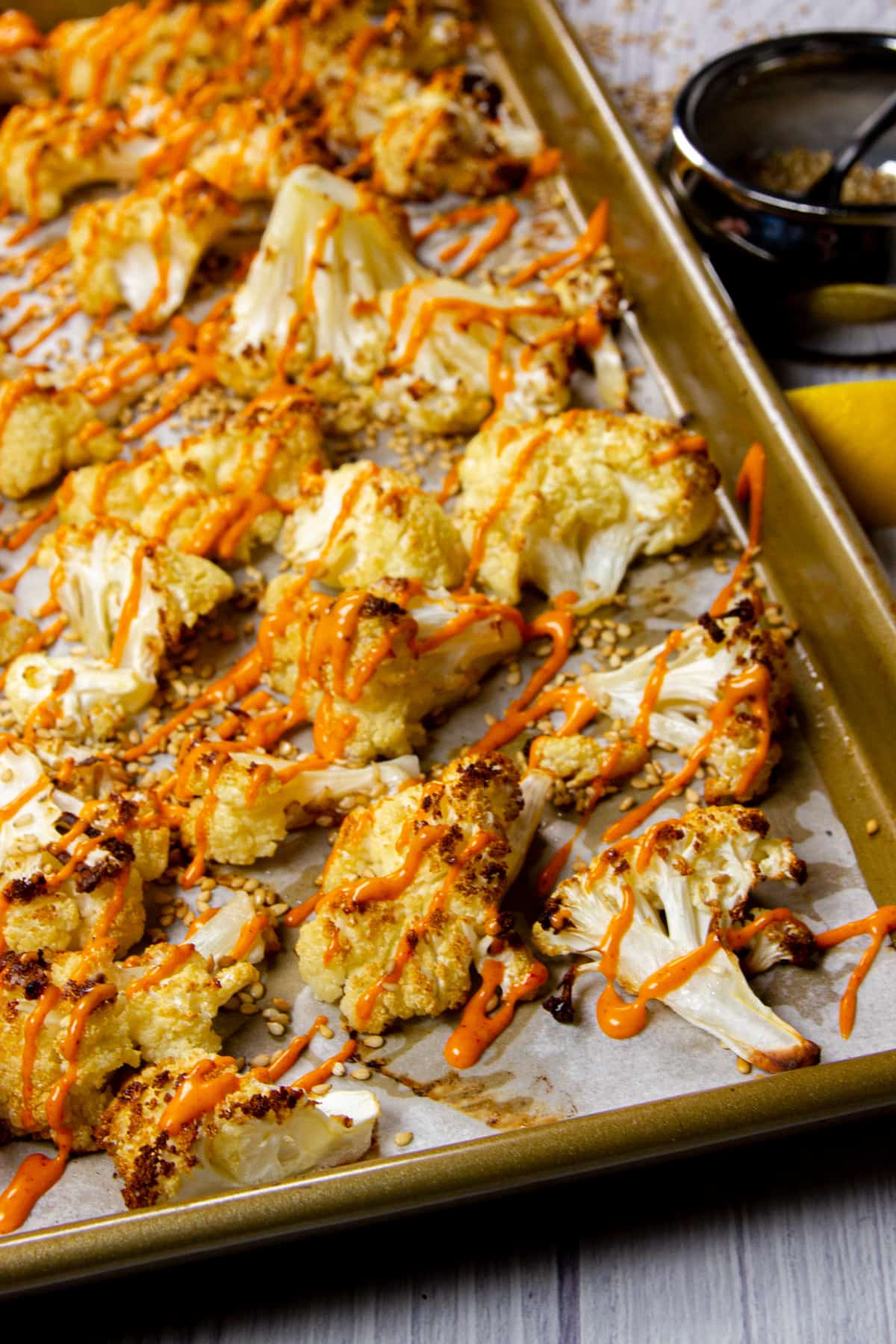 You can use the gochujang pepper paste in practically any recipe that uses hot sauce but it's traditionally used to flavour stews like jjigae, or to marinate thinly sliced meat in bulgogi and as a condiment for bibimbap.
An excellent feature of gochujang is its ability to stick to food well, making it great for BBQ.
What Does Gochujang Taste Like?
It's pure umami with a little sweet and a little heat.
You've got some nice flavour from the onions and garlic, a little saltiness from the soy and an explosion of spicy umami flavour from the fermentation of the rice.
If batman was more interested in making things delicious than fighting crime, he'd probably have a bottle of this gochujang mayo at all times in his utility belt.
How to Cut Cauliflower
Turn the cauliflower upside down and use a pairing knife to cut away the large stem. You can save the stem for later by chopping it thinly and mixing it into fried rice or stir-fries.
Trim the thick stems of the cauliflower until you have little florets. Try your best to keep the same size, this way they'll cook more evenly.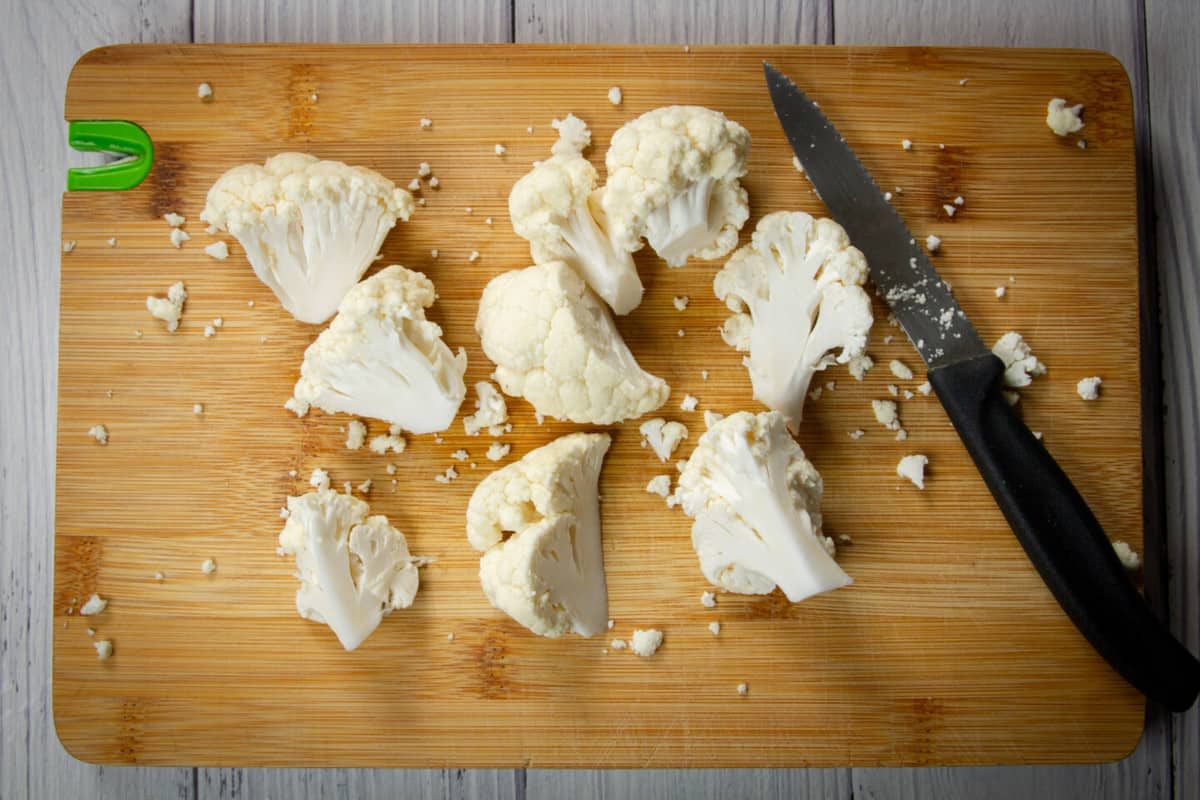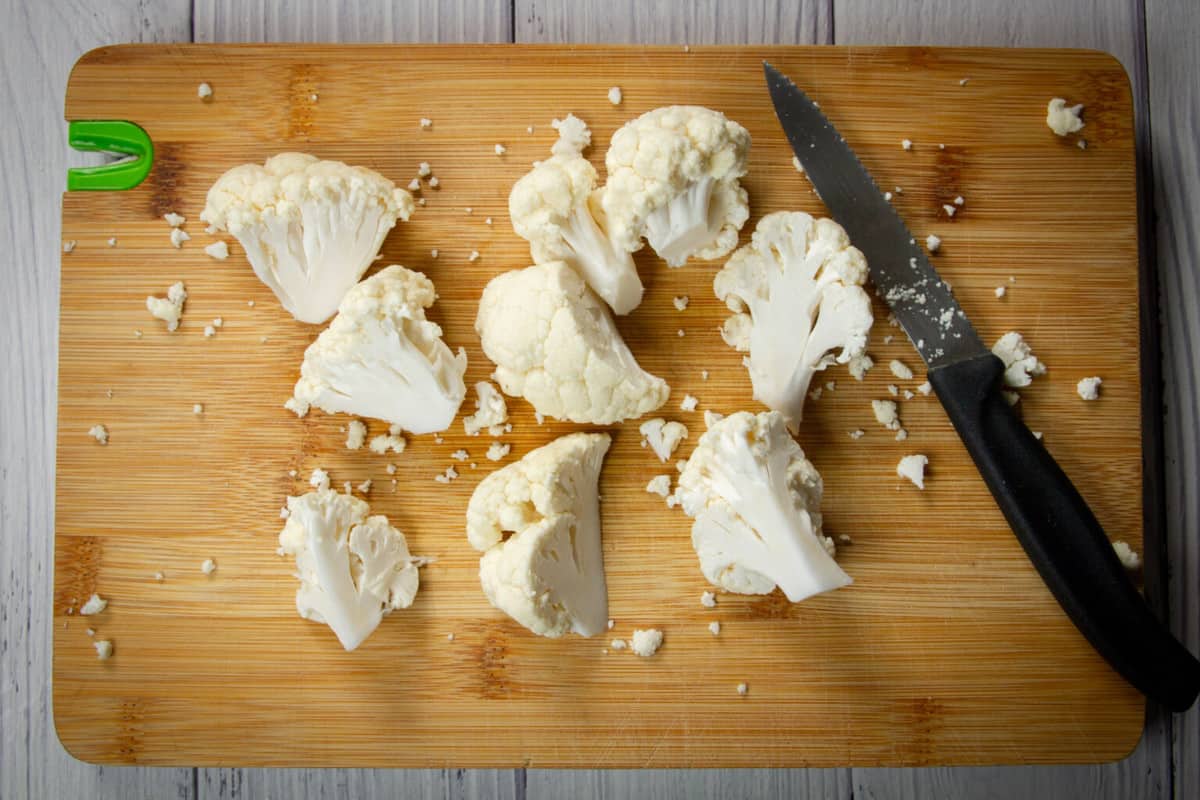 How Long Does Cauliflower Last?
You may be surprised to hear that when properly cared for fresh cauliflower can last for weeks.
The problem is most cauliflower at the grocery store is wrapped in plastic which protects the outside from damage but also encourages mould and rot.
The optimal condition for cauliflower is a cold, dark and dry environment like a cold cellar. A cauliflower left whole, with the leaves still intact will last for weeks when stored this way.
But if you're like most people and don't have a cold cellar for storing vegetables, your best bet is to leave it unwrapped and in the vegetable compartment of the fridge.
Unwrapping the cauliflower will decrease the chances of mould which will greatly increase its shelflife.
Cut cauliflower will not last as long and will need to be stored in a sealed container to prevent it from drying out.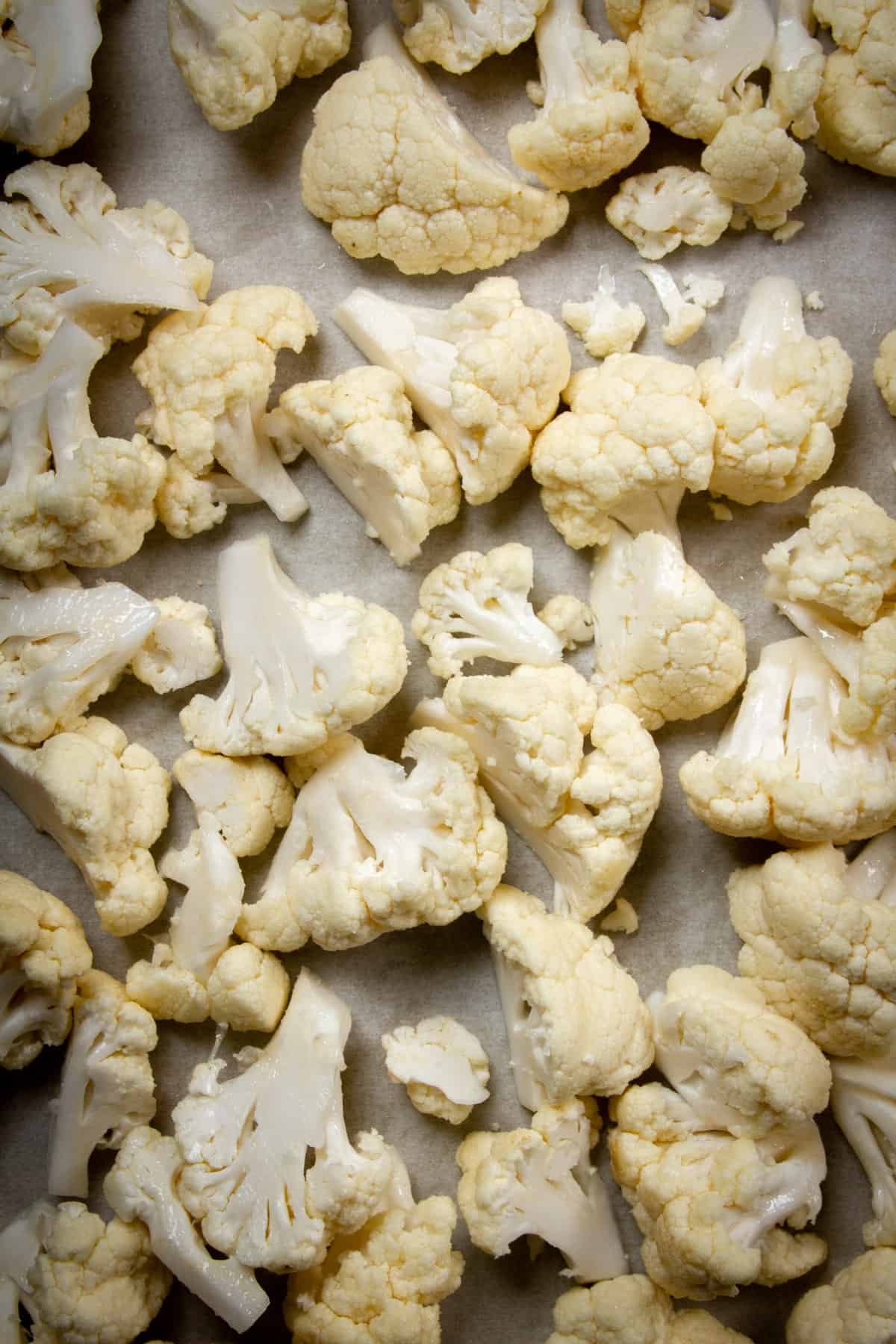 Tips for Roasting Cauliflower
Use a high oven temperature with a convection fan to brown the cauliflower nicely.
Once cauliflower florets are salted, roast them immediately otherwise the salt will draw moisture from the florets and make it more difficult to brown nicely.
Don't overcrowd the pan, otherwise, you'll end up with steamed cauliflower instead of roasted cauliflower.
What to Serve with Roasted Cauliflower?
I'd happily eat this plus a big bowl of steamed white rice and call it a day but here are a few other ideas:
Recipe FAQ
How Can I Make this Vegan?
Replace the mayo with a thick tahini sauce and add the rest of the ingredients.

Alternatively, you could use a vegan mayo to replace the mayo.
How Long Can I Keep this Gochujang Mayo?
If you're making fresh mayonnaise with raw egg yolks, this mayo will last for up to 3 days in a very cold fridge.
If you use store-bought mayo with pasteurized eggs, this sauce will last for up to 2 weeks in the fridge.
What's the Best Way to Reheat This Dish?
If you have leftover roasted cauliflower without the mayo added to it, you can reheat this easily in the oven.
Cover the cauliflower with aluminum foil and reheat for 10-15 minutes at 350°F/175°C. Garnish with gochujang mayo after.
Easy Sheetpan Roasted Cauliflower with Gochujang Mayo and Sesame
This quick and easy sheet-pan roasted cauliflower is DELICIOUS and ready in less than 20 minutes. Gluten-free, vegetarian and dairy-free.
Equipment
squeeze bottle (optional)
Ingredients
470

g

cauliflower

(about 1 head)

4.5

g

sea salt

(1 tsp, twice as much for diamond crystal)

20

g

vegetable oil

(2 tbsp)

1

tsp

sesame seeds

lime or lemon wedges for garnish (optional)
For the Gochujang Mayo
140

g

mayo

(about ½ cup)

40

g

gochujang chili paste

(2 tbsp)

1

g

soy sauce

(1 tsp)

0.5

g

Worcestershire sauce

(10 dashes)

6

g

fresh lime juice

(½ lime juiced)

0.5

g

garlic, peeled and rasped finely

(about ½ a clove)
Instructions
Preheat oven to 430°F/220°C with the convection fan on.

Cut the cauliflower into even-sized pieces.

Toss cauliflower in a bowl with a mixing bowl with oil and salt.

Spread out onto a tray lined with parchment paper and roast in the oven for 7 minutes, turn and then 7 minutes more.

Cauliflower florets should be roasted tender on the inside with poked with a knife with some dark brown colouring on the outside.

Make the gochujang mayo by blending all ingredients for the mayo together in a small food processor or blender.

Finish the roasted cauliflower with a heavy sprinkling of sesame seeds and gochujang mayo.

Serve with steamed rice or mix into fried rice.

Enjoy!
Notes
Once you season the cauliflower with salt, it's best to cook it right away. Otherwise, the salt will draw moisture from the florets and won't brown as nicely.
Nutrition
Calories:
563
kcal
|
Carbohydrates:
18
g
|
Protein:
6
g
|
Fat:
54
g
|
Saturated Fat:
8
g
|
Polyunsaturated Fat:
32
g
|
Monounsaturated Fat:
12
g
|
Trans Fat:
1
g
|
Cholesterol:
29
mg
|
Sodium:
1422
mg
|
Potassium:
802
mg
|
Fiber:
5
g
|
Sugar:
8
g
|
Vitamin A:
87
IU
|
Vitamin C:
117
mg
|
Calcium:
72
mg
|
Iron:
1
mg
More Recipes to Try…
Crispy Roasted Brussel Sprouts with Banana and Fresh Lime
A rather wild side dish of crispy roasted Brussel sprouts with banana and lime that's vegan, gluten-free and definitely not boring.
Check out this recipe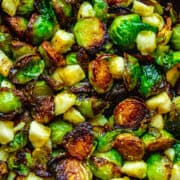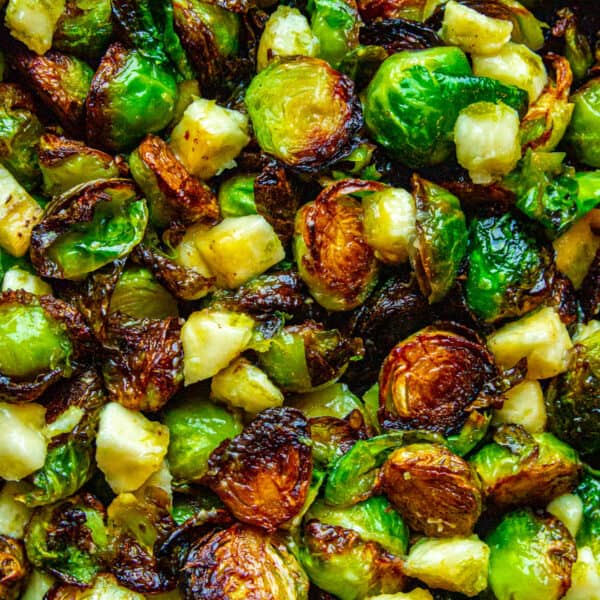 Fermented Carrot Sticks and Free Probiotics
An easy method to make fermented carrot sticks at home. Super healthy, easy to make, vegan, keto, gluten and dairy free.
Check out this recipe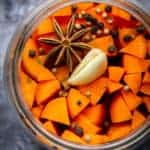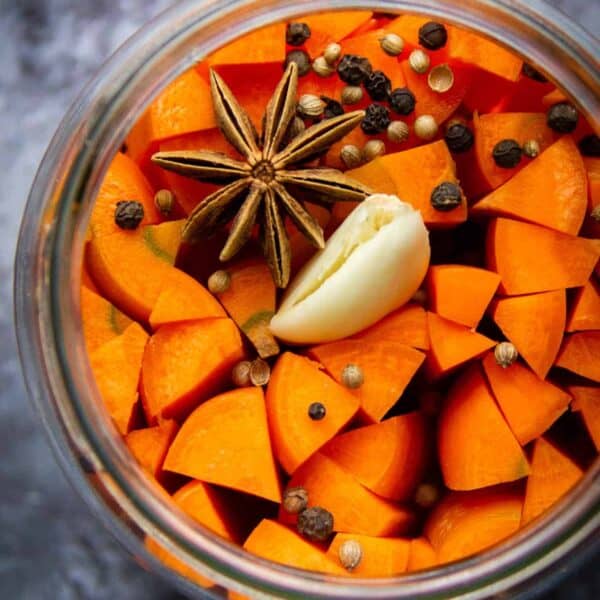 Sautéed Broccolette with Garlic, Lemon and Aleppo Chili
A quick and tasty method for broccolette, broccolini or baby broccoli. Quickly blanched and sautéed with garlic, lemon and an Aleppo chili infused oil. Vegan, keto, and gluten-free.
Check out this recipe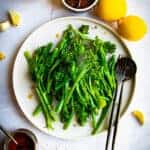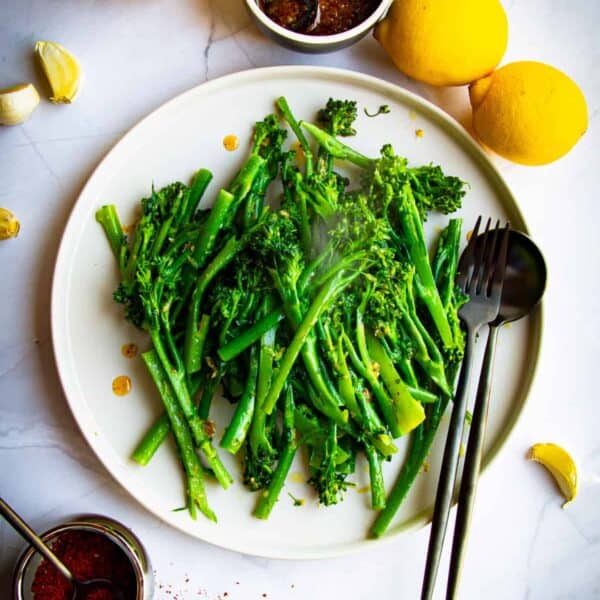 No-Fry Crispy Sweet Potato Wedges
The secret to oven-baked sweet potato wedges. Crispy on the outside and mashy on the inside and preferably dunked in spicy mayo.
Check out this recipe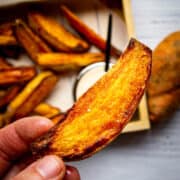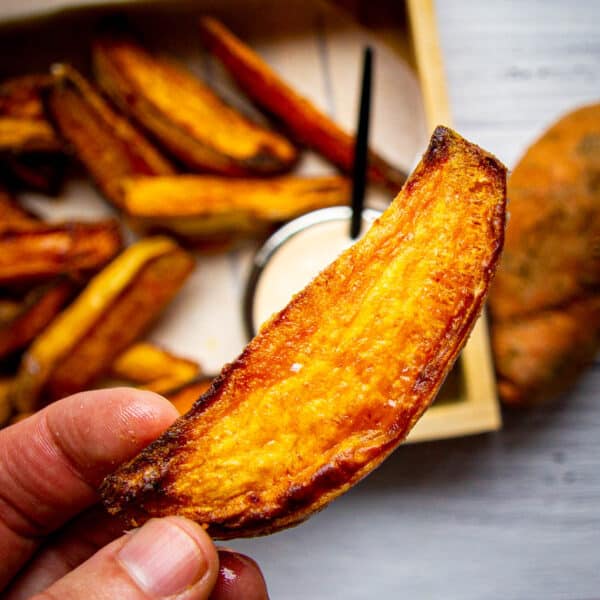 A Healthy Rocket Salad with Blistered Cherry Tomatoes and a Roasted Sunflower Dressing
An easy rocket salad with blistered cherry tomatoes, Parmigiano Reggiano cheese, croutons and a roasted sunflower dressing.
Check out this recipe