*This* is the ultra-comforting keto eggplant parmesan we didn't know we needed in our life right now.
AND It's not just keto, it's also vegetarian and gluten-free making this dish a good choice if you have guests over with a mix of special diets.
Here's a crazy idea…
Skip the Holiday roast turkey dinner and make a double batch of this rich and cheesy Italian-inspired eggplant Melanzane instead.
You'll not only save way more money on groceries (which is also a lot higher this year), but you'll also be lowering your carbon footprint by eating less meat.
Even if you're not into my crazy ideas, this recipe still makes one killer side dish and may even convert the pickiest of eggplant haters.
Below, I'll be outlining all the tips, tricks and questions I can think of to help you nail this recipe.
Keep in mind you can always use the "Jump to Recipe" button to skip straight to the recipe as I've got a lot to cover in this one.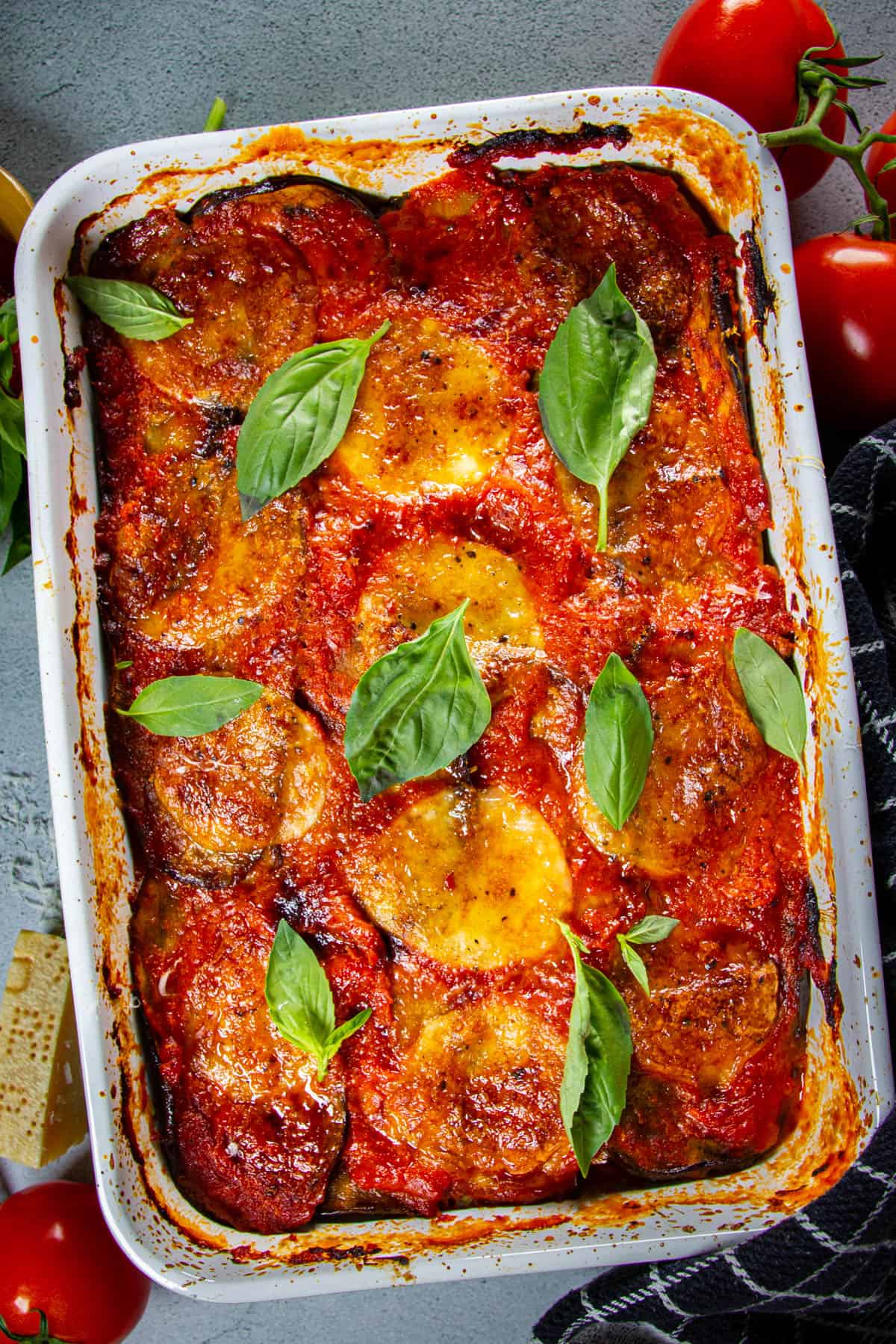 Keto Disclaimer: I'm a chef who loves helping people with keto diets make delicious things (my mum is keto, hi mum!) but I'm no medical professional. Always consult a health care professional before making dietary changes or using my recipes.
What's the Difference Between Eggplant Parmesan and Melanzane?
Eggplant parmesan is the Italian-American version of Melanzane Alla Parmigiana.
Normally the Italian-American version consists of sliced and fried eggplant that's breaded whereas the traditional Melanzane Alla Parmigiana is usually not breaded (although some recipes do).
The traditional Italian version normally uses fresh mozzarella cheese while many American versions use shredded or dried mozzarella.
I personally prefer the Italian version as it *usually* contains better quality ingredients although I'll still devour the Americanized version any day.
Picking Out the Best Eggplants
The ideal eggplant for an eggplant parmesan needs to be fresh, large and dense. Avoid any eggplants with bruises or brown skin as this means they'll be rotten on the inside.
Dense because this means the eggplant will soak up less fat when frying it and result in a less greasy Melanzane.
You can tell how dense an eggplant is by weighing it in your hands and comparing it to others. Lighter eggplants are usually less dense.
The problem with lighter eggplants is that they may have more seeds. Seeds are not as nice to eat and won't hold their shape as well as the fleshier types. So you won't really know what you've got until you slice into it.
The solution is to buy Italian Eggplants. As mentioned by everybody's favourite food scientist Kenji Lopez, Italian eggplants generally have fewer seeds and will be better for this recipe.
If you can't find Italian Eggplants, don't stress it. I used regular purple eggplants in my recipe without any problems.
That it's actually a myth that you can tell the sex of an eggplant by looking at the indent at the bottom. It's a myth because eggplants don't actually have a sex. [1]
Why You Should Be Purging Your Eggplants
Purging an eggplant ultimately means removing excess water from the eggplant slices before frying.
This is normally done by salting the eggplant slices over a colander and letting them sit in a colander in the sink. But you can also do this in the oven, with a deep fryer, microwave or even with an air fryer.
If you skip this step (believe me, I tried) you'll end up with a very average-tasting watery Melanzane that's weak in flavour.
And I know, purging the eggplant is annoying because it takes a lot of time but luckily I've found a few faster options.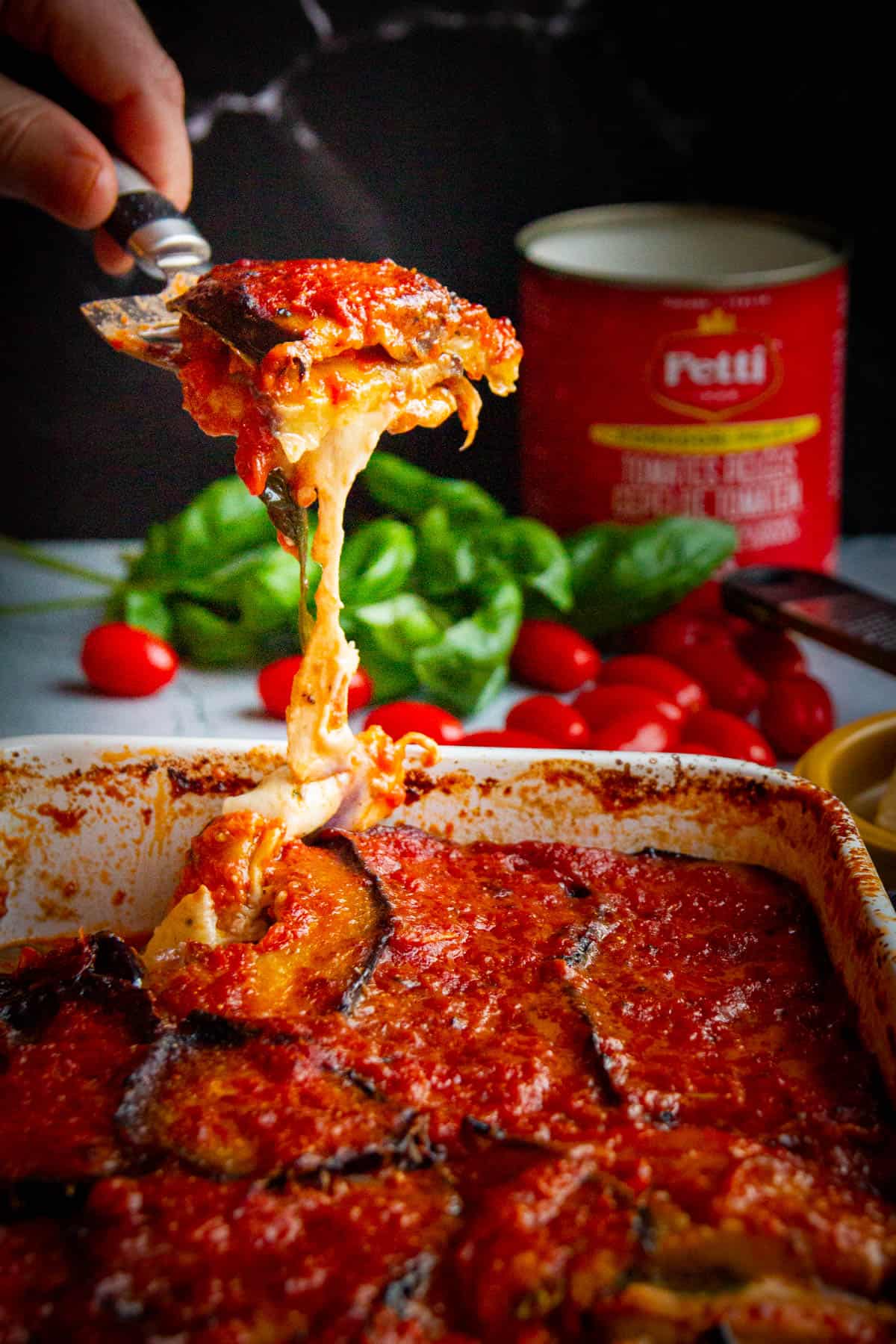 How to Purge the Eggplant
I've always known the traditional eggplant-cure-in-the-sink method but with some new research, it appears that there are actually a few faster methods these days.
Ways to Dry (Purge) the Eggplant:
The Classic Cure: This is the traditional method of purging eggplant. Slice the eggplant and season heavily with salt. Line up over a colander and drain over the sink for 1 hour. This tried and tested method will always work well but the downside is that it takes at least an hour.
Microwave: This method from Kenji Lopez is brilliant because you can purge your eggplants in less than 10 minutes. The downside to this technique is it uses either a lot of kitchen towels or a lot of paper towels. Still, it's my preferred method for making this recipe because it's the fastest.
The Oven: You can also salt the eggplants and cook them in the oven at 375°F/190°C for about 30 minutes to dry them out. Be sure to cover them with a kitchen or paper towel while they bake to prevent them from going rubbery.
The Airfryer: Although I haven't tried this, I've heard some people had success with purging eggplants in an air fryer. The question is do you cover them? If you've tried it, let me know in the comments!
Should We Talk Cheese?
I like to use a mix of fresh mozzarella and a good sprinkling of Parmigiana Reggiano in my Melanzane. For me, this is the best mix of cheeses.
Dried mozzarella will work better because it has less moisture but I just love the taste of fresh mozzarella way more than cheap dried mozzarella.
I wouldn't mess too much with other cheese types because I think these are already the best choices.
Although one exception is Scarmoza cheese. This smoked mozzarella adds a delicious smokey flavour that's going to go great with the saucy tomato and rich fried eggplant.
If you can find it, I highly recommended Scarmoza cheese.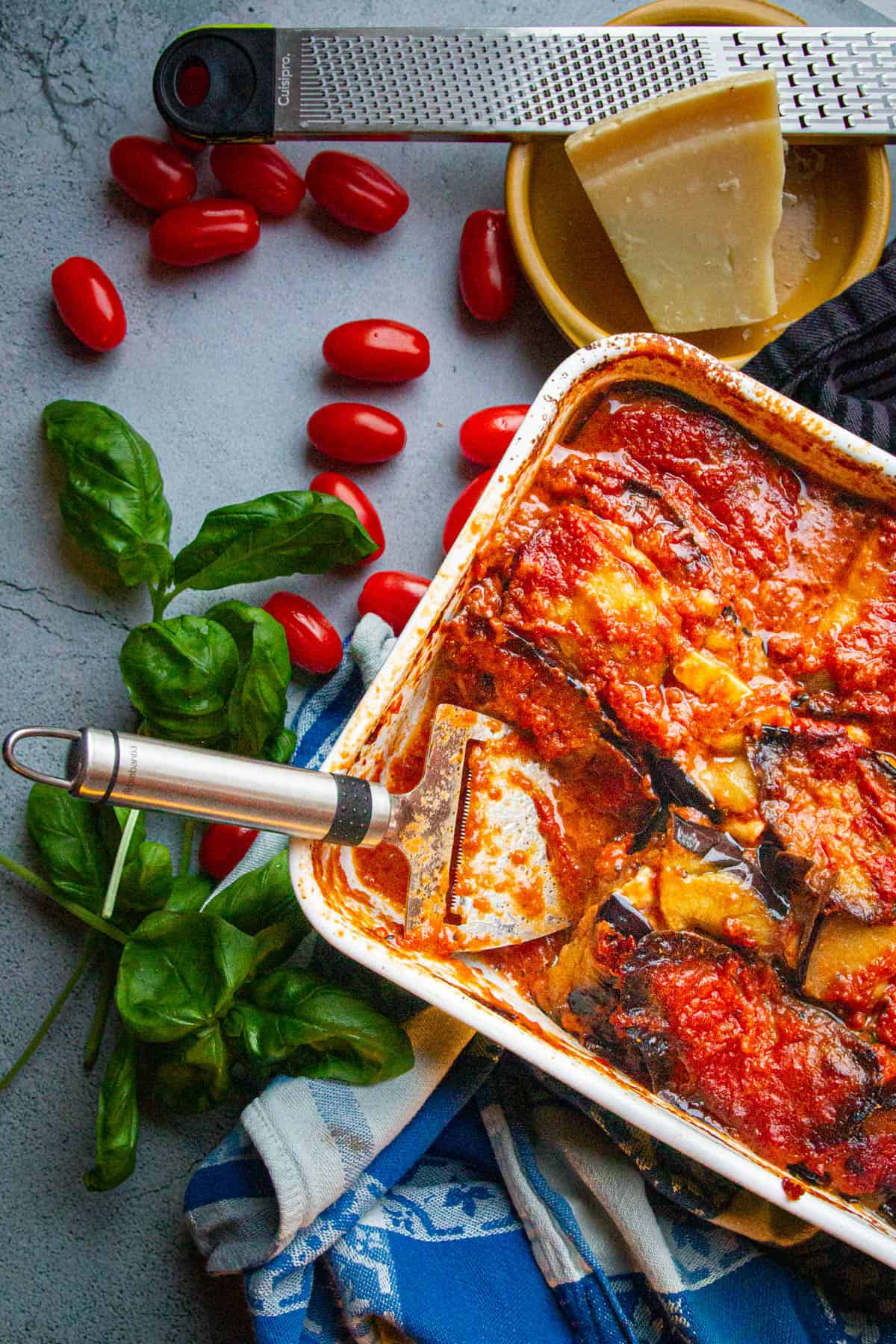 What Ingredients are in Keto Eggplant Parmesan?
We've talked cheese types and here's a breakdown of the other key ingredients with substitutions:
Eggplants: As mentioned above look for Italian eggplants as they generally have fewer seeds than regular purple eggplants. Still, any eggplant will work.
Tomatoes: Because it's winter and the fresh tomatoes are not that good now, I'm using peeled, whole canned tomatoes. Fresh tomatoes will usually make a sweeter, fresher-tasting sauce but canned will work just fine. *Note, if you do use fresh tomatoes, be sure to remove the skins with a quick blanch in hot water followed by a plunge in ice water.
Cheese: Parmigiano Reggiano and fresh mozzarella are my preferred cheeses. Drier mozzarella will also work very well and Scarmoza cheese will add a lovely smokey flavour.
Frying Oil: I cut my frying oil 50:50 with olive oil and peanut oil. This way I avoid burning the olive oil and can get a good sear on the eggplants without sacrificing flavour. You can use olive oil but avoid the good quality stuff here.
Basil: You've got to have basil in a Melanzane and it must be fresh, not dried. Dried basil has almost no flavour compared to fresh. You can also add some fresh oregano to the dish.
Garlic: I just use a little garlic in the tomato sauce. No onions are used to keep this recipe low in sugar.
How to Make Keto Eggplant Parmesan
In this recipe, I'm using the old-school Melanzane technique without any breading of the eggplant. There's also no added flour, sugar or starch which makes this keto-friendly.
If you really want to bread the eggplants, you can probably get great results with a combination of almond flour and egg wash although I haven't tried it.
Here's the Recipe Outline for a keto eggplant parmesan:
Make tomato sauce.
Slice eggplants and purge them (as discussed above).
Dry eggplants and compress them to release excess moisture.
Slice the cheese and dry it well (if using fresh mozzarella).
Fry eggplant slices until golden brown.
Drain on paper towels to remove excess oil.
Quick pulse tomato sauce using a hand blender.
Start with a little tomato sauce on the bottom of the casserole.
Layer the eggplants slices, then more tomato sauce, then the cheese and basil.
Repeat until all of the eggplant slices are finished. Add a final layer of tomato sauce and cheese to finish.
Bake in the oven for about 30 minutes 375°F/190°C for 25-35.
Tips for the Best Keto Eggplant Parmesan
Use fresh, Italian eggplants that are denser and won't pick up as much oil while frying.
Purge your eggplants before baking to prevent a watery Melanzane.
Cook your tomato sauce until reduced and thickened for maximum flavour.
Use Scarmoza cheese for a delicious smokey flavour.
Use fresh basil not dried as it has the most flavour.
What to Serve with Keto Eggplant Parmesan
I like the idea of having this as a main course with a nice salad on the side.
Here are a few other Keto Recipes that will work with this eggplant parm:
And some non-keto recipes:
Ultra Comforting Keto Eggplant Parmesan – Melanzane alla Parmigiana
My ultimate recipe for a Melanzane alla Parmigiana a.k.a – a keto eggplant parm. This recipe doesn't use onions, breadcrumbs or flour making it suitable for keto, vegetarian and gluten-free diets.
Equipment
Casserole dish 8" x 12" (19.5cm x 19.5cm)

Microwave (optional)

4 clean kitchen towels

4 large plates
Ingredients
1

kg

Italian eggplants

(about 3 eggplants)

200

g

fresh mozzarella

(2-3 mozzarella balls)

20

g

Parmigiano Reggiano

(about 4 tbsp)

10

g

garlic

(3 cloves)

800

g

peeled whole tomatoes, canned

1 large can

60

g

olive oil

for frying

50

g

peanut oil

for frying

1

bunch

fresh basil

salt and pepper to taste
Instructions
Making the Tomato Sauce
Peel the garlic and sweat it gently in a little olive oil in a pot with high sides. Do not brown.

Add the peeled whole tomatoes to the oil and stir. Season gently with a little salt and pepper.

Continue cooking on low heat for about 20 minutes or until sauce has thickened. Stir frequently to avoid burning the bottom.
Purging the Eggplants
Slice the eggplants into ⅜" (1cm) slices. Try your best to get the slices as even as possible.

Purging using the microwave method (see notes below for oven method)

Season all the eggplant slices with salt but be careful not to overseason them.

Line a plate with a clean kitchen towel. Add the salted eggplant slices in an even layer on the towel. Fold the towel over so that the slices are sandwiched in between towels.

Cover with another plate and repeat the process until you can get all of your eggplant slices covered with towel. Finish the last layer with a heavy plate.

Microwave the plates for 3-5 minutes on high or until eggplant slices begin to soften slightly. You may need to work in batches.

*Be careful as the plates will be super hot.*

Remove the slices from plates and gently press out any moisture using paper or more kitchen towels. Set aside on another plate or tray.

Slice and drain the mozzarella on paper towel.

Rough chop the basil and set aside.

Set oven temperature to 375°F/190°C.

Once thickened, use a hand blender to quickly pulse the tomatoes into a sauce. Alternatively, you can use a food mill to also remove the seeds.

Get a large non-stick pan on medium-high heat and have another tray with paper towel ready.

Fry the eggplant slices in half vegetable oil and half olive oil until golden brown. Drop the slices in the pan away from you.

*Make sure the slices are dried well otherwise the oil may splatter.*

Drain the seared eggplant slices on paper towel.

Add a little tomato sauce to the bottom of the casserole dish.

Layer the fried eggplants in an even layer, allowing them to overlap slightly. Then add the ⅓ of both kinds of cheeses, basil and a little freshly cracked black pepper.

Repeat 1 more time.

Finish the top of the Melanzane with some tomato sauce and cheese but no basil.

Bake at 375°F/190°C for 25-35 minutes or until the top is golden brown.

Let the eggplant parm sit for 10 minutes at room temperature to allow it to soak up any excess moisture.

Serve with fresh basil leaves and more fresh Parmigiano cheese on top.
Notes
Alternative Methods to Purging Eggplants:
The Oven:  Salt the eggplants and cook in the oven on a tray lined with kitchen towel at 375

°

F/190

°

C for 30 minutes to dry them out. 
The Classic Cure:  Slice the eggplant and season heavily with salt. Line up over a colander and drain over the sink for 1 hour. Rinse quickly and dry off again.
*Depending on your casserole dish size, you may need more or fewer eggplants. 
*You can also use paper towel instead of kitchen towel during the microwave purge but keep in mind you'll need A LOT of paper towel.
Nutrition
Calories:
257
kcal
|
Carbohydrates:
12
g
|
Protein:
9
g
|
Fat:
20
g
|
Saturated Fat:
6
g
|
Polyunsaturated Fat:
3
g
|
Monounsaturated Fat:
10
g
|
Cholesterol:
21
mg
|
Sodium:
343
mg
|
Potassium:
504
mg
|
Fiber:
5
g
|
Sugar:
7
g
|
Vitamin A:
387
IU
|
Vitamin C:
13
mg
|
Calcium:
202
mg
|
Iron:
1
mg
Recipe FAQ
What are the Best Cheeses for an Eggplant Parm?
Parmigiano Reggiano, Fresh Mozzarella, Buffalo Mozzarella or smoked Scarmoza cheese.
What Tomato Sauce Should I Use for Keto Eggplant Parmesan?
Use a tomato sauce that's free from added sugar, flour and onions. I'm using canned, peeled tomatoes cooked in a simple garlic oil but fresh tomatoes will also work.

Feel free to add other herbs like oregano, rosemary or extra basil for a little more flavour.
Best Oil For Frying Eggplant
I cut my oil 50/50 with olive oil and vegetable oil for the frying. This way I still get some of the olive oil flavour without running the risk of burning the olive oil.

If you prefer, you can use regular olive oil but don't use the expensive stuff here. Expensive olive oils will lose their delicate flavours after cooking.
Do I Have to Peel Eggplant for Eggplant Parmesan?
You can if you like but it's actually not necessary. After purging, compressing, frying and then baking, the skin is quite edible. Plus, eggplant skin is nutritious and adds a little extra healthy fibre to your diet.
How Thin to Slice Eggplant for Eggplant Parm?
My slices were just shy of 1cm and I think that's just the right size. Too thin and the eggplant slices start to fall apart and too thick means they'll soak up too much oil or not cook nicely.
How Do You Make a Breaded Keto Eggplant Parm Version?
After purging the eggplants, dry them very well. Dip each slice in a little egg wash, and then in some almond meal. Fry the slices and continue the recipe like normal.
My Eggplant Parmesan is Too Chewy
This is most likely because the eggplant wasn't cooked long enough. Probably because you cut the slices too big or they weren't fried long enough.

Another reason can be that the slices were purged too long and dried out too much.
Eggplant Parm is Too Soggy
Too soggy means too much water. The number one cause is usually due to not purging the eggplant enough but other reasons include:

– Too much water in your tomato sauce.
– Too much water in the cheese. (For example, using burrata cheese).
– Not cooking the Melanzane long enough in the oven.
How to Store Eggplant Parmesan
The best way to store an eggplant parm is to separate it into individual take-out containers (or Tupperware) with lids. This way when you go to reheat them, you only reheat what you need instead of having to reheat the entire casserole dish.
Can You Freeze Eggplant Parmesan?
Yes, eggplant parm freezes very well. Store it in separate sealed containers in the freezer for up to 3 months.
Reheating Eggplant Parm
For a Regular Oven:
Remove the eggplant from the sealed container and pop it onto a baking tray lined with parchment paper. Add a splash of water to the pan and cover it with aluminum foil. Bake at 350°F/162°C for about 20 minutes and then remove the aluminum foil and continue baking for 10 more minutes or until the edges are crispy.

For Use with a Steam Oven:
Remove the eggplant from the sealed container and pop it onto a baking tray lined with parchment paper. Set the oven temperature to350°F/162°C with steam on 80%. Steam for about 15-20 minutes or until the inside is warm. Turn off the steam function and open the door to release the steam. Place back in the oven for another 10 minutes at the same temperature (no steam) to crisp up the edges.

In a Microwave:
Microwave on high for 5-7 minutes until the center of Melanzane is hot when poked with a knife.
More Recipes and Guides
How to Cook Chestnut Mushrooms with Butter, Garlic, Parsley and Lemon
These chestnut mushrooms are cooked in loads of foamy butter and finished with fresh garlic, lemon and parsley.
Check out this recipe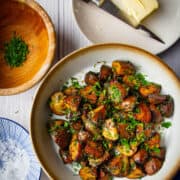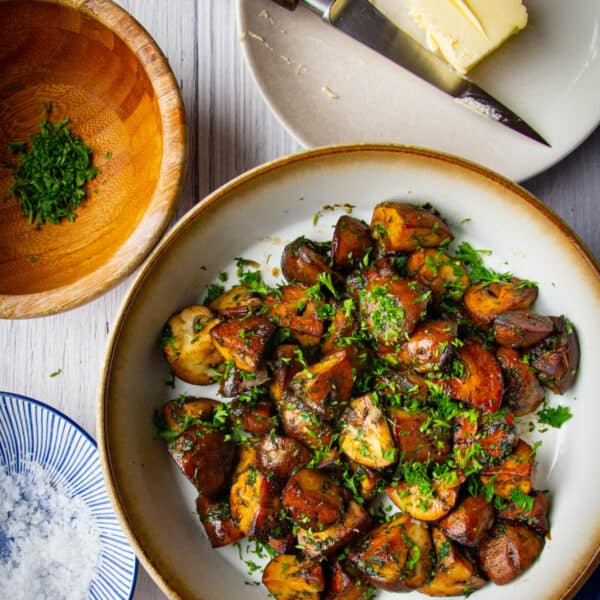 A White Asparagus Recipe
A white asparagus recipe with rolled ham, hard-boiled eggs, boiled new potatoes, fresh herbs and browned butter. The absolute best way to enjoy white asparagus.
Check out this recipe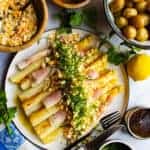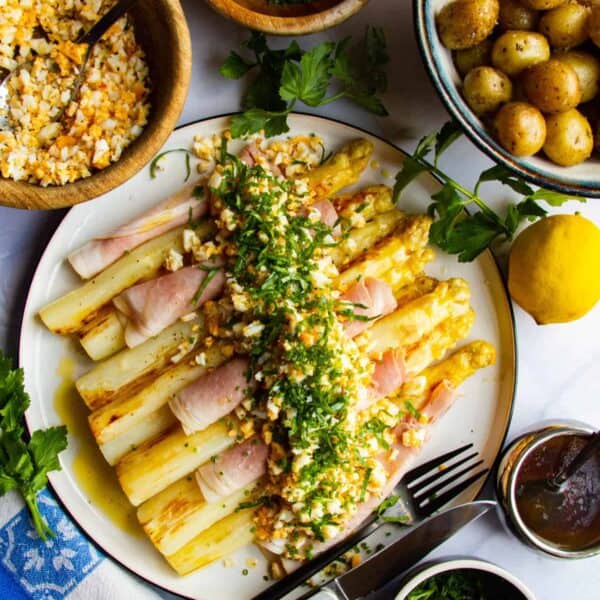 Bitterballen – Dutch Secrets Exposed
An extremely addictive Dutch snack consisting of slowly braised beef that's thickened with a roux and deep fried into little crispy balls.
Check out this recipe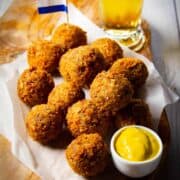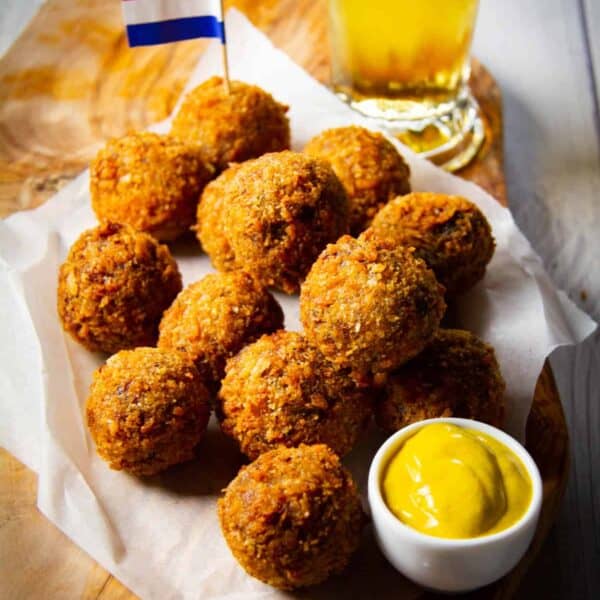 Sautéed Broccolette with Garlic, Lemon and Aleppo Chili
A quick and tasty method for broccolette, broccolini or baby broccoli. Quickly blanched and sautéed with garlic, lemon and an Aleppo chili infused oil. Vegan, keto, and gluten-free.
Check out this recipe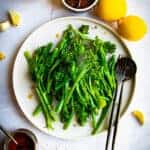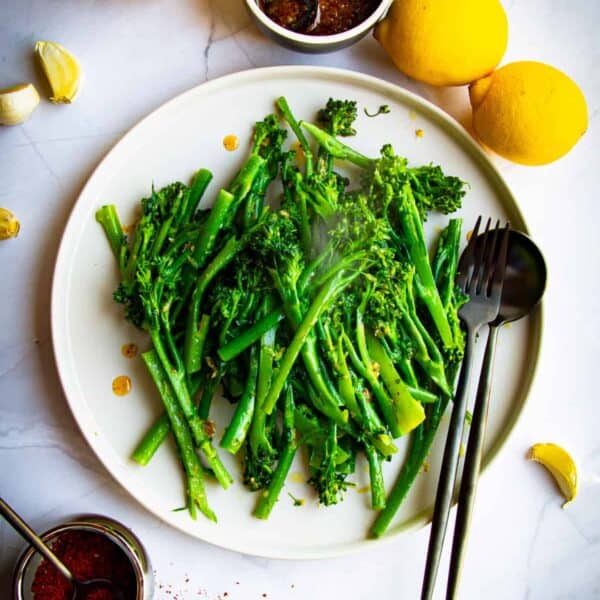 Easy Birria Tacos
These Birria tacos are cooked in a mix of cascabel, guajillo and chipotle peppers for the ultimate rich and smokey fork-tender taco filling. They're fried in the beef fat until golden brown and served with extra broth on the side for dipping.
Check out this recipe