This chicken and spinach recipe is for those weeknight dinners where you want something healthy, delicious but most importantly, fast. If you haven't discovered the magic of boneless crispy chicken thighs with skin yet, then I promise you're in for a treat.
In this recipe I rub boneless chicken thighs with curry powder and serve it with a ginger/garlic sautéed spinach and an easy honey mustard mayonnaise.
Chicken and Spinach Comfort
Something about the combination of crispy chicken with spinach just makes me happy. It's also a comfort food for me that reminds me of eating in Chinatown in Toronto.
One of my favourite dishes in Chinatown was a giant plate of steaming hot sautéed water spinach with tons of fresh garlic. It was packed full of umami (and probably MSG), loaded with comfort and perfect with a plate of crispy duck and a cold beer.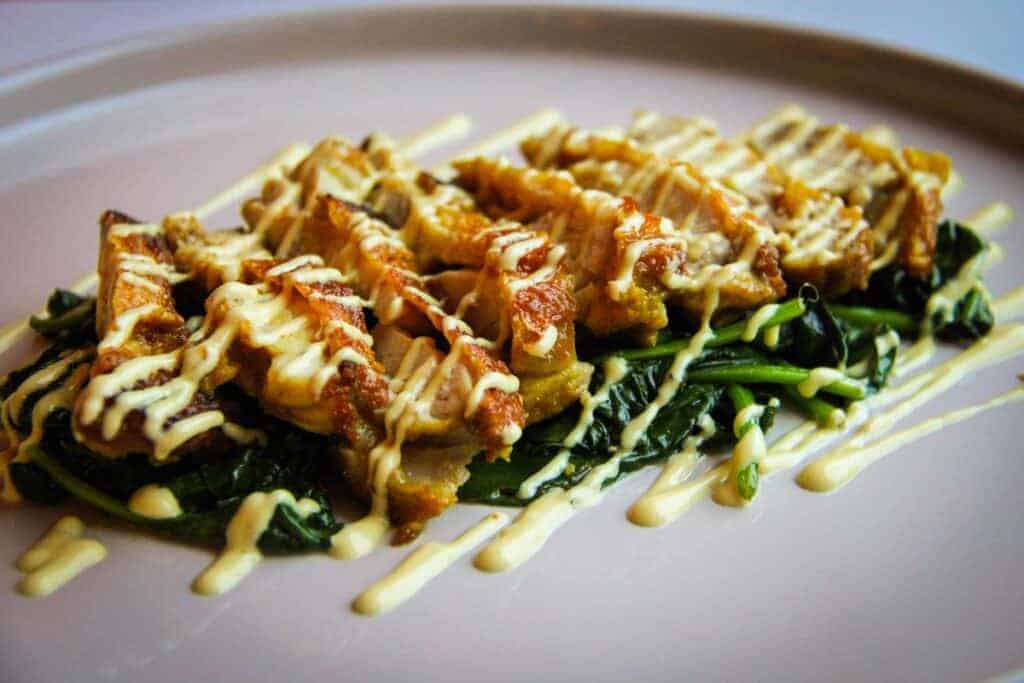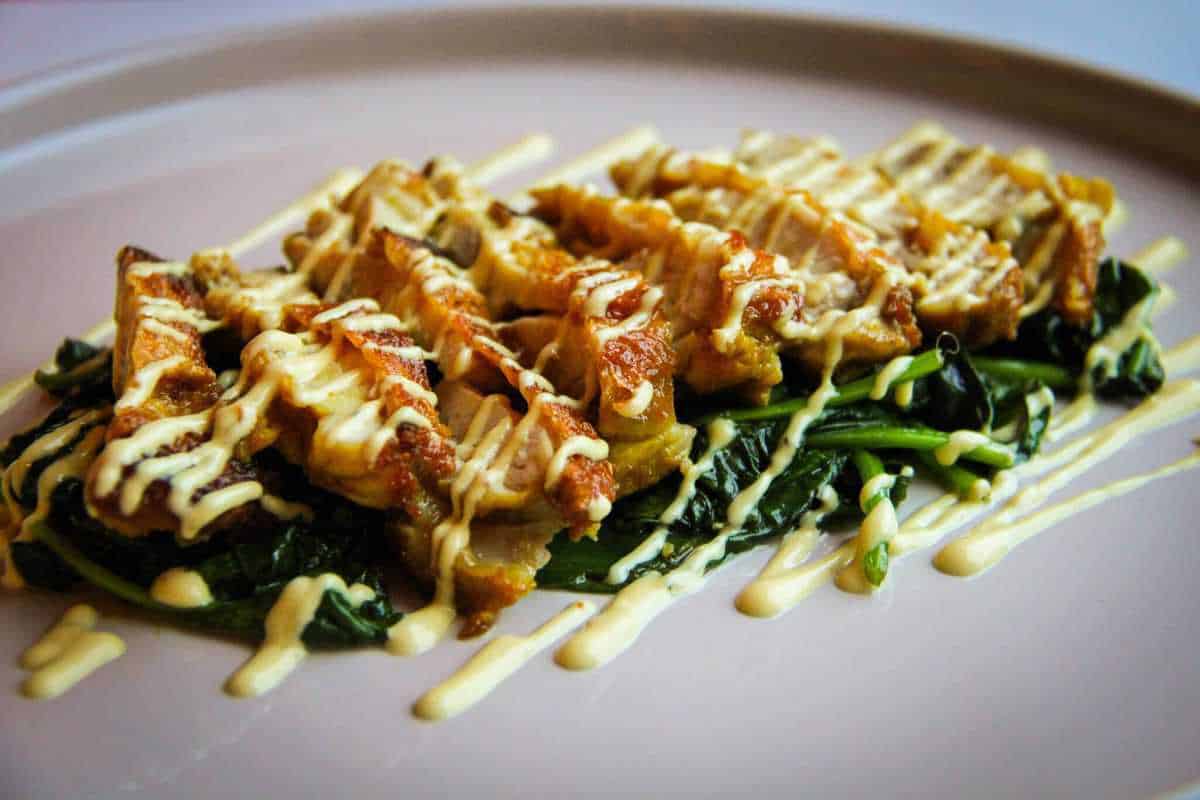 Chicken like Duck
In this recipe I render out the chicken thighs slowly, similar to how a duck breast might be prepared. The result is an ultra crispy, crunchy chicken skin with super moist meat.
Popeye's Healthy Spinach
Dark green vegetables are always a good idea, take it from Popeye. Dark green veggies, including spinach are loaded with chlorophyll and carotenoids which have anti-inflammatory and anti-cancerous properties and are especially important for healthy eye-sight, helping to prevent macular degeneration and cataracts.
It's also a great source of vitamin K, vitamin A, vitamin C and folate as well as being a good source of manganese, magnesium, iron and vitamin B2. No wonder Popeye was so strong!
Boneless Chicken with skin
Unfortunately, the most popular cut of chicken is a boneless, skinless, chicken breast or BSCB. The problem with these is that they lack flavour due to the low fat and can also be very dry. Fat is king and without the skin you generally end up with dry meat.
In this recipe I use boneless thighs with the skin and slowly cook them skin side down until they get incredibly crispy. If you are worried about too much fat then I recommend to cook the chicken with the skin and to remove it afterwards. This skin provides a protective layer in between the meat and the pan that prevents the chicken from drying out.
Honey Mustard Mayonnaise
This is optional, but it's a quick sauce to make that goes well with the chicken. I put this sauce in a reusable squeeze bottle so I can save the rest for later in the fridge. It keeps in the fridge for up to 3 days.
Here's the recipe for the honey mustard sauce:
1/2 cup mayo
2 tbsp dijon mustard
1.5 tbsp liquid honey
1/8 tsp salt
1/8 tsp black pepper
Recommended Tools
Cast Iron Skillet
One essential tool is the cast iron pan. A cast iron pan is thick enough to prevent hot spots during the cooking process and makes the crispiest chicken skin. You can definitely use another pan as long as it has a heavy bottom which will cook evenly.
If you need a cast iron pan, get one here and if you need help seasoning a cast-iron pan, check out this post here. A quick guide on how to properly season a brand new cast iron skillet pan with step by step instructions.
How to Season a Cast Iron Skillet Pan
A quick guide on how to properly season a brand new cast iron skillet pan with step by step instructions.
Instant Read Thermometer
Another useful tool is an instant read thermometer. This is great especially if you are new to cooking and not sure when the chicken is properly cooked. Because raw chicken can be dangerous to eat, it's always better to be safe and check it with an instant read thermometer.
If you need a instant read thermometer then try this one.
Microplane
I definitely use this tool way too much. But it's so useful. You can buy these here.
Happy Cooking!
Chicken and Spinach – Curried Chicken and Ginger Garlic Spinach
A quick and easy recipe for curried chicken thighs with ginger/garlic spinach and a honey mustard mayonnaise. Healthy, delicious and quick enough for a weeknight meal.
Ingredients
2

whole

chicken legs

boneless, skin on

200

g

spinach

washed

1

whole

orange

juiced

½

clove

garlic

1

nub

ginger

the same amount as the garlic

1

tbsp

olive oil

2

tbsp

peanut oil

canola, vegetable, sunflower oil also work

1

tbsp

curry powder

1

tsp

butter
Instructions
If you want to make the sauce read above and make that first.

Marinate the chicken on the flesh side with the curry powder. You can marinate them overnight for extra flavour or begin cooking right away.

Season the chicken with salt on both sides. Add the vegetable oil to a cast iron pan and add the chicken skin side down to the cold pan with the oil. Turn to high heat.

Once the pan gets hot and the oil starts to splatter, turn down to medium/low heat. Cook the chicken low and slow to crisp up the skin and render out all the fat. Turn the chicken around from time to time to make sure it cooks evenly.

Juice the orange. Microplane the ginger and garlic together and add the olive oil to stop it from drying out.

Once the chicken skin is looking super crispy, turn the chicken over to the flesh side and finish the last 10% cooking on the flesh. About 3-5 minutes. Temp to 165°F or 74°C. Rest the chicken for 6 minutes in a warm place.

Get a large pan with a lid hot on high medium high heat. Add the orange juice and butter together and wait till it boils. Add the spinach, season with a little salt and put the lid on.

After about 2 minutes the spinach is ready, add the ginger garlic mixture and turn off the heat. Drain the spinach on paper towels.

Slice the chicken with a sharp knife. Plate the spinach first, then the chicken and drizzle with the honey mustard mayo or serve it on the side. Enjoy!
Notes
In this recipe I cook the chicken similar to how you would cook a duck breast. This renders out most of the fat and creates and incredibly crispy skin.
Keep an eye on the chicken skin while cooking. You want to hear the sizzling sound of chicken frying but not too high that it burns. Take your time. 
Nutrition
Calories:
219
kcal
|
Carbohydrates:
6
g
|
Protein:
4
g
|
Fat:
22
g
|
Saturated Fat:
3
g
|
Cholesterol:
1
mg
|
Sodium:
84
mg
|
Potassium:
604
mg
|
Fiber:
3
g
|
Sugar:
1
g
|
Vitamin A:
9407
IU
|
Vitamin C:
28
mg
|
Calcium:
113
mg
|
Iron:
4
mg
This post contains links to Amazon affiliate products I know and love.
Marmite and Chili Baked Chicken Wings
These baked chicken wings are salty, sticky, sweet and loaded with umami flavour from the marmite. Try this recipe for marmite and chili baked chicken wings for your next wild, weeknight dinner.