This summer pasta is for those lazy summer days when it's hot and you don't feel like eating a big meal. It's a no-fuss, stress-free dish that's quick, easy and super comforting.
The yellow zucchini is cooked softly in a garlic-infused olive oil which is then tossed with linguine, toasted pine nuts, black pepper, fresh lemon juice and just a Parmigiano Reggiano cheese.
If you're vegan, you can easily leave out the (little) cheese for a delicious plant-based option.
What You'll Need to Make this Summer Pasta
Yellow Zucchini – Yellow zucchini has a slightly sweeter flavour than the green variety which makes it more desirable in this dish but green can also be used.
Pinenuts – These are pricey but worth it. When toasted right they add a rich and sweet texture to the pasta that's almost addictive. Although pinenuts are the best for this recipe, you could also use toasted hazelnuts, walnuts or blanched almonds.
Olive Oil – I actually prefer using olive oil instead of butter in this dish because it's lighter. Butter will work well too, but I'd rather have olive oil on a hot day. Use the best quality olive oil you can find.
Parmiggiano Reggiano – This Italian gold can be expensive, but a little goes a long way. The flavour is far superior to anything labelled "parmesan" in the grocery store.
If you're vegan you can easily omit this and it will still be delicious on its own.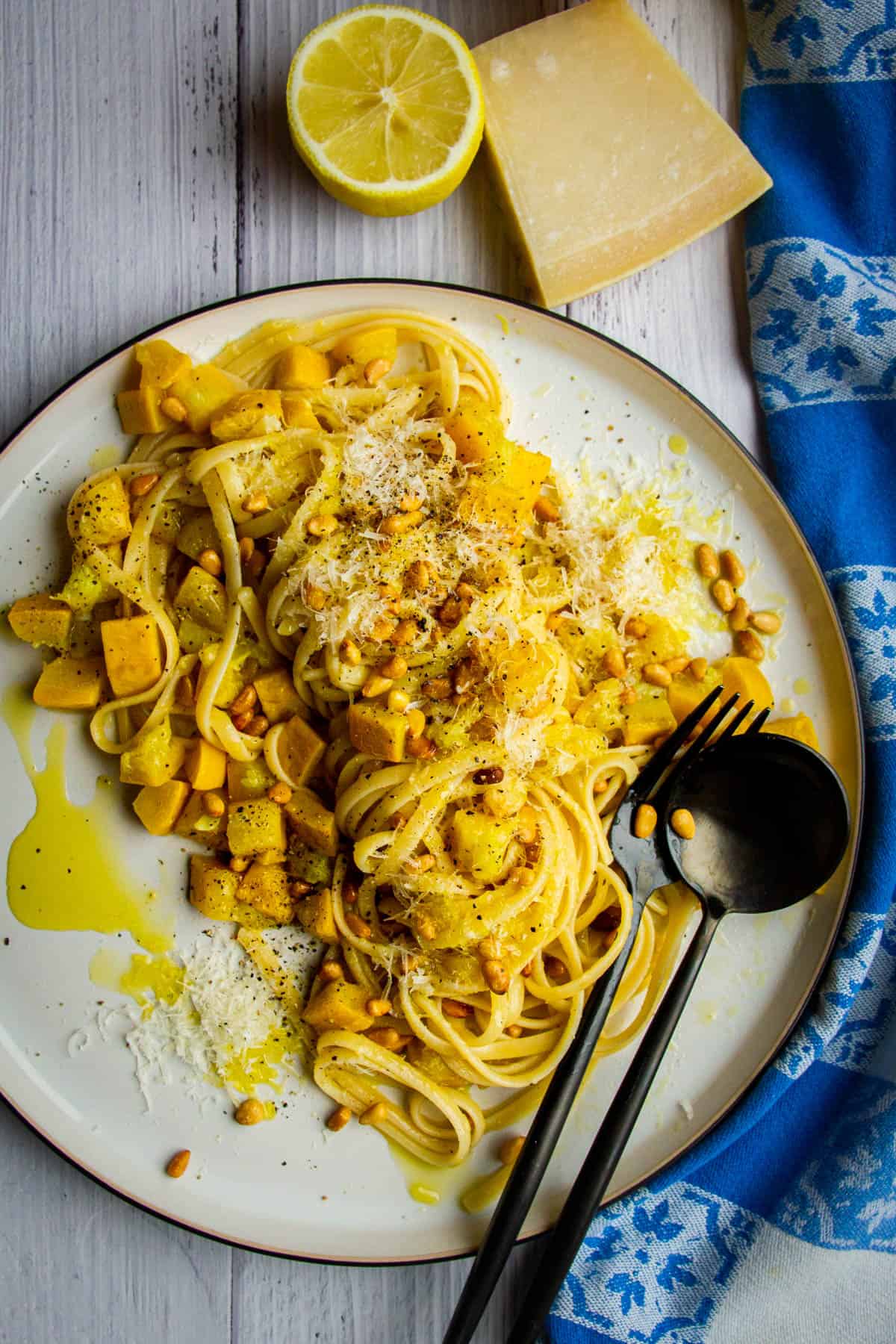 Steps to Make this Summer Pasta
Here's a quick play-by-play on how to make this tasty dish:
Toast the pine nuts in the oven until golden brown.
Cut the yellow zucchini into little squares.
Boil pasta until al dente.
Make garlic oil.
Sweat the yellow zucchini in the pan until soft but still holding its shape.
Add all of the ingredients plus a little pasta cooking water and stir well.
Garnish with extra cheese, black pepper and good olive oil.
Tips to Nail this Recipe
Always toast pine nuts in the oven for even cooking. Use a timer to prevent burning the expensive nuts.
Add a little pasta cooking water to prevent the pasta from tasting dry.
Use Parmigiano Reggiano for the best flavour.
Try My Other Pasta Recipes
More Comfort Food Recipes
My Ultimate Smoked Mac and Cheese
This Butternut Squash Pasta with Chili and Pumpkin Seeds