Strawberry puree is an easy (and delicious!) way to use up strawberries that are about to go bad.
You can use this sauce with all sorts of things like yogurt, ice cream, smoothies, or even with some savoury meat dishes.
I like adding fresh lime to strawberries because it brightens them up and gives them a little extra freshness.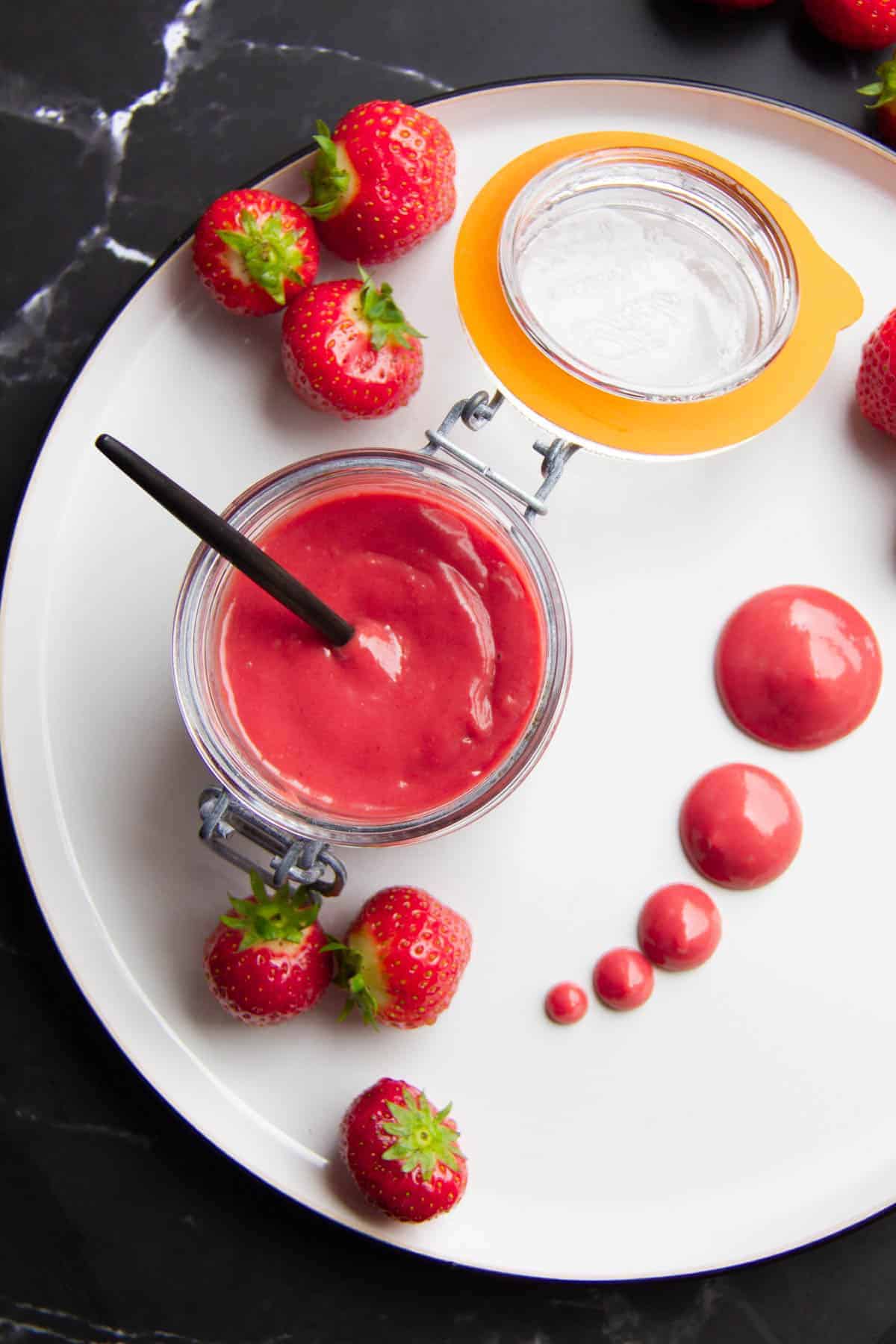 Frozen or Fresh fruit?
You can use either fresh or frozen strawberries to make this puree. But with fresh strawberries, you can cure them to enhance the flavour slightly.
On the other hand, frozen fruit will actually puree better because the freezing breaks down the cell walls of the fruit and makes it easier to blend.
Some people don't like to use frozen fruit because they think it's not as nutritious but it can actually be the opposite. One study found that after just 3 days in the fridge, the nutrition levels of the fruit declined below that of the same frozen fruit. [1]
Still, frozen fruit will never be as good as perfectly ripe strawberries picked yourself during peak season.
The better the strawberry, the better the puree.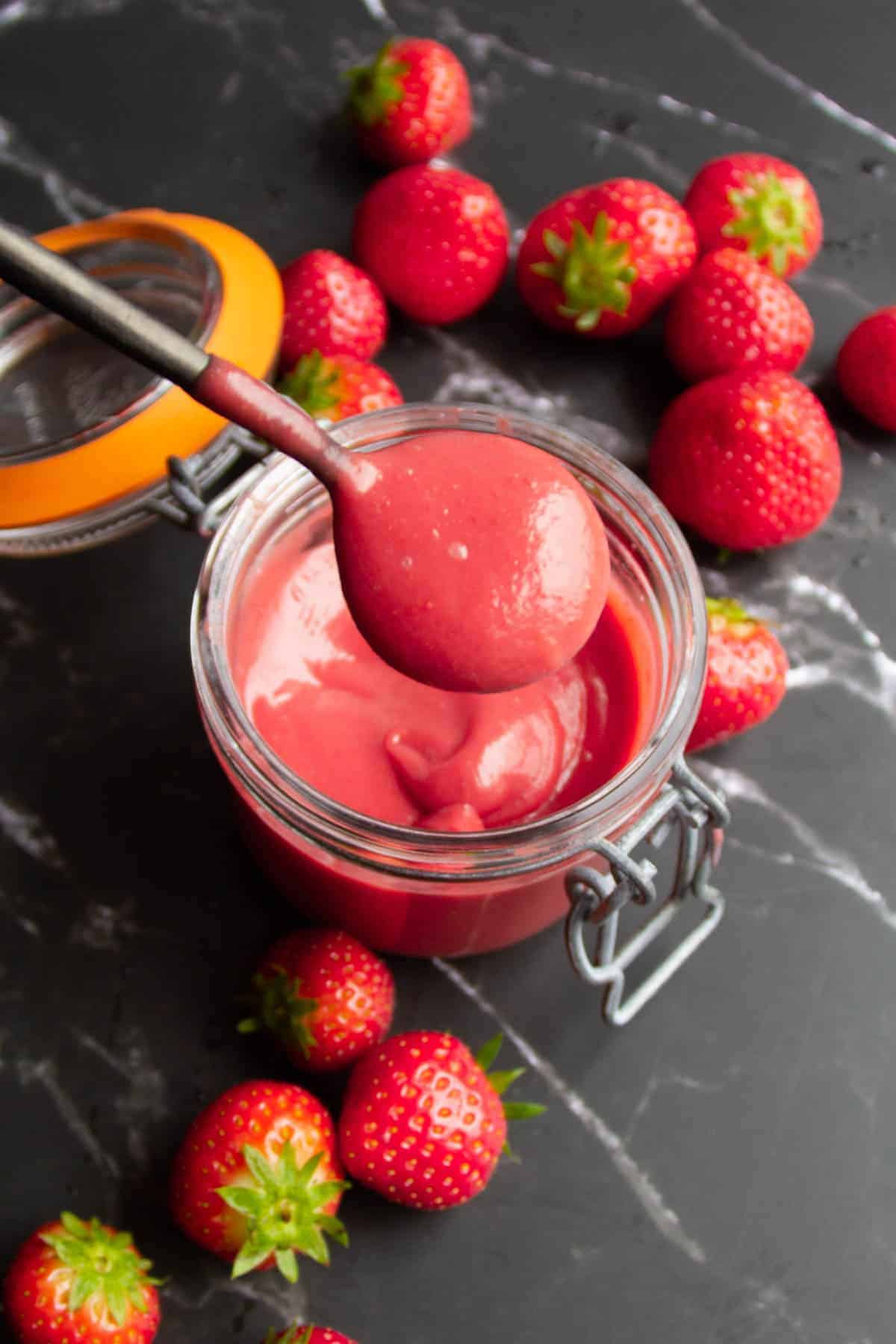 Use Ripe Fruit
If you've ever made banana bread then you've probably noticed that the recipe calls for ripe, almost black bananas. This is because ripe bananas have a stronger banana flavour than unripe bananas and a stronger flavour is necessary to compete with the other ingredients in the bread.
The same is true for this strawberry puree. Ripe, soft strawberries will make a sweeter sauce with a more intense flavour.
This is a great way to use up leftover strawberries that are about to go bad.
Cure the Fruit for a Stronger Flavour
The secret to this puree is in the curing process and I highly recommend that you do not skip this step.
When you cure the strawberries with sugar and salt, it pulls out moisture from the fruit. Less moisture means less dilution which means more flavour.
It takes about 30 minutes to draw out enough moisture but 1 hour will be even better.
What Can I Use Strawberry Puree For?
This puree can be used for both sweet and savoury dishes.
You can use this with:
Savoury Dishes
If you are planning to use this with a savoury dinner, I would leave out half of the sugar so that it's not too sweet.
Serve the puree warm alongside your favourite game meats like pheasant, quail, duck or even venison. The fruitiness is delicious alongside stronger flavoured meats like these.
Mix a few spoons of this into a buttery risotto for a special Valentine's Day or date-night dinner.
Sweet Dishes
Serve this puree cold alongside these sweet dishes:
A topping for ice cream.
In a milkshake.
Blended in a smoothie.
Use as a spread on toast, just like strawberry jam.
Drizzle over hot pancakes.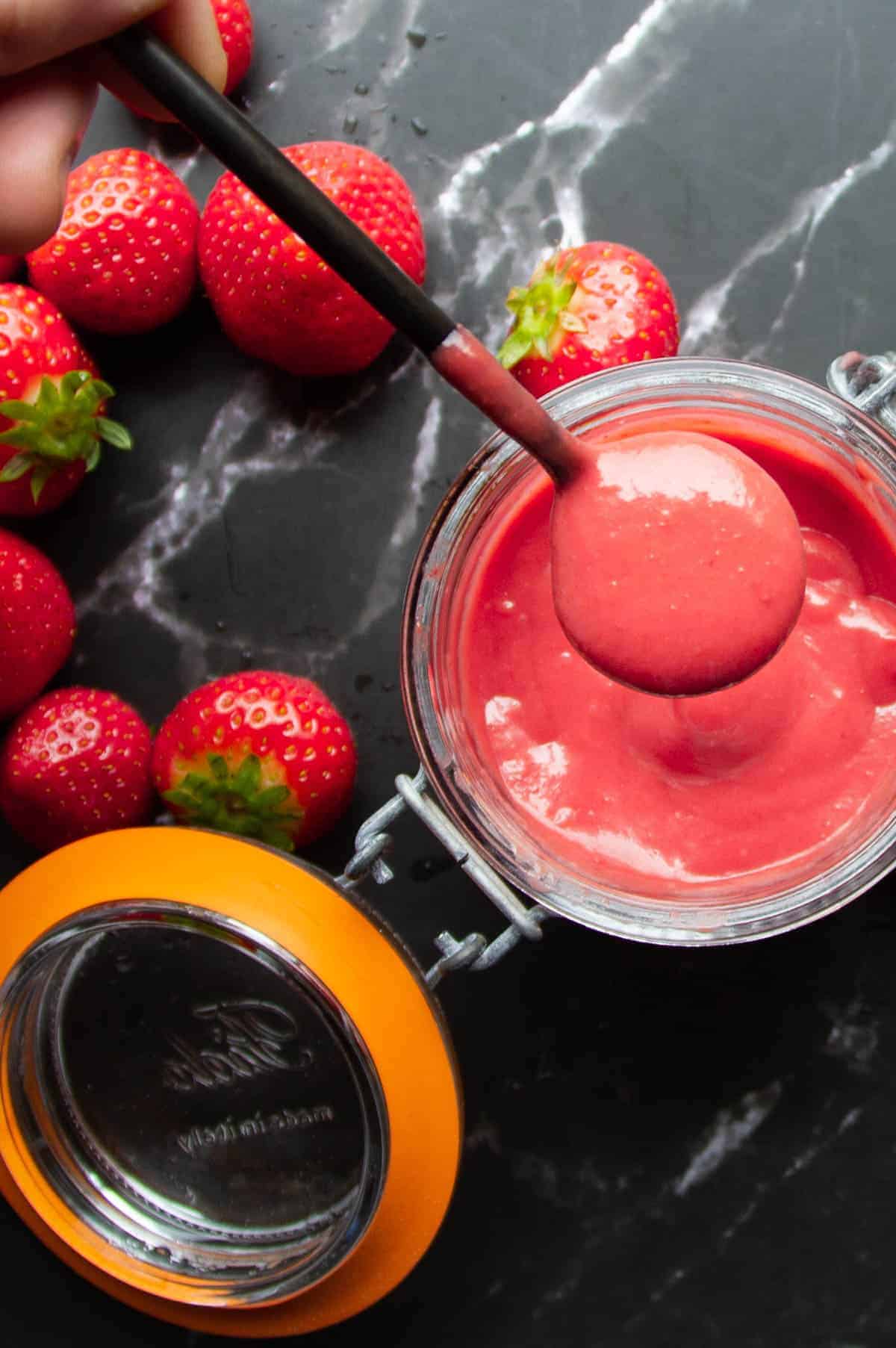 How Long do Strawberries Last?
Well, it depends on how old they are and what temperature they're stored at.
Strawberries usually last 5-7 days in the refrigerator if left whole. They will ripen faster at room temperature so it's best to store them in the fridge.
Chef-tip: Store them on a plate or flat tray lined with paper towels spread out in one even layer. This way they will not bruise as easily and the extra surface area will allow air to circulate across the fruit and prevent mould build-up.
An Intense Strawberry Puree with Lime
Use this strawberry puree for a sweet topping for pancakes, ice cream, or yogurt. Gluten-free and can easily be made vegan.
Ingredients
454

g

strawberries

hulled and quartered

3

tbsp

white sugar

add half if using for a savory dish

1

pinch

sea salt

1

pc

lime, zested

1

tbsp

cold butter, unsalted

optional
Instructions
Wash the strawberries and remove the tops. Quarter the strawberries and add in a bowl with all of the ingredients except the butter. Mix well and let this cure for 30 minutes to one hour.

Strain the strawberries and discard the liquid.

Alternatively you can save this strawberry syrup for ice tea, cocktails or other cold drinks.

Cook the cured strawberries over medium-low heat in a pan with a lid for about 2 minutes or until it comes to a boil.

Once the strawberries have boiled remove the lid and continue cooking until most of the liquid has evaporated (about 5 minutes). Use a spatula to stir the strawberries as they cook to prevent them from sticking to the bottom of the pan.

Once you can draw a line with the spatula in the pan (see picture), you're ready to blend.

Add the 1 tbsp of cold butter and blend with the hot strawberries until smooth.

Refrigerate until cold (about 2 hours) or serve warm with savory dishes. Enjoy!
Notes
If the strawberry puree is too thin, then it wasn't cooked long enough. 
Keep an eye on the strawberries while they are cooking because the sugar can burn in the pan if you walk away from it.
Have You Tried These Other Recipes Yet?
Super Easy Rhubarb Sauce
The easiest and most delicious rhubarb sauce you can make with no water added. Vegan, gluten-free and dairy free.
Check out this recipe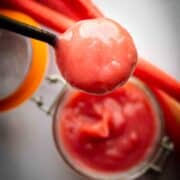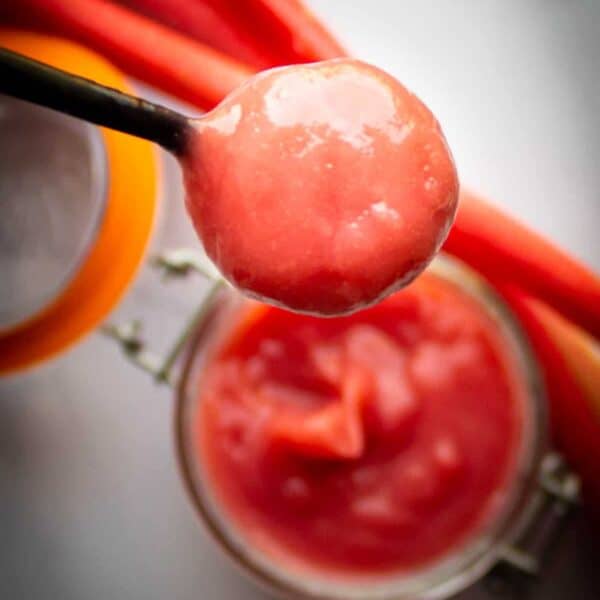 Pistachio "Ferrero Rocher" – Vegan Chocolate Truffles
These vegan "ferrero rocher" chocolate truffles use pistachios instead of hazelnuts for an easy but delicious Valentine's day dessert.
Check out this recipe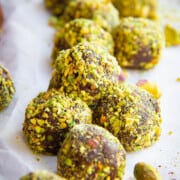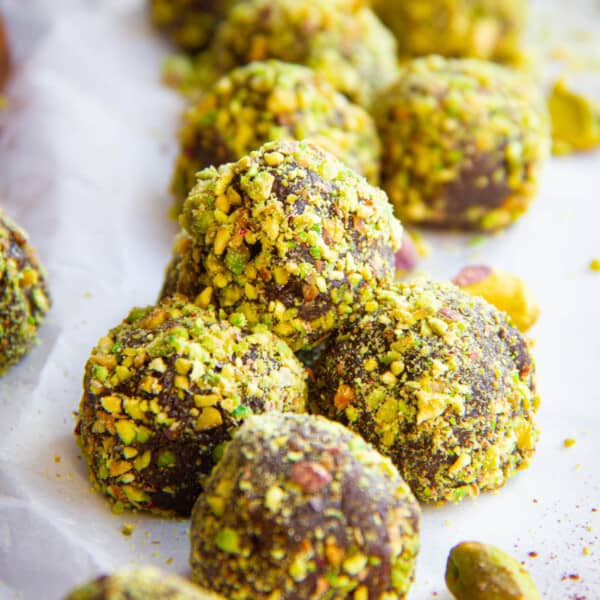 Seriously Good Vanilla Brownies – A.k.a. Blondies
These rich, dense, cracked top vanilla brownies are made using a whole-egg meringue to give them the ultimate soft chew. Try not to eat them all at once!
Check out this recipe