These vanilla brownies are not just seriously good, they're seriously dangerous because I could easily eat these every day.
They're *that* good.
Soft, rich, BUTTERY, with a satisfyingly chewy bite and crammed with real vanilla bean flavour – these chocolate-free brownies are fit for gods.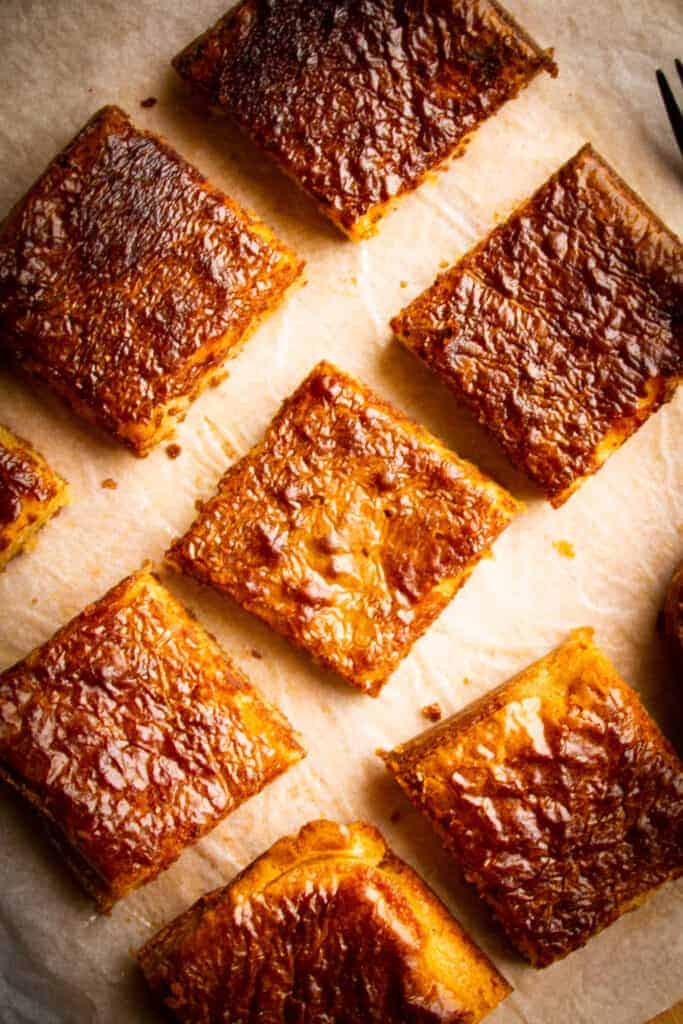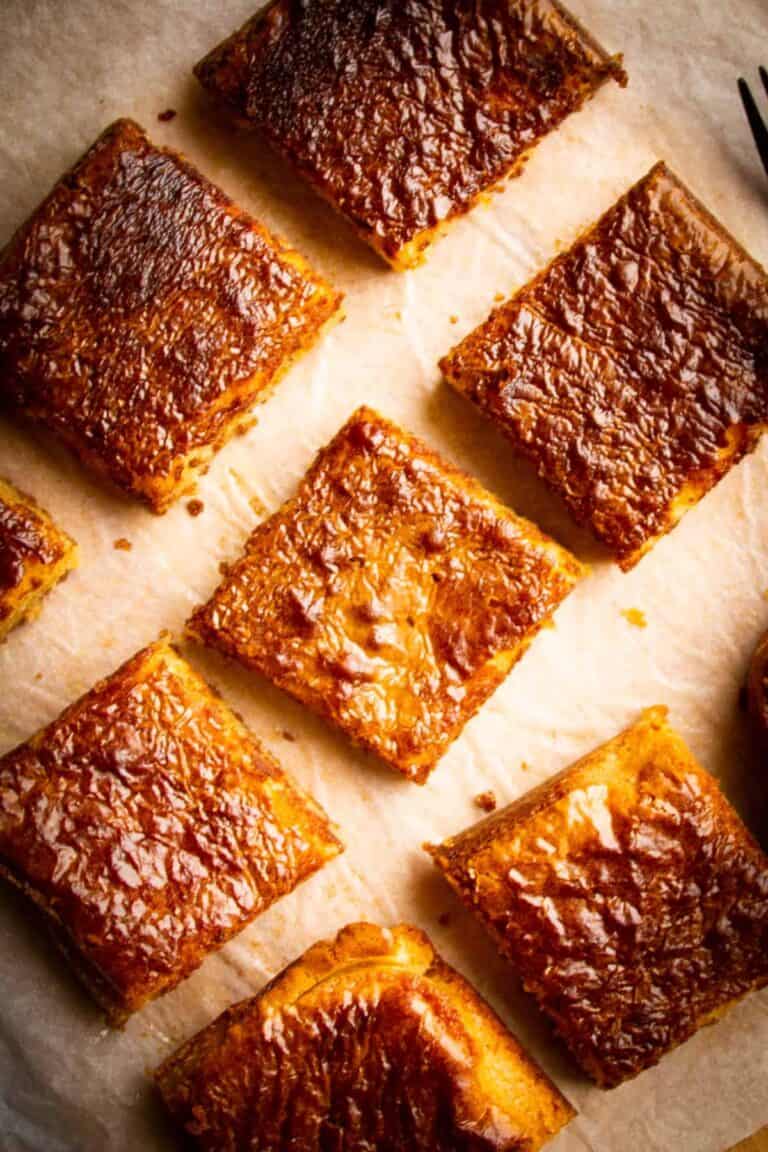 Why They're The Best Vanilla Brownies
They're super dense and rich with a slightly chewy texture which means they won't last long in any household.
Vanilla Brownies or Blondies?
The terms Blondie and Vanilla Brownie can be used interchangeably. Although blondies may contain white chocolate whereas vanilla brownies may not.
I love the addition of white chocolate in these because it adds richness without being oversweet – a problem with a lot of white chocolate desserts.
The neutral flavour of these chocolate-free brownies means that the delicate flavour of vanilla can shine. These blondies are the perfect vehicle for those expensive vanilla pods because there are no other strong flavours to mask the vanilla.
Don't like white chocolate? No problem because you won't even notice it in this recipe.
And yes, white chocolate is not technically chocolate, but let's not go down that rabbit hole. It works so well in this recipe!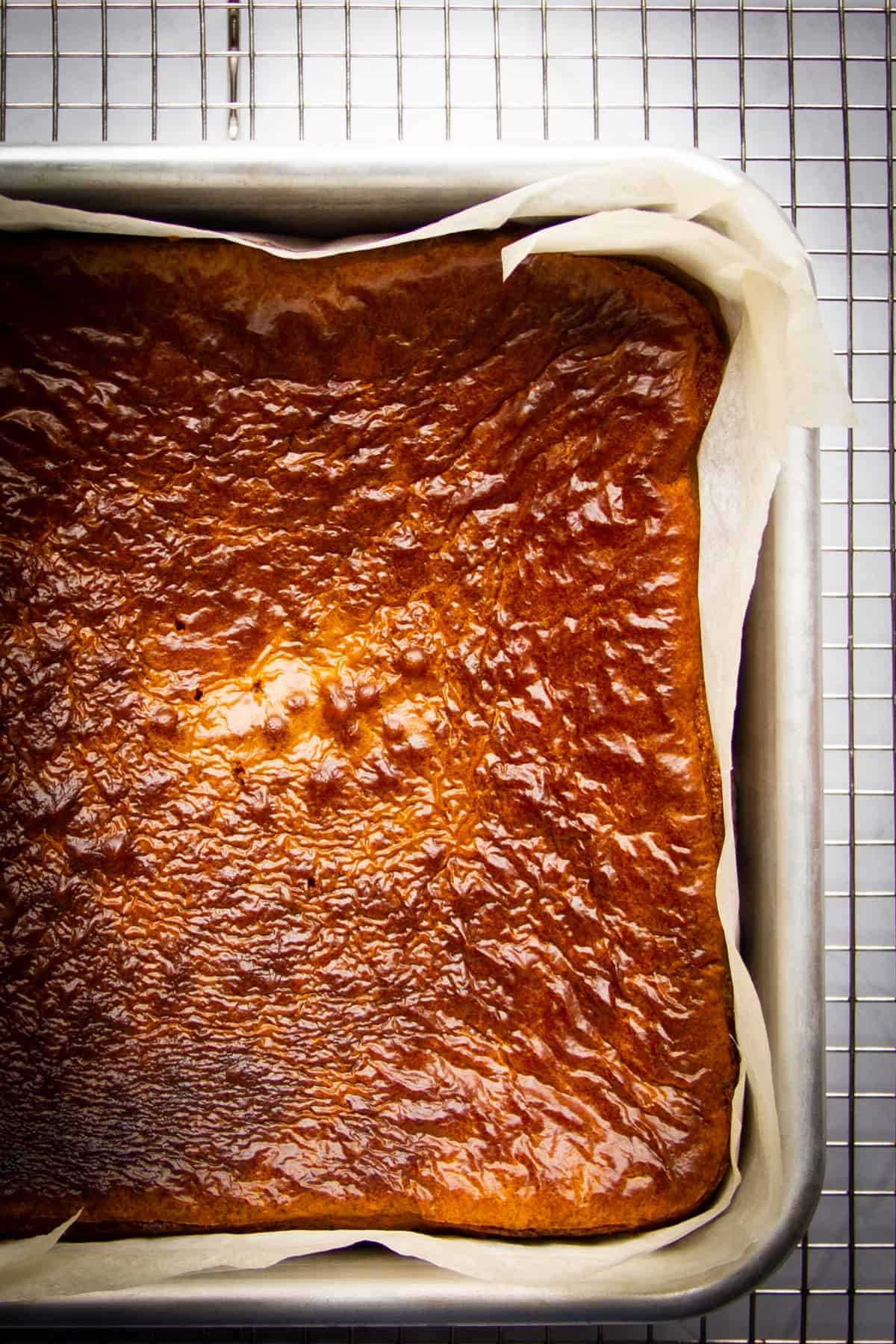 The Secret Technique for Vanilla Brownies – Whole Egg Meringue
Normally, brownies use a combination of baking soda and baking powder as the evening agent but in this recipe, I'm using a whole egg meringue instead.
Beating sugar and eggs together results in an extra fluffy meringue that doesn't require baking powder. It also helps the batter to rise without making it too cakey and gives them a satisfying chewy bite.
Use Superfine Sugar
I recently tried this recipe again with superfine sugar and the results were even better than before.
The superfine sugar dissolves faster into the meringue and makes a much better meringue.
To make superfine sugar, simply blend the sugars together in a very dry blender for about 10-15 seconds. Never fill the blender more than halfway and always start on low speed to avoid damaging your blender.
Can I Make these Brownies Dairy-Free?
Yes, just replace the butter with vegan butter and the white chocolate with the best dairy-free white chocolate you can find. It won't be as good as when made with real butter, but it will still be very delicious.
Making this vegan would require a brand new recipe because replacing the eggs for the meringue is quite difficult. Instead, I recommend you try this awesome vegan chocolate hazelnut brownie recipe.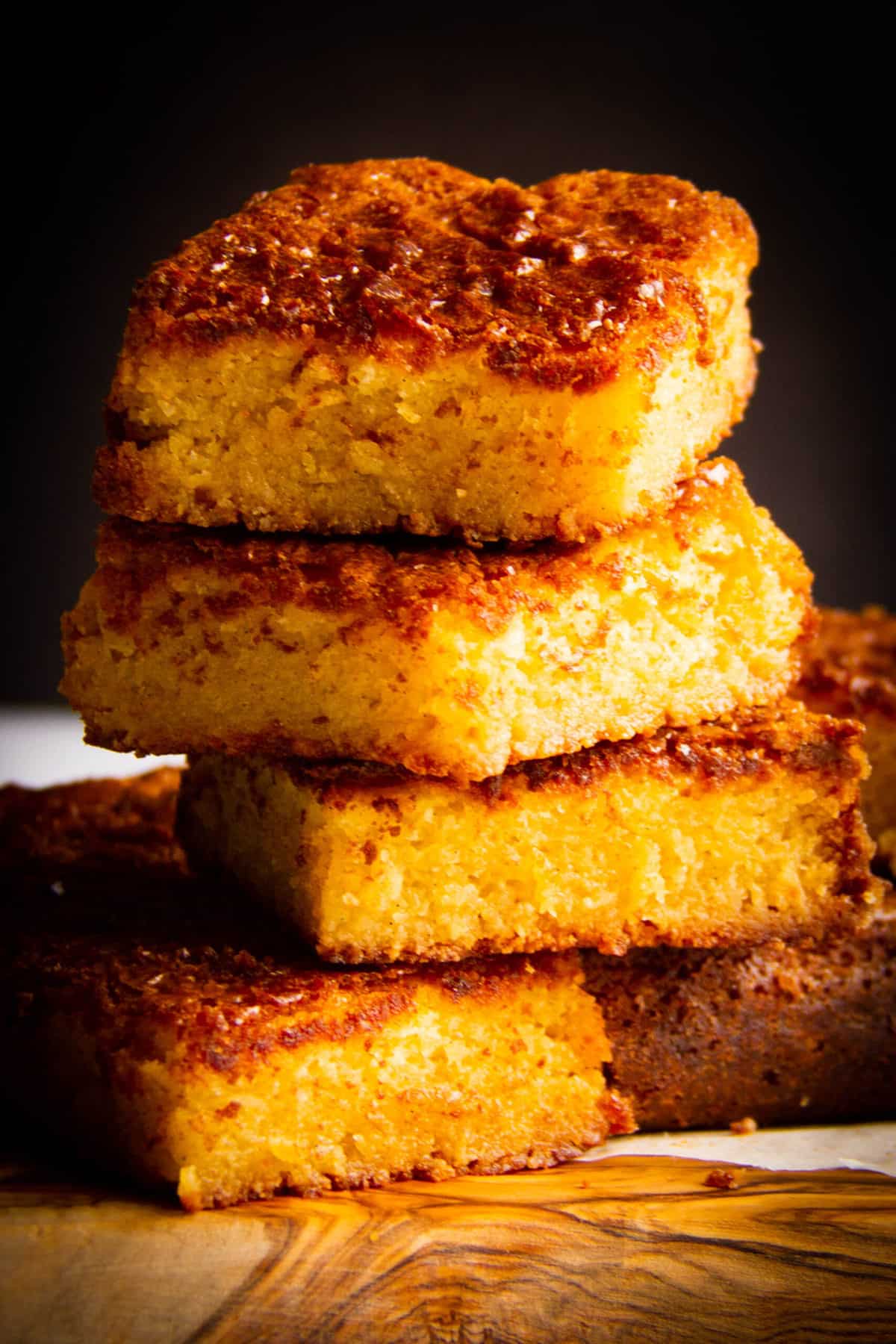 Metal Baking Trays vs. Glass Baking Trays
Because glass doesn't absorb heat as well as glass, blondies baked in a glass baking dish will take longer than when baked in a metal tray. If you're using a glass baking dish, add 10-15 more minutes of baking time.
Can I Make these Vanilla Blondies Without Vanilla Pods?
Yes, and they will still taste pretty delicious actually. If I was omitting the vanilla I would brown the butter for a richer flavour and maybe add some extra blondie additions (see below).
Vanilla pods can be expensive and you don't have to buy them for this recipe. You can substitute the vanilla pods for 1 tbsp of vanilla extract. Just make sure to add the vanilla extract at the very end into the batter otherwise, the meringue will not work as well.
Get Wild With Additions
Some good ideas to throw into your vanilla brownies are:
Toasted macadamia nuts.
Toasted almonds.
Extra white chocolate chunks.
A zest or two of fresh orange.
Brown butter.
Caramel.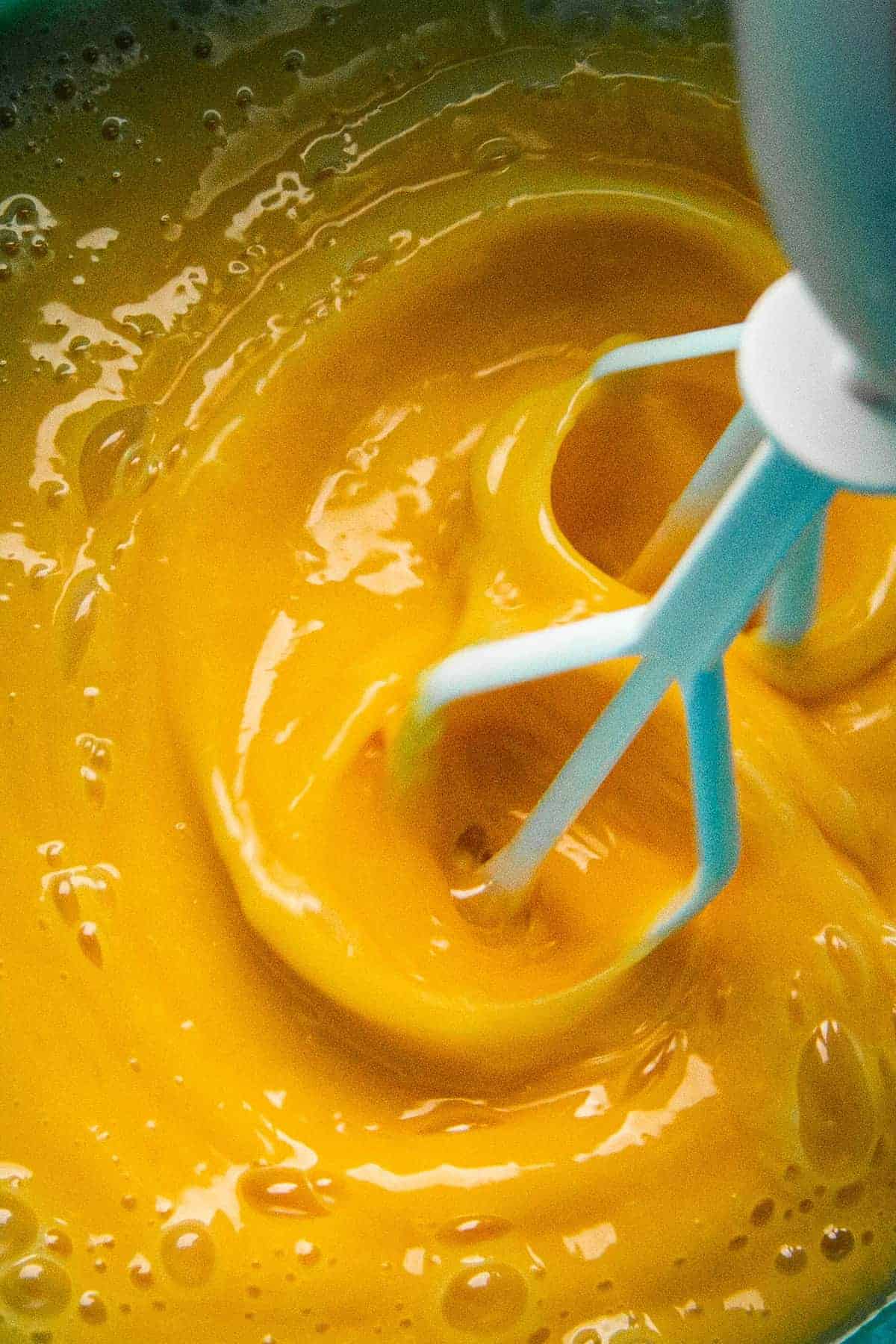 How to Nail this Recipe
Use superfine sugar. The fine crystals will dissolve easier into the meringue and that means you won't have to mix it as long. You can blend the sugars together for about 10 seconds in a very dry blender to make a super fine sugar.
Be careful as these blondies burn quite easily. It's best to keep a good eye on them as oven temperatures can vary quite a bit.
Let them cool for as long as possible before eating. Ideally 1 hour, but at least 20 minutes. I know, it's not easy…
Use real vanilla pods for the best taste if possible.
How to Store Vanilla Brownies
These are best eaten within 1-2 days and stored in an airtight container at room temperature. They last longer if not cut and wrapped well, stored in the refrigerator for up to 5 days. 
They freeze really well as long as they are wrapped in an airtight container. Pre-cut them before wrapping them individually in plastic wrap or storing them in a sealed container and freezing for up to 3 months.
Recommended Tools
You'll need a stand-mixer or beater to make this recipe. The eggs need to be blended a long time with sugar to make a nice meringue and doing this by hand would be very time-consuming (and tiring!).
Kitchen-aid is the industry standard for stand-mixers in most professional kitchens and is what I would recommend.
You can also use an electric beater with the paddle attachments like this one from Kitchen-Aid.
Update: I've updated the oven time on these a little bit because it seems to take longer on some people's ovens. You can also check the internal temperature of the blondies with a thermometer and once they reach 200℉/93℃ they're done.
Seriously Good Vanilla Brownies – A.k.a. Blondies
These rich, dense, cracked top vanilla brownies are made using a whole-egg meringue to give them the ultimate soft chew. Try not to eat them all at once!
Ingredients
150

g

All-purpose flour

sifted

150

g

butter

unsalted

150

g

white sugar

superfine

150

g

light brown sugar

superfine

3

whole

large eggs

200

g

white chocolate

chopped finely

¾

tsp

salt

2

pc

vanilla pods

or 1 tbsp vanilla extract
Instructions
Set the oven to 165°C/325°F and line your baking tray with parchment paper. Cut the edges as shown in the picture to allow the paper to sit better in the baking dish.

Cut the vanilla pods along the side with a pairing knife. Scrape out the seeds. Add the seeds and the leftover pods to a bowl with the butter and white chocolate.

Have all of the ingredients ready before you begin like shown in the picture.

Melt the butter, vanilla seeds, vanilla pods and chocolate together in a bowl over some hot water (double boiler).

Stir frequently and once completely melted turn off the heat but keep warm.

Beat the eggs and the salt with the paddle attachment for 1 minute on medium speed.

Once the eggs are frothy, pour ⅕ of the sugar and continue beating at medium speed.

Blend for about 2 minutes or until the sugar dissolves. Repeat until all of the sugar is dissolved.

Once all of the sugar is dissolved continue beating until the eggs double in size and turn pale. This takes about 8-10 minutes and should be done on medium speed.

Once the eggs are pale and yellow, slowly add in the melted chocolate, butter mixture and continue to mix with the mixer on low speed. Dry the bottom of the bowl white chocolate bowl before adding it to the matter to prevent ruining the meringue.

Remove the vanilla pods from the mixture and stir in the flour.

Once nicely mixed, pour the mixture into the lined baking tray. Cover with aluminum foil.

Bake for 45 minutes at 165°C/325°F, then remove the foil and continue baking for 20-30 minutes or until the centre comes out clean when poked with a toothpick. (1 hour – 1 hour + 15 minutes total baking time)You can also check the internal temperature of the blondies with a thermometer and once they reach 200℉/93℃ they're done.

Let the vanilla brownies cool on a resting rack for at least 20 minutes.

Cut into 9 squares and try not to eat them all at once!
Notes
This recipe is inspired by the all-white yeti blondie from Chef Steps and the blondies from Brave Tart. 
The sugar is added in 5 stages to help it dissolve better into the meringue. If you add it all at once it may collapse.
Always work with clean, dry bowls and utensils when making merinuge. Any drops of water in the bowl or on the utensils can ruin the meringue.
These blondies will burn really easily so it's a good idea to keep an eye on them while baking, especially the first time you make them. 
Have You Tried These Other Dessert Recipes Yet?
Vegan Chocolate Hazelnut Brownies
The Best Vegan Chocolate Hazelnut Brownies
A recipe for vegan brownies loaded with intense chocolate hazelnut flavour and drizzled with vegan nutella. Soft, rich and insanely chocolatey. I promise you won't miss the dairy or eggs.
Check out this recipe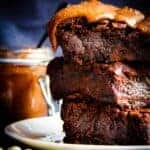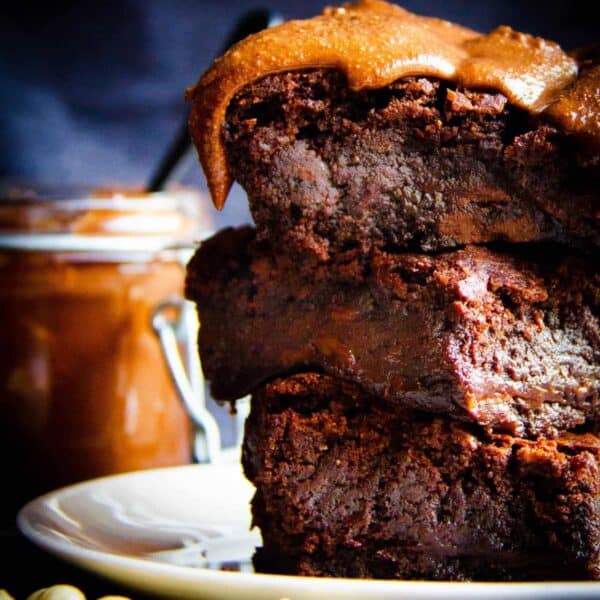 The Ultimate Chocolate Chip Cookies
My Ultimate Chocolate Chip Cookies
These chocolate chip cookies are thick, with crispy golden brown edges, gooey chocolatey centres and bursting with giant dark chocolate chunks.
Check out this recipe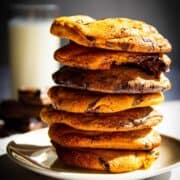 Salted Caramel Sticky Toffee Pudding
Salted Caramel Sticky Toffee Pudding
This salted caramel sticky toffee pudding is deliciously rich and comforting with a no-fail salted caramel sauce and the perfect Christmas dessert.
Check out this recipe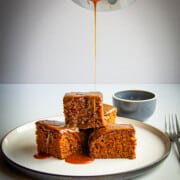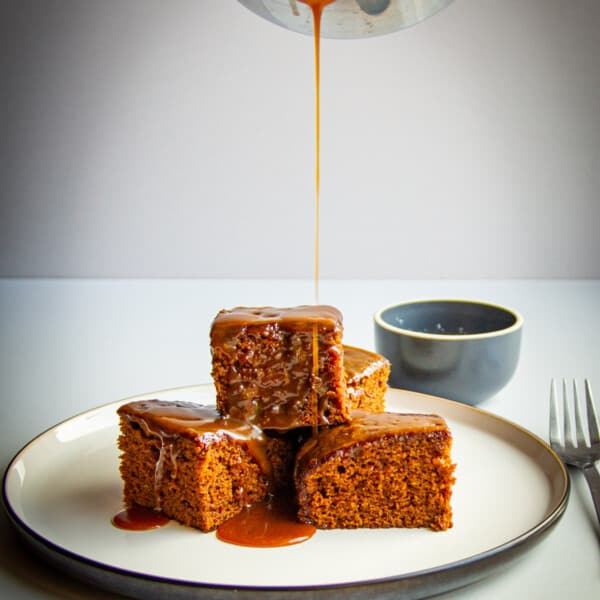 Easy, Buttery Cognac Apple Crisp Without Oats
This apple crisp without oats is made with almond flour and shaved almonds for a gluten-free alternative that's better than the original. Can be made in a little more than an hour.
Check out this recipe