Valentine's day? Date night?
Or just feelin' fancy?
This stuffed chicken leg should do the trick.
Stuffed chicken legs can be intimidating for the home cook, but fear not as I'm about to walk you through it, step by step, picture by picture.
The bacon in this dish adds a ton of flavour and also helps to tie it together, meaning you don't have to mess around with butcher's twine.
Double win!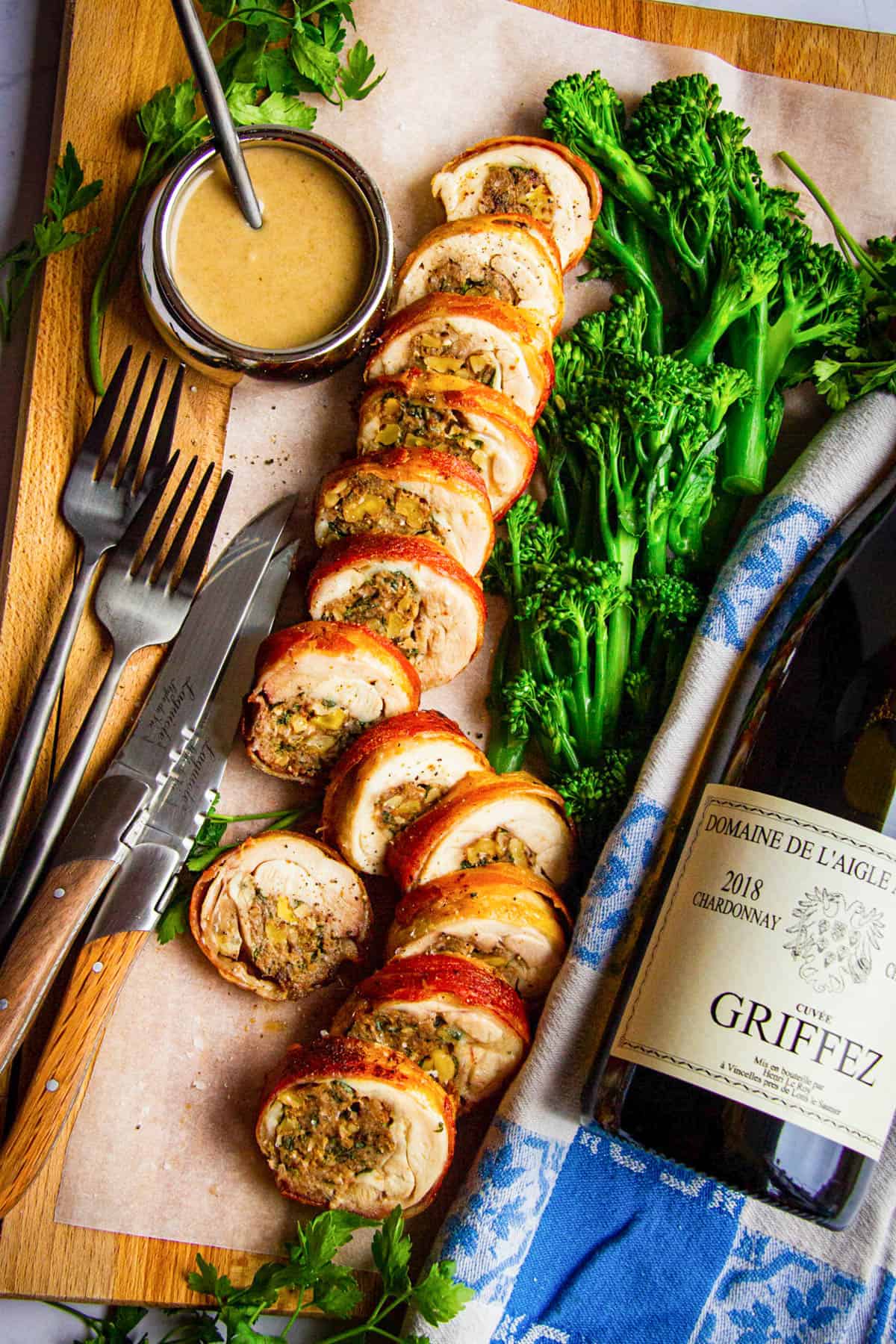 Why You Need to Try This Stuffed Chicken Leg
I love this dish because it's packed with some of my favourite flavours which blend oh-so-well together.
Porcini, toasted walnuts, fresh parsley and ground pork come together to make a delicious sausage that flavours the chicken meat as it cooks.
And the date sauce is a great alternative to a heavy cream sauce or the time-consuming beef jus.
Plus the little extra sweetness from the dates really ties it together.
The Right Meat to Buy For Stuffing Chicken Legs
It's always better to buy from a local butcher who knows what they're doing.
They can prepare the meat exactly to your liking and the quality is almost always better than a grocery store.
Finding large, free-range chicken legs without the bone and with the skin seems to be almost impossible to find at most grocery stores, so you'll want to find a good butcher.
Where to Find Dried Porcini
Porcini mushrooms are a chef's secret weapon because the flavour is unmatched.
Fresh porcini mushrooms are much more difficult to find (and really expensive) but the dried stuff can usually be found in specialty grocery stores (try Italian specialty stores).
The flavour you get from the porcini powder gives this chicken a beautiful earthy flavour that you can't find in any other ingredient.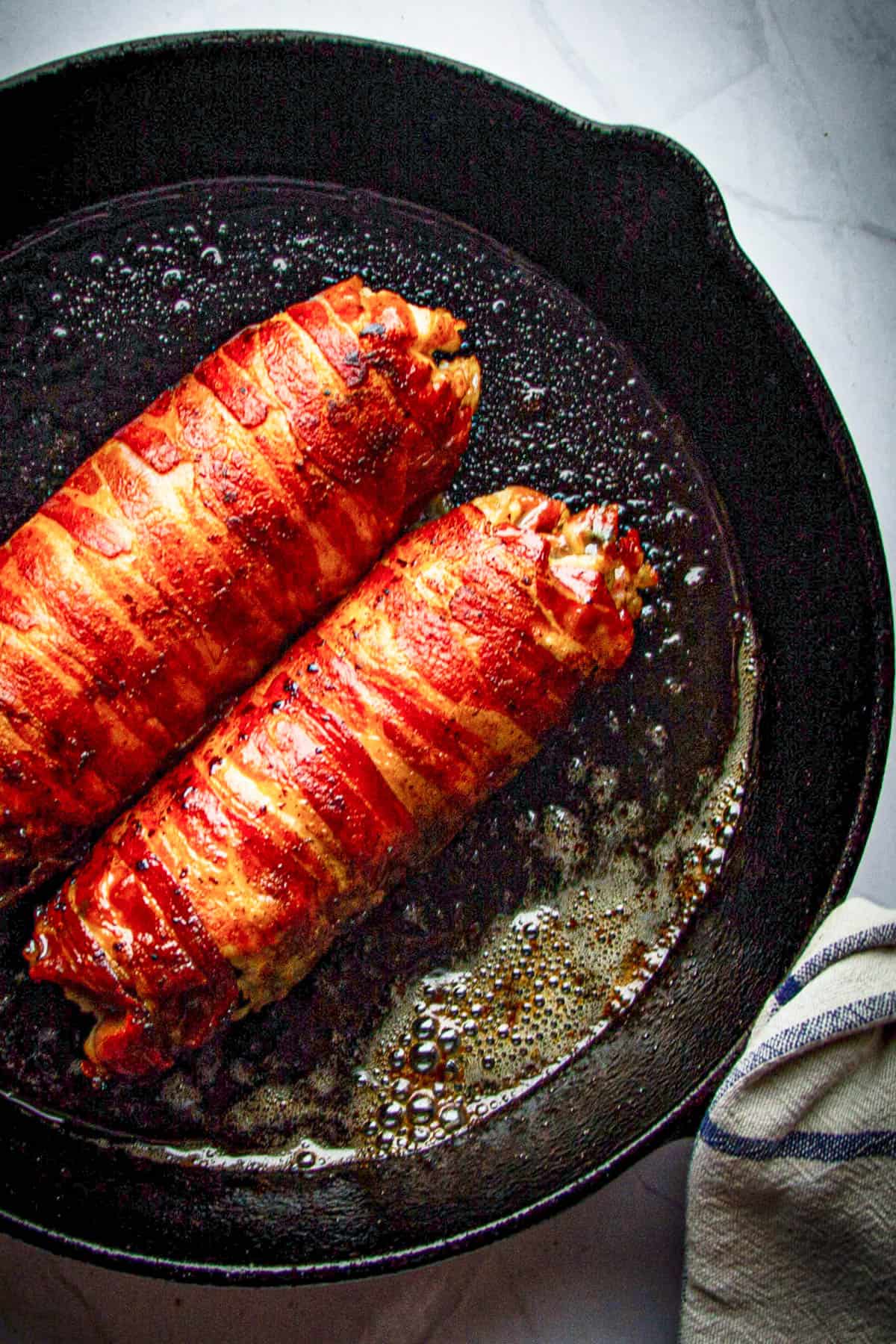 Black Trumpet Mushroom Alternative
I absolutely LOVE black trumpet mushrooms, and this stuffed chicken would also work really well with them in replace of the porcini mushrooms.
If you find fresh black trumpet mushrooms (lucky you) then throw a bunch in the stuffing and omit the dried porcini.
Just be sure to give them a quick sauté in a bit of butter before cooling and adding them to the stuffing.
Try My other Mushroom Recipes
How to Nail this Valentine's Day Stuffed Chicken
Here are a few tips for a successful Valentine's Day dinner:
Give yourself at least 2 hours before you want to eat. That way you are not rushing around and you can enjoy the cooking – maybe even with a glass of wine.
Buy your meat from a butcher and ask them to debone the chicken legs for you. Tell them you are making stuffed chicken legs and need the skin intact.
Use thinner, long strips of bacon that will melt into the meat.
Don't let the chicken cool for longer than 30 minutes in the fridge otherwise, the interior will not be warm enough after searing.
How to Nail the Date Sauce
This sauce is difficult to replicate in a recipe because it depends on how long you cook the sauce. Use the recipe as a guideline and follow these tips for success:
If the sauce is too thick – add a splash more chicken stock.
If the sauce is too thin – add more Xanthan gum.
Don't Over-Chill
While the chicken cools in the fridge for 30 minutes the bacon sets and the interior stays warm. The inside will still be slightly warm after 30 minutes so it should be cooked right away.
If you let it cool down completely in the fridge then you will need to re-poach it to heat the interior again and this will overcook the meat. It's best to chill for 30 minutes and sear immediately after that.
What to Enjoy with It
This dish goes great with:
Garlic smashed potatoes.
A glass or two of dry white wine
What About Dessert?
Why Xanthan Gum?
You don't need to add the xanthan gum but it will make the sauce more smooth, shiny and emulsified and that's exactly what we want on a special occasion.
Although, feel free to omit this if you're not a fan of xanthan gum.
Always be careful when using Xanthan gum because it's very powerful stuff. Less is really more. Always add in small increments because if you add too much the sauce will become way too thick.
Recommended Tools
Hand blender – This will ensure that you have a beautiful and silky smooth sauce. Better yet, use a stand blender.
Cast Iron Pan – The absolute best pan for searing meats because of the heavy bottom which provides a nice even heat distribution.
Tin Foil – This is for poaching the chicken and is essentially the poor man's sous-vide. Works perfectly in this recipe.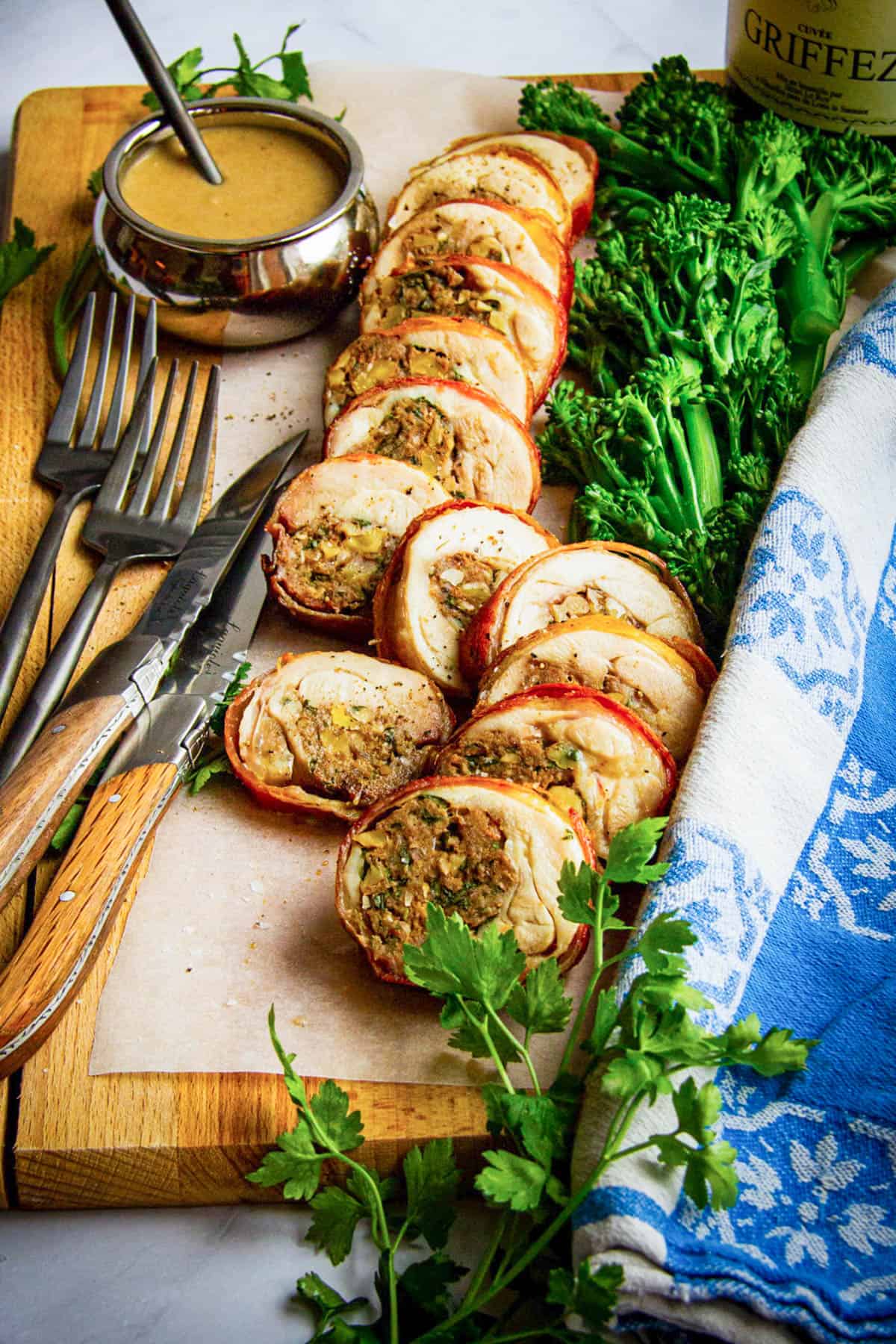 Recipe FAQ
What if I Don't Have Porcini Powder?
If you can't find dried porcini then use another dried mushroom, like shiitake or a mix.
Which Diets is This Suitable For?
This stuffed chicken is gluten-free, paleo and can be made dairy-free by just substituting the butter for olive oil or vegan butter.
Can This Dish be Made in Advance?
The short answer is no. Because the chicken is perfectly cooked after poaching, chilling and then searing it's not going to be the same once you reheat it.
How Much Time Do I Need?
Give yourself two hours before dinner to properly prepare this. That will give you a little extra time to also prepare some vegetables on the side.
Can I Reheat This Dish?
It's not ideal to reheat this. After poaching, chilling and then searing, the inside of the chicken is perfectly cooked and the outside is deliciously crispy.

Once it cools and is reheated, the crispiness of the skin is lost and the meat will be overcooked.

I'm not saying that you can't reheat the leftovers the next day, just that it won't be nearly as good as when first prepared.
Stuffed Chicken Leg with Bacon, Porcini, Walnuts and a Date Sauce
This stuffed chicken leg should do the trick for a special occasion like Valentine's Day, date night or anytime you need something a little extra nice.
Ingredients
2

pc

chicken legs

skin on, deboned

14

pc

bacon strips

thin slices

1

tsp

olive oil
For the Stuffing
150

g

ground pork

20

g

porcini

dried

½

bunch

flat leaf parsley

20

g

walnuts

about 3 tbsp

¼

tsp

sea salt

¼

tsp

cracked black pepper
For the Date Sauce
80

g

dates, pitted

about 12 dates

100

ml

dry white wine

250

ml

chicken stock

low sodium

1

tbsp

unsalted butter

or olive oil

1/16

tsp

xanthan gum

optional

½

tsp

sherry vinegar

¼

tsp

salt
Instructions
Blend the dried porcini mushroom in blender until a powder is formed.

Toast the walnuts in the oven for 5 minutes and allow them to cook completely. Roughly chop them.

Mix everything for the stuffing together in a bowl. Season with salt and pepper.

Put two sheets of tin foil on your cutting board horizontally. Add a bit of olive oil.

Line the bacon strips vertically, slightly overlapping each other as shown. 

Put the chicken leg skin side down on the bacon.

Season with salt and pepper. Add the filling and try to fill out any gaps in the meat.

Roll the chicken closed and tighten well. Be careful not to tighten too much or the foil will rip.

Bring a shallow pan with water to just under a boil. Poach in a shallow pan for 25 minutes. The water should stay hot, just under a boil but not boiling.

Remove from the water, place on a plate with a paper towel and chill in the fridge. Set a timer for 30 minutes. Don't overchill.

Remove the tin foil carefully and dry on paper towels. 

Get a cast iron pan medium-hot and add the oil. Once the oil is hot, sear the stuffed chicken until all sides are beautiful and golden brown.

Be careful as the oil will splatter a bit if the chicken is not dry enough.

Once the chicken is nicely browned on all sides, remove from the pan and keep in a warm place. Cover with a bit of tin foil.

Discard the cooking oil from the cast iron and put back on the heat. Add the dates and fry for 1-2 minutes. Deglaze with the wine. Reduce by half (about 1-2 minutes).

Add the chicken stock and reduce again by half (about 5 minutes). The sauce should fill about 250ml with the dates before you blend.

Transfer to a blender. Add the rest of the ingredients for the date sauce and blend. If the sauce is too thick then add more chicken stock. If it's too thin then add a bit more xanthan gum.

Slice the chicken with a bread knife or really sharp knife. Season with black pepper, Maldon salt and pour the sauce at the table.

Enjoy with your favourite vegetable sides!
Nutrition
Calories:
596
kcal
|
Carbohydrates:
46
g
|
Protein:
21
g
|
Fat:
35
g
|
Saturated Fat:
12
g
|
Trans Fat:
1
g
|
Cholesterol:
78
mg
|
Sodium:
866
mg
|
Potassium:
939
mg
|
Fiber:
6
g
|
Sugar:
28
g
|
Vitamin A:
1394
IU
|
Vitamin C:
20
mg
|
Calcium:
67
mg
|
Iron:
3
mg
Chocolate Hazelnut Spread – Vegan Nutella
It's quick, easy, cheaper and just way better than any store-bought hazelnut spread. It's your own homemade vegan Nutella.
Check out this recipe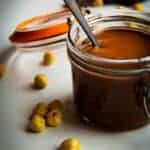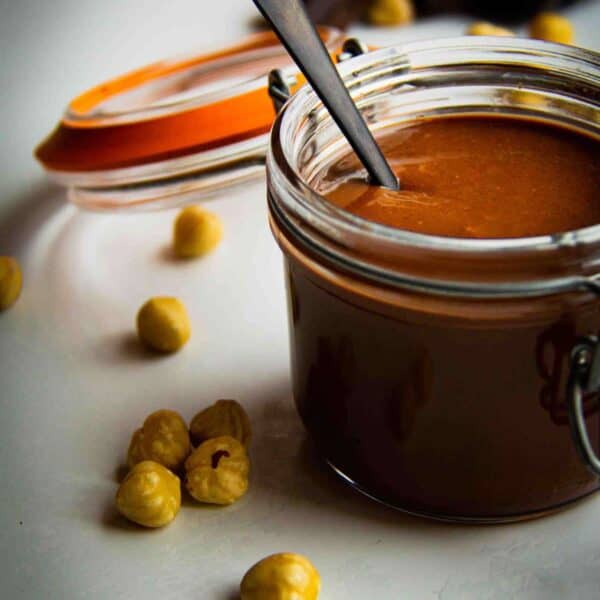 Roasted Rainbow Carrots with Sumac, Mint and Toasted Sunflower Dressing
These roasted rainbow carrots are incredibly delicious, vegan, dairy free and gluten free. Sprinkled with sumac, toasted sunflower seeds and a creamy sunflower dressing.
Check out this recipe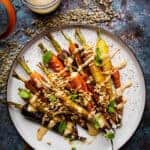 The Perfect No-Fail Spatchcock Holiday Chicken Dinner – with Mushroom Gravy
My ultimate rundown on how to achieve the perfect holiday chicken dinner using the spatchcock method. Beautifully juicy, flavourful meat with insanely delicious roasted potatoes.
Check out this recipe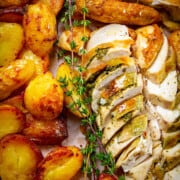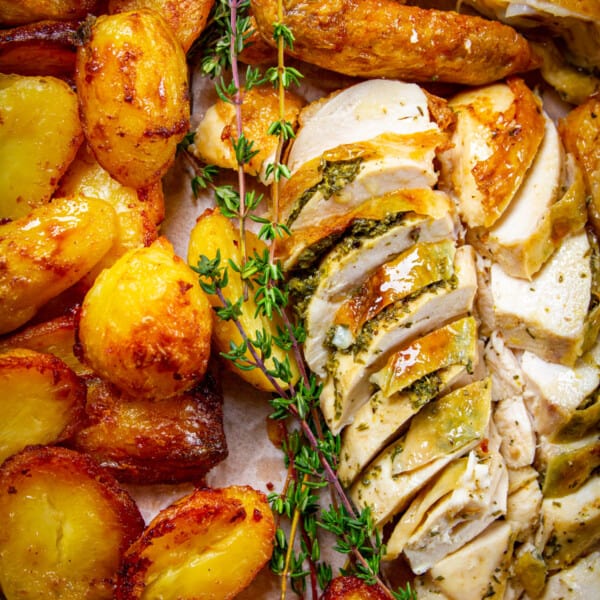 Sauteed Rainbow Chard with Brown Butter Raisins, Almonds + Chili
A delicious side dish with quickly sauteed rainbow chard, brown butter soaked raisins, toasted almonds, aleppo chili and pickled chard stems.
Check out this recipe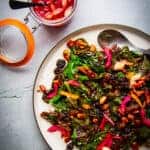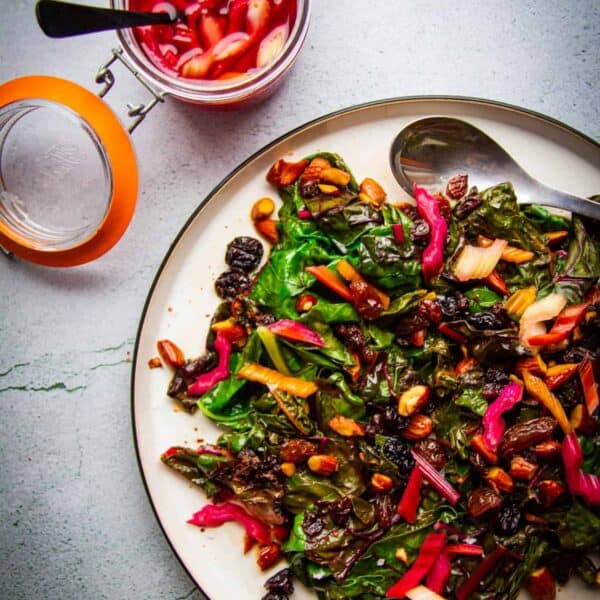 Caesar Salad – The King of Salads
Still to this day my favourite salad. A rich, creamy dressing made with fresh egg yolks and loaded with umami flavour from the anchovies, sharp parmigiano cheese and fresh garlic. Finished with loads of cracked black pepper and fresh lemon. It's the king for good reason.
Check out this recipe