This is no quick and easy, 5-minute short rib chili recipe.
No.
This is my recipe to completely knock it out of the park, grand-slam, best-chili-you've-ever-had-in-your-life.
Even with the time-saving instant pot this recipe still takes quite a bit of time. Although once you taste this unctuous, fork-tender, flavour-packed chili, everything will make sense.
So plan it out, grab a beer and get ready for a day spent cooking the best short rib chili in the world.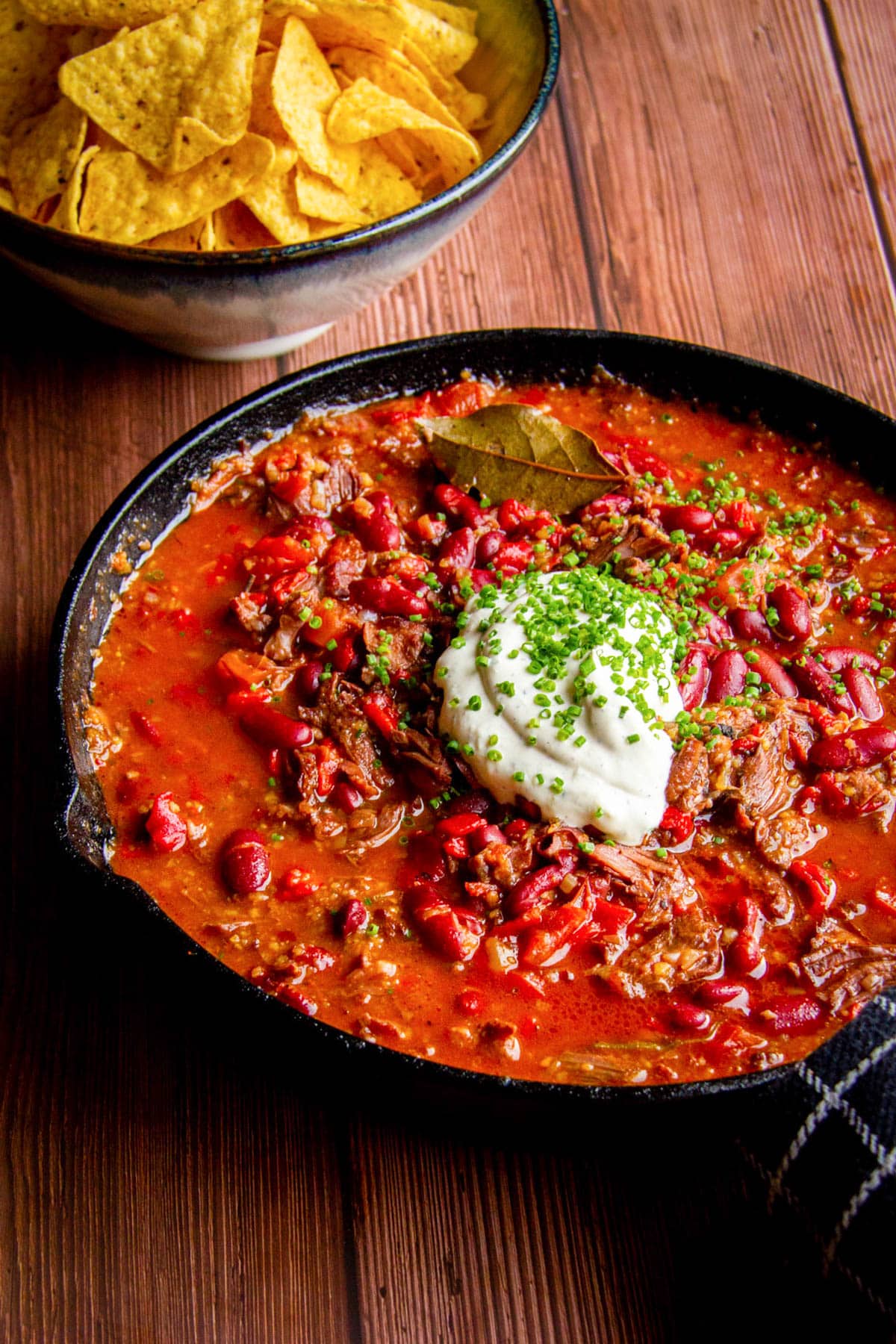 What Exactly is Chili?
Chili or chili con carne is basically a popular meat dish originating in Northern Mexico or Southern Texas and is usually accompanied by beans, tomatoes and cumin spice.
Depending on who you ask, the recipe varies. Some purists have their chili with beans, while others demand it without.
Chili competitions can have very specific rules and techniques that make this dish as sacred as the carbonara pasta to Italians.
My recipe is not at all authentic but crafted with techniques from my cooking experience.
Canada and the Super Bowl
In Canada, Super Bowl is still pretty popular and for most people, myself included, it's the one football game of the year we watch.
It's a great excuse to get everyone together, watch a game and most importantly, eat delicious Superbowl food!
The best part is, that you don't have to be a football fan to enjoy all the tasty festivities of the Superbowl.
Why This is The Best Chili You Will Ever Have
There are a few reasons that will make my chili like no other.
The first is that braised short rib is simply the best cut of beef for braising.
The heavy marbling of the short rib and cooking with the bone gives the meat an extra rich flavour that's unmatched by other beef cuts.
The rich and full-flavoured texture of short rib is exactly what you want in a braised beef dish and is perfect for this chili.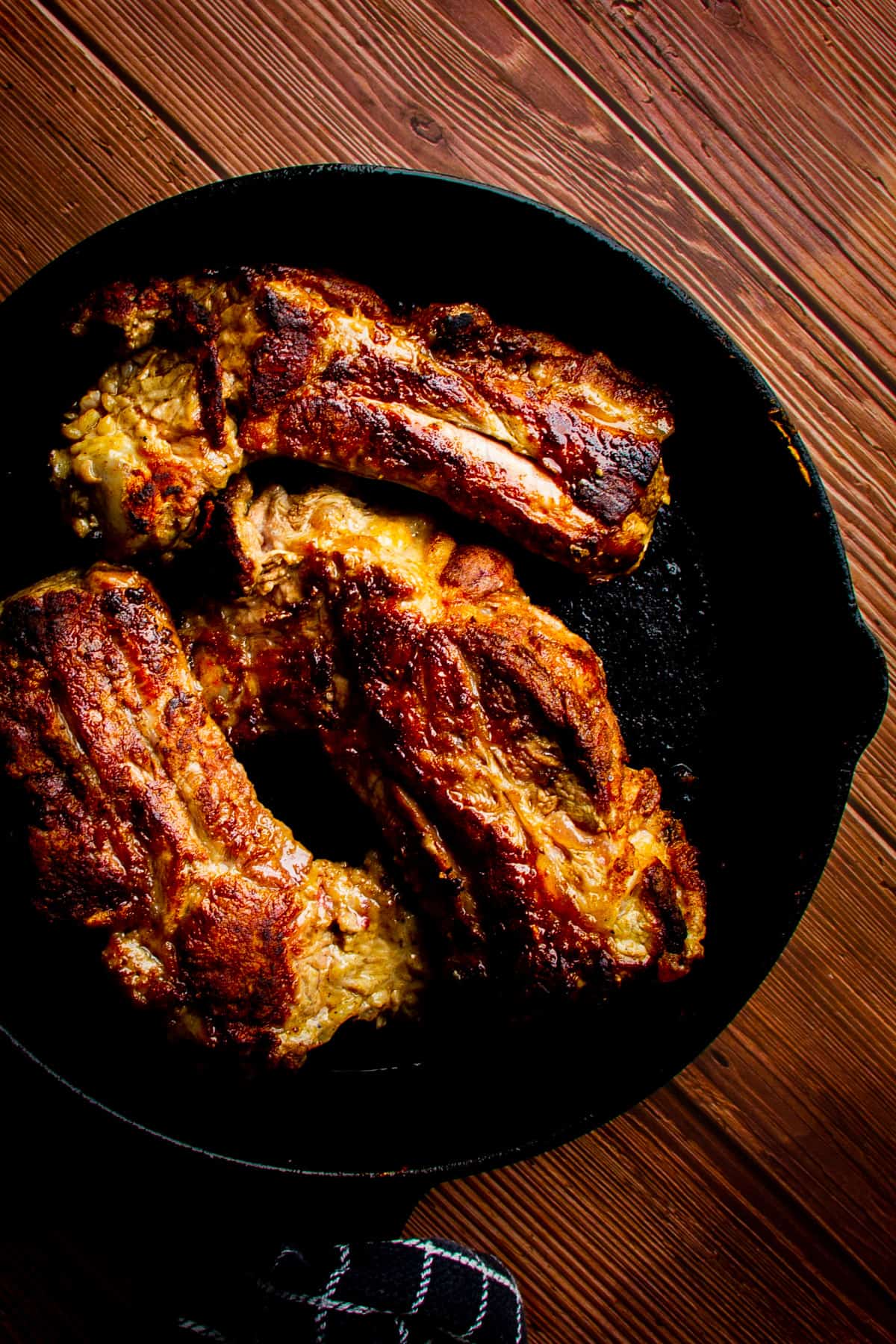 Legendary Instant Pot Beans
Another important tip for maximizing flavour in the chili is to cook the beans in the short rib broth.
This way they'll soak up all that intense beef flavour and make some of the most delicious beans in the world.
When cooked in an Instant Pot, the beans don't boil because of the pressure and they keep their shape while being perfectly soft and creamy on the inside.
My best advice is to buy dried beans whenever you can because the flavour and texture are far superior to canned beans.
What Do You Eat with Chili
Traditionally, chili is worthy enough to eat on its own in a bowl topped with sour cream, cheddar and maybe even some fresh chives.
Chili also makes an awesome dip with some crunchy tortilla chips on the side.
I serve mine with a huge dollop of lime and pepper-infused crème fraîche but here are some more classic chili toppings:
Cornbread
Tortilla chips
Thinly sliced green onion
Sour cream (Instead of the crème fraîche)
Cheddar cheese
Chopped chives
Tips To Nail this SuperBowl Short Rib Chili
This recipe takes time, so plan it out and have fun making it.
Here are my tips to nail this recipe.
Give yourself some extra time. It's better to start this 1 or 2 days before because the flavour of the chili will only get better as it sits together in the fridge. You can still make this recipe in one day if you want but you will need to soak the beans the night before.
Find a good butcher. Short ribs can be difficult to find in the grocery store. Go to a good butcher and place an order for "bone-in short ribs" cut into cubes or pieces that fit into your instant pot.
Use a pressure cooker – pressure cooking releases more flavours from the food because of the higher cooking temperature.
Don't skip the umami butter. This infused butter is easy and takes the chili to the next level of flavour.
Leave the canned beans on the shelf – Raw beans, soaked overnight turn to magic in the instant pot the next day.
Use a cast iron pan to sear the meat. The instant pot doesn't do a very good job of searing meat and it will be a lot faster in the cast iron pan.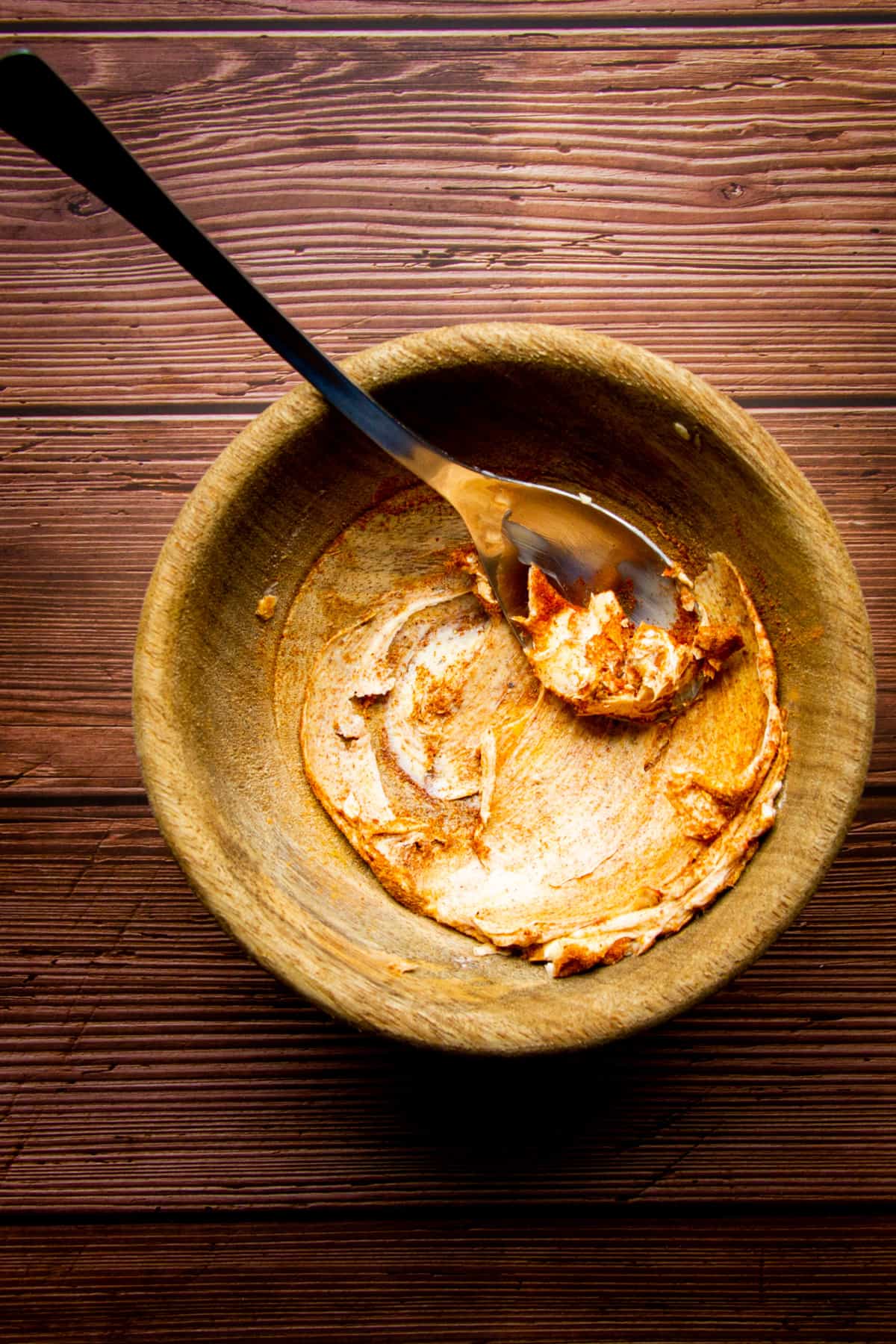 Which Instant Pot Size Do I Need?
Because I have the smallest (3qt/3L) Instant pot, I had to cook the beans in two batches for this recipe.
So I pressure-cooked 3 times in one day, which is not ideal. If you have a larger instant pot you will probably be okay to do this in one batch. But if you have a smaller one like me, be prepared for a little extra cook time.
How Can I Make this Faster?
If you want to make this faster you can, but you will sacrifice flavour for time. Here are a couple of ways to speed up the process with different beef cuts:
Use chuck beef pieces (about 700g/1+1/2lbs) instead of short rib. This way you can cook everything together in one go. Sear the beef like normal and remove it from the instant pot. Follow the recipe below like normal and add the seared beef chuck to the instant pot before you pressure cook. Pressure cook on high for 30 minutes with a 10-minute natural release.
Use ground beef instead of short rib. Follow the same instructions as above but pressure cook on high pressure for 20 minutes instead of 30 minutes.
I Forgot to Soak My Beans, Chef
Yes, it happens.
Luckily you don't have to prepare dinner for 500 guests on a busy Saturday night with chili on the menu and nothing but dried beans in your hands…
You can still make this chili but you will need to cook the beans for twice as long with a little extra water. Try cooking the beans raw in the instant pot for 40 minutes under high pressure and the usual 10 minutes of natural release.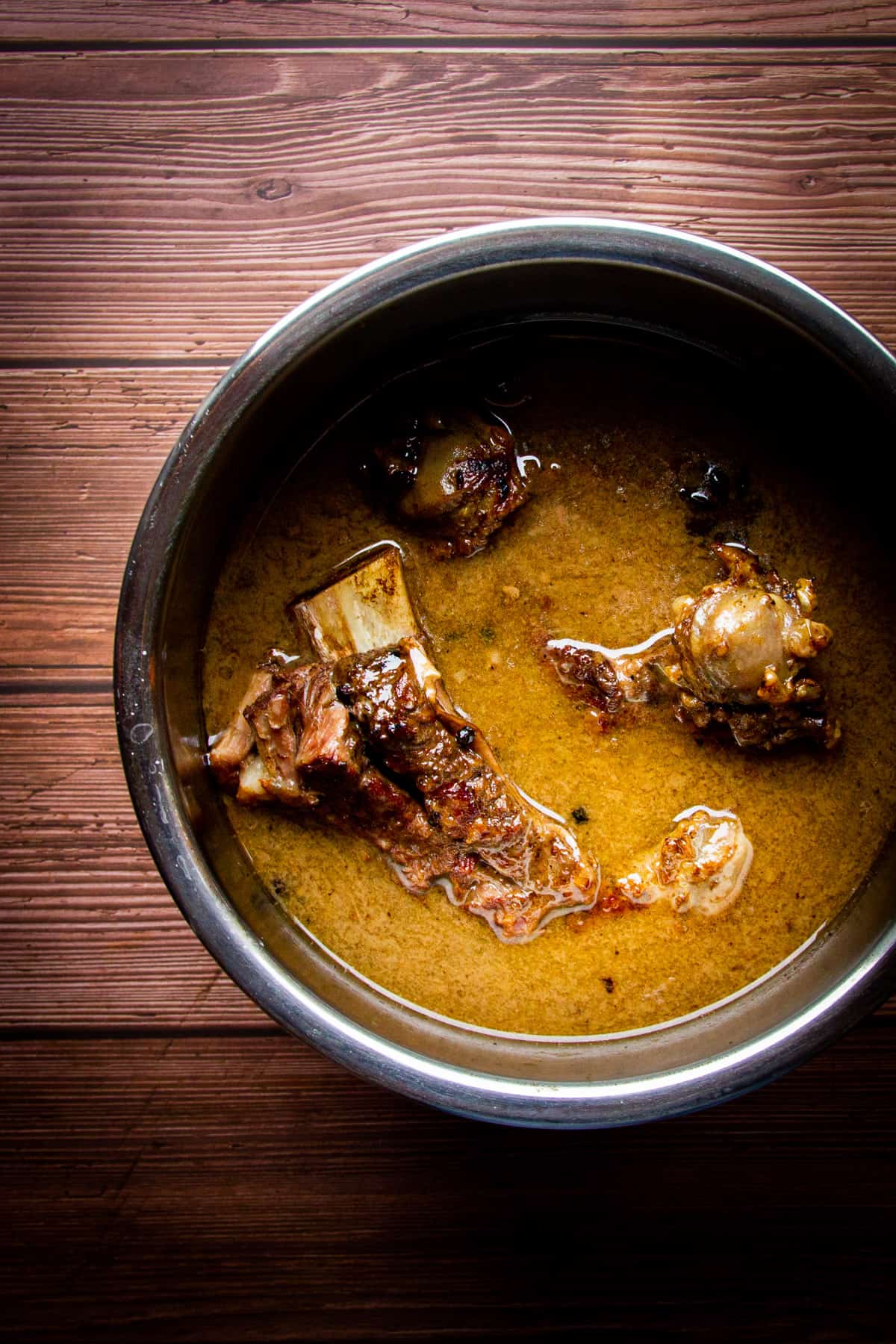 Recommended Tools For The Gameday

Pressure Cooker – I am in love with the Instant pot because it's so easy to use, easy to clean and outstanding safety features make this an absolute joy to cook with. I'm currently using the Instant Pot duo Plus and couldn't be happier.
Microplane – This is a solid flavour weapon. We're going to use this to max out the fresh lime flavour in the lime and pepper crème fraîche.
Can this Short Rib Chili be Made in Advance?
Like most braised meat dishes the flavour actually gets better the next day after cooking.
This is because the cooked meat has a chance to cool down in the liquid and soak up even more flavour. I highly recommend that you make this the day before and then simply heat it up for the big game.
Storing and Freezing Your Shortrib Chili
Chili stores great in the freezer as long as it is sealed in a container with a lid.
Make sure to seal the chili very well to prevent freezer burn. To avoid this it's also important to cool the chili completely in the fridge before freezing.
If you put the hot chili in the freezer you can actually damage your freezer and it will take longer to freeze which means a higher chance of freezer burn.
If sealed properly the chili will keep most of its flavour for up to 3 months in the freezer.
Re Heating Your Shortrib Chili
Always thaw frozen foods in the fridge the night before. This is important for food safety and also for preserving the texture of frozen food.
Thawing in the fridge means the outside of the food will always stay outside of the food danger zone and be safe to eat.
Once the chili is properly thawed, heat in a pot slowly until it comes to a boil. It's very important to always bring soups, liquids and stews to a boil to ensure we kill any of the new bacteria that might have joined the food after being cooked.
*Important Pressure Cooker Warning*
Normally it's safe to cook food in the pressure cooker as long you don't fill it over the max line.
But with food that expands like rice and especially beans, it's recommended to not fill over halfway up the pressure cooker. Beans and other legumes can create extra foam that expands and can block the pressure-release valve. If this happens you won't be able to open your pressure cooker until it cools completely.
Always follow the safety advice from your pressure cooker's manual.
More SuperBowl Recipes
One Last Thing Before You Begin…
Before you start this recipe you will need to soak beans overnight in cold water. Don't forget!
Now… let's get ready to rumble for Super Bowl!!!
Short Rib Chili – The Ultimate Pressure Cooked Super Bowl Chili
This recipe uses a delicious pressure cooked short rib stock and a secret weapon umami butter to make one hell of a super bowl chili. Plan it out, grab a beer and let's get cooking.
Ingredients
For the Short Rib Braise
1

kg

Short Rib, bone-in

Beef ribs will also work

100

ml

red wine

250

ml

beef stock

or chicken stock, beer, or coffee

2

tbsp

flour

1

pc

star anise

1

tbsp

vegetable oil

1

tsp

salt

1

tsp

black peppercorns

optional

1

tsp

coriander seeds

optional
For the Short Rib Chili
1

pc

red onion, small

3

cloves

garlic

3

pc

roma tomatoes

medium tomatoes

400

g

pickled piquillo peppers (approx 1 small jar)

or roasted red peppers in a jar

1

tsp

smoked paprika

1

tsp

cumin

ground

½

tsp

coriander

ground

½

tsp

black pepper

1

tbsp

tomato paste

200

g

red kidney beans

dried

½

tsp

salt

1

pc

ancho chili dried

optional

½

tsp

aleppo chili

1

pc

green chili

or jalapeno

½

pc

lime

juiced

2

cups

tortilla chips

¼

bunch

chives, chopped

1

pc

bay leaf
For the Umami Butter
1+½

tbsp

unsalted butter

room temperature

¼

tsp

cayenne pepper

ground

½

tsp

smoked paprika

½

tsp

cumin

ground

½

tsp

marmite

½

tsp

worcestershire sauce

or fish sauce

1

pc

lime

zested

1

pinch

salt
For the Lime & Black Pepper Crème Fraîche
1

cup

crème fraîche

or sour cream

1

pc

lime

zested

½

pc

lime

juiced

½

tsp

freshly cracked black pepper

½

clove

fresh garlic

grated through a microplane

¼

tsp

salt
Instructions
Soak the beans the night before in plenty of cold water and let sit out overnight, covered.
For the Short Rib Braise
Season the short ribs with the ½ tsp of salt. Sprinkle the flour over all sides of the meat. Dust off any excess flour.

Get 1 tbsp of veg oil very hot (almost smoking) in a cast iron pan and sear the beef until all sides are beautifully browned.

Deglaze the pan with the red wine. Bring to a boil. Add the beef stock bring to a boil.

Add the short ribs and everything from the "short rib braise" section to the instant pot. Close the lid and pressure cook for 40 minutes on high. Let it sit for 10 minutes after the timer goes off. (NR 10 minutes).

While this is cooking, prepare the umami butter, the crème fraîche and the rest of the ingredients for the chili.
Make the Umami Butter
Mix all of the ingredients together for the "umami butter" in a small bowl and mix with a spoon. Cover the bowl with plastic wrap and refrigerate.
Make the Lime + Black Pepper Crème Fraîche
Zest the whole lime and juice half of it into the crème fraîche. Microplane the ½ clove of garlic into the bowl. Add the rest of the ingredients and mix well. Cover and refrigerate for later.
Making the Chili
Prepare the ingredients for the chili like in the picture below. Small dice the onions and garlic, drain the beans from the soaking water, small dice the tomatoes and pickled peppers, measure the spices and slice the chili finely.

If using the ancho chili (not pictured below) – heat the dried chili in a small amount of oil in a cast iron pan until it swells like a balloon. Let this cool, remove the seeds and chop roughly. Add this with spices.

Once the short rib is ready, release the pressure and let the short rib cool in the broth at least 30 minutes.

Once the short ribs are cool enough to handle, remove them from the broth and save the liquid. Shred with a fork and remove any excess fat. You can also cut the meat with a knife if you like.

Sauté the onions, garlic and green chili together using the sauté function on the instant pot. About 5 minutes.

Add the spices and tomato paste and cook for 1 minute, stirring frequently.

Add the rest of the ingredients for the chili, including the shredded meat and all the short rib braising liquid. Make sure that it is not filled more than halfway full in the instant pot, otherwise it could explode.

Depending on the size of your instant pot you may have to do two batches. If so, divide this mixture in half and pressure-cook in batches.

Close the lid and set the timer for 20 minutes at high pressure. Let sit for 10 minutes and release the rest of the pressure manually.

To thicken the chili, pour off the excess chili liquid into a tall container for blending. Using a hand blender, blend this liquid with the tortilla chips to thicken. Add this thickened mixture back to the chili.

Bring the chili back up to a boil in your instant pot (if it fits), or in a large pot.

Turn off the heat and stir in all of the umami butter. Taste. If you want more heat add more ground cayenne.

Finish with a squeeze of fresh lime juice and garnish with the lime crème fraîche. Enjoy with some tortilla chips and a cold beer.
Notes
I couldn't find short rib from my butcher so I used beef spare ribs which also work well for this dish.
The chili will get even better after sitting overnight in the fridge.
More Beef Recipes
Guinness Braised Beef Cheeks with Celery Root Mash
These pressure-cooked beef cheeks are ultra fork-tender with a super flavourful sauce that's almost better than the meat itself. Served with a buttery celery root mash.
Check out this recipe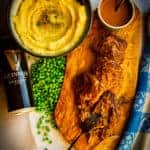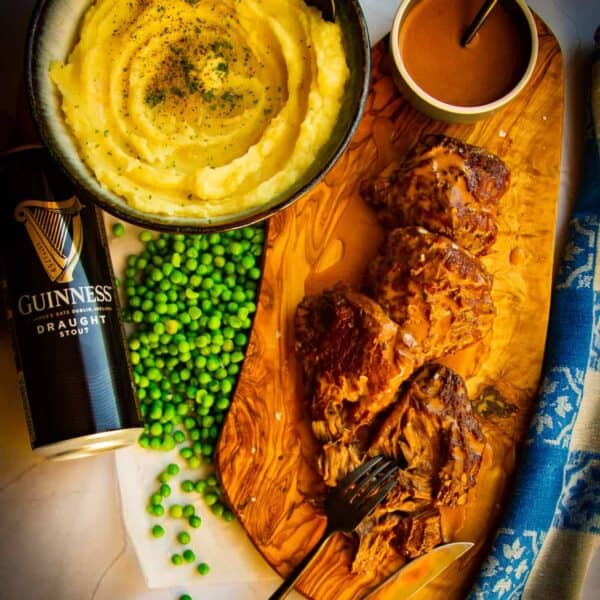 Bitterballen – Dutch Secrets Exposed
An extremely addictive Dutch snack consisting of slowly braised beef that's thickened with a roux and deep fried into little crispy balls.
Check out this recipe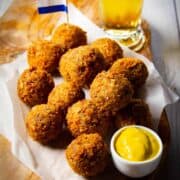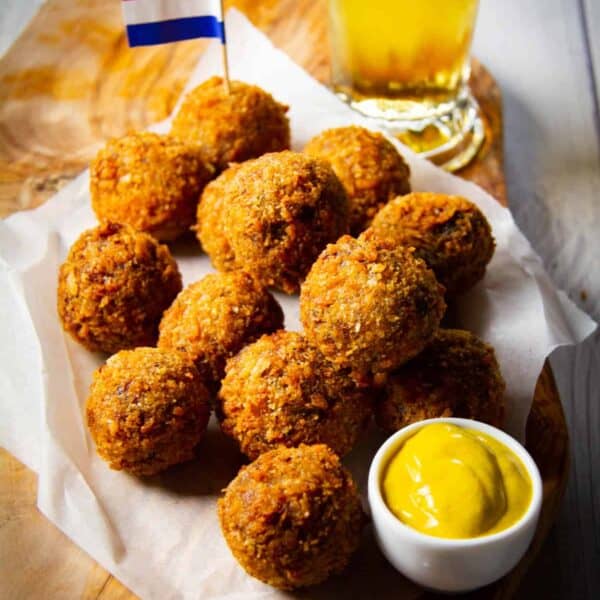 Easy Birria Tacos
These Birria tacos are cooked in a mix of cascabel, guajillo and chipotle peppers for the ultimate rich and smokey fork-tender taco filling. They're fried in the beef fat until golden brown and served with extra broth on the side for dipping.
Check out this recipe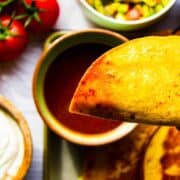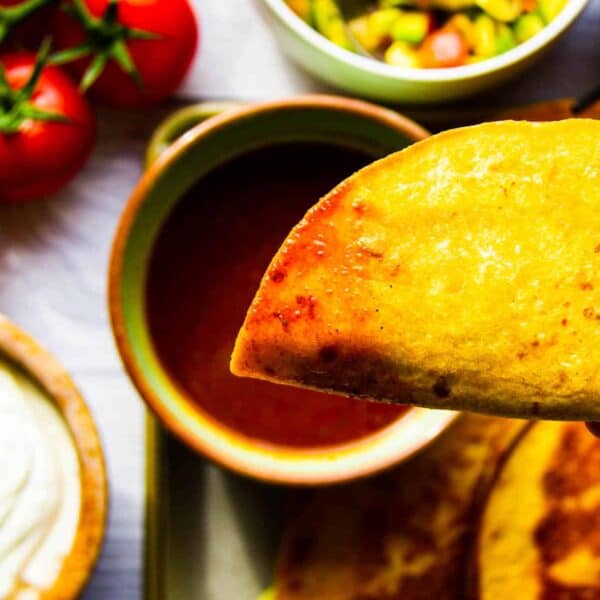 Pho Tai – The Ultimate Beef Bone Broth
How to make Pho Tai – a Vietnamese beef bone soup with rice noodles, basil, ginger and thinly sliced beef. This recipe uses the instant pot to make it in 3 hours start to finish.
Check out this recipe