Once you try these braised beef cheeks, you'll understand why chefs love em' so much.
It's traditional to braise these in red wine but I was feeling a little festive for the upcoming St Patrick's day and decided to cook them in one of my favourite beers – Guinness.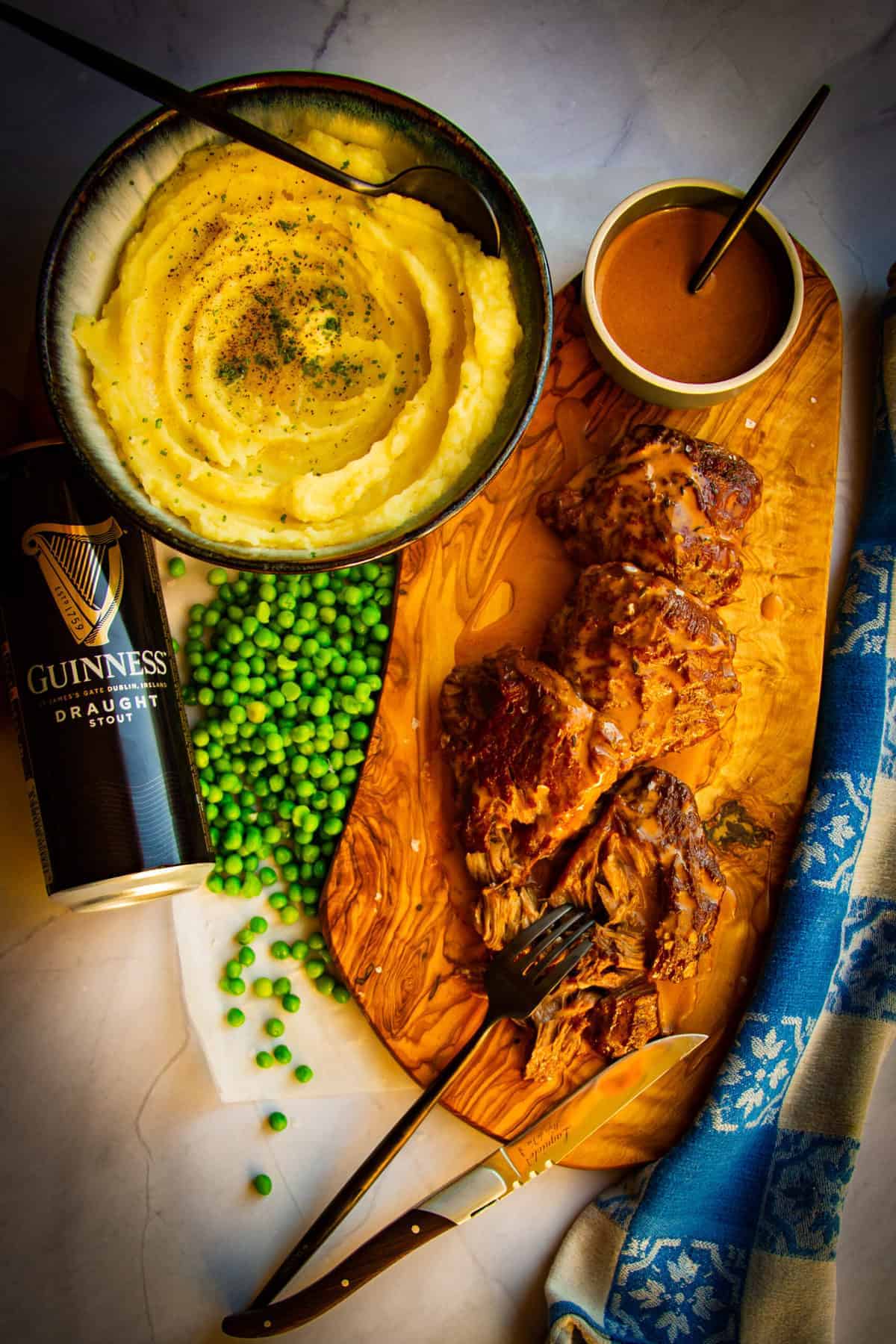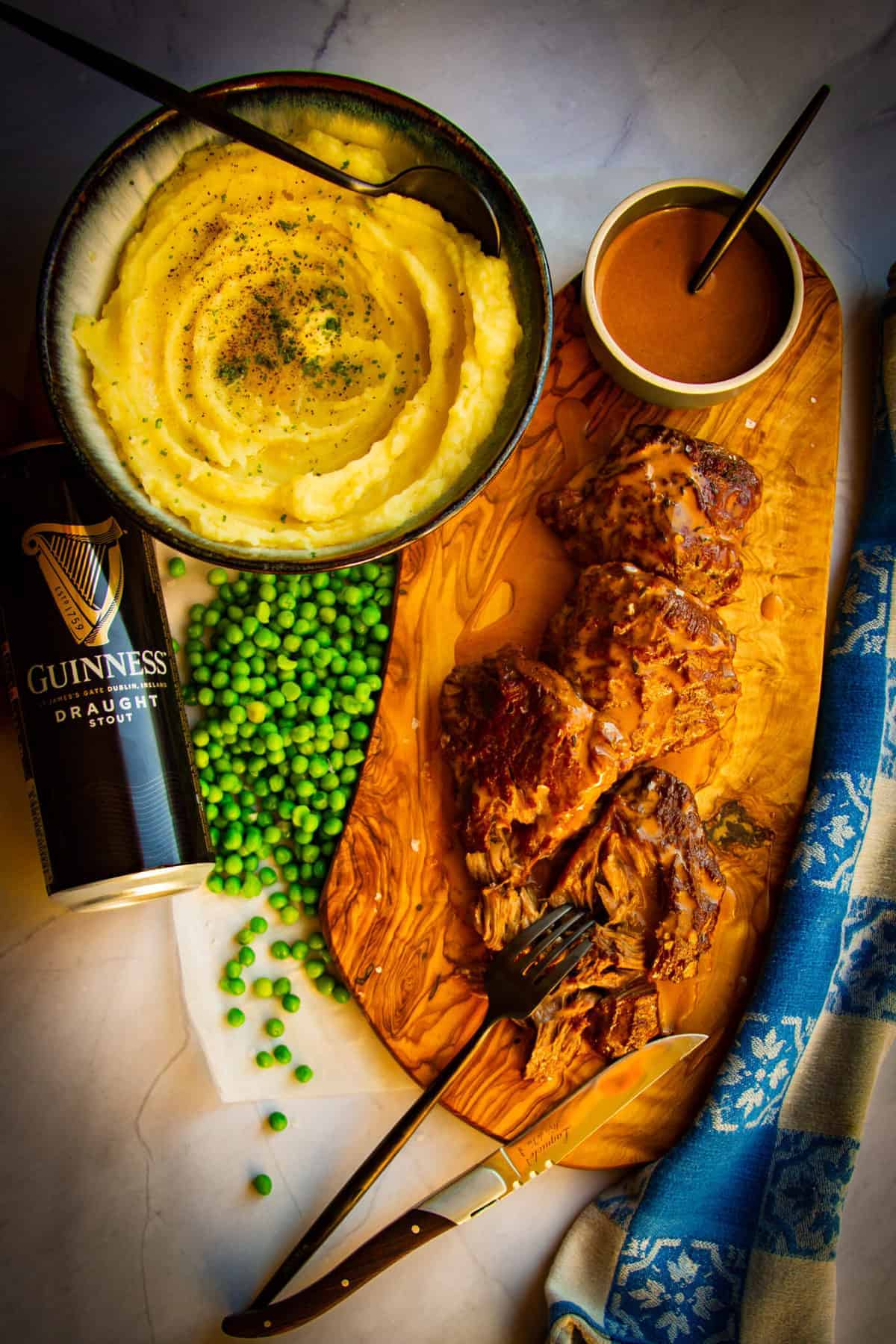 Why I Love Beef Cheeks
Beef cheeks may not sound appetizing but those that have tried them know how insanely delicious they can be. They are very tough cuts of meat that become incredibly soft when braised or in this case, pressure cooked with an Instant Pot. Tough cuts turn to magic when you cook them for a long time at the right temperature.
Cows spend a lot of time eating grass and working their cheek muscles, and when a muscle is worked it develops flavour. That's why beef cheeks are some of the most flavourful cuts of beef.
The sauce from braised beef cheek is almost better than the actual meat because it's beautifully shiny and flavourful from the extra collagen in the meat. The slight bitterness from the Guinness beer balances this sauce perfectly.
Pro Tip – Save the leftover sauce and meat for an incredible pasta sauce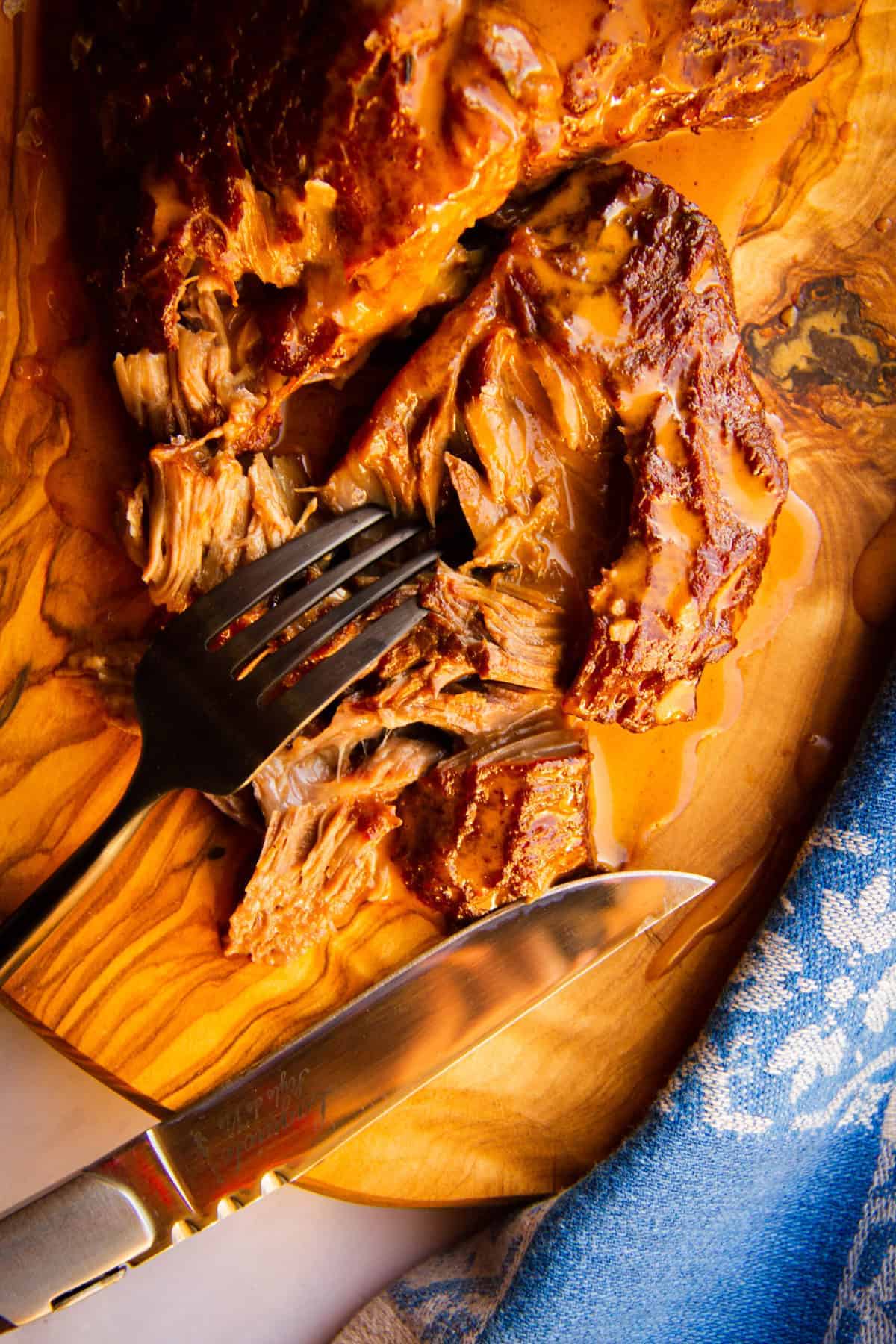 Yeah, Okay, But I Don't Like Guinness / I Don't Drink
No problem! You can swap out the Guinness for a dry red wine, another dark beer or a non-alcoholic apple cider.
Suitable Diets for Braised Beef Cheeks
Gluten-Free
If you swap out the Guinness for cider or red wine then this dish will be gluten-free. I'm using Xanthan gum to thicken the sauce but you could also use arrowroot or cornstarch if you don't like Xanthan gum.
Just keep in mind that you will need to add more Cornstarch or Arrowroot as they are both weaker than Xanthan gum.
Dairy-Free
If you're lactose intolerant you can substitute the small amount of butter at the end with some beef fat or simply omit the butter.
For the celery root mash, you can substitute the butter for vegan butter, lactose-free butter, beef fat or olive oil.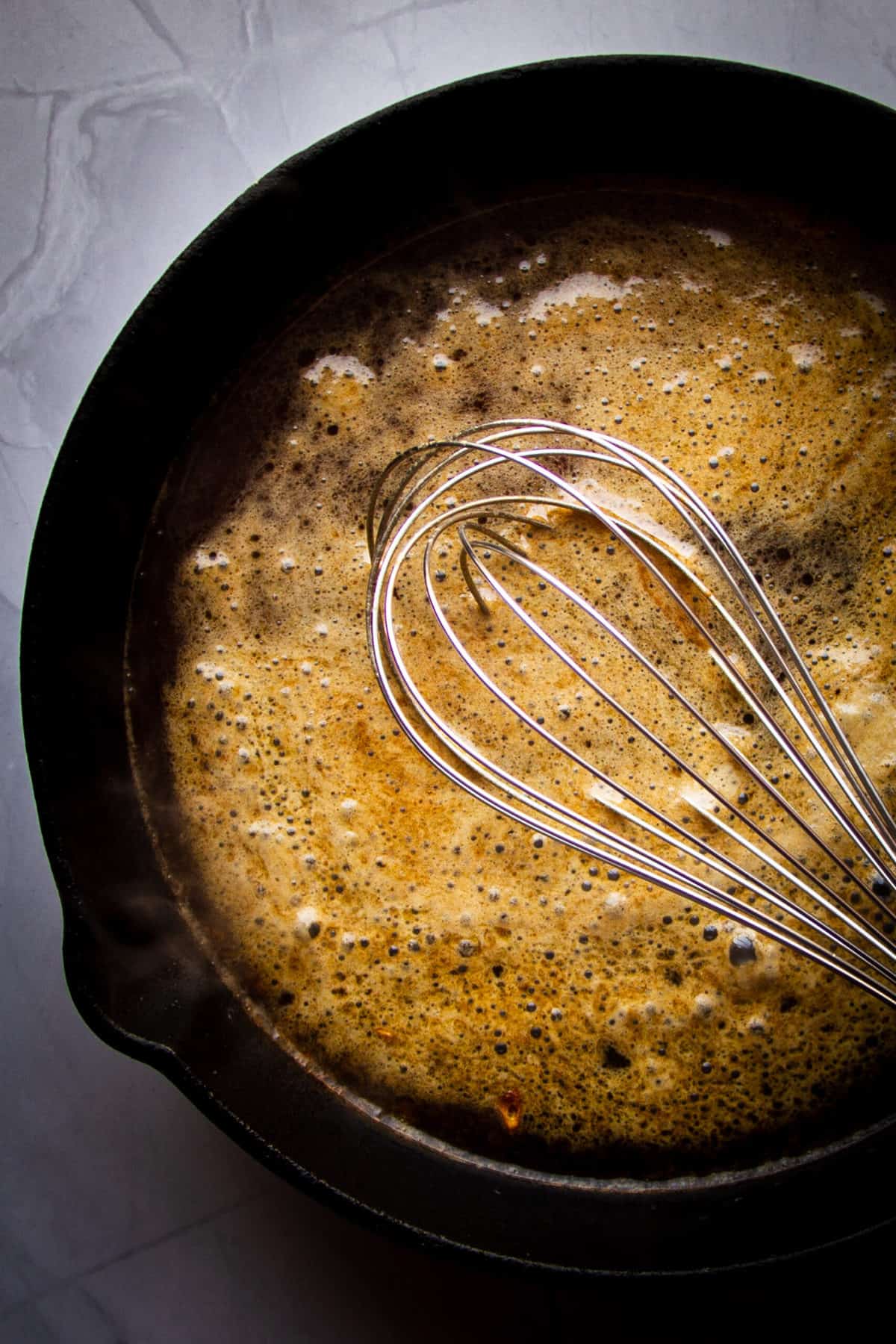 How Much Time do I Need to Make these Braised Beef Cheeks?
You can make these in under 2 hours.
It takes 40 minutes of pressure cooking, plus time to brown the meat, 10 mins of depressurizing and 5-10 minutes to strain and finish the sauce. Although the time will vary as it all depends on how fast you are in the kitchen.
Beef Cheek Nutritional Info
Beef cheeks have a lot of connective tissue and collagen which is very healthy for your skin and joints. [1][2]
They're also high in vitamin B12, zinc, selenium, iron, niacin, vitamin B6, and phosphorus. [2]
Tips To Make the Best Beef Cheeks
This recipe is pretty straight forward and you save a lot of time using an Instant Pot or pressure cooker. I also find the flavour of pressure-cooked meats to be much better compared to a dutch oven.
Here are my tips to nail this recipe:
Make sure to brown the meat well before pressure cooking because this will make a darker, more flavourful sauce.
Let the meat temper at room temperature for 30 minutes before cooking. This will allow the beef cheeks to cook more evenly.
Always use a hand blender or stand blender when mixing Xanthan gum into sauces otherwise it will clump and ruin your sauce. Don't even think about…don't even look at that whisk!
How to Store Cooked Beef Cheeks
These freeze beautifully, especially when stored in the sauce. Store them in the sauce and in a sealed container for up to 5 days in the fridge.
As they are pretty tender, reheating may cause them to fall apart. The best option is to freeze or refrigerate the leftovers and make an insanely good beef pasta with the leftovers.
When reheating, add a splash of water to a pan with a lid and heat gently. Make sure to bring the liquid to a boil to kill any bacteria.
Beef Cheek Buying Guide
There was a point in time when beef cheeks were not so popular and the price was a lot cheaper. Depending on where you live that might have changed. But even with the increase in price, they are well worth it.
Find a good butcher and order the beef cheeks in advance because they might keep them frozen. Ask your butcher if they can clean them for you too.
Recommended Tools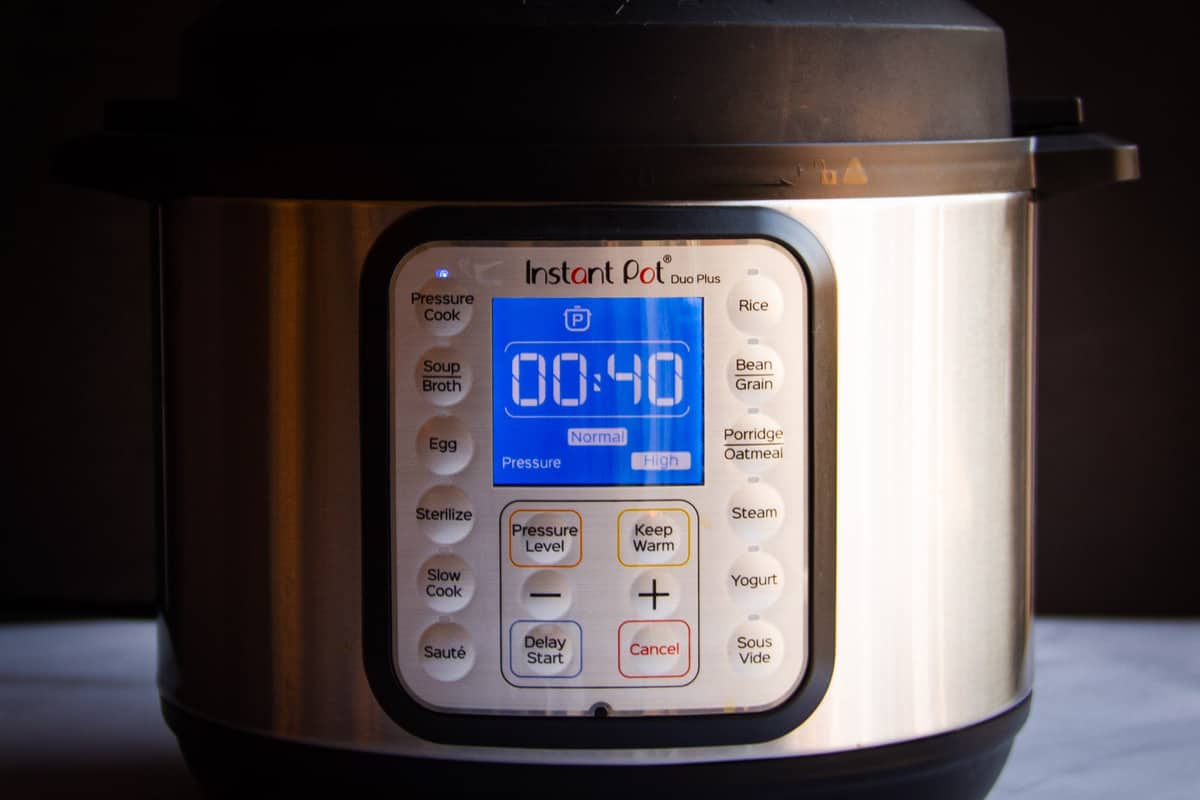 Instant Pot – This pressure cooker will improve the flavour of the sauce compared to a Dutch oven and will cut the time in half.
Fine Mesh Strainer – You'll need this to make a nice smooth sauce.
Xanthan Gum – This will give the sauce a little extra sheen and thicken it slightly. If you don't like Xanthan gum, you can also use arrowroot or cornstarch to thicken the sauce.
Blender – You'll need a hand blender or stand blender to properly disperse the xanthan gum. Don't use a whisk otherwise it could clump up.
More Beef Recipes
Guinness Braised Beef Cheeks with Celery Root Mash
These pressure-cooked beef cheeks are ultra fork-tender with a super flavourful sauce that's almost better than the meat itself. Served with a buttery celery root mash.
Ingredients
3

whole

beef cheeks, cleaned

or 4 veal cheeks

½

can

Guinness beer

or cider, or red wine

200

ml

beef stock

or chicken stock

2

tbsp

tomato paste

3-4

whole

red onion

peeled, cut in half

3

cloves

garlic

peeled

1

pc

bay leaf

1

pc

star anise

1

tsp

marmite

optional

1

tsp

salt

1

tsp

black peppercorns

crushed

1

pc

clove

1

tbsp

vegetable oil

for searing
For Finishing the Sauce
⅛

tsp

Xanthan gum

optional

½

tsp

sherry vinegar

or red wine vinegar

1

tbsp

butter

unsalted
For the Celery Root Mash
50

g

butter

unsalted

500

g

celery root

peeled

500

g

russet potato

peeled

½

bunch

chives

¼

tsp

salt

1

clove

garlic

peeled and sliced thin.
Instructions
If you have beef trim or scraps from cleaning the beef cheeks, then brown this in a cast iron pan. Add these scraps to the pressure cooker.

Dry the beef cheeks well with paper towel and season both sides with salt.

Get a cast iron pan really hot and add a little vegetable oil. Wait for the oil to almost smoke and carefully add the beef cheeks in. You may have to do them in batches to get a good sear.

Set the beef cheeks aside and grind some black pepper on them. Fry the onions in the same pan until they are dark brown.

Discard the oil and deglaze the pan with the Guinness beer. Simmer for 1 minute and then add the beef stock. Bring to a boil.

Add all the ingredients for the braise to the Instant pot including the hot beef stock/Guinness liquid.

Close the lid and set the Instant pot to High Pressure for 40 minutes. (30 minutes for veal cheeks).
Make the Celery Root Mash
While the cheeks are cooking, peel the potatoes and celery root. Cut into medium-sized pieces. Cut the potatoes slightly smaller than the celery root.

Put the potatoes and celery root in a small pot and cover with cold water. Slice one clove of garlic thinly and add this to the pot with the bay leaf and salt.

Bring to a boil and cook until soft.

Melt the butter in a small pan or in the microwave and keep warm.

Once the celery root and potatoes are cooked, drain the liquid and remove the bay leaf. Mash everything together and add the hot butter. Season with salt and pepper.

Cover this with plastic wrap or a towel and keep in a warm place.
Finishing the Beef Cheeks
Once the timer goes off from the Instant Pot, leave it for 10 minutes to naturally depressurize. Then manually release the rest of the pressure.

Carefully remove the beef cheeks from Instant Pot and set them on a plate. Strain the liquid through a fine mesh strainer.

Add the sherry vinegar, butter and xanthan gum to the sauce and blend with a blender. Taste and adjust the seasoning.

Add the beef cheeks back to this sauce.

To serve, heat the beef cheeks in the finished sauce. Heat the mash in a pan over very low heat, stirring constantly or in the microwave, covered.

Slice up some fresh chives and add this to the mash just before serving. Enjoy!
Notes
I used veal cheeks in this recipe because that's what my butcher had. They are a little bit smaller so I used 4 veal cheeks instead of 3 beef cheeks. You will also need to cook the veal cheeks less. Try 30 minutes of high pressure instead of 40.
If you have beef trim or scraps from cleaning the beef cheeks then brown this in a cast iron pan and add this to your braise as this will add extra flavour.
It's important to always use a blender when using Xanthan Gum to properly disperse it. It's not the same as cornstarch or flour so don't use a whisk.
Cut the potatoes slightly smaller than the celery root because the celery root will cook faster than the potatoes. 
Nutrition
Calories:
1294
kcal
|
Carbohydrates:
155
g
|
Protein:
28
g
|
Fat:
69
g
|
Saturated Fat:
45
g
|
Trans Fat:
2
g
|
Cholesterol:
139
mg
|
Sodium:
4735
mg
|
Potassium:
4582
mg
|
Fiber:
20
g
|
Sugar:
17
g
|
Vitamin A:
2271
IU
|
Vitamin C:
81
mg
|
Calcium:
394
mg
|
Iron:
11
mg
Pho Tai – The Ultimate Beef Bone Broth
How to make Pho Tai – a Vietnamese beef bone soup with rice noodles, basil, ginger and thinly sliced beef. This recipe uses the instant pot to make it in 3 hours start to finish.
Check out this recipe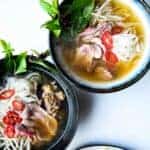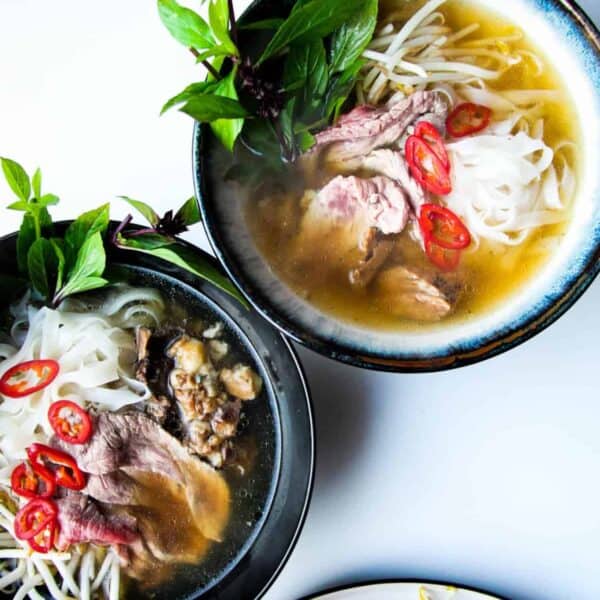 Short Rib Chili – The Ultimate Pressure Cooked Super Bowl Chili
This recipe uses a delicious pressure cooked short rib stock and a secret weapon umami butter to make one hell of a super bowl chili. Plan it out, grab a beer and let's get cooking.
Check out this recipe