In my opinion, there's no better way to cook chestnut mushrooms than with tons of hot foamy butter, a bit of fresh garlic, chopped parsley and a squeeze of lemon.
It's exactly what I want to eat when the weather starts to get a little colder around the start of fall.
But as these mushrooms are usually grown indoors they're available all year around.
If you've never cooked them before, don't worry because they're really easy to cook. Below you'll find all my tips for getting the best flavour out of these incredible mushrooms.
*Update* – Chestnut mushrooms can be confused with two different types of mushrooms. To clarify, this is a recipe using the Agaricus bisporus mushroom a.k.a the farmed brown button mushroom whereas Pholiota adiposa is a wild mushroom that's much different in taste and texture. The good news is that this same recipe can still be applied to Pholiota adiposa. The only difference is that the bottom part of their long stems will need to be removed as they can be a bit tough.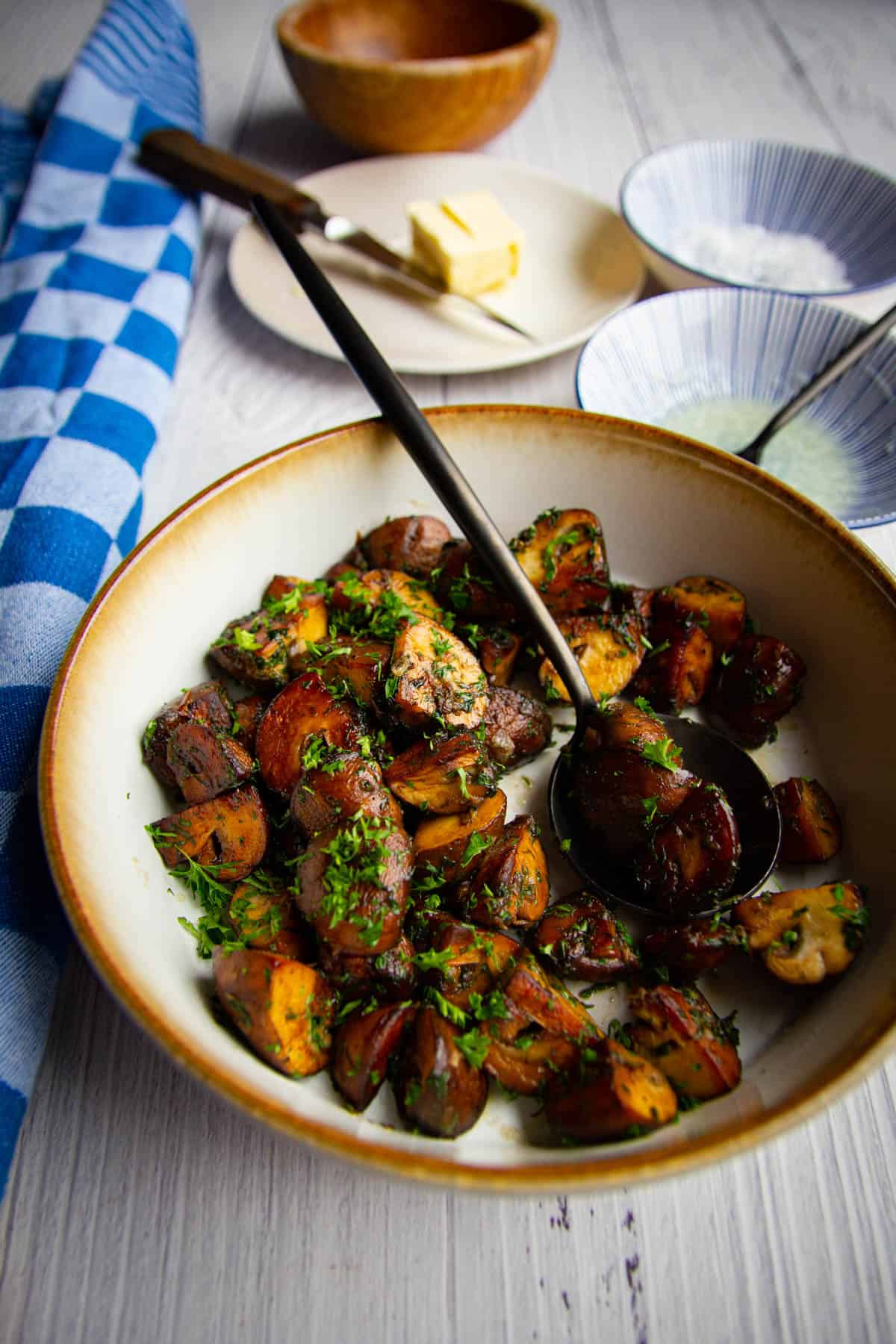 What's the Difference Between Cremini, Button and Chestnut Mushrooms?
Technically, they're all the same variety of mushrooms but with different names. The only real difference is with Portobello mushrooms which are left to grow a little bigger.
In my experience, chestnut mushrooms are a little denser and better flavoured than cremini mushrooms. Although, If I couldn't find the chestnut variety, I wouldn't lose sleep over it as they're both delicious.
They're one of the easiest mushrooms to cook because they're quite dense and difficult to burn or overcook.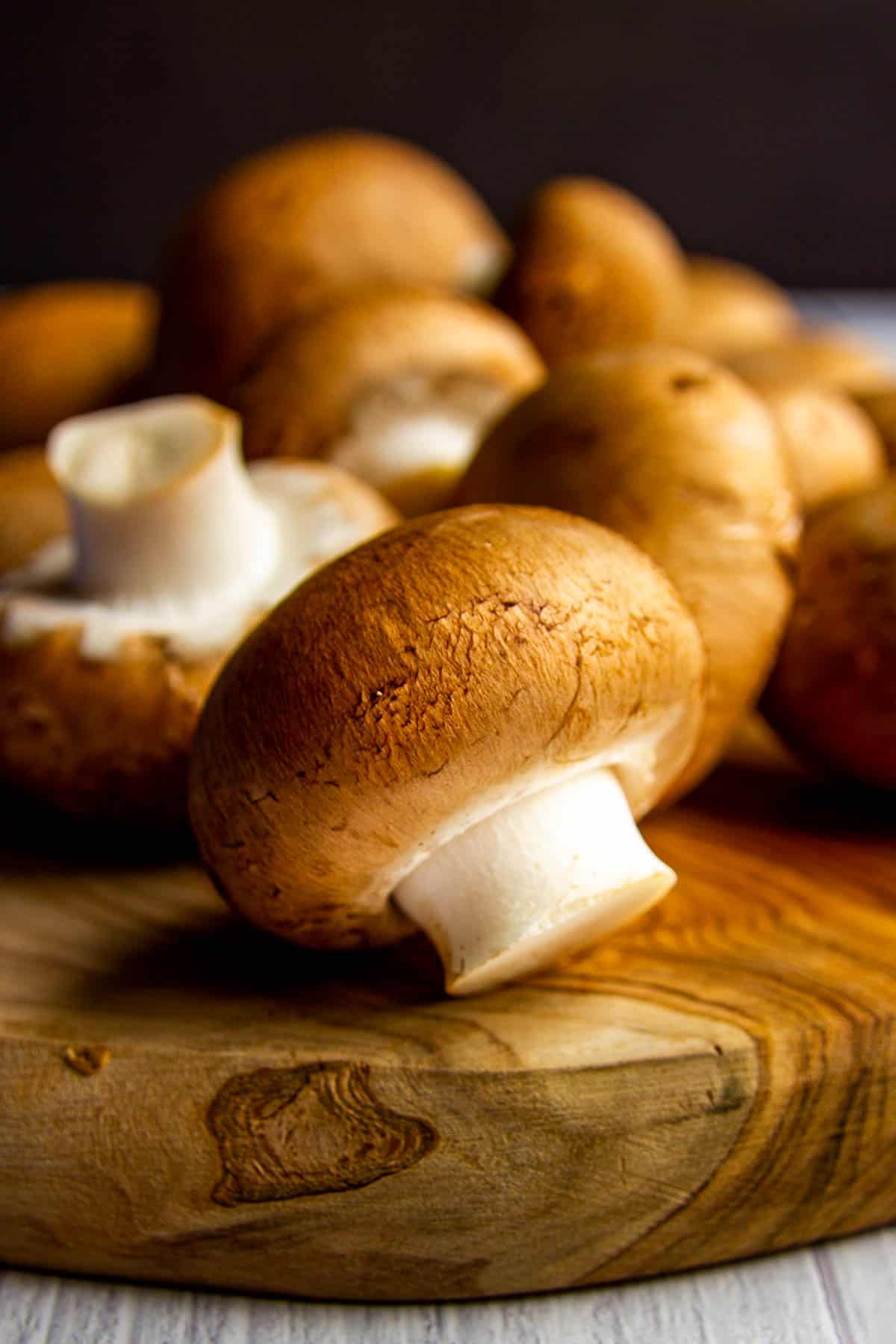 How to Clean Chestnut Mushrooms
Cleaning mushrooms is actually a heated debate in the culinary world.
Some chefs will tell you that it's okay to wash them in water as long as you dry them properly.
I find that washing them prevents them from browning nicely so instead I prefer to brush them.
I clean chestnut mushrooms the same way I would clean wild mushrooms like chanterelle, porcini or truffles.
I prefer to use a little dry brush to brush off any dirt and if they're really dirty I'll use a wet paper towel to clean them without soaking them in water.
You don't need to buy a brush just for mushroom cleaning but it does make things a little easier. Just be sure that if you do buy a brush get one with soft bristles and not hard bristles which may damage the mushrooms.
You can also use a little clean paper towel to brush them clean instead of a brush.
If that's too time-consuming for you, you can soak them in water although be sure to dry them well after.
Cook Chestnut Mushrooms on High Heat
The simple fact is that mushrooms need to be properly browned to be tasty and this requires high heat.
This browning process, also called the Maillard reaction gives the mushrooms a deeper, sweeter and better flavour.
High heat is paramount to achieving beautiful, golden mushrooms and prevents them from steaming in the pan.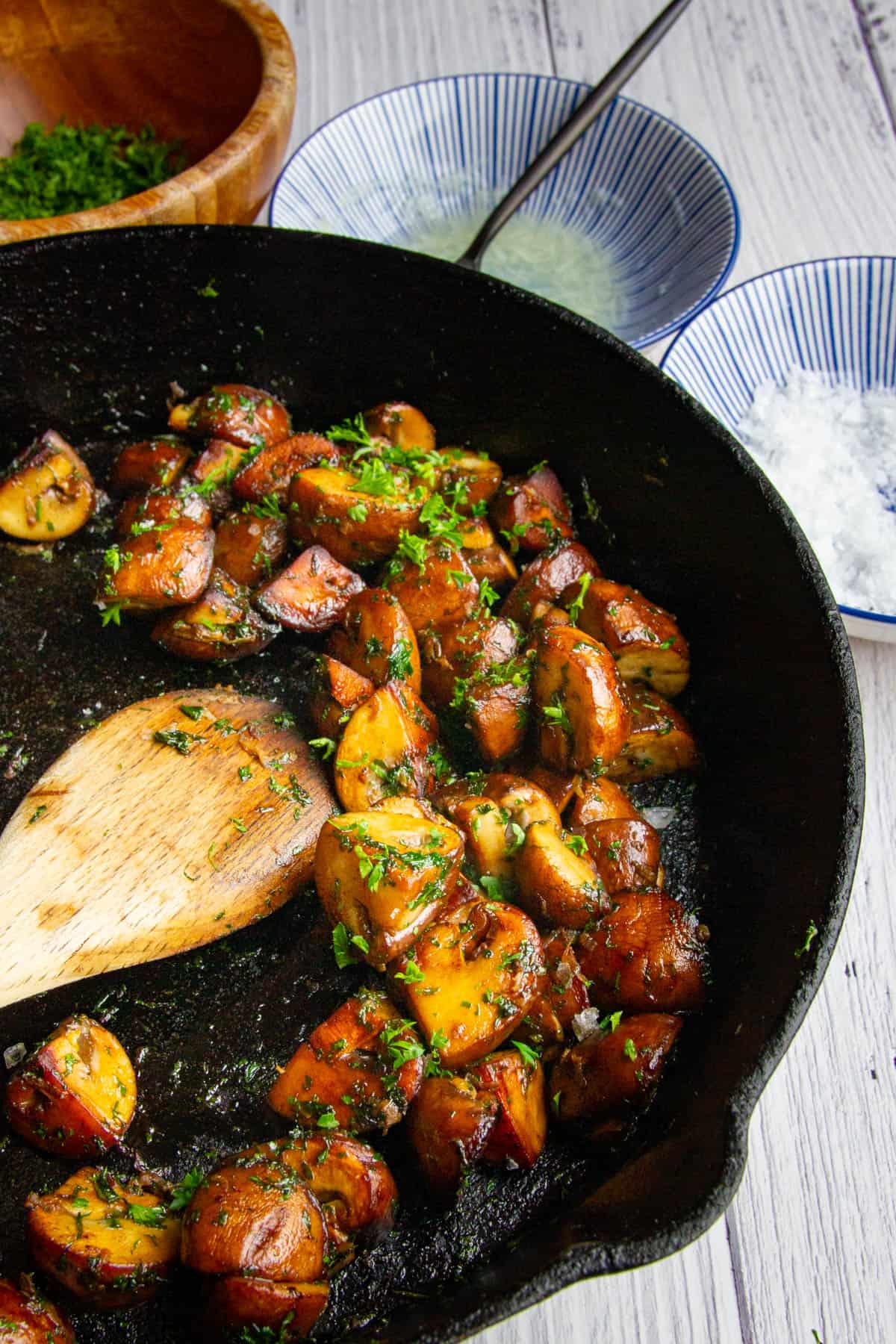 Give the Chestnut Mushrooms Room to Breathe
If the pan is overcrowded and too many mushrooms are cooking at the same time the mushrooms will start to steam.
The key is to fry in batches so that all the mushrooms brown nicely.
Lots and Lots of Butter
Olive oil is just not the same!
Butter is really the star ingredient here because when it browns it adds the most amazing, nutty flavour.
The trick is to *almost* brown the butter before you add the mushrooms, that way you know the butter is hot and ready to go.
If you're interested in keeping this vegan there are some pretty decent vegan kinds of butter on the market these days that will be the next best thing. Although I don't recommend browning the vegan butter as it's not the same.
What about Other Types of Mushrooms?
You can use this same recipe to cook almost any type of mushroom because the flavours are pretty neutral.
Porcini, lobster, oyster, chanterelle, yellow foot and black trumpet mushrooms will all work with this method.
Try my other mushroom recipes: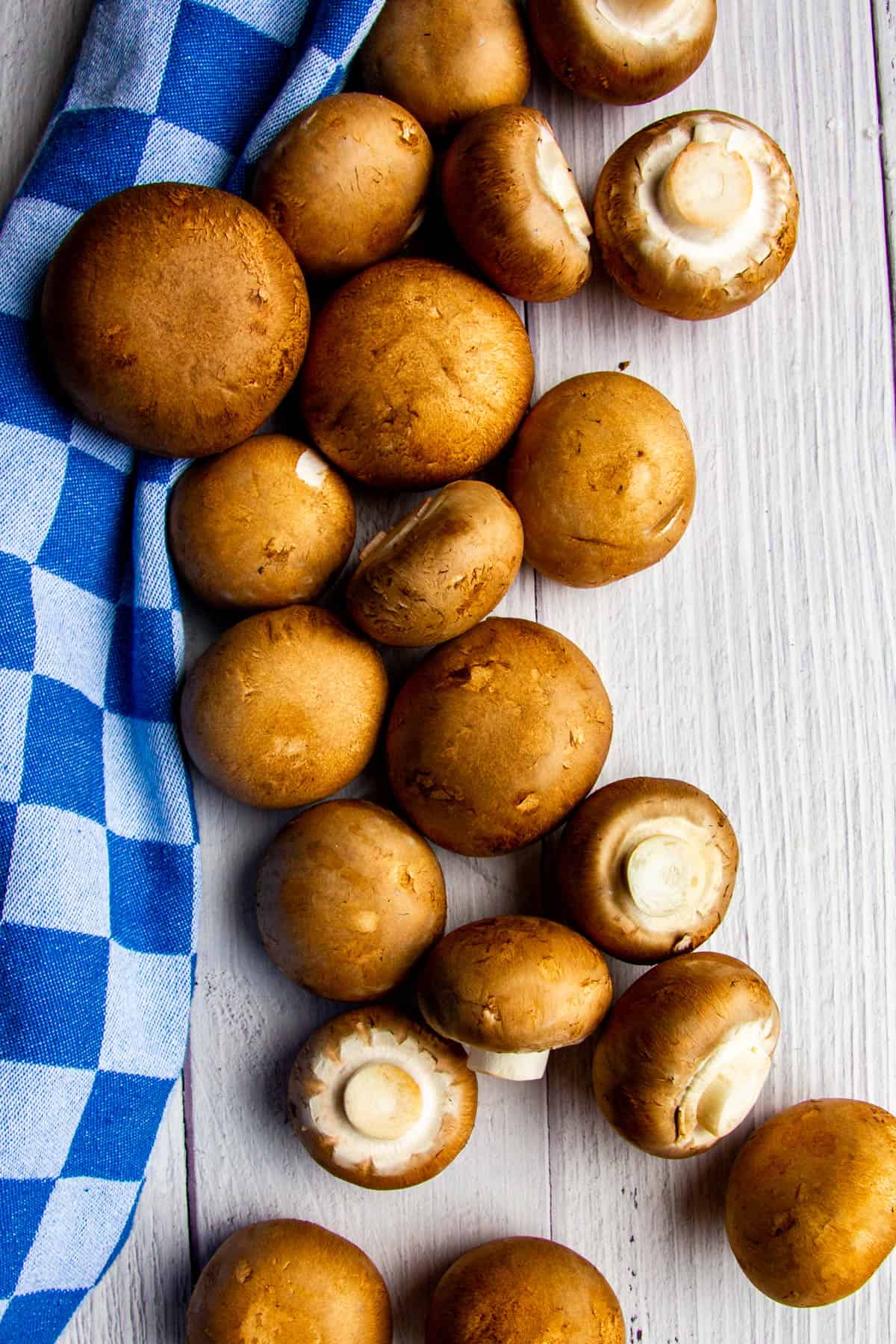 How to Store Raw Mushrooms
Because mushrooms are essentially edible sponges, they need to "breathe" while being stored.
The best way to store raw mushrooms is in the basket they came in covered with a damp towel. If you cover them completely they may soak up excess moisture from the air and become soggy.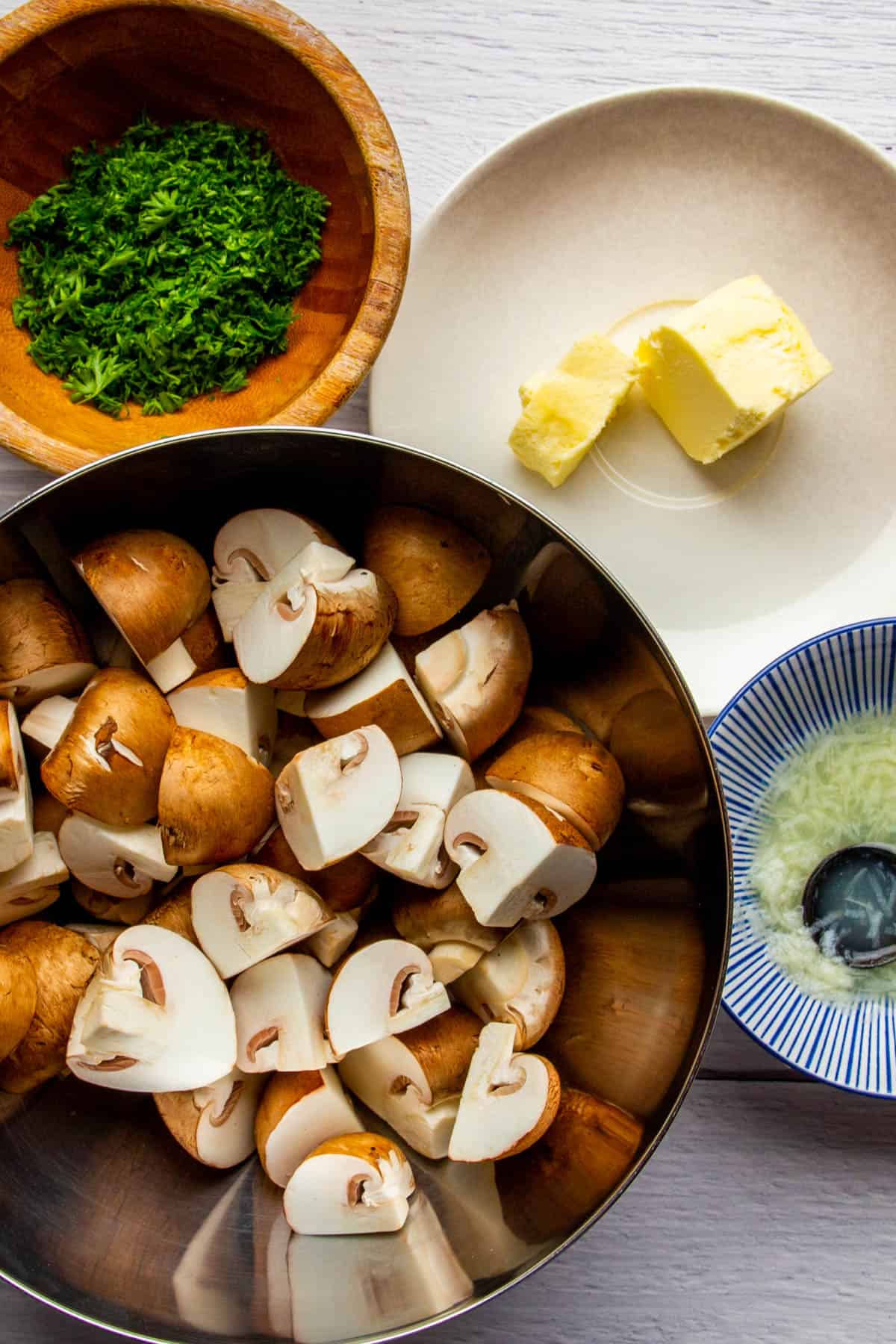 Mushroom Fun Facts
Did you know that fungi are actually more closely related to humans than plants? And the largest living organism, Armillaria Ostoyae, is actually a mushroom that exists in Oregon, US and is over 9651753m2!
If you would like to know more about mushrooms, I highly recommend this book: Mushrooms Demystified by David Arora.
Tools Needed For Cooking Chestnut Mushrooms
Cast Iron Skillet – A cast iron is great for searing mushrooms because of its even heat distribution.
Microplane – A great tool for a quick garlic purée.
How to Nail this Recipe Summary
Don't wash the mushrooms in too much water. Instead, use a brush.
Make sure the butter gets hot and foamy before adding the mushrooms.
Don't overcrowd the pan while cooking the chestnut mushrooms otherwise, they won't brown nicely.
Use lots and lots of butter!
How to Cook Chestnut Mushrooms with Butter, Garlic, Parsley and Lemon
These chestnut mushrooms are cooked in loads of foamy butter and finished with fresh garlic, lemon and parsley.
Ingredients
320

g

chestnut mushrooms

(1 small box)

30

g

butter

(about 2 tbsp)

1

clove

garlic

peeled

7

g

fresh flat-leaf parsley

(about ½ a bunch)

¼

pc

lemon, juiced

salt to taste
Instructions
Rasp the garlic with a Microplane into a small bowl. Add the lemon juice together and mix.

Clean the mushrooms with a damp paper towel or brush to get rid of any dirt. Cut the mushrooms into quarters.

Before you begin have all of your ingredients ready to go as shown. Slice the parsley thinly and reserve in a bowl.

Put a big, heavy-bottomed sauté pan on medium-high heat. Add ¾ of the butter to the pan and get it hot and foamy.

Once the butter is just about to turn brown, add your mushrooms. Turn them so they are all lying on a cut side and don't toss the pan just yet.

Continue cooking the mushrooms over medium-high heat.

*If cooking in batches, reserve the cooked mushrooms in a bowl and continue cooking more mushrooms in more butter.* Add them all together and get them hot again before continuing to the next stage.

Once the mushrooms are browned nicely, add the rest of the butter and turn off the heat.

Immediately add the garlic-lemon mixture and toss well. Season with salt to your liking.

Serve on a plate and enjoy alongside a main course.
Nutrition
Calories:
146
kcal
|
Carbohydrates:
8
g
|
Protein:
4
g
|
Fat:
12
g
|
Saturated Fat:
8
g
|
Polyunsaturated Fat:
1
g
|
Monounsaturated Fat:
3
g
|
Trans Fat:
1
g
|
Cholesterol:
32
mg
|
Sodium:
119
mg
|
Potassium:
746
mg
|
Fiber:
1
g
|
Sugar:
3
g
|
Vitamin A:
670
IU
|
Vitamin C:
5
mg
|
Calcium:
40
mg
|
Iron:
1
mg
Recipe Pairings
This mushroom recipe works really well with pasta. Prepare them the same way and add some cooked pasta with a little pasta water for awesome mushroom pasta.
Go here for my homemade pasta recipe.
Also, these mushrooms make a great side dish to this elegant braised beef dish from Chef Etienne at Between 2 Kitchens.
Looking for More Recipes?
These Quick and Easy Padron Peppers
Easy, Garlicky Padrón Peppers with Ginger and Lime
These garlicky Padron peppers are cooked in olive oil and finished with a mixture of fresh ginger, garlic and lime zest. They're quick to prepare, healthy and incredibly easy to make.
Check out this recipe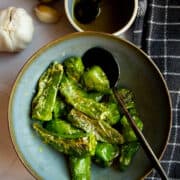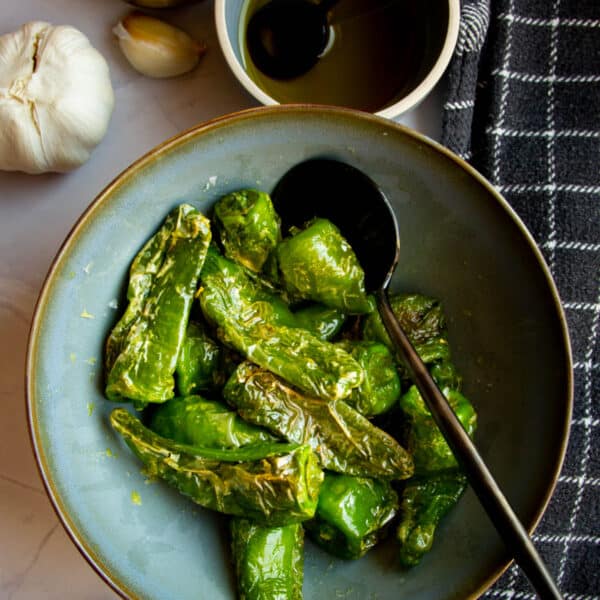 Crispy Brussels with Banana and Lime
Crispy Roasted Brussel Sprouts with Banana and Fresh Lime
A rather wild side dish of crispy roasted Brussel sprouts with banana and lime that's vegan, gluten-free and definitely not boring.
Check out this recipe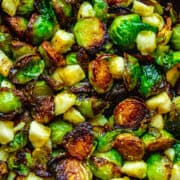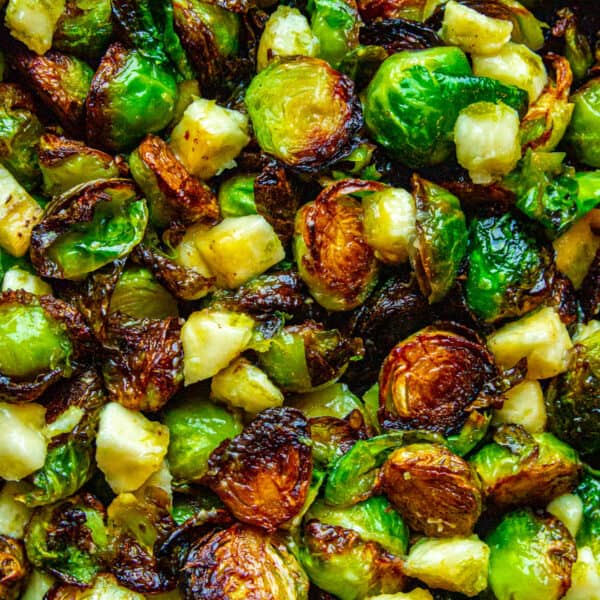 My Guide to the Ultimate Roast Chicken Dinner
The Perfect No-Fail Spatchcock Holiday Chicken Dinner – with Mushroom Gravy
My ultimate rundown on how to achieve the perfect holiday chicken dinner using the spatchcock method. Beautifully juicy, flavourful meat with insanely delicious roasted potatoes.
Check out this recipe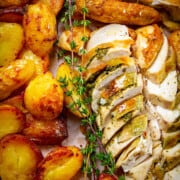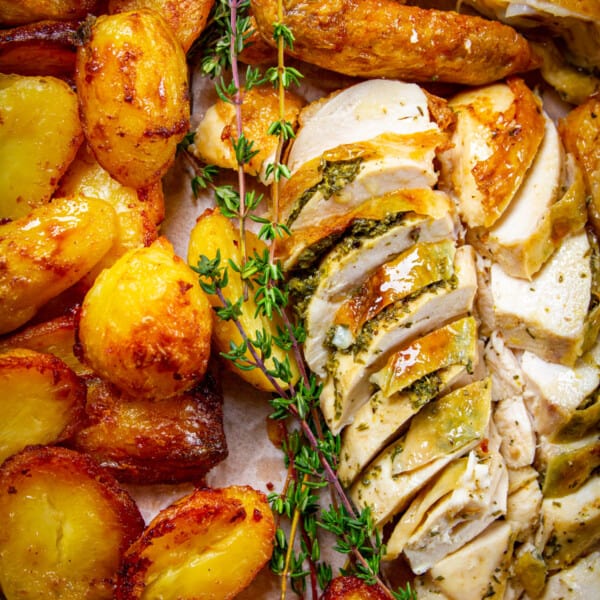 Burrata with Marcona Almonds, Pear and Fresh Thyme
A Warm Fall Burrata Recipe with Toasted Marcona Almonds, Pear and Fresh Thyme
A burrata recipe with roasted pears, fresh thyme, toasted Marcona almonds and finished with warm brown butter. One of my favourite ways to enjoy the pear season.
Check out this recipe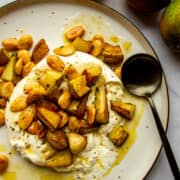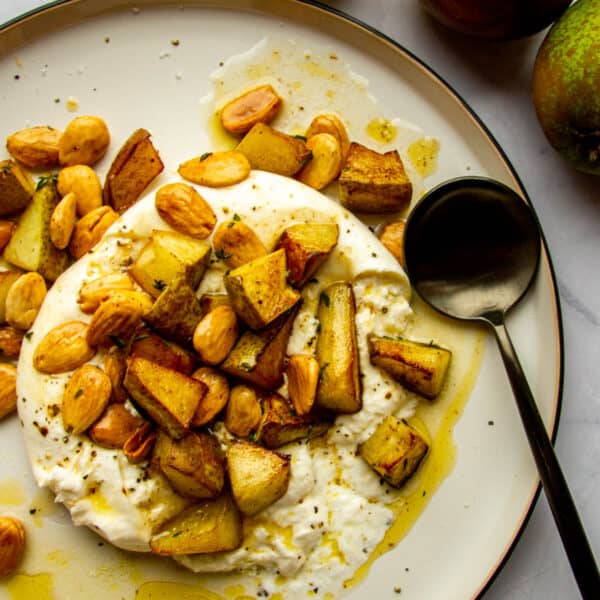 How to Season Your Cast Iron Pan
How to Season a Cast Iron Skillet Pan
A quick guide on how to properly season a brand new cast iron skillet pan with step by step instructions.