Chestnut mushrooms or Agaricus bisporus are delicious, approachable and easy to prepare.
White, button and cremini mushrooms are all the same type of shroom but chestnut refers to the brown coloured varieties.
I love them cooked in tons of foamy butter and finished with a bit of fresh garlic. The smell is almost better than actually eating them!
Cooking these treasures is easy as long as you know how to prepare them.
Here are 3 tips to help you cook better mushrooms.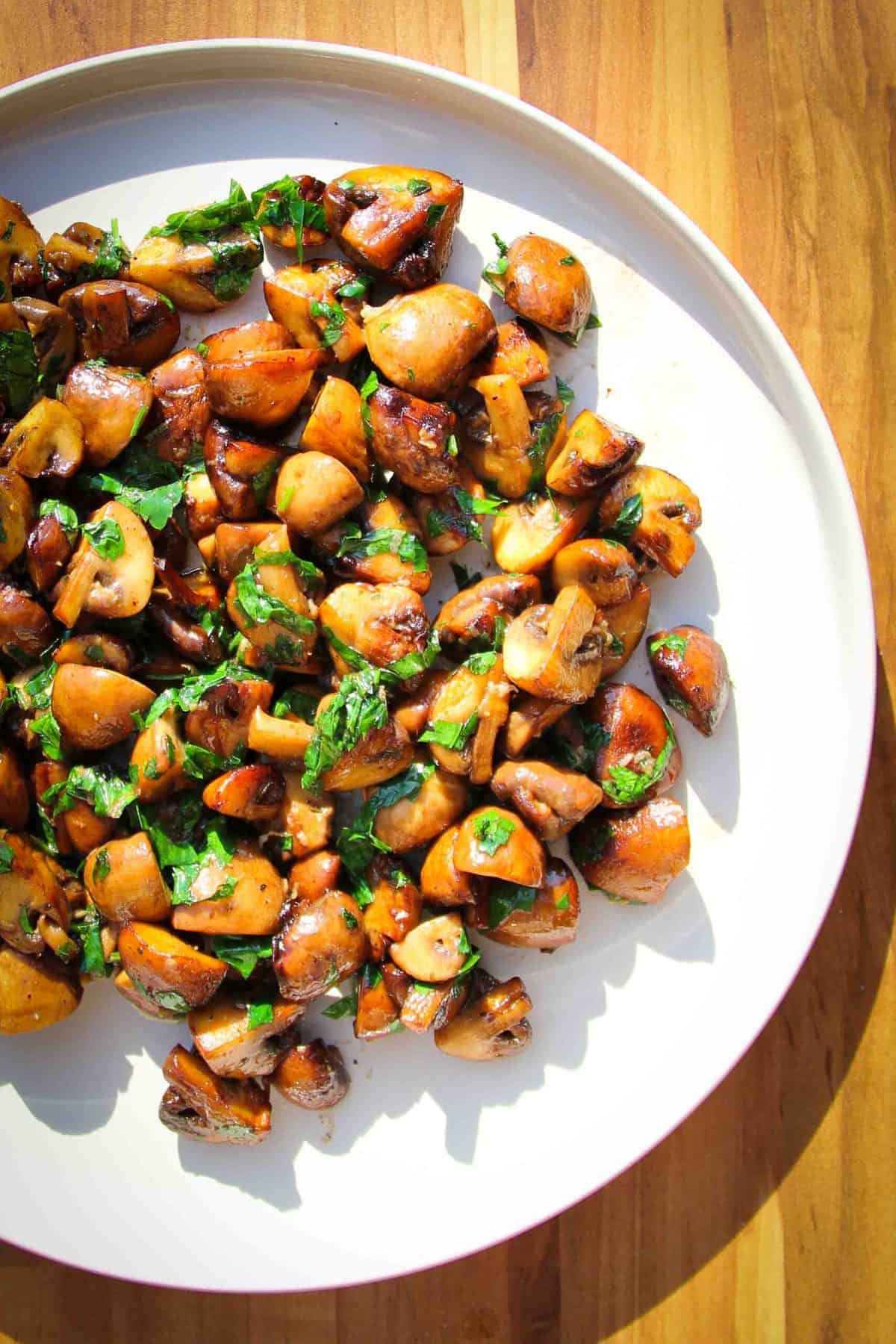 1. Cook Chestnut Mushroom on High Heat
The simple fact is that mushrooms need to be properly browned to be tasty and this requires high heat.
This browning process, also called the Maillard reaction gives the mushrooms a deeper, sweeter and more delicious flavour.
High heat is paramount to achieving beautiful, golden mushrooms and to prevent them from steaming.
2. Give the Chestnut Mushrooms Room to Breathe
If the pan is overcrowded and too many mushrooms are cooking at the same time the mushrooms will start to steam. The key is to fry in batches so that all the mushrooms brown nicely.
3. Lots and Lots of Butter
Butter is really the secret ingredient here. The trick is to almost brown the butter before you add the mushrooms, that way you know the fat is hot.
What about Other Types of Mushrooms?
In this recipe, I'm using the Dutch kastanjes or chestnut mushrooms in English.
They have a beautiful flavour and are not too expensive but any mushroom can be cooked using this recipe.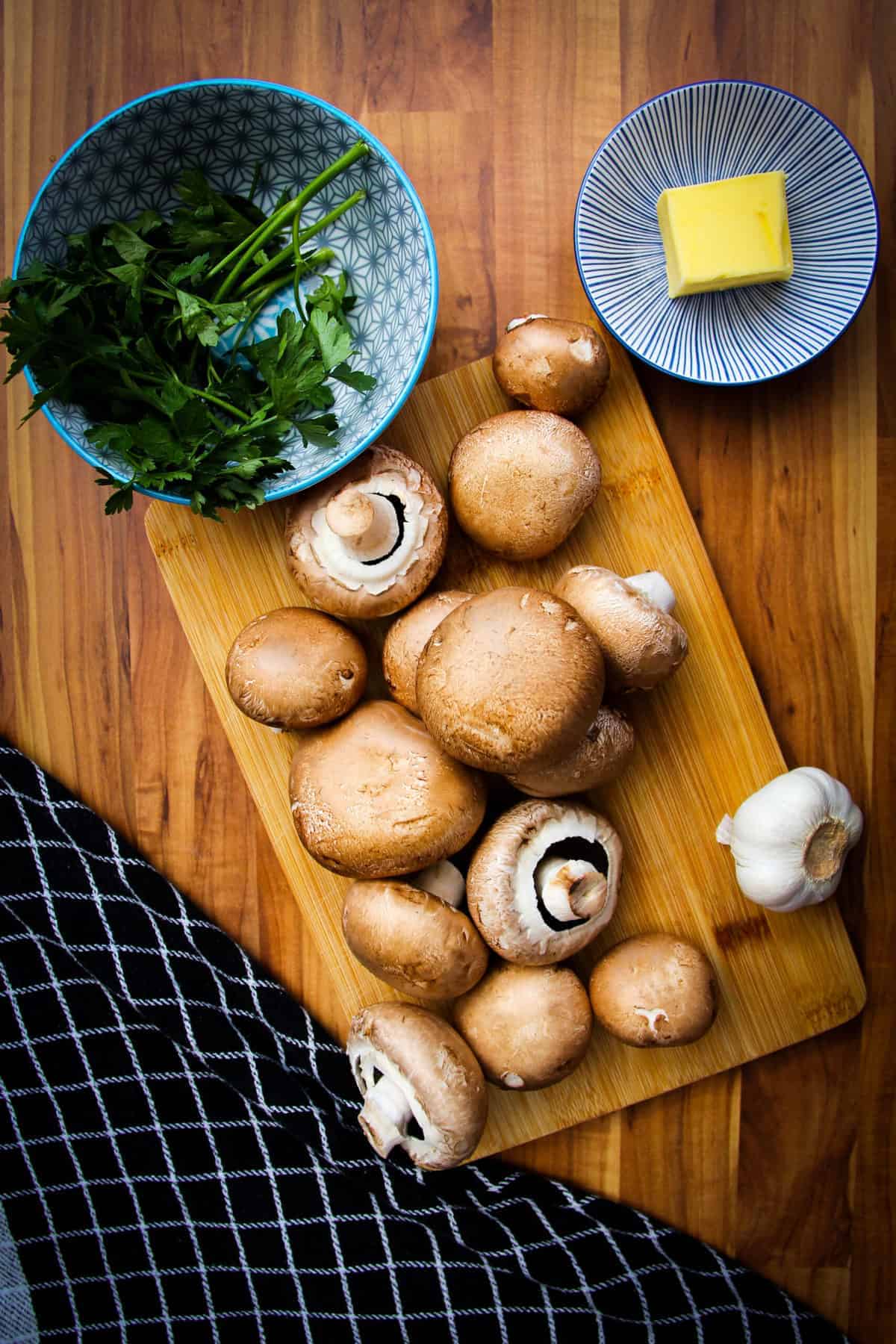 Mushroom Fun Fact
Did you know that fungi are actually more closely related to humans than plants? And the largest living organism, Armillaria Ostoyae, is actually a mushroom that exists in Oregon, US and is over 9651753m2!
If you would like to know more about mushrooms, I highly recommend this book: Mushrooms Demystified by David Arora.
Tools Needed For Cooking Chestnut Mushrooms
Cast Iron Skillet – Cast iron is great for searing mushrooms because of its even heat distribution.
Microplane – A great tool for a quick garlic purée.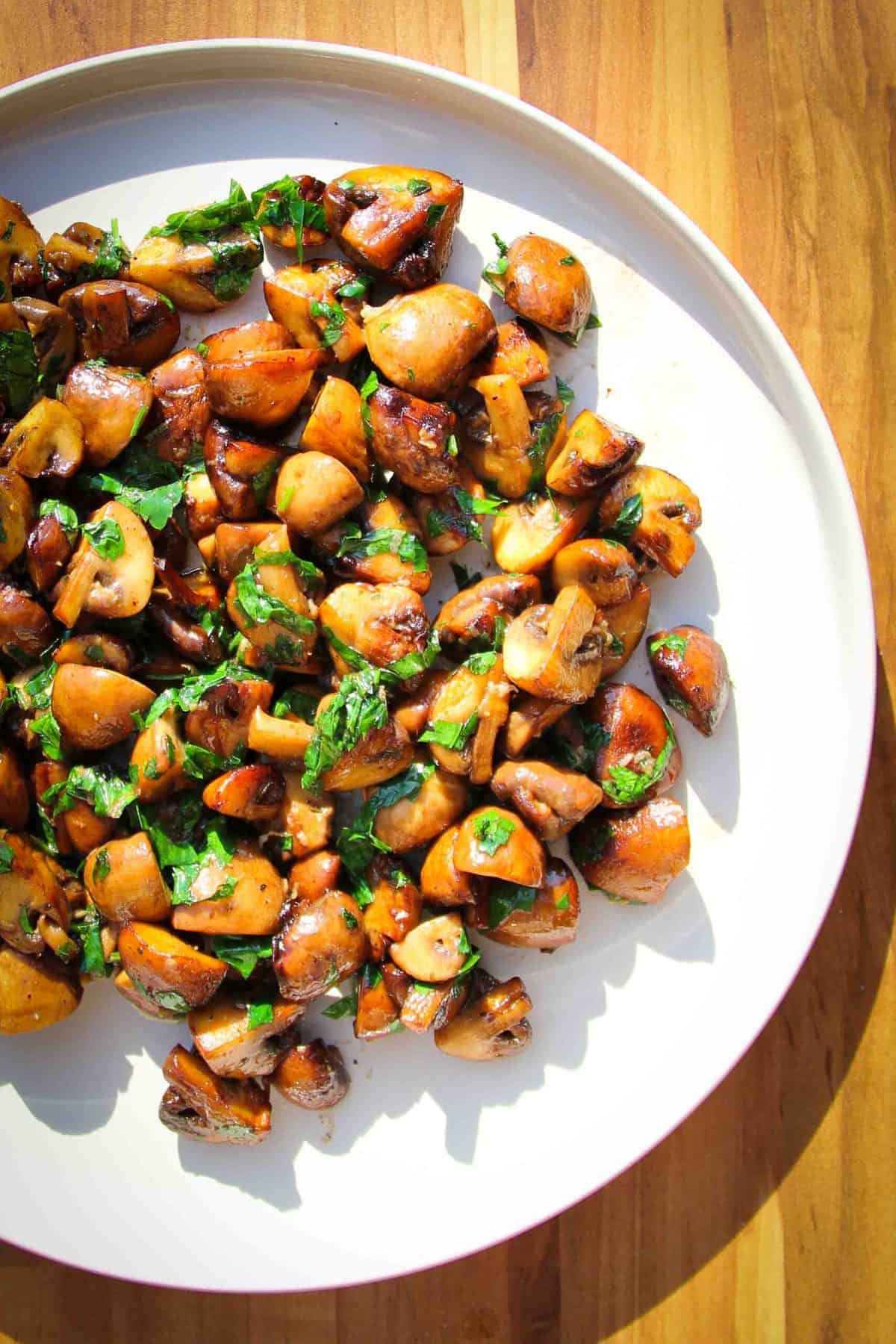 Equipment
Heavy bottomed pan (cast iron or french iron preferably)

Microplane/Rasp
Ingredients
400

g

chestnut mushrooms

kastanjes in Dutch

100

g

butter

1

clove

garlic

peeled

½

bunch

fresh flat-leaf parsley

1

whole

lemon

salt to taste
Instructions
Rasp the garlic with the microplane into a small bowl. Zest the lemon into the same bowl and set aside.

Clean the mushrooms with a damp paper towel or brush to get rid of any dirt. Cut the mushrooms into quarters.

Get a big heavy-bottomed pan hot. Add half of the butter and wait until the butter gets foamy starts to turn brown.

Add half of the mushrooms and continue to cook over medium-high heat. Turn them so they are all lying on a cut side.

Don't shake the pan at this stage too much and just let them brown and cook. Once they are brown, flip them to brown them on the other sides. Continue cooking until nicely browned on all sides.

Once the mushrooms are nicely coloured, remove them from the pan and place them in another bowl. Continue cooking the other mushrooms with more butter just like before.

When all the mushrooms are ready, add the other cooked mushrooms and toss them together in the pan.

Season the mushrooms with salt. Add the parsley, lemon zest, garlic and a squeeze of lemon juice and turn off the heat.

Serve on a big plate to share. Enjoy!
Nutrition
Calories:
83
kcal
|
Carbohydrates:
12
g
|
Protein:
7
g
|
Fat:
2
g
|
Saturated Fat:
1
g
|
Cholesterol:
6
mg
|
Sodium:
73
mg
|
Potassium:
1042
mg
|
Fiber:
2
g
|
Sugar:
6
g
|
Vitamin A:
1283
IU
|
Vitamin C:
19
mg
|
Calcium:
113
mg
|
Iron:
2
mg
This post contains Amazon affiliate links to products I recommend.
More Recipes
These Quick and Easy Padron Peppers
Easy, Garlicky Padrón Peppers with Ginger and Lime
These garlicky Padron peppers are cooked in olive oil and finished with a mixture of fresh ginger, garlic and lime zest. They're quick to prepare, healthy and incredibly easy to make.
Check out this recipe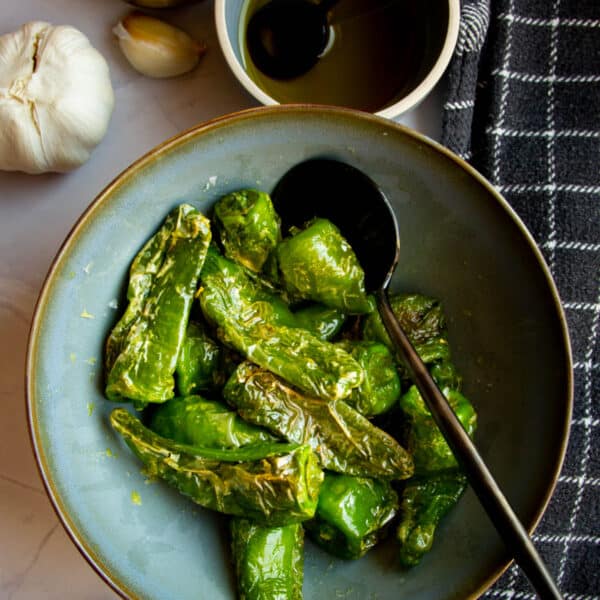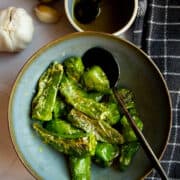 How to Season Your Cast Iron Pan
How to Season a Cast Iron Skillet Pan
A quick guide on how to properly season a brand new cast iron skillet pan with step by step instructions.
Crispy Brussels with Banana and Lime
Crispy Brussel Sprouts with Banana and Lime
A wild side dish with brussel sprouts, banana and lime that's vegan and definitely not boring.
Check out this recipe