If you've got an abundance of strawberries in your garden then it's probably time to make this strawberry sauce.
Unlike this strawberry puree, the fruit is left whole after cooking and has a nice texture that's delicious topped over cheesecake, pancakes or mixed into yogurt.
Strawberry Sauce Ingredients
The three ingredients in this dish are strawberries, white sugar and lime.
Lemon is a classic flavour added to strawberry sauce but I like the slightly more intense lime flavour. The citrus adds freshness to this sauce to brighten it up and balances the sweetness which makes it more interesting.
How to Make This Sauce
This sauce is very easy to make, here's how to do it:
Cure the fruit for 10-30 minutes.
Cook everything together over low heat until thickened.
Cool.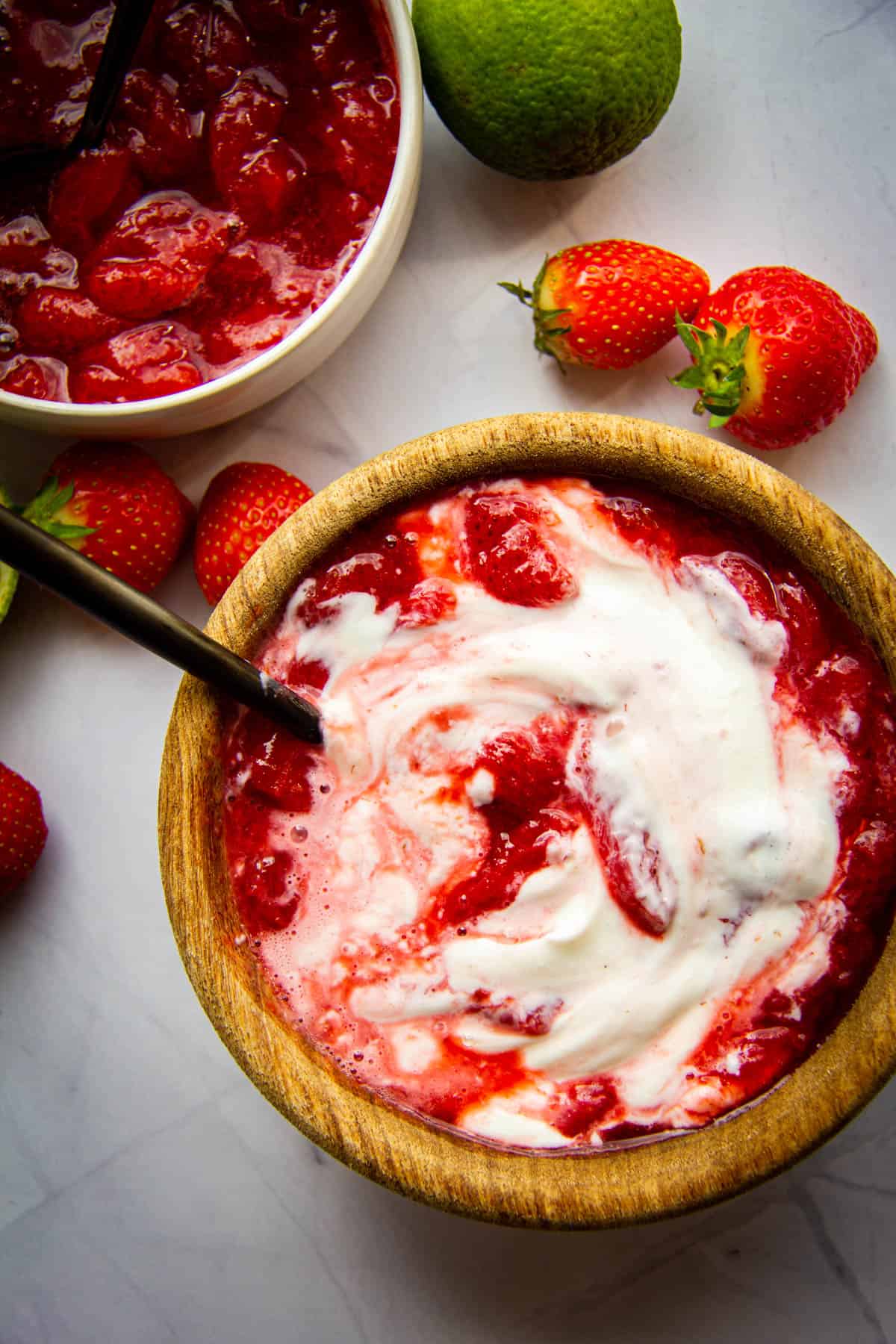 How to Thicken Strawberry Sauce
Some recipes call for cornstarch or icing sugar to thicken the strawberry sauce but I find this unnecessary. The natural pectin in the strawberries is released once heated and thickens the sauce.
Adding cornstarch or icing sugar will dilute the flavour of the sauce, so it's best to leave that out.
Changing the Texture of the Strawberry Sauce
In this recipe, I cooked the strawberries quite a bit until they are fully broken down. This makes a more spreadable, saucy consistency but the nice shape of the strawberries is lost.
If you'd rather keep the shape of the strawberries in the finished sauce, you can strain them after 2 minutes of cooking. Once the strawberries have cooked for a few minutes, strain them and continue cooking the sauce separately until it thickens.
Add the berries back to the sauce after it's been reduced and voila!
Why Cure Strawberries?
Like with any sauce, we want intensity.
Adding water will dilute the flavour of the sauce and because strawberries already contain a lot of water, it's unnecessary.
Instead, adding sugar to the strawberries before cooking will draw out water from the berries. This strawberry water will be enough liquid to get them started in the pan.
If there's not enough water released from the cure, you can always add 1-2 tsp of water while cooking to prevent the berries from sticking to the pan.
How Do I Know When the Sauce is Ready?
If you're not sure how long to cook the sauce, then try the "fridge test".
Put one piece of cooked strawberry plus a little sauce on a small plate and put it in the fridge to set. Check the plate after two minutes, if it's still runny then you'll want to continue cooking the sauce. If it holds a line shape on the plate then it's ready. 
Freezing and Storing
The added sugar in this recipe will help to preserve the strawberries a little bit longer. Strawberry sauce will last for up to one week in the fridge and freezes well.
More Recipes Like This
This Strawberry Puree
This Rhubarb Sauce
This Strawberry + Pistachio Salad