This is a little riff on a classic Middle-Eastern dish named Bamia, using a highly under-rated veggie – frozen okra.
I think it's the texture that many people don't like, but luckily you can minimize that if you know how to cook it.
I'm crazy about this dish because it ticks almost every box for a perfect side dish to a meal at home.
For one, it's incredibly healthy, gluten-free, dairy-free, vegan and keto – so almost anyone can enjoy this.
But the best part is the flavour you get from the use of fresh garlic, dried Aleppo chili and tomato paste which add a ton of umami.
Oh, and what's even better? This dish is ready in under 15 minutes – with one pan!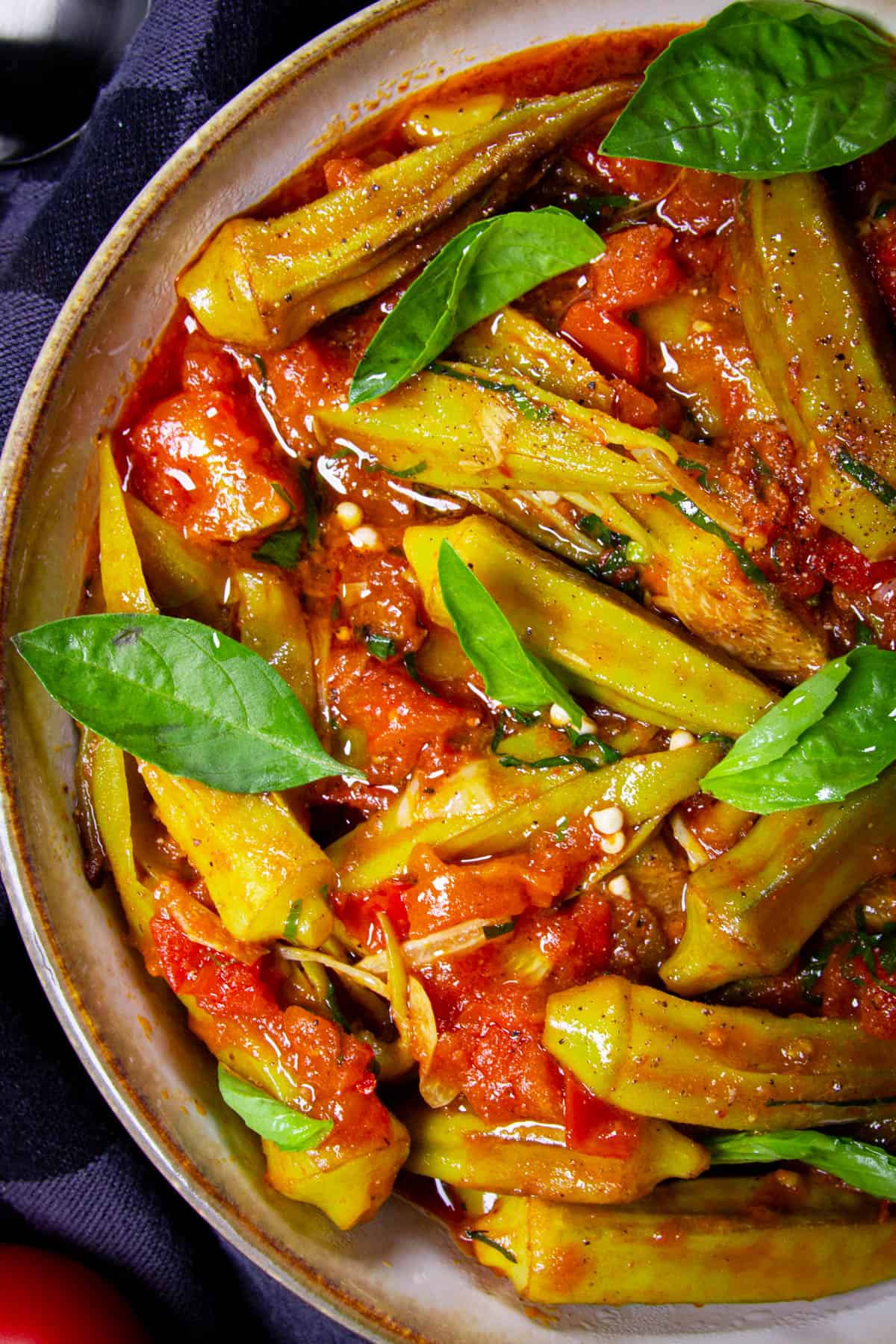 Why I Love Frozen Okra
What I love about frozen okra, is that it's ready all year round, and I can easily store a few bags for later in my freezer.
Where I live, fresh okra is not easy to find. That's why I usually bulk up on the frozen bags sold by my local Middle-Eastern grocer.
Just like other frozen veggies, frozen okra is usually pretty cost-effective and a great way to save money on groceries.
Plus, did you know that frozen vegetables can be just as nutritious as fresh vegetables? [1]
Yes, you read that right!
This is because of modern-day farming practices where fresh vegetables are picked at their peak season and flash-frozen immediately. This means their flavour and nutrition are preserved effectively unlike fresh veggies that sit out on a grocery shelf and diminish in quality.
Not all veggies are great frozen, but a bag of frozen okra is always a winner for me.
What is Bamia and Bamya?
Bamia or Bamya is a traditional Middle Eastern dish involving a wide mix of ingredients including (but not always): stewed okra, tomatoes, coriander, onions, garlic, pomegranate syrup, and cardamom.
This dish can be found in Lebanon, Syria, Afghanistan, Turkey, Egypt, and even in some parts of Greece.
Every country will tell you that their Bamia is the best one, just like how the different regions of Italy can never agree on the same way to make bolognese sauce.
I've done my own freestyle on this recipe as I don't like coriander at all and I LOVE Aleppo chili. It's hard to replace coriander, but I went with fresh basil (tomato's best friend) which brings a different but delicious twist to this classic.
Although I think my recipe is delicious, it's by no means authentic. If you're looking for an authentic recipe from an actual expert on Middle Eastern cooking, try this book: Mourad: New Moroccan.
Tips for Cooking Frozen Okra
You don't want to cook okra in water like other green vegetables because the texture will be a little too "slimy".
Here are a few tips to make okra more delicious:
Don't Cut the Okra Before Cooking
Slicing them raw will worsen the effect of that slimy texture. Instead, buy whole fresh or frozen okra, and don't slice it.
Fry the Okra in Oil to Improve the Texture
Frying the okra in lots of oil removes the sliminess and adds extra flavour by browning.
Be warned that frozen okra will splatter in the oil, so use a pan with high sides to prevent making a mess in your kitchen.
Use Acidic Ingredients when Cooking Okra
Acidic ingredients like tomato, lemon, lime, and vinegar will improve the texture of the okra.
In this recipe, we're using fresh tomatoes which is enough, but you could still add a little fresh lime if you prefer it to taste a little sharper.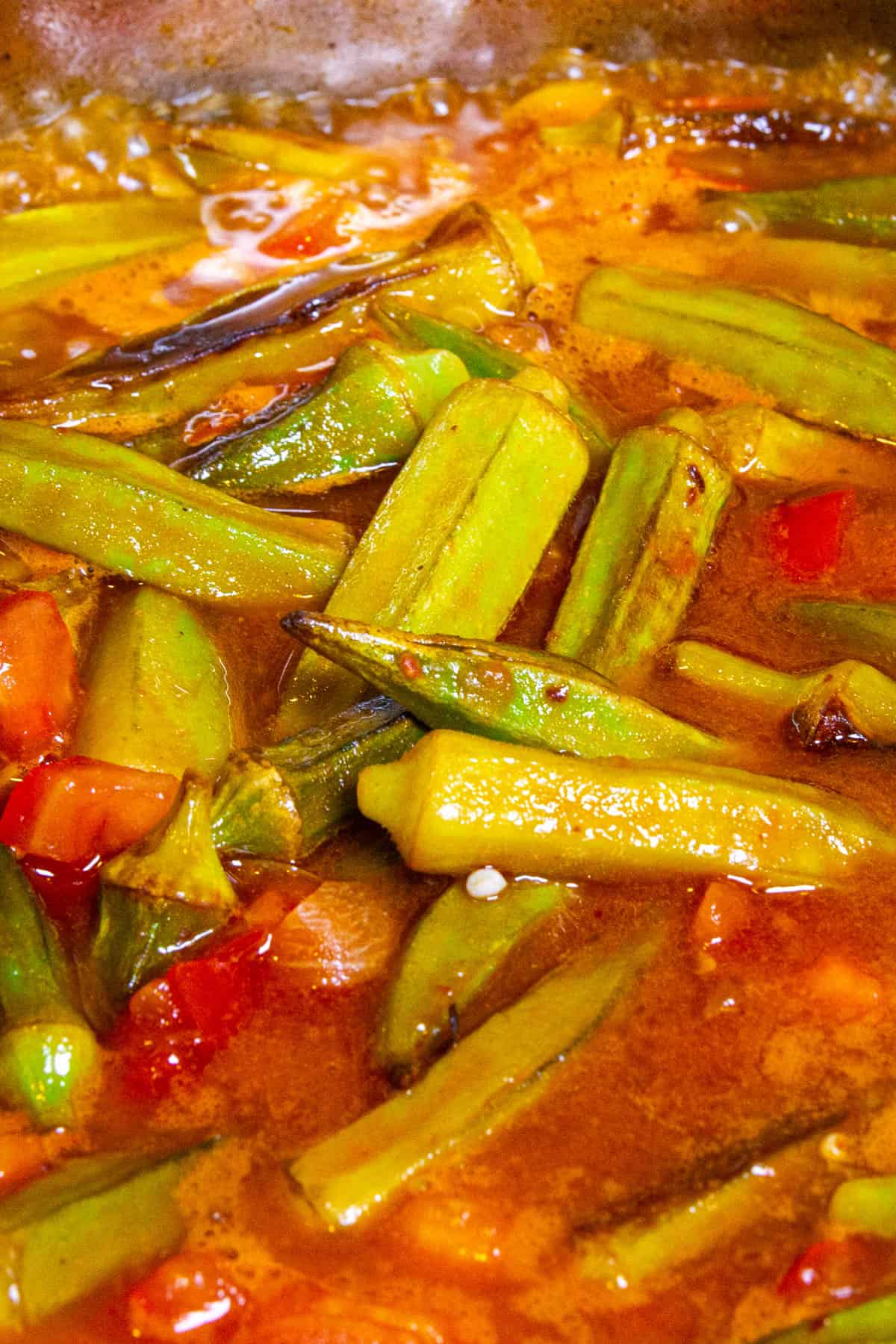 Frozen Okra Key Ingredients
Here are some key ingredients for this recipe:
Tomato paste: This is optional, but the tomato paste adds a nice sweetness, as well as some umami to the dish. Although you may want to skip the tomato paste if you already have very ripe summer tomatoes. Then the fresh flavour of the tomatoes is more desirable.
Aleppo Chili: One of my favourite spices right now because it adds a nice flavour without being too hot. Make sure to buy the "sweet" Aleppo chili as they also sell a "hot" one.
Garlic: Lots and lots of garlic is key to this recipe. Don't skip this!
Tomatoes: Feel free to use canned or fresh tomatoes here. Fresh tomatoes might have a bit more water, so you'll likely need to add more water if you use canned tomatoes instead.
Pomegranate Syrup: This syrup adds a darker colour as well as some sourness to the okra. I prefer it without, but some authentic recipes call for it.
How to Make this Okra
Here are the simplified steps to make this frozen okra:
Heat lots of olive oil in a pan with high sides over medium heat.
Add the frozen okra directly to the oil and stir. (Be careful not to burn yourself here!)
Fry until the edges of the okra are golden brown.
Add tomato paste, and Aleppo chili and cook for 30 seconds.
Turn off the heat, add the garlic and cook for 30 seconds more.
Immediately add the tomatoes, salt, and water and bring them back to a simmer. Put a lid on the pan and simmer on low for about 10 minutes or until the okra is soft but not overcooked.
Finish the okra with a glug of olive oil and fresh basil. Enjoy!
Try these Other Sides
Quick Frozen Okra with Chili Tomato and Basil (Bamia)
This recipe using frozen okra is fast, easy to make and will impress even the biggest okra haters.
Equipment
cutting board

Wooden spoon
Ingredients
450

g

frozen okra (1 bag)

2-3

cloves

fresh garlic, peeled

½

tbsp

tomato paste

½

tbsp

Aleppo chili flakes

3

tbsp

olive oil (for cooking)

2

pc

fresh Roma tomatoes

½

bunch

fresh basil (or cilantro if you prefer)

½

cup

water

1

tsp

salt
Instructions
Prepare all of your ingredients before you start. Slice the garlic thinly, chop the tomatoes roughly and slice the basil into thin pieces (chiffonade).

Add the olive oil to a saute pan (make sure you've got a lid that fits) and heat over medium-high heat.

Once it starts to get hot, add the bag of frozen okra to the pan and stir with the spoon. Be careful not to burn yourself here – don't let the oil get too hot before adding the okra.

Fry the okra for 2-3 minutes over medium heat until it starts to turn golden brown on the edges. Stir frequently.

Once the okra has taken on a golden brown colour, season it generally with salt. Turn off the heat, add the tomato paste, stir for 30 seconds and then add the garlic, chili, fresh tomatoes and water.

Season the liquid with salt and cover the pan.

Continue cooking over low heat with the lid for about 5-10 minutes, or until the okra is soft but not overcooked.

Finish the okra with the chopped basil and a good glug of olive oil on top.
Notes
The frozen okra will spatter a lot when it hits the hot oil, so it's best to have a pot with high sides to prevent the oil from splattering over your kitchen stove. Better yet, use a large stock pot with a lid.
Frying the okra in the oil helps to remove some of the naturally "slimy" texture.
Nutrition
Calories:
274
kcal
|
Carbohydrates:
20
g
|
Protein:
5
g
|
Fat:
22
g
|
Saturated Fat:
3
g
|
Polyunsaturated Fat:
2
g
|
Monounsaturated Fat:
15
g
|
Sodium:
1247
mg
|
Potassium:
773
mg
|
Fiber:
8
g
|
Sugar:
4
g
|
Vitamin A:
2379
IU
|
Vitamin C:
54
mg
|
Calcium:
204
mg
|
Iron:
2
mg
Mutabal – A Creamy Eggplant Dip with Fresh Pomegranates and Mint
This delicious mutabal dip is rich, creamy, garlicky, pleasantly smokey and peppered with plenty of fresh mint, good olive oil and crunchy pomegranates. Serve with lots of warm pita bread.
Check out this recipe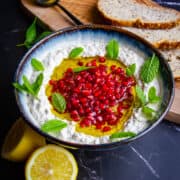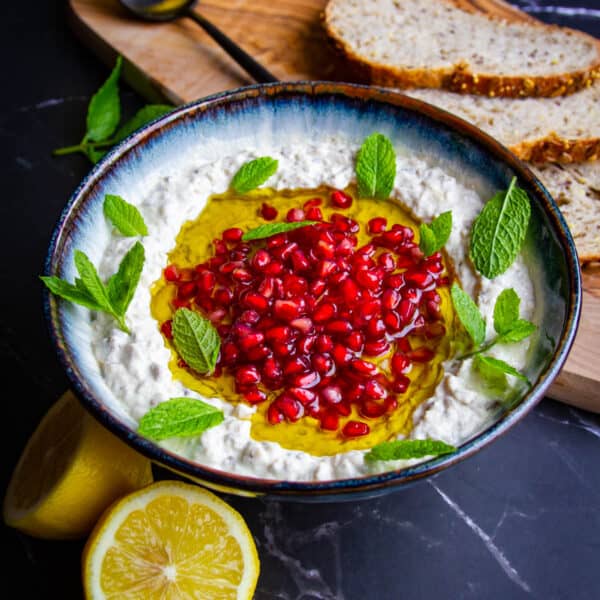 Easy, No-Fail Instant Pot Basmati Rice
A guide for how to cook instant pot basmati rice with tips to make sure your rice is perfect every time.
Check out this recipe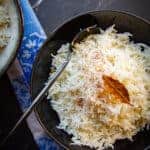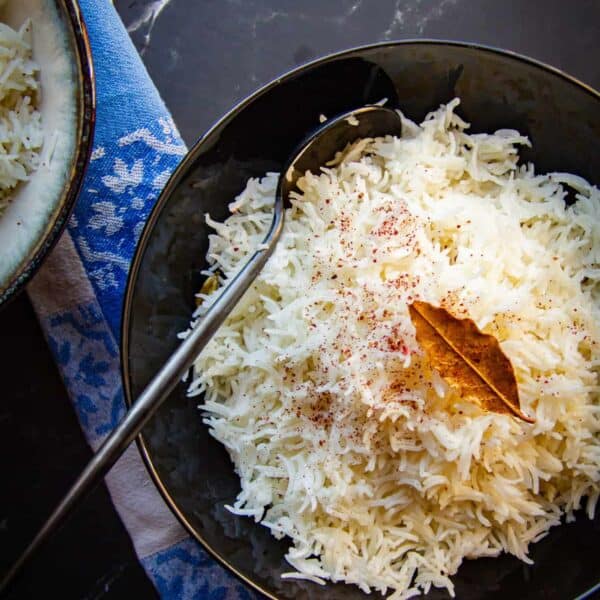 Fried Eggplant with Garlic, Smoked Paprika and Basil
A recipe for olive-oil fried eggplant with smoked paprika, garlic, lemon and fresh basil. It's easy to make, vegan friendly and super tasty. Serve with lamb or beef dishes or with a a big plate of steamed rice.
Check out this recipe