The best time to eat asparagus is during the early spring months from April to June. This is when the asparagus is at its peak of quality, fresh and bursting of flavour. This keto green asparagus recipe is quick, easy, healthy and a great way to make the most of the season.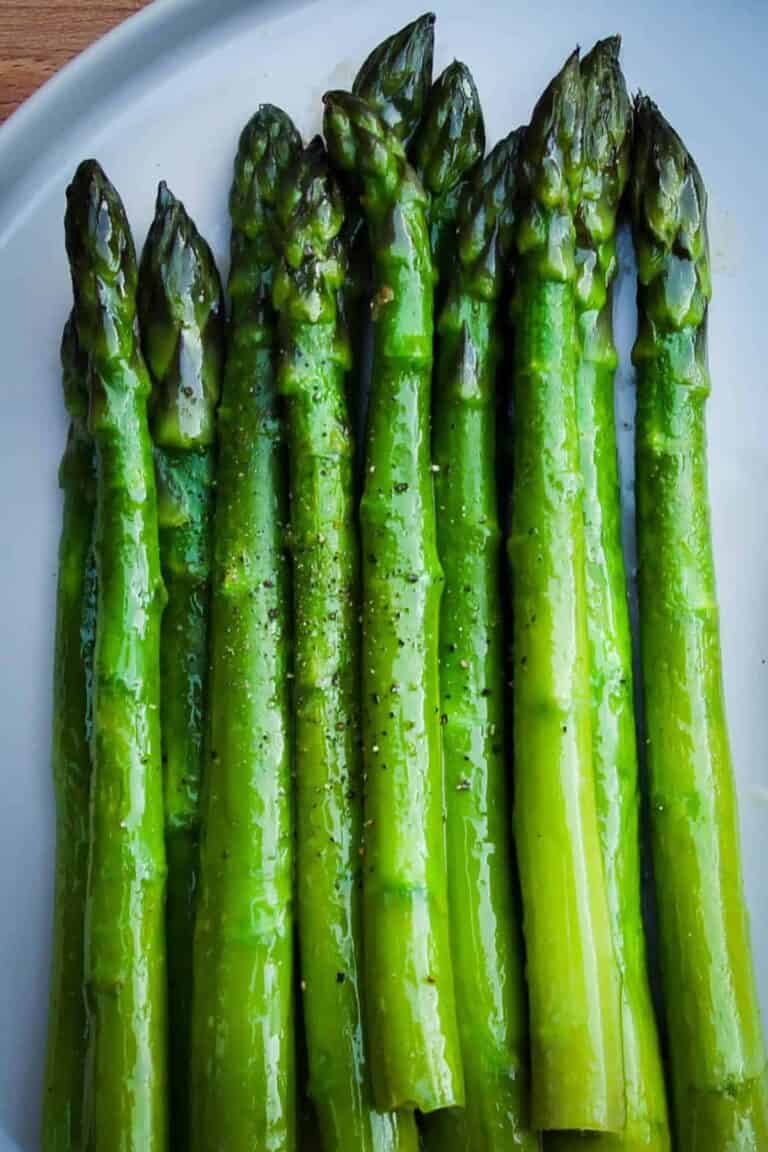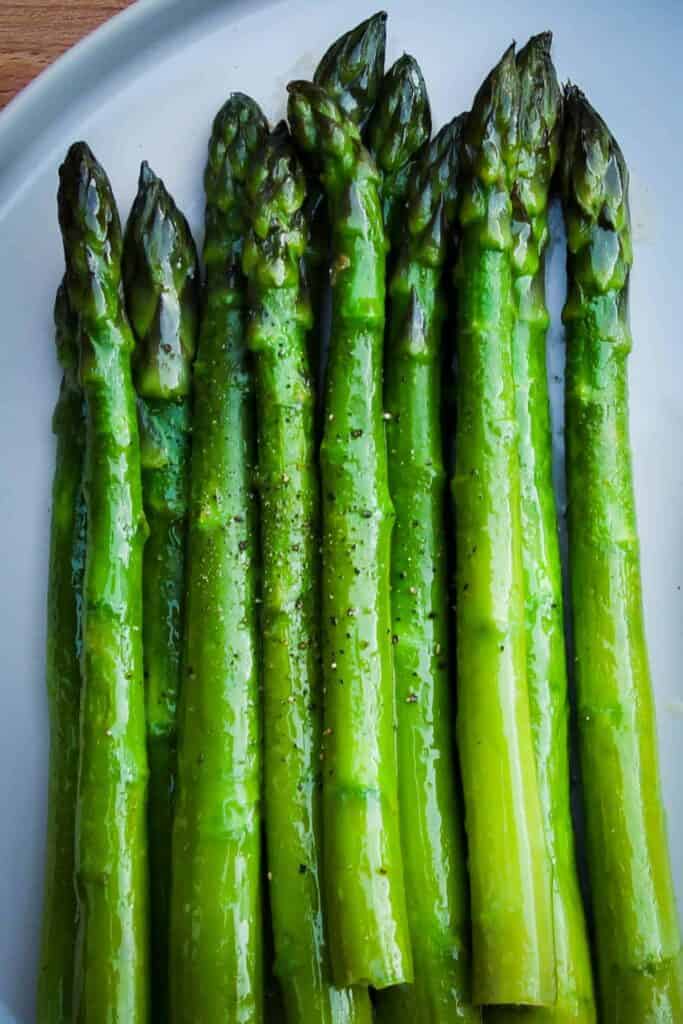 Asparagus Season in Maastricht
In Maastricht, we have a pretty amazing selection of white and green asparagus that they sell by the kilos in the local market. When the asparagus is at its peak in freshness, it's at its best price and it makes sense to buy as much as you can.
When shopping for asparagus try to find big thick stalks that are firm and bright green for the best results. Fresh asparagus has a beautiful sweet flavour that it loses as it sits on the shelf too long.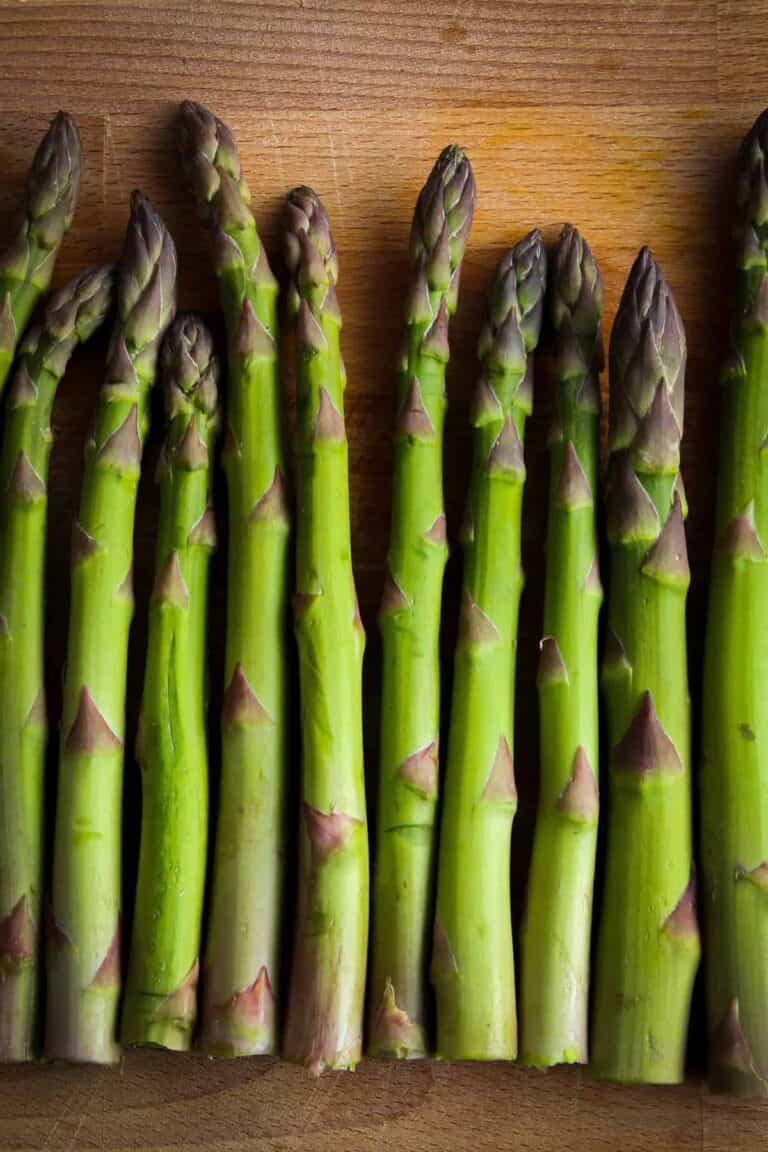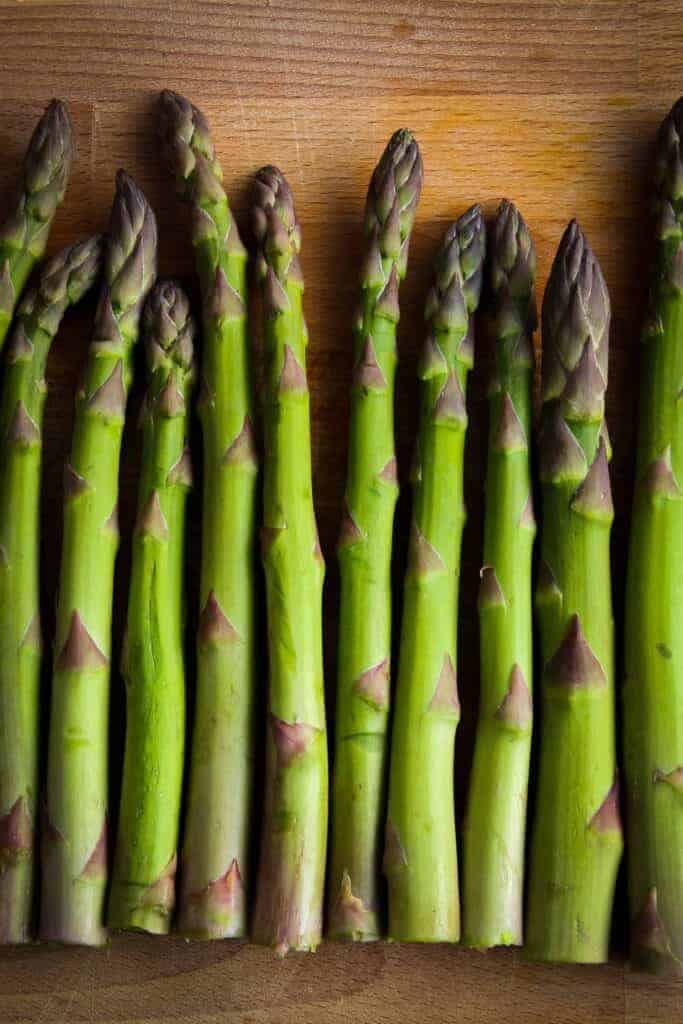 How to Keep Asparagus Bright Green
Because this recipe is very simple it's absolutely paramount that you cook the veggies properly in boiling, salted water. As for any green vegetable containing chlorophyll (the green pigment colour in plants) they must always be kept either very hot or very cold to avoid activating the enzyme that turns them grey. This means that if the blanching water is warm instead of boiling hot you will achieve grey, sad looking vegetables instead of beautiful, bright green vegetables.
What is the Keto Diet?
Keto is a low carb, high fat diet that can be very healthy especially for diabetics. I won't go into the details of the how or why but if you're interested in learning more go here.
This keto asparagus recipe is perfect for the keto diet because it contains no carbs and no sugar. Make sure to use a sugar free mayo for this recipe.
What is Refreshing?
Refreshing a vegetable is simply dunking it it an ice bath to stop the cooking after blanching.
In restaurants we normally blanch in boiling, salted water and refresh in ice cold water to quickly bring the temperature of the vegetables down and avoid activating the "greying" enzymes.
For this recipe I skip the ice bath method because we will eat the asparagus right away and it's not necessary to chill and reheat. If you plan to eat the asparagus later you can blanch and refresh the veggies and then heat up quickly whenever needed.
How Long to Cook Asparagus?
This comes down to personal preference but keep in mind the longer you cook a vegetable, the more nutrients are lost in your boiling water. This is why steaming is very healthy, because very little nutrients are lost compared to boiling.
I always cook my vegetables like pasta – al dente, with a little bit of a bite. The taste and texture is much better this way. Depending on how how big and how fresh the asparagus is depends on how long you should cook it. I recommend anywhere from 1-3 minutes in boiling salted water or when there's a slight resistance in the stalk when poked with a knife.
Chef's Tip – Always cook green vegetables in boiling, salted water to preserve the green colour of the vegetable.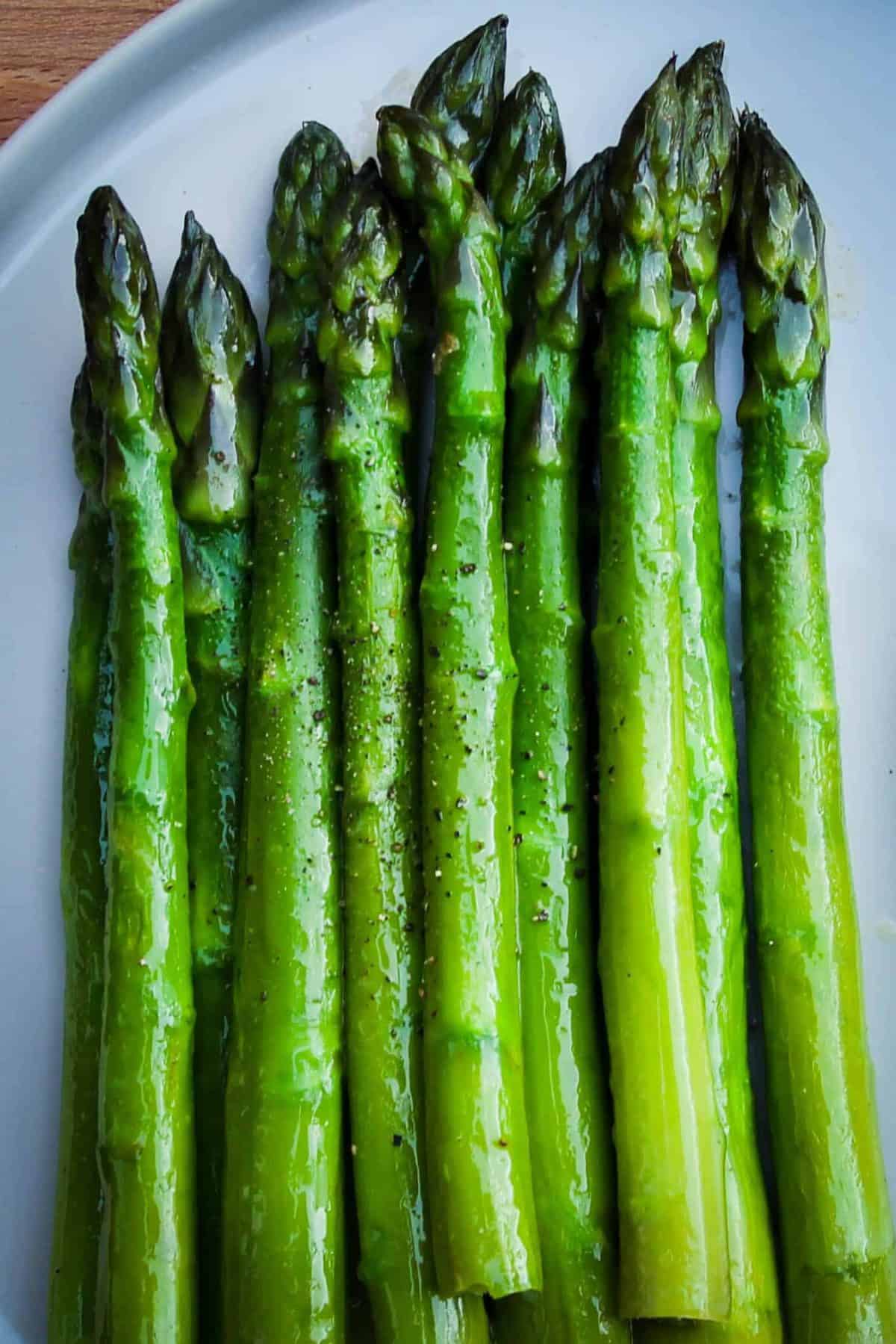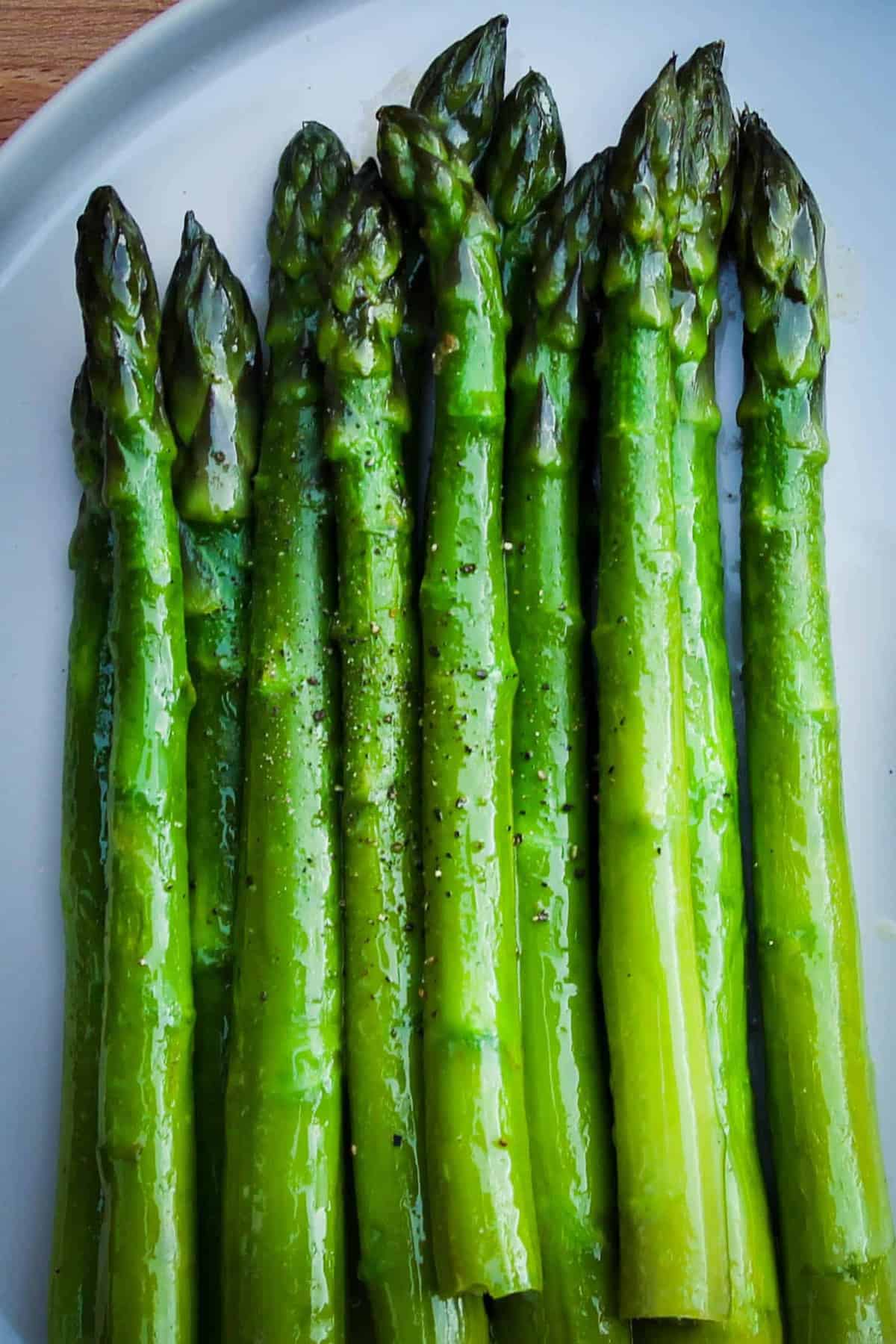 Ingredients
400

g

green asparagus

try to pick the fattest ones with a bright green colour

1

whole

orange

1

whole

lemon

1

tbsp

butter

3

tbsp

mayonaise

for keto, find a mayo without added sugar

salt and pepper
Instructions
Bring a large pot of salted water to a boil. Remove the thick woody part at the end of the asparagus with a knife and discard. With a small knife begin to remove the tiny leaves on the stalks.

Make the citrus mayo by zesting an orange and one lemon into a small bowl with the mayonnaise. Add a squeeze of lemon and a squeeze of orange juice. Season with salt and pepper.

When the salted water is boiling, add the asparagus and cook until al dente, about 1-3 minutes or until the stalks are tender but still have a little bite to them .

Remove from the water and dry off on a plate with paper towel.

Immediately after drying the asparagus get a large sauté pan hot and add the butter. Toss the asparagus in the foamy butter and season with sea salt and fresh black pepper. Add a squeeze of fresh lemon and orange juice.

Serve on a big plate with the citrus mayonnaise just off to the side.
Notes
Alternatively, you can peel the stalks of the asparagus with a speed peeler but I think this way looks less nice and removes extra nutrition from the skin.
Nutrition
Calories:
232
kcal
|
Carbohydrates:
8
g
|
Protein:
5
g
|
Fat:
21
g
|
Saturated Fat:
6
g
|
Cholesterol:
24
mg
|
Sodium:
186
mg
|
Potassium:
404
mg
|
Fiber:
4
g
|
Sugar:
4
g
|
Vitamin A:
1689
IU
|
Vitamin C:
11
mg
|
Calcium:
48
mg
|
Iron:
4
mg
White Asparagus – A Dutch Ritual
A white asparagus recipe with rolled ham, hard-boiled eggs, boiled potatoes and browned butter. Quick to make, healthy(ish) and very delicious.
Check out this recipe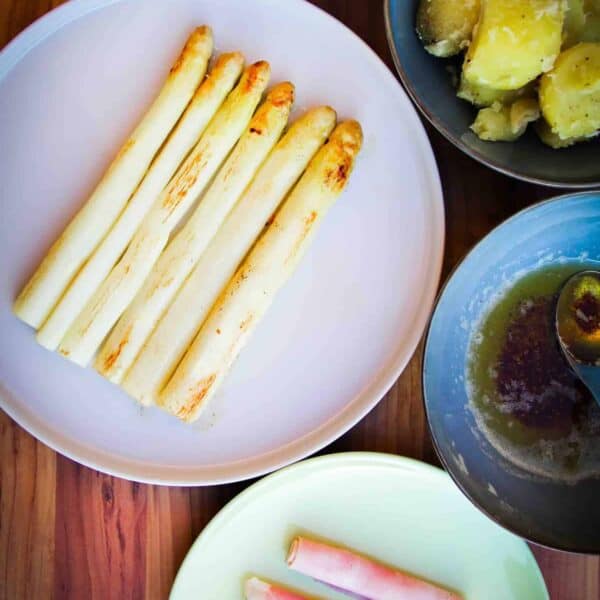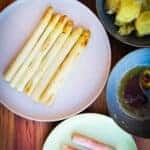 Crispy Brussel Sprouts with Banana and Lime
A wild side dish with brussel sprouts, banana and lime that's vegan and definitely not boring.
Check out this recipe