This is indisputably, my favourite white asparagus recipe. The simplicity of this recipe means the true taste of the white asparagus is unmasked.
During the months of March to June, white asparagus is exploding in the markets here in Maastricht and for good reason – it's gold! If you're lucky enough to find this treasure where you live – go for it. It's well worth it.
What's the Difference Between White Asparagus and Green Asparagus?
Nicknamed "white gold", white asparagus has a slightly sweeter taste and is less bitter than its green cousin. The flavour is really unique but if you like green asparagus then you're gonna love white asparagus!
This White Asparagus Recipe is Authentic
As my girlfriend is a Dutchie, I've been lucky enough to learn her family's method for enjoying white asparagus. They have a very simple tradition of serving blanched white asparagus with rolled ham, butter, hard-boiled eggs and boiled potatoes. It's all shared at the table in little bowls and everyone helps themselves.
What I love about this tradition is that people don't just like white asparagus, they get excited about white asparagus. As a Chef, I can totally relate to getting excited about vegetables!
I've tweaked this recipe slightly to include my secret weapon – brown butter and a heavy helping of fresh herbs.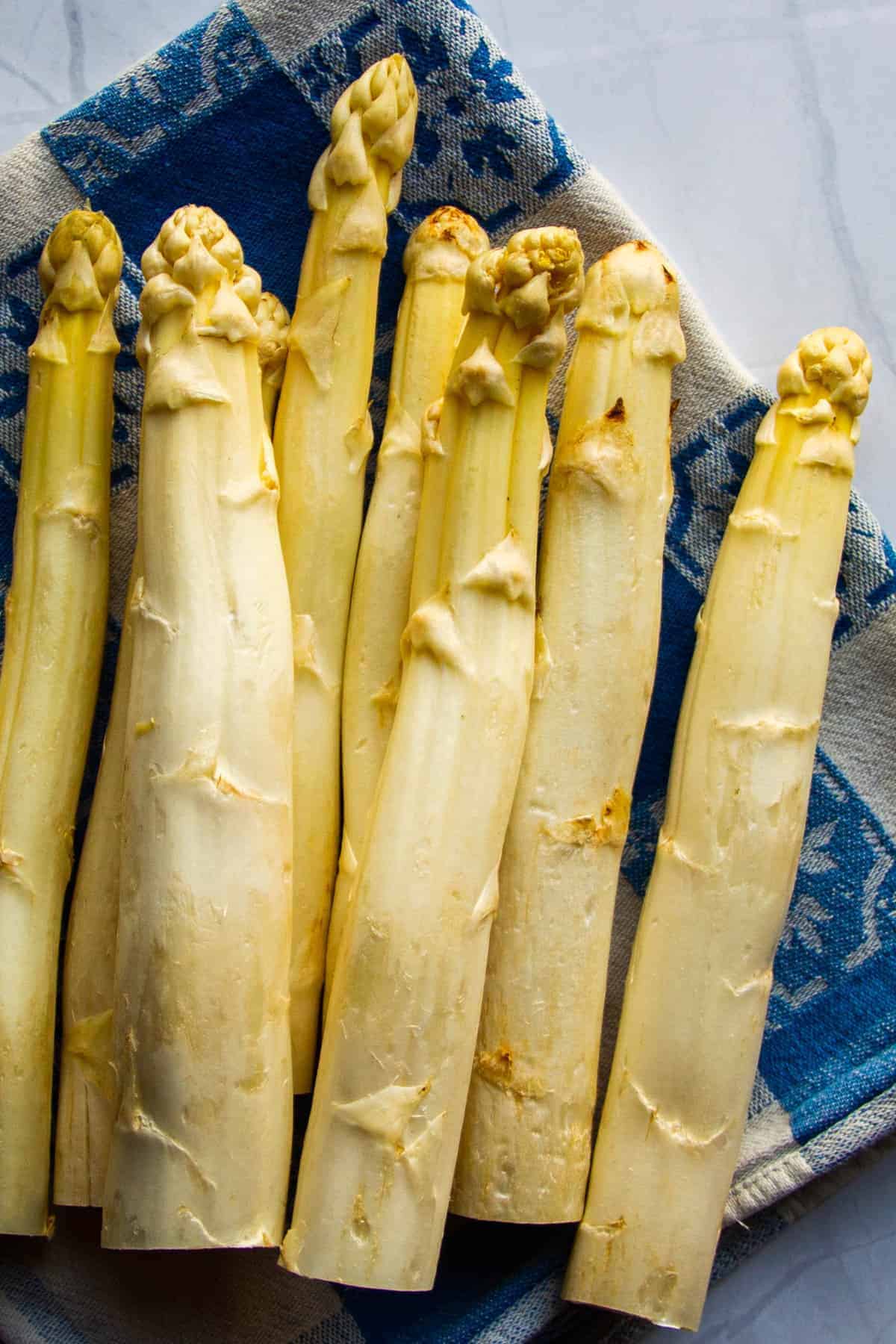 How Do They Make White Asparagus?
White asparagus is simply green asparagus plants that are constantly covered with soil to prevent chlorophyll from forming thus keeping them white. This process of constantly moving the soil up the sides of the plant is labour-intensive and is reflected in the high price.
What's More Healthy, Green or White Asparagus?
White asparagus does lose a little bit of antioxidants due to its lack of chlorophyll, but that doesn't mean it's not a healthy vegetable choice. White asparagus still contains high levels of antioxidants, Vitamin C, folic acid and essential nutrients which make this a smart choice. [1]
Peel it the Right Way
Unlike green asparagus, white asparagus must be peeled because the skin is very tough.
It's important to peel the asparagus from the top to bottom in long, clean strokes with a sharp peeler. Otherwise, the asparagus will taste bitter.
If you plan to make white asparagus soup (great idea!), save the woody bottoms and peels and infuse this into the liquid for the soup. Be sure to strain these stems and trimmings before blending the soup as they will not blend nicely.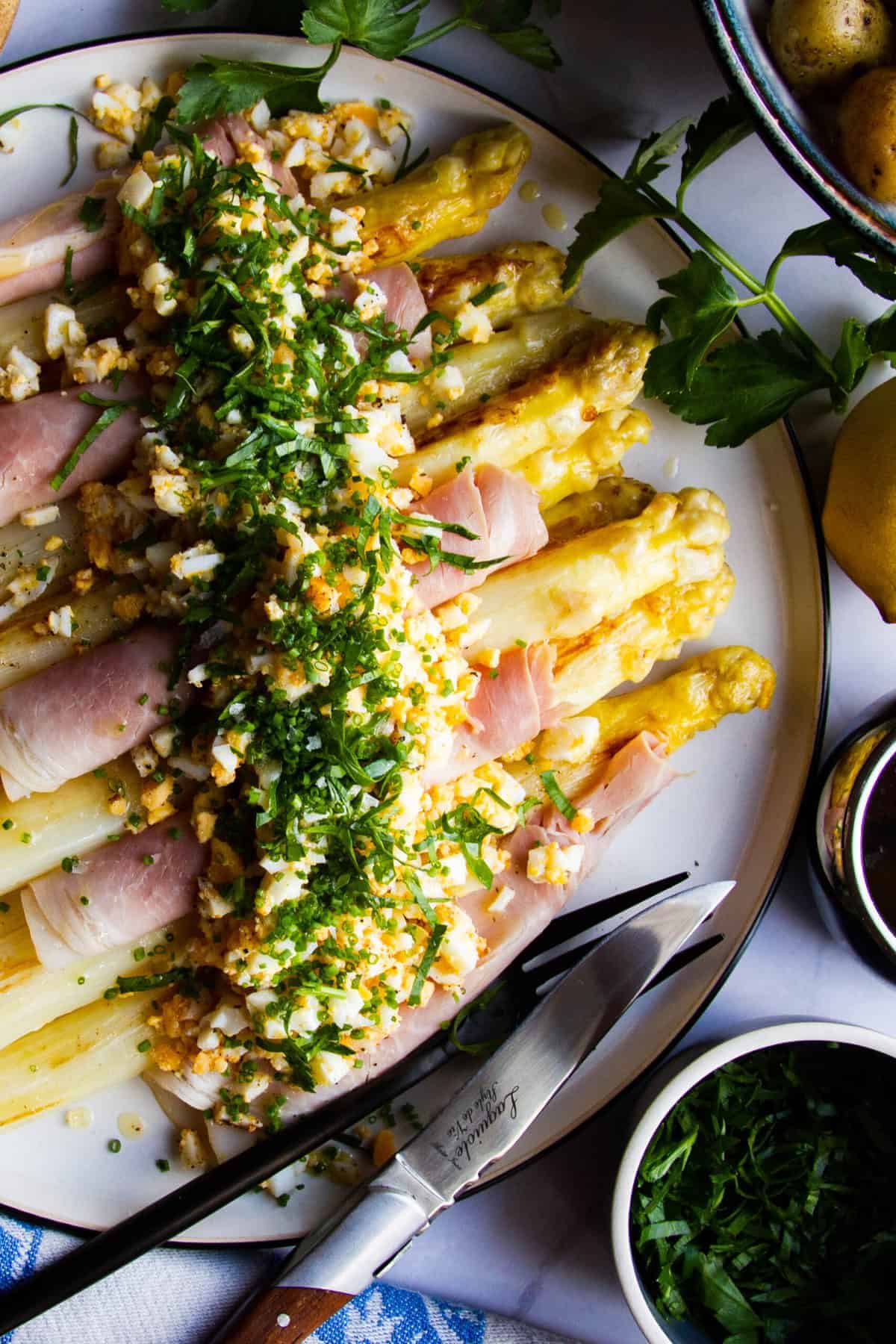 White Asparagus Buying Guide
White asparagus shines when it's really new and fresh. Fat stems are seen as higher quality and usually the first to be snatched up. Look for fat stems that a bright white, stiff and without blemishes.
When you peel the asparagus, they should be juicy and with firm stalks.
Chef's Tips
Make sure to peel the asparagus in long strips from top to bottom in one motion; peeling the other way can make them taste bitter.
Look for fat stalks that are juicy when peeled.
Save the peels and woody bits for an asparagus soup.
Fresh asparagus will cook very fast and older asparagus will take longer.
Enjoy and smakelijk eten! (Enjoy your meal, in Dutch)
*New* Watch the video below for step by step instructions!
The BEST Bitterballen Recipe (Dutch Deep-Fried Meatballs)
Looking to buy a knife set? Read my guide on Why I'll Never Buy a Cutco Knife Set.