After picking up this old-school white asparagus recipe from my Dutch wife, this is still to this day, my favourite way to enjoy them.
A bit of ham, a little fresh parsley, an egg or two and TONS of hot foamy browned butter. Mmmmmm!
It's simple, easy to make and INCREDIBLY delicious.
And with only a few ingredients needed, the true delicate flavour of the white asparagus comes through beautifully.
If you're lucky enough to find this treasure where you live – go for it. It's well worth it.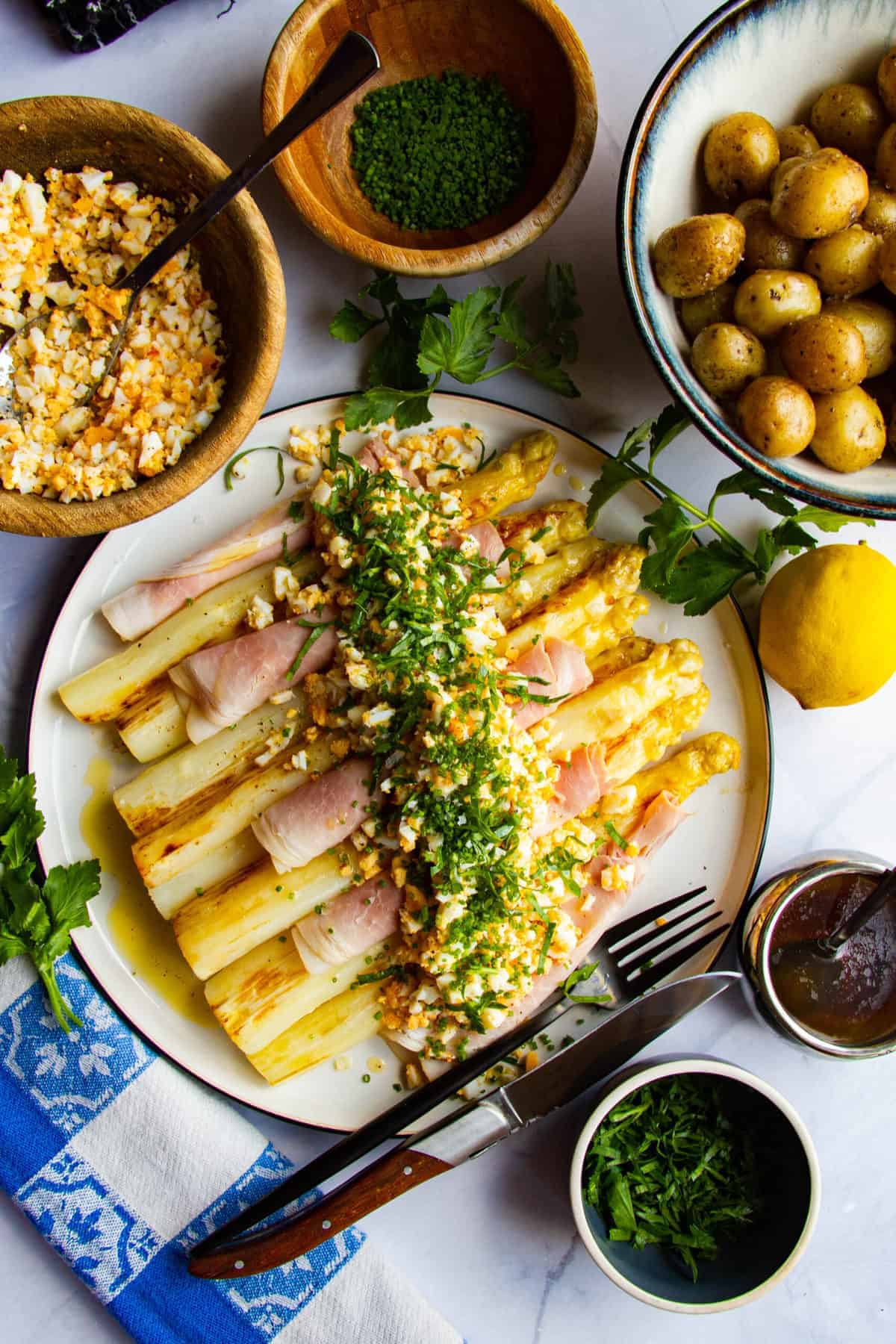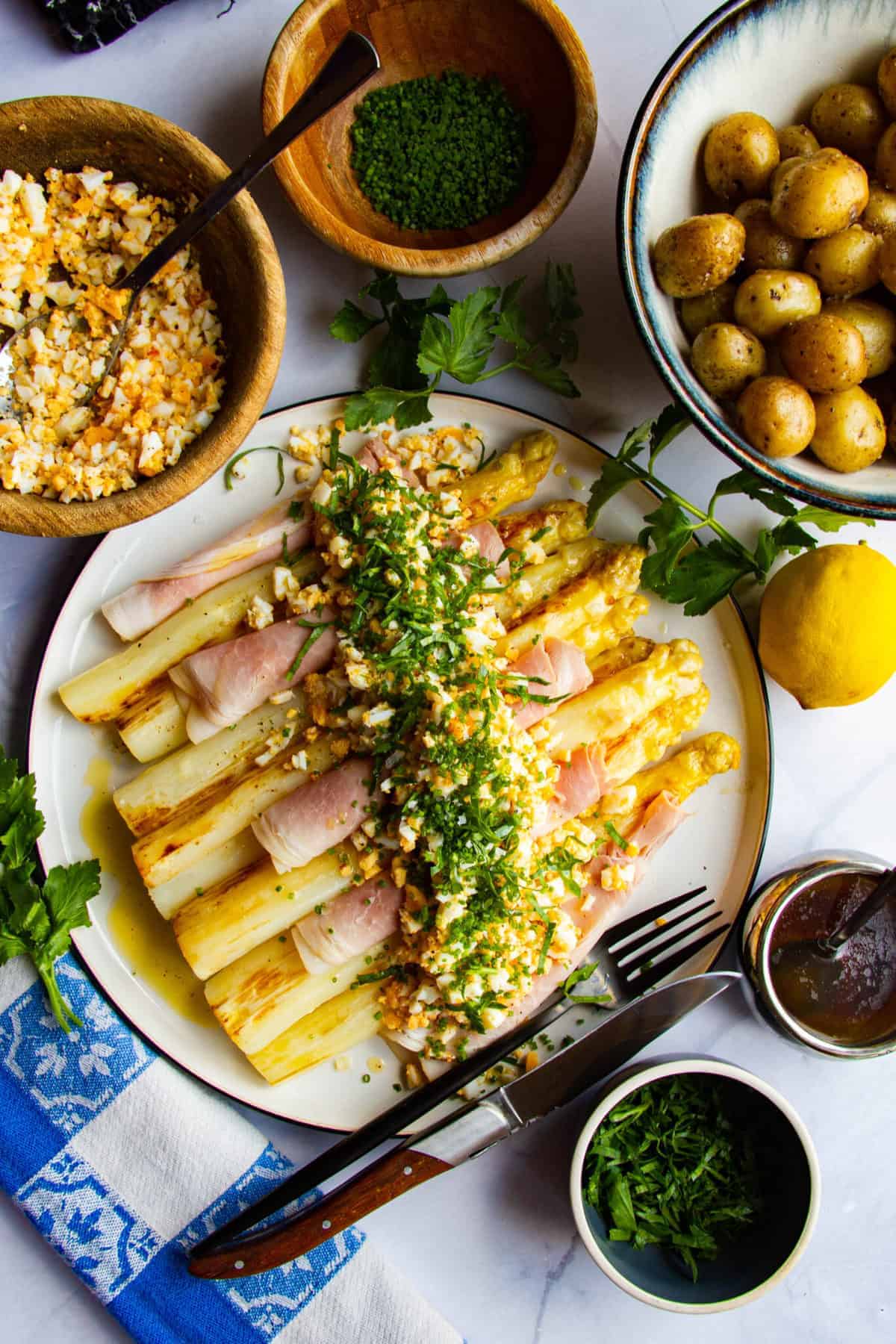 What is White Asparagus?
White asparagus is just regular asparagus but without green chlorophyll.
It demands much more attention than regular asparagus and that's why white asparagus also carries a heavier price tag.
To successfully produce the white variety, farmers must continually cover the asparagus with soil to prevent it from catching the sun. Without the sun, the asparagus can't produce chlorophyll which results in a bright white crop.
What's the Difference Between White Asparagus and Green Asparagus?
Nicknamed "white gold", white asparagus has a slightly sweeter taste and is less bitter than its green cousin.
White asparagus also has a much thicker skin which must be peeled whereas some young green asparagus may not have to be peeled.
The sweeter and nuttier flavour of white asparagus means it pairs better with earthier flavours such as black truffle, red meat, hazelnuts, and blue cheese but also with fancy white fish like turbot.
The flavour is really unique but if you like green asparagus then I'm sure you'll love white asparagus too.
Where Does White Asparagus Grow?
During the months of March to June, white asparagus is exploding in the markets here in Maastricht.
It's quite popular in the Netherlands but also in Germany, France, Spain, Austria, Switzerland, Belgium and some parts of Italy. These specific regions have particularly sandy soil that the white asparagus plant loves.
In Germany and the Netherlands, white asparagus is big business with some farmers dedicating all their land to the white variety.
This Recipe is Authentic
As my fiancé is a Dutchie, I've been lucky enough to learn her family's method for enjoying white asparagus. They have a very simple tradition of serving blanched white asparagus with rolled ham, butter, hard-boiled eggs and boiled potatoes. It's all shared at the table in little bowls and everyone helps themselves.
Here in Maastricht, it's so popular that some people even buy white asparagus by the crate! If you're lucky, near the end of the season when shop owners are trying to finish up their harvest, you can pick up a whole crate of white asparagus for €3.
What I love about this tradition is that people don't just like white asparagus, they get excited about white asparagus. As a chef, I can totally relate to getting excited about vegetables (vegetable NERD!)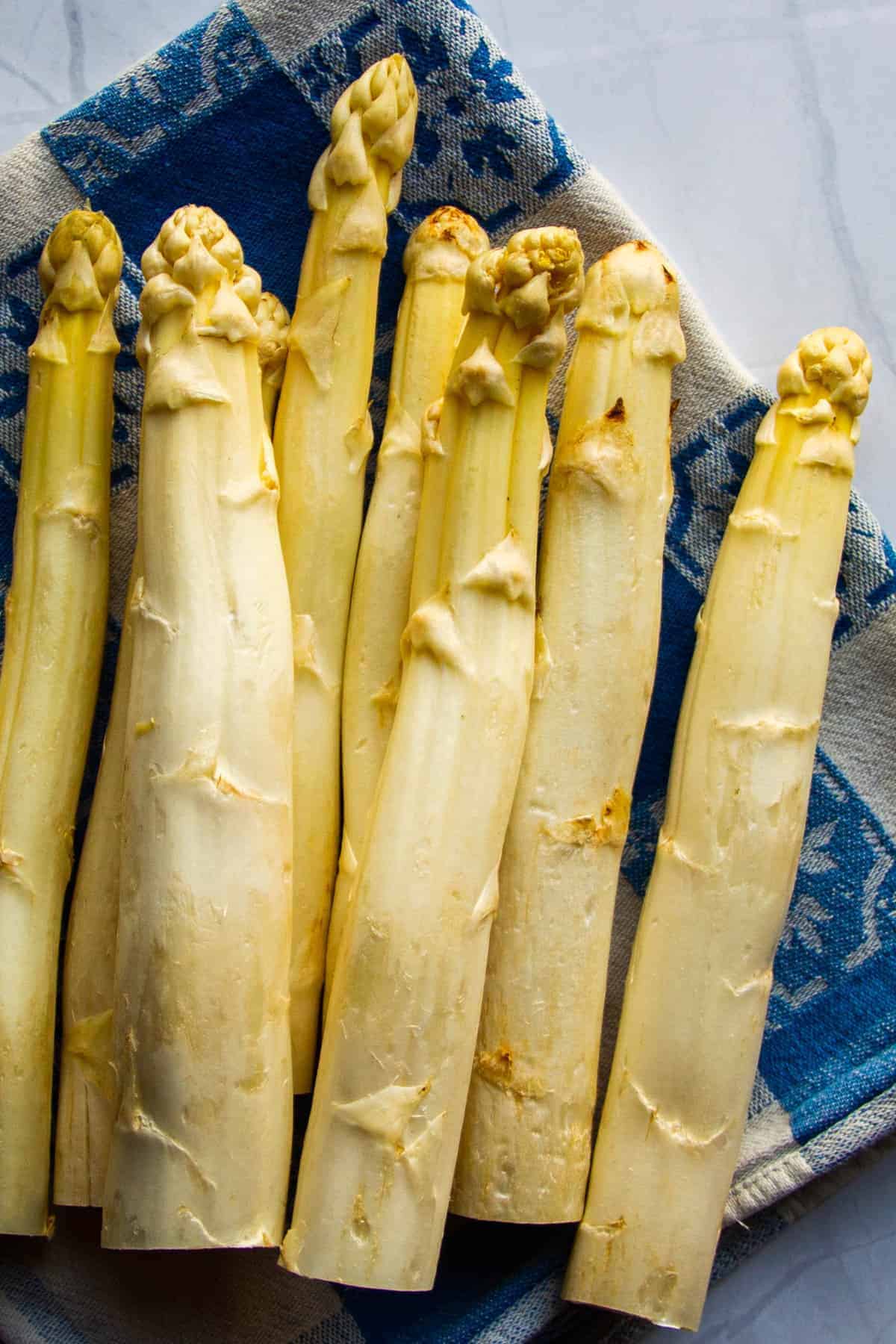 How Do They Make White Asparagus?
White asparagus is simply green asparagus plants that are constantly covered with soil to prevent chlorophyll from forming thus keeping them white.
This process of constantly moving the soil up the sides of the plant is labour-intensive and is reflected in the high price.
What's even more difficult is harvesting. All the stalks must be carefully dug out by hand with special attention to not accidentally snap the delicate stalks as they're pulled out.
This adds a lot of extra labour and is the main reason why white asparagus is so expensive.
What's More Healthy, Green or White Asparagus?
White asparagus does lose a few antioxidants due to its lack of chlorophyll, but that doesn't mean it's not a healthy choice.
White asparagus contains high levels of antioxidants, Vitamin C, folic acid and essential nutrients which make this a smart choice. [1]
Ingredients You'll Need for this Recipe
Here are the key ingredients needed for this recipe:
Ham: Honey ham, Yorkshire ham or any thinly sliced ham will do. The ham can easily be omitted for a lighter meatless version that will still be very delicious.
Hard-boiled Egg: The hard-boiled egg adds creaminess to the dish and is highly recommended. You could also try adding a soft-poached egg instead for a saucier alternative.
Parsley: This is almost non-negotiable as the parsley cuts the richness of the dish and adds a beautiful freshness. If you don't have fresh parsley don't bother with dried herbs as they won't be nearly as good. Substitute with more chives or chervil instead. Also, always go for flat-leaf parsley as it's got way more flavour!
Brown Butter: This is not authentic, but I couldn't resist! Brown butter is just too good and adds an extra nuttiness that makes so much sense with this sweeter asparagus.
Peel it the Right Way
Unlike green asparagus, white asparagus must be peeled because the skin is very tough.
It's important to peel the asparagus from the top to the bottom in long, clean strokes with a sharp peeler. Otherwise, the asparagus will taste bitter.
If you plan to make white asparagus soup (great idea!), save the woody bottoms and peels and infuse this into the liquid for the soup. Be sure to strain these stems and trimmings before blending the soup as they will not blend nicely.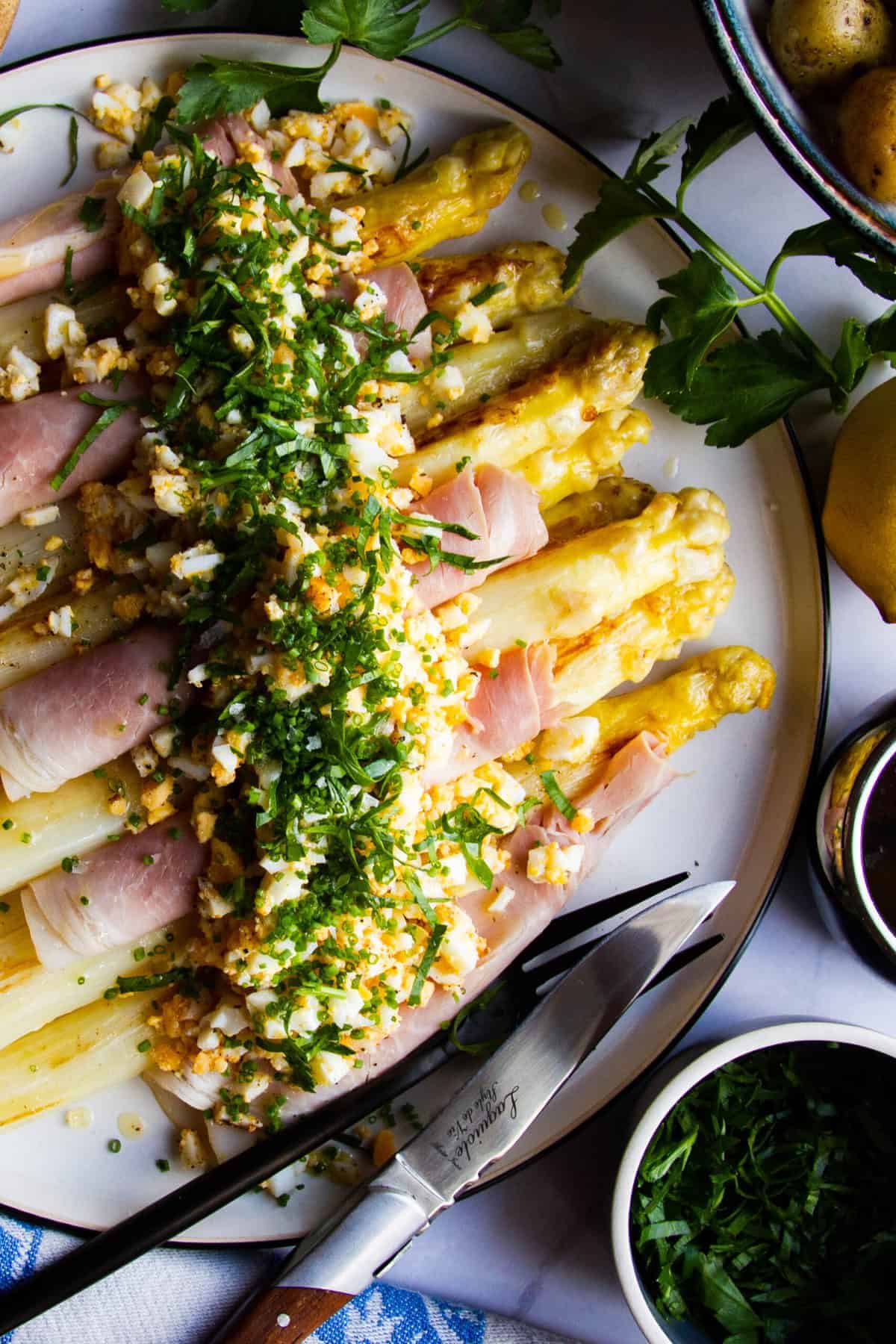 White Asparagus Buying Guide
White asparagus shines when it's really new and fresh. Fat stems are seen as of higher quality and are usually the first to be snatched up.
Look for fat stems that a bright white, stiff and without blemishes.
When you peel the asparagus, it should be juicy and with firm stalks.
If you're paying a high price for the asparagus (a.k.a you don't live in Europe), don't bother with soggy or limp-stemmed asparagus as it's just not worth the price.
How to Cook White Asparagus?
White asparagus will cook a little differently than green asparagus because it doesn't contain chlorophyll.
With green asparagus, you must cook it in boiling salt water very briefly and then shock it in ice-cold water to preserve the green colour.
But with white asparagus, you can treat it more like a nice piece of meat and poach it, rather than boil it. There's no chlorophyll in it so you won't have to worry about it turning grey from a lower cooking temperature.
How to Serve and Eat White Asparagus
You can eat white asparagus cold or hot and both ways are delicious.
However, this recipe must be served warm otherwise, the butter will solidify and won't be so nice to eat.
If you plan to serve this cold, then omit the butter and use a little olive oil instead. The egg, parsley and cooked potato will all be delicious and served cold as an appetizer or first-course salad.
In the Netherlands, this white asparagus recipe is eaten as the main course. It's shared on a big plate in the middle of the table with potatoes or a crusty buttered baguette on the side.
More Asparagus Recipes
Chef's Tips
Make sure to peel the asparagus in long strips from top to bottom in one motion; peeling the other way can make them taste bitter.
Look for fat stalks that are juicy when peeled.
Save the peels and woody bits for an asparagus soup.
Fresh asparagus will cook very fast and older asparagus will take longer.
Enjoy and smakelijk eten! (Enjoy your meal, in Dutch)
*New* Watch the video below for step-by-step instructions!
White Asparagus Recipe FAQ
Do you need to peel white asparagus?
Definitely. The skin is much thicker than regular asparagus so you must peel it. Although, you can still save the asparagus peels for flavouring your white asparagus soup.
Do you cook white asparagus the same as green asparagus?
White asparagus is better poached in a flavourful liquid whereas green asparagus is okay with a quick blanch in boiling salted water. The difference is due to the fact that white asparagus lacks chlorophyll and won't turn grey like green asparagus if not boiled.
What is white asparagus used for?
White asparagus is frequently used in fine-dining restaurants for its unique flavour and because of its high price tag. It can be pickled, grilled, served warm or cold and may be served as a side, appetizer or main course.
A White Asparagus Recipe
A white asparagus recipe with rolled ham, hard-boiled eggs, boiled new potatoes, fresh herbs and browned butter. The absolute best way to enjoy white asparagus.
Ingredients
1

kg

white asparagus

4-6

slices

ham

rolled

2-3

whole

eggs

hard-boiled

100

g

butter

browned

½

pc

lemon

juice

¼

bunch

parsley

finely chopped

¼

bunch

chives

finely chopped

⅛

tsp

smoked paprika

optional (for the eggs)

freshly cracked black pepper

to taste

Maldon Salt

to taste
For the Potatoes
½

kg

new potatoes

1

pc

bay leaf

1

clove

garlic

peeled

sea salt and pepper

to taste
For Cooking the White Asparagus
1

bay leaf

1

clove

garlic

peeled

2

tbsp

butter

1

tsp

sugar

½

pc

lemon
Instructions
Wash the potatoes well and cover with cold water. Add 1 bay leaf and a clove of peeled garlic. Season generously with salt and bring to a boil.

Cook until nicely tender, about 10 minutes on a simmer. Once cooked, strain, season with salt, pepper and keep warm until the rest of the meal is ready.

Peel the white asparagus from top to bottom holding as shown in the picture.

Once they are peeled, remove about 3 cm (1inch) off the bottom with a knife.

Get a pan and fill it with just enough water to cover the asparagus completely. Season the water with salt, a lemon cut in half, sugar, bay leaf and a knob of butter (roughly 1 tbsp). Bring to a boil and then add the white asparagus. Simmer until soft when poked with a knife. Approx 8-15 minutes.

When the asparagus is cooked, let it cool slightly in the cooking liquid.

Bring a small pot of water to a boil for the eggs. Once it boils, add the eggs and set the timer for 11 minutes.

When the timer goes off, run the eggs under cold water until cooled (about 1-2 minutes).

Peel the eggs and chop them finely or use a fork to mash them up. Season with a little salt, pepper and smoked paprika. Set this aside.

Brown the butter in a small pan (swirling constantly) until you see little brown bits on the bottom and it smells amazing. Set aside and keep warm.

Once the asparagus is cooked and cooled slightly, set on a plate with paper towels to dry.

Get a sauté pan hot and add a knob of butter (roughly 1 tbsp) and sauté the asparagus until slightly golden brown. Hit it with a squeeze of fresh lemon juice and freshly ground black pepper at the end.

Serve the asparagus family style with all the options on the table. Put some asparagus on your plate and then pile on eggs, rolled ham, fresh herbs and drizzle generously with warm brown butter.

Enjoy and smakelijk eten! (Enjoy your meal, in Dutch)
Notes
Make sure to peel the asparagus properly and to take off all the skin because it's super chewy and inedible.
Nutrition
Calories:
906
kcal
|
Carbohydrates:
67
g
|
Protein:
29
g
|
Fat:
62
g
|
Saturated Fat:
37
g
|
Trans Fat:
2
g
|
Cholesterol:
176
mg
|
Sodium:
1153
mg
|
Potassium:
2299
mg
|
Fiber:
17
g
|
Sugar:
14
g
|
Vitamin A:
6108
IU
|
Vitamin C:
88
mg
|
Calcium:
191
mg
|
Iron:
14
mg
Bitterballen – Dutch Secrets Exposed
An extremely addictive Dutch snack consisting of slowly braised beef that's thickened with a roux and deep fried into little crispy balls.
Check out this recipe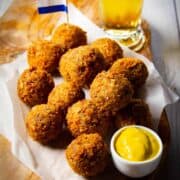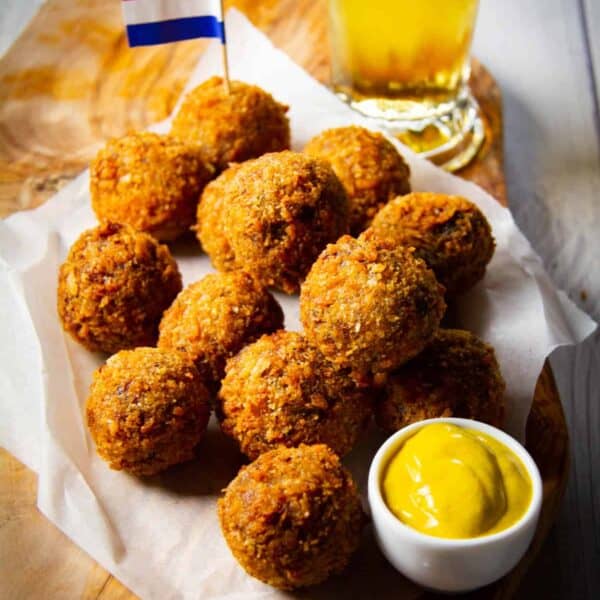 Sauteed Asparagus WIth Citrus Mayonnaise
This tasty sauteed green asparagus with citrus mayonnaise is ready in less than 20 minutes. Gluten free and vegetarian.
Check out this recipe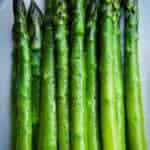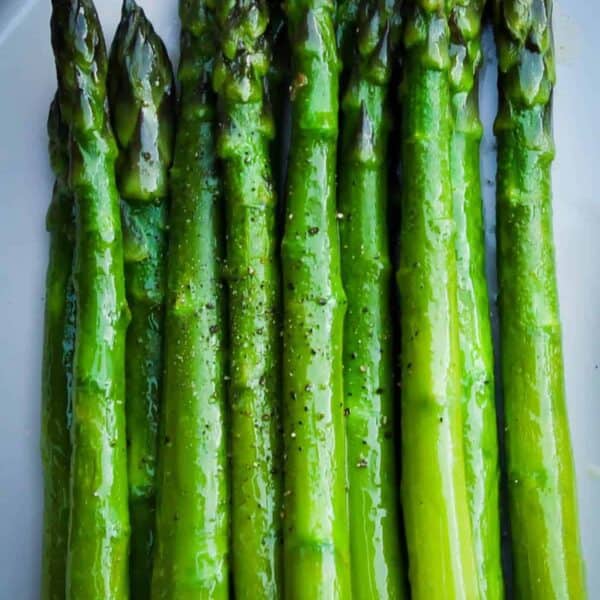 Sautéed Broccolette with Garlic, Lemon and Aleppo Chili
A quick and tasty method for broccolette, broccolini or baby broccoli. Quickly blanched and sautéed with garlic, lemon and an Aleppo chili infused oil. Vegan, keto, and gluten-free.
Check out this recipe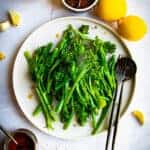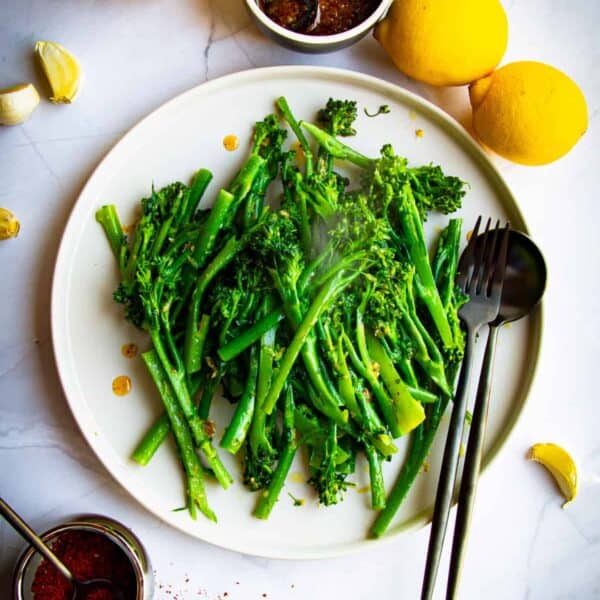 Is it time for new knives? Then definitely check out my ultimate guide to The Best High End Knife Sets and Why I'll Never Buy a Cutco Knife Set.