During the months of April to June, white asparagus is exploding in the markets here in Maastricht, so it's important to have a good white asparagus recipe. Nicknamed "white gold", the asparagus has a slightly sweeter taste and is less bitter than its green cousin making these highly prized possessions.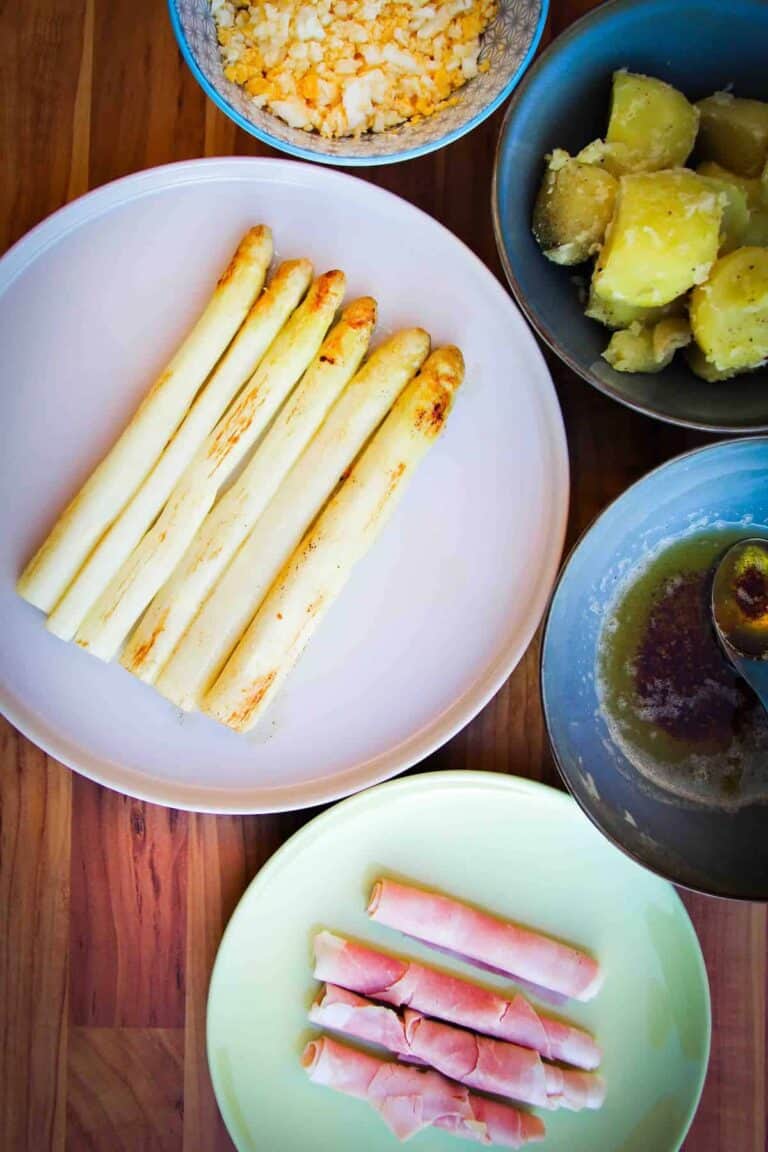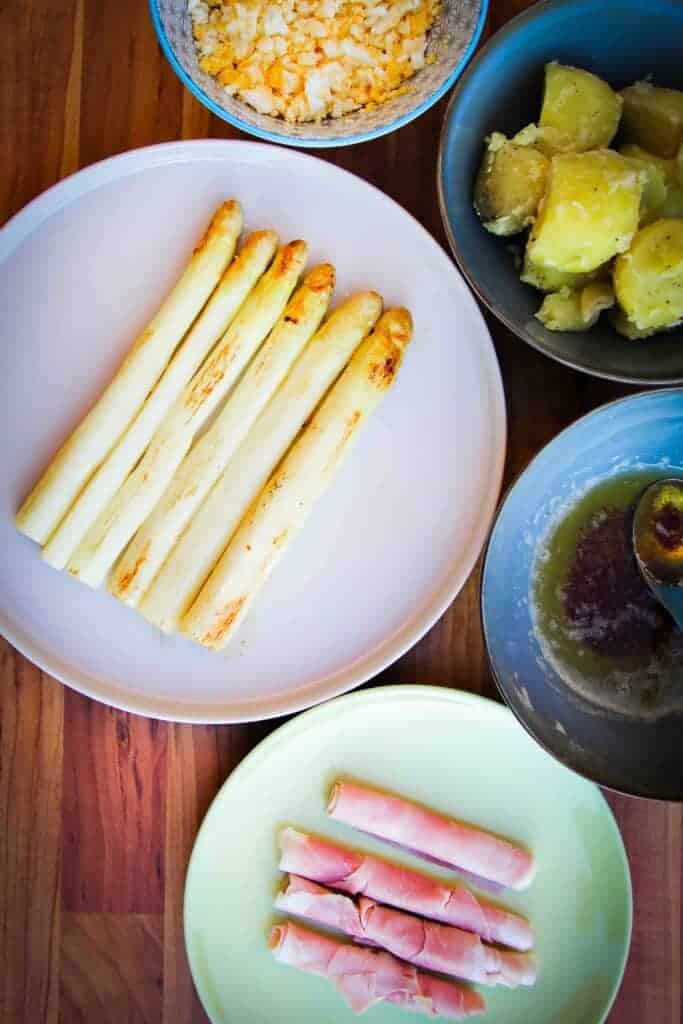 A Traditional White Asparagus Recipe
In Maastricht, there's a very simple tradition of serving blanched white asparagus with rolled ham, butter, hard-boiled eggs and boiled potatoes which is, in my opinion, the BEST way to eat them. In this recipe I brown the butter to make it extra delicious.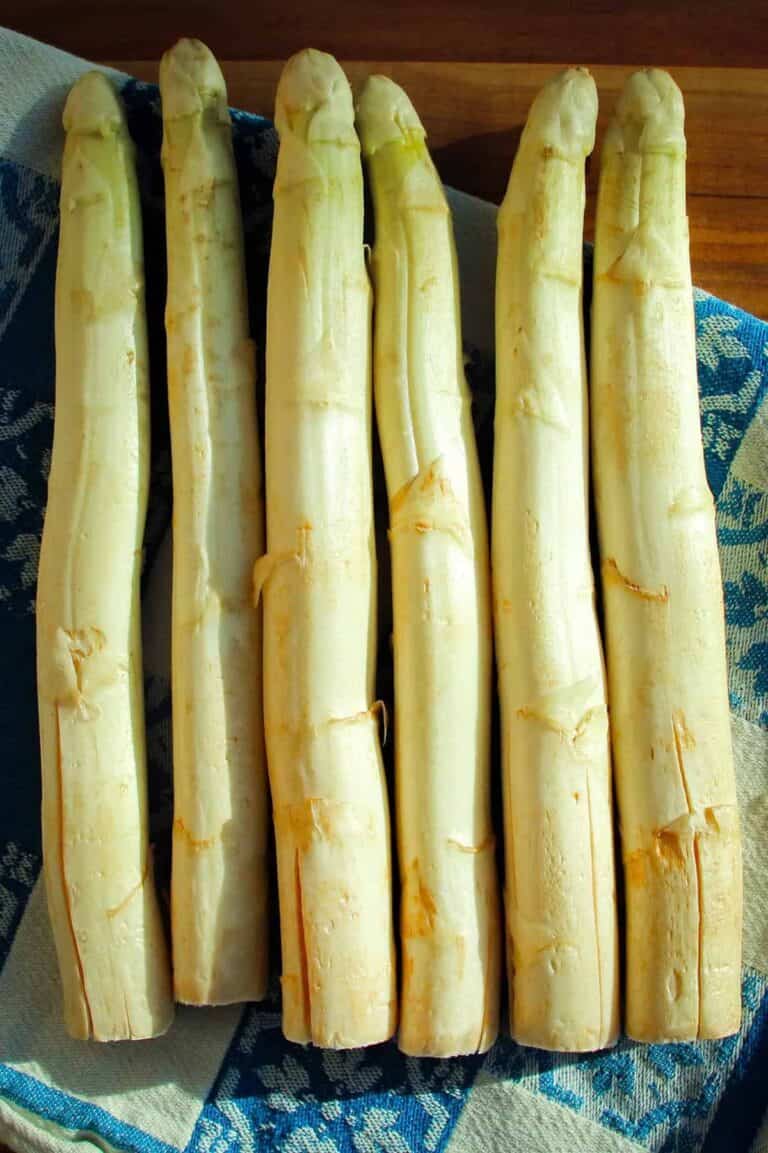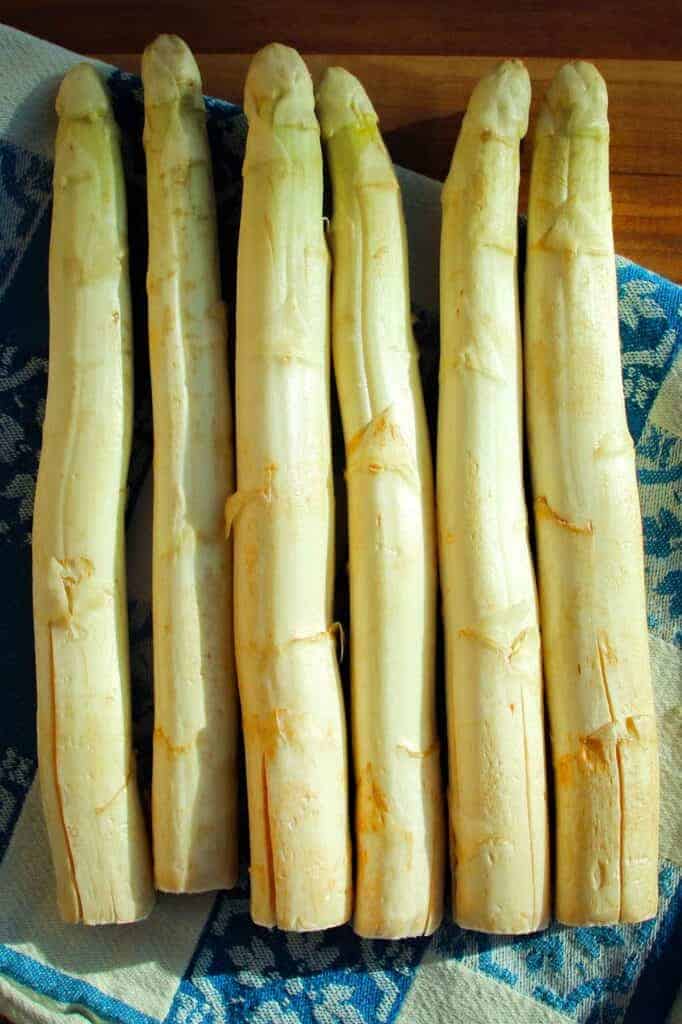 How Do They Make White Asparagus?
White asparagus is simply green asparagus plants that are constantly covered with soil to prevent chlorophyll from forming thus keeping them white. This process of constantly moving the soil up the sides of the plant is labour-intensive and is reflected in the high price. It's also a very healthy vegetable containing lots of vitamin C, folic acid and antioxidants.
It Must be Peeled
Unlike green asparagus, white asparagus must be peeled because the skin is very tough. If you plan to make white asparagus soup, save the woody bottoms and peels to infuse into your stock.
Chef's Tips
Make sure to peel the asparagus in long strips from top to bottom in one motion; peeling the other way can make them taste bitter.
Look for fat stalks that are juicy when peeled.
Save the peels and woody bits for an asparagus soup
Fresh asparagus will cook very fast and older asparagus will take longer.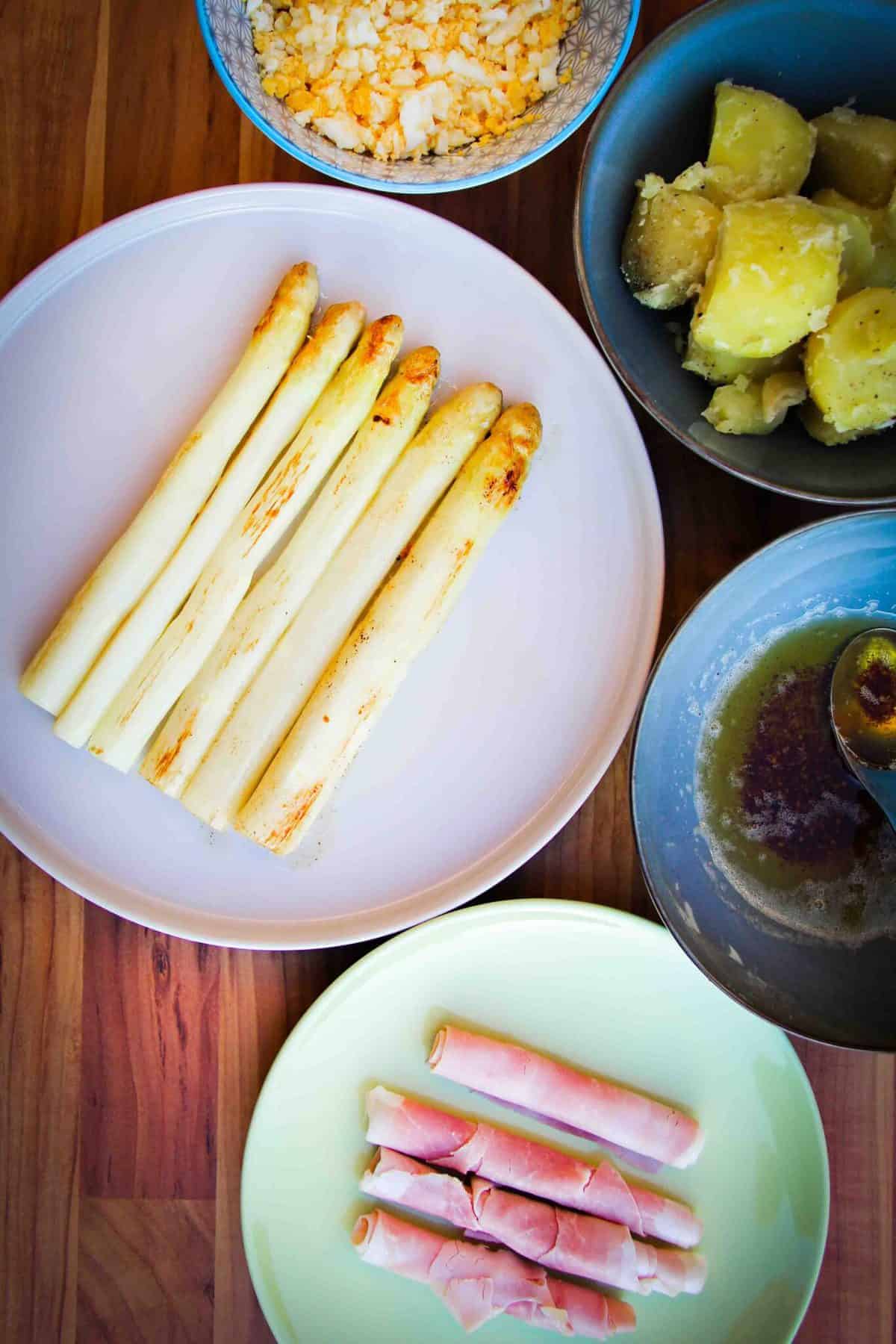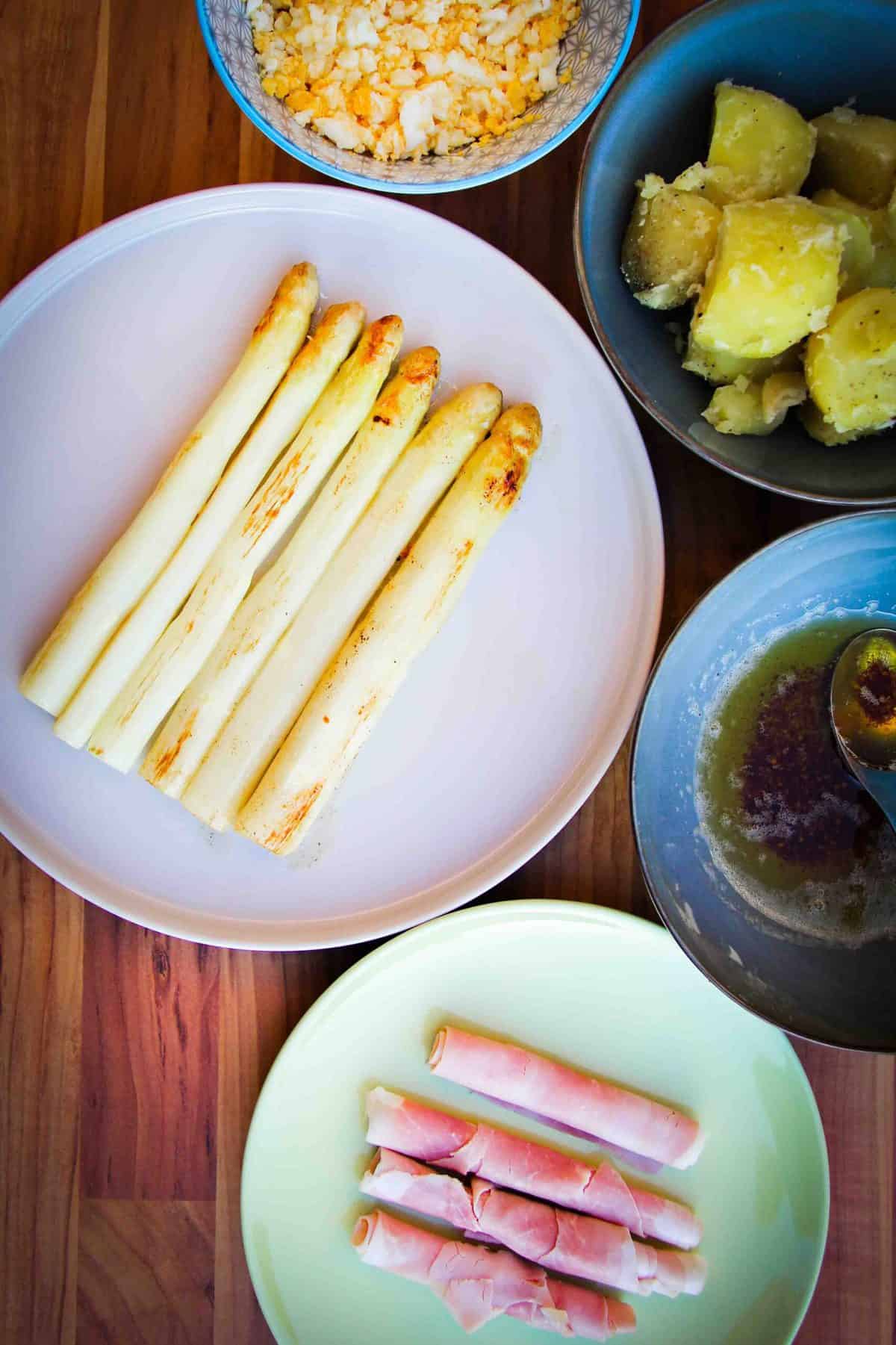 Ingredients
4-6

slices

ham

rolled

2

whole

eggs

hard-boiled

100

g

butter

browned

400

g

white asparagus

½

pc

lemon

juice
For the Potatoes
2-3

medium

potatoes

peeled

1

pc

bay leaf

1

clove

garlic

peeled

sea salt and pepper

to taste
For Cooking the White Asparagus
1

bay leaf

1

clove

garlic

peeled

2

tbsp

butter

1

tbsp

sugar

½

pc

lemon
Instructions
First peel the potatoes and cut into large pieces. Top with cold water, add 1 bay leaf and the peeled garlic. Season generously and bring to a boil. Cook until nicely tender about 10-15 minutes on a simmer. Once cooked, strain, season with salt and pepper and keep warm until the rest of the meal is ready.

Peel the white asparagus from top to bottom holding as shown in the picture. Make sure to really take off all the skin as it is super chewy. Once they are peeled, remove about 3 cm off the bottom with a knife.

Get a pan with high sides and fill with water (just enough to cover the asparagus completely). Season the water well with salt, add ½ of a lemon to the pan, sugar, bay leaf and a knob of butter (roughly 1 tbsp).

Bring to a boil and then add the white asparagus. Simmer just under a boil, until soft when poked with a knife. Approx 8-15 minutes.

When the asparagus is cooked, let it cool slightly in the cooking liquid.

Bring a small pot of water to a boil for the eggs. Add the eggs to the boiling water and set the timer for 10 minutes.

While this is cooking start browning the butter in a small pan (swirling constantly) until you see little brown bits on the bottom and it smells amazing. Keep warm.

When the egg timer goes off, run them under cold water to cool. Peel the eggs and mash up with a fork. Season with salt and pepper.

Roll the ham into roll and set aside on a plate.

Once the asparagus is cooled slightly set on a plate with paper towels to dry.

Get a sauté pan hot and add a knob of butter (roughly 1 tbsp) and sauté the asparagus until slightly golden brown. Hit it with a squeeze of fresh lemon juice and freshly ground black pepper at the end.

Serve the asparagus family style with all the options on the table. Put some asparagus on your plate and then pile on eggs and drizzle generously with warm brown butter.

Enjoy and smakelijk eten! (Enjoy your meal, in Dutch)
Caesar Salad – The King of Salads
Still to this day my favourite salad. A rich, creamy dressing made with fresh egg yolks and loaded with umami flavour from the anchovies, sharp parmigiano cheese and fresh garlic. Finished with loads of cracked black pepper and fresh lemon. It's the king for good reason.
Check out this recipe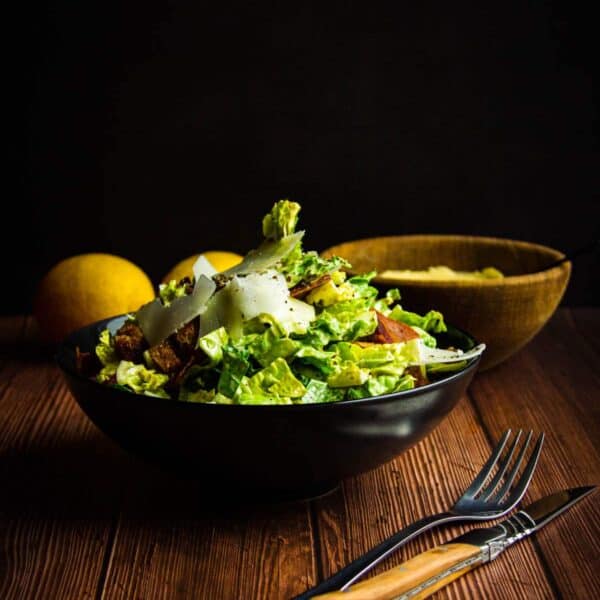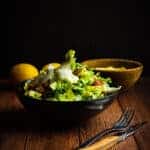 Easy Pull Apart Milk Buns
Very sexy milk bun recipe that can be made in one day. Using a Japanese milk bun recipe for ultra soft and fluffy dinner rolls. Can also be made vegan.
Check out this recipe