Okay, everybody knows how delicious normal Birria Tacos are but have you ever tried Chicken Birria Tacos?!
The combination of rich, smokey, dried cascabel and guajillo peppers wrapped up with melty cheese, tender pulled chicken and dipped in the flavourful broth is absolutely next-level good.
What's even better – these chicken tacos are much faster to prepare than the beef tacos.
My beef Birria tacos take 40 mins of pressure cooking whereas these chicken tacos only need 15 minutes plus 10 minutes of natural release.
Still, you'll probably want to give yourself about 1 hour total to allow the broth to cool, pull the meat and fry the tacos.
The good news is you can easily make a big batch of this and store it in the sauce for a ready-to-go freezer meal for another day.
What is Chicken Birria Tacos?
Originating from the state of Jalisco, Mexico, chicken Birria tacos or Birria de Pollo are just like regular Birria tacos, but with, you guessed it – chicken instead of beef (or lamb).
Just like the beef variety, the meat is marinated and braised in a flavourful broth of dried chillies, tomatoes, herbs and spices. The tacos are then fried in the fat from the broth (the consomme) and served with onions, fresh cilantro, onions and Oaxaca cheese.
My recipe is by no means authentic, and rather an easier adaptation of the original that you can make at home. For example, I'm using shredded mozzarella instead of Oaxaca cheese as it's more readily available and there's absolutely no cilantro in my recipe (I can't stand the stuff!).
The trick is in the dried peppers which add an irreplaceable layer of flavour to the broth and meat. If you can't find the dried peppers, then at least use the canned chipotle peppers.
If you're looking for proper authentic Mexican recipes from actual experts, check out this award-winning cookbook.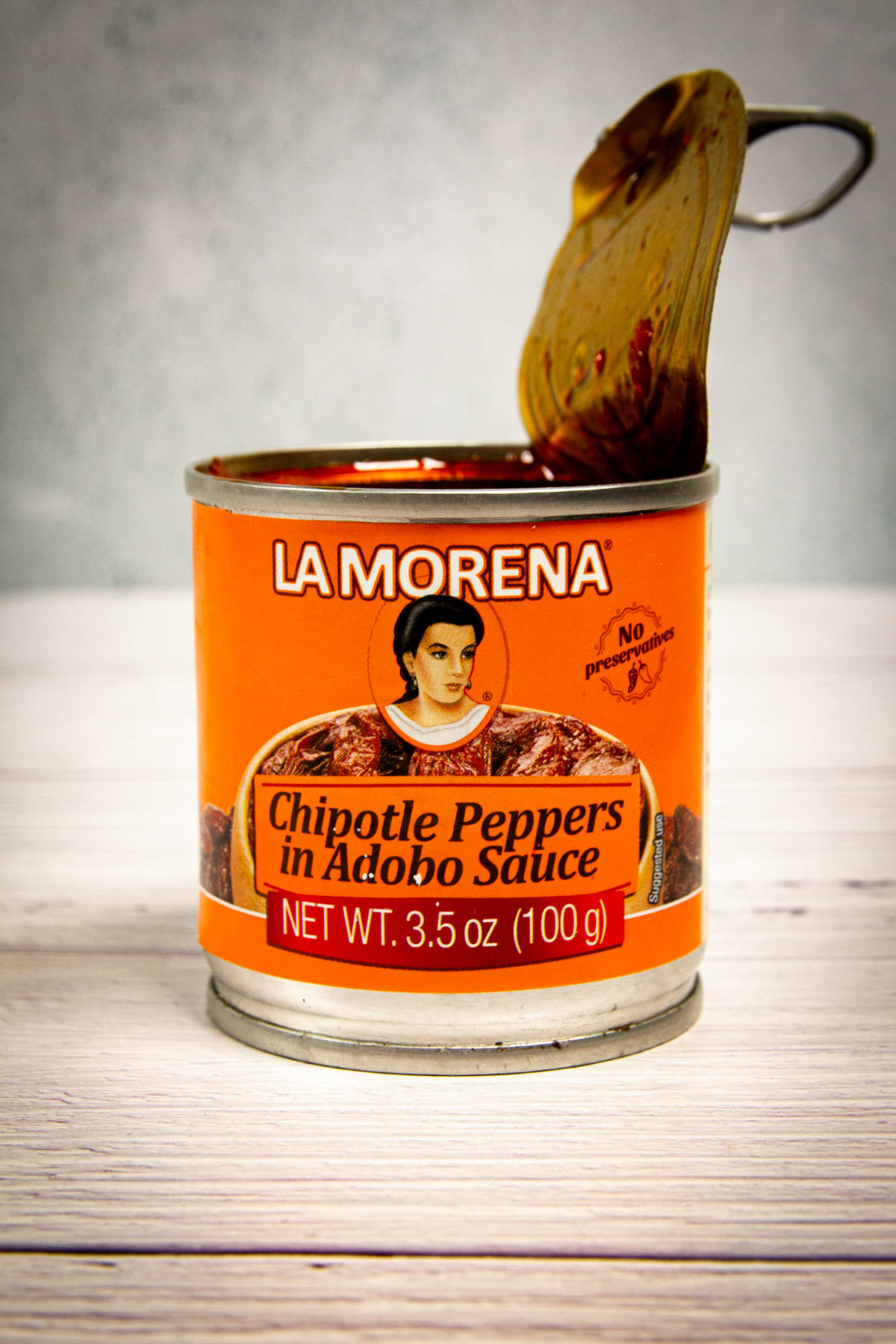 Ingredients You'll Need to Make Chicken Birria Tacos
These key ingredients listed below are crucial to the success of this recipe:
Chicken Legs: Skin-on, bone-in chicken legs are ideal for this recipe because they provide the fat needed to dip the tacos and the bones give the broth extra flavour. If you don't like a lot of fat, don't worry because we'll remove it after cooking. Also, don't use chicken breast as it will become too dry after cooking in the broth.
Dried Cascabel Peppers: These sweet, smokey dried peppers add an amazing richness to the sauce and are absolutely worth the price. Buy a large bag in bulk and they'll stay good for up to a year in your kitchen pantry.
Dried Guajillo Peppers: These peppers are milder than chipotle peppers and add a rich sweetness to the broth. If you can't find these peppers, you could also try using dried ancho peppers, Chiles de árbol (a little spicer than cascabel and ancho) Yahualica peppers or California peppers.
Canned chipotle peppers: These canned chipotle peppers not only add another layer of flavour but also add a little smokiness and a lot of heat. If you like it hot, add a few more of these chipotle peppers to the sauce.
Fresh Tomatoes: You can use just about any tomatoes but preferably ripe tomatoes as they're much sweeter.
Spices: I'm using a mix of smoked paprika, dried oregano, ground cinnamon, cumin and Aleppo chilli flakes for the spice rub. You could also use fresh oregano instead of dried or regular chilli flakes instead of Aleppo chilli flakes.
Red Wine Vinegar: Red wine vinegar works perfectly and is my personal favourite choice for a little sharpness in this recipe. If you don't have red wine vinegar you could use white wine vinegar, lemon or lime juice instead.
Cheese: The traditional recipe calls for Oaxaca cheese but I'm using regular shredded mozzarella as it's much easier to find.
Softshell tacos: Hardshell tacos won't soak up the delicious broth so use soft shell tacos instead. Corn tacos are traditional but I prefer the softer flour tacos.
What to Serve with Chicken Birria Tacos
Traditionally these tacos are served without too many ingredients.
They're normally served with some raw onions, fresh cilantro, maybe some cheese and the broth on the side. This way you get the true taste of the peppers and meat, with nothing to cover it up.
But if you don't mind bending the rules a little, these other toppings will definitely work too:
Crème fraîche or sour cream with black pepper, garlic and lime.
A side of refried black beans.
Fresh lime wedges.
Green Tabasco.
Guacamole. Is guacamole ever a bad idea?
Pico de Gallo (cilantro free, ayyyy!).
Queso fresco cheese (instead of mozzarella).
Pickled onions.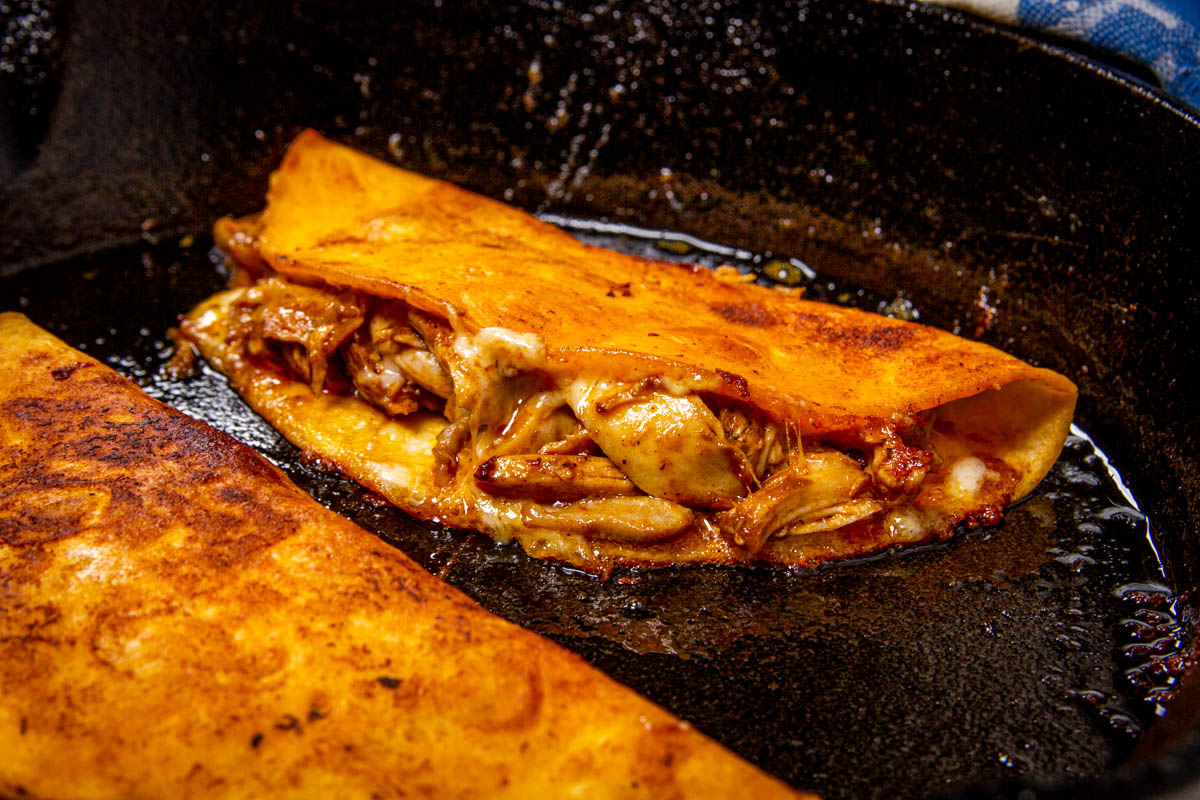 How to Make These In the Oven
If you don't have an Instant Pot you can still make these in a pot over the stove or better yet, in the oven.
The stovetop method is possible, but the oven is much more consistent and means you won't have to keep an eye on them as frequently.
To make these in the oven:
Follow the same directions as the recipe at the bottom but don't continue to step 6.
Preheat your oven to 350F/177C.
Place marinaded chicken legs in a casserole dish or dutch oven.
Pour strained, hot adobo sauce over the chicken legs.
Cover the casserole with either aluminum foil or the dutch oven lid.
Braise for 45 mins to one hour, until the meat is soft and pulls away from the bone easily.
Continue to steps 8-10.
How Spicy are Birria Tacos?
For me, this recipe is mild to medium spice level.
If you can handle jalapenõ-level hot, then these tacos will be no problem for you.
Cascabel and guajillo peppers are not too spicy, ranging from 1000-5000 Scoville units but pack a ton of flavour.
I don't remove the seeds from the dried peppers which makes it a little spicer. If you're worried it will be too spicy then remove the seed before toasting the peppers.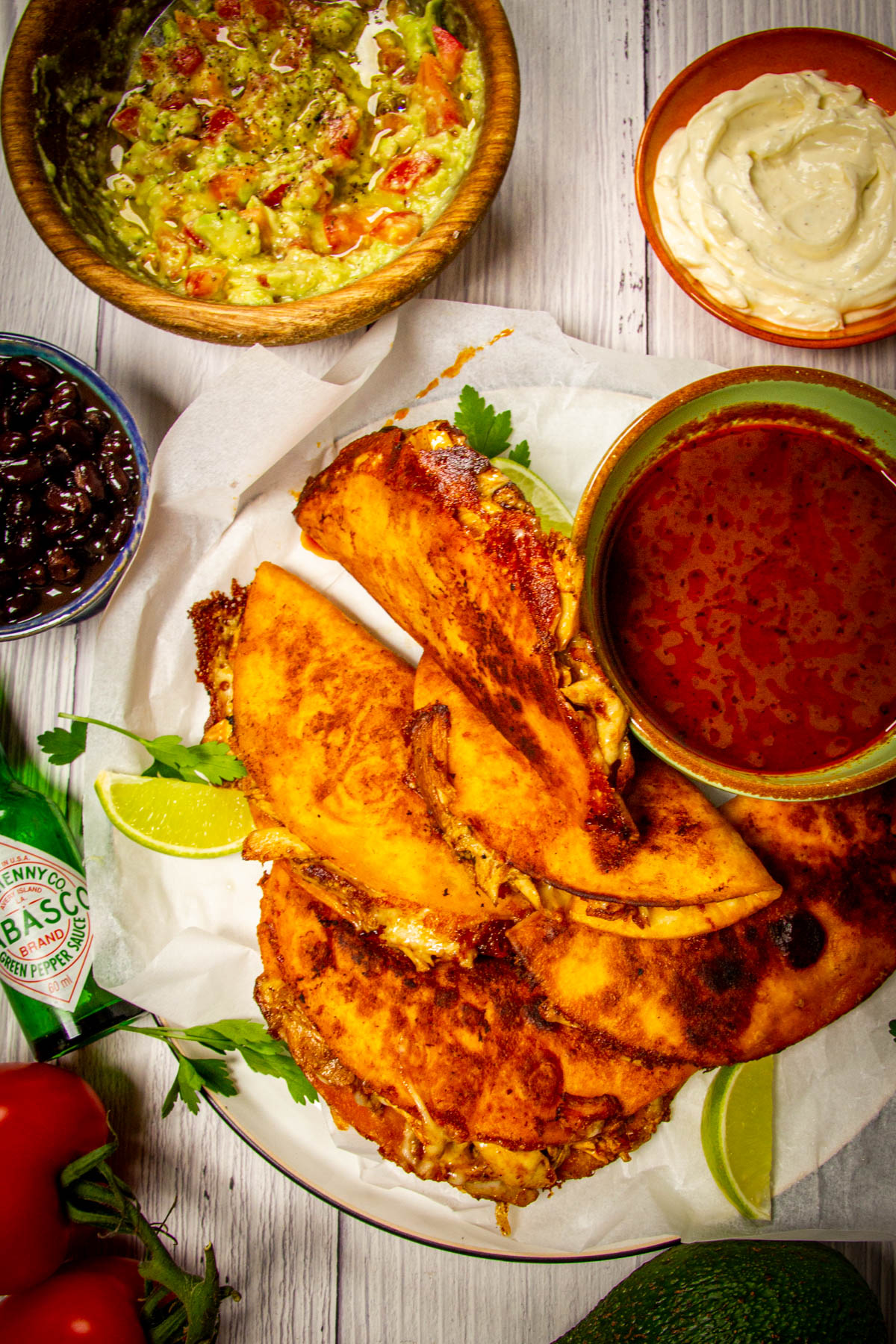 Tips to Nail this Recipe
If you have the time (and planning skills, unlike me), marinate the chicken overnight in the cooled sauce for a much better flavour.
Buy the right peppers. Dried cascabel or guajillo and chipotles really make the difference in this recipe.
Use tacos that contain both corn and wheat for the best of both worlds.
Use chicken legs with the skin on. Chicken legs braise much better than chicken breast and they provide more fat that is needed to fry the tacos.
Cook the tacos low and slow in the pan to get an even, golden brown colour. Be careful as they'll burn easily.
Recipe FAQ
More Recipes Like This