The beauty of this Traeger salmon is that you can make it in one day.
Yep, it's the turbo mode method for when you don't feel like waiting an entire weekend to have deliciously smokey maple-glazed salmon.
It's quick-cured to improve the outside texture and finished on the hottest setting at the end to set the glaze.
These two techniques together are the shortcut to the finish line without sacrificing flavour.
But do you choose farmed or wild fish? Brine, dry-brine or cure? And for how long? All of these questions are answered below…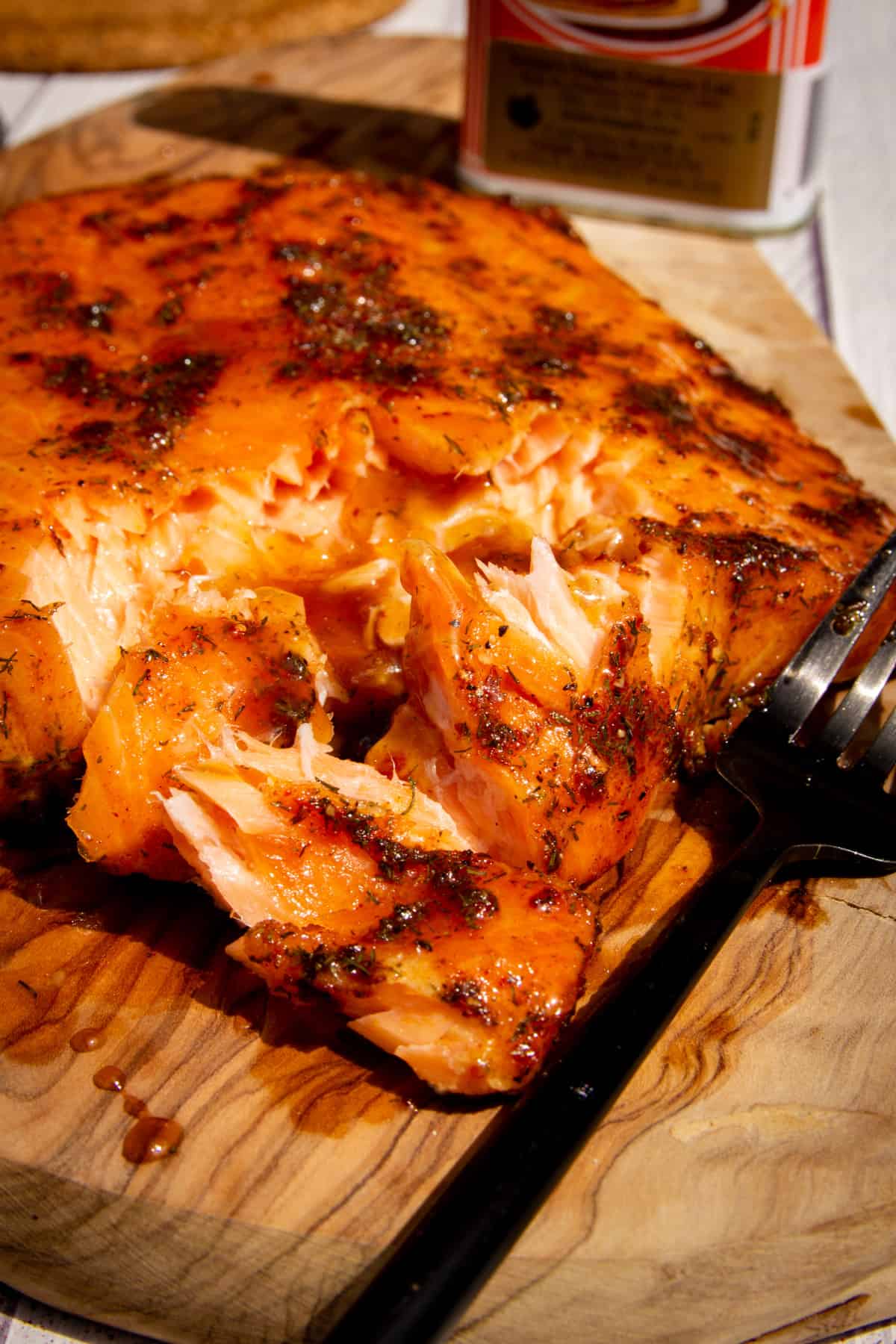 Ingredients Needed for this Smoked Traeger Salmon
Let's talk about key ingredients before we start with this recipe:
Good Salmon: look for the thickest, fattest piece of salmon you can find. A fatter piece of salmon will take longer to smoke and result in a much better "bark". I also prefer to use salmon with a higher fat content, which is usually farmed salmon. That doesn't mean that wild sockeye salmon won't work, it just may end up being a bit drier.
And as always, use the freshest piece you can find.
Maple: as any self-respecting Canadian will tell you, don't skimp on the maple syrup! It's 100% real maple syrup for me or nothing at all. The fake stuff is just not worth your time.
Butter: is there ever a time when butter is not a good idea? A little butter adds flavour to the glaze and gives it a nice sheen.
Worchestershire sauce: this little secret ingredient adds a bit of umami and a nice colour to BBQ foods. You could also try replacing this with soy sauce if you don't have Worchestershire sauce on hand.
Dried Dill: dill is a classic herb for salmon and works really well with the maple glaze. You can also try dried parsley, dried marjoram or dried thyme if you don't have dill, but nothing will replace the flavour of dill.
Paprika: regular sweet paprika adds a nice colour to the fish. Save the expensive smoked paprika for another dish because we don't want to add extra smoke flavour to already smokey fish.
Garlic Powder: a classic in most BBQ rubs. The benefit here is that garlic powder won't burn as easily as fresh garlic and is perfect for grilling and smoking.
Celery Salt: this spice adds a little extra umami to the dish. Note that it is still a salt and adding too much could result in oversalting.
Alleppo Chilli: a.k.a Sweet Turkish Pul Bieber, this spice adds colour and a gentle heat that's incredible with almost all BBQ foods.
Black Pepper: I don't normally add black pepper to fish, but it works well with this hot smoked salmon.
Salt/Sugar: It may seem like a lot of sugar/salt, but we will be washing this off after. The purpose of the cure is to dry out the skin, which results in an even nicer "pelicle" or "bark" on the fish. Plus, the salt and sugar kill some bad bacteria which is always a plus. [1].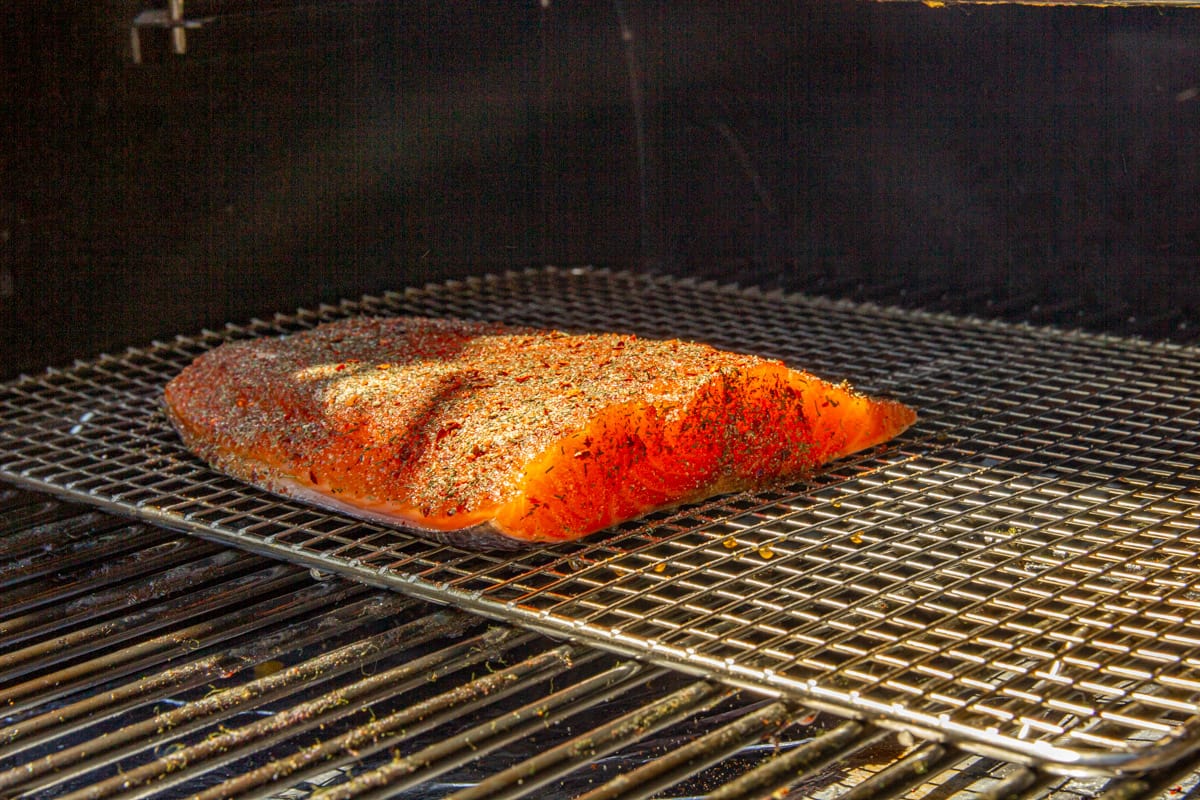 To Cure or to Brine?
I tested both methods for this recipe and found the cured salmon had better results than the brined salmon.
If you've never heard of either technique then here's the breakdown:
A wet brine involves submerging the salmon in a solution of water and salt. If left long enough, the salt will penetrate into the centre of the fish and keeps the meat juicier.
A cure, on the other hand, uses only salt and or sugar which effectively dries out the skin and seasons the outer layer of the fish. The inside won't be as nicely seasoned as a wet brine, but the trade-off is that it takes a lot less time (only 1 hour) and the final texture is much better.
This is not to be confused with a "dry-brine" which is when a smaller amount of salt or sugar is added to the fish for a longer period of time. A dry cure will also work well but I favour the faster and more impressive results of the quick cure.
Curing is not mandatory like it is in making cold-smoked salmon. Cold smoked salmon is cured, dried and pressed to improve the final texture of the near "raw" salmon. Because we're cooking this fish, the cure is not essential but it does improve the bark and glaze of the fish.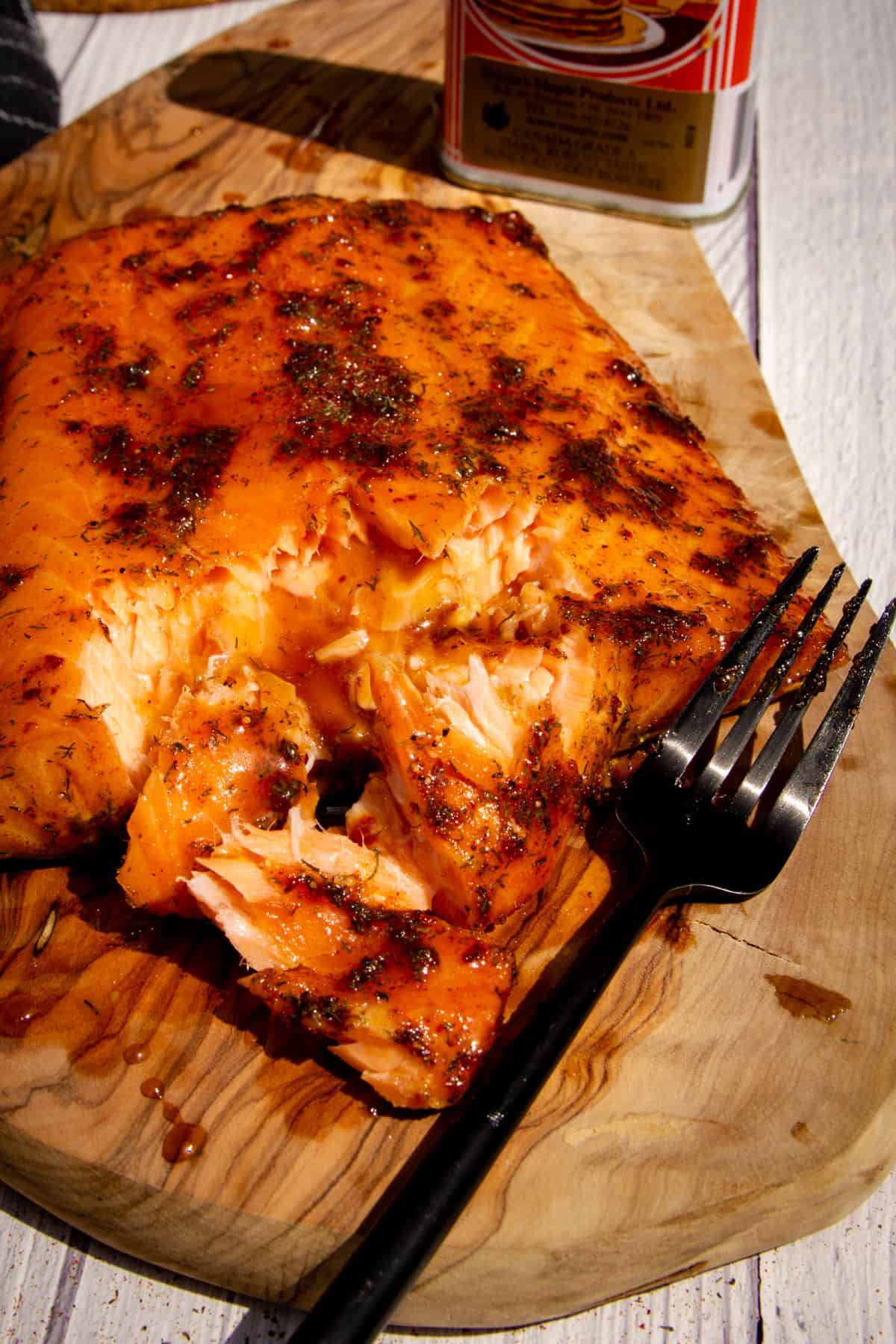 How to Make the Perfect Traeger Salmon
There are so many ways to make hot smoked salmon but of all the trials, this was my favourite.
You get a great bark, a good level of smokey flavour and the fish is cooked to my personal favourite doneness at 130°F.
There are some BBQ salmon recipes out there that will smoke as low as 165°F for more than 3 hours. Although this results in a nice bark and glaze, smoking fish under 200°F is not really safe and is proven by Meathead, the food scientist behind Amazingribs.com [2].
Other recipes recommend cooking to 145°F which is severely dry and overcooked for my liking. This is also the recommended doneness by the FDA, which means that cooking to anything lower is technically not "safe".
But if you're comfortable eating raw salmon sushi, then the risk is no different (as long as you smoke over 200°F).
Plus, freezing the fish for a minimum of 7 days will eliminate the risk of parasites (not bacteria), which is discussed in detail in my 5 Alive Salmon Ceviche Recipe.
If you're pregnant, breastfeeding or have a weakened immune system, then play it safe and cook to 145°F.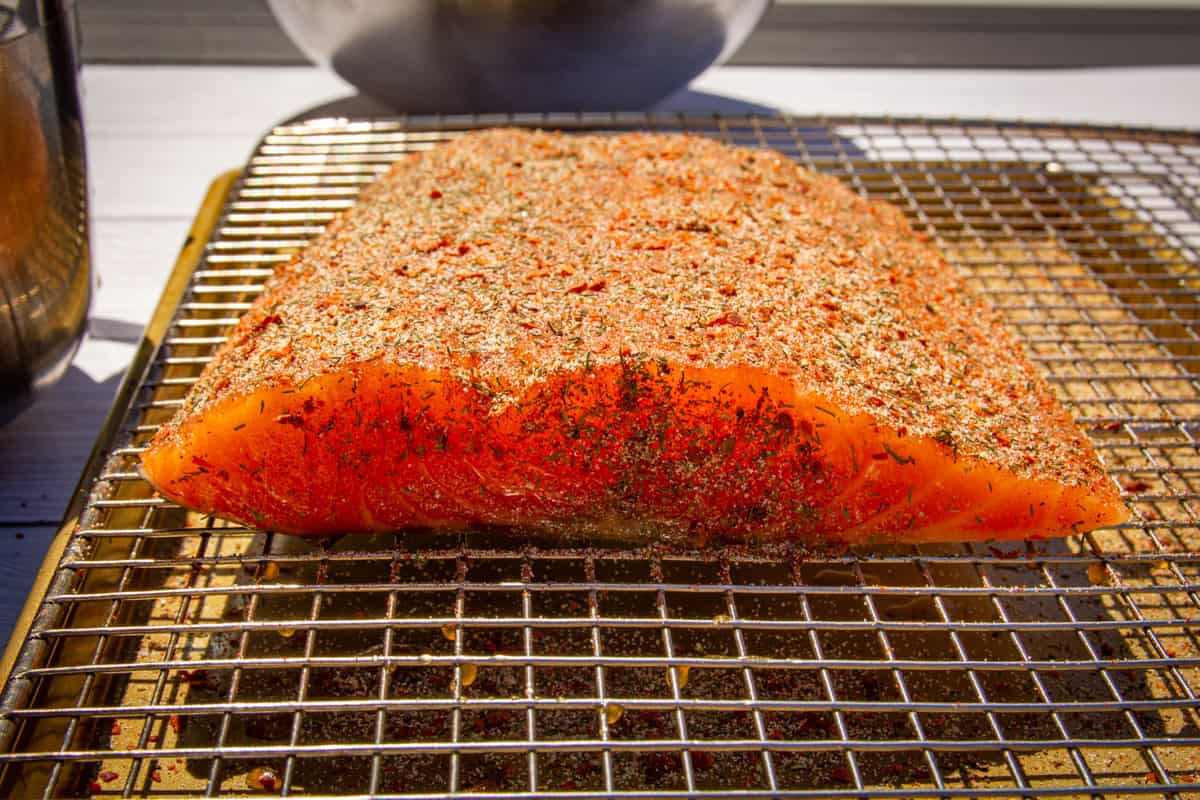 What Type of Salmon Should I Use?
There are many types of salmon to choose but the most important factor is farmed vs. wild.
Farmed salmon is usually what you'll find in the grocery store and chain sushi restaurants. It has a higher fat content, due to its farmed diet and is less flavourful than wild salmon.
Wild salmon is usually more expensive, has a brighter red coloured flesh and will be much more flavourful. The downside to wild salmon is it's more likely to contain parasites and it has less fat which means it may dry out faster.
Both are fine options in my books, but for this smoked recipe, I think farmed salmon is the way to go.
With farmed salmon, you'll likely get a bigger piece which will take on more smoke flavour. Whatsmore, farmed salmon will have enough fat to keep the flesh moist up to an internal temp of 130°F.
Unless of course, you live close to a stream of fresh King salmon in some awesome place like Alaska or Northern Canada. Then the obvious choice is to grab your fishing gear and go catch dinner.
According to Cooks Illustrated, farmed salmon tastes better-cooked 5°F higher than wild salmon.
Tips to Nail this Hot Smoked Traeger Salmon
Here are a few tips to make sure you really nail this traeger salmon:
Cook farmed salmon 5 degrees higher than wild salmon. This is because farmed salmon generally has more fat than wild.
Cure the fish for a better exterior.
Boil the glaze to concentrate the flavour.
Don't re-glaze the salmon once it's spiced up, otherwise, the spices will slide off the fish.
If you've got the time, drying the fish in the fridge overnight after washing off the cure will create a "pellicle" which will improve the exterior of the fish.
More Smoker + BBQ Recipes
Traeger Salmon FAQ
What is the difference between smoked salmon and hot-smoked salmon?
Smoked salmon which you normally eat cold and thinly sliced on bagels is actually "cold-smoked salmon". The temperature is so low that almost no heat is transferred to the fish and only the smoke. Hot smoking is made with a little heat which changes the texture of the fish to that of a fried fish – flaky.
How do you eat hot-smoked salmon?
Hot smoked salmon can be served cold or warm. It's great in cold appetizers, flaked onto toast, mixed with creme fraiche or stirred into a risotto. Or you can serve it hot from the smoker with a side of veggies and dip it in some extra glaze.
Maple Glazed and Hot Smoked Traeger Salmon
This maple glazed Traeger salmon is one of the finest recipes you can make with your smoker. It won't take too long to make and the flavour of the sweet, smokey salmon is incredible.
Ingredients
1

kg

salmon, skin on

the fatter the better
For the Cure
½

cup

sugar

(100g)

½

cup

salt

(100g)
For the Maple Glaze
½

cup

maple syrup

1

tbsp

butter

1

tbsp

Worchestershire sauce
For the Spice Rub
1

tsp

garlic powder

1

tsp

dried dill

1

tbsp

paprika

1

tsp

dried Aleppo chili

(or ¼ tsp cayenne)

1

tsp

black pepper
Instructions
First, cure the salmon with the mix of sugar and salt. Cover it completely in the mix and chill in the fridge for 1 hour.

Meanwhile, make the maple glaze. In a small pot bring the maple, butter and Worchestershire sauce to a boil.

Boil for 1 minute, then turn off the heat and allow to cool slightly.

Mix the spices together for the salmon rub.

Preheat Traeger to 200°F.

After the salmon has cured for 1 hour, rinse off the cure with cold water. Pat dry with paper towel and place on an oiled resting rack.

Brush the salmon with cooled glaze.

Cover the flesh completely with the spice mix.

Optional: Fill a pellet tube smoker halfway with pellets, light it and add to the smoker. Or use the super smoke function (if you have it on your smoker).

Place the rack with the salmon on the smoker and smoke until an internal temp of 120°F is achieved.

This takes approximately 40mins to 1 hour.

Once the salmon reached 120°F, remove it from the smoker and cover it with aluminum foil.

Raise the smoker to 500°F. Give it another brush of the glaze and once the Traeger is hot enough, finish the salmon for 5 minutes until 130°F is achieved.

Serve immediately and enjoy!
Notes
Once the glaze is on with the spices, don't try to re-glaze the salmon (like I did). The short amount of time in the smoker won't be enough for another glaze and is best to glaze just once.
If you'd like to serve extra glaze on the side, then bring it to a boil before serving. This is because the glaze touched the brush which touched the raw salmon and could contain bad bacteria. Bring the sauce back to a boil to pasteurize it and use and clean the brush.
Smoked Gouda – How to Make Your Own Traeger Smoked Cheese
You can easily make your own smoked gouda at home. Using your smoker or BBQ with a smoking tube is the key to flavourful smoked cheese.
Check out this recipe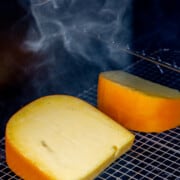 Epic Traeger Smoked Burgers
These Traeger smoked burgers are EPIC. With extra juicy interiors and a bold smokey flavour, you will make some new friends with this one.
Check out this recipe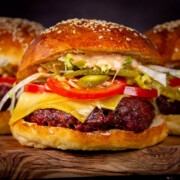 Smoked and Roasted Leeks with Raz el Hanout
These smoked and roasted leeks are rubbed with homemade raz el hanout spice for a delicious vegan side dish. They're smokey, sweet and a perfect accompaniment to grilled fish or meat.
Check out this recipe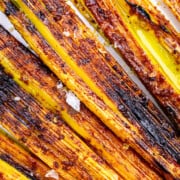 Smoked and Grilled Corn on the Cob with Umami Butter
The absolute best way to enjoy corn. Hot smoked corn on the cob, charred over the coals and slathered in delicious umami butter. There's no better way!
Check out this recipe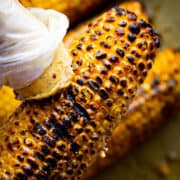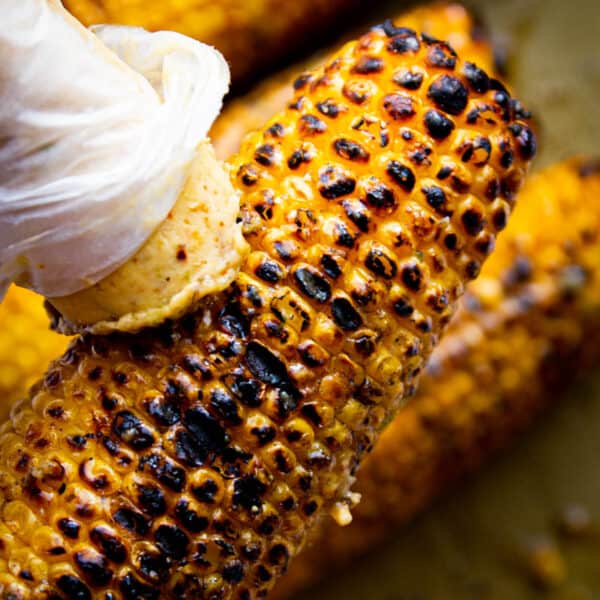 The Best Smoked Mac and Cheese
After many tweaks and trials, I have found the best smoked mac and cheese recipe. Throw this on the smoker while you wait for your smoked meats to rest.
Check out this recipe