A pasta filled with deliciously sauteed butternut squash is exactly the kind of pasta I want to eat when squash season is in full swing during the fall months.
It's simple, comforting, and humbly vegetarian. The secret to this one is all in the sauce and in this recipe, I'll give you the rundown on how to make a perfect pasta sauce
This Sauteed Butternut Squash Pasta is Saucy
Pasta needs to be extra saucy when it arrives at the table because the noodles will always soak up the extra sauce as it rests.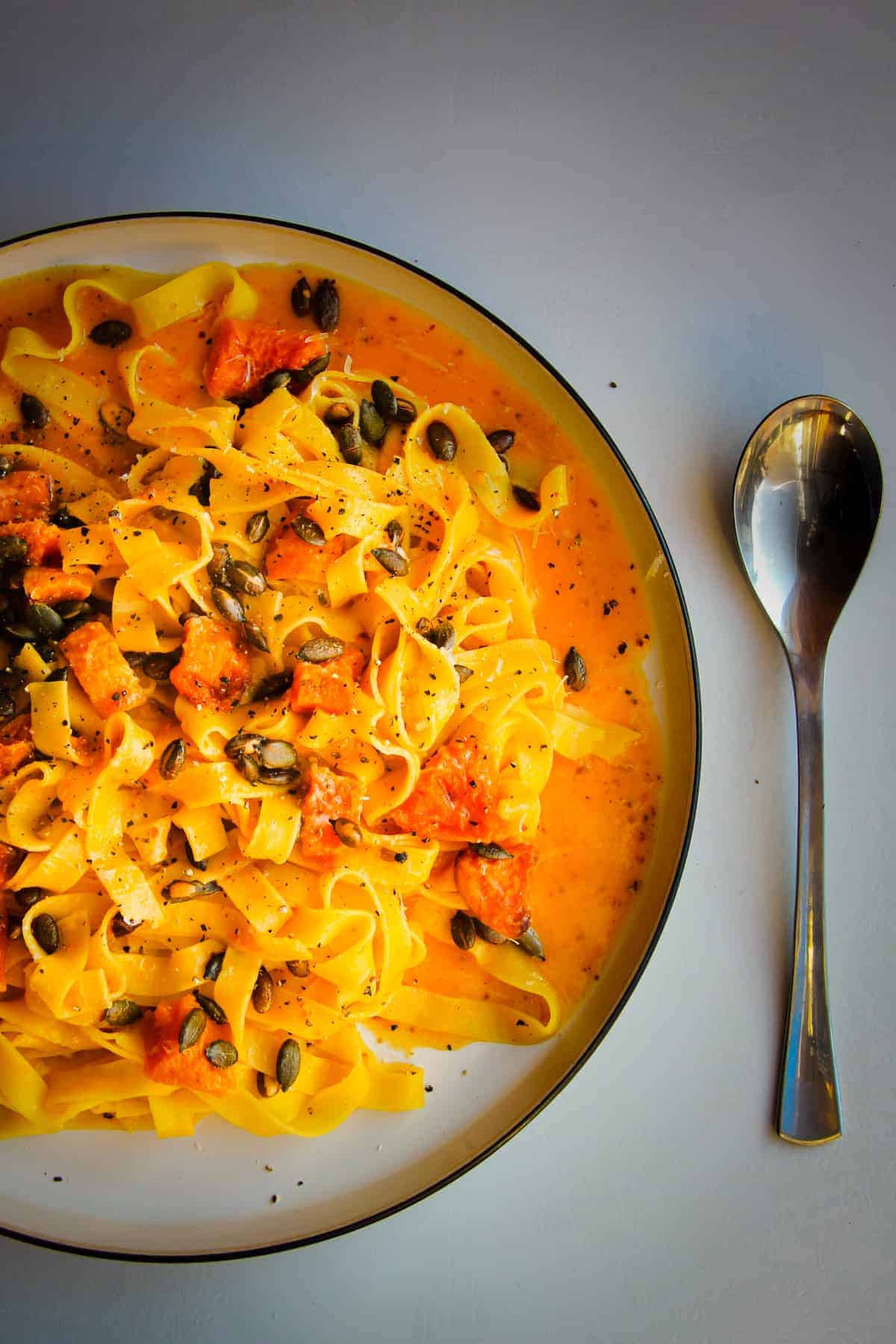 The Secret to This Pasta
The secret to this squash sauce is all in the technique.
I make a roasted butternut squash purée that's finished with brown butter and added to the pasta. The trick is to use lots of the pasta cooking water to get the sauce to a perfect, velvety consistency.
Using the pasta cooking water and cooking the pasta in the sauce briefly are two very important techniques to making a delicious pasta.
Health Benefits of Squash
This isn't exactly the healthiest pasta because it's well… a pasta, but it does contain some healthy vitamins.
This recipe uses a whole butternut squash so you know you're getting the full benefits of the squash. Butternut squash is rich in vitamin A, providing 100% of your daily recommended intake. It's also loaded with beta-carotene and alpha carotene which is immune-boosting and good for your eyes.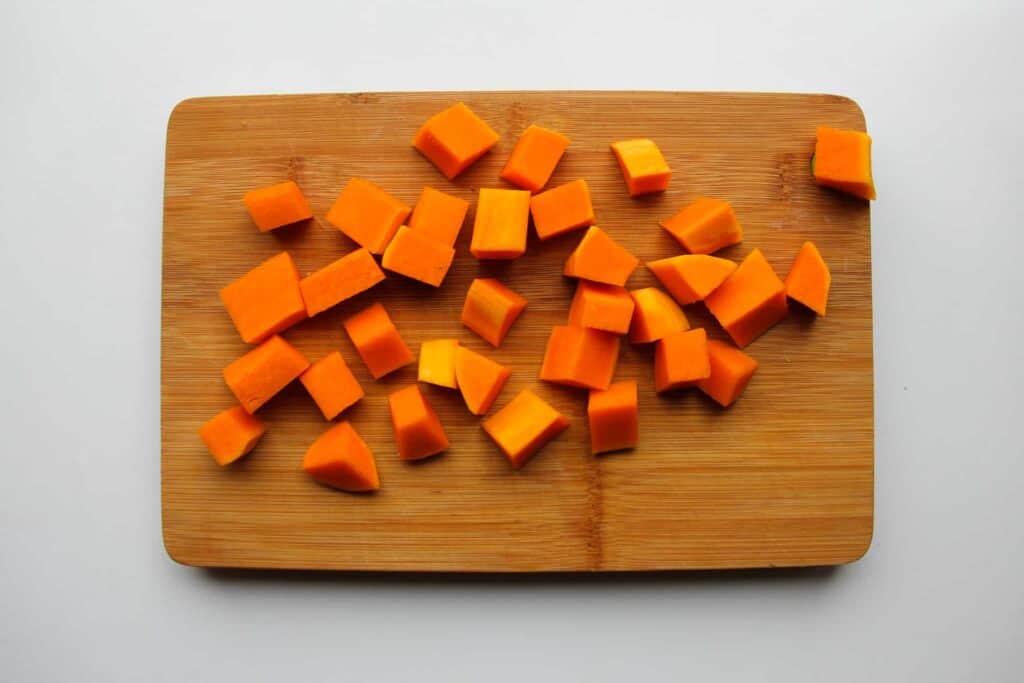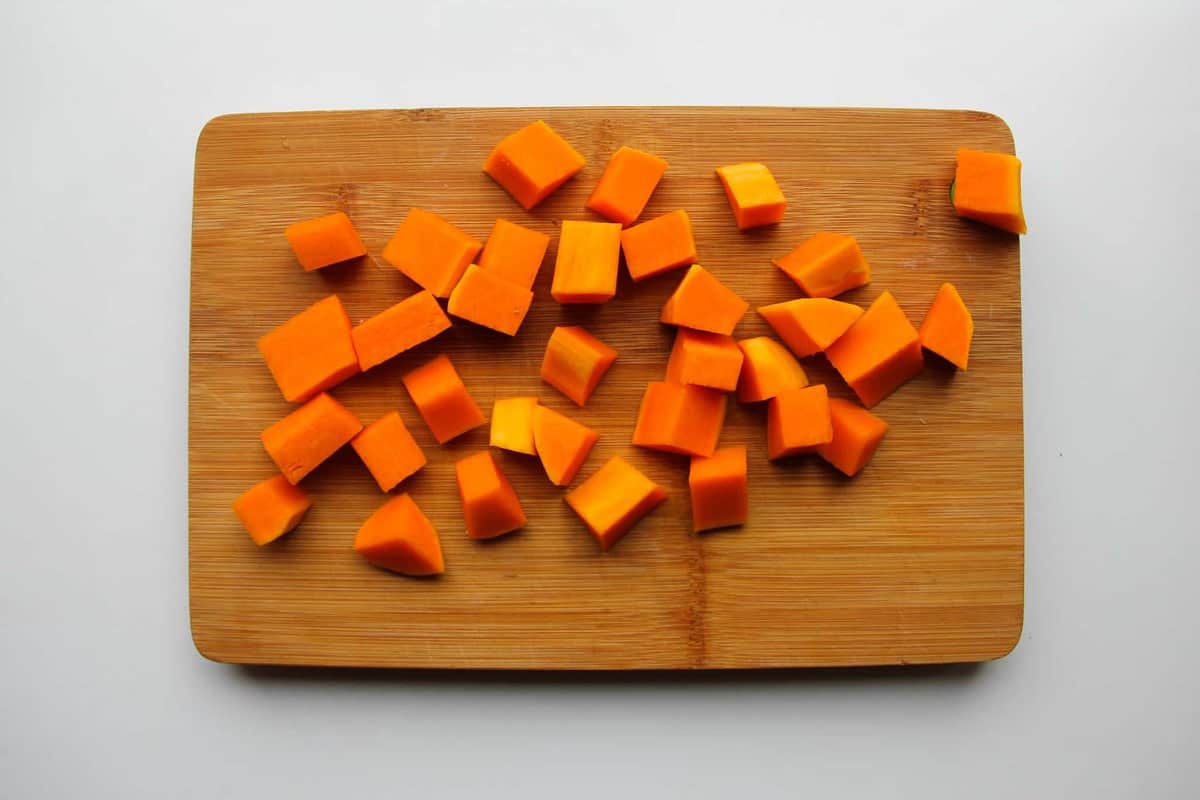 Pumpkin Seed Snacks
Toasted pumpkin seeds are one of my favourite fall snacks. They're just so addictive! But the best part is they're loaded with nutrients and even considered a superfood.
Pumpkin seeds have been associated with tons of health benefits including prostate health, improved heart health and even protection against certain cancers.
Recommended Tools For This Recipe
A hand blender with a food processor attachment is all you need to make the purée for this recipe. It's not going to be as smooth as a purée made with a Vitamix, but it will be fine for at home.
If you need a good hand blender try this one. For a stand blender I love Vitamix.
Butternut squash can be difficult to peel so it's a good idea to have a sharp speed peeler on hand. Using a speed peeler instead of a knife means you keep the waste down to a minimum.
Try My Other Pasta Recipes
Butternut Squash Pasta with Chili & Toasted Pumpkin Seeds
A delicious way to enjoy butternut squash this fall in a pasta with brown butter, toasted pumpkin seeds, chili and parmigiano reggiano cheese.
Ingredients
375

g

tagliatelle pasta

fresh pasta or 240g dried

1

whole

butternut squash

60

g

butter

approx. 4½ tbsp

1

tbsp

peanut oil

or any high smoke point oil

2

tsp

aleppo chili flakes

2

cloves

garlic

peeled and crushed

3

tbsp

pumpkin seeds

fresh black pepper

3

tbsp

parmigiano reggiano

to garnish on top

2

tbsp

olive oil

extra virgin

½

piece

lemon

a squeeze of
Instructions
Preheat the oven to 180°C/ 375°F. Peel the butternut squash with a peeler and cut into small cubes like shown in the picture.

Add the cut squash to a bowl with the oil and sprinkle a pinch of salt and some fresh cracked black pepper. Toss.

Put the squash on a baking tray lined with parchment paper and set in the oven for about 30 minutes. We want a nice golden colour on the squash with a soft interior. The picture below shows how the squash should look when it's done.

While you are waiting for the squash, get a large pot of water to a boil for the pasta on the stove. Season heavily. It should taste as salty as the sea.

Toast the pumpkin seeds for about 5-7 minutes in the oven on a tray. Season with salt when they come out of the oven.

Brown the butter in a small sauce pan and keep warm.

Once the squash is ready, save half of the nicest looking pieces for garnish and set aside. Put the other half in the food processor or blender and purée with the brown butter, and a small squeeze of lemon. Blend until you get the purée as smooth as possible.

Get a medium saucepan on medium heat and add the crushed garlic with the olive oil. Cook slowly until nicely golden being careful not to burn the garlic.

Add the chili flakes to the garlic oil. Discard the garlic cloves and turn off the heat.

Add the pasta to the boiling salted water and cook according to package instructions. Stir the pasta.

Add the squash purée to the garlic/chili oil and one big ladle of pasta cooking water. Cook this over low heat until a nice sauce is formed. It should be pretty soupy as the pasta will soak up a lot of the water from the sauce.

Add the cooked pasta and stir. Add the reserved cooked squash pieces now. Let the pasta cook in the sauce for 1 minute to soak up all that flavour. Add more pasta water if it's too thick.

Plate the pasta and garnish with parmigiano reggiano, toasted pumpkin seeds and some freshly cracked black pepper. Enjoy!
Notes
If you don't have fresh pasta and want to use dried pasta then you will need less in the recipe. 375g fresh pasta or 240g dried.
Using the pasta cooking water is essential to making a good pasta sauce.
Nutrition
Calories:
686
kcal
|
Carbohydrates:
99
g
|
Protein:
22
g
|
Fat:
23
g
|
Saturated Fat:
5
g
|
Cholesterol:
6
mg
|
Sodium:
132
mg
|
Potassium:
437
mg
|
Fiber:
6
g
|
Sugar:
5
g
|
Vitamin A:
503
IU
|
Vitamin C:
10
mg
|
Calcium:
126
mg
|
Iron:
3
mg
This post contains links to Amazon Affiliate products I know and love using.
Crispy Roasted Brussel Sprouts with Banana and Fresh Lime
A rather wild side dish of crispy roasted Brussel sprouts with banana and lime that's vegan, gluten-free and definitely not boring.
Check out this recipe