Mac and cheese is an uber-comforting classic, but smoked mac and cheese is a game-changer in comfort food.
You can't just make a normal mac and cheese, throw it under some smoke and hope for the best. No, no, no. You'll end up with stodgy, overcooked mac and cheese that's pretty average.
After many mac and cheese trials later, I have the answers for you…
Why it's The King of Smoked Mac and Cheese
Some recipes I tried were smoky but dry and over-cooked and others were saucy but without that necessary golden crust. This recipe is somewhere in between the Goldielocks of smoked mac and cheese.
I love that sharp cheddar and rich bechamel sauce that's finished off with a smoky panko BBQ crust. It's creamy, saucy and smokey with a gorgeous golden-brown-crispy-crunchy top that's probably what's served in heaven.
Next up, I'll explain my tips and why they make this mac so much better.
Undercook The Pasta
To get a good smokey flavour with a crispy, golden-brown crust, you'll need to let this sit in the smoker for a good 45 minutes. This means undercooking the pasta is crucial to ensuring a perfectly cooked pasta after smoking. 
My macaroni had a recommended cooking time of 8-9 minutes so I cooked mine for 5 minutes and that seemed to be perfect. If you're using bigger macaroni, try cutting the cooking time in half.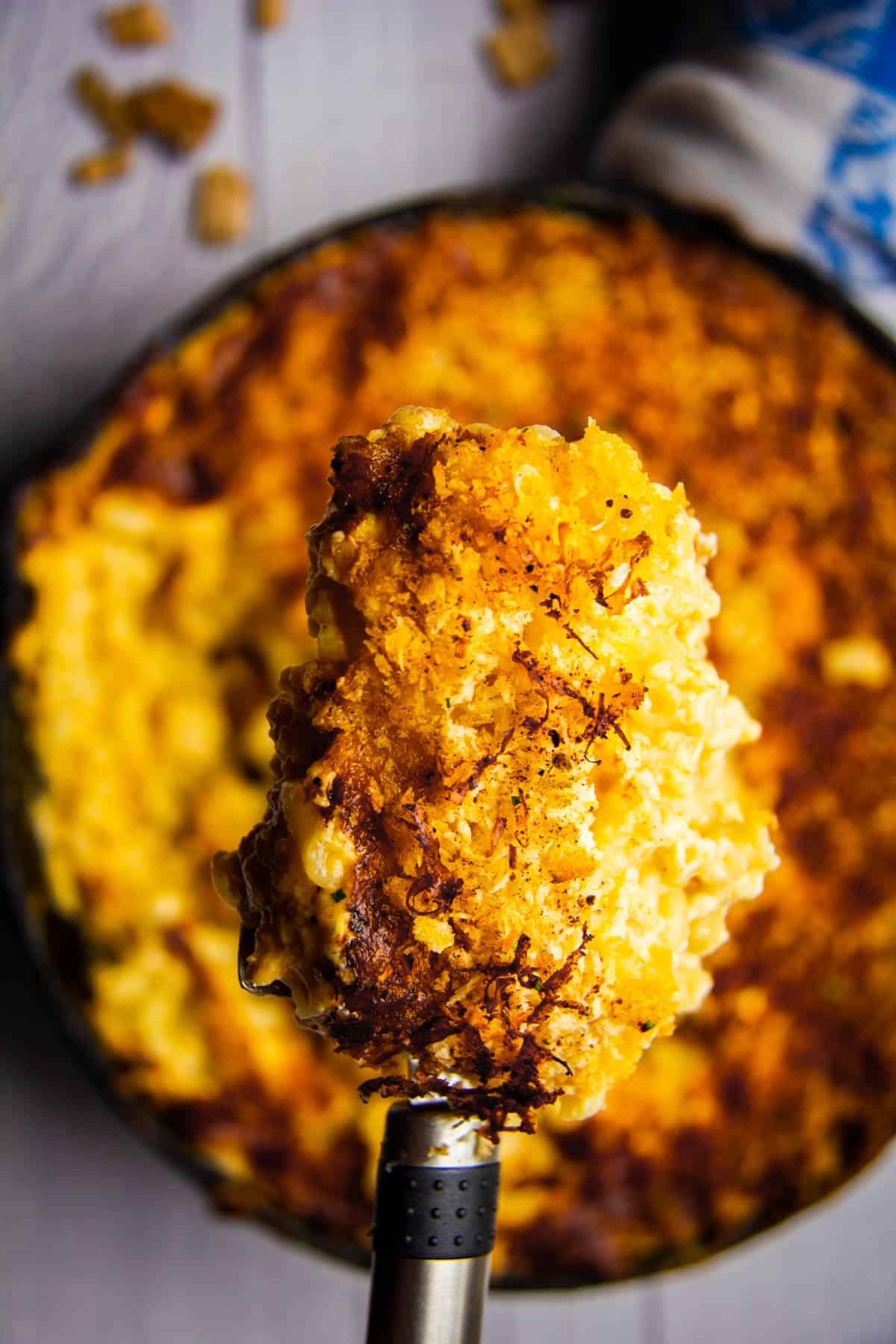 Rinse the Pasta
My Italian chef instructor would cringe to hear me say the phrase "rinse the pasta" but we're not making pasta Alla Genovese here, we're making mac and cheese. 
When you continue cooking the pasta in the smoker, the sauce will become quite thick from the excess starch. That's why it's a good idea to rinse the macaroni after blanching it to prevent it from thickening too much.
Use a Roux and Add 35% Cream
Using a roux and 35% cream will both prevent the cheese sauce from splitting. If you've ever made a macaroni cheese sauce that splits, it's probably because you didn't use one of these two ingredients.
Not sure what a roux is? Check out this in-depth guide on how to thicken sauces.
Don't Use Pre-Grated Cheese
Pre-grated cheese can sometimes split your sauce because of additives used to prevent the cheese from clumping together. Grate the cheese yourself for the best sauce.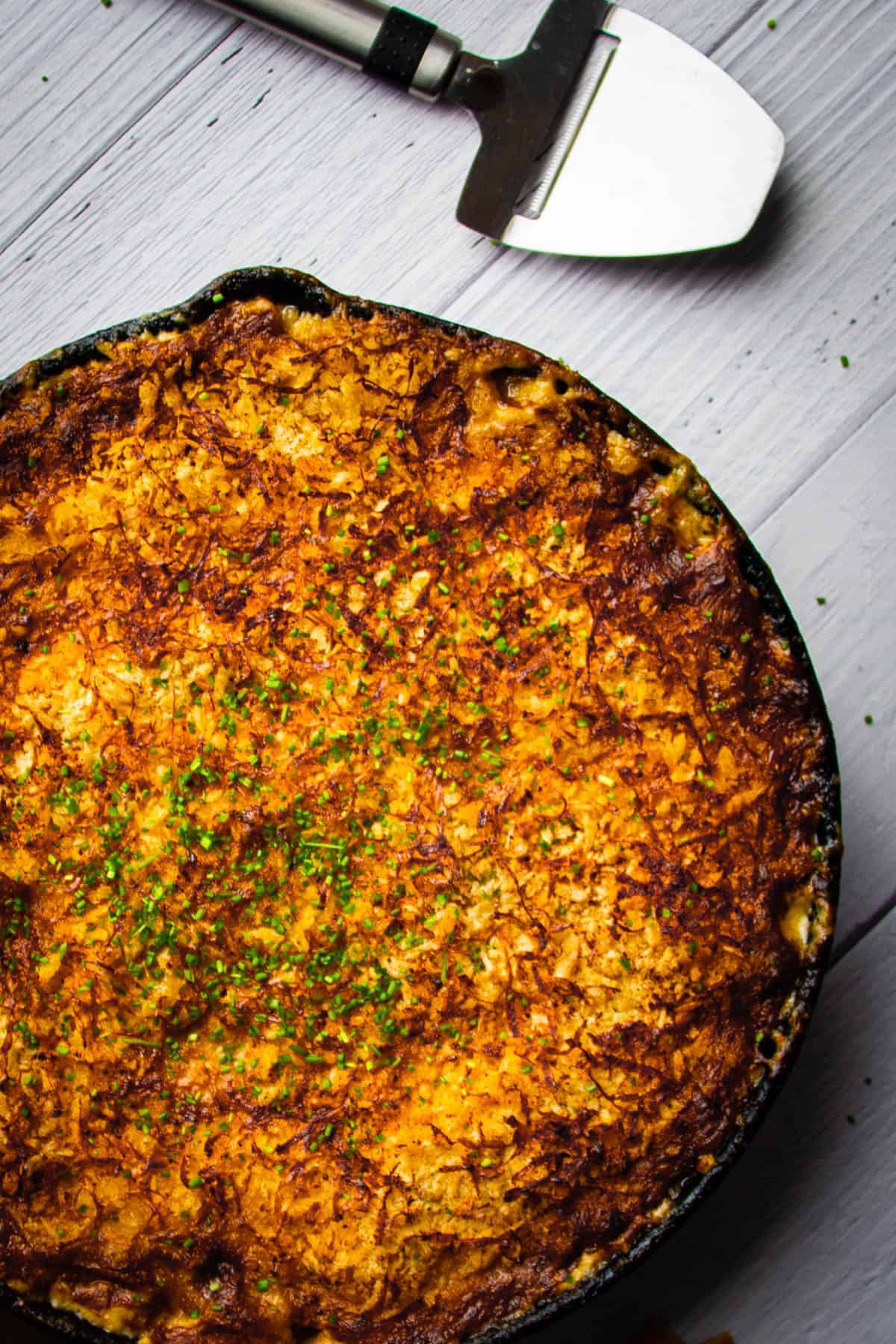 Use a Cast-Iron Pan
Cast-iron pans are great on the BBQ because they can withstand hot temperatures and prevent uneven cooking. Uneven cooking means you will get burnt spots on the bottom of your mac and cheese and you won't get this with a cast iron pan.
Use the Right Cheese
Gruyere, Emmental and sharp cheddar are my weapons of choice because I think this is the perfect balance for a smooth but cheesy sauce.
Although, some people like to add mozzarella for a stretchy cheese sauce. You could also try adding cream cheese, Parmigiano Reggiano or pecorino romano.
Undercook, Smoke and then Broil
I tried smoking this mac and cheese at a much higher heat but this either overcooked the pasta, split the sauce or didn't give it enough smokey flavour.
I found the best method for this recipe was to undercook the macaroni quite a bit and then finish the cooking in the smoker so that the pasta didn't overcook. I then finished it in the broiler to get that extra golden brown crust without splitting the cheese sauce.
But it was still pretty tasty even without the final broiling so it's an optional step.
Can I Make this Lactose Free?
If you're lactose intolerant like me, then this recipe is so good it's worth bringing out the lactase supplements.
You can use lactose-free milk which will help a lot. Although, finding lactose-free cheese is a challenge. The good news is that butter and cheddar are pretty low in lactose. I used lactose-free milk, with normal butter and cheese and I'm still alive. But everyone's different.
Try it out in a small amount and see what works for you.
Get Wild with Some Smoked Mac and Cheese Additions
Here are a few flavour ideas to max out the mac:
Add some extra BBQ into the pasta for extra BBQ flavour
Stir in a batch of caramelized onions before smoking
Chop some fresh thyme and add that instead of the BBQ spice
Add an extra layer of cheese in the middle of the mac and cheese
Mix in some crumbled bacon
Throw in some blanched broccoli for a vegetarian option
Serve it with ketchup on the side
Get the Right Smoking Tools
If you're going the Weber route as I did, these tools are going to make it a lot easier, and a lot more fun.
You won't need to temp the mac and cheese, but you will need to know the temperature of your smoker. A good thermometer will help you and is a lot more accurate than the one that came with your Weber.
I recently just picked up the Inkbird Bluetooth thermometer and just love it. It's got two probes, one for measuring internal temperatures and one for the BBQ's temperature.
The best part is, that it hooks up to my iPhone via Bluetooth which means I get alerts when the BBQ is at the perfect temp. Too easy!
They're relatively inexpensive and you can check the price here.
A word of caution, the Inkbird can only handle temperatures up to 482℉/250℃ for continuous monitoring, meaning it's not suitable for high heat BBQ grilling.
If you're looking for something a little more serious I'd recommend this one.
These help to keep the charcoal to one side and provide perfect indirect heating. You can get these here.
You don't need this but it makes it a lot easier to add the smoking chips and/or more charcoal. If you plan to do some real smoking this year then I think it's worth the investment. 
You can find this on Amazon here. Just double-check that it's the right size for your grill as they make different-sized BBQs.
Is it time for new knives? Then definitely check out my ultimate guide on the Best High End Knife Sets and Why I'll Never Buy a Cutco Knife Set.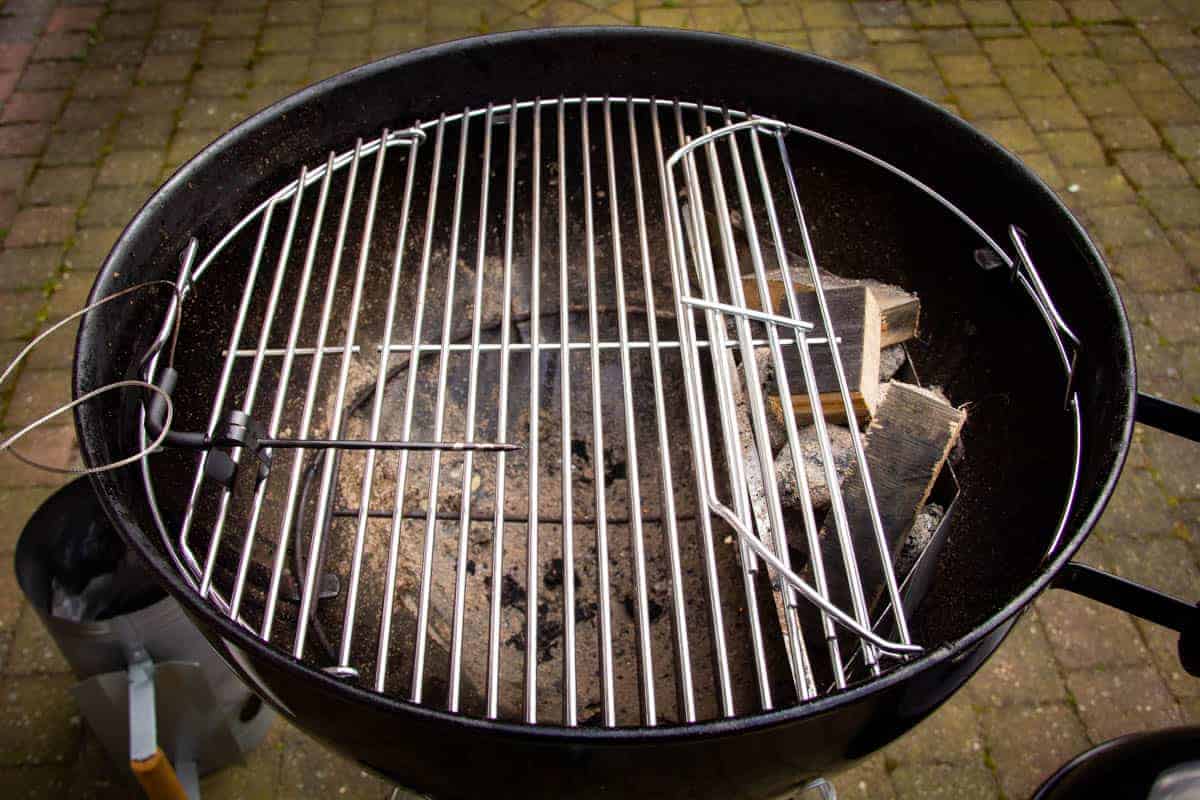 Wood Chunks or Chips?
I don't obsess too much over the type of wood but everyone has their own preference. I do like using wood chunks over wood chips because they tend to burn slower than wood chips and that means I don't have to open the BBQ as much.
Wood chunks can be harder to find but are usually better for longer periods of smoking, like in this recipe. As a whiskey lover myself, I couldn't resist buying these whiskey barrel wood chunks.
How to Nail this Recipe
Undercook the macaroni
Use a roux to prevent a split sauce
Use a thermometer to accurately measure the BBQ temperature
Use a cast-iron skillet pan to prevent uneven cooking
Add some BBQ spices to the panko seasoning
How to Store and Reheat
This smoked mac and cheese makes the best leftovers.
It will keep for up to 5 days in the fridge in a sealed container. Reheat by adding 1-2 tbsp of water to the mac and cheese in a cast iron pan. Cover with tin foil and bake in an oven for 20 minutes at 350°F/176°C or until the center is hot.
Try My Other Pasta Recipes
More Smoker + BBQ Recipes
What to Serve with Smoked Mac and Cheese
This is perfect BBQ food and ideal for vegetarians who still want to enjoy smoked foods.
Here are some dishes that go with smoked mac and cheese: