Shrimp salad lettuce wraps are a smooth move for a dinner party.
They look beautiful, they're quick to make and full of fresh summer flavours like creamy avocado, and crunchy veggies and wrapped in cold, crispy romaine lettuce.
My favourite is the baby shrimp but you can also make this salad with shrimp, lobster or even crab for something a little fancier.
How To Make This Shrimp Salad
This salad is pretty simple to make as long as you have pre-cooked baby shrimp.
Here are the steps:
Wash and soak the lettuce leaves in ice water.
Cut all of the ingredients finely.
Add the avocado at the end.
Mix the ingredients together in a bowl.
Plate the shrimp salad in lettuce cups and serve with fresh lemon on the side.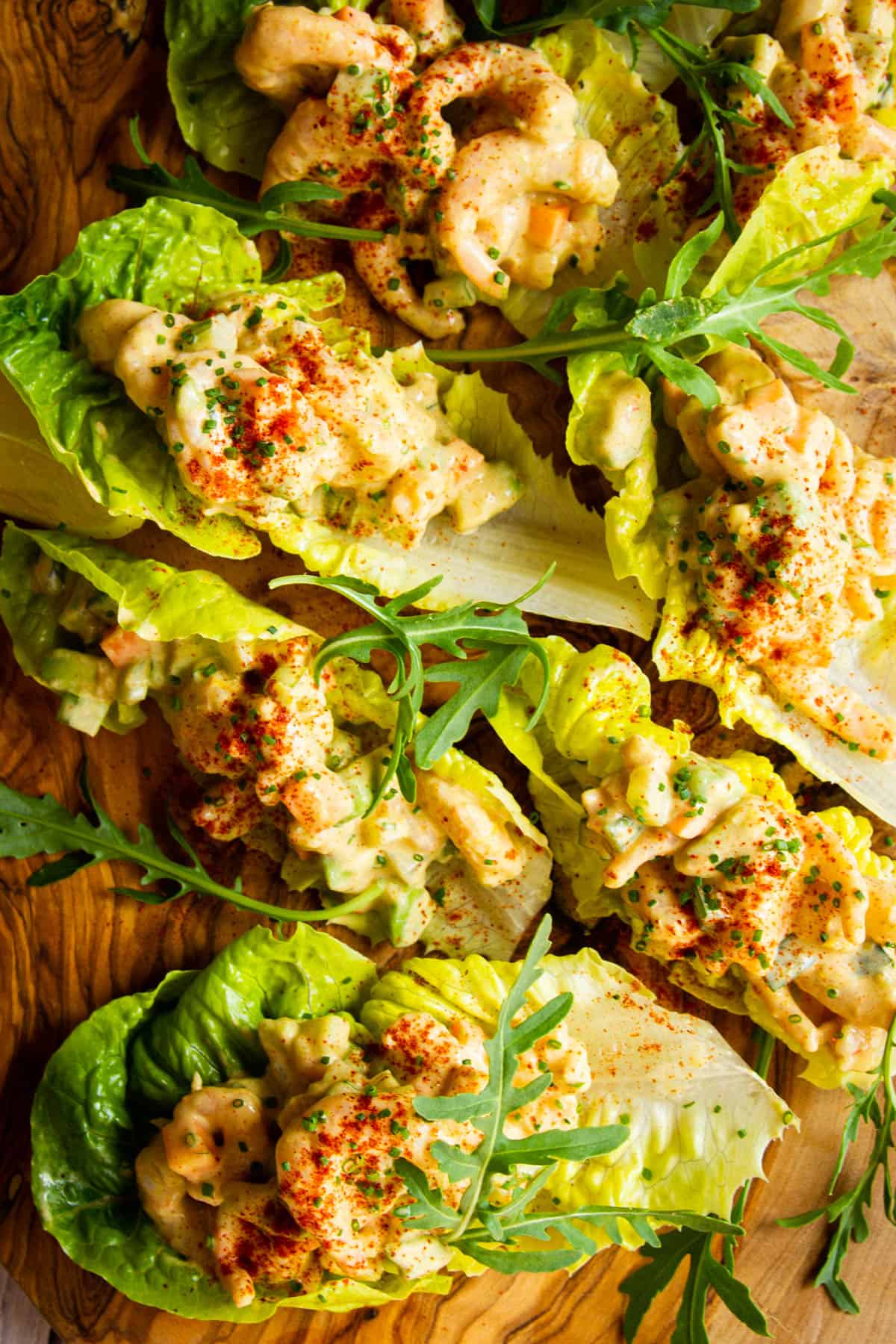 Key Shrimp Salad Ingredients
Let's break down the key ingredients for this recipe:
Baby shrimp – I find the smaller shrimp much more delicious because the texture is softer. But you can also use other types of cooked shrimp, crab or lobster in this salad. Just make sure to cut it into bite-sized pieces.
Avocado – This is the star ingredient and adds creaminess to the salad. If you can't find avocado then add more of the other veggies.
Garlic – I love a small amount of raw garlic in this salad because it adds so much umami to this dish. A little bit goes a long way. Just be careful not to overdo it as it is raw.
Smoked Paprika – This adds a hint of smokiness and some delicious paprika flavour that's classically prepared with seafood dishes. If you can't find smoked paprika, regular paprika or Espelette pepper will also work.
Worcestershire Sauce – Another way to add a bit of extra umami to the salad. Fish sauce will also work well in replace of Worcestershire.
Tabasco Sauce – A few drops of this will not actually make the salad spicy, but will add a depth of flavour that's perfect with shrimp.
Cayenne – This adds a little heat plus a nice red colour to the dish. If you like it hot add more of this.
Carrot/Cucumber/Celery – All of these veggies add a delicious fresh crunch to the salad. You could also try this dish with peppers, onions or radishes if you like those more.
Lemon – All seafood dishes can use a little lemon to brighten up the flavours and make it taste fresh. I'm using zest and juice for maximum lemon flavour.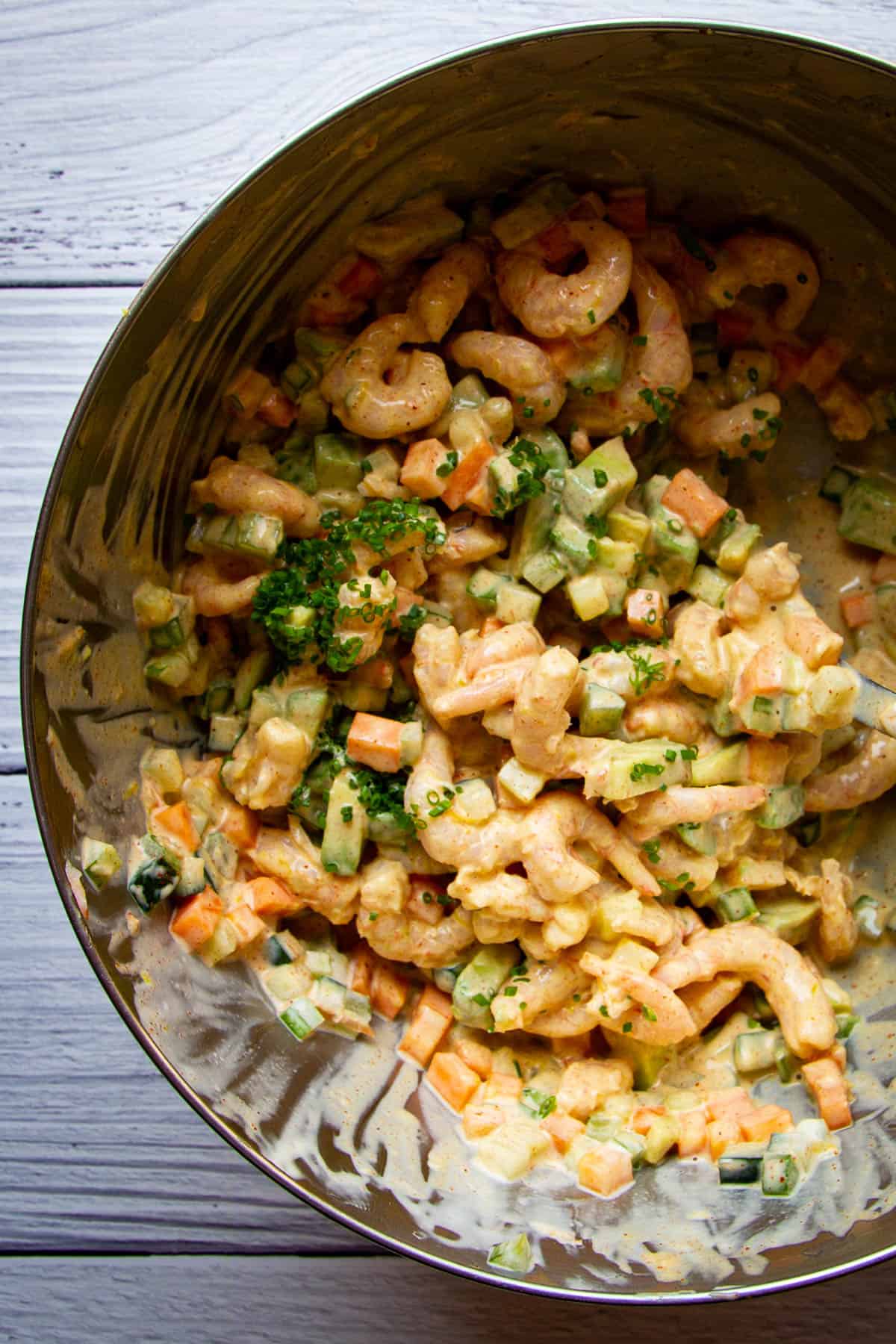 Tips to Nail this Salad
Soak the lettuce leaves in ice water to crisp them up.
Cut the avocado at the end to avoid it discolouring.
Keep it cold and serve right away for the best taste.
How Long Does Shrimp Salad Last?
This shrimp salad will only last for up to 3 days in the fridge. Although, the avocado may start to discolour the next day.
Can you Freeze Shrimp Salad?
You probably can but I wouldn't recommend it. Sometimes mayo-based foods can split once thawed and it won't be very nice to eat after that.
More Summer Recipes
This "5 Alive" Summer Salmon Ceviche