They're soft, light and made entirely from plants. I love vegan pancakes because they're easy to make, lighter than normal pancakes and ridiculously comforting.
Why Vegan Pancakes?
Now I love the normal pancakes just as much as any maple-syrup loving Canadian but what about something a little different?
Something a little lighter and completely plant-based. Plant-based recipes are much more difficult to make delicious because meat and dairy products naturally taste great.
But I love the challenge of creating vegan dishes for a few reasons.
I'm not a vegan but I try to cut down my intake of meat and animal by-products whenever possible. It's becoming clearer every day that eating animal products is less sustainable than a plant-based diet. 
Plants are the future. 
I feel obligated as a chef to share recipes that can help this world problem. I'm certainly not trying to convert anyone to a 100% vegan diet, but merely providing another delicious option.
If you can reduce your carbon footprint and still eat something delicious isn't that a huge victory for everyone?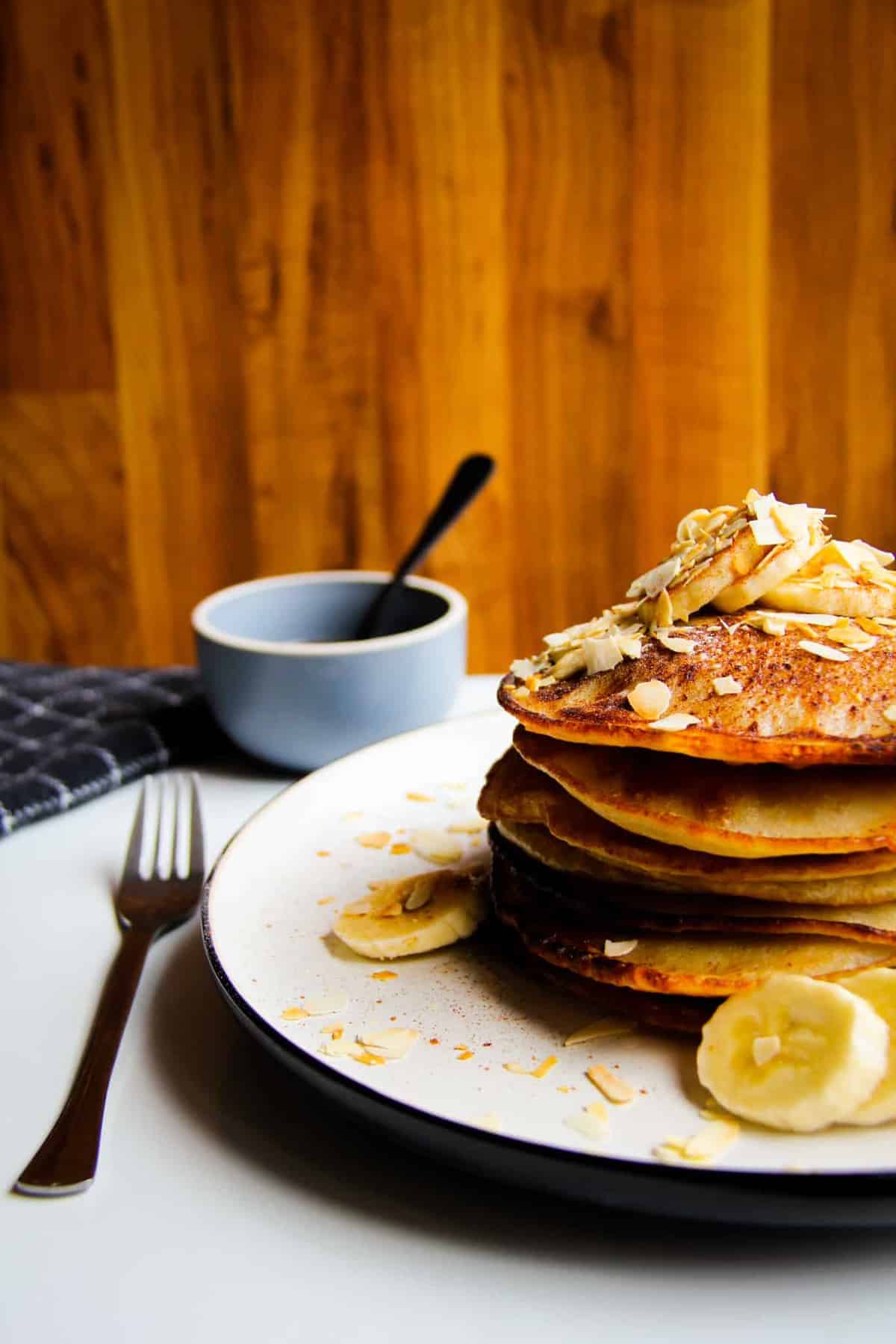 Dutch-Canadian Connection
One thing that Canadians and the Dutch can agree upon is their shared love for delicious pancakes.
As a Canadian, I'm used to drowning my hot, fluffy buttermilk pancakes in butter and maple syrup. The Dutch, on the other hand, have mini pancakes called poffertjes which are basically tiny dollar-sized pancakes that are made fresh to order and insanely delicious.
They serve them in little stands usually in a food market and top them with various tasty ingredients like Nutella, butter, maple syrup or toasted nuts. If you ever get a chance to try these – YOU MUST!
Next-Level Vegan Pancake Tips
Use a hand blender or stand blender to make a super smooth pancake batter with no lumps
Resting the pancake batter for 30 minutes will make softer, more delicious pancakes
Keep already cooked pancakes in the oven on low temperature covered with a tea towel while you cook the rest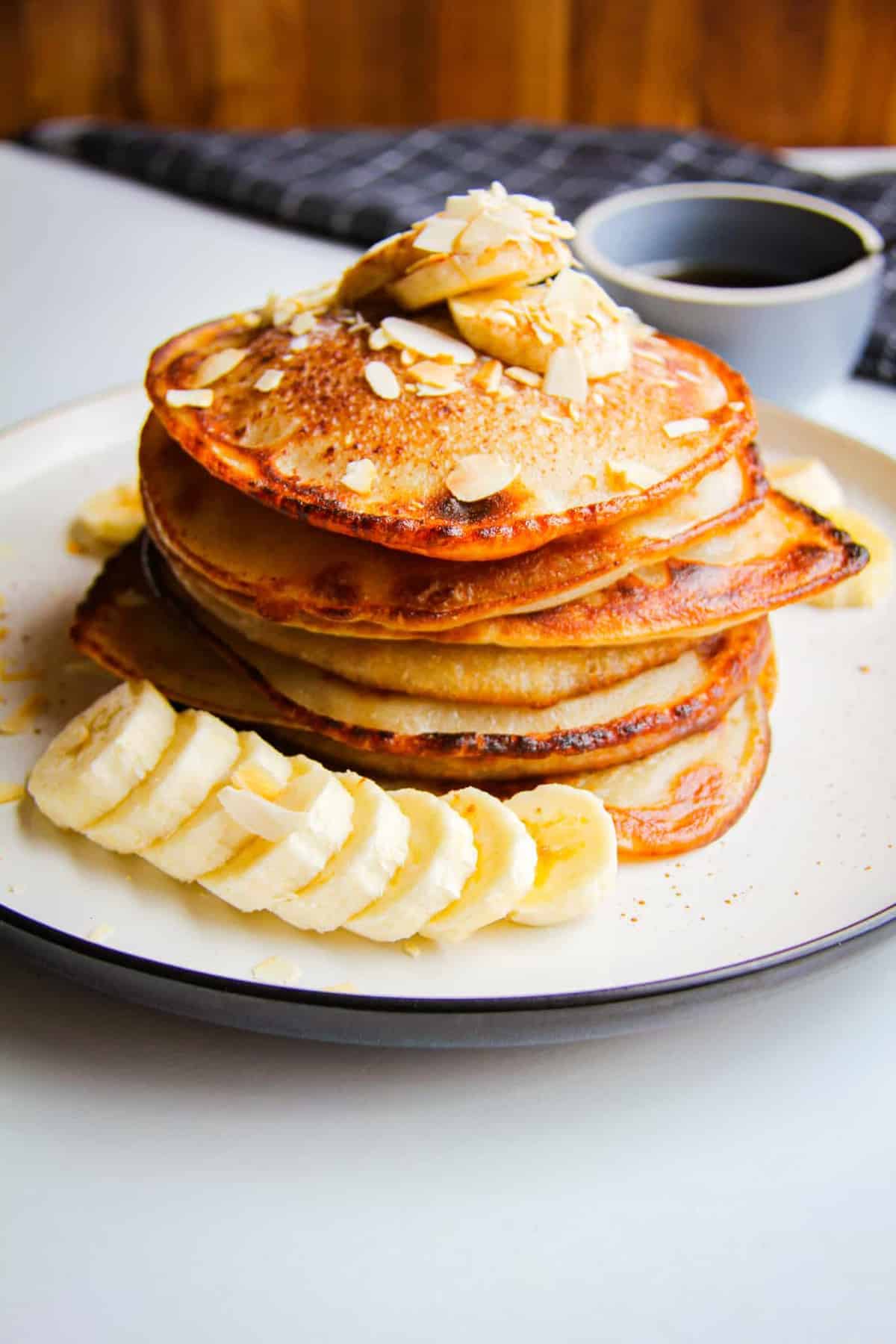 Recommended Tools
The star of this recipe is definitely the hand blender. Using a blender means no more lumps in your pancake batter and it's super quick. I use the hand blender a lot at home because it doesn't take up much room in my kitchen and it's quick to clean.
Although it doesn't have the same power as a stand blender like a Vitamix, for this recipe it's not really necessary. That being said, you can definitely use a stand blender for this recipe too.
If you need a good hand blender try this one. For a stand blender, I always recommend Vitamix.
Pancakes also need to be cooked in a nonstick or cast-iron pan for best results.
Happy Cooking!
The World's Finest Vegan Banana Pancakes
They're soft, light and made entirely from plants. I love this recipe for vegan pancakes because it's easy to make, lighter than normal pancakes and ridiculously comforting.
Ingredients
For the batter
2

whole

ripe bananas

250

g

flour

all purpose

250

ml

oatmilk

2

tbsp

sugar

1

tsp

baking powder

¼

tsp

cinnamon

ground

1

pinch

sea salt
For Garnish
50

g

slivered almonds

for garnish

2

tbsp

maple syrup

for garnish

1

whole

banana

sliced

icing sugar for dusting
Other
30

ml

peanut oil

or any high smoke point oil
Instructions
Blend everything for the batter with a hand blender. Let rest for 30 minutes.

Get a non-stick or cast iron pan hot.

Add some of the oil and scoop the pancake batter with a ladle into the hot pan.

Cook until nicely browned then flip once. Keep the cooked pancakes warm in an oven at low temperature with a tea towel over top.

Repeat until you get 10-12 pancakes.

Finish the pancakes with fresh bananas, toasted almonds, maple syrup and a good sprinkling of icing sugar. Enjoy!
This post contains Amazon affiliate links to products I love using!
Chocolate Hazelnut Spread – Vegan Nutella
It's quick, easy, cheaper and just way better than any store-bought hazelnut spread. It's your own homemade vegan Nutella.
Check out this recipe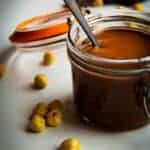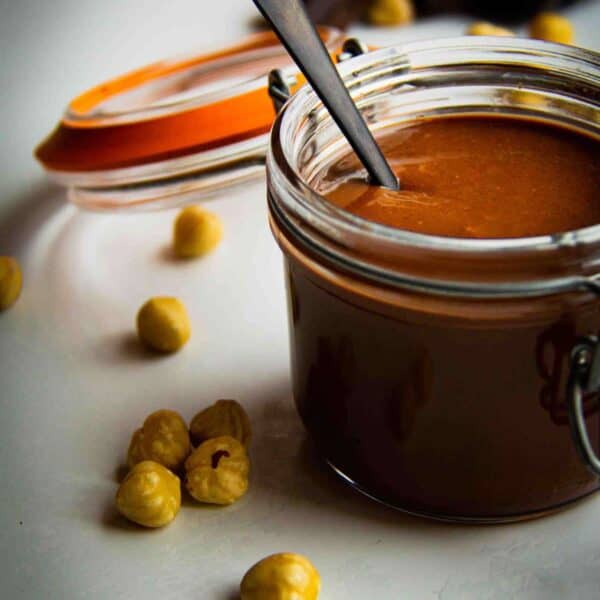 The Best Vegan Chocolate Hazelnut Brownies
A recipe for vegan brownies loaded with intense chocolate hazelnut flavour and drizzled with vegan nutella. Soft, rich and insanely chocolatey. I promise you won't miss the dairy or eggs.
Check out this recipe