*THIS* garlic butter shrimp pasta is just SO GOOD!
Heads up though, if you're not a real garlic lover, then don't even bother scrolling down because this pasta is GARLICKY!
And this is no ordinary shrimp pasta either…
Because I've got a little secret technique that's an absolute game-changer for a simple dish like this.
The secret is in my patent-pending (not really) Flavour Bomb which is added to the shrimp at just the right moment for a punch of chilli-lemony-garlicky goodness!
And coming in at under 20 minutes total, that makes this pasta a surefire weeknight warrior!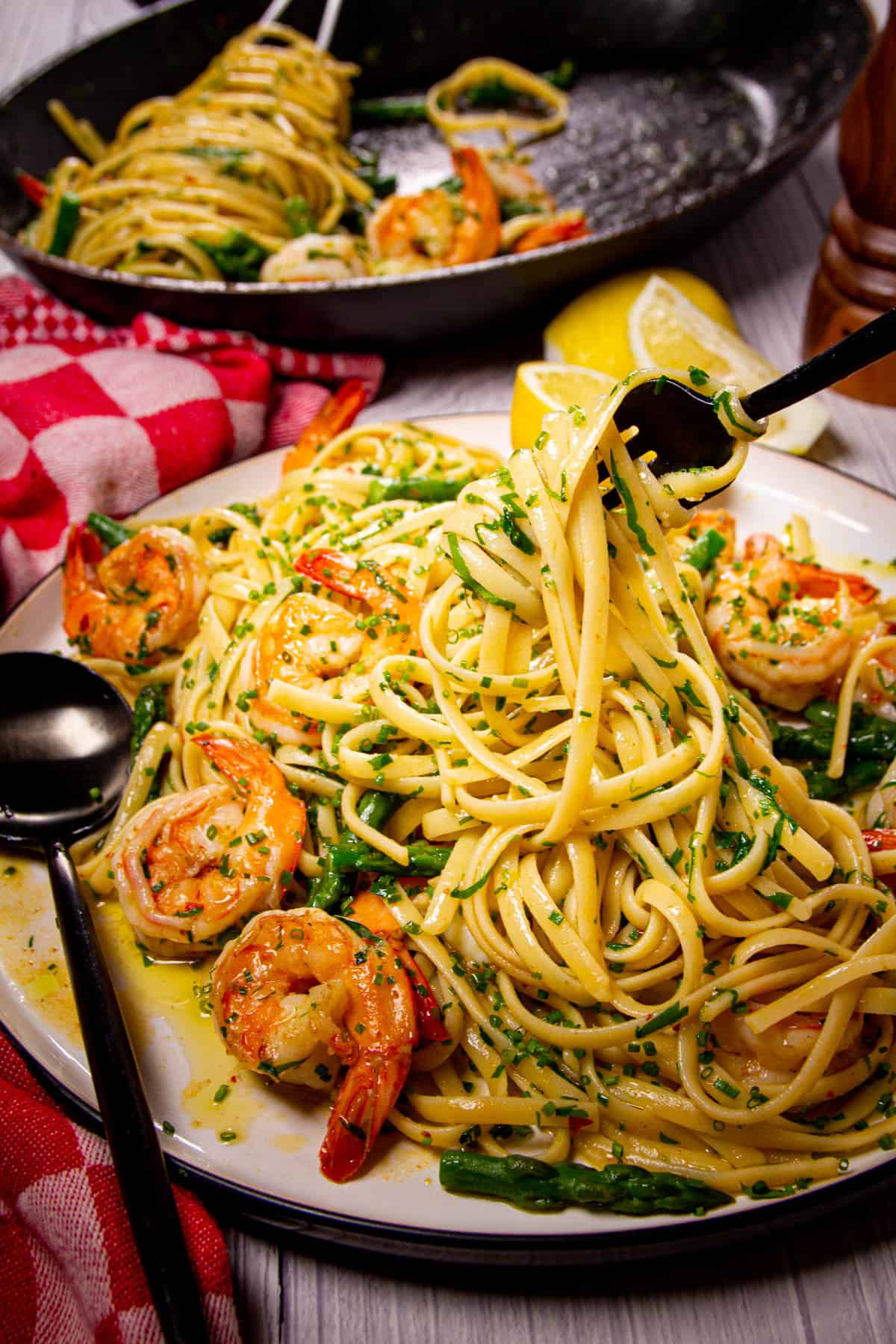 This Garlic Butter Shrimp Pasta is So Easy
As I've probably made a million pasta dishes in my cooking career, you could say that I know a thing or two about pasta.
If you've always wondered how they make pasta so good in restaurants, then today is your lucky day, because I'm giving away all my tips in this recipe.
This pasta is incredibly simple and that means that just a few simple techniques will make a HUGE difference.
The flavour bomb makes life much easier because you can quickly add a punch of flavour to the dish. Plus, you don't have to chop garlic! Win!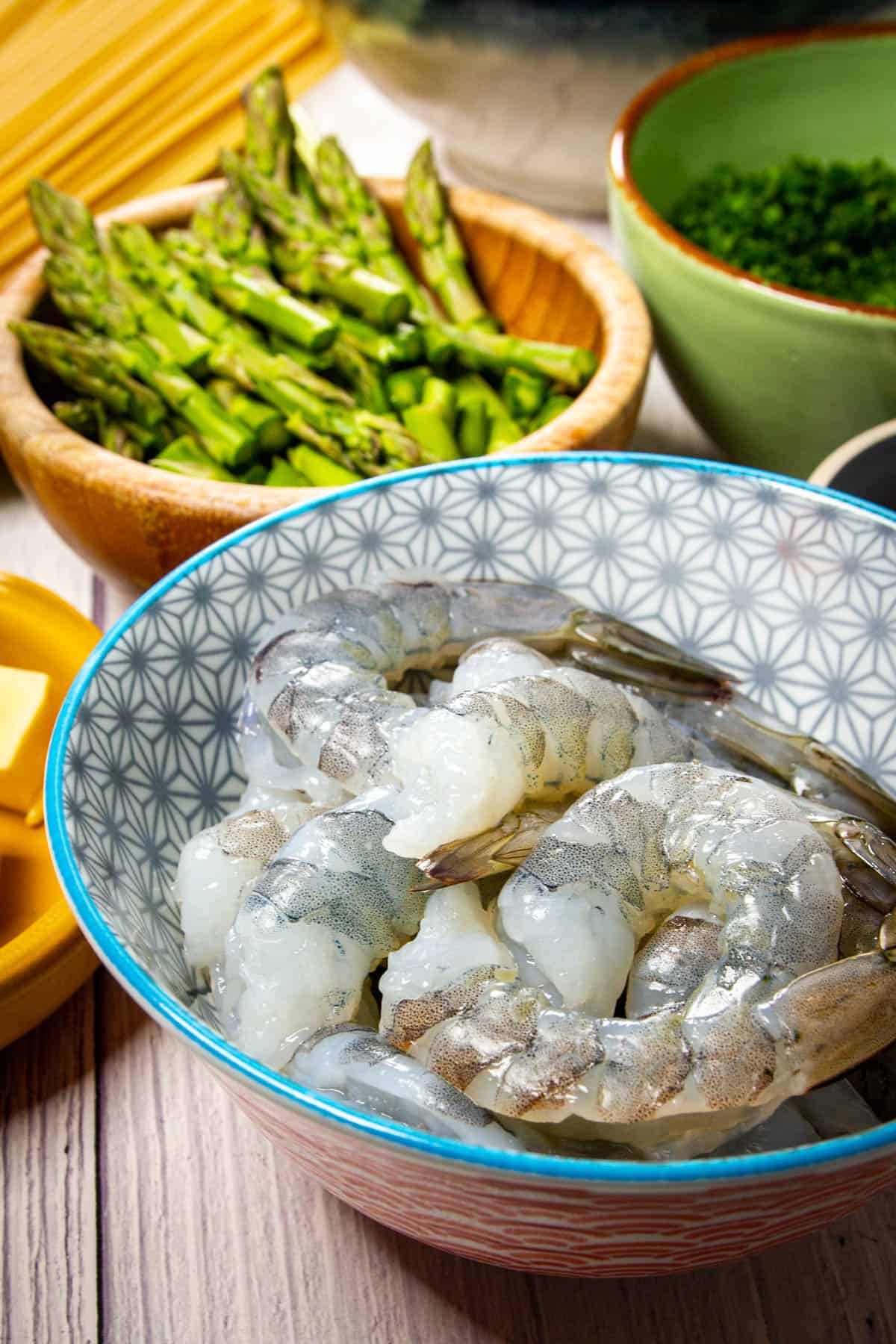 Ingredients Needed for a Garlic Butter Shrimp Pasta
Let's talk ingredients before we continue. I mean, do you even have the right ingredients? Better to check now…
Pasta: For me, linguine is my top choice for seafood pasta but there are other options. Fettuccine, tagliatelle and spaghetti are all great options.
Shrimp: Look for large shrimp with the peel still on. Yes, I know what you're thinking…" Awww but I HATE peeling shrimp". Shrimp peels have a ton of flavour and it doesn't really make sense to throw them away. Plus how long does it really take to peel 10 or so shrimp? You can also buy easy-peel shrimp which have already been butterflied, making them much easier to peel.
Also, I'm using frozen shrimp. It's not the best but it's also not the worst. Just whatever you do, don't buy pre-cooked shrimp. Raw shrimp will release much more flavour into the sauce than the pre-cooked and is usually has a better taste.
Garlic: I mean do you even have to ask? Don't even make this pasta if you don't have garlic! Are you crazy?!
Butter: I use unsalted because it's easier to control the amount of salt in the dish. Cutting the butter into cubes and keeping it cold will make an extra special, velvety smooth sauce for this pasta.
Lemon: Lemon is a star player in the dish and must not be forgotten. I'm using fresh lemon zest and juice which adds brightness and freshness to the dish. If you don't have lemon use lime or a splash of white wine may be used to deglaze the pasta instead.
Aleppo Chili: I'm so in love with this Turkish spice that I'm guilty of using it in almost all of my recipes. It's mild but carries big flavour. It also adds a gorgeously appetizing red hue to sauces which you won't get with regular chili flakes. If you can't find this one then use half as much red chili flakes or half as much paprika for a similar effect.
Herbs: There are a lot of herbs that will work with this dish. Just please, whatever you do, don't use dried herbs here! Fresh herbs are a must because they have a much better flavour. I'm using chives and parsley but you could also use tarragon, chervil or even basil in this dish.
Asparagus: This is totally optional, but I think it's nice to add a few veggies to this. If you don't have/like asparagus, you also try this pasta with small diced zucchini, red peppers, or peas.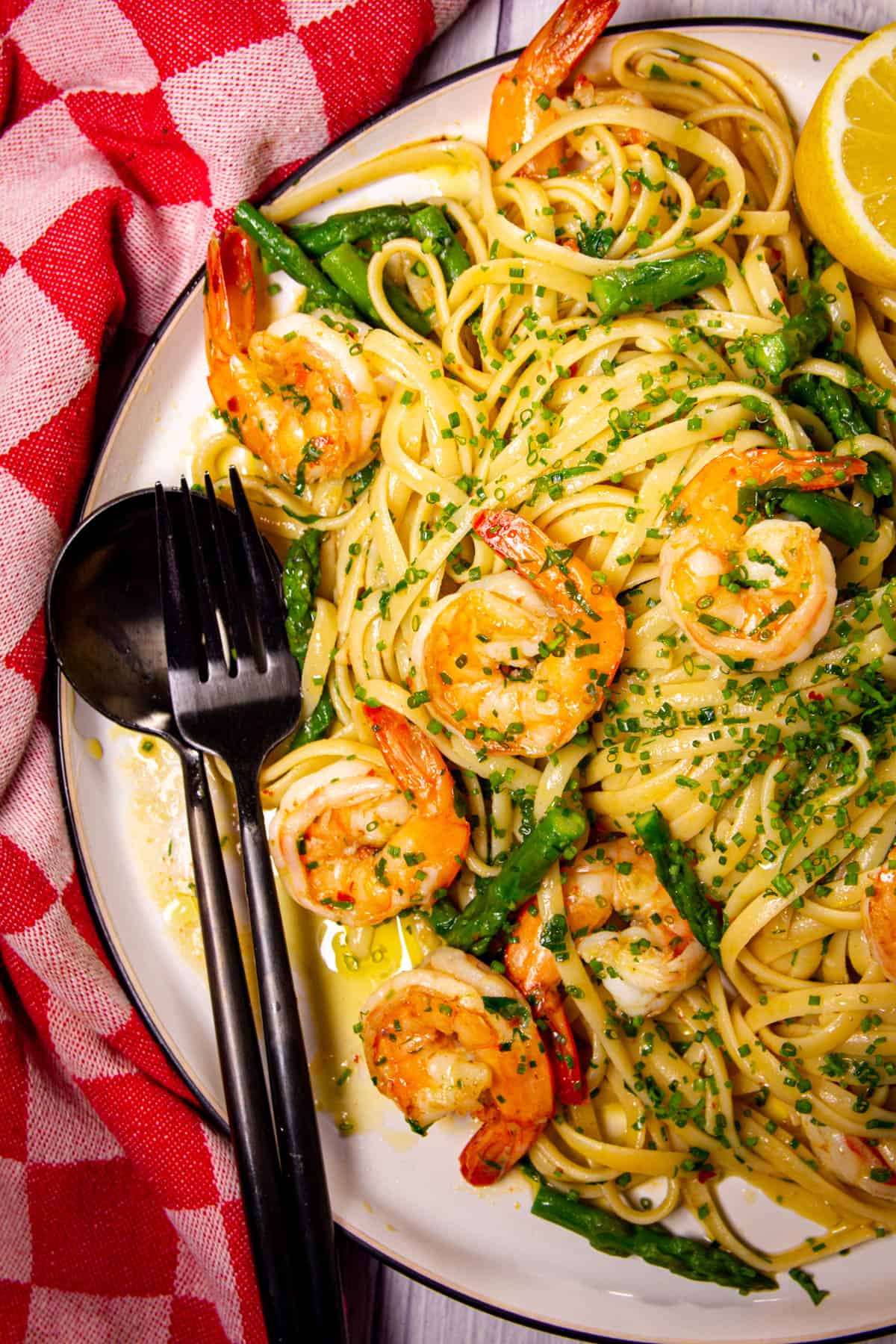 Tips for Cooking Shrimp
Here are a few tips for cooking shrimp:
Dry the shrimp well before cooking. Wet shrimp is more difficult to get a nice golden brown colour when.
Cook the shrimp over high heat. High heat will give the shrimp a nice colour before overcooking.
Don't overcook the shrimp. Overcooked shrimp will taste dry and rubbery. Cook them briefly and turn the heat off once their flesh begins to turn opaque and white.
How to De-Vein Shrimp
Sometimes shrimp comes de-veined but usually not. The "vein" of shrimp a.k.a the "poop tube" should be, for obvious reasons, discarded.
After peeling the shells, check the back side of the shrimp along the spine. Here you'll find a dark vein that should come off easily with the help of a pairing knife or a toothpick.
If no dark tube is found it's likely already de-veined and it's ready to cook.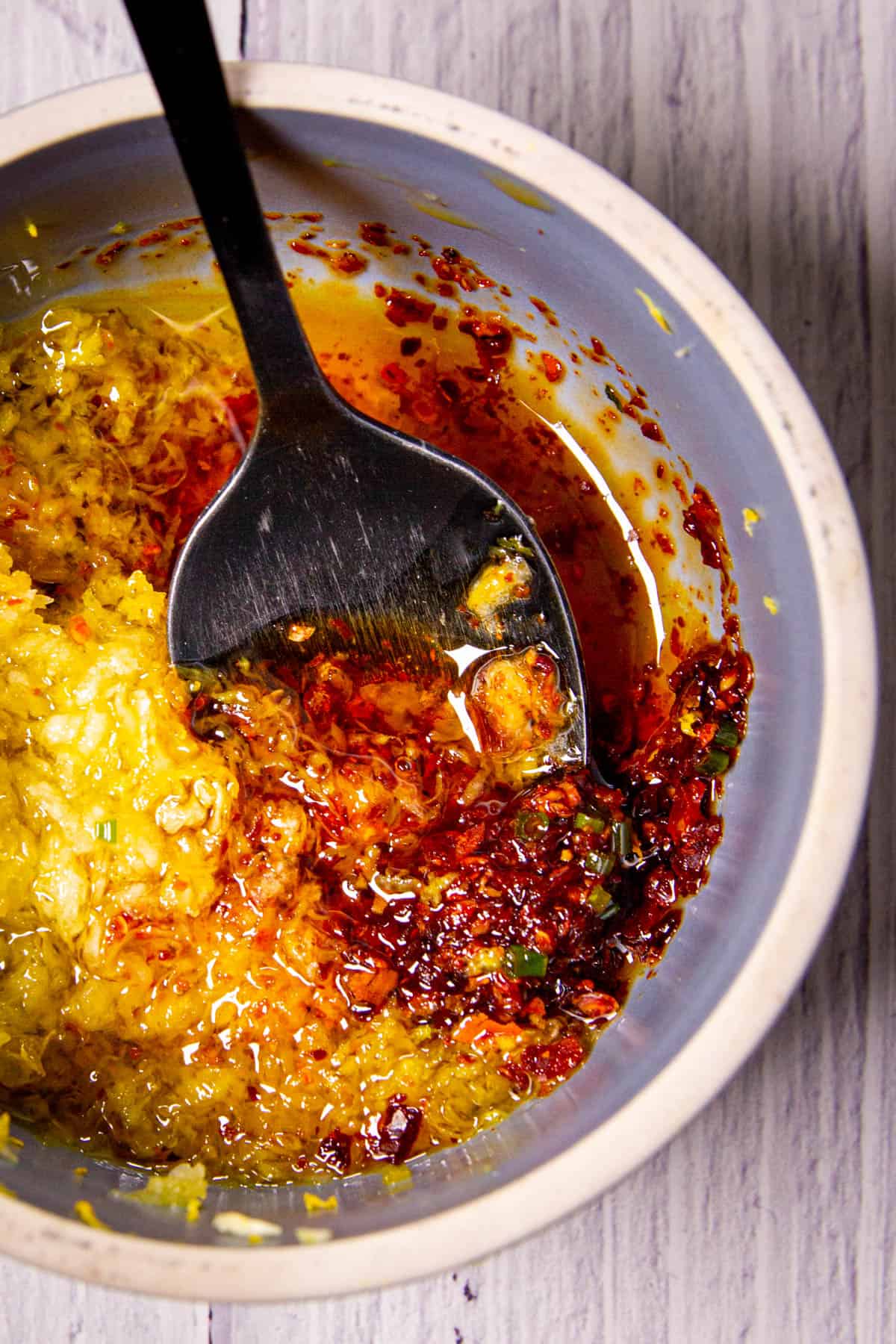 What's this "Flavour Bomb" You Speak of?
It's the not-so-secret ingredient that saves a bit of time and adds a burst of flavour.
All you need to do is rasp 1 lemon and 2 cloves of garlic into a small bowl. Mix it with some olive oil and some Aleppo chili flakes and that's it, you now have the power of a flavour bomb.
You can use all of the flavour bomb for this recipe or save some for later. Because it contains oil, it will last for up to a week, covered in the fridge.
Tips for Making the Perfect Garlic Butter Shrimp Pasta
I'm giving away all the secrets…
Finishing the pasta with cold cubed butter at the last moment of cooking will make a smooth and shiny pasta sauce.
Removing the pasta one minute early to finish it in the sauce will allow the flavour of the sauce to soak into the pasta.
Saving and using starchy pasta water is the key to making a creamy pasta sauce without actual cream.
The "flavour bomb" adds is fast and means you won't have to chop garlic. Just rasp everything into a bowl and go!
Cook the shrimp shells in the butter to release some extra shrimp flavour.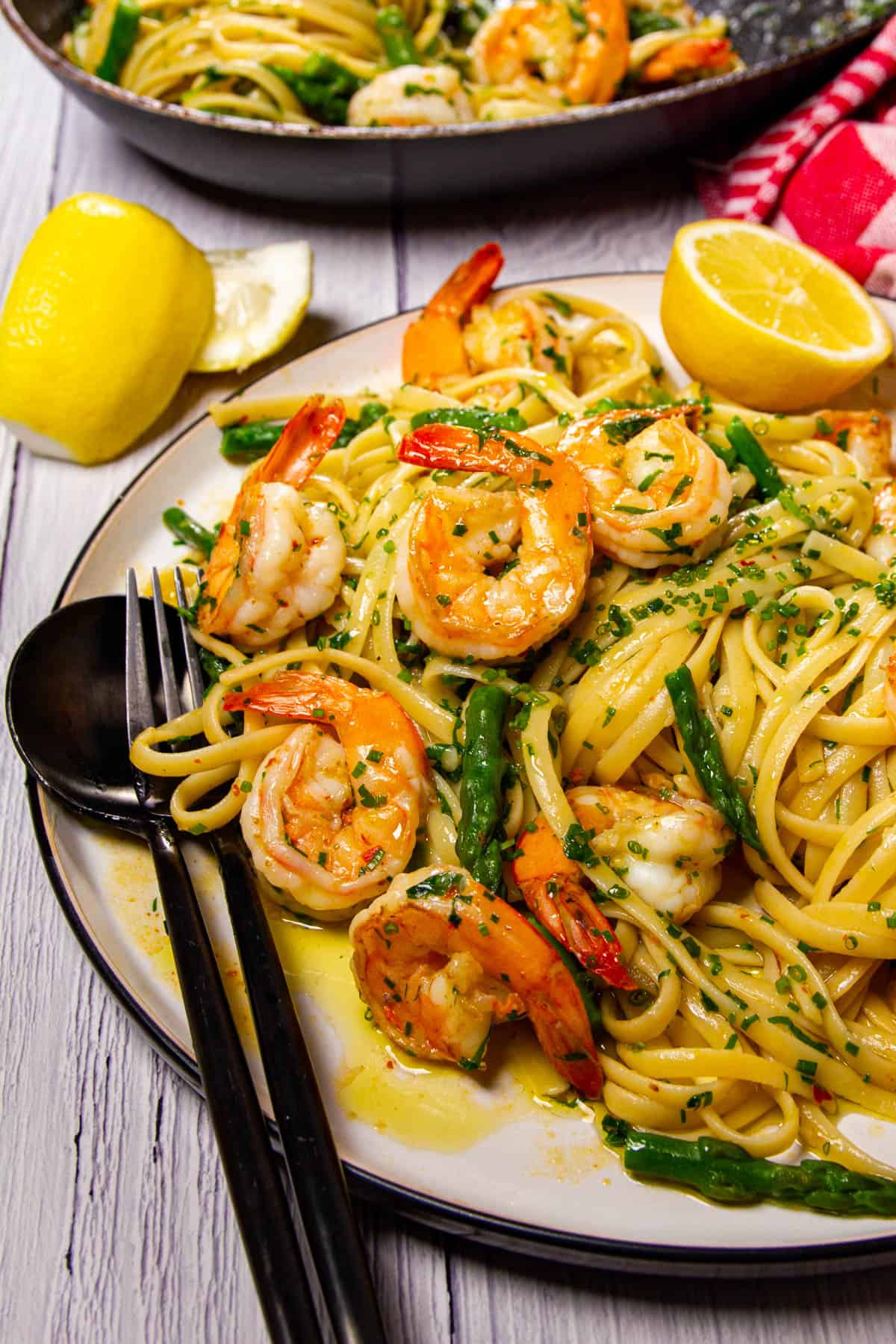 Try My Other Pasta Recipes
How to Make this Garlic Butter Shrimp Pasta
Here is the quick recipe summary on how to make this pasta:
Defrost, peel and de-vein the shrimp. Save the shells.
Blanch the asparagus quickly in boiling water and then remove with a spider strainer onto a plate with paper towel.
Cook your pasta in the same water.
Briefly cook the shrimp shells in half of the butter to release some extra shrimp flavour. Discard the shells after.
Cook the shrimp in the same butter for 3-4 minutes or until 90% cooked.
Add the "flavour bomb" and immediately turn off the heat and stir the pan vigorously to prevent it from burning.
Deglaze the pan with some pasta water and turn off the heat until the pasta is almost ready.
Finish the pasta with the herbs, lemon juice and cold cubed butter. Add extra pasta water as needed to make a creamy sauce.
Serve immediately with a little drizzle of extra virgin olive oil over top.
Enjoy!
Recipe FAQ
What sauce goes good with shrimp?
Butter and lemon is all you really need with shrimp. Cream can also work, but I prefer the lighter taste of butter and lemon.
Do you cook shrimp with butter or oil?
Both can work. Butter always works but because butter has a lower smoke point, it will burn faster than oil. In my recipe, I use a mixture of butter and olive oil which I think gives the best flavour.
Can you use cooked shrimp in pasta?
I wouldn't. Pre-cooked shrimp is better for cold appetizers or sides rather than pasta. When you use pre-cooked shrimp, a lot of the flavour has already been cooked out and you'll end up with a very bland pasta sauce.
Quick and Easy Garlic Butter Shrimp Pasta
This classic garlic butter shrimp pasta is quick, easy to make and SO GOOD! On the table in less than 20 minutes.
Equipment
Wooden spoon

cutting board
Ingredients
½

lb

dried linguine, fettuccine or spaghetti

(220g dried pasta)

¾

lb

large shrimp, shell on

(300g)

½

lb

asparagus, trimmed and peeled

(200g)

4

tbsp

cold cubed butter, unsalted

(60g butter)

½

pc

lemon, juiced

½

bunch

flat-leaf parsley

½

bunch

chives

1

tsp

sea salt
For the Flavour Bomb
1

tbsp

olive oil

1

pc

lemon, zested

1

tsp

Aleppo chili

(or ½ tsp red chili flakes)

2

cloves

garlic
Instructions
Bring a large pot of boiling water to a boil and salt it like the sea.

Have all of your ingredients ready before you start cooking.

Defrost the shrimp (if needed), then remove the shells and de-vein the shrimp.

Keep the shells in a separate bowl.

Peel the asparagus and cut the asparagus into thirds.

Chop the herbs finely.

Next, rasp the garlic and lemon zest into a small bowl. Add the chili, olive oil and mix together.

Once the water is boiling, add the asparagus and cook for 1-2 minutes.

Using a spider strainer, scoop out the asparagus and dry on a paper towel.

Next, drop your pasta in the same water and cook according to pasta instructions.

Meanwhile, in a large saute pan, heat half the butter over medium-low heat and then add the shrimp shells. Cook for 1-2 minutes to release the flavour of the shells into the butter.

After that, discard the shells but keep the butter in the pan.

Bring the pan back to medium heat and add more butter if needed. Once the butter is hot, add the shrimp and cook for 3-4 minutes or until about 90% cooked.

Now turn off the heat of the pan and add all of the "flavour bomb" to the shrimp and stir vigorously to prevent the garlic from burning. Immediately deglaze the pan with a ladle of the starchy pasta water.

Turn off the heat until the pasta is ready.

Once the pasta is about 1 minute away from being ready, lift it into the pan with the shrimp. Add the rest of the ingredients, and toss well to release the starch into the sauce.

Turn the heat back on and cook for 1 minute more to bring the flavour of the sauce into the pasta. Use more pasta water if necessary to keep the pasta saucy.

Serve on two plates, garnish with a little olive oil and serve with fresh lemon wedges on the side.

Enjoy!
Notes
A

½ lb of pasta makes two big portions plus a little extra for later. 
Nutrition
Calories:
840
kcal
|
Carbohydrates:
93
g
|
Protein:
41
g
|
Fat:
34
g
|
Saturated Fat:
16
g
|
Polyunsaturated Fat:
3
g
|
Monounsaturated Fat:
11
g
|
Trans Fat:
1
g
|
Cholesterol:
275
mg
|
Sodium:
2340
mg
|
Potassium:
796
mg
|
Fiber:
7
g
|
Sugar:
5
g
|
Vitamin A:
3404
IU
|
Vitamin C:
28
mg
|
Calcium:
180
mg
|
Iron:
5
mg
Caesar Salad – The King of Salads
Still to this day my favourite salad. A rich, creamy dressing made with fresh egg yolks and loaded with umami flavour from the anchovies, sharp parmigiano cheese and fresh garlic. Finished with loads of cracked black pepper and fresh lemon. It's the king for good reason.
Check out this recipe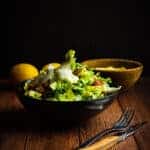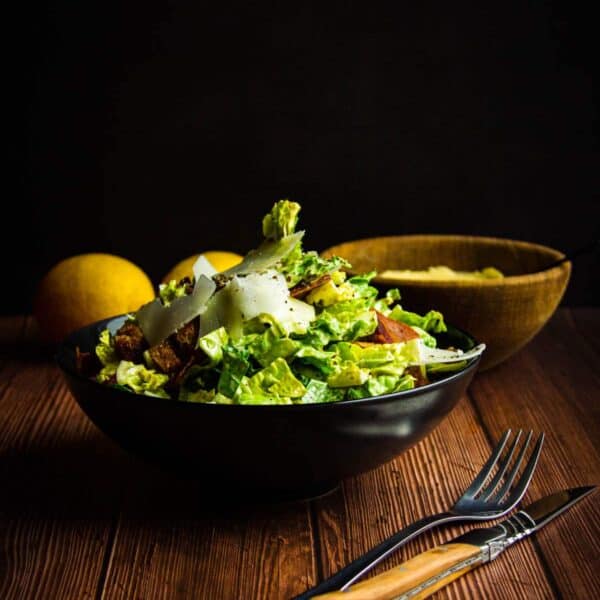 Easy Pull Apart Milk Buns
Super soft and fluffy milk buns that can be made in one day. These buns are amazing hot out of the oven with a little butter and crunchy sea salt.
Check out this recipe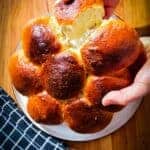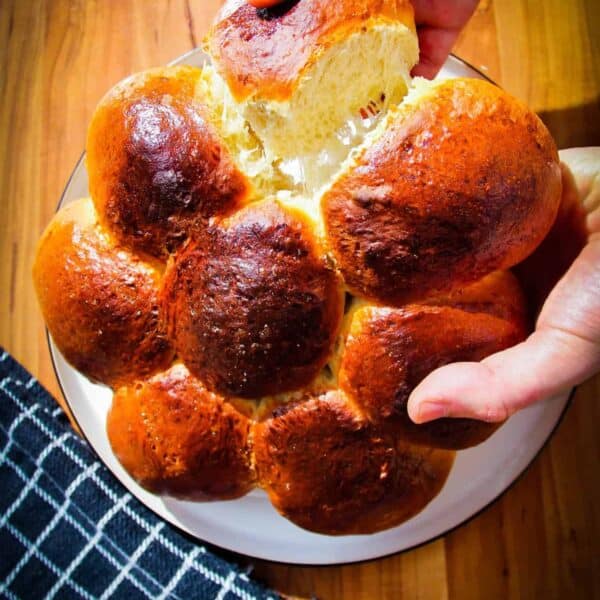 Sauteed Asparagus WIth Citrus Mayonnaise
This tasty sauteed green asparagus with citrus mayonnaise is ready in less than 20 minutes. Gluten free and vegetarian.
Check out this recipe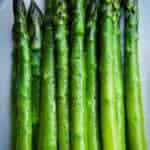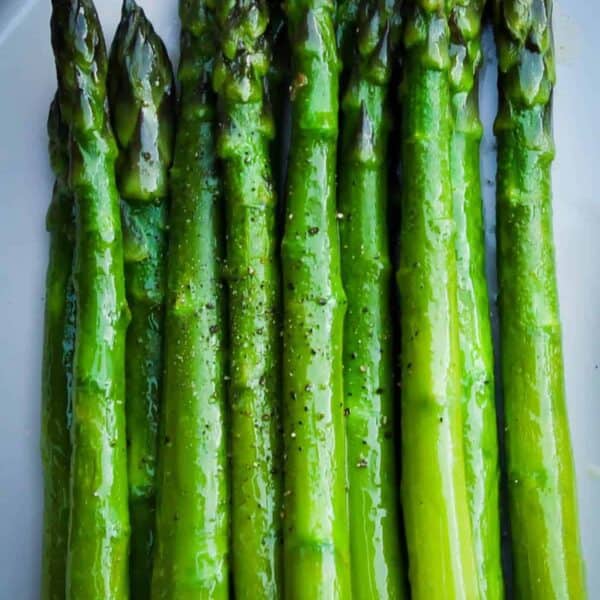 A Healthy Rocket Salad with Blistered Cherry Tomatoes and a Roasted Sunflower Dressing
An easy rocket salad with blistered cherry tomatoes, Parmigiano Reggiano cheese, croutons and a roasted sunflower dressing.
Check out this recipe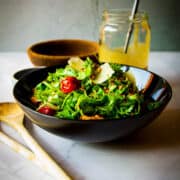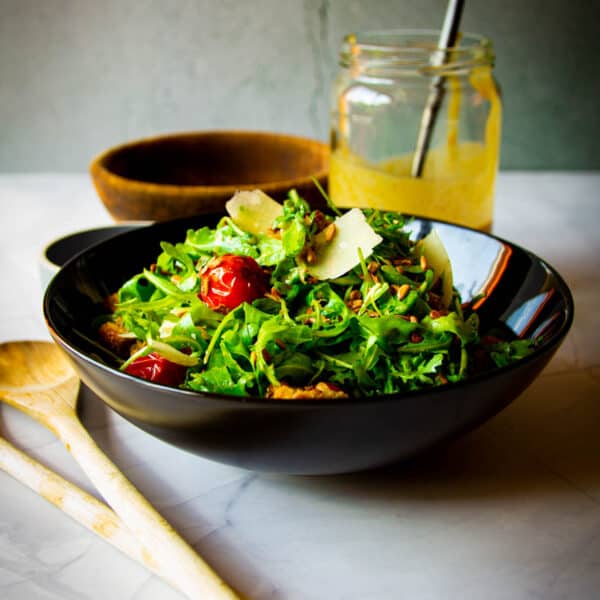 Sautéed Broccolette with Garlic, Lemon and Aleppo Chili
A quick and tasty method for broccolette, broccolini or baby broccoli. Quickly blanched and sautéed with garlic, lemon and an Aleppo chili infused oil. Vegan, keto, and gluten-free.
Check out this recipe