You've probably seen a lot of recipes for keto pasta using some form of cheese and almond flour combination.
And while I applaud the creativity of these recipes, they're still a long shot from the real thing.
That's why I couldn't be more excited to share with you this ridiculously easy, two-ingredient keto pasta that actually tastes and cooks like the real thing!
The secret ingredient? King Arthur's Keto Flour.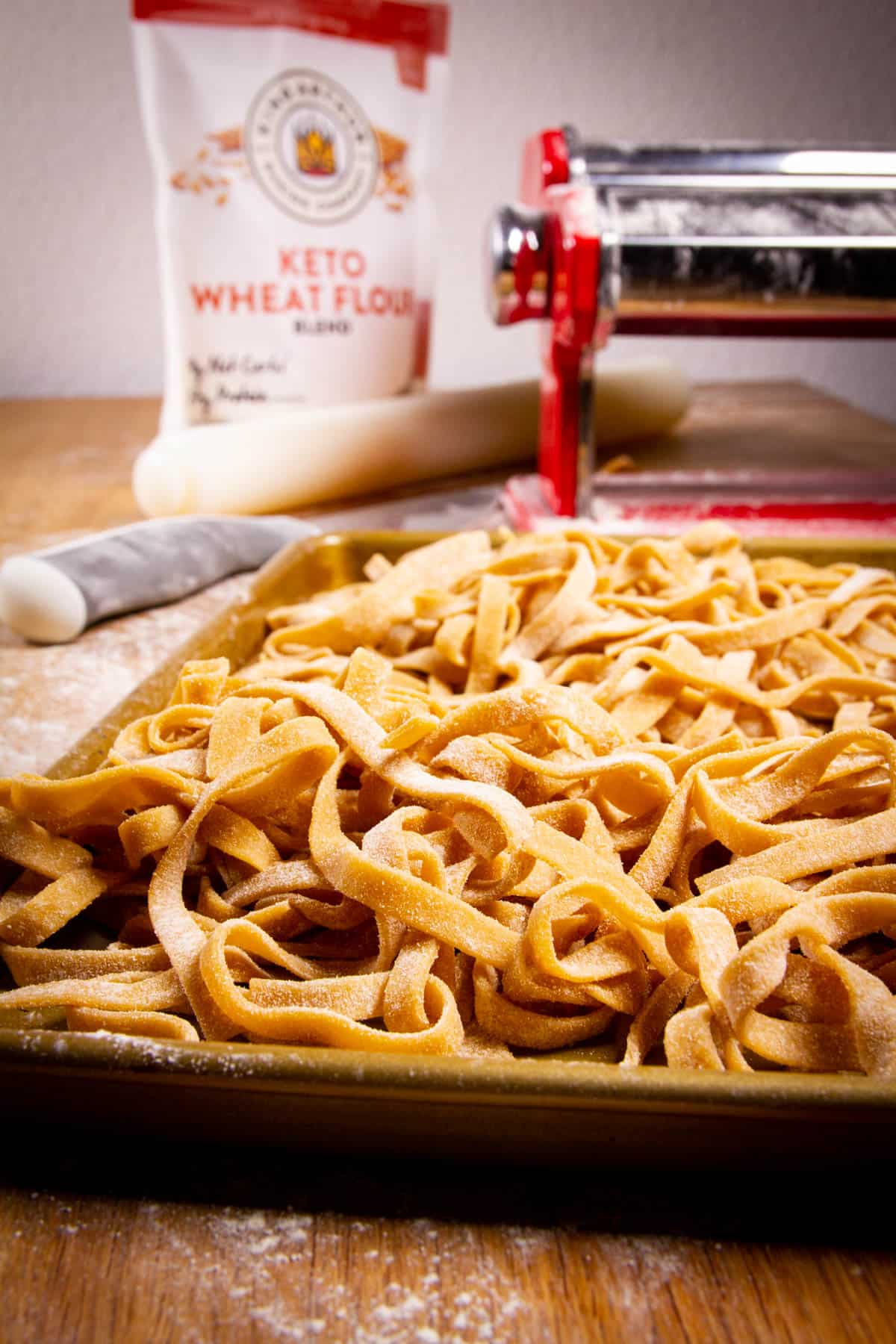 Keto Disclaimer: I'm a chef who loves helping people with keto diets make delicious things (my mum is keto, hi mum!) but I'm no medical professional. Always consult a health care professional before making dietary changes or using my recipes.
The Easiest Keto Pasta
The best thing about this recipe is that if you've made regular pasta before, you already know how to make this.
Just two ingredients: whole eggs and King Arthur's Keto Flour.
That's it!
It's worth noting that you'll want to rest the dough for as long as possible, as this keto flour contains extra gluten. Rest it for at least an hour but overnight is best otherwise, the dough will spring back too quickly and be hard to roll.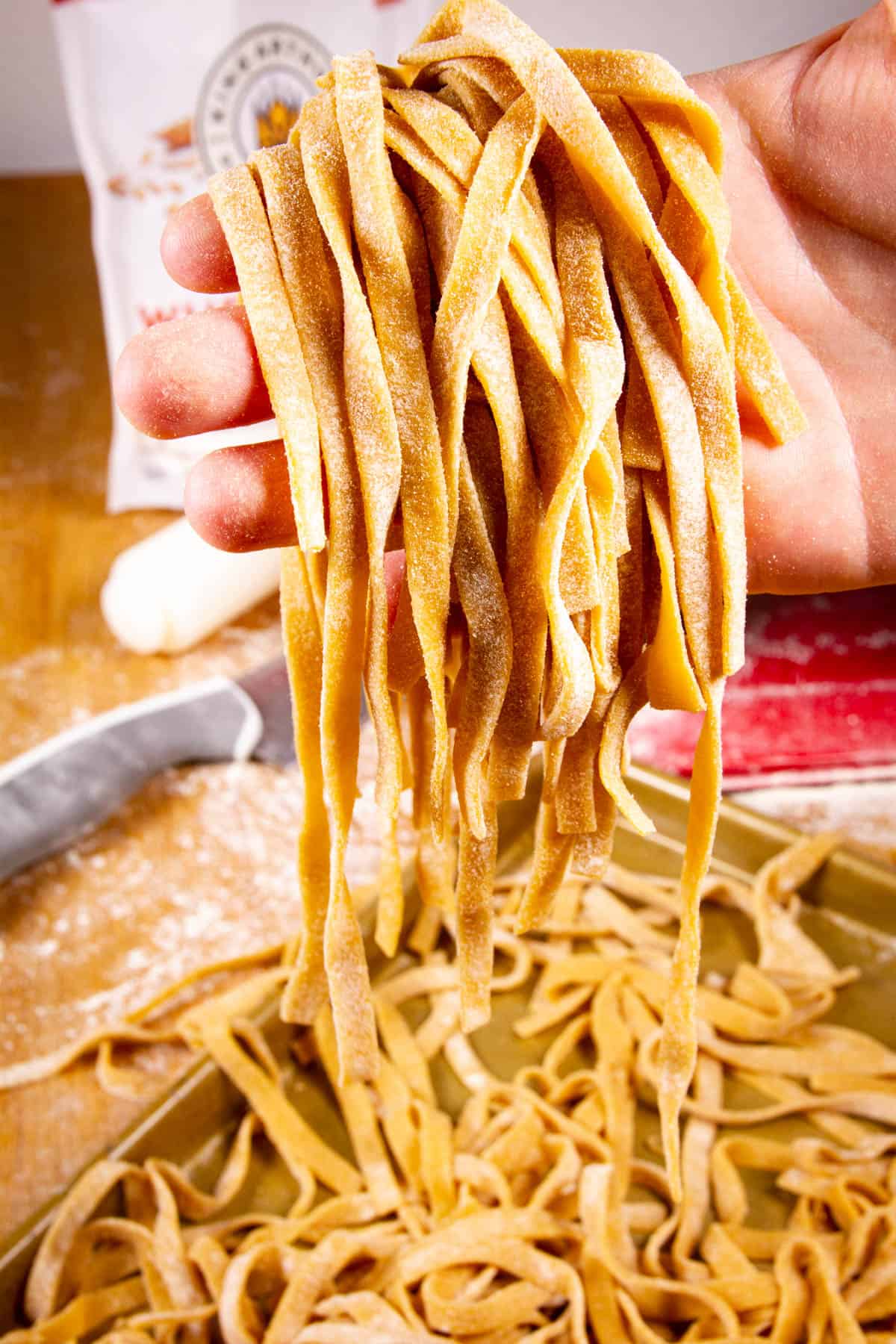 What Makes this a Keto Pasta?
This flour contains 4g of carbs per serving and a serving is 30g (1/4 cup).
My recipe uses roughly 2 US cups of flour (237g) which is about 8 servings and 32g of carbs for the entire dough.
My recipe yields about 3-4 servings of pasta (for some very hungry, pasta-deprived keto eaters). If the dough is split into three portions it weighs 127g, and if it's split into 4 portions it weighs 95g.
That means that if you divide this recipe into 4 servings, one pasta portion will have 8g of carbs, and if you divide it into 3 portions it will have 10.6g of carbs.
Just for reference, regular uncooked pasta contains 54g net carbs per 100g. [1] If this recipe was made with regular flour it would contain about 126g of carbs. By these calculations, three portions of regular pasta would contain 42 g of carbs and 4 portions would contain 31.5g of carbs.
So it's not perfect, but it's definitely a huge reduction in carbs for something that tastes just like the real thing!
Why this Keto Pasta Is Better than the Rest
Because of the extra gluten strength in this flour, the pasta noodles keep a delicious chewy bite unlike other keto noodles made with cheese.
I also love how this pasta dough works just like regular wheat pasta. If you've been a successful keto warrior for some time and deprived of real pasta, then I promise this is the next best thing!
Plus, if you're on a dairy-free or nut-free diet then this is perfect for you.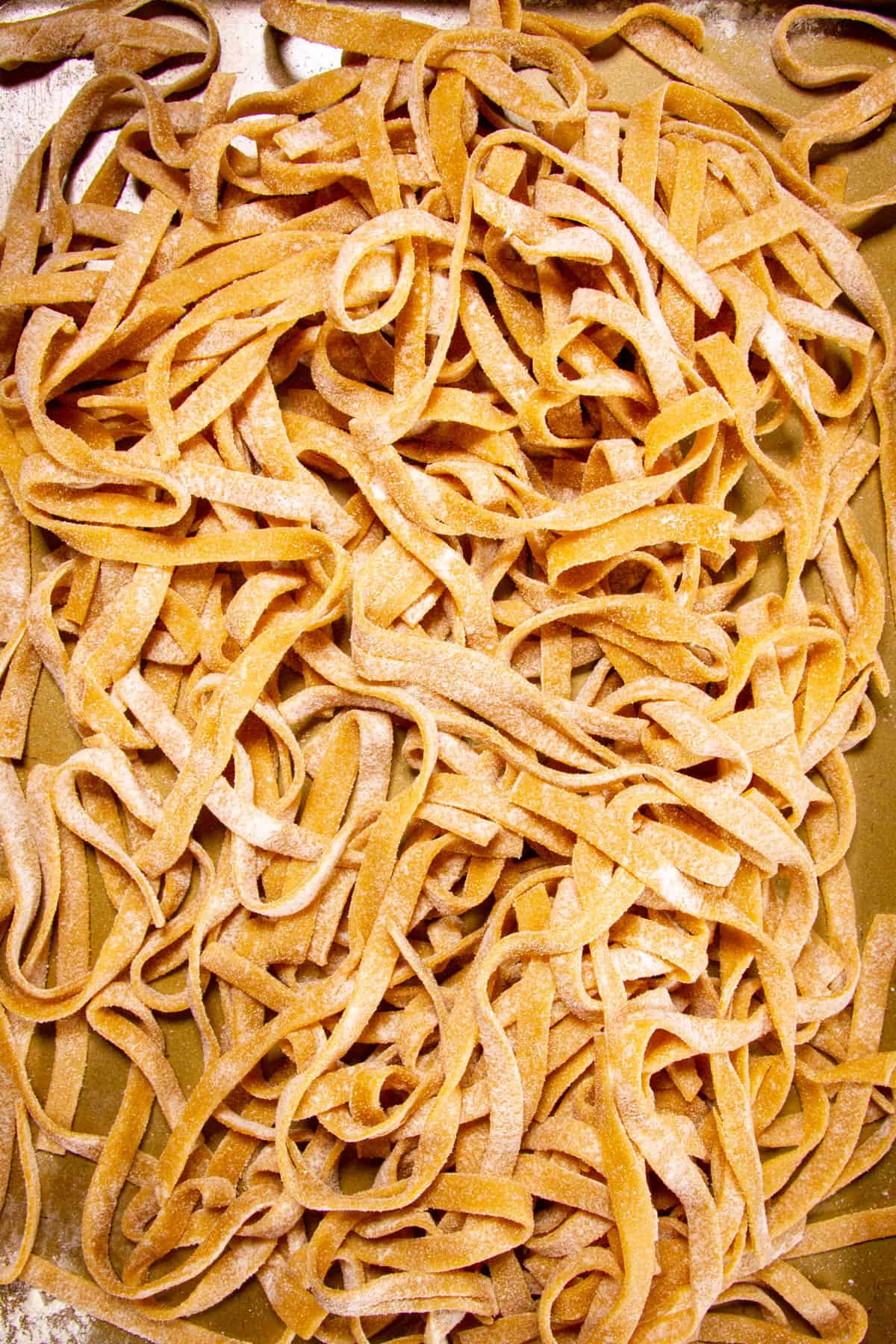 Keto Pasta Key Ingredients
As mentioned above there are only two ingredients and this recipe doesn't require any nut flours, mozzarella cheese, binders or emulsifiers to make this.
The two ingredients are:
Whole eggs: Because this keto flour soaks up more liquid, this dough contains one more egg than regular pasta dough.
Use good quality, large eggs with a bright orange yolk for the best colour in your dough. If you don't have large eggs, I've provided the exact weight in grams so you can also use smaller eggs.
King Arthur Flour: The star of the show here and unfortunately cannot be substituted. It's the same flour and key ingredient I used to make this Keto Sticky Toffee Pudding. I tested a few keto flours including coconut and almond flour but none worked as well as this.
If you find a better option, feel free to let us know in the comments!
How to Make a Low-Carb Pasta Dough
This recipe is made just like regular pasta, except that the keto pasta dough won't need to be laminated as much as regular pasta. This is because the lack of starch in this flour makes an extra-strong dough which is ideal for pasta noodles.
To make this keto pasta:
Weigh the flour in a bowl, and use another bowl to make a hole in the middle.
Add the eggs into the hole.
Slowly bring the flour into the center of the eggs using a fork until you have a shaggy mess.
Empty the bowl onto a stable work surface and begin kneading with your hands.
Once a smooth dough is formed, wrap it with plastic wrap and let sit out at room temperature for 1 hour. If using it the next day, put it in the fridge.
Roll the dough using a pasta machine just like regular pasta except you only need to fold it once instead of three times.
Cut the pasta sheets into your desired shape.
Your pasta is ready! You can cook it now or freeze it for another day.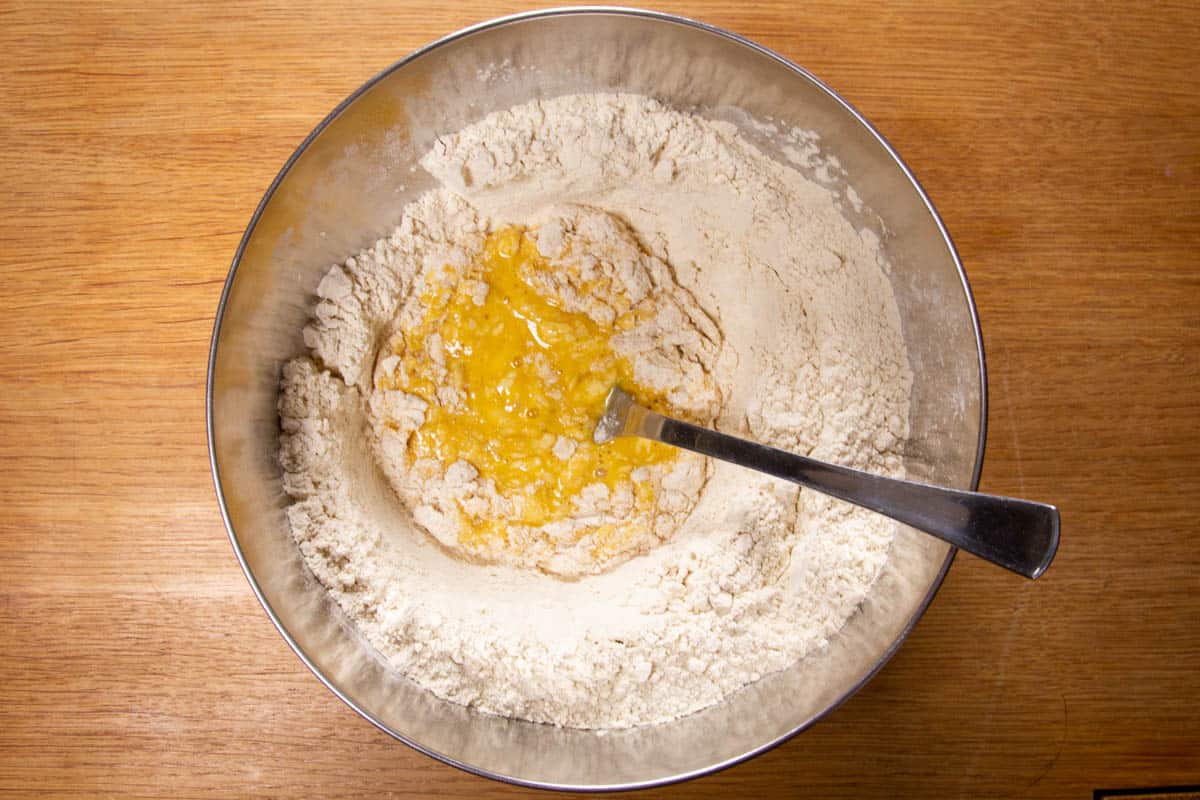 Tips to Nail this Recipe
The dough will seem quite dry, but this is normal. Just keep working the dough as the flour soaks up the eggs a lot slower than regular pasta. If you can't get a smooth dough after mixing for a while, then wet your hand with some water and continue mixing.
Letting the dough rest overnight in the fridge will make it a lot easier to roll out but 1 hour at room temperature is still possible.
How to Cook This Keto Pasta
Cook it just like regular pasta and drop it into a big pot of boiling salted water.
Then add the cooked pasta to your favourite keto sauce.
Keto Pasta Recipe FAQ
What's the Best Way to Store this Pasta?
Just like regular pasta, it needs to be kept dry otherwise, it will stick together. Cook whatever pasta you wish to eat immediately and freeze the rest in sealed containers.

It's a good idea to freeze the pasta in individual portions so that you can easily take what you need from the freezer.
Do I Need to Defrost the Frozen Pasta from the Freezer?
Nope, you can drop the frozen pasta directly in boiling water. Just give it a good stir!
What Other Shapes Can I Make with this Pasta?
The possibilities are endless, although I haven't experimented with stuffed pasta which may be quite difficult to pull off. This is because the pasta dough is extra strong and it'll be much more difficult to stretch thin without breaking.
More Keto Recipes
Here are a few more keto recipes to try:
Two Ingredient Keto Pasta (Just Like the Real Thing!)
Just when you thought you'd never have pasta again…introducing the next best thing: my ultimate keto pasta! Dairy-free, nut-free and not far from the real thing.
Equipment
Rolling Pin

Fork

stable work surface for rolling pasta
Ingredients
237

g

King Arthur Keto Baking Flour, plus a little extra for rolling

(2 cups/450ml)

3

whole

large eggs

room temp is ideal
Instructions
Measure out the flour and add to a medium sized mixing bowl. Make a well in the center with your hands or using another small bowl.

Add the eggs into the center.

Using a fork, begin by mixing the eggs and bringing little bits of flour into the center until a shaggy dough is formed.

Once a shaggy dough is formed, pour it out onto the table and begin kneading with your hands. You won't need to knead the dough to develop the gluten, you just need it to come together.

Resist the urge to add extra water until the very end. If you can't bring it together, wet your hands and continue mixing until a smooth dough has formed.

Wrap with plastic wrap and let rest for at least 1 hour at room temperature or overnight in the fridge.

When you're ready to roll, set up the pasta machine firmly to the table and sprinkle the machine with a dusting of keto flour.

Sprinkle the dough with a little keto flour and begin rolling it flat and long with the rolling pin.

Once the dough is thin enough to fit in the pasta machine add it through, starting with the largest number.

Continue feeding the dough into the machine until you've gone down about 3-4 numbers.

Fold the pasta in 3 and set the machine back to the largest number. Flour the pasta and continue running it through until you reach a size thin enough for pasta.

Cut the pasta into long sheets and flour well.

Run the pasta sheets through a cutter or cut them by hand into your desired shape.

Enjoy like normal pasta!
Notes
Alternatively, you could pulse the flour and eggs together in a food processor until a shaggy dough is formed and then finish it with your hands.
You may want to lightly flour the pasta each time you put it through the pasta machine to prevent it from sticking.
The Best Keto Sticky Toffee Pudding
After many trials and tests, I've found a recipe for a keto sticky toffee pudding that is certainly worth writing down.
Check out this recipe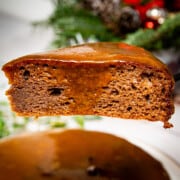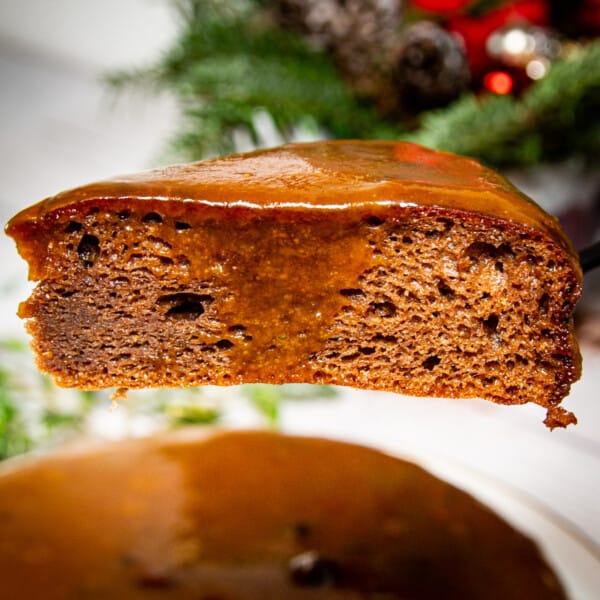 Ultra Comforting Keto Eggplant Parmesan – Melanzane alla Parmigiana
My ultimate recipe for a Melanzane alla Parmigiana a.k.a – a keto eggplant parm. This recipe doesn't use onions, breadcrumbs or flour making it suitable for keto, vegetarian and gluten-free diets.
Check out this recipe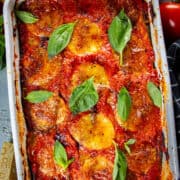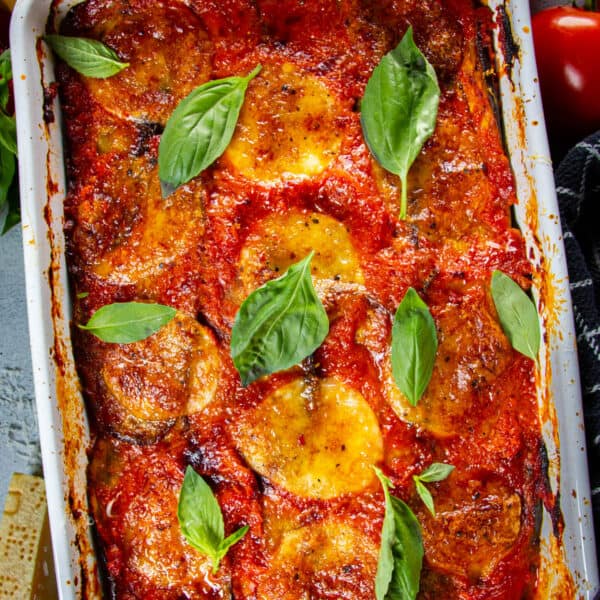 Sautéed Broccolette with Garlic, Lemon and Aleppo Chili
A quick and tasty method for broccolette, broccolini or baby broccoli. Quickly blanched and sautéed with garlic, lemon and an Aleppo chili infused oil. Vegan, keto, and gluten-free.
Check out this recipe