Mutabal is, in my opinion, one of the best vegetable-based dips to come out of the Middle East.
I'd even go as far as to say that it's better than hummus (and I LOVE hummus!).
This delicious eggplant dip is rich, creamy, garlicky, pleasantly smokey and peppered with plenty of fresh mint, good olive oil and crunchy pomegranates.
I discovered this delicious eggplant-based dip while working with Afghan Chef Farid Zamani here in the Netherlands. And luckily, I've been fortunate enough to learn the secrets to making an authentic mutabal.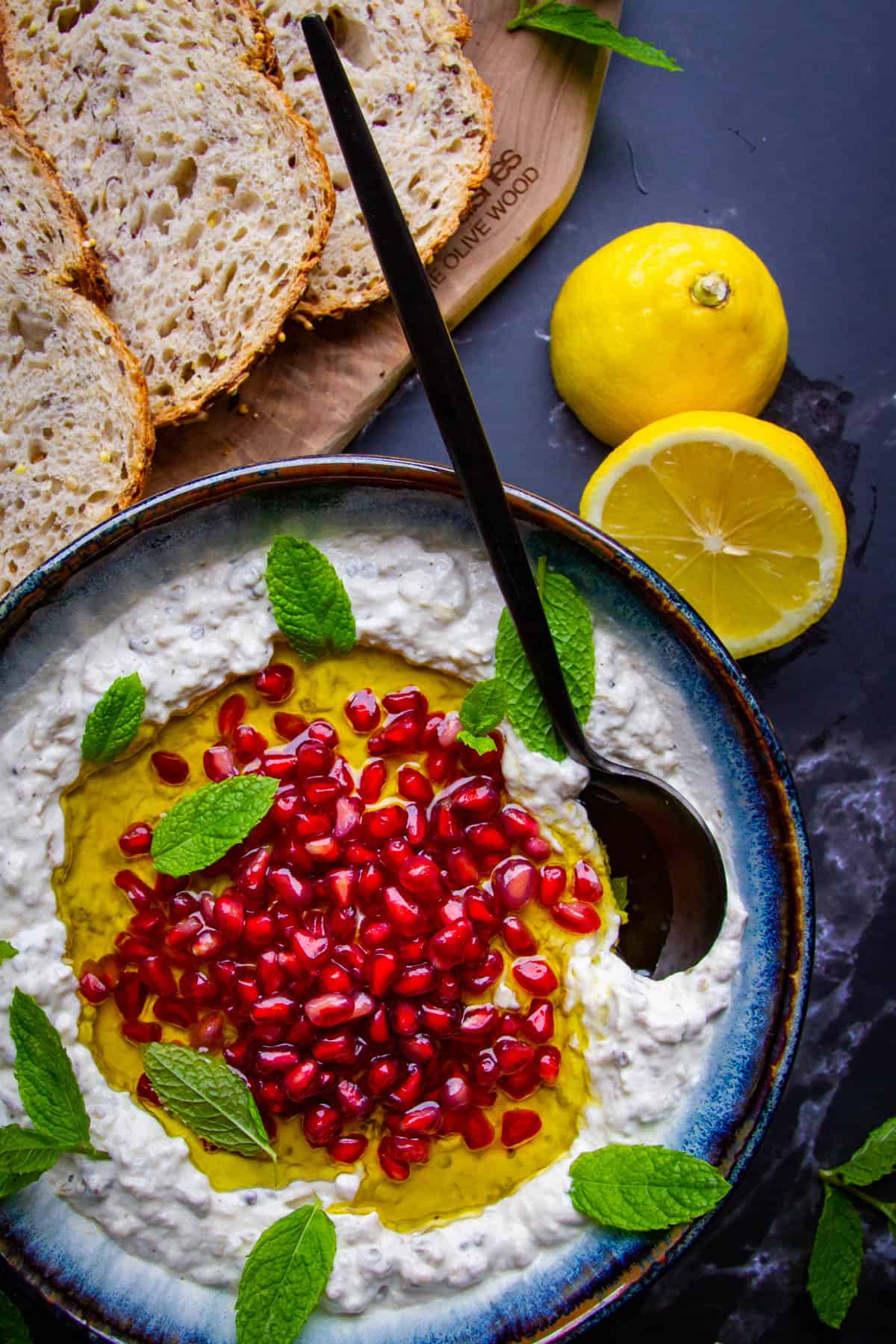 What is Mutabal?
This Middle Eastern dip is made of cooked eggplant, tahini, garlic, lemon and thick yogurt. Although there are many ways to prepare this dish and the ingredients vary depending on which region it's made.
It's served cold or room temperature, garnished with fresh pomegranates, mint, a good drizzle of olive oil and best tackled with fresh pita.
Some mutabal recipes call for low-fat Greek yogurt for a light and refreshing dip while others call for higher-fat yogurt.
Personally, I prefer the higher fat 10% Turkish yogurt that makes this dish ultra-rich and creamy.
What to Eat with Mutabal?
It's commonly scooped up with warm Lebanese bread (pita bread) and shared at the table as an appetizer.
You can also serve mutabal alongside other dips like hummus, and muhammara or with this courgette dip as "Meze". Meza is a Mediterranean term for a selection of appetizers that you eat before a meal or with some drinks.
It's a nice idea for the beginning of a dinner party or for a light summer dinner when the weather is too hot to eat big meals.
Here are a few ideas for what to serve as Meze:
Hummus
Muhammara
Babaganoush
Labneh
Calamari
Marinated Olives
Hot saganaki cheese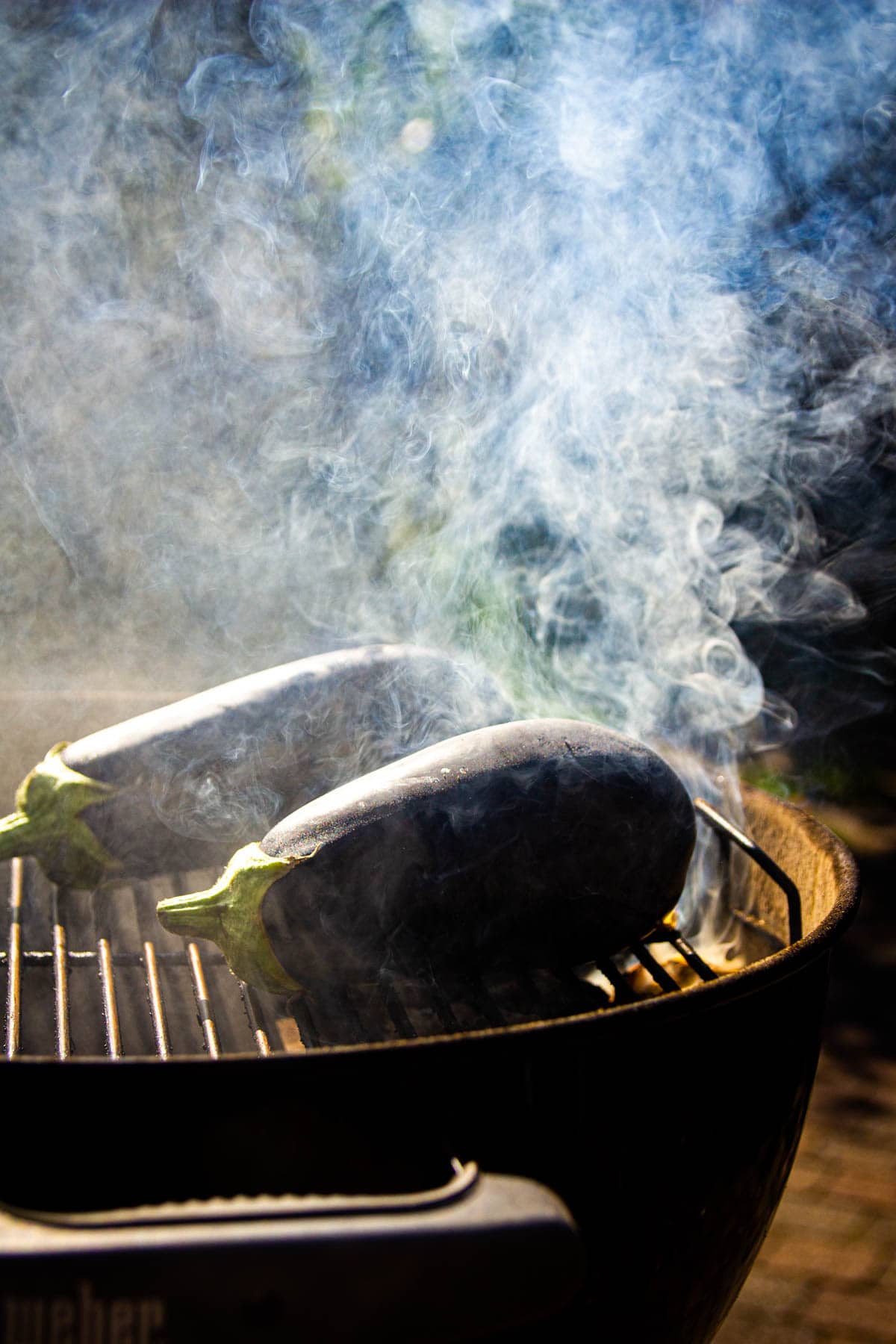 Mutabal is Better with Charcoal
I've adapted this recipe for use with an oven but it's much better if you smoke the eggplants over a charcoal fire. Even better if you throw in a few woodchips for an extra smokey flavour.
To smoke the eggplants, get a charcoal grill fairly hot and add 1 wood chip or a handful of smoking chips to the hot coals. Then, roast the eggplants over high heat until the skins are blackened but the inside is completely soft. Continue the same steps in the recipe below after step #2.
Still, even if you can't get to a charcoal grill, no worries. It's still super delicious when roasted in the oven.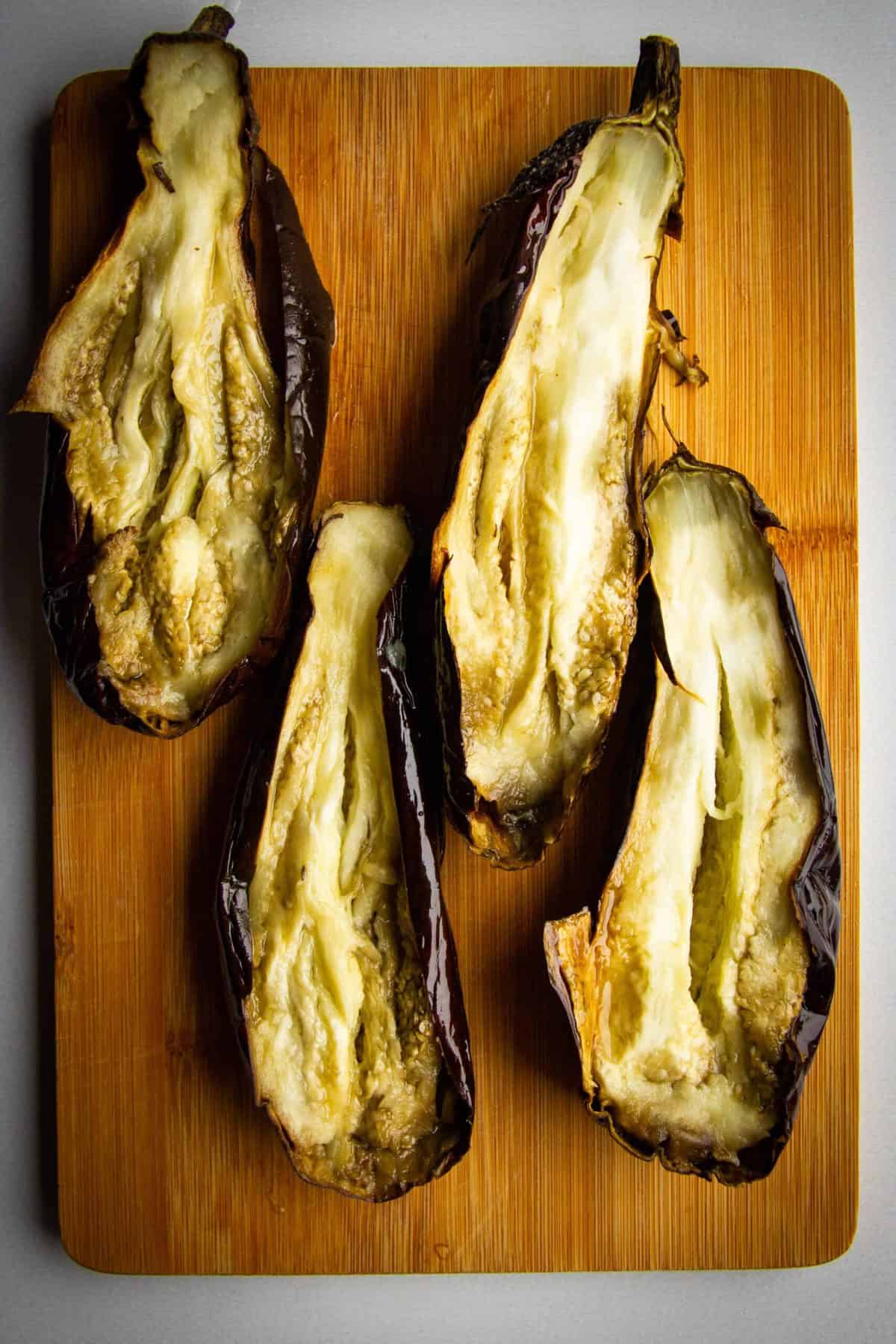 Choose the Right Yoghurt
What makes this dip extra creamy is the high-fat (10%) yogurt.
But as mentioned above, you can also make this recipe with a light Greek-Style yogurt. Just be sure to pick a yogurt that is thick as thin yogurts will make a watery dip.
It's also important to think about what you will be serving this dish with. For example, a high-fat, creamy yogurt will make a heavier mutabal that's better served on its own or with lighter main courses such as grilled fish.
A lighter yogurt makes a lighter, fresher mutabal which is better for heavier main courses such as pasta or braised meat dishes.
But if you're not sure, it always tastes better with the extra creamy, Turkish Yogurt.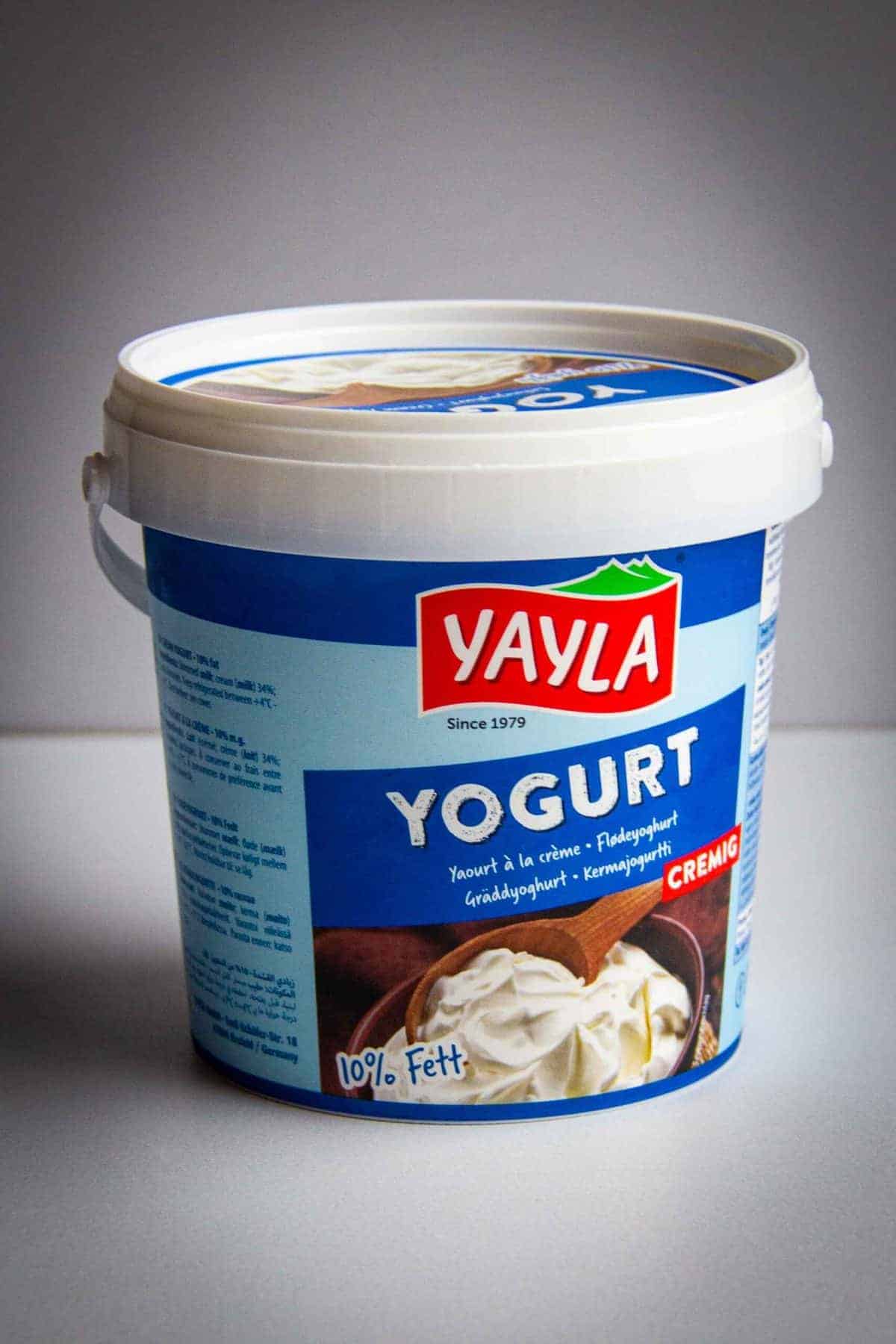 What's the difference Between Mutabal and Baba Ganoush?
You may have noticed that baba ganoush also contains roasted eggplant just like mutabal. So what's the difference?
The main difference is that mutabal contains yogurt and baba ganoush doesn't. Baba ganoush is typically vegan but because there are so many variations it's difficult to really nail it down into one category.
How to Make an Awesome Mutabal
Here is the quick recipe summary on how to make mutabal:
Roast, smoke or grill the eggplants until the skin is black and the flesh is completely soft.
Put the eggplants in a bowl and cover them with a lid or plastic wrap to steam (this will make it easier to peel the skins).
Scoop out the flesh and discard the skins of the eggplants.
Chop or break up the flesh with a metal spoon.
Add the tahina, garlic, lemon juice, yogurt, salt and pepper. Mix well.
Garnish with olive oil, fresh pomegranates and mint.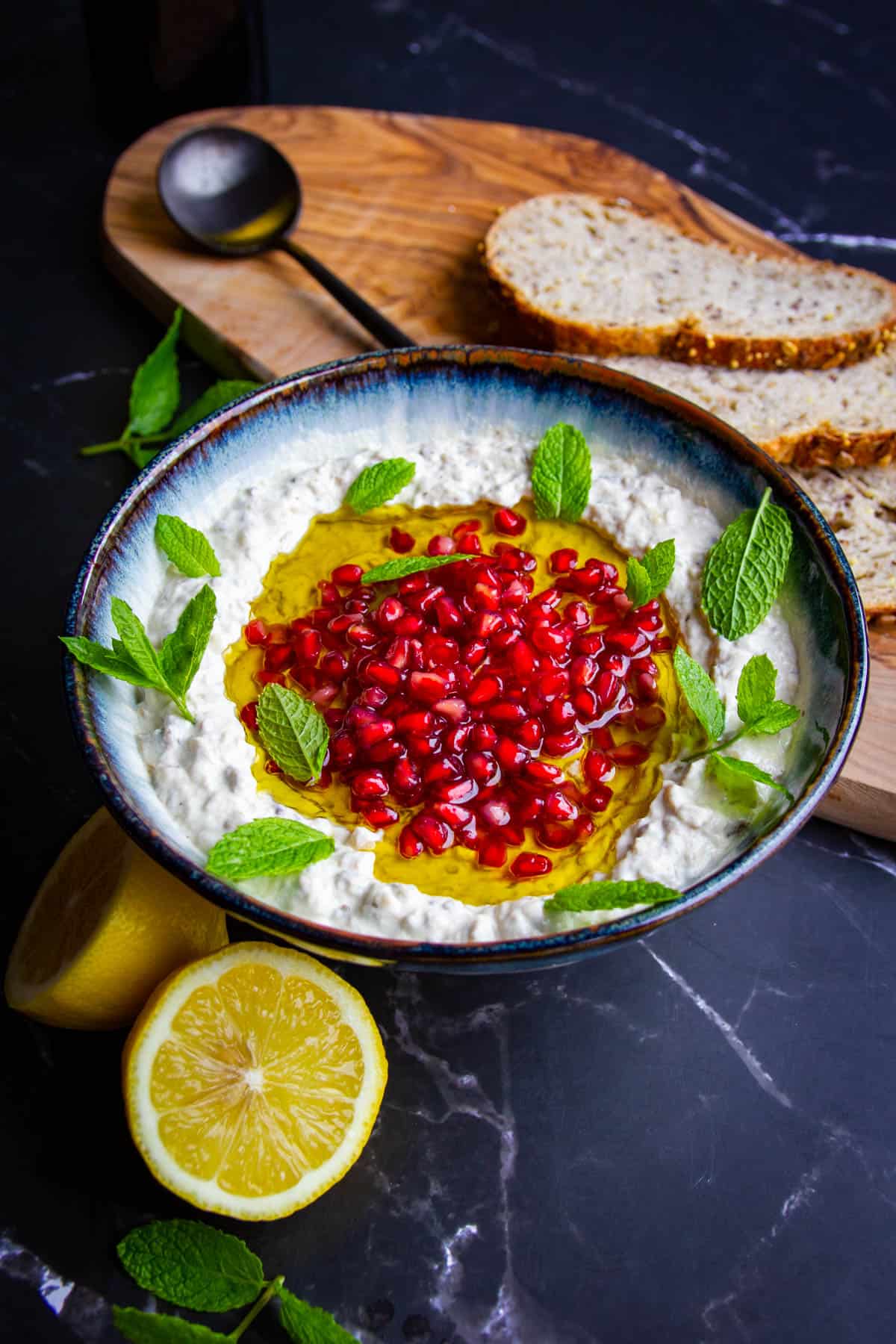 How Long Does Mutabal Last?
This dip will last up to 5 days in the fridge and should be kept cold at all times.
After each day the yogurt will weep extra water into the dip and can become watery. Simply discard this excess water by pouring it off or scooping it off with a spoon.
Store the mutabal in a sealed container in the fridge without the mint, pomegranates and olive oil to preserve the bright colour of the dip.
Mutabal – A Creamy Eggplant Dip with Fresh Pomegranates and Mint
This delicious mutabal dip is rich, creamy, garlicky, pleasantly smokey and peppered with plenty of fresh mint, good olive oil and crunchy pomegranates. Serve with lots of warm pita bread.
Ingredients
260

g

roasted eggplant

(about 2 eggplants)

300

g

yogurt

10% fat

70

g

tahini

3.5

g

garlic

(1 clove of garlic)

½

pc

lemon, juiced

4

g

vegetable oil

(about 1 tsp)

sea salt

black pepper, cracked
For Garnish
1

tbsp

pomegranate seeds

1

sprig

mint leaves

1

glug

extra virgin olive oil

the absolute best you can find
Instructions
Set the oven to 220°C/ 435°F. Place the eggplants on a lined baking tray. Poke holes into the eggplants with a knife and brush with a thin layer of vegetable oil. Pop in the oven for 35 minutes or until flesh is completely soft.

Remove the eggplants from the oven and cover tightly with plastic wrap to steam. Let them cool for about 20 minutes or until it's cool enough to handle.

When the eggplants are cooled, cut them in half lengthwise and remove the flesh with a spoon. Remove all the burnt skin and discard. Chop the eggplant roughly on the cutting board.

Microplane the garlic, juice the lemon, add the tahini, yogurt and mix. Add enough salt to your liking.

Scoop the mutabal into a serving bowl and garnish with fresh pomegranate seeds, mint and a good glug of olive oil.

Enjoy with bread or pita!
Nutrition
Calories:
181
kcal
|
Carbohydrates:
12
g
|
Protein:
6
g
|
Fat:
13
g
|
Saturated Fat:
4
g
|
Polyunsaturated Fat:
4
g
|
Monounsaturated Fat:
4
g
|
Cholesterol:
10
mg
|
Sodium:
42
mg
|
Potassium:
359
mg
|
Fiber:
3
g
|
Sugar:
6
g
|
Vitamin A:
112
IU
|
Vitamin C:
3
mg
|
Calcium:
124
mg
|
Iron:
1
mg
This recipe is adapted from Afghan Chef Farid at Marres Kitchen in Maastricht, the Netherlands.
Looking for more dips? Try these…
Pico de Gallo – The Ultimate Salsa
Pico de Gallo – Taco's Best Friend
A solid, no-fail recipe for pico de gallo. A raw tomato salsa with chilis, herbs, shallots and fresh lime juice that's ready to go for your next taco night.
Check out this recipe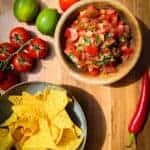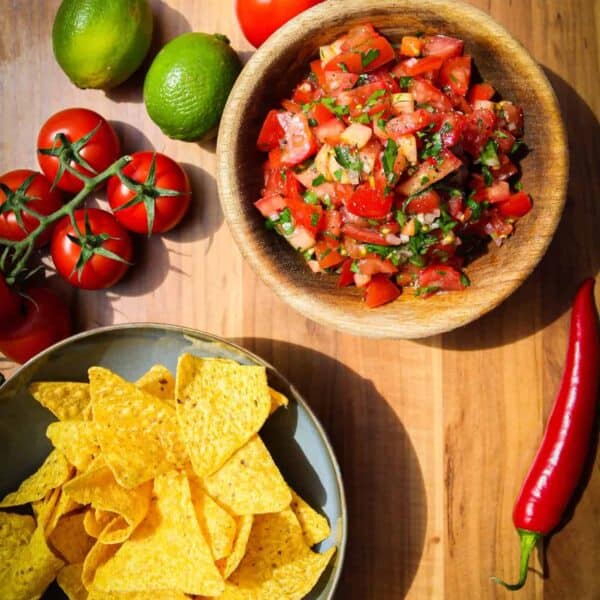 Zucchini Dip – The New Avocado Toast
This zucchini dip is so tasty it's new avocado toast. Light, fresh, vegan, keto, dairy-free, gluten-free, low-carb – this snack is SUPER healthy.
Check out this recipe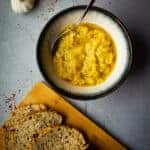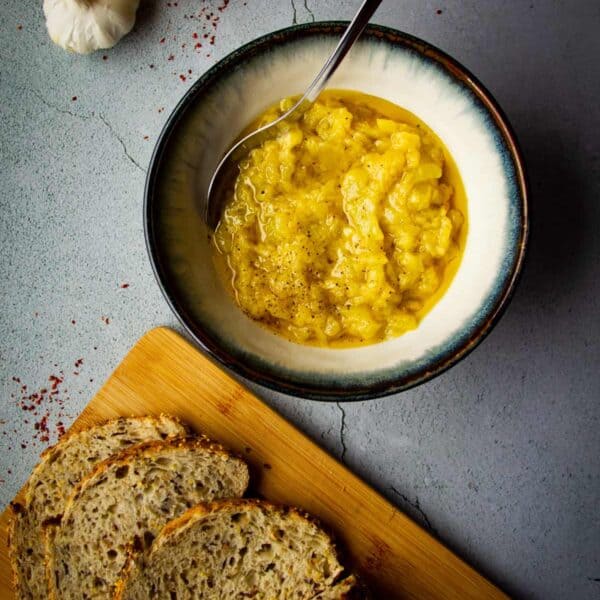 These Crispy Dutch Bitterballen
Bitterballen – Dutch Secrets Exposed
An extremely addictive Dutch snack consisting of slowly braised beef that's thickened with a roux and deep fried into little crispy balls.
Check out this recipe