Want free probiotics? Then you'll definitely want to try these probiotic-packed, fermented carrot sticks.
As a bonus, they're super tasty too!
I know fermentation may sound scary to some but it's actually really simple. As long as you follow these crucial steps highlighted below, you'll be fermenting like a pro in no time.
All you need is some vegetables, a leaf of cabbage (the starter) and some salt.
Grab that mason jar and let's get fermenting!
Why I Love Fermented Carrot Sticks
There are so many reasons why I love these…
Like a lot of fermented foods, these carrots are full of probiotics, incredibly healthy and delicious. 
When properly fermented they have a deliciously crunchy, slightly acidic snap that's so good they're almost addictive.
If you're a fan of kimchi, sauerkraut or sour pickles (like me!) then you'll love these because the fermentation method is the same.
It's also just fun to make fermented things at home and the free probiotics are a plus.
Why You Should Make these at Home
Fermented carrots are a cheap and effective way to incorporate probiotics into your diet. When you make them at home you'll know that they contain healthy probiotics because they will start to show clear, distinct signs of life which I will outline below.
Are Feremented Carrot Sticks Safe to Make at Home?
Yes! Sandor Katz, author of the fermenting bible "The Art of Fermentation" explains that fermented foods are actually safer than canned foods.
I know that sounds crazy, but hear me out… 
When you successfully ferment foods they begin to taste sour and the liquid will actually turn slightly cloudy.
These signs tell you that the lactobacillus (the good probiotic strain bacteria) has beaten its battle against the other bad bacteria in the jar.
The bacteria are then protecting everything in the jar from harmful bacteria in order to continue to thrive and that's the reason why it's safer than canned food. [1]
Now with that being said, it's always important to follow proper safety cooking procedures. Always avoid cross-contamination with other raw foods (especially meat), wash vegetables well before using, use clean tools and always wash your hands properly.
If the ferment ever has a bad odor or taste, it's always best to play it safe and throw it away. When in doubt, throw it out.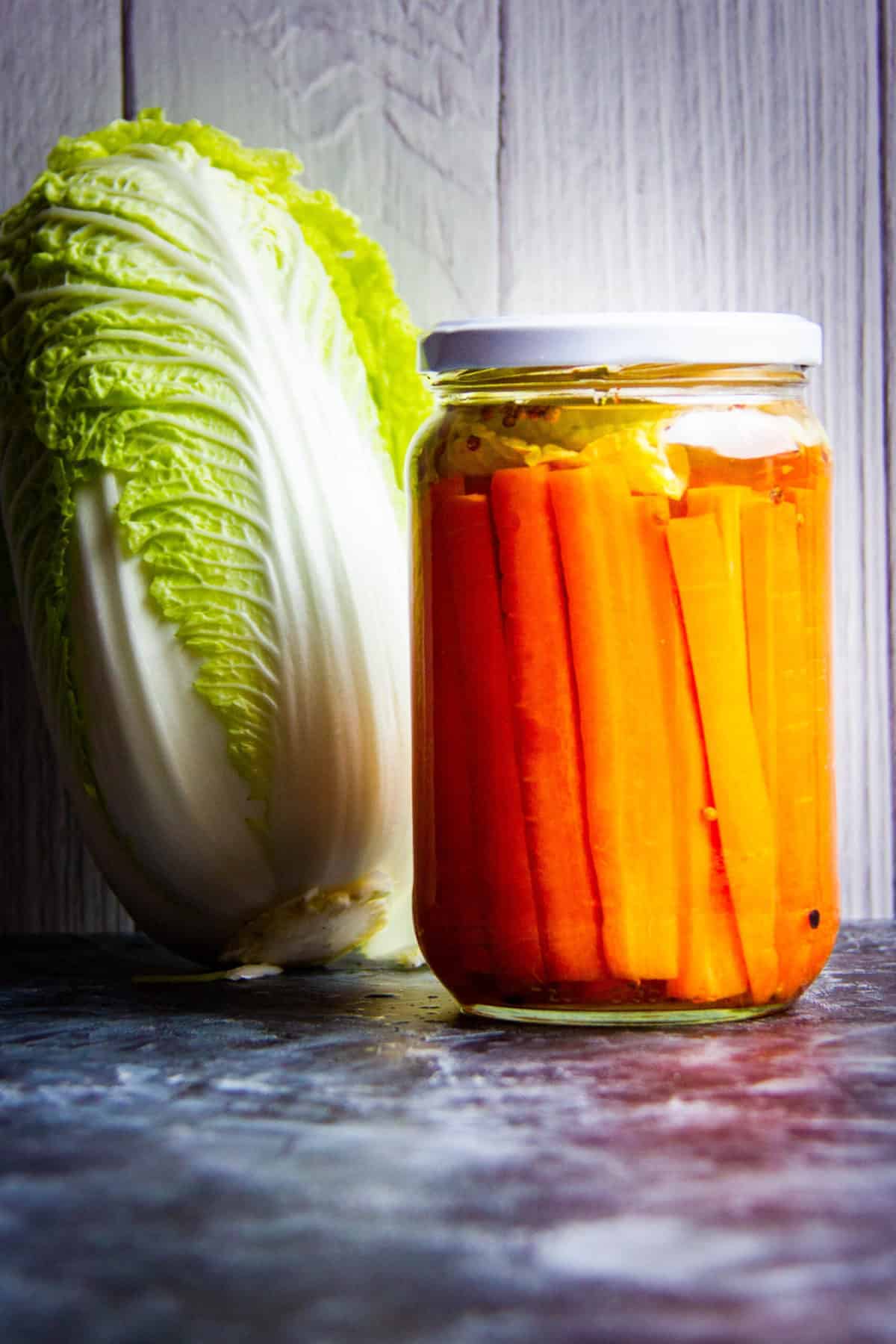 Fermented Carrot Stick Nutritional Info
Fermented foods are very healthy for our gut microbiome because of the naturally occurring probiotics. [2]
Because of the lactic acid that is produced during the fermentation process, these fermented carrots have many health benefits including immune system promotion, cholesterol reduction in relation to antiatherosclerotic and anti-inflammatory effects. [3]
How to Eat Fermented Carrots
They're great as a quick, cold snack, straight from the fridge with charcuterie, hummus, crudité dips, yogurt or own their own.
These fermented veggies are delicious mixed into salads (like this delicious shrimp salad), couscous or tossed into fried rice at the end.
Tips For Success
Here are a few tips to help with fermenting:
Use filtered water that is low in chlorine, distilled works best.
Ferment the carrots in a colder part of your house (aim for 18°C).
Use a piece of cabbage to hold them into the water. Anything that's not submerged will start to mould.
If mould develops on the top, simply remove it with a spoon. A little bit of mould is not a big safety concern. 
Add spices to the brine to add flavours such as garlic, coriander seeds, star anise, peppercorns, or chili.
Use sea salt instead of table salt because iodine can prevent probiotic growth. 
How to Store Fermented Carrot Sticks
Ferment the carrots for 1-2 weeks at room temperature (18°C). Once fermented, the veggies can last up to 3 months in the refrigerator as long as they are covered in brine.
If your carrots are no longer covered after eating a few, add more salted water to top them up. 
They Didn't Work, What Went Wrong?
Sometimes fermented veggies just don't work out as planned.
Don't worry it happens, we are playing with living creatures after all. There are a few factors that can affect the final outcome such as light, temperature, time and even the amount of chlorine in your water.
Here are a few troubleshooting tips:
The Jar is Cloudy, is that Okay?
Yes! This is a sign that your ferments are thriving.
Not Sour and No Fermentation
This means not enough fermentation occurred and something killed the good bacteria. No fermentation means not safe to eat.
Try this:
Make sure the salt is properly dissolved in the water and stir it well.
Try using distilled water if your tap water contains too much chlorine.
They might have gotten too warm during fermentation. Try fermenting them in a cooler place (below roughly 18°C) and away from any sunlight.
Keep in mind they will ferment faster in the summer and slower in the winter.
My Fermented Carrots are Slimy?
Occasionally, the brine can turn slimy after fermenting for a few days. This is caused by yeast or fast-acting bacteria and is more common in sweeter vegetables like carrots or beets. If the vegetables are slimy, ferment the carrots for another week or until the slime disappears. Otherwise, slimy vegetables should be discarded. [2]
There's a Film on Top of the Water
The thin white film at the top of the jar (as long as it's not fuzzy mould) is Kahm yeast. It's safe to eat but do try to remove it as it can give the vegetables a bad taste or smell. [3]
If you have more troubleshooting questions or concerns, try this awesome guide for troubleshooting fermented vegetables.
Are Carrots Keto?
Well yes and no.
Although some people on the keto diet can handle a small serving of carrots, not everyone can. Carrots are one of the sweeter vegetables that are considered a grey area for anyone on the keto diet. It's always best to check with your doctor for what's best for you.
Recommended Tools
Here are a few of my favourite books and recommended tools for vegetable fermenting.
Easy Fermenter Lids
These lids are designed to automatically release the gas build-up of ferments. It essentially "burps" the gas build-up through the tiny holes in the top so you don't have to do this yourself.
You don't have to use these but they can be pretty helpful if you like to make large batches of fermented carrot sticks or when you just don't want to do it manually yourself.
Ball Mason Jars
You'll need a good mason jar and Ball makes great jars.
Glass Fermenting Weights
These glass weights are a nice way to keep the vegetables submerged in the brine. They're glass and can be washed in the dishwasher and re-used.
New Mason Jar Lids
After frequent use, it's a good idea to change the lids of your mason jars because they get old and can rust. It's also pretty handy to have a backup of lids in case you lose one too.
This book by Sandor Katz is the holy grail guide to fermentation and a great read for anyone looking to learn more.
It's not only a great-looking book to have in your house, but it's also packed full of research by some of the best chefs in the world. They have an entire team committed to pushing the limits of fermentation in foods. If you're interested in learning more about advanced fermentation techniques, then this is your book.
More Healthy Recipes to Try…
Roasted Rainbow Carrots with Sumac, Mint and Toasted Sunflower Dressing
Our Favourite Tropical Banana Mango Smoothie
Vegan Carrot Ginger Soup with Dill + Toasted Almonds
Vegan Pasta Pesto with Hazelnuts, Peas and Miso