Roasting vegetables whole is one of my favourite techniques I picked up while working at Frenchie Bar à Vins in Paris.
When you whole-roast a vegetable, the flavour and natural sweetness intensify from the loss of water.
A widely used technique of many Bistronomy-focused Parisian restaurants during that time was to roast whole root vegetables over coarse sea salt to further concentrate their flavour.
And when you roast whole unpeeled carrots with a brush of oil and salt, you end up with a beautifully caramelized colour and exterior.
I finish the intensely flavoured carrots with a rich, toasted sunflower dressing that's vegan, dairy-free and gluten-free.
This works beautifully with a handful of fresh mint leaves and some more toasted sunflower seeds for some added crunch.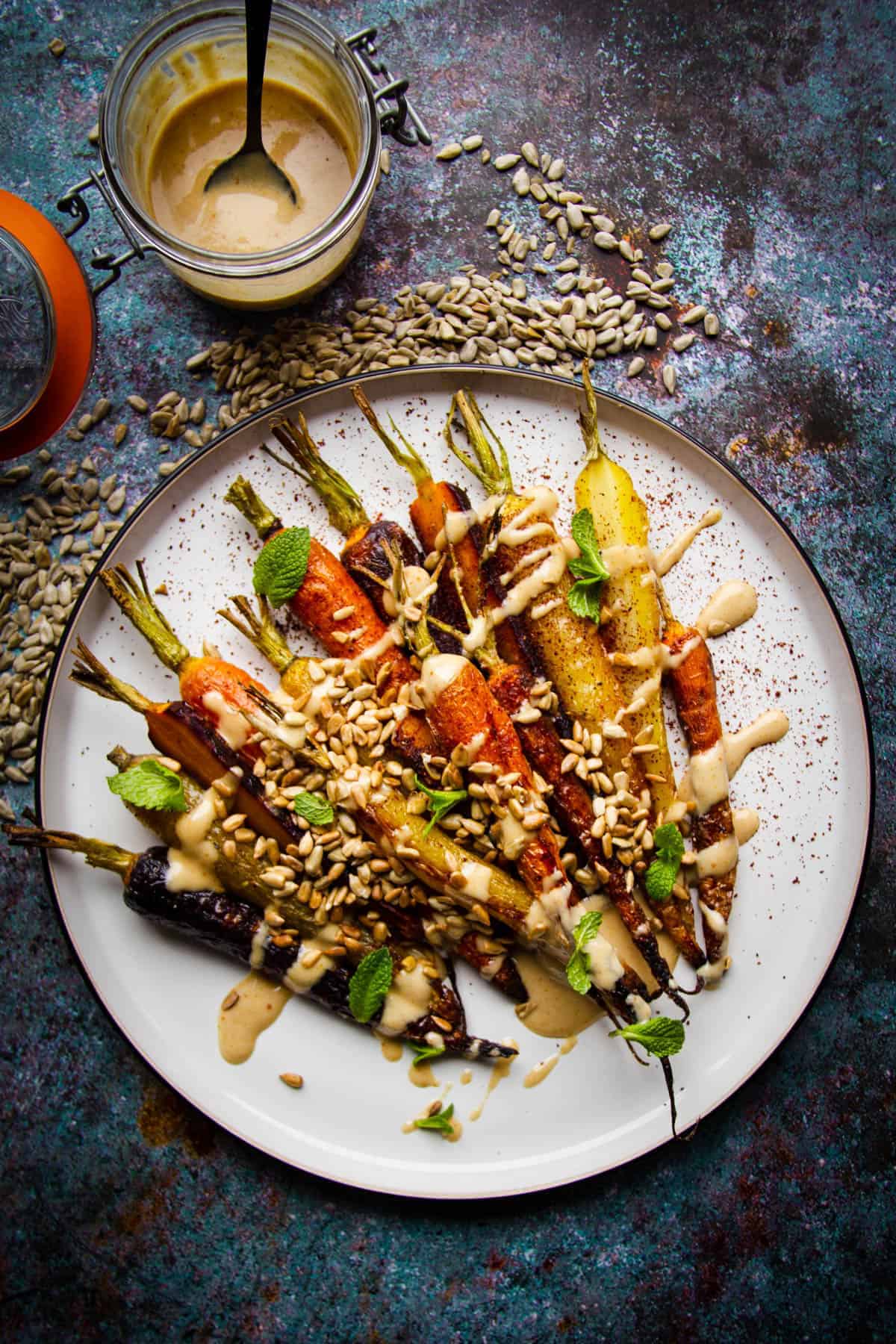 To Peel or Not to Peel Rainbow Carrots?
In culinary school, we were taught to peel everything.
This is because the skins are usually the most bitter part of the vegetable. This bitterness gets intensified when making stocks and sauces that are cooked down and reduced.
It's especially important to remove the skin of vegetables when making a stock for a jus because this extra bitterness will be much stronger when the stock is reduced down to a rich sauce.
That being said, we're not going to peel these rainbow carrots for a few reasons.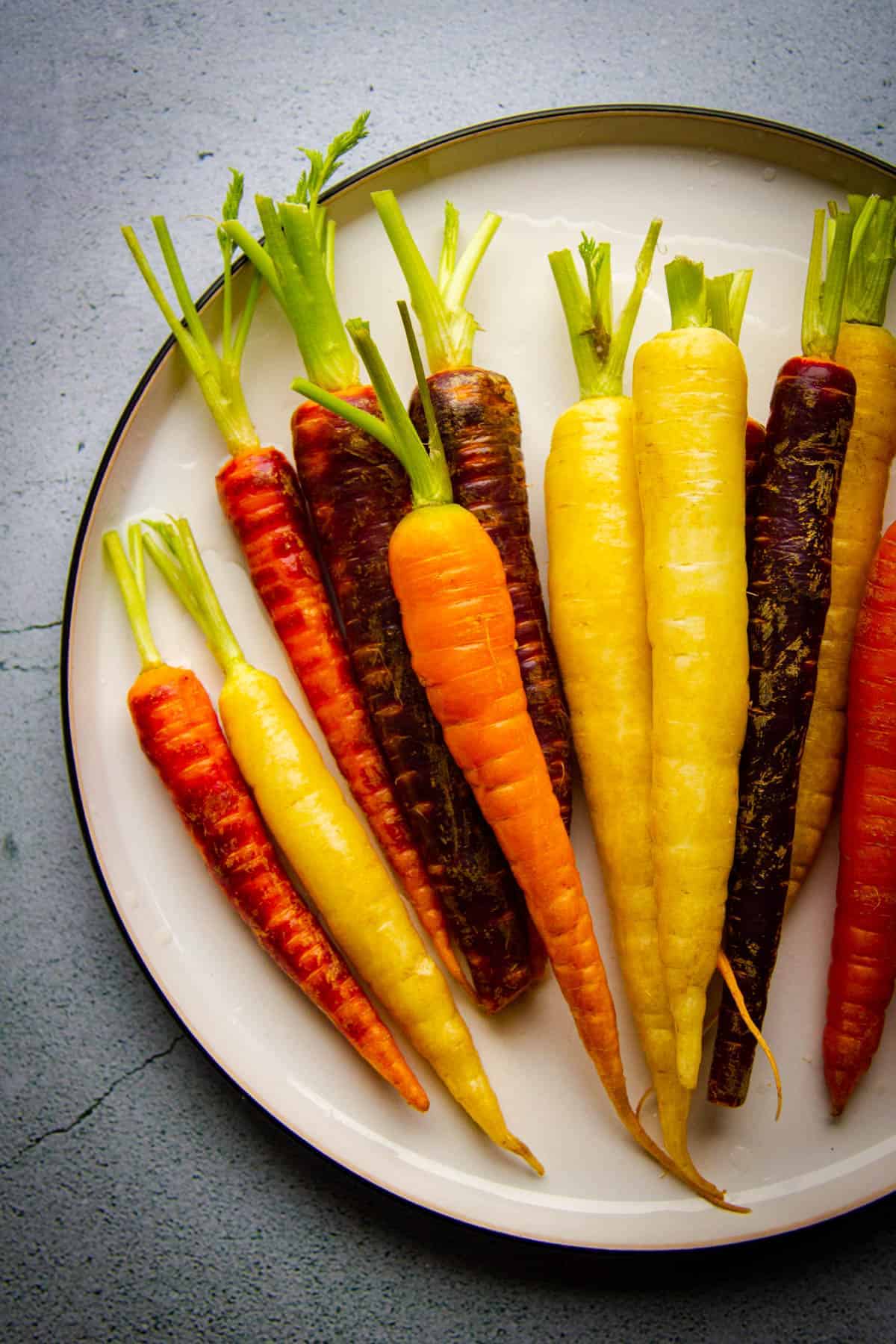 The first reason is that vegetable skins have a lot of nutrition and we don't want to throw away that healthiness. Carrot skin, apple skin and even potato skin all have loads of nutrition.
The second is that they look beautiful like this so why would we ruin them with a peeler?
Most importantly, the bitterness from the skins will be balanced by the sweet caramelized flavours from roasting.
So I'd say skip the peeler on this one!
These Rainbow Carrots Aren't Just a Pretty Face
Carrots are good for your eyes because they're packed with vitamin A, and lutein, and rich in beta-carotene. [1]
They also contain carotenoids which are antioxidants that have been proven to reduce your risk of cancer.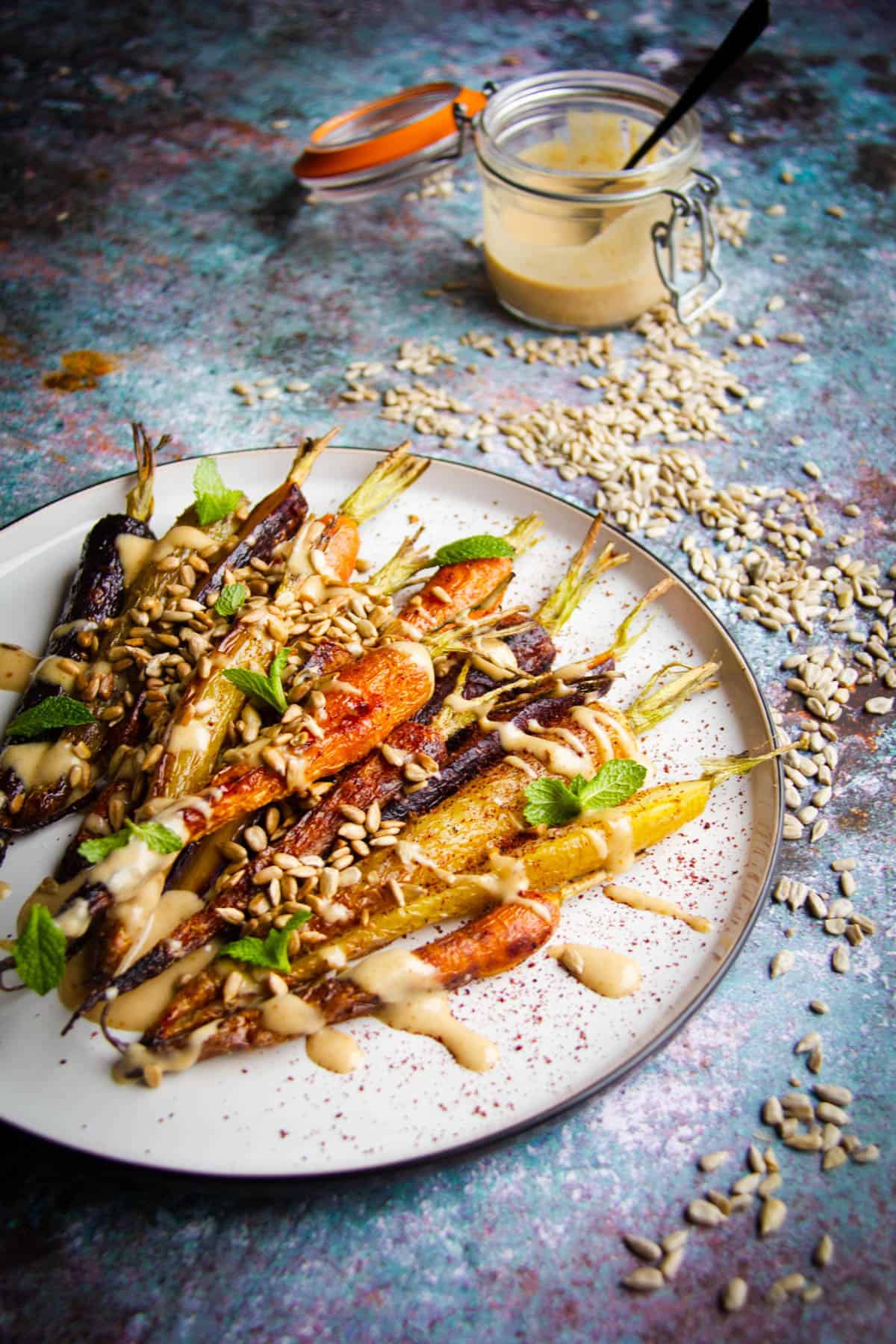 Roasting is More Nutritious Than Boiling
Not only do we intensify the flavour of the vegetable when roasting, but the nutrition of roasted vegetables is also a lot higher compared to boiled vegetables.
This is because a lot of nutrients are water-soluble which leach out into your pot of boiling water. The boiling water is then thrown down the drain and you've just lost all of that nutrition!
Why Are Carrots Orange?
Carrots were actually first discovered in what's now Afghanistan and spread across Europe by the Dutch in the 16th Century. [1]
Although the Dutch national colour is orange, it's a myth that the carrots were chosen only because of this.
The orange carrots grew more efficiently than the purple and yellow varieties and this is what became popular.
Sunflower is Healthy Too
This toasted sunflower dressing works really well with these carrots. It's creamy and smooth, with a bit of sweetness from the honey.
Sunflower is loaded with healthy stuff like vitamin E and selenium which help prevent chronic diseases.
Sunflower seeds are great because they're inexpensive but also add a lot of flavour to the salad dressing when toasted.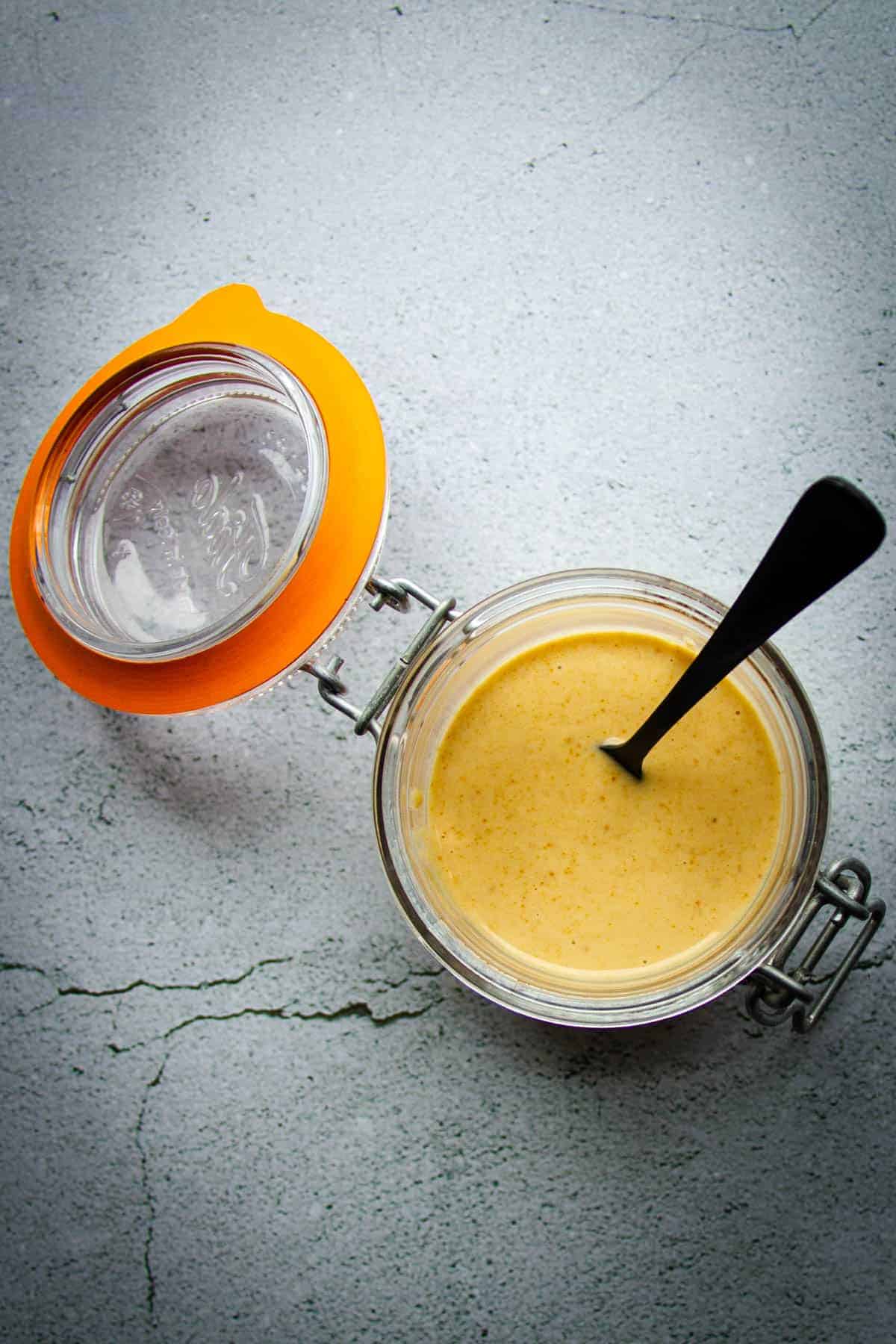 These Roasted Rainbow Carrots Are 99% Vegan
This dish is almost vegan but because some vegans don't consume honey it's not.
If you are vegan and don't want to consume honey then simply replace the honey with a bit of sugar, agave or maple syrup.
Recommended Tools
Food Processor – You'll need a food processor to make this sunflower seed butter. Food processors can easily make any nut butter, but a blender may have trouble. Always be careful when making nut butter in a blender because this can break the machine if it's not strong enough. Although, the high-powered Vitamix can make a nut-butter without a problem.
If you don't have a food processor you can also buy some sunflower butter from a health food store and use that instead. Although I like making it myself because it's pretty quick to make and I hate stirring separated sunflower butter that's been sitting on the shelf too long.
More Vegetable Sides
Roasted Rainbow Carrots with Sumac, Mint and Toasted Sunflower Dressing
These roasted rainbow carrots are incredibly delicious, vegan, dairy free and gluten free. Sprinkled with sumac, toasted sunflower seeds and a creamy sunflower dressing.
Ingredients
10

pc

carrots, medium sized

try to find similar sizes

1

tbsp

vegetable oil

high smoke point

½

tsp

salt

½

bunch

mint, leaves picked

for garnish

¼

tsp

sumac

for garnish
For the Sunflower Butter
30

g

sunflower seeds, raw

+ some extra for garnish

1

tbsp

vegetable oil
For the Sunflower Seed Dressing
3

tbsp

vegetable oil

2

tbsp

white wine vinegar

or rice wine vinegar

¼

tsp

salt

1

tsp

honey

use sugar, agave or maple syrup if vegan

1

tbsp

water

1/16

tsp

xanthan gum

optional
Instructions
Set the oven to 200°C/400°F.

Wash the carrots well. Rub the skins of the carrots with a cloth or a scour pad to remove any dirt on the skin. Snip the tops of the carrots with scissors.

Brush the carrots with a light coating of vegetable oil and line up on a baking tray lined with parchment paper. Season the carrots generously with salt. Roast in the oven for about 35-45 minutes or until a there's a slight resistance when poked with a knife.

Toast the sunflower seeds (plus about 1 tbsp extra sunflower seeds for garnish) in the oven for about 6 minutes.

Once the sunflower seeds are toasted, add to a food processor with the 1 tbsp of oil. Blend until a smooth butter is formed. Use a spatula to scrape down the sides of the machine.

Once a smooth butter is formed add the rest of the ingredients and continue to blend until a smooth dressing is formed.

To finish the plate first cut some of the larger carrots in half. Plate the carrots down first, then sprinkle the sumac, toasted sunflower and drizzle the dressing over top. Add some fresh mint leaves on top. Enjoy!
Notes
I add a sliver of xanthan gum to the sunflower dressing in order to emulsify it nicely but that is totally optional. If you don't want to use xanthan then make sure to give the dressing a good shake before using.
Keep the dressing in a mason jar in the fridge for up to 5 days.
It's always better to blend seeds or nuts while they are still hot.
Nutrition
Calories:
406
kcal
|
Carbohydrates:
7
g
|
Protein:
3
g
|
Fat:
43
g
|
Saturated Fat:
29
g
|
Sodium:
882
mg
|
Potassium:
97
mg
|
Fiber:
1
g
|
Sugar:
4
g
|
Vitamin A:
878
IU
|
Calcium:
12
mg
|
Iron:
1
mg
More Vegan Recipes…
Red Kuri Squash Soup – Squash Ajo Blanco (Vegan)
A plant-based Red Kuri squash soup with an Ajo Blanco spin. Unlike the classic, this soup is blended with roasted squash and served hot.
Check out this recipe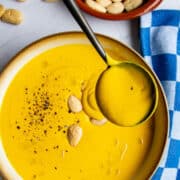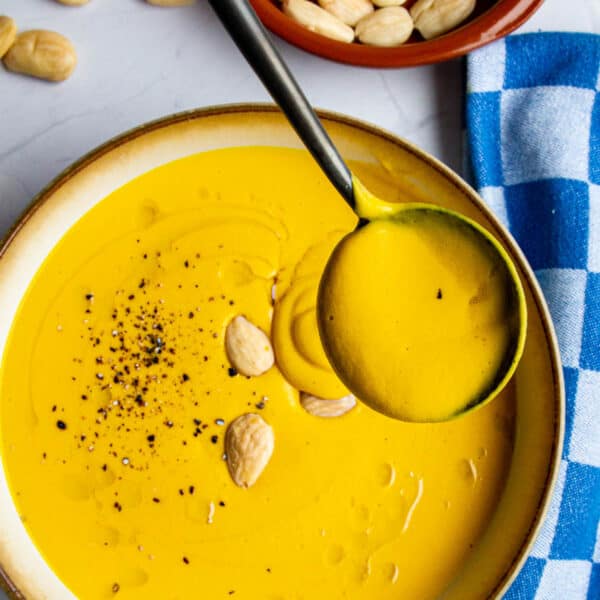 Vegan Carrot Ginger Soup with Dill + Toasted Almonds
This vegan carrot ginger soup with dill and toasted almonds is rich, velvety and full of sweet flavours from the roasting of the carrots. Gluten free, vegan and dairy free.
Check out this recipe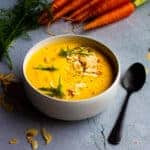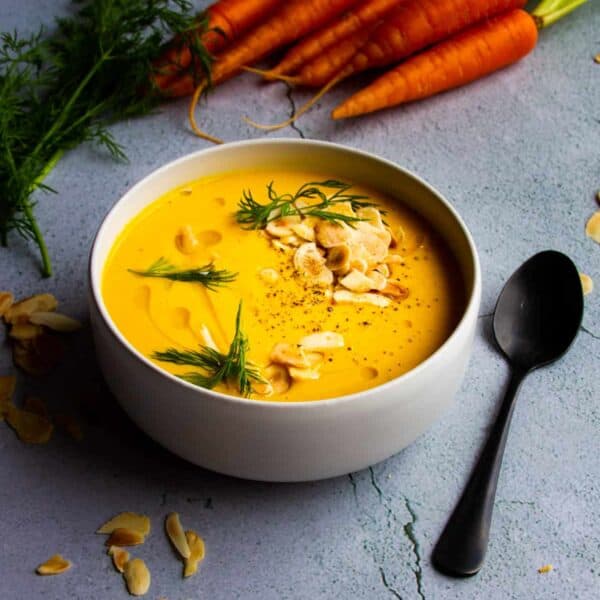 Pistachio "Ferrero Rocher" – Vegan Chocolate Truffles
These vegan "ferrero rocher" chocolate truffles use pistachios instead of hazelnuts for an easy but delicious Valentine's day dessert.
Check out this recipe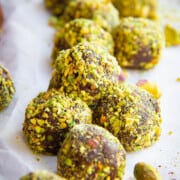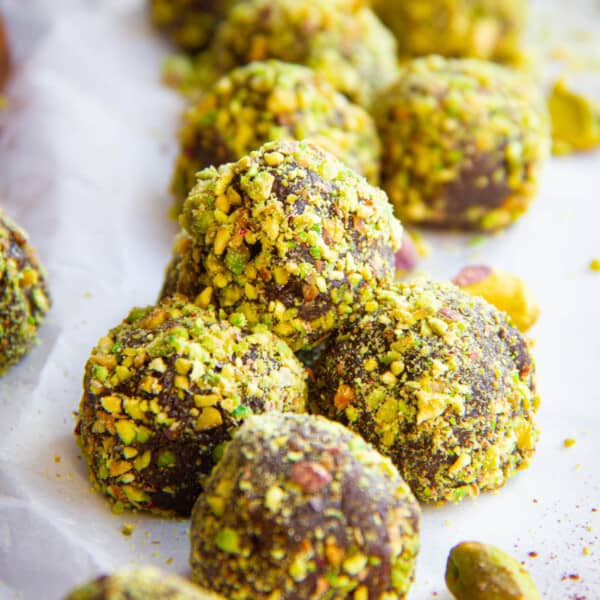 Vegan Chocolate Mousse with Passionfruit
A vegan chocolate mousse made with avocados and garnished with hazelnuts, mint, pomegranate and fresh passionfruit. Made in less than 10 minutes, gluten free, dairy free and raw vegan.
Check out this recipe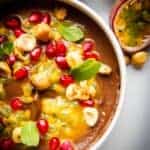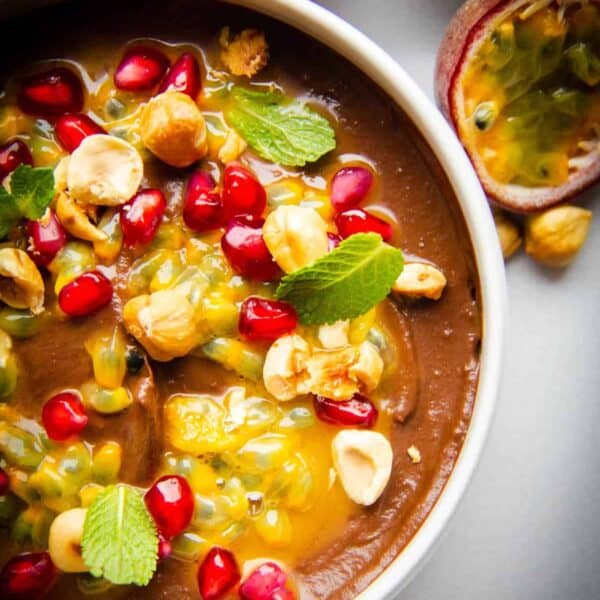 Vegan Pasta Pesto with Hazelnuts, Peas and Miso
A super easy vegan pasta pesto that's insanely healthy, gluten free and dairy free. It's ready in 15 minutes making this an easy and delicious weeknight meal.
Check out this recipe