I still cannot believe how good these smoked and roasted leeks turned out.
They're so good you'll probably forget you're not eating meat.
You've got everything you'd want in a vegan BBQ – Sweet, deliciously rich and warm flavours from the Raz el Hanout spice mix and an awesome smokey flavour from cooking them over charcoal.
Just like how caramelized onions pick up a natural sweetness from cooking them slowly, these leeks are also naturally sweet.
These leeks are gluten-free, dairy-free, and vegan and make an awesome side dish to other grilled meats, fish or seafood dishes.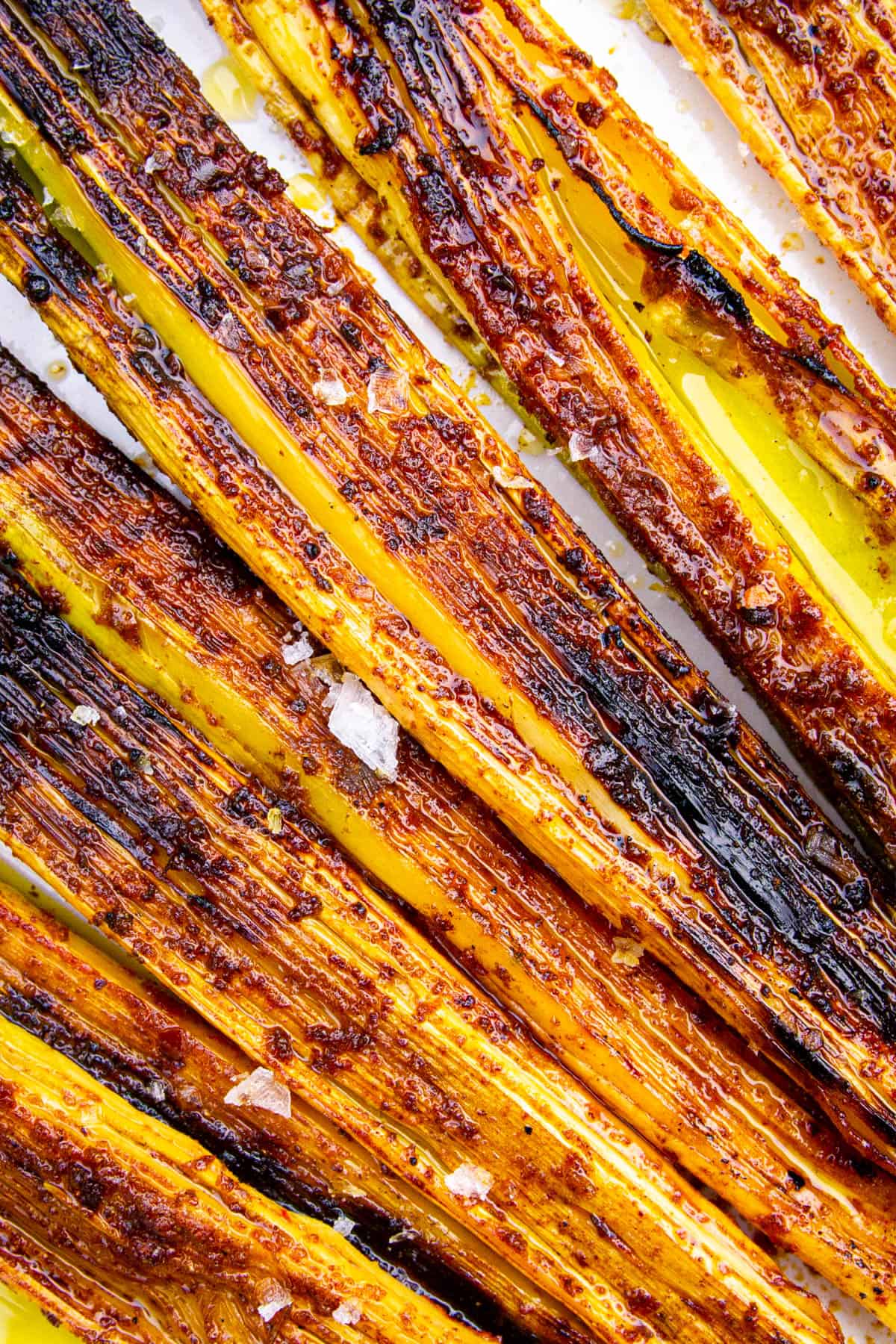 What is Raz El Hanout?
Raz el Hanout roughly translates to "head of the shop" in Arabic and is commonly used in Middle-Eastern cuisine.
Traditionally, it's used to flavour couscous, rice, lamb stews or to season fish.
There isn't an exact recipe for Raz el Hanout as each spice blend varies from household to household. Just like how a Texas BBQ rub is completely different from a Memphis BBQ rub.
Some blends may be a little hotter than others but generally, they're on the sweeter side and very aromatic.
The spice gets a distinctly sweet flavour from the use of warmer spices such as nutmeg, allspice, cardamom and cinnamon even though there's no sugar added.
I absolutely love this spice blend mixed with grilled foods, especially these roasted leeks, as they take on a gorgeous sweet and smokey flavour.
Although I think my recipe is delicious, it's by no means authentic. If you're looking for an authentic recipe from an actual expert, try this book: Mourad: New Moroccan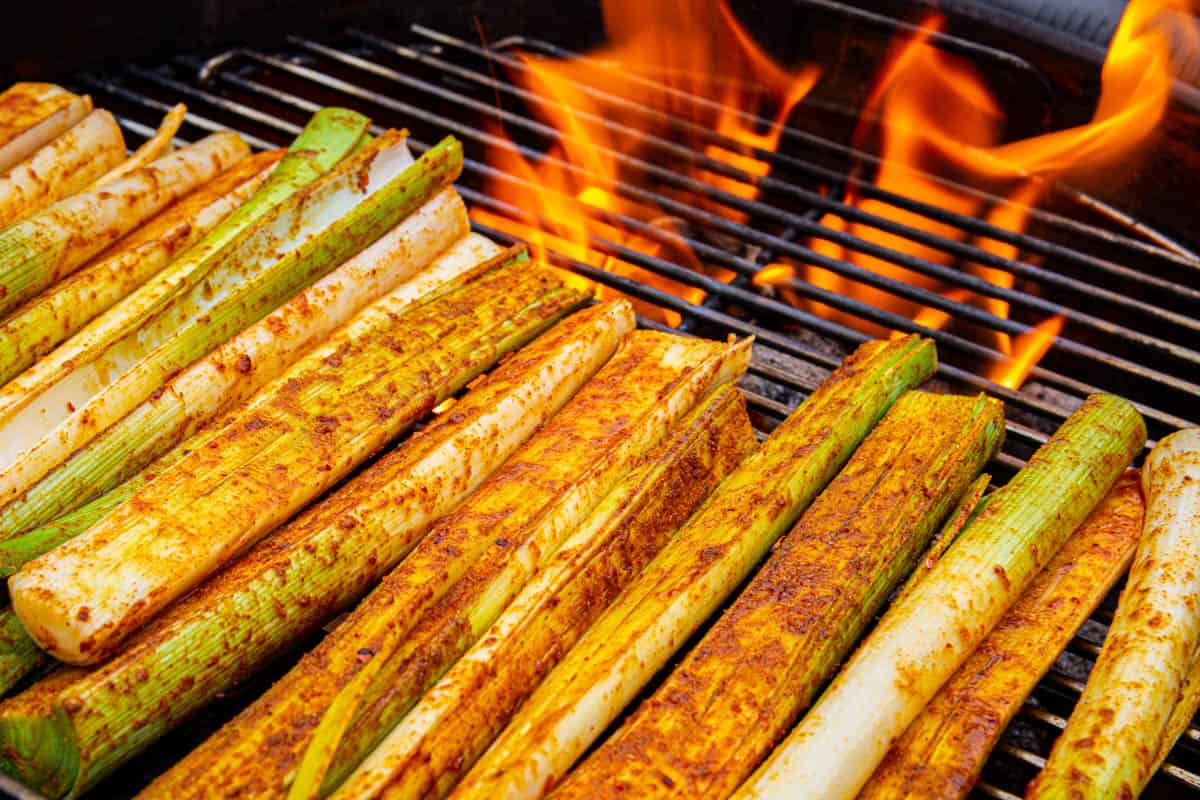 How to Make Your Own Raz El Hanout
As every Raz el Hanout blend is a little different, feel free to work with what you already have in your spice cabinet. For me, this is a great way to use up the almost forgotten ground ginger in my spice cabinet.
Also, if making your own spice mix isn't really your jam, you can definitely pick up a pre-made mix. It won't taste as good as my spice mix (wink;)) but at least you won't have to pull out the measuring spoons…
Don't worry if you can't find all the spices in the recipe as you can swap them out to make it your own. Although you'll probably want to at least have some turmeric, nutmeg, paprika, cayenne and cinnamon at the very least.
If you're really feeling fancy, then roasting whole spices first before grinding them fresh will always be better than buying pre-ground spices.
Still, when I'm cooking at home and I'm in a rush, I'm not always in the mood to pull out my blender for just a few spices.
The following common spices are all good choices to include in your Raz el Hanout:
turmeric
paprika
cumin
coriander
fenugreek
allspice
nutmeg
cinnamon
cardamom
mace
ginger
And some more rare ingredients that may be added to the mix:
long pepper
cubebs
rosebuds
ash berries
grains of paradise
chufa
orris root
monk's pepper
aniseed
galangal
Make Sure You Wash Your Leeks Well
This is one step you won't want to skip because leeks are always very dirty. There's nothing worse than biting into a leek full of muddy sand. Ughh…
I find the best way to clean them is to split them in half and briefly check each layer for any hidden dirt.
Run them under cold water with the root end high to allow the dirt to flow out the top.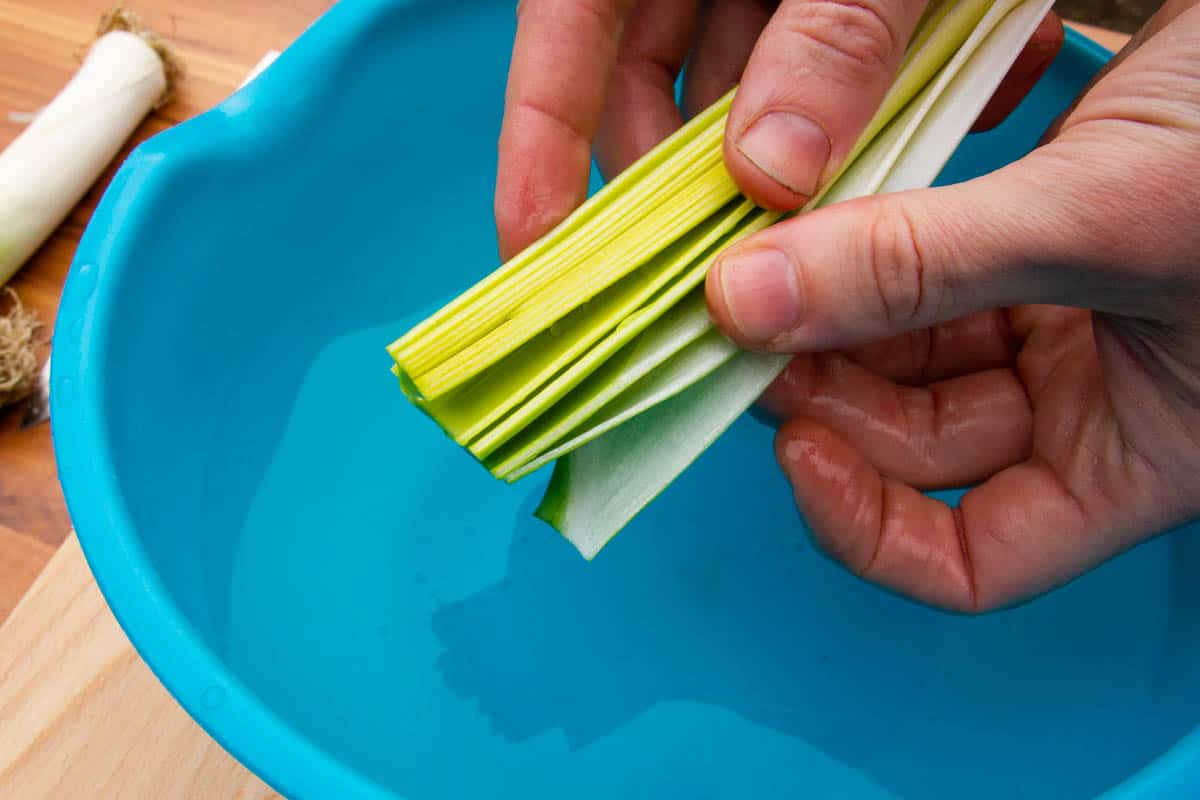 How to Make these Smoked and Roasted Leeks
The steps are quite simple and outlined below:
Separate the green and white parts and discard the stem.
Remove the outside layer of the leeks and discard them.
Wash your leeks thoroughly.
Toss them separately in oil, salt and the Raz el Hanout spice.
Smoke them first for about 30 minutes at around 350°F/175°C in your smoker or kettle grill.
Finish them over a hot fire to char them slightly and bring out their bold flavour.
Cut into smaller pieces (if desired) and garnish with crunchy Maldon sea salt and lots of olive oil.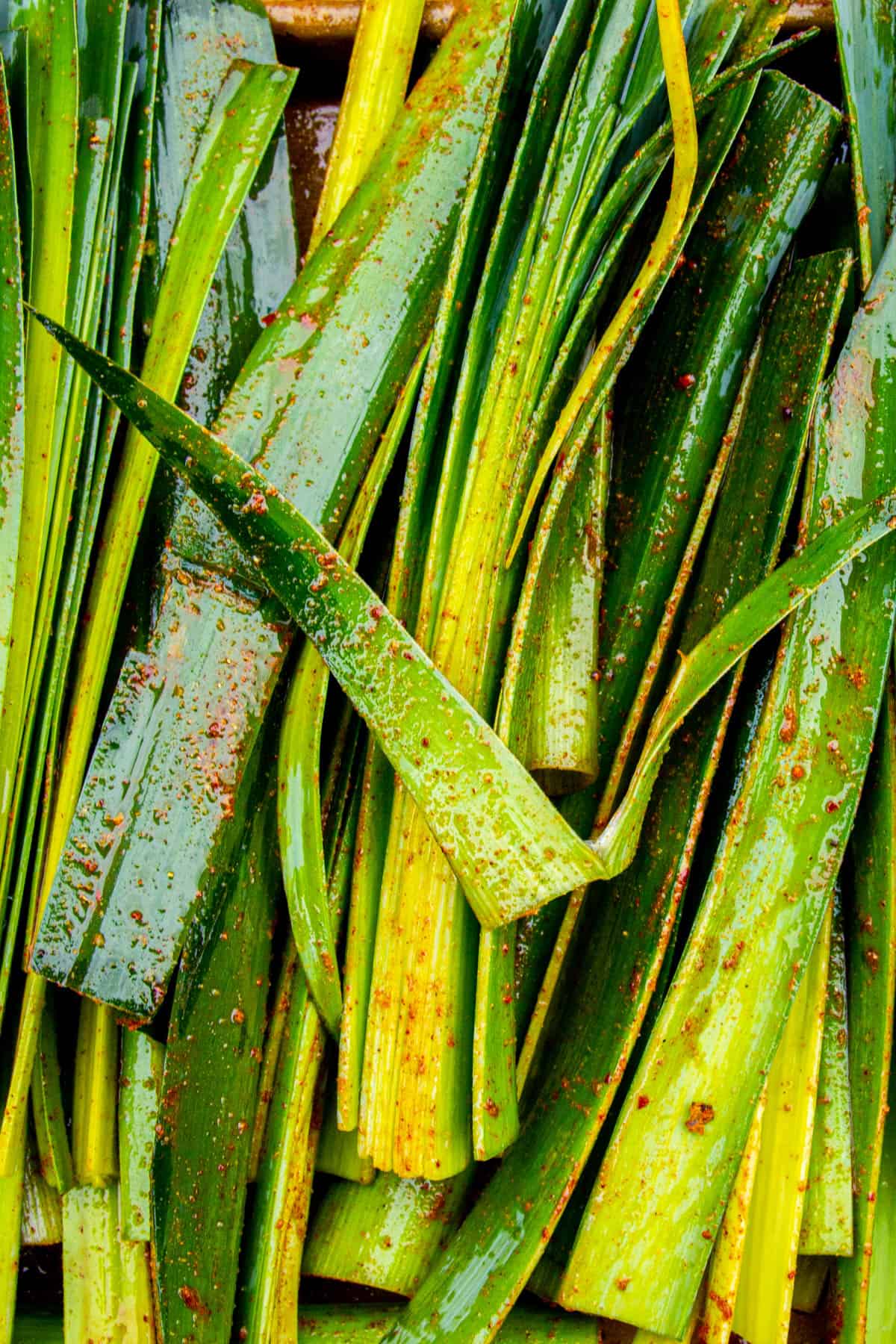 Can I Make Roasted Leeks Without a Smoker or Grill?
You could definitely make these by only roasting them and they'd still be delicious.
To roast the leeks:
Wash, cut and clean them like normal.
Toss them in oil, salt and the Raz el Hanout spice.
Sear them in lots of vegetable oil (and/or butter) until nicely browned.
Roast them in the oven for 10-12 minutes at 375°F/190°C until soft when cut with a knife.
Cut into smaller pieces (if you'd like) and garnish with crunchy Maldon sea salt and lots of olive oil.
Wait? I Thought You Couldn't Use the Green Tops?
Most people throw away the green tops but it's a shame because they can also be delicious when cooked.
The tops are usually quite tough, especially if the leeks are larger and older. I always remove the full outside layer of the leeks and discard this as it's just too difficult to cut.
Then, I grill these over charcoal with a wood chunk or two to add some nice smokey flavour. Once they're softened and broken down, they'll be much easier to chop or pulse in a food processor.
They'll absorb a lot of smokey, charry, grilled flavour and you can save them in your fridge for days.
Here are some ideas for how to use the chopped, smoked and charred green tops:
Mixed into mayo for a charred leek mayonnaise
Mixed into regular mac and cheese for added smokiness.
Tossed into grain salads
Added last minute into fried rice
Mixed into sausages
As a burger condiment.
Tips to Nail this Recipe
Remove the outside layer of the leeks and discard them. The inside layers of the leeks are much softer and easier to cut.
Try to find younger leeks, as the larger ones can get a little tough.
Make your own Raz el Hanout for extra flavour and control.
Save the tops for a smokey flavour blast in another meal like fried rice, pasta, charred leek mayo or even as a burger condiment.
How to Store these Leeks
These leeks can be stored in Tupperware containers in the fridge for up to a week. Avoid freezing them, as they'll lose their nice texture.
Alternatively, you can also cover these in olive oil and serve them cold as a delicious accompaniment to antipasti.
More Smoker + BBQ Recipes
Roasted Leek FAQ
What do leeks taste like?
They're similar to onions, but with a milder, slightly sweeter taste. The green parts are quite tough, while the whites are soft.
Can you eat raw leeks?
There isn't really harm in eating raw leeks, other than the fact that you'll get onion-breathe! Even though they're milder than raw onions, they're still quite strong so I always cook my leeks.
Are all parts of the leek edible?
Most people throw away the green tops as they're quite tough but as mentioned above, there are plenty of ways to utilize them. Just make sure you remove the outside layer of the leeks and discard this as it's too chewy.
How do you prepare leeks for cooking?
Wash them thoroughly! I give them a quick rinse before bringing them to my cutting board. Slice off the root end and then separate the green from the tops. Slice the leeks in half lengthwise and run each layer under cold water to remove all of the dirt inside.
How long should leeks be cooked?
It's always better to overcook leeks rather than undercook them. Roasting them in half in the oven can take anywhere from 10-15 minutes whereas slowly cooking them in butter and stock could take up to 40 minutes.
Properly cooked leeks should be soft without any crunch.
Smoked and Roasted Leeks with Raz el Hanout
These smoked and roasted leeks are rubbed with homemade raz el hanout spice for a delicious vegan side dish. They're smokey, sweet and a perfect accompaniment to grilled fish or meat.
Equipment
Ingredients
6

pc

leeks

2

tbsp

vegetable oil

salt to taste
Raz el Hanout Spice
1

tbsp

paprika, ground

1

tbsp

turmeric, ground

1

tsp

coriander, ground

⅛

tsp

nutmeg, ground

1

tsp

Aleppo chili (or regular chili flakes)

½

tsp

cumin

¼

tsp

cinnamon, ground

1

tsp

fenugreek, ground

½

tsp

ginger, ground

⅛

tsp

cayenne, ground
Instructions
Preheat your smoker to about 350°F/175°C. If using a Weber kettle, preheat a chimney full of charcoal and set to one side of your grill (indirect heating).

Give the leeks a rinse in cold water to remove any outside dirt.

Remove the outside layer of the leeks and discard.

Cut the root end off the leeks and separate the green tops from the bottoms.

Cut the white parts in half vertically.

In a large bowl of cold water, or using your kitchen sink, wash the inside layers of the leeks thoroughly.

If using water from the tap, start with the root end and allow the water to flow down to the top of the leeks. (This way the dirt won't get stuck in the root end).

Dry your leeks on a towel or in a colander to remove the excess water. Don't worry about getting them super dry, just remove most of the water.

On a tray, rub the leeks with oil and salt. Season heavily, like you're seasoning a steak.

Toss the leeks with the raz el hanout spice and rub with your hands until nicely coated.

Add a little oil to a paper towel and brush the grill (or smoker). This will prevent the leeks from sticking.

Once the charcoal is super hot, add your woodchips or chunks and let them burn off for 1-2 minutes.

Add the leeks to the cold side of the grill (or smoker) and close the lid. Smoke for 20-30 minutes on indirect heat.

Optional Step: Toss the leek tops with the oil, salt and the spice blend just like the white parts. Grill and smoke them over a hot fire until they're soft and broken down.

Once cooked and cooled, you can chop these up and add them to grain salads, fried rice, pasta or mix them with mayo for a charred leek mayonnaise.

Once the leeks have picked up a nice smokey flavour, remove them from the grill and get your grill extra hot.

Finish the leeks over a hot grill to get a nicely charred exterior. The leeks are ready when the inside is soft.

To serve, garnish the leeks with lots of olive oil and coarse Maldon salt.

Enjoy!
Notes
Don't forget to wash your leeks well, as they're almost always super dirty inside.
You don't have to grill the leek tops if you don't want to (most people throw them away), but I always try to minimize waste in the kitchen as much as possible. You can also add the raw leek tops to broths and soups, as long as you discard them after cooking. 
Nutrition
Calories:
21
kcal
|
Carbohydrates:
4
g
|
Protein:
1
g
|
Fat:
1
g
|
Saturated Fat:
1
g
|
Polyunsaturated Fat:
1
g
|
Monounsaturated Fat:
1
g
|
Sodium:
12
mg
|
Potassium:
120
mg
|
Fiber:
2
g
|
Sugar:
1
g
|
Vitamin A:
1065
IU
|
Vitamin C:
1
mg
|
Calcium:
19
mg
|
Iron:
2
mg
My Ultimate Bacon Cheeseburger
My recipe for the ultimate bacon cheeseburger with some tips on how to make restaurant-quality burgers at home. Makes 6 beautiful bacon cheeseburgers.
Check out this recipe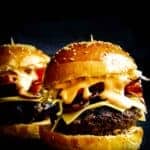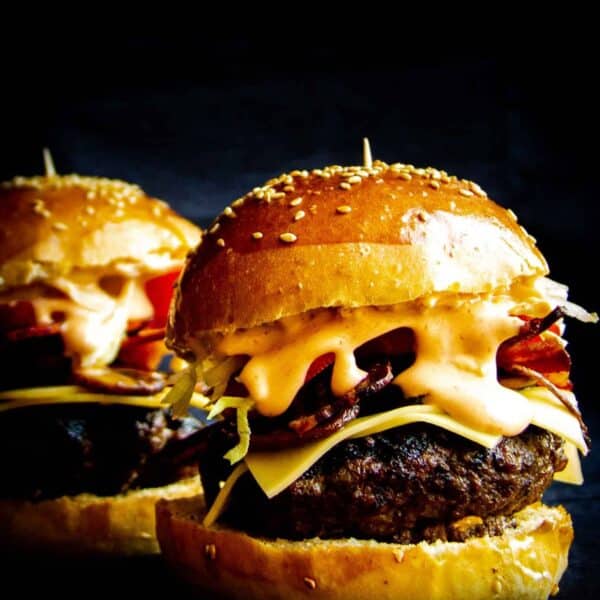 Grilled Green Onion Chimichurri – A Healthy Steak Sauce
A recipe for a light, healthy, charred green onion chimichurri sauce. Gluten-free, dairy-free, vegan and perfect with steak, pork chops, chicken or grilled veggies.
Check out this recipe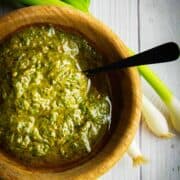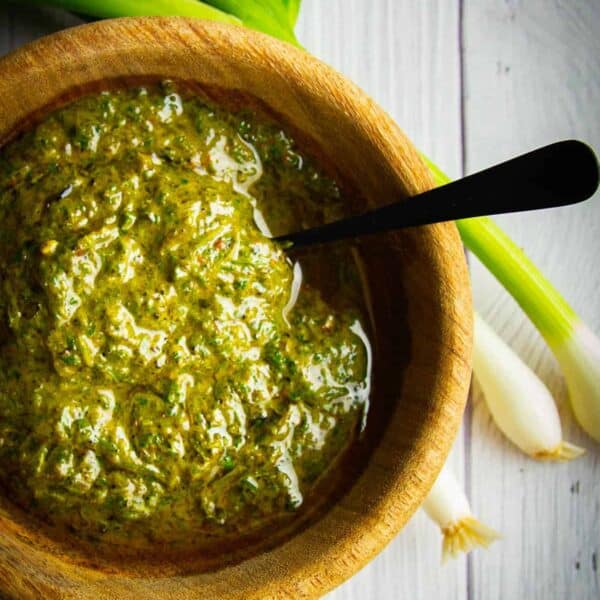 Smoked and Grilled Corn on the Cob with Umami Butter
The absolute best way to enjoy corn. Hot smoked corn on the cob, charred over the coals and slathered in delicious umami butter. There's no better way!
Check out this recipe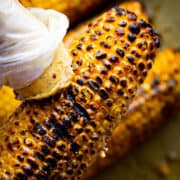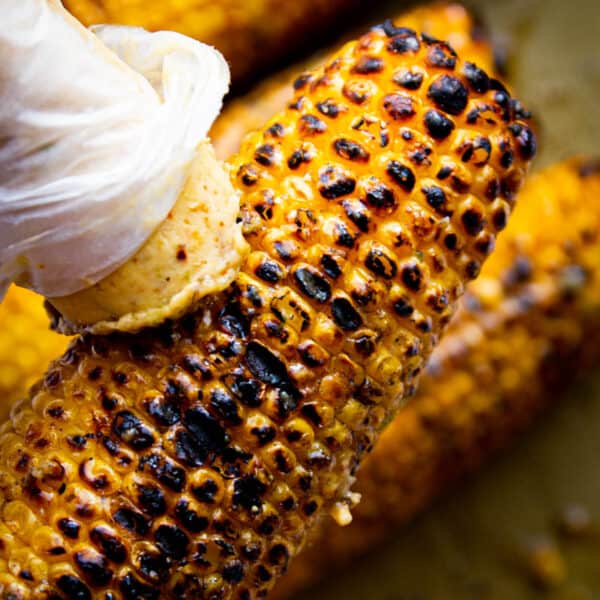 Reverse Sear Smoked Ribeye With Umami Butter
A step-by-step guide on how to make a reverse seared, smoked ribeye with a weber kettle grill. Slathered in umami butter for maximum flavour.
Check out this recipe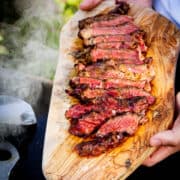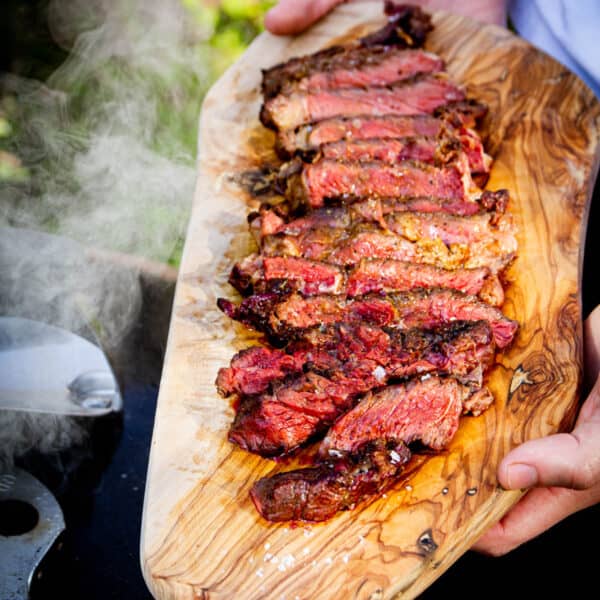 An Ultra Smooth Roasted White Peach Puree
Use this super smooth white peach puree in yogurt, with cakes, alongside grilled pork or mixed into a bellini. Gluten-free and vegan (if the butter is left out).
Check out this recipe