World famous and for good reason, burgers never fail to seduce me into a non-vegan lifestyle. But I'm not talking about boring fast food burgers, I mean real, home-made and fully-loaded like this bacon cheeseburger with all the fixings. Crispy bacon, fried mushrooms, caramelized onions, fresh lettuce, juicy tomatoes and loaded with sharp cheddar cheese. Or whatever your favourite topping is!
Here's five tips for making better cheeseburgers.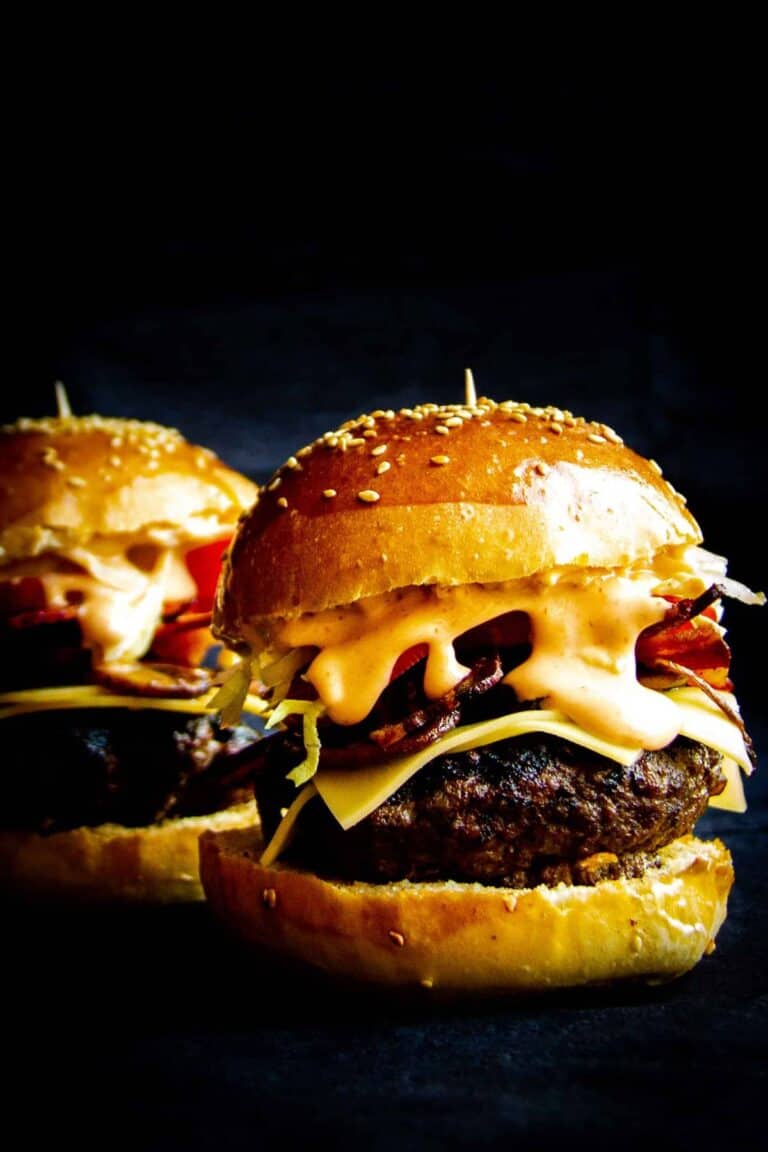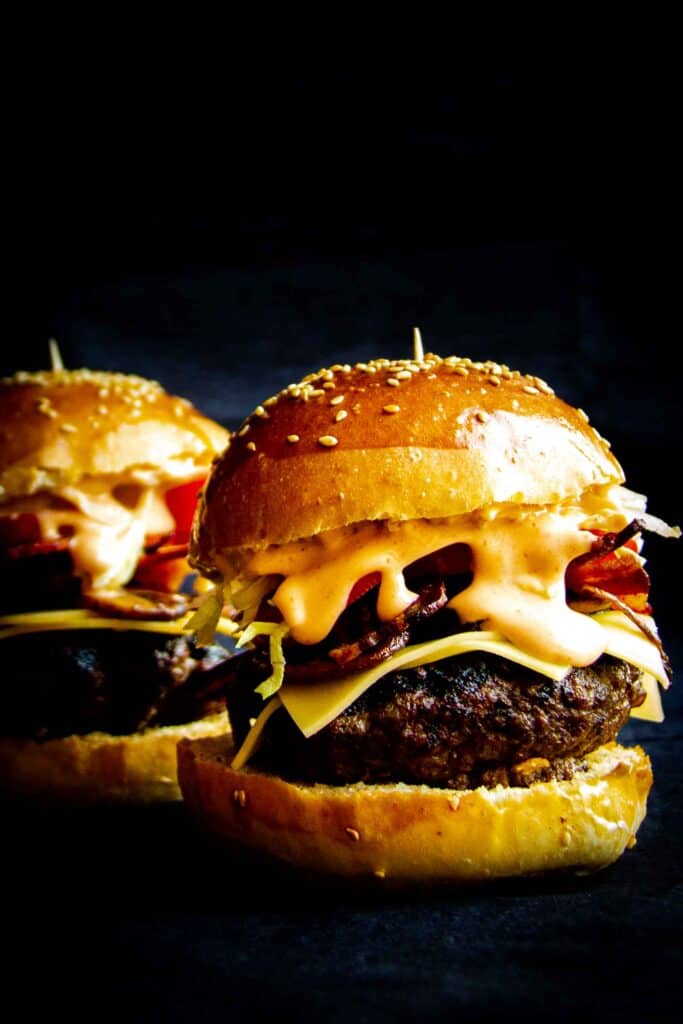 1. The Right Beef
This is a no-brainer. The better quality of beef you buy, the better the hamburger. Look for freshly ground beef preferably from a butcher that knows what they're doing. Better yet, grind your own. The meat should be dry, fresh and preferably a mix of chuck and brisket.
2. Fresh Buns
The most important rule for a good burger is a good bun. Without a soft, fluffy bun the burger will be ruined and you might as well make something else. Make your own burger buns for the best results or buy fresh buns. Leave the old, stale burger buns in the compost.
Easy Pull Apart Milk Buns
Very sexy milk bun recipe that can be made in one day. Using a Japanese milk bun recipe for ultra soft and fluffy dinner rolls. Can also be made vegan.
Check out this recipe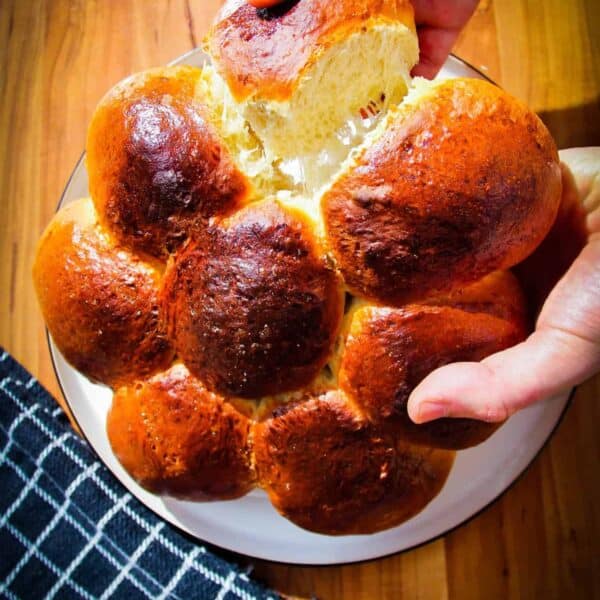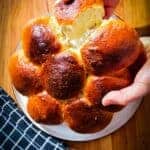 3. Fat
A lot of people are scared of fat but fat is flavour. A good burger must have 15-25% fat content to be juicy and maxed out on deliciousness. Ask your butcher to grind a little bacon into your burger meat and you will have the best hamburger on the planet.
If you can't find a butcher willing to do this then you can also use a technique called larding. Larding is an old technique that is the addition of fat to meat. I cut a small cube of butter and stuff it in the middle of the hamburger while forming the patties. As the burger cooks, the butter will melt into the meat providing a little flavour boost.
4. Keeping it Simple
The best burgers are always 100% meat with nothing else added, (except salt of course!).
I see people sometimes add breadcrumbs and eggs to the hamburger mix – please stop doing this! It's totally not needed and your patty will start to taste more like a sausage then a burger. I prefer to not add any spices or even herbs because I want the full flavour of the beef.
5. Good Sauce
I think a good sauce is important to really tie everything together. Spicy mayo, bbq sauce, mac sauce, are all good ideas here.
A Bit on Burger Doneness
Some people like to cook their hamburgers like a steak and serve it a little bit pink. Do this at your own risk as it is still possible to get food poisoning from the undercooked meat.
But Why Can a Steak be Undercooked?
A steak can be served pink because there is less chance that bacteria can reach the inside of the meat. A burger on the other hand, is ground and air is mixed in meaning a higher chance of adding dangerous bacteria.
So do this at your own risk. The USDA recommends cooking ground meat to a minimum of 160°F and washing your hands after touching the raw meat.
It's Bacon Cheeseburger Time
There's my tips for better burgers. If you think I've missed anything or have any questions feel free to comment below!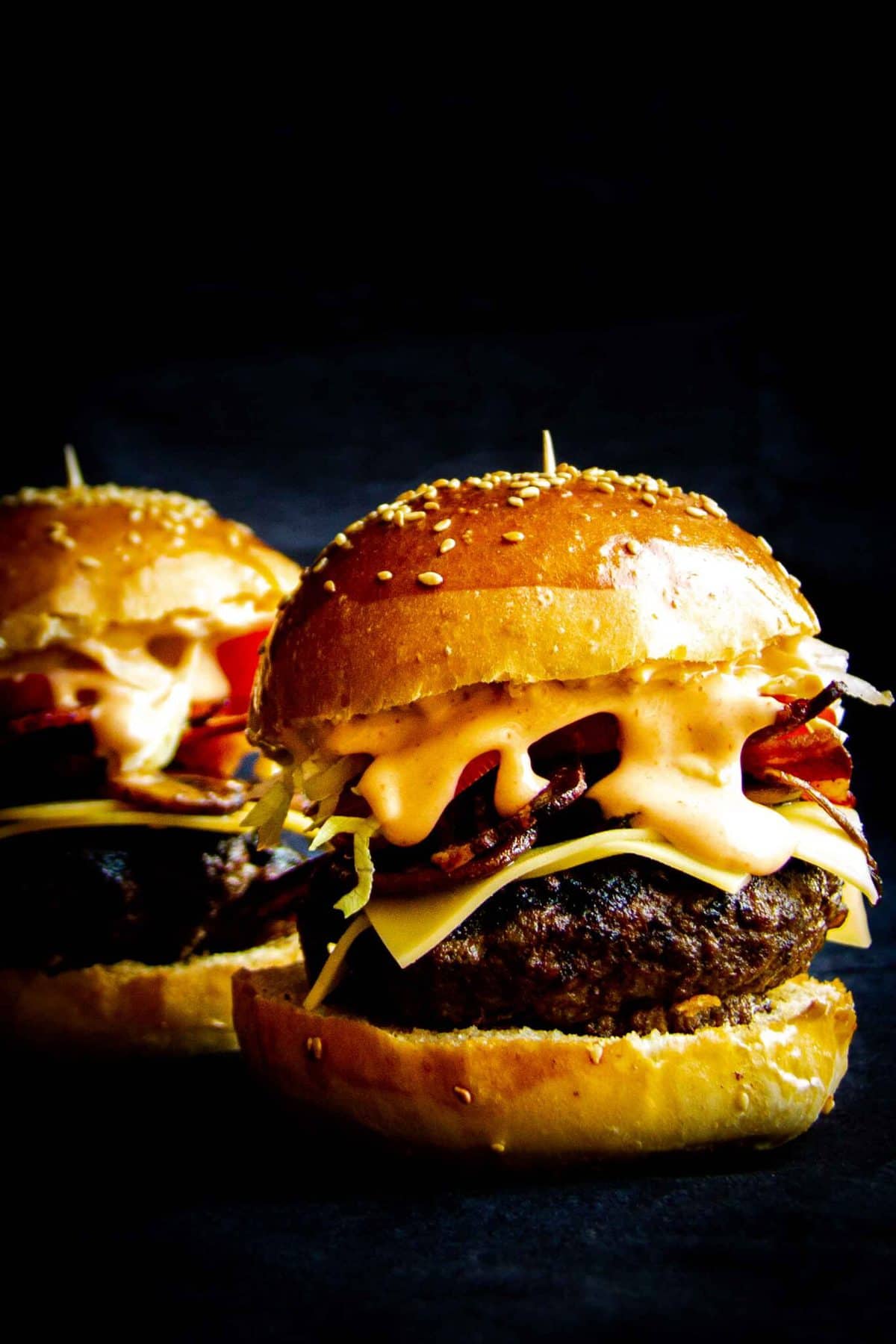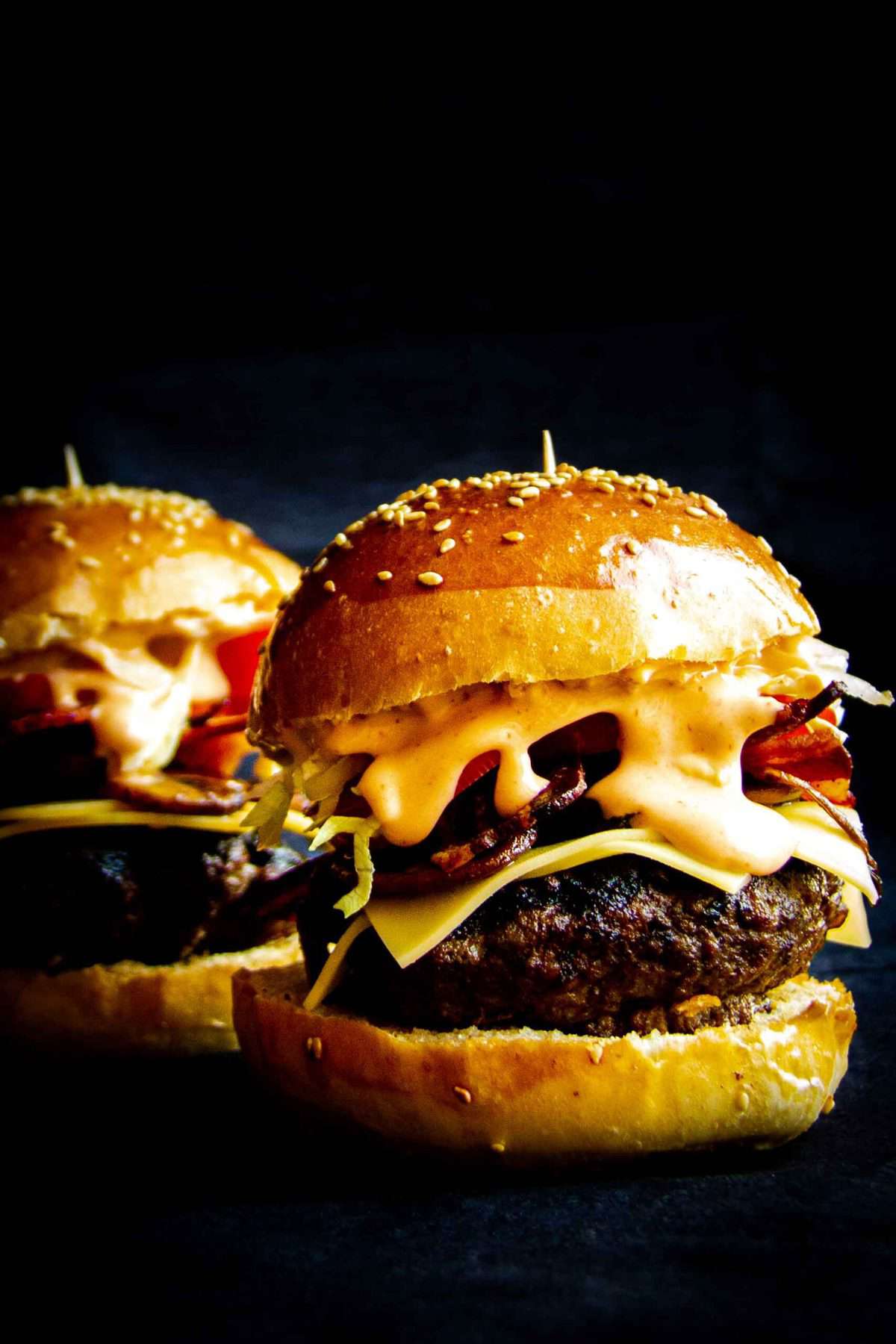 Equipment
BBQ

Baking trays for the buns

Brush for the egg wash
Ingredients
1

Dinner roll recipe

Rolled into 6 instead of 8 from the original recipe
For the Burgers
1

kg

ground beef

preferably chuck and brisket

6

small

butter cubes

a little bit smaller than in the picture

3

whole

tomatoes

cored

½

kg

button mushrooms

12

slices

bacon

6

slices

cheddar cheese

6

pieces

boston bib lettuce

or iceberg lettuce

2

whole

pickles

sliced thin

1

recipe

big mac sauce

1

whole

egg

whisked with a splash of cold water

1

tbsp

sesame seeds

salt and pepper to taste

toothpicks to hold the burger together

BBQ sauce
Instructions
If you want to make the burger buns then keep reading but if you bought burger buns already then skip to step 4.

Follow the instructions to make the dinner roll recipe but instead of shaping into 8 balls we will shape into 6. Rest for about an hour. Cover with plastic wrap.

Set the oven to 175°C/350°F. Carefully brush the hamburger buns with the egg wash. Sprinkle generously with sesame seeds.

Bake in the oven for 10 minutes, turn and then back in the oven for 7 minutes more. When they reach 200°F on a thermometer they're perfect.

Season the burgers generously with salt and pepper in a bowl and mix thoroughly.

Roll the burgers into balls first, then stuff the butter cubes in the middle. Make the cubes a little smaller than in the picture for best results.

Shape the burgers with clean hands into burger patties. Make sure the butter is completely covered by the meat.

Get all the other ingredients ready to go. Fry the bacon until crispy and then cook the mushrooms in the bacon fat. Make the mac sauce. Slice the cheese, pickles, tomatoes, and pick the lettuce. Have everything ready to go so when the burgers are ready, you are ready.

Fire up the BBQ and grill the burgers over medium high heat. Quarter turn once, then flip, then quarter turn again. This takes about 10-15 minutes in total.

Once the burgers are almost ready add the cheese and bacon. Cook to 160°F/71°C.

Slice the buns and toast them if you like. On the top add the sauces, lettuce, tomatoes and pickles. On the bottom put the mushrooms and then the burger with the cheese and bacon. Hold together with a toothpick if necessary. Enjoy!
Notes
The burgers need a good amount of seasoning. If you're not sure how much to add then add some salt and cook a tiny burger to taste it first. Season to your liking.
Once the burgers are seasoned they need to be cooked right away. The salt will start to cure the meat. If you want to save some for later you can form them and freeze them. 
When working with raw meat always wash your hands with soap before touching something else. To avoid cross-contamination and food poisoning never use anything that touched the raw meat with the raw ingredients. 
Nutrition
Calories:
553
kcal
|
Carbohydrates:
7
g
|
Protein:
36
g
|
Fat:
42
g
|
Saturated Fat:
17
g
|
Cholesterol:
139
mg
|
Sodium:
229
mg
|
Potassium:
954
mg
|
Fiber:
2
g
|
Sugar:
4
g
|
Vitamin A:
961
IU
|
Vitamin C:
14
mg
|
Calcium:
177
mg
|
Iron:
4
mg
Have You Tried These Recipes Yet?
The BEST chocolate chip cookies
The Ultimate Chocolate Chip Cookies
This is my recipe for the ultimate chocolate chip cookies. Thick and chocolatey cookies that don't mess around.
Check out this recipe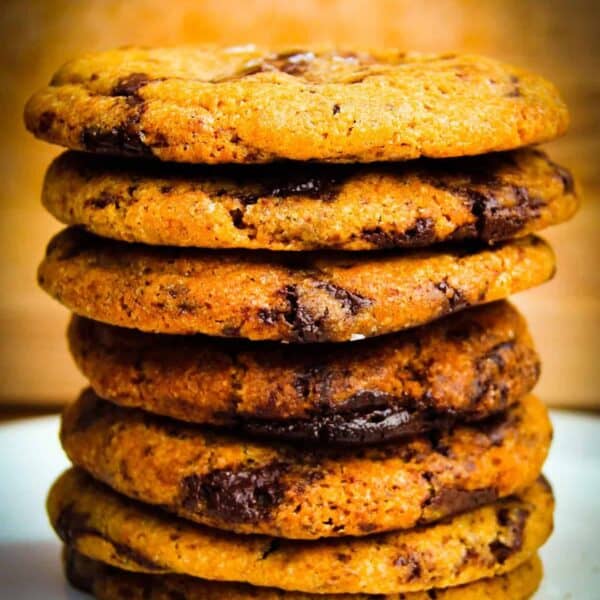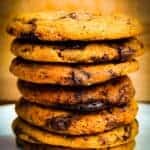 An Easy BBQ Bloody Mary Cocktail
When you want a bloody mary, nothing else will do. This BBQ bloody mary is flavoured with some simple spices and gets a little extra sweetness from the bbq sauce.
Check out this recipe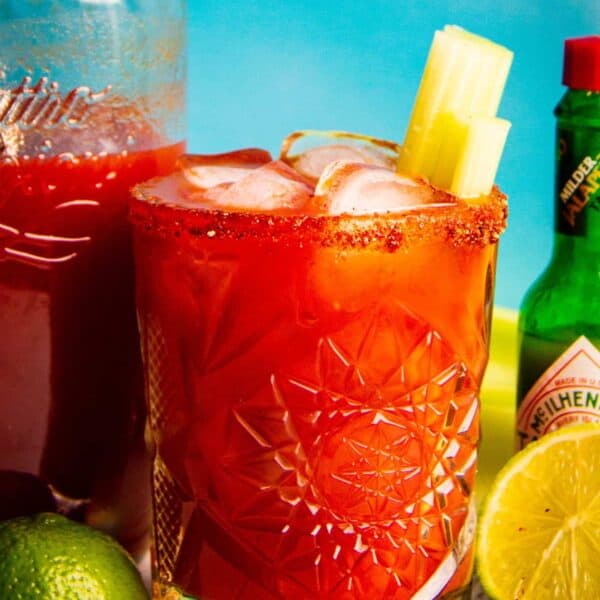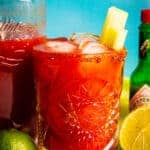 These Easy Milk Buns (a.k.a Burger Buns!)
Easy Pull Apart Milk Buns
Very sexy milk bun recipe that can be made in one day. Using a Japanese milk bun recipe for ultra soft and fluffy dinner rolls. Can also be made vegan.
Check out this recipe