WOW! These Traeger wings are GOOD!
And that's coming from a dedicated, team fried chicken kinda guy.
But these smoked wings are everything you'd want in a wing.
A bold smokey flavour, a juicy interior, and a slightly sweet/spicy seasoning with crispy deep dark brown exteriors. Mmmmm!
Big credit goes to Chef David Neinstein of Barque Restaurant in Toronto Canada for some serious inspiration. If you've ever had the wings at Barque – you already know.
I've adapted this recipe to work with a Traeger but it would also work just fine over a charcoal grill.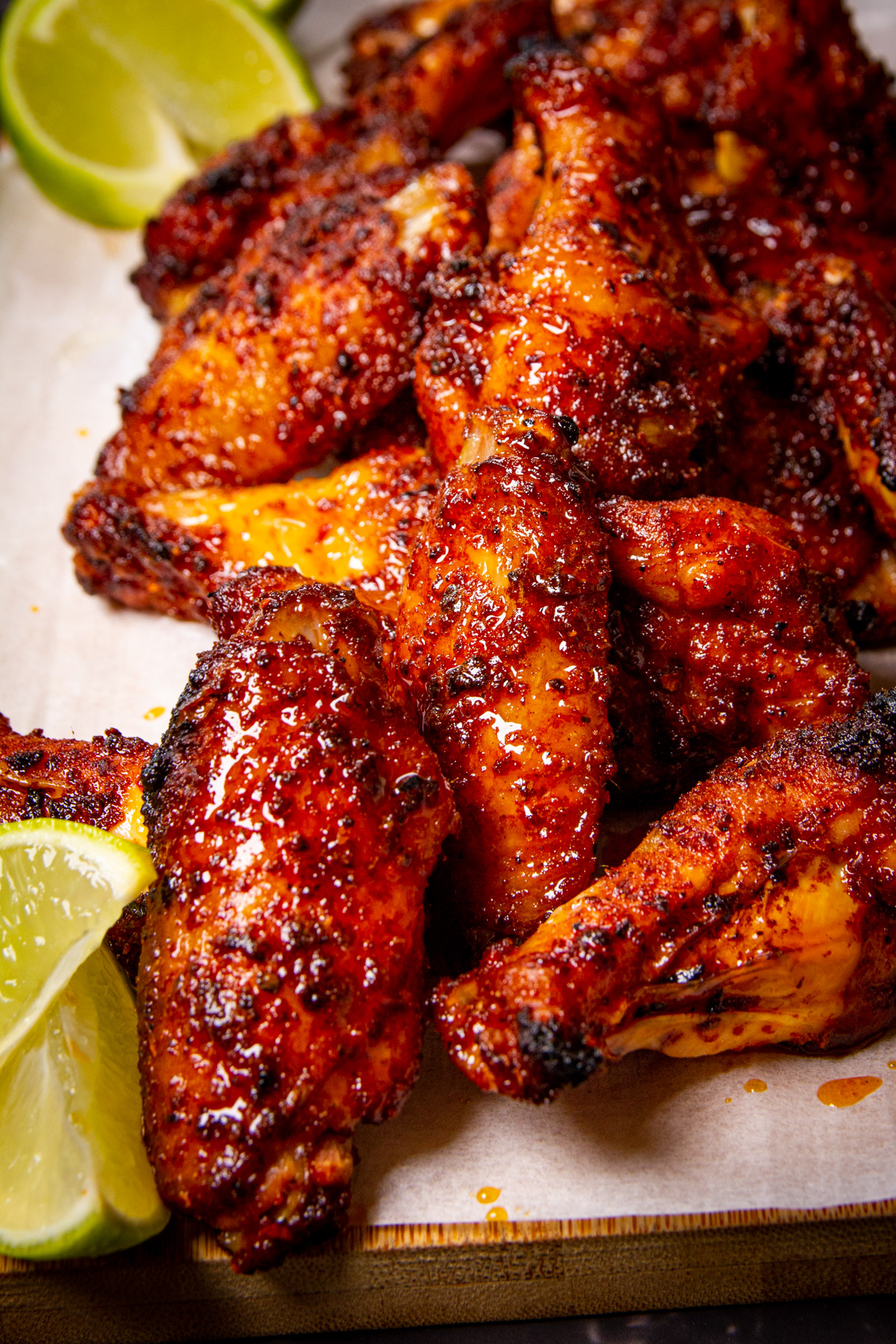 Why these Traeger Wings Rock
These just aren't any ordinary wings.
The biggest downside to these wings is they take time (if you're looking for something quicker, try these marmite + chili infused wings).
But if you plan it out and give yourself sufficient time, you'll be rewarded with pure gold.
I spent a lot of time playing around with wet brines, dry brines, different rubs, smoking temperatures and a myriad of other techniques before settling on this recipe.
The overnight brine keeps the meat extra juicy and also seasons it on the inside. Try not to skip this part and the air-drying process after because it really makes a difference.
I'm also smoking a bit hotter than usual here, at about 300°F. This prevents the skin from going leathery, a little technique I picked up from BBQ legend Malcolm Reed.
I finish the wings at the max Traeger temp to help crisp them up. And don't worry if the wings go over 165°F, an internal temp of around 175°F-180°F will make more tender meat.
Finally, one last secret ingredient takes this recipe to the next level: baking powder. This magical ingredient lowers the PH level of the chicken skin resulting in even crispier wings.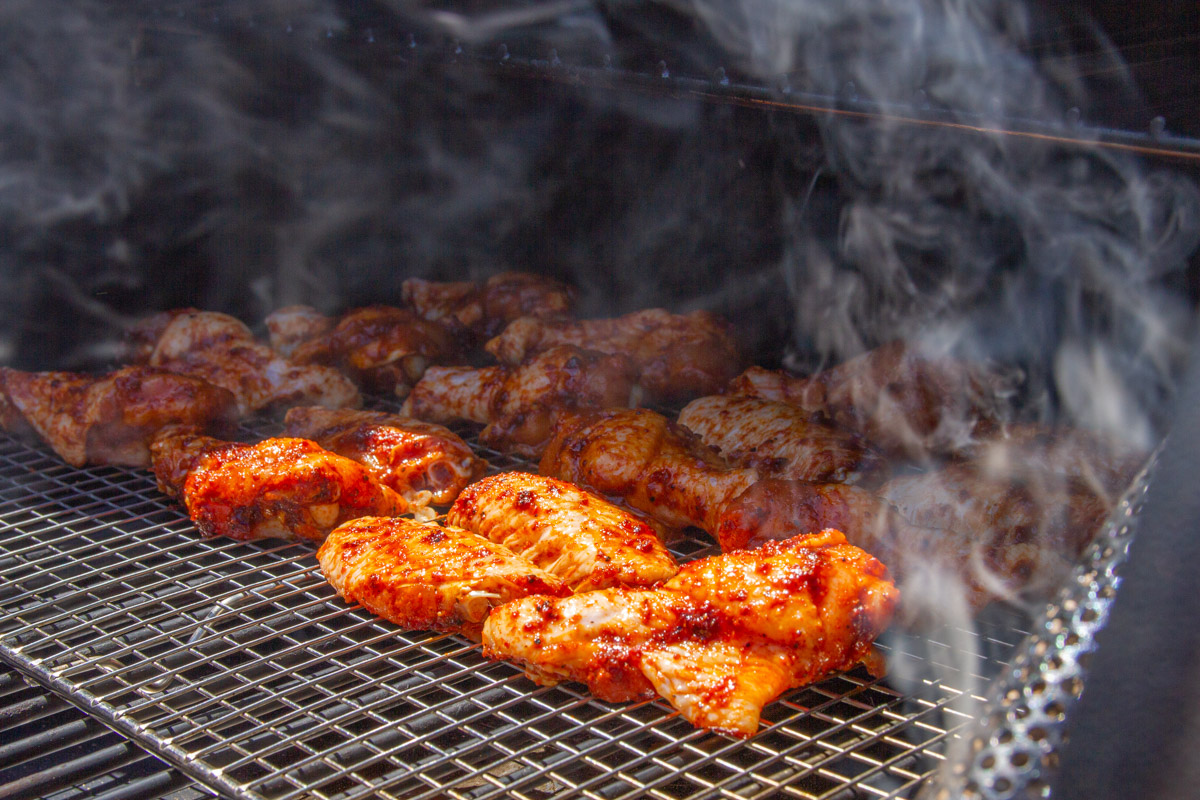 Ingredients Needed For These Smoked Chicken Wings
Let's go over some of the key ingredients before we get started:
Paprika: mild paprika is the base of this dry rub. It gives the wings a nice colour and a mild sweet flavour that is ideal with BBQ foods. I'd avoid using the more expensive smoked paprika because we're going to add our own real smoke flavour.
Garlic powder: garlic powder is great because it adds that garlicky flavour without burning.
Aleppo Chili: I probably use this spice too much, but it's just too good. It adds a great flavour with a mild kick of heat. You can also buy a spicier version of the same spice, but I prefer the mild one. Also goes by the Turkish name Pul Bieber. I know this one is a little hard to come by for some folks, so if you can't find it try using half as much cayenne powder instead.
Brown sugar: Brown sugar adds a nice colour to the wings, a nice sweetness and helps to create that sticky BBQ bark that we all love. If you're keto or trying to cut down on sugar you can leave this out or substitute for a little allulose.
Celery salt: this gives the wings a little umami flavour and is perfect with chicken.
Cinnamon: a very small amount of cinnamon adds some darker tones that go so well with smoked foods. The trick is to not add too much – a little goes a long way.
Baking powder: this secret ingredient discovered by America's Test Kitchen makes the wings a little crispier by lowering the PH level of the wings. Make sure to use baking powder and NOT baking soda.
The Right Wings: Not all meat is created equal. I always advocate to put your money where your meat is because this can be a real game-changer. Good quality, free range or organic chicken almost always tastes better than the cheap stuff.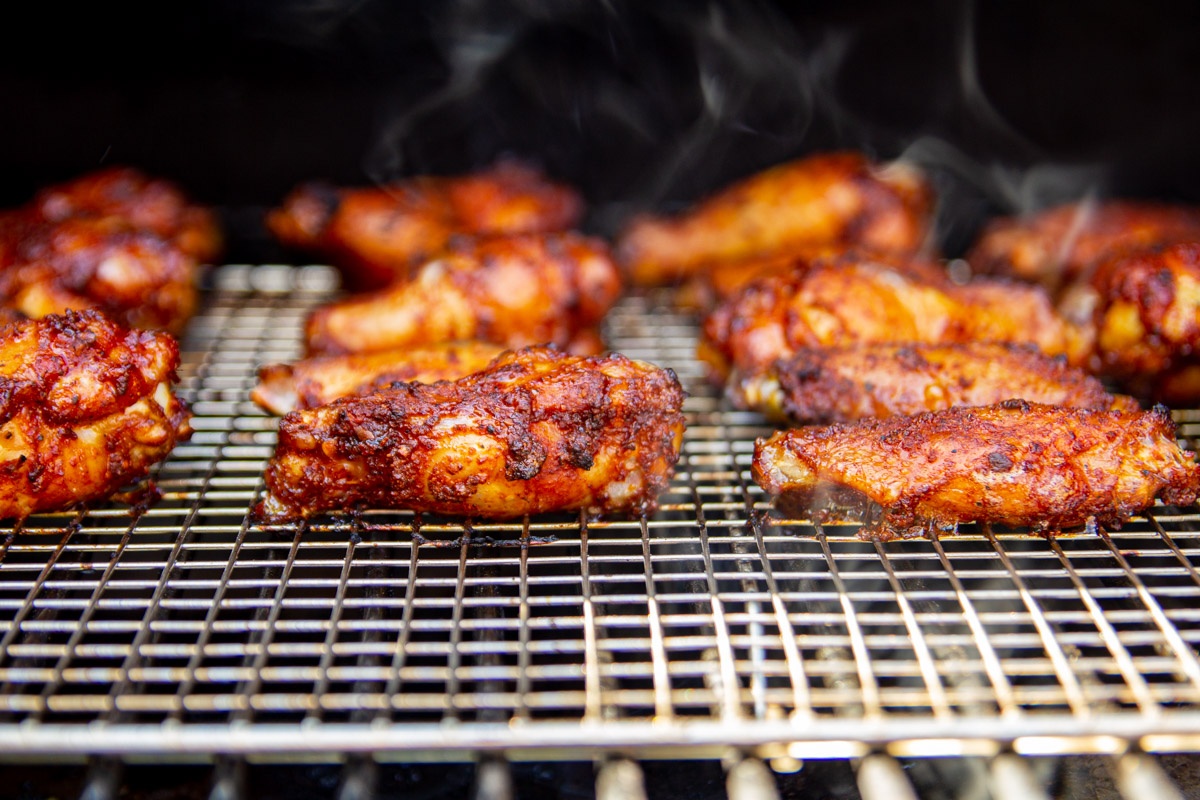 Use a Pellet Smoker Tube or Super Smoke Setting
I love using my pellet tube smoker to add some extra smoke flavour. It's especially useful for shorter cooks like with these wings, as they won't be on the pit the entire day.
Some other Traeger models also come with a "super smoke" setting which will work just as well.
How Long To Smoke Chicken Wings
The time and temperature for smoking chicken wings is hotly debated in the BBQ world.
I prefer to cook chicken a little hotter at around 300°F. The higher temperature prevents that undesirable leathery chicken skin you'll find when chicken is cooked at too low of a temperature. This takes about 45mins to 1 hour.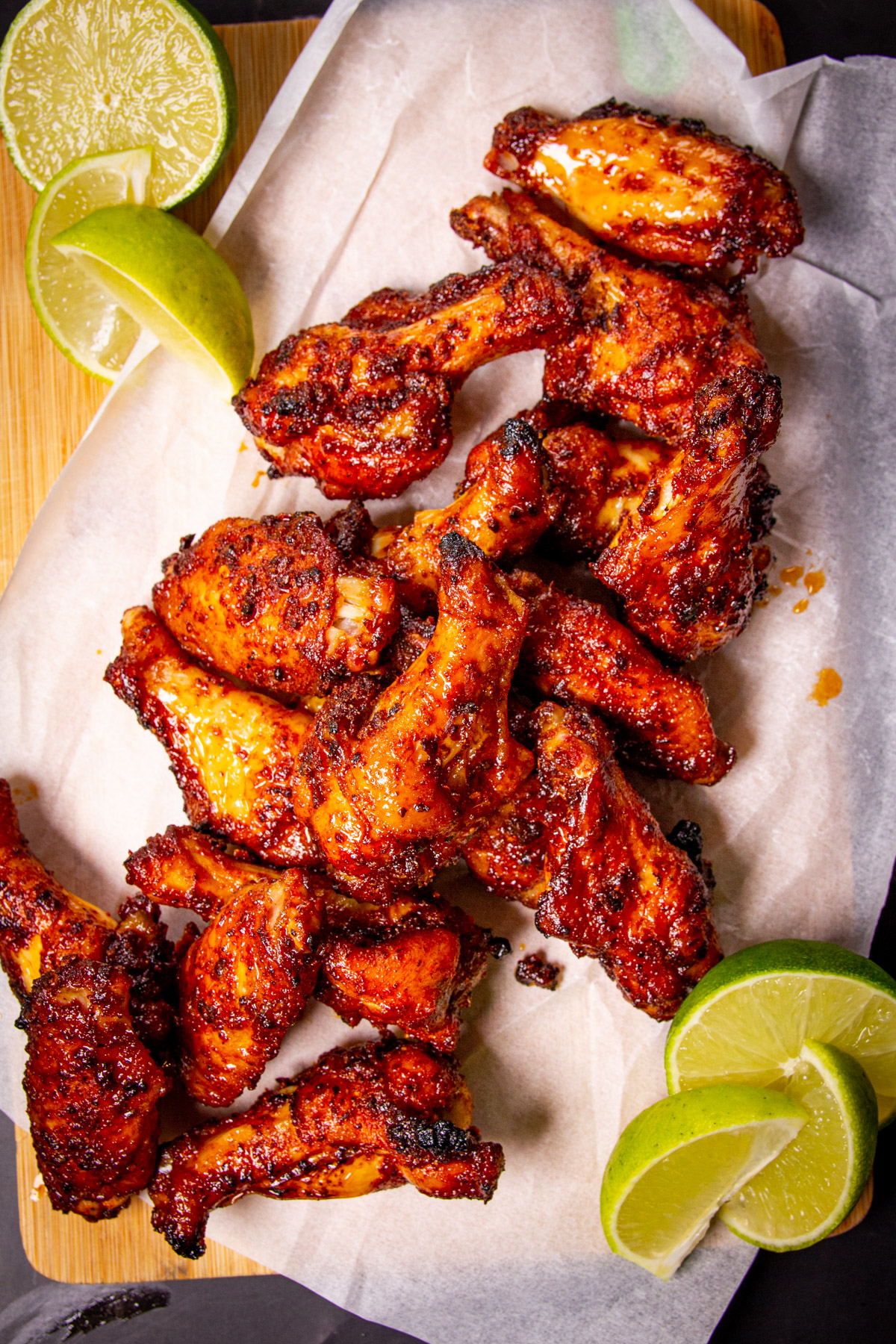 How to Make these Smoked Chicken Wings on a Traeger
Here's the quick play-by-play on how to make these smoked wings:
Brine them overnight (or at least 2 hours).
Rub them with the dry rub and then dry them briefly.
Smoke them at 300°F for 45 minutes. Take them off the pit.
Kick up the Traeger to max (500°F).
Blast the wings on high heat for 5-10 minutes or until the skin goes crispy. Internal temperature should be at least 165°F but going as high as 180°F will yield a better texture.
Eat right away and enjoy!
Do I Really Need to Brine Wings?
I always brine my wings when I have the time.
Soaking the wings in a salt solution overnight means the salt will season the inside of the meat and keep the meat extra juicy after cooking.
I personally prefer the juicy texture of a wet brine over a dry brine but it comes down to personal preference.
Plus it only takes 2 minutes to make the brine. Mix the salt and water together, then add the wings. That's it!
But don't worry if you missed this step, you can still make decent wings without brining.
Don't have time to brine? No problem!
If you're unable to brine the wings overnight, then opt for the "dry brine" instead. Line the wings on a resting rack and sprinkle with a good amount of salt (like you were salting a steak) on both sides.
Let this sit in the fridge for 1 hour- 2 hours. Then add the dry rub and continue the rest of the recipe normally.
Tips to Nail this Recipe
Use a pellet tube smoker or the super smoke function on your pellet smoker for addition smoke flavour.
Brine the wings overnight for extra juicy flavour.
Allow the wings to dry for at least two hours after brining. This is going to help crisp up the skin nicely.
Some Awesome Recipes to Go with These Traeger Wings
These wings are ready to eat on their own, but I'd be tempted to dip them in this Alabama white BBQ sauce.
Here are a few more ideas to serve with these smoked wings:
Or Some More Solid Traeger Recipes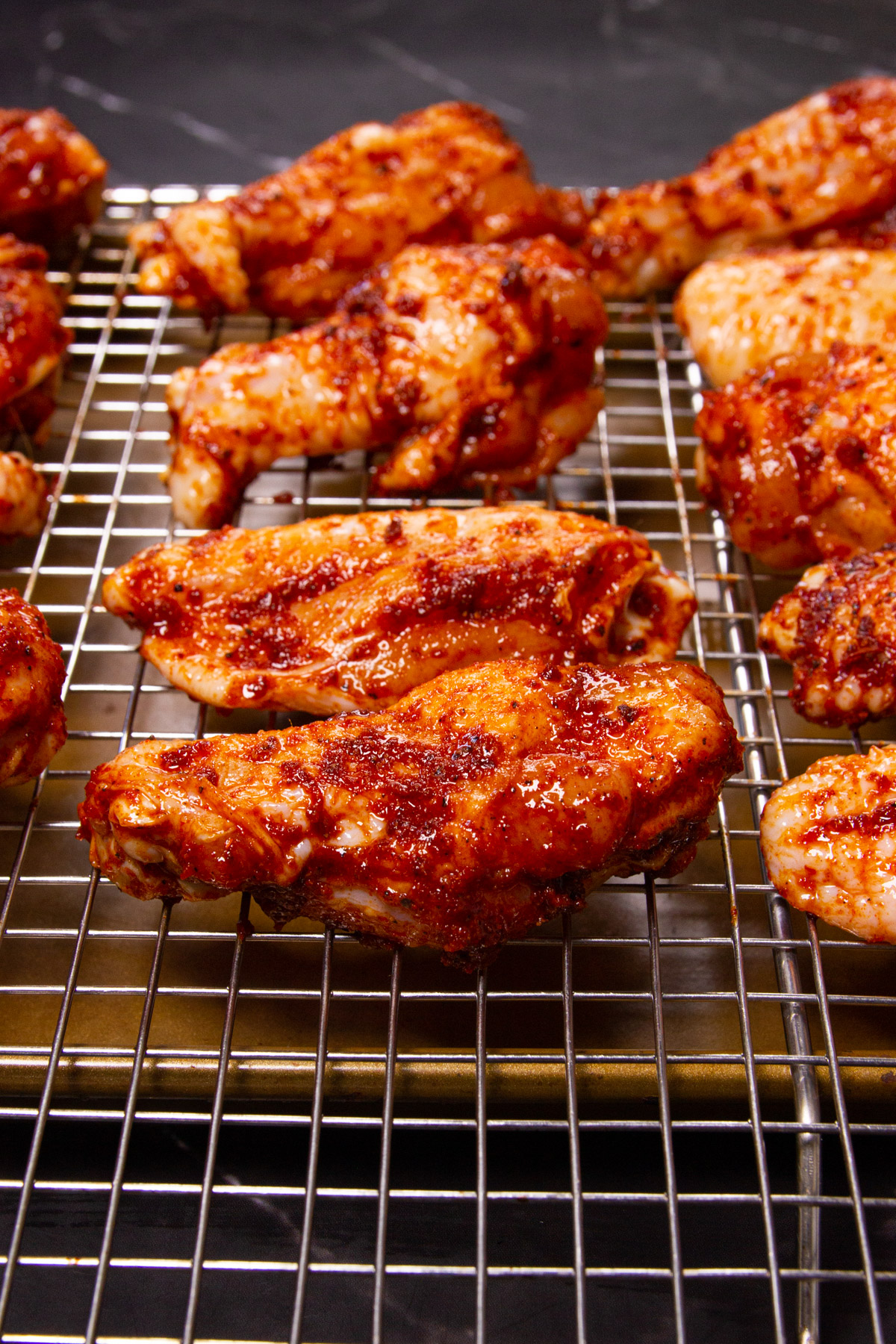 Traeger Wings FAQ
What temperature do you cook wings on a pellet grill?
I go with 300°F. Although the smoking time won't be as long, the higher temp makes crispier chicken skin. This also gives it a good amount of smoke flavour, unlike when grilling at 500°F the entire way.
How long does it take to smoke chicken wings at 225°F?
At 225°F you'll be smoking anywhere from two, to two and a half hours. You'll get a much stronger smokey flavour, but at the cost of leathery chicken skin.
How long does it take to cook chicken wings in a pellet smoker?
That depends on what temperature you smoke at. Try 45 mins at 300°F or 2-2+1/2 hours at 225°F.
Do I need to flip wings on a pellet grill?
You can, but you don't have to. Because a pellet smoker is mostly indirect heating with a fan, both sides will heat more evenly. However, on a grill, most of the heat is coming from underneath which means you'll have to flip the wings.
This recipe is inspired by Chef David Neinstein of Barque Restaurant in Toronto Canada. These are some seriously good wings, and if you ever get the chance to visit one of his restaurants then I highly recommend it.
Crispy Traeger Wings – The BEST Smoked Chicken Wings
You've got everything in these Traeger wings. Smokey, juicy, flavourful smoked wings with a gorgeous crispy exterior. What else do you want?!
Ingredients
1

lb

chicken wings

(454g)

1

tsp

baking powder

1

tsp

softened butter
For the 5% Brine
25

g

salt

(about 1½ tbsp)

500

g

cold water

(about 2 cups)
The Dry Rub (For 1lb of wings)
1

tbsp

paprika powder

½

tsp

Aleppo chili (pul bieber)

(or use ¼ tsp cayenne)

1

tbsp

white sugar

1

tbsp

brown sugar

½

tsp

celery salt

½

tsp

garlic powder

¼

tsp

ground cinnamon
Instructions
Make the brine by mixing salt and water together. Cover the chicken wings with the brine in a bowl. Wrap and store in the refrigerator overnight or for at least 2 hours.

Drain the brine and discard. Dry off the wings briefly with paper towels.

Add 1 tsp of baking powder per lb of wings and mix in a bowl.

Add the dry rub and mix well with your hands to coat evenly. Save about 1-2 tbsp of dry rub to finish the wings later.

Spray a resting rack with vegetable oil (or brush it).

Line the seasoned wings on a resting rack with a tray underneath. Dry in the fridge for 1-2 hours.

Preheat your Traeger to 300°F.

Optional: fill your pellet tube smoker about 1/3 with your favourite pellets. Lite it when the Traeger is ready.

Once the Traeger is ready, place the tray of wings in the middle of the pit.

Close the lid and smoke for 45 minutes.

Once an hour has passed, take the wings off the pit and crank the Traeger up to its max temp of 500°F.

Finish the wings for 10 minutes on high heat or until the edges go crispy.

Immediately toss the wings with the softened butter and extra dry rub. Coat well and serve right away!
Notes
If you're in a hurry you can skip the brining and drying process but the wings will be less good. 
You can also finish the wings on a charcoal or gas grill instead of waiting for the Traeger to heat up to max temperature. Just be careful as they'll burn easily!
The Best Smoked Mac and Cheese
After many tweaks and trials, I have found the best smoked mac and cheese recipe. Throw this on the smoker while you wait for your smoked meats to rest.
Check out this recipe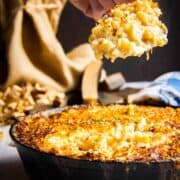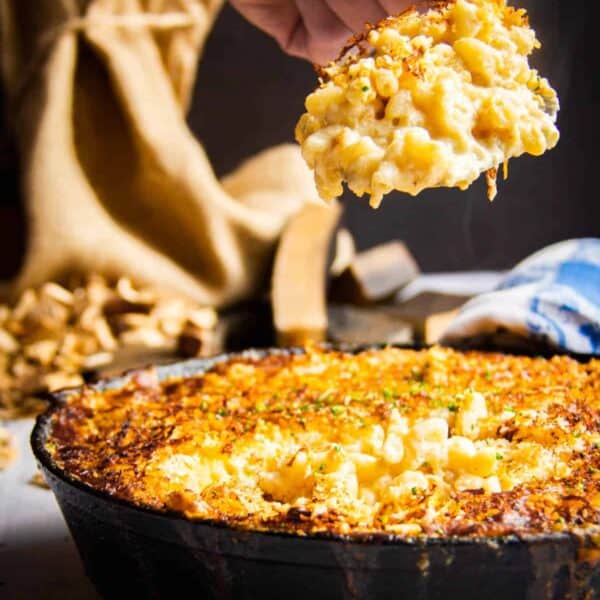 The Ultimate Smoked Grilled Cheese
Loaded with smoked gouda, mozzarella and brushed with butter, this is one serious smoked grilled cheese. Methods available for pellet smoker or charcoal kettle.
Check out this recipe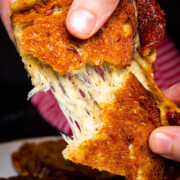 Maple Glazed and Hot Smoked Traeger Salmon
This maple glazed Traeger salmon is one of the finest recipes you can make with your smoker. It won't take too long to make and the flavour of the sweet, smokey salmon is incredible.
Check out this recipe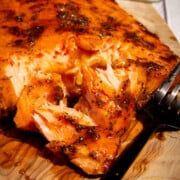 Smoked Gouda – How to Make Your Own Traeger Smoked Cheese
You can easily make your own smoked gouda at home. Using your smoker or BBQ with a smoking tube is the key to flavourful smoked cheese.
Check out this recipe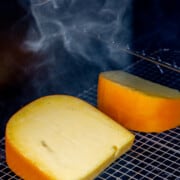 Reverse Sear Smoked Ribeye With Umami Butter
A step-by-step guide on how to make a reverse seared, smoked ribeye with a weber kettle grill. Slathered in umami butter for maximum flavour.
Check out this recipe