Wait…there's a white BBQ sauce?!
Although it's not nearly as good as my classic BBQ sauce, this Alabama White BBQ sauce is definitely worth trying. It's tangy, and creamy with a little bit of kick from the fresh horseradish and hot mustard.
Did you forget to make the sauce? No worries! You can whip this sauce up in less than 5 minutes.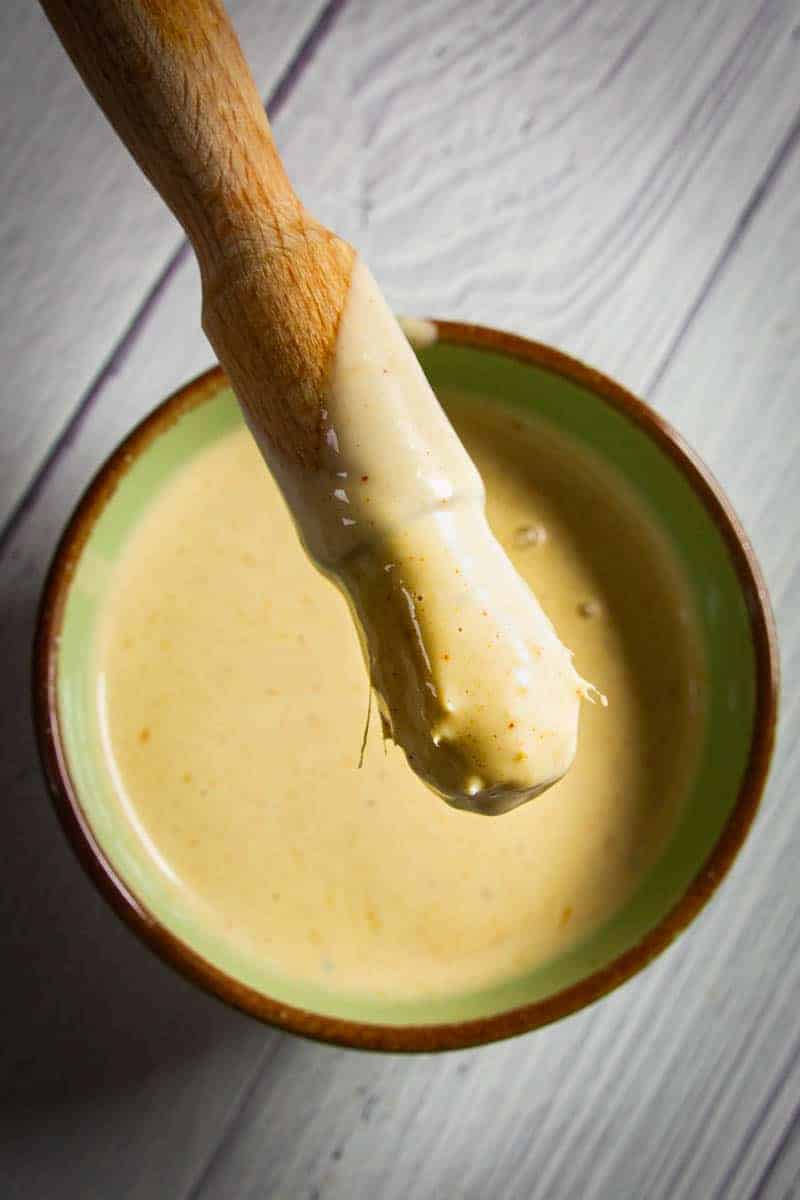 What is Alabama White BBQ Sauce?
It's a mayo-based BBQ sauce that was invented by Robert Gibson at Big Bob Gibson's Bar-B-Q in Decatur, Alabama. Although it's completely different than regular BBQ sauce, it packs a tangy punch that works well with fatty cuts of smoked meat.
Personally, I like regular BBQ sauce much more, but it's always nice to have options. If you're not sure what to serve, make both! The contrast of the two sauces together is even better.
Serve it on the side for dunking smoked meats like chicken wings, smoked brisket, or even some crunchy raw vegetables.
What's in the Sauce?
Let's break down the key ingredients of this sauce and any possible substitutions:
Mayo – This is the base of the sauce that adds richness and makes the meat taste more succulent. I used Hellman's mayonnaise, but you may get a slightly different taste with a different mayo.
Hot Mustard- This is pretty integral to the sauce because hot mustard has a specific flavour that's difficult to replace. If you can't find hot mustard, double up on the horseradish instead.
Horseradish – Fresh horseradish is ideal but jarred horseradish will also work. Keep in mind that fresh horseradish is usually much stronger than the jarred stuff.
Apple Cider Vinegar – Apple cider vinegar is great with BBQ and a clear winner in this recipe. You could substitute the apple cider vinegar for lemon juice or white wine vinegar for similar results.
Brown Sugar – Brown sugar is a nice touch in this sauce and is made to balance out the high acidity. You can omit the brown sugar, but cut back on the vinegar a little otherwise it will be too sharp.
Cayenne – The cayenne is a nice touch of heat in this sauce but definitely not too spicy. You can add more cayenne if you'd like it spicier but the sauce will take on a reddish hue and won't really be a white sauce anymore.
Fresh Garlic – Traditionally, this sauce uses garlic powder but I find fresh garlic to be much better.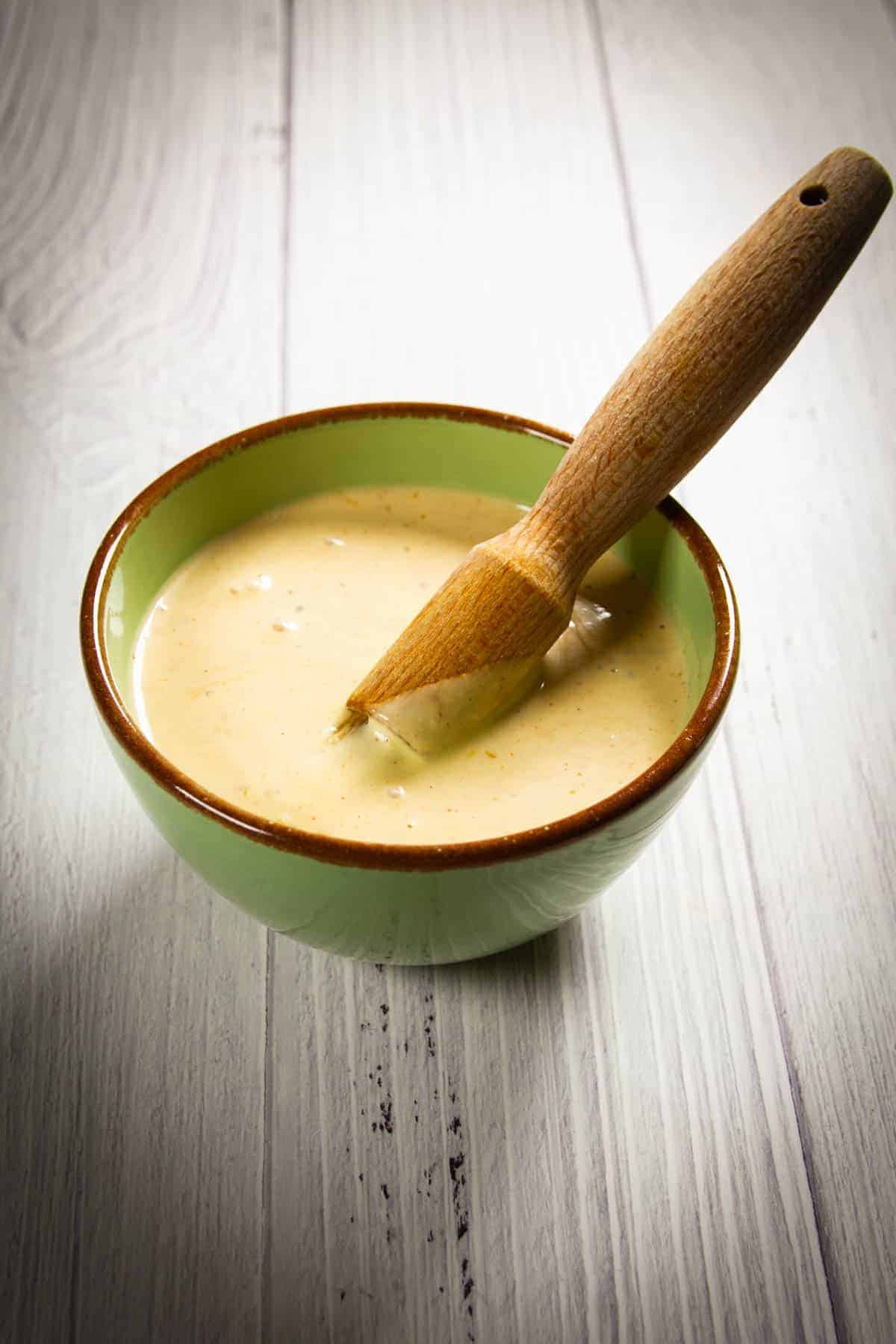 How to Make a White BBQ Sauce
Here's how to make this sauce:
First Microplane some garlic into a bowl.
Mix all of the ingredients together and whisk.
That's it, you're ready!
What to Serve With a White BBQ Sauce
The best part about this sauce is you can make it in less than 5 minutes. Here are a few things you can use it with:
Smoked chicken wings, legs, thighs.
Beef dishes – the horseradish in this sauce pairs well with smoked beef, chuck, brisket or even with pastrami sandwiches.
As a vegetable dip.
Mixed into coleslaw.
Other BBQ Recipes
If you need some more BBQ inspiration, you could try these:
Alabama White Sauce – A White BBQ Sauce
This Alabama white BBQ sauce is a nice dip for smoked meats, raw crunchy veggies or mixed into coleslaw. Did I mention it only takes 5 minutes?
Ingredients
150

g

mayonnaise, Hellman's Brand

(½ cup)

½

clove

fresh garlic

peeled

30

g

hot mustard

(1+½ tbsp)

30

g

horseradish, (from a jar)

(1+½ tbsp) use less for fresh horseradish

20

g

apple cider vinegar

(1+½ tbsp)

10

g

brown sugar

(1 tbsp)

¼

pc

juice of lemon

0.5

g

cracked black pepper

(⅛ tsp)

0.5

g

cayenne, ground

(⅛ tsp)

pinch of salt
Instructions
Microplane the ½ clove of garlic into the bowl.

Mix all of the ingredients together and whisk well until smooth. Let sit for at least 10 minutes.

That's it! Now dunk some wings in there!
Notes
The sauce will have a much better flavour the next day after the ingredients have time to mix together.
This sauce will not last longer than 5 days in the fridge.
Nutrition
Calories:
275
kcal
|
Carbohydrates:
4
g
|
Protein:
1
g
|
Fat:
28
g
|
Saturated Fat:
4
g
|
Polyunsaturated Fat:
17
g
|
Monounsaturated Fat:
7
g
|
Trans Fat:
1
g
|
Cholesterol:
16
mg
|
Sodium:
356
mg
|
Potassium:
47
mg
|
Fiber:
1
g
|
Sugar:
4
g
|
Vitamin A:
82
IU
|
Vitamin C:
2
mg
|
Calcium:
15
mg
|
Iron:
1
mg