Not only is a smoked tri tip amazingly delicious, but it's also pretty inexpensive.
A lot of people don't yet know about this cut so the price is still pretty cheap. Sort of like how brisket was maybe 20-30 years ago.
And because it's smaller than a brisket, it won't take nearly as long to cook but can still feed around 4-6 people.
You can cook a tri tip like a brisket but I like the reverse seared approach which takes less time and is just as rewarding.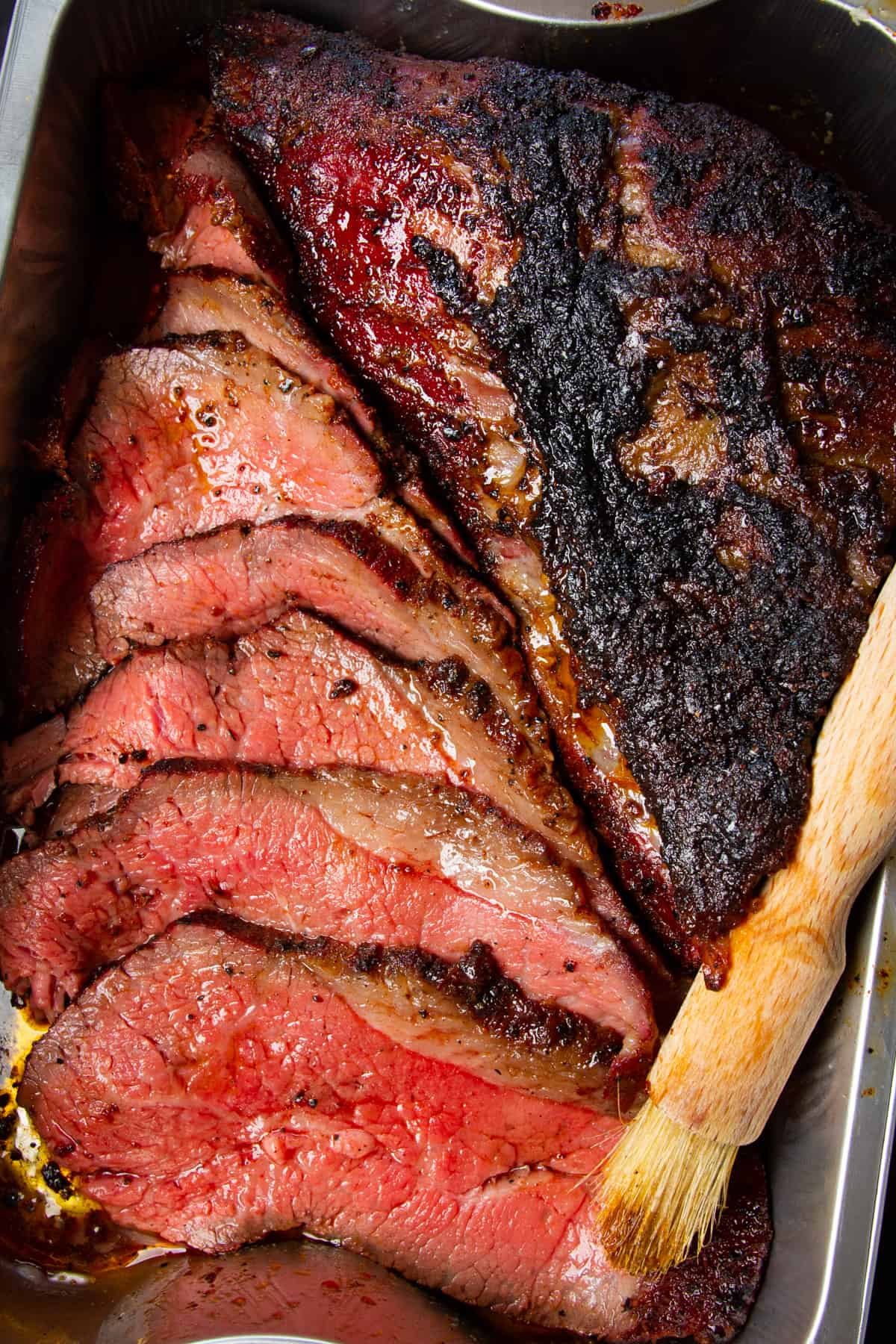 Tri Tip – The Butcher's Secret Cut
Tri tip is a really under-rated cut of beef.
Located just above the knee on the hind quarter, this cut is flavourful but also quite tender.
If you've ever had a sirloin steak, the taste and texture are quite similar.
Now, it's not going to be as tender as the more expensive prime cuts such as ribeye or tenderloin.
But considering the more affordable price, tri tip is a great choice for the amount of meat you get.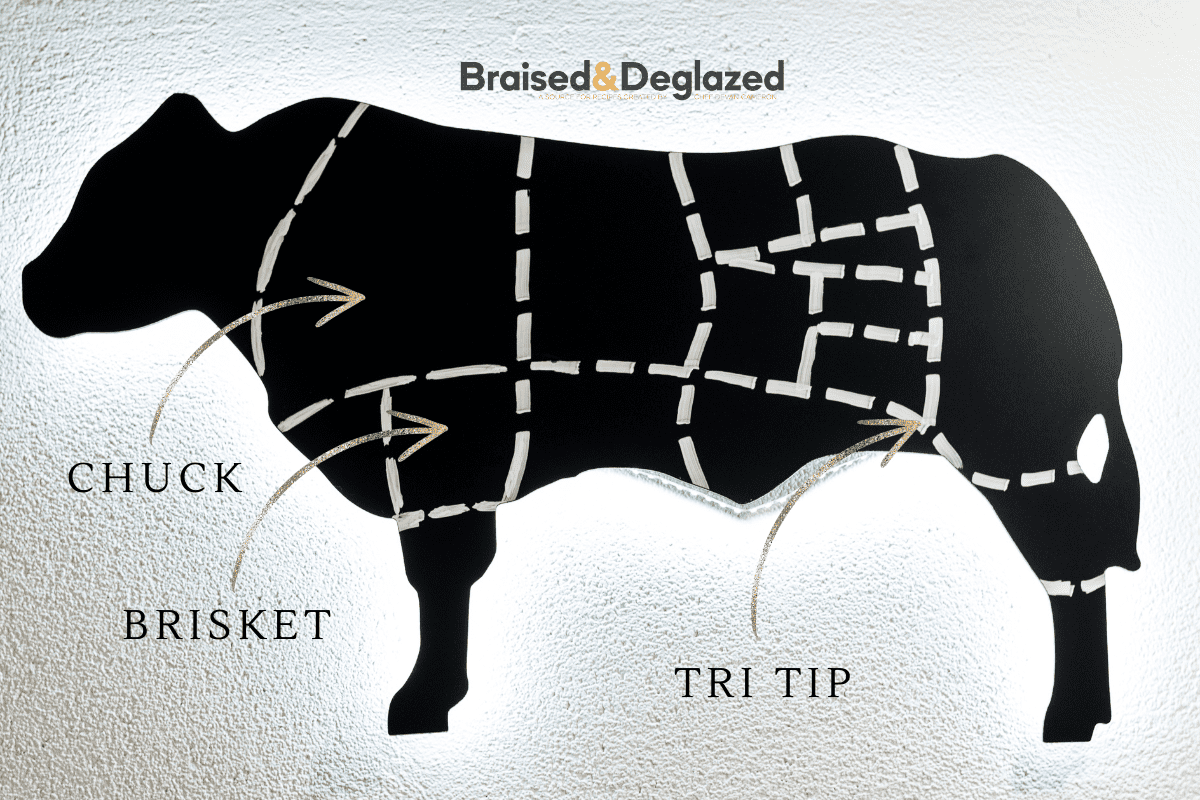 If you're interested in seeing exactly where the tri tip is cut from the beef, check out this awesome butchery tutorial from The Bearded Butchers.
Why Smoke a Tri Tip?
What's great about a tri tip is its size.
Unlike smaller steaks (like this smoked ribeye), its large size means it can spend a good amount of time on the smoker and really develop a nice bark.
At the same time, the cut is tender enough that it doesn't have to be cooked for 14 hours like a brisket (although some people do cook it like a brisket).
I like to think of tri tip like a Volkswagen car.
It's no fancy Mercedez Benz but it's much more affordable, it looks great and keeps around 4-5 people satisfied.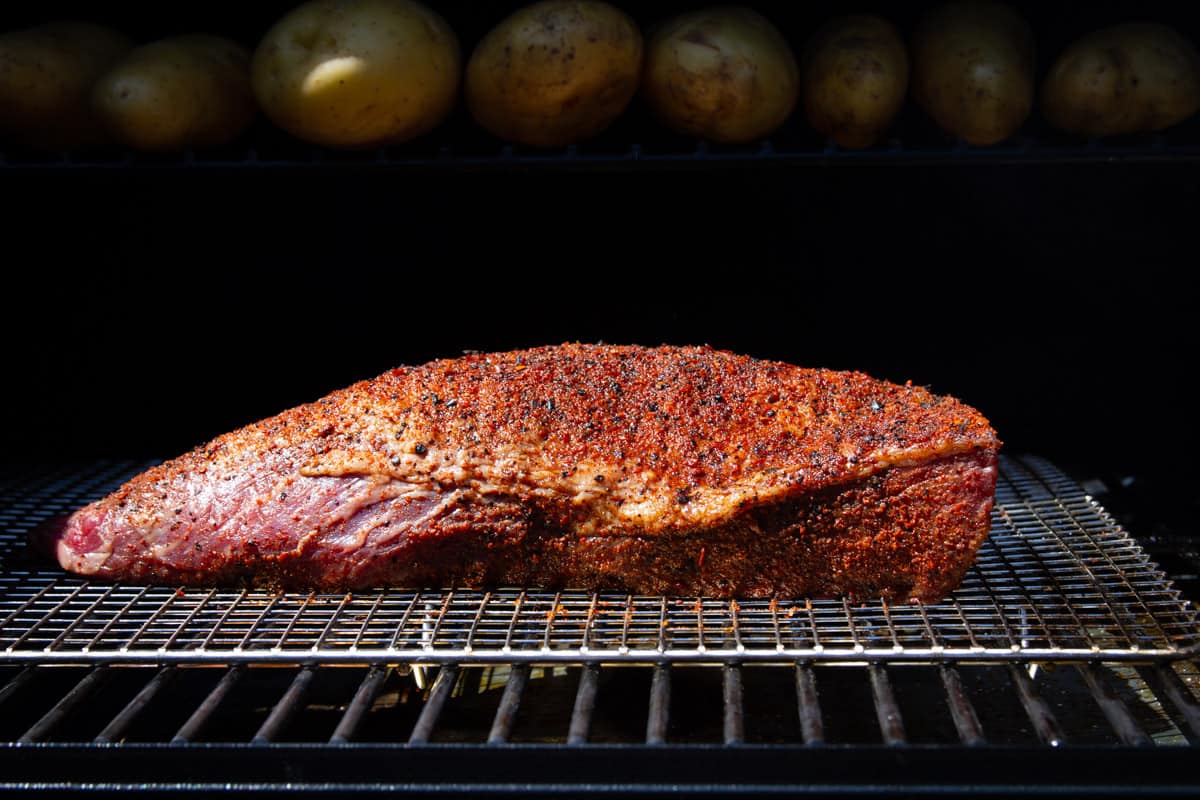 How Do You Smoke a Tri Tip?
As mentioned above, there are two schools of thinking when it comes to tri-tip.
You can either cook it low and slow like a brisket or reverse sear it to medium-medium rare.
I lean more towards the reverse sear approach for a few reasons.
First off, it's nice to save a few pellets with the reduced smoking time.
Secondly, a perfectly cooked medium-to-medium-rare steak is just so good!
And lastly, if I want to go the brisket route, I'd rather use a chuck roast for that instead. It's got a little more fat in the meat that's going to keep it soft and tender after a marathon smoking of 8+ hours.
The Poor Man's Super Smoke Alternative – a Pellet Smoker for Extra Smoke Flavour
I like to use my pellet tube smoker for shorter cooks on the Traeger to up the smoke flavour.
Some higher-end models of Traeger or pellet smokers include a "super smoke" button which is essentially the same thing as using the pellet tube.
Although I wish I could just press a button to add extra smoke, the pellet tube does a pretty good job and they're not too expensive either.
You can fill it with extra Traeger pellets or even regular wood chips too.
Here's a decent one I recommend.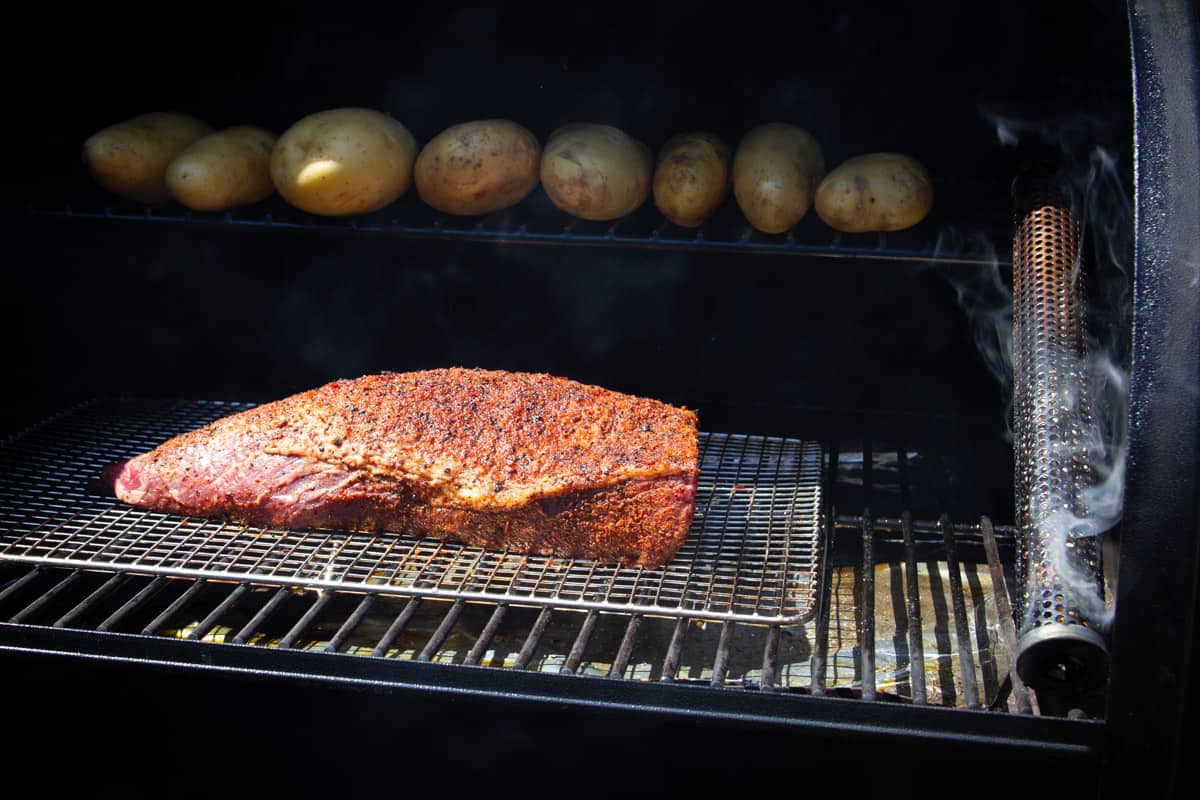 The B&D Signature Beef Rub Revealed!
Some places like to keep their BBQ rubs secret but not me.
Here's what I put in my BBQ Beef Rub:
Aleppo Chili: A.k.a Sweet Pul Bieber, a Turkish spice that's not too hot but has a ton of flavour. It also adds a beautiful red colouring to the bark which is ideal with BBQed meats. If you can't find it then just double up on the ground paprika.
Ground Urfa Pepper: A.k.a Isot peppers, another Turkish spice that is ideal for BBQed meats. The flavour is quite unique and adds hints of a raisin, smoke with a little sour kick. It's not a deal-breaker for this recipe but if you do find it, it will add a unique flavour to your chuck roast that you won't find anywhere else.
Garlic Powder: Garlic powder is fantastic in BBQ because it won't burn as fresh garlic does. A little bit but not too much.
Ground Paprika: This is the base of most BBQ rubs and has a mild and aromatic flavour. Don't use the expensive smoked paprika for this recipe because we'll be adding enough smoke flavour already.
Black Pepper: Simple black pepper is always ideal with beef. Avoid buying pre-ground black pepper which is usually pretty stale.
White/Brown Sugar: If it seems like too much sugar to you keep in mind that this is only added to the outside of the meat. The sugar is important not just for the taste, but also to make that gorgeous "bark" around the meat. If you're on a keto diet, then leave out the sugar and use a light coating of your favourite keto BBQ sauce instead.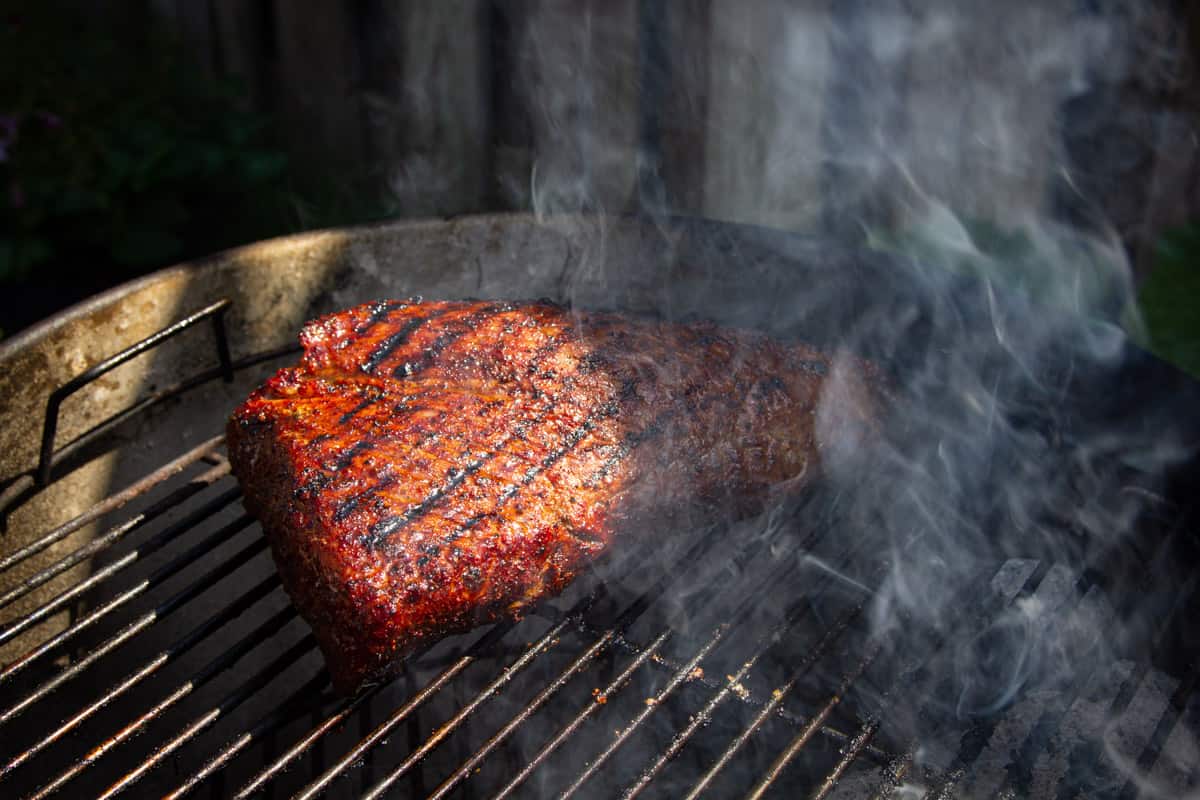 What to Do with Leftovers
Unlike braised meats and BBQ meats that are fully cooked, meat cooked to medium rare will not be nearly as good the next day.
I find the best method is to either microwave the sliced meat until hot and mix it into nachos, tacos or fried rice. Leftovers will be okay for 1-2 days in the fridge.
From a safety perspective, leftover beef must be refrigerated immediately after eating and re-heated to at least 140°F/60°C before eating again.
You can also freeze the leftovers. I'd slice it before freezing, so you can heat up the slices much faster.
Tips to Nail this Recipe
Here are a few tips to consider before starting:
Always slice meat against the grain after cooking because this makes it less chewy. The grain in tri tip changes direction, so you'll need to keep an eye on it while you slice.
An overnight marinade improves the final bark of the smoked tri tip, although not mandatory.
Steak cooked to medium rare, like this tri-tip, won't make the best leftovers like fully cooked brisket or chuck. It's better to finish it the same day. Invite some friends and family over!
I like to use my pellet tube smoker to add an extra smokey flavour for this short cooking period. Your call though.
Smoked Tri Tip FAQ
How long does it take to Smoke Tri Tip at 225?
A rough rule for smoking tri tip would be about 30 minutes per pound. A tri tip at 2 + 1/2 lbs should be ready after about 1 + 1/2 hours of cooking. But it's always better to use a thermometer to know when meat is ready.
How long should I smoke a tri tip?
Depends on which approach you'd like to use. If you're going for the reverse sear method, then expect to smoke anywhere from 1-2 hours before finishing over high heat.
Is tri tip a good cut to smoke?
Tri tip is an excellent choice for smoking. It's big enough to handle a longer smoking time and is tender enough to eat at medium rare. Even then, you can still cook it like a brisket for another cheaper brisket alternative.
Should I wrap my tri tip in foil?
If you're reverse-searing, then you won't want to wrap your tri tip. The only time you'll want to use foil is at the end when you let the beef rest and need to keep it warm. On the other hand, if you're cooking it like a brisket, then you'll probably want to wrap it in foil to tenderize it.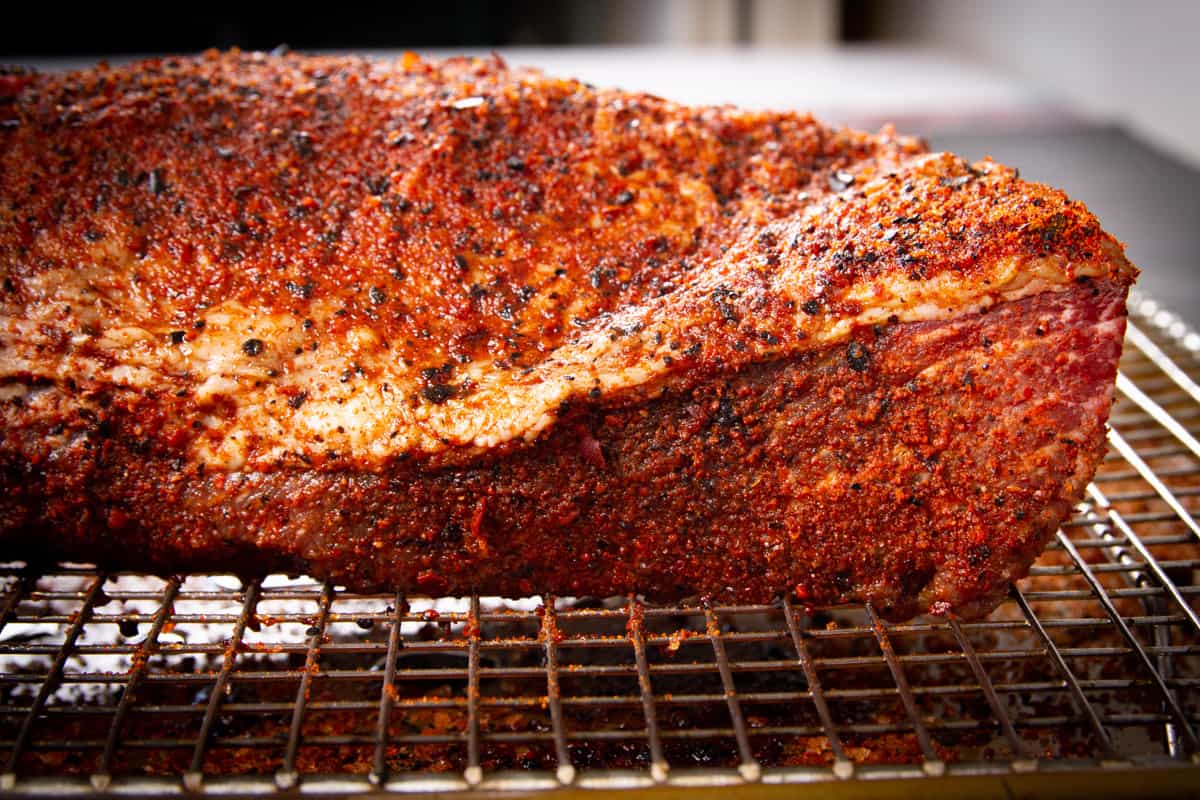 Awesome Sides + Sauces for Tri Tip
Try these sides and sauces with this reverse seared tri tip:
Or These Other Traeger Recipes
The Best Traeger Smoked Tri Tip – Reverse Seared
This smoked tri tip is too good. Injection brined, cured overnight, smoked on the Traeger and finished on a Weber.
Ingredients
2.2

lbs

tri tip, trimmed of excess fat

(1kg)

1

tsp

Worchestershire sauce

3

tbsp

butter

salt
B&D Signature Beef Rub
3

tbsp

Aleppo chili powder 

(24g)

3

tbsp

Urfa pepper, ground 

(24g)

3

tbsp

sweet paprika, ground

(29g)

1

tbsp

 garlic powder 

(10g)

¼

cup

white sugar 

(67g)

¼

cup

brown sugar 

(67g)

1

tsp

cracked black pepper

 (5g)
For the 5% Brine
1+½

tbsp

salt 

(25g)

2

cups

cold water

(500ml)
Instructions
Do these preparations the night before you plan to smoke:

– Trim the tri tip of excess fat, but leave some on (about a ¼"/ 6mm).

– Mix the salt and water together for the brine in a measuring cup. Inject the brine into the meat with about 6-7 injections.

– Dry off the meat on the outside and brush with a little bit of Worchestershire sauce.

– Sprinkle a heavy coating of the dry rub over all sides of the tri tip.

– Then sprinkle a generous amount of salt around all sides.

– Allow to dry in the fridge, uncovered overnight on a resting rack with a tray underneath.

Preheat the Traeger to 185°F/85°C. Optional – load the pellet tube smoker about halfway and light it right before you're ready to smoke.

Smoke the tri tip on the resting rack for 1.5-2 hours or until an internal temperature of 115°F/46°C is reached.

In the meantime ready your charcoal grill.

Once the tri tip has reached 115°F/46°C in the thickest part, remove it from the smoker and brush it in some butter.

Finish it over the hot coals for 5-7 minutes or until the fat cap goes golden brown. Be careful here as the steak will burn easily!Once the tri tip hits 120°F/49°C, it's ready to rest.

Let it rest in the butter tray for 20 minutes with the foil on. Keep it in a warm place.

With the long rest, this will give you a perfect medium-rare.

Slice against the grain to finish. Serve with the juices and butter from the pan. Enjoy!
Notes
Be careful as the tri tip will burn easily on the hot charcoal grill. 
If you want to skip the charcoal grill, take the tri tip off the heat at 110°F/43°C and tent with aluminum foil. Crank the Traeger up to max temp. Once it's done preheating, add the tri tip back to the smoker and remove it once it hits 120-125°F/ 49-52°C.
Easy Traeger Smoked Chuck Roast – The Poor Man's Brisket
The cheaper, just-as-good alternative to smoked brisket. Enter the poor man's brisket.
Check out this recipe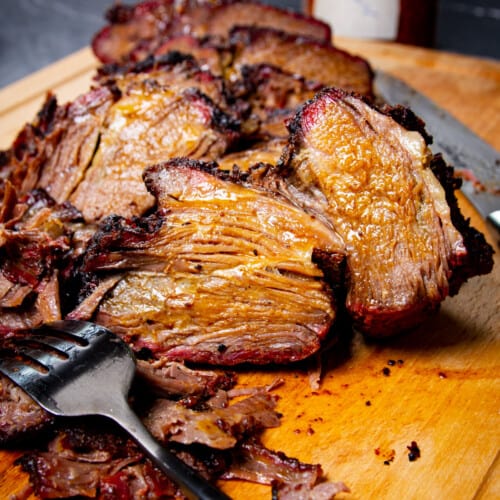 The Best Traeger Smoked Baked Potatoes – Twice Baked Potatoes
My ultimate recipe for smoked baked potatoes. Smoked until fluffy and twice baked to perfection. It just doesn't get any better than this!
Check out this recipe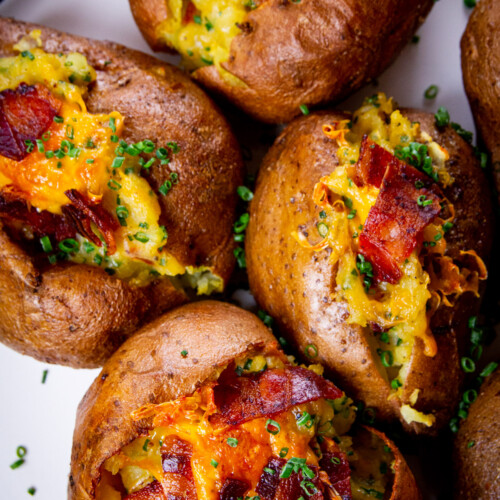 Crispy Traeger Wings – The BEST Smoked Chicken Wings
You've got everything in these Traeger wings. Smokey, juicy, flavourful smoked wings with a gorgeous crispy exterior. What else do you want?!
Check out this recipe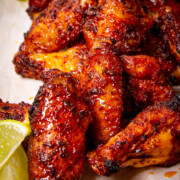 Epic Traeger Smoked Burgers
These Traeger smoked burgers are EPIC. With extra juicy interiors and a bold smokey flavour, you will make some new friends with this one.
Check out this recipe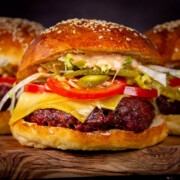 Maple Glazed and Hot Smoked Traeger Salmon
This maple glazed Traeger salmon is one of the finest recipes you can make with your smoker. It won't take too long to make and the flavour of the sweet, smokey salmon is incredible.
Check out this recipe