Hand's down, the most delicious recipe I've made on my Traeger is this smoked chuck roast, a.k.a the poor man's brisket.
Beautifully tender brisket-like slices of beef with a gorgeous pink smoke ring and a special beef dry rub I guarantee you've never seen before.
The best part? Chuck roast is even cheaper than brisket!
I couldn't be happier with how this turned out and I really hope you get a chance to try this one.
Big thanks to BBQ ChampionTuffy Stone for sharing his competition brisket recipe which this recipe is adapted from.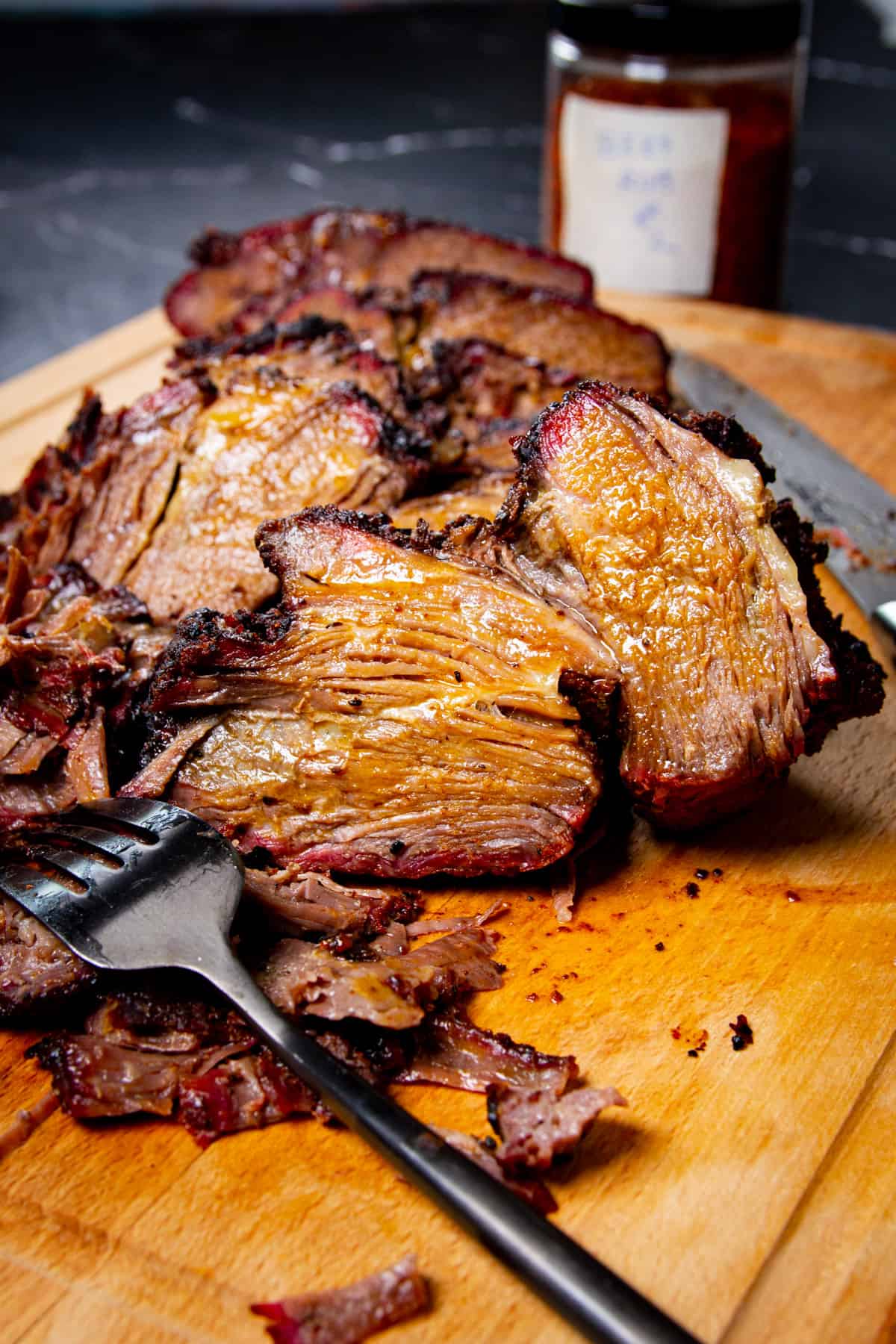 What is a Poor Man's Brisket?
Poor man's brisket is exactly what you'd imagine – a cheaper alternative to the expensive increasingly popular beef brisket.
So what's the alternative? Chuck roast.
A good chuck roast has just as much flavour as any good brisket as the muscle is located beside the brisket.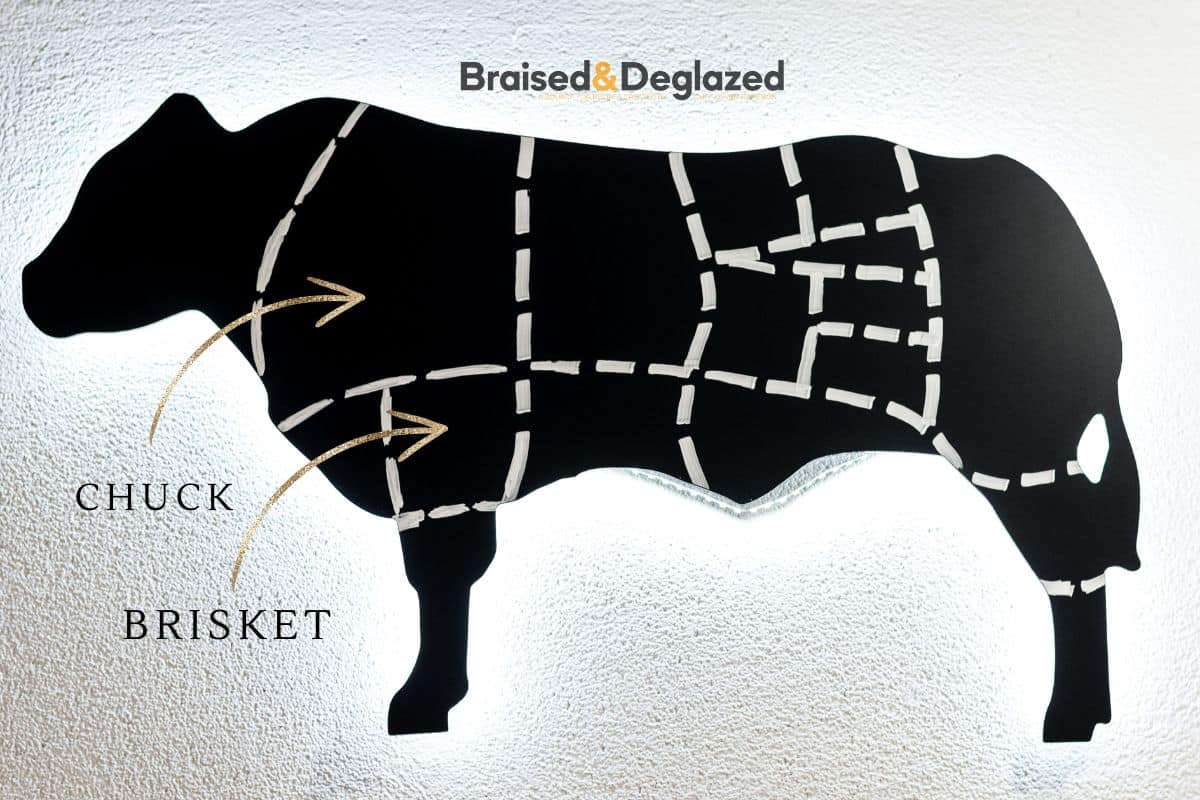 I've always been a huge fan of the chuck cut. Especially when you have a well-marbled cut of meat because it's packed with flavour.
How to Choose the Right Cut of Chuck
Chuck roast is one of my top cuts because it's low in cost, has great flavour and can still be ultra-tender when cooked right.
However, the "chuck cut" covers a large area of the cow. Not all chuck is created equal as chuck cut closer to the back of the animal will be more tender.
If you're good friends with a butcher, you can sometimes ask for the cut closest to the 13th rib, which is the best. This is usually reserved for "chuck steaks" or "chuck eye" which are cooked high and fast.
This cut is the most tender piece of the whole chuck and can even be cooked just like a prime rib. Don't expect it to be as tender as a prime rib but it comes pretty close and is definitely worth it considering the much lower price.
What's most important when choosing the right cut of chuck, is to look for good marbling in the meat. A higher amount of white fat will keep the meat more tender after cooking and that's exactly what we need when we're doing a long smoke.
Leaner cows that are 100% grass-fed may not be the best choice for BBQ because they won't have enough fat to keep the meat from drying out.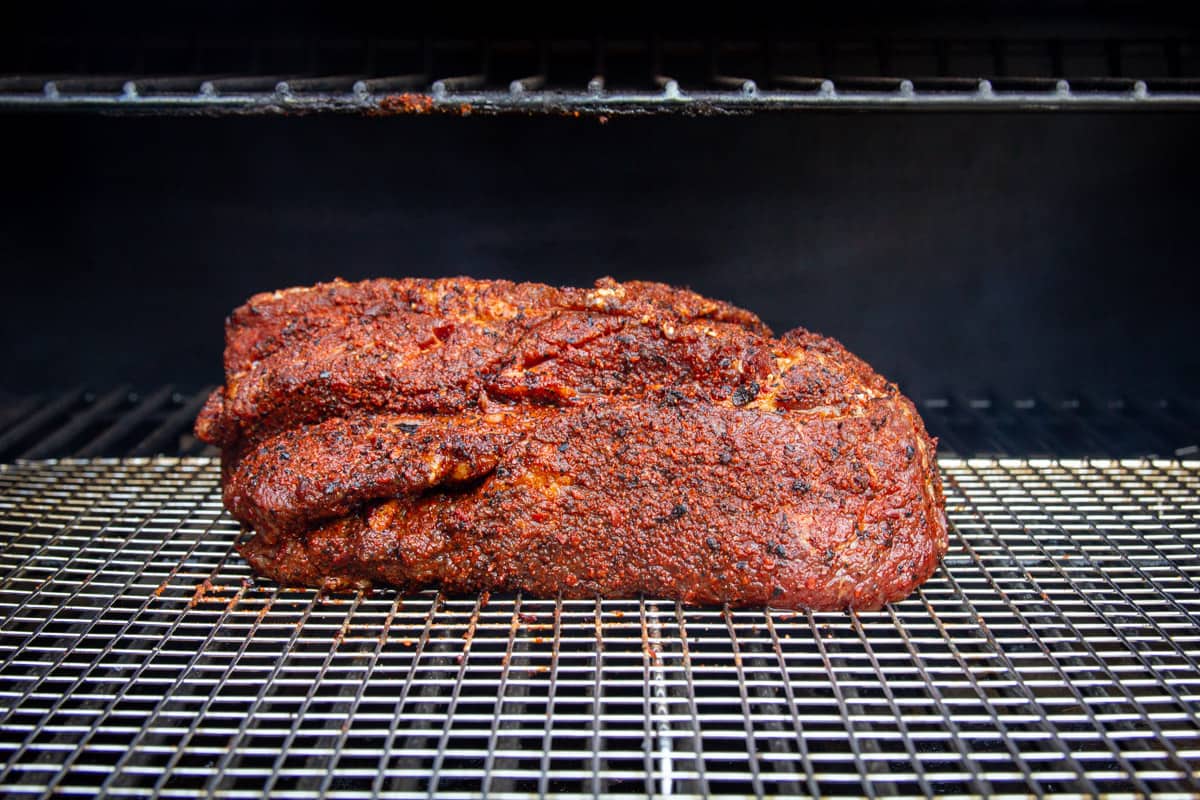 How to Smoke a Poor Man's Brisket
For this poor man's brisket, I'm using the Competition Cool Smoke Brisket technique from Tuffy Stone's Cool Smoke Cookbook. Although I've tweaked things around quite a bit to fit my style.
I smoke the chuck roast for about 4 hours at a slightly higher temp of 300°F/150°C instead of the usual 225°F/107°C. This, in combination with an orange juice spray every 30 minutes, builds an incredible bark and I don't find it necessary to smoke any lower.
I then do the "Texas Crutch", for about 2 hours or until the meat pulls apart with a fork. I prefer to use a BBQ tray covered with aluminum foil (instead of a paper wrap) because this means I can add a little beef stock to the braise.
This helps to keep the meat extra tender and makes for one AMAZING sauce after cooking.
Then it's time to rest. The larger the cut of meat, the longer it needs to rest. I left chuck roast to vent (foil just opened on one corner) for 2 hours and it was perfect. After the 2-hour resting, the meat soaked up all the juice on the bottom and was even easier to slice.
To finish, I brushed the meat drippings from the pan on the sliced meat and warmed it up on the Traeger for about 5 minutes. Nothing more.
For the initial tasting, I didn't even look at the bbq sauce – this meat was so flavourful it needed nothing more.
On the second day, we had leftovers, and I used a tiny bit of bbq sauce to warm it up. Also great!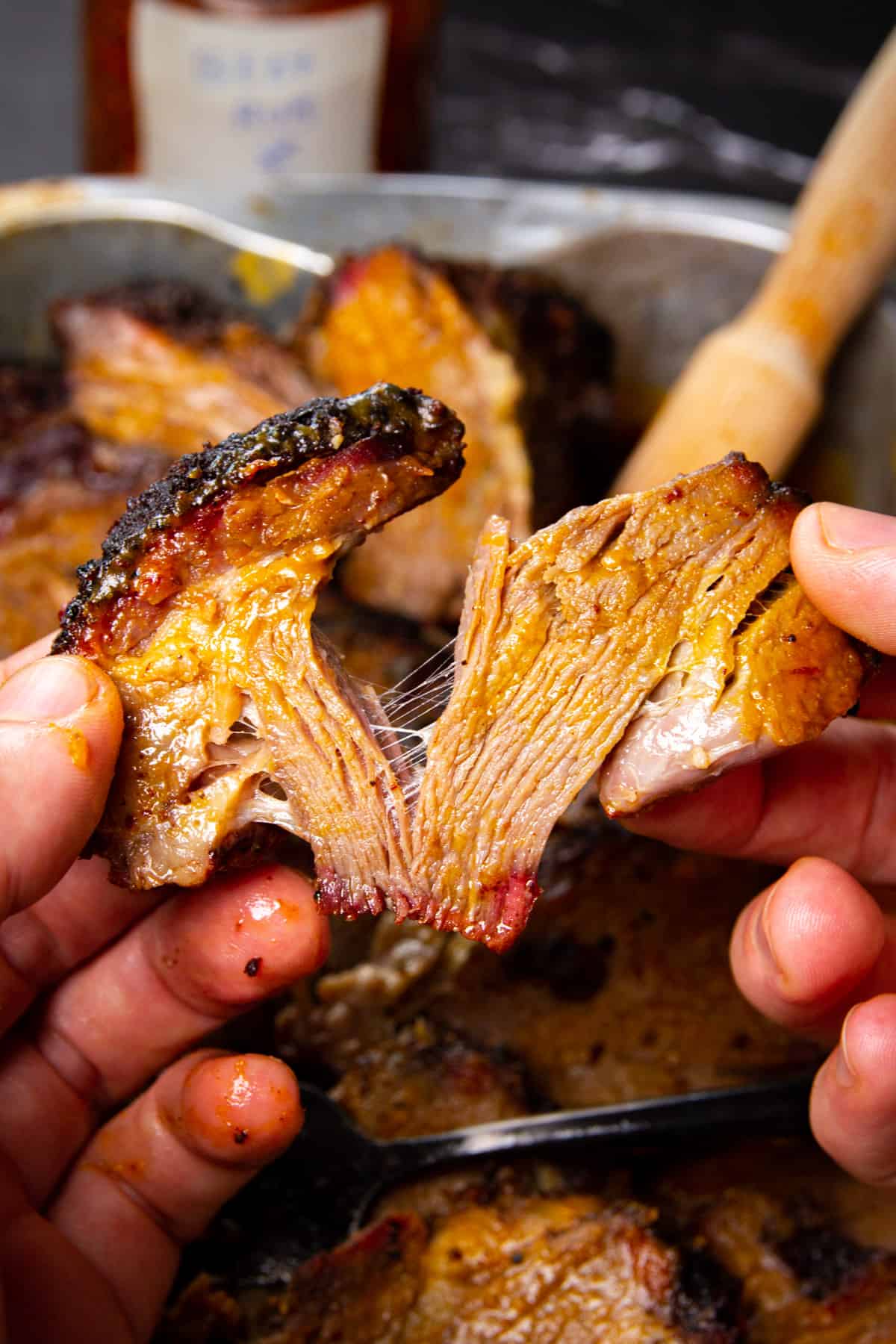 My Dry Beef Rub has a Secret Ingredient
Some places hide their BBQ rubs but not me.
Here's what I put in my BBQ Beef Rub:
Aleppo Chili: A.k.a Sweet Pul Bieber, this Turkish spice is one of my favourite seasonings. It's not too hot but has a ton of flavour. It also adds a gorgeous red hue to foods which look fantastic on BBQ foods. Highly recommended, but if you can't find it then just use more ground paprika.
Ground Urfa Pepper: A.k.a Isot peppers, these black Turkish peppers are great with beef and add a raisin-y, smokey and slightly sour flavour. It's not a deal-breaker for this recipe but if you do find it, it will add a unique flavour to your chuck roast that you won't find anywhere else.
Garlic Powder: Garlic powder is great in BBQ because it won't burn as fresh garlic does. A little goes a long way.
Ground Paprika: This is the base of most BBQ rubs and has a mild but fragrant flavour. Don't use the expensive smoked paprika for this recipe, as we'll be adding enough smoke flavour already.
Black Pepper: Simple black pepper is perfect with beef. Avoid buying pre-ground black pepper which is usually pretty flavourless.
White/Brown Sugar: It may seem like a lot of sugar, but keep in mind that this is only added to the outside of the meat. The sugar is not just for the taste, but to add that beautiful "bark" around the meat. If you're on a keto diet, then omit the sugar and use a light coating of your favourite keto BBQ sauce instead.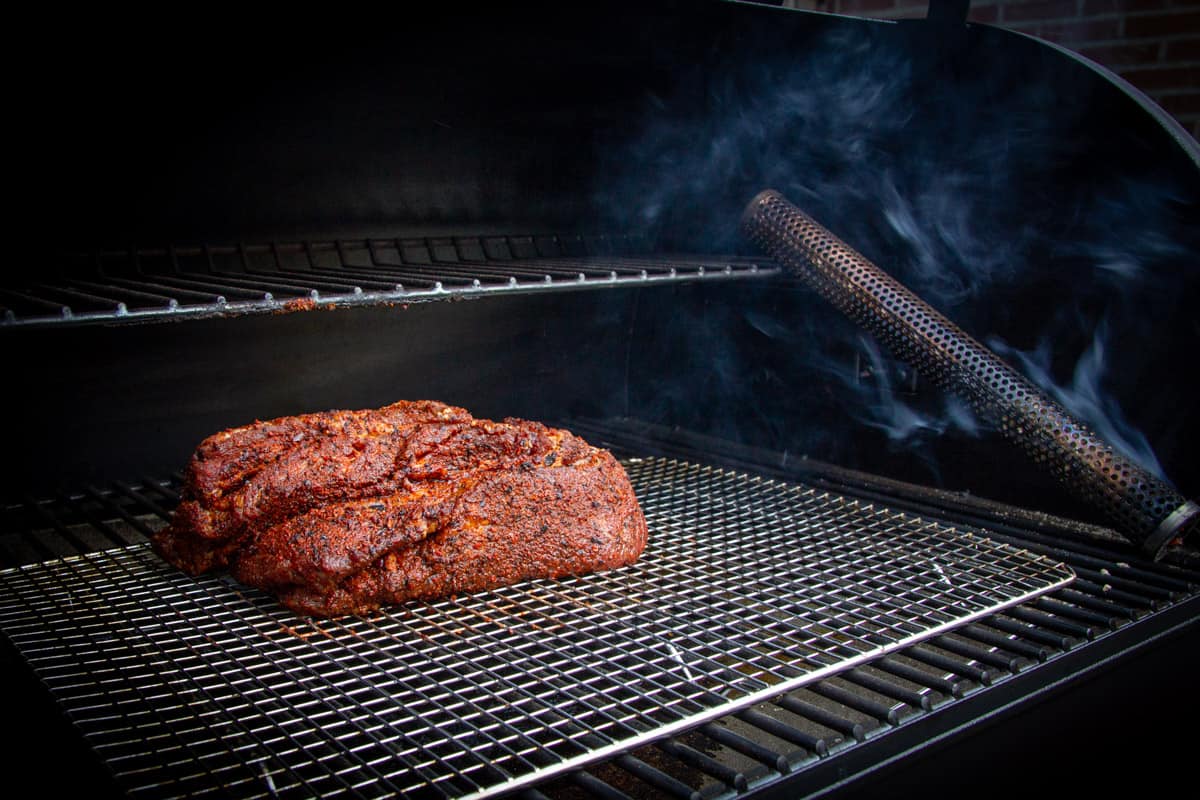 What's the Best Wood to Use for a Poor Man's Brisket?
I don't get too hung up on the type of wood but it's always fun to try something new.
My personal favourite is hickory, but apple, oak, maple and pecan are also great with smoked beef.
Mesquite is the strongest and will work with beef, but be careful as some people find this a little too strong.
Do You Prefer Slices or Pulled Beef?
This is something to think about before you begin.
If you're aiming for brisket-style slices, then you'll want to keep a close eye on the roast near the end of the cooking. This is especially important when using the Texas crutch method which speeds up the cooking process.
My chuck roast, at 2.7lbs/1.2kg was nearly perfect after 2 hours of braising at 300°F/150°C. I was able to get nice slices, and it was still fork tender.
But if you're planning on making sandwiches or tacos with this meat, then you can leave the chuck to cook a little longer for more shreddable meat.
Just keep in mind that you can over-cook the meat so watch it like a hawk as you approach the end of the cooking. Nobody wants a mushy chuck roast especially after all that time and money you spent on making this!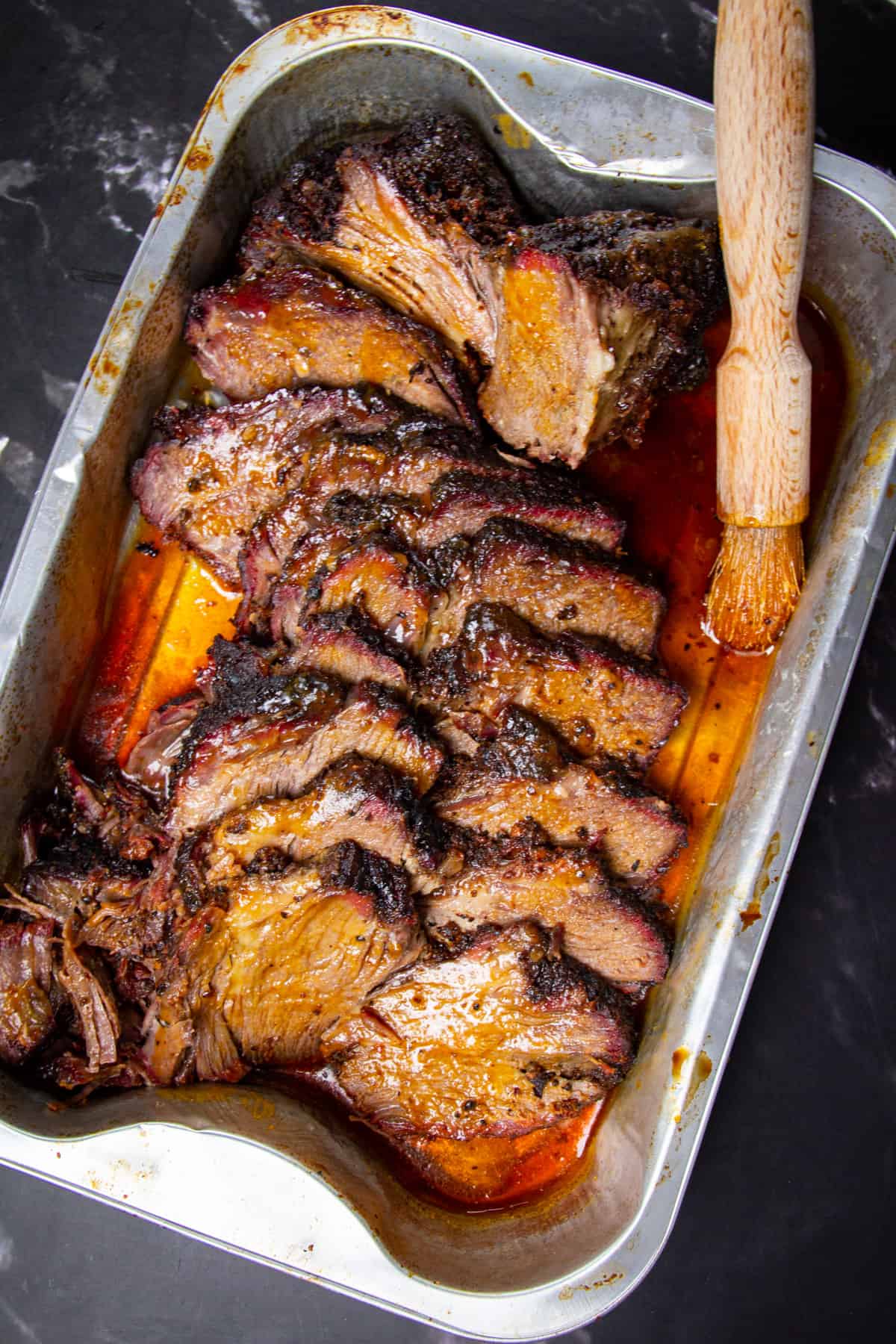 Some Serious Chuck Tips
You can save pellets by finishing the cooking in your oven (*GASP* – I know some BBQ purists will disagree, but pellets are not cheap around here!) Plus, after four hours of smoking, the chuck roast won't pick up much more smoke flavour, especially after covering in foil.
If your chuck roast contains two separate muscles and is falling apart, you can tie it with some butcher's twine to keep it intact.
Make sure to slice against the grain for the most tender slices.
More Traeger Recipes
Here are a few more ideas to serve with this poor man's brisket:
Or Some More Solid Traeger Recipes
Poor Mans Brisket FAQ
How long does it take to smoke a chuck roast?
Depends on the temperature. My chuck roast, at 2.7lbs/1.2kg was nearly perfect after a total of 6 hours of smoking with a texas crutch at 300°F/150°C. An unwrapped chuck roast will also take much longer.
How long does it take to smoke a 3lb chuck roast at 225?
A good rule of thumb for chuck beef is about 2 hours per pound. So a 3lb chuck roast will need a total of 6 hours. Keep in mind this doesn't include the much-needed two-hour resting period.
What temp should I smoke chuck roast to?
Mine hit around 210°F/98.8°C when it was perfectly fork-tender. But it's always best to use your eyes and hands to gauge the doneness when it comes to smoking meat. If the meat pulls apart with a fork, it's ready.
Easy Traeger Smoked Chuck Roast – The Poor Man's Brisket
The cheaper, just-as-good alternative to smoked brisket. Enter the poor man's brisket.
Ingredients
1.3

kg

chuck roast

look for good marbling

1

tbsp

Worchestershire sauce

1

cup

orange juice

for the spray

1

cup

beef stock

salt to taste
For the Injection Brine
25

g

salt

(about 1½ tbsp)

500

ml

cold water

(about 2 cups)
For the Dry Beef Rub
3

tbsp

Aleppo chili powder

(24g)

3

tbsp

Urfa pepper, ground

(24g)

3

tbsp

sweet paprika, ground

(29g)

1

tbsp

garlic powder

(10g)

¼

cup

white sugar

(67g)

¼

cup

brown sugar

(67g)

1

tsp

cracked black pepper

(5g)
Instructions
The night before you plan to smoke your chuck roast do this:

– Trim the chuck of excess fat, but leave a little fat on.

– Mix the salt and water together for the brine. Inject the brine into the meat with about 6-7 injections.

– Dry off the meat on the outside and brush with a little bit of Worchestershire sauce.

– Sprinkle a heavy coating of the dry rub over all sides of the chuck roast.

– Then sprinkle a generous amount of salt around all sides.

– Allow to dry in the fridge, uncovered overnight on a resting rack with a tray underneath.

The next day, preheat your pellet smoker to 300°F/150°C.

Optional: fill a pellet tube smoker halfway and ignite or use the super smoke setting on your pellet smoker.

Once your pit is hot, move the resting rack with beef onto the smoker. Set a timer for 1 hour.

After one hour, spray the meat with orange juice. Spray the dryer areas more with the juice. Repeat every 30 minutes until you reach the 4 hours total of smoking time.

Once the chuck roast has a nice looking bark, remove it from the smoker and place it in a bbq tray. Add the beef stock to the tray.

Cover with aluminum foil and finish on the Traeger (or in your oven) for 1+½ to 2 hours or until fork tender.

The chuck roast is ready when it hits around 207°F/97°C or when the meat pulls away easily but doesn't fall apart. You can also use a knife or skewer to test for resistance in the meat – it should slide easily through the meat.

Once ready, lift off one corner of the aluminum foil and let rest for 1-2 hours.

After resting, slice the meat with a sharp knife, against the grain. Brush the meat with the dripping at the bottom of the pan and serve directly in the pan. Enjoy!
Notes
You can easily reheat the chuck in the aluminum pan with the juices. Re-cover with foil and place back on the Traeger for 5-10 minutes. Leftovers can also be quickly microwaved until hot.
The Best Traeger Smoked Baked Potatoes – Twice Baked Potatoes
My ultimate recipe for smoked baked potatoes. Smoked until fluffy and twice baked to perfection. It just doesn't get any better than this!
Check out this recipe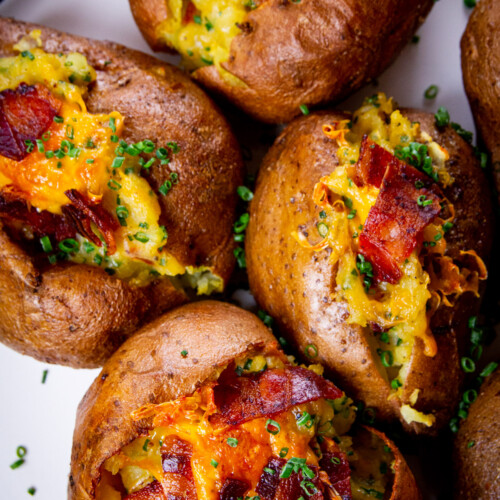 Legendary Smoked Chicken Thighs
Ultra tasty bite-through smoked chicken thighs made entirely on a weber grill with a delicious smoky aroma you won't find with regular grilled chicken.
Check out this recipe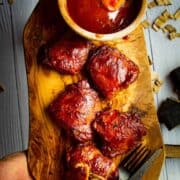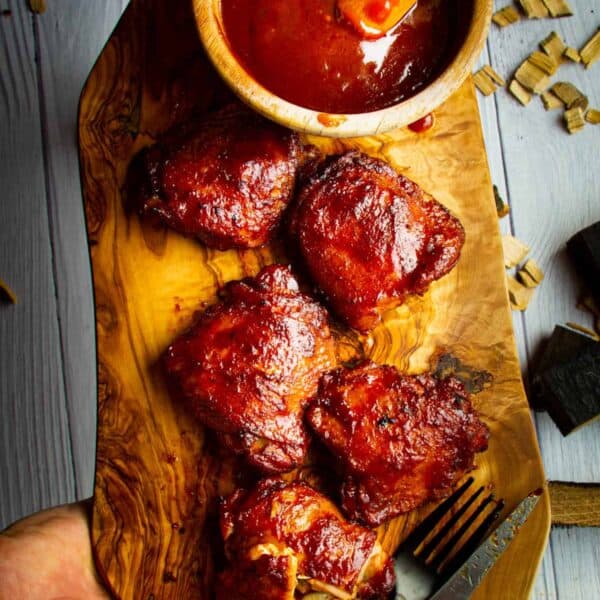 Crispy Traeger Wings – The BEST Smoked Chicken Wings
You've got everything in these Traeger wings. Smokey, juicy, flavourful smoked wings with a gorgeous crispy exterior. What else do you want?!
Check out this recipe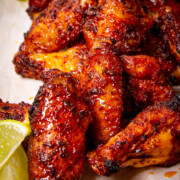 Epic Traeger Smoked Burgers
These Traeger smoked burgers are EPIC. With extra juicy interiors and a bold smokey flavour, you will make some new friends with this one.
Check out this recipe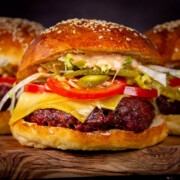 Reverse Sear Smoked Ribeye With Umami Butter
A step-by-step guide on how to make a reverse seared, smoked ribeye with a weber kettle grill. Slathered in umami butter for maximum flavour.
Check out this recipe