This smoked ribeye slathered in umami butter might have been the tastiest recipe of this summer.
Not too long ago I crafted this umami butter for my smoked corn recipe which was better than expected.
I had a little leftover in the freezer so I thought, why not try it out on the steak?
The end result was savagely EPIC!
A thick, well-marbled ribeye is good enough on its own but when you add that wood-smoked flavour and finish it with the umami butter – I'm in steak-heaven.
And I'm normally a big advocate for cooking steak with minimal ingredients (sometimes only with salt!) but this was just too good.
You MUST try it!
What is a Reverse-Sear Anyway?
Basically, a reverse-sear or the backwards sear is just like the name implies. Instead of searing first, you sear at the end, when the steak is about 90% cooked.
It's an interesting technique that goes against practically every old-school cookbook. But if you've ever cooked meat with sous-vide, then you've most likely used the reverse sear.
Traditionally, a large roast is seared first to ensure the meat is browned nicely and finished in the oven at a lower temperature until the desired doneness is reached.
But with a reverse sear, the meat is cooked low first which dries out the exterior of the meat. The drying of the outside of the meat means that it's much easier to get a nicer sear.
For example, to cook a thick ribeye, you would normally sear it with high heat on all sides before lowering the temperature and allowing it to reach your desired internal temperature. That would be about 120°F for medium-rare.
With a reverse-sear steak, you would cook the steak to about 100°F first and then finish it over high heat until it reaches the desired 120°F.
I'm not going to say one method is better than the other because it simply isn't. Both methods will make great steaks.
In this recipe, the reverse sear works perfectly because raw meat is wetter than cooked meat and therefore absorbs smoke flavour better.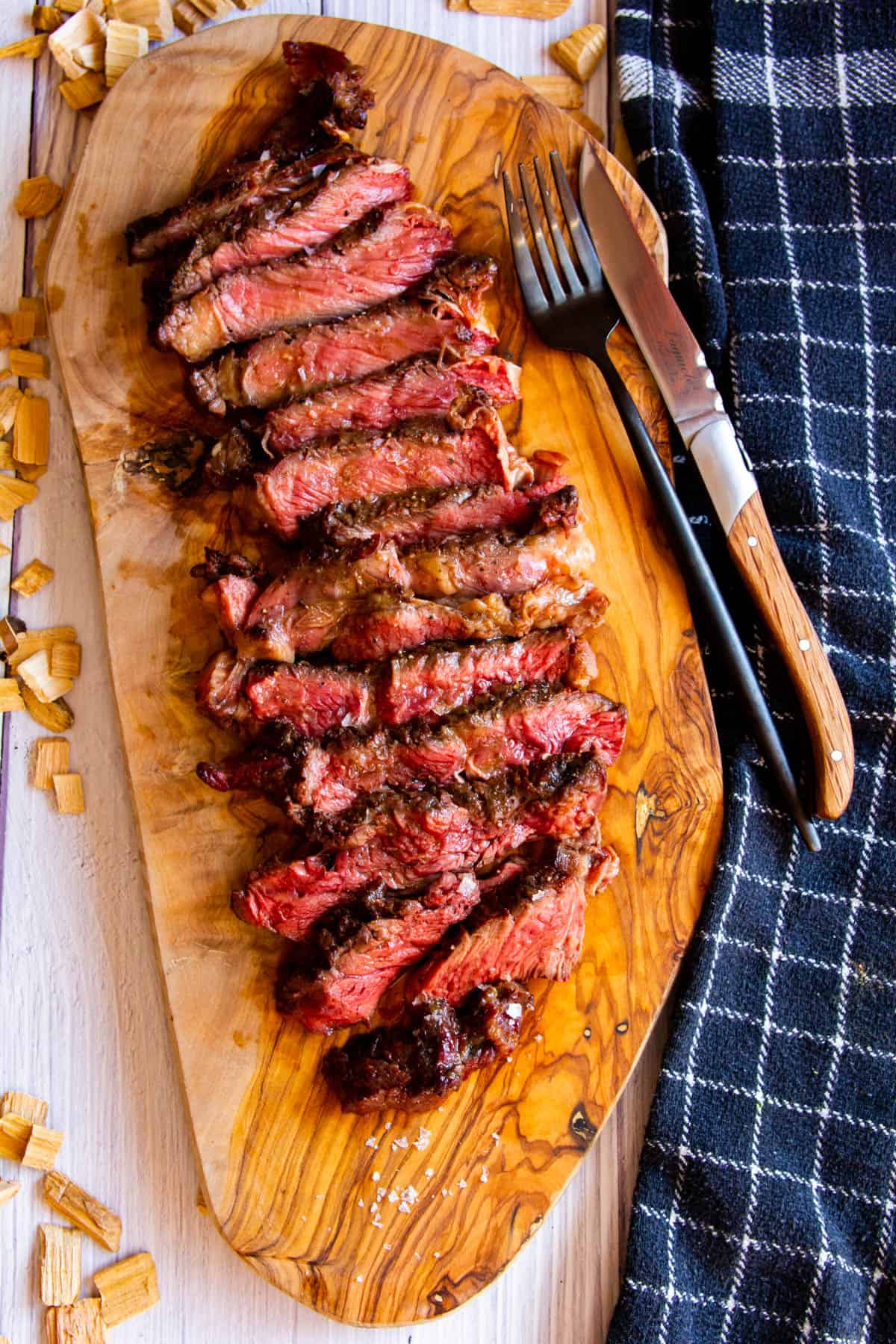 How to Make a Smoked Ribeye on a Weber
Smoking a relatively small cut of meat like a steak on a weber is actually quite challenging.
This is because the steak can overcook quite easily compared to large pieces of meat like brisket. But I've found a method that makes this relatively easy with a Weber kettle.
Another challenge is rapid temperature change.
Ideally, you'd want to smoke a ribeye at 225°F for about 45 mins – 1 hour or until the internal temperature reaches about 100°F.
If you have an electric smoker this is much easier to do. But you'll still need a very hot grill to get a nice sear on the steak.
After many trials, I found that this was the best method to reverse sear a smoked ribeye:
Heat a chimney full of charcoal until the coals are white-hot.
Add 6 pcs of hot charcoal in a pile on the side of the kettle to make an indirect smoking setup. (Charcoal baskets are helpful with this).
Add a handful of wood chips to the coals and wait about 5-10 minutes to burn off some of the harsh first smoke. Vents are open about 1/4. Once the temperature reaches 275°F, you're ready to smoke.
Season the ribeye well and place as far away from the coals as possible to smoke it indirectly. Insert a thermometor to keep track of the temperature while it smokes.
Try to keep the kettle's temperature around 225°F and remove the steak once it reaches 100°F. Depending on the thickness of the steak and your BBQ's temperature this could take anywhere from 20 mins to 1 hour.
Once the steak reaches 100°F, remove it from the grill and place in a bowl or tray with the umami butter. Tent with aluminum foil.
Add the rest of the hot coals to one side of the grill and open all the vents. You want to get the grill ripping hot now. (You can also use a hairdryer over the coals to excellerate the heat).
Sear the steak on both sides until nicely charred and the internal temperature of the thickest part of the steak reaches 120°F for medium rare or 130°F for medium.
Let the steak rest in a warm place for 5 minutes and finish with cracked black pepper.
Slice and serve right away!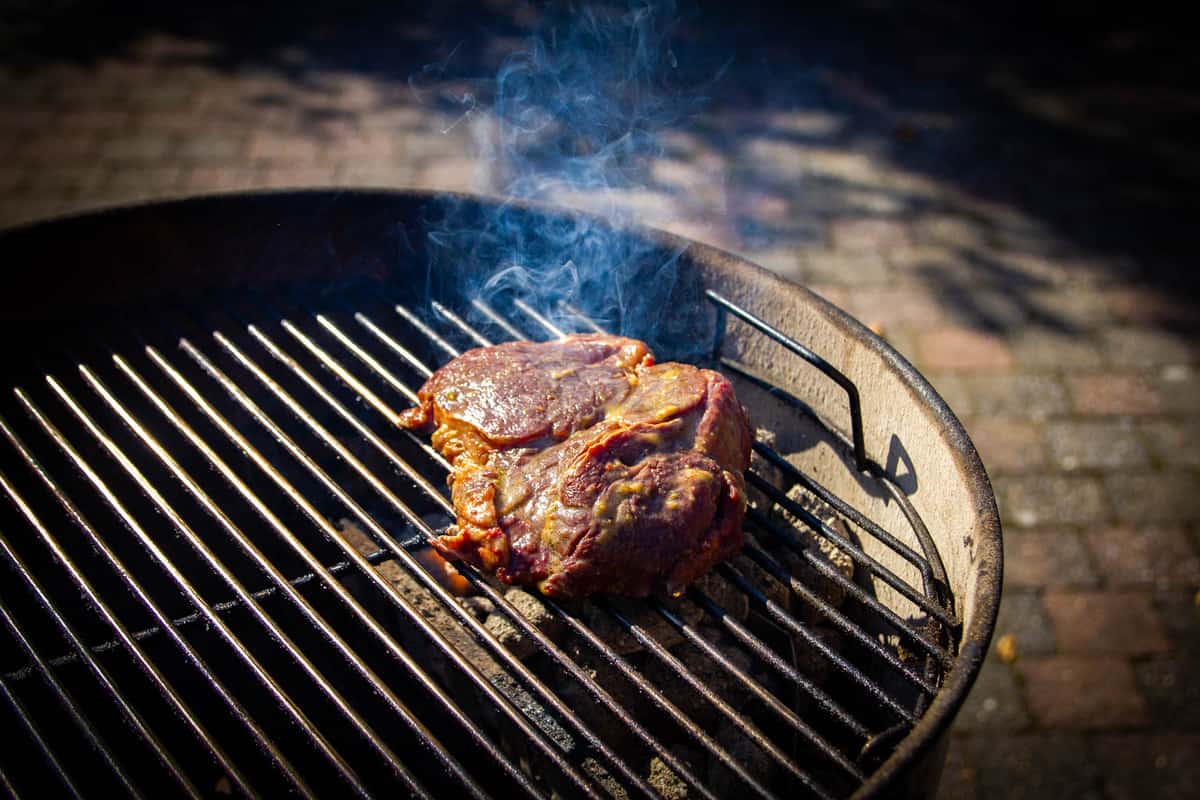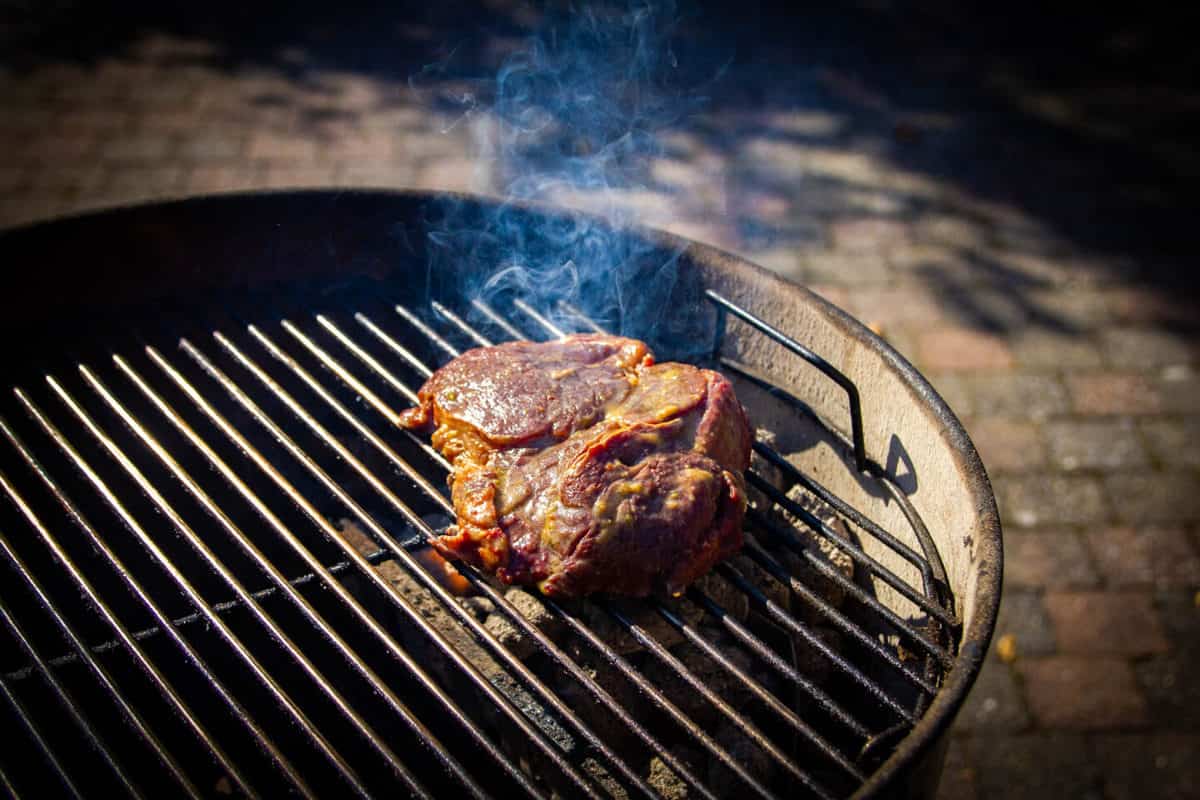 Tips to Nail this Smoked Ribeye
A digital thermometer that can monitor the temperature of the kettle and internal temperature of the steak will make your life a lot easier.
45 mins of smoking seems to be the sweet spot. But if your kettle's temperature gets a little too high (around 300°F max) don't worry to much, even 15 minutes of smoke will add a nice smokey flavour to the ribeye.
Using a chimney is necessary to keep the charcoal ripping hot and quickly increase the heat of the grill.
Once the ribeye is smoking, try not to open the kettle until it reaches 100°F. Opening the kettle drops the temperature and you'll also lose some smoke.
Only add white-hot coals to the kettle. This will help to stabilize your temperature and will achieve nice blue smoke instead of bad black smoke.
Buy the biggest ribeye you can find, that way you're less likely to overcook it.
The umami butter adds a ton of flavour to the steak but is totally optional. Keep in mind that the umami butter is also pretty salty, so you may want to tone down the seasoning on the ribeye.
Happy Smoking!
This post contains Amazon Affiliate links and I may earn a commission if you buy something (at no extra cost to you).
More BBQ Recipes