If you've ever wanted to try a grilled spatchcock chicken, then you're in the right place. It may sound complicated, but the truth is it's actually really easy.
Plus, when you spatchcock a chicken it will cook much faster and more evenly than a regular roast chicken. As long as you follow the correct time and temperature in this recipe, you'll be on your way to juicy, smokey chicken with crispy skin.
What's the Best Way to Grill a Spatchcock Chicken?
I spent a lot of time trying to figure out a no-fail method for cooking a whole chicken on the grill and I've finally nailed it. The goal was crispy skin, smokey flavour, juicy meat and something that wasn't too difficult to make. Checking all of those boxes is surprisingly challenging.
There are 4 factors that make this recipe better than the rest – the overnight marinade, the dry(ish) brine, the indirect heating and my world-famous (not yet) BBQ sauce.
Spatchcock Chicken Experiments
I experimented with dry brines, no brines, overnight marinade and even pre-cooking the chicken in a low-temperature oven, Chef Steps style. The pre-cooking of the chicken before grilling made for some beautifully tender meat but left the skin a little soggy and I missed a lot of the smokey flavour from a regular grilled chicken.
Although I was skeptical at first, the dry brine technique from Kenji Lopez of Serious Eats, worked surprisingly well to crisp up the skin and season the meat on the interior. It was nowhere near as juicy as a regular brined chicken, but the extra crispy chicken skin was well worth it.
The dry cure dries out the skin of the chicken perfectly overnight in the fridge. I'd still probably prefer the juiciness of a wet brined chicken, but you would need to dry it in the fridge for a few days to get similar results from the skin. It's no wonder why Thomas Keller, the godfather of the classic roast chicken, does it that way.
Unless you have 4 days to make one grilled chicken, then a dry cure is probably the best way to go.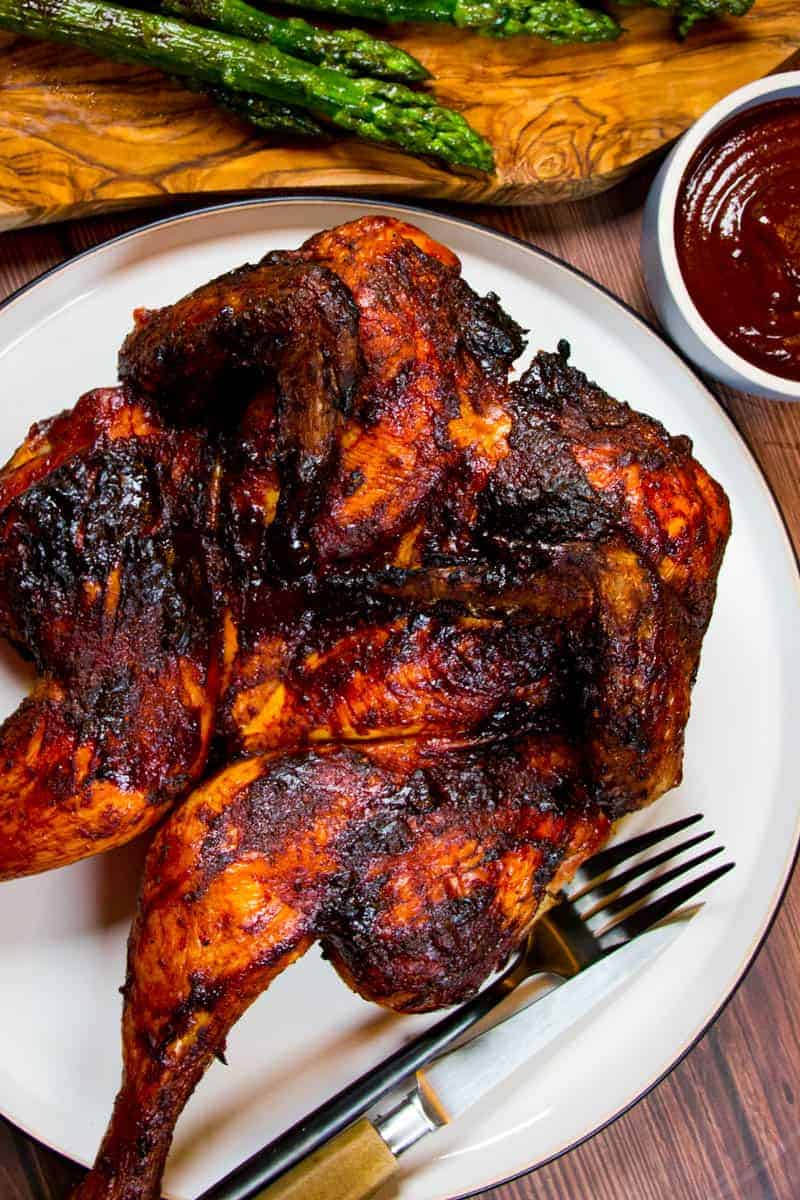 How to Spatchcock a Chicken
The reason you would spatchcock (butterfly) a chicken before grilling it, is to cook it more evenly. It's also a lot easier to move a split chicken, instead of rolling around a whole bird on the grill.
The process is actually very simple:
Remove the wishbone. (Optional, but makes slicing the meat after cooking a lot easier).
Remove the backbone by cutting away with scissors.
Cut into the back of the breastbone to allow it to lay flat.
How to Grill a Spatchcock Chicken – Skin Side Up
The trick to a no-fail grilled chicken is indirect heating, skin side up.
Because the chicken will have plenty of time on the BBQ, you won't need to grill the skin side directly like you would with chicken legs. The indirect heating will prevent hot spots which could burn the skin and it will cook the chicken more evenly.
There's also a bit of brown sugar in the marinade which will burn very quickly, so keep that in mind if you want to cook skin side down.
Here's the play-by-play:
Marinate overnight (Optional).
Grill on indirect heat at roughly 425℉ /218℃ for 45 mins to 1 hour. (Until the thickest part of the chicken leg and breast reach 165℉ on a thermometer).
Brush with a little of this homemade BBQ sauce.
Let rest for 10 minutes before eating.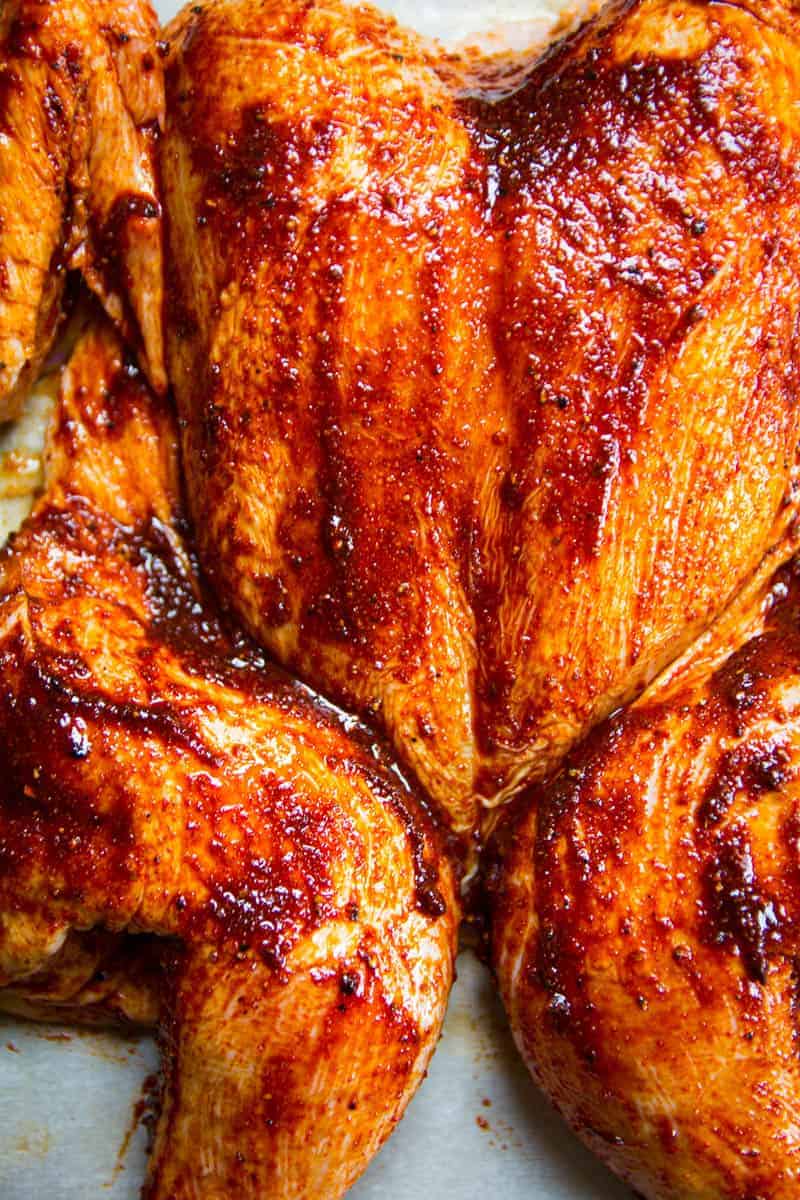 Overnight Marinade
If it wasn't for the added soy sauce in this recipe, this would be a dry brine but because of the moisture, let's just call this one a marinade.
If you can find the time, the overnight marinade will make your spatchcock chicken 1000x better. The seasonings will have time to absorb into the meat, the skin will dry out and the soy sauce will start to tenderize the meat slightly. None of these delicious things will happen if you skip the overnight marinade.
With that being said, if you don't have the time for an overnight marinade don't be discouraged. The marinade will still pack on a lot of flavour, even in a short period of time.
Tips for Grilling a Spatchcock Chicken
Here are my tips and tricks for making the best grilled spatchcock chicken:
Marinate the bird overnight for crispier skin and better flavour.
Remove the wishbone to make slicing the meat after cooking much easier.
Use indirect heating for even cooking, crispy skin and less risk of a charred bird.
Use this BBQ sauce to finish the bird.
Let it rest for at least 10 minutes before cutting into it. This will prevent the juices from spilling out.
Recipes That Pair Well
Here are a few ideas for what to serve with a grilled spatchcock chicken: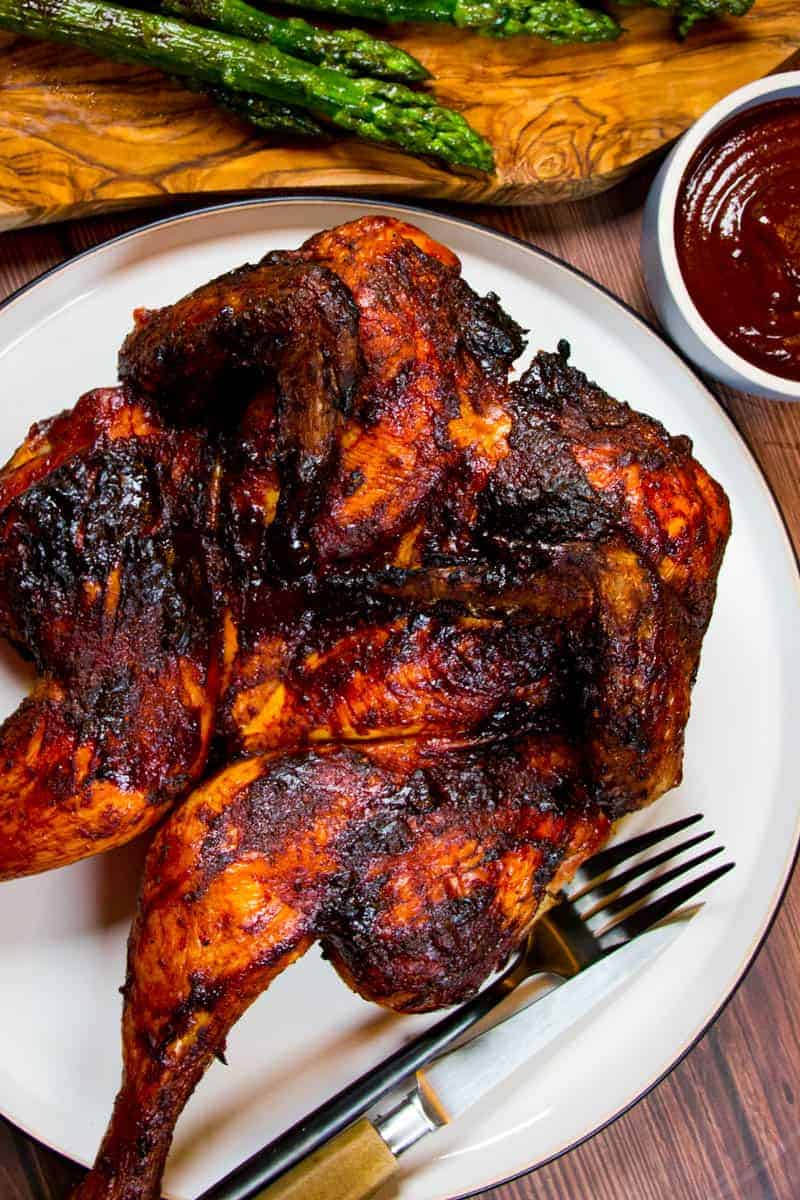 Tools Needed
Below are some Amazon Affiliate links and I'll earn a small commission if you purchase something, at no cost to you.
These tools will make your life a lot easier:
Digital Thermometer – Using a thermometer lets you know exactly when your chicken is ready. No guessing, just confident, accurate results. You can use any that you like but make sure they can handle the high temperature of the grill.
I like this Inkbird thermometer because it's Bluetooth and has two temperature probes. Just be careful as they do have maximum temperature allowances and you want to let it get too hot for too long. The temperature range is 32° F ~ 572 ° F; (Short-time measurement); 32°F~ 482°F (continuous monitoring).
Charcoal Baskets – If you're using a Weber like me, then these charcoal baskets are useful for keeping the coals to one side for indirect heating.
Kitchen Scissors – You'll be cutting through bone so you won't want to use cheap scissors. These kitchen scissors from Silky are trusted by many chefs and have never let me down.
More Smoker + BBQ Recipes