There are billions of recipes for chocolate chip cookies all claiming to be the very best but which one is actually the best? My happy girlfriend and I, took the "trouble" of testing various recipes for the ultimate chocolate chip cookies all claiming to be the best and have finally found the answer to that question.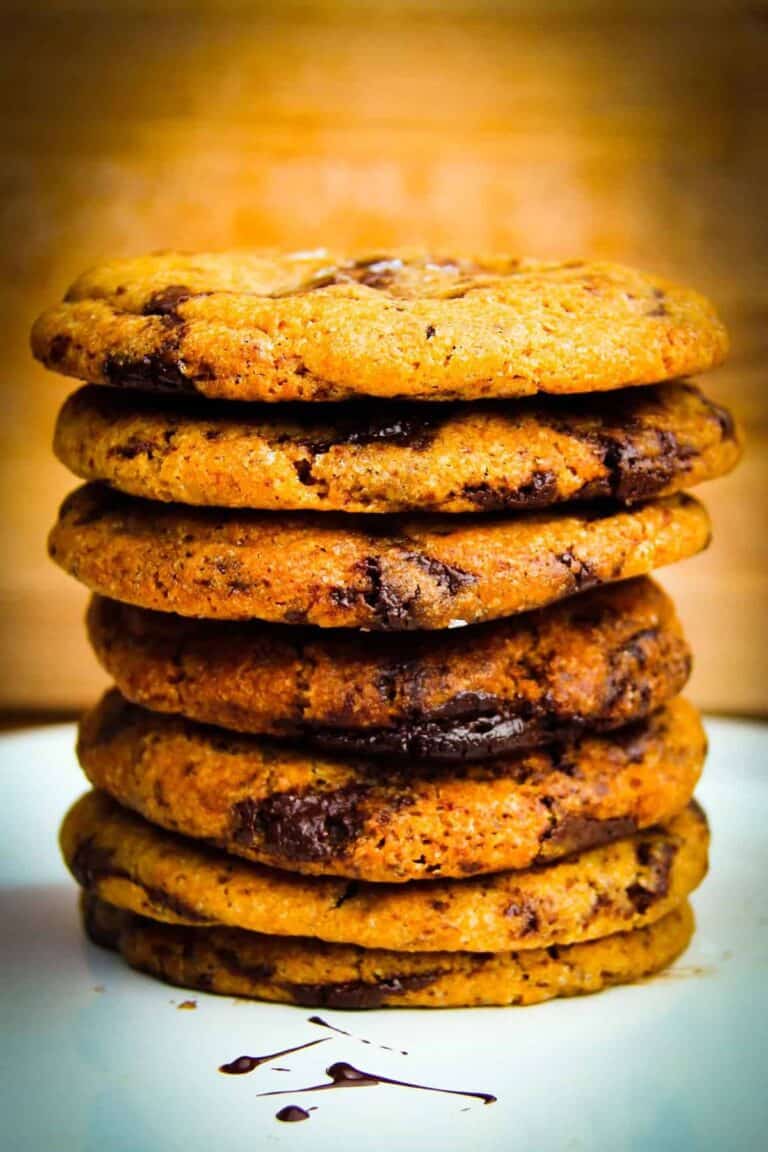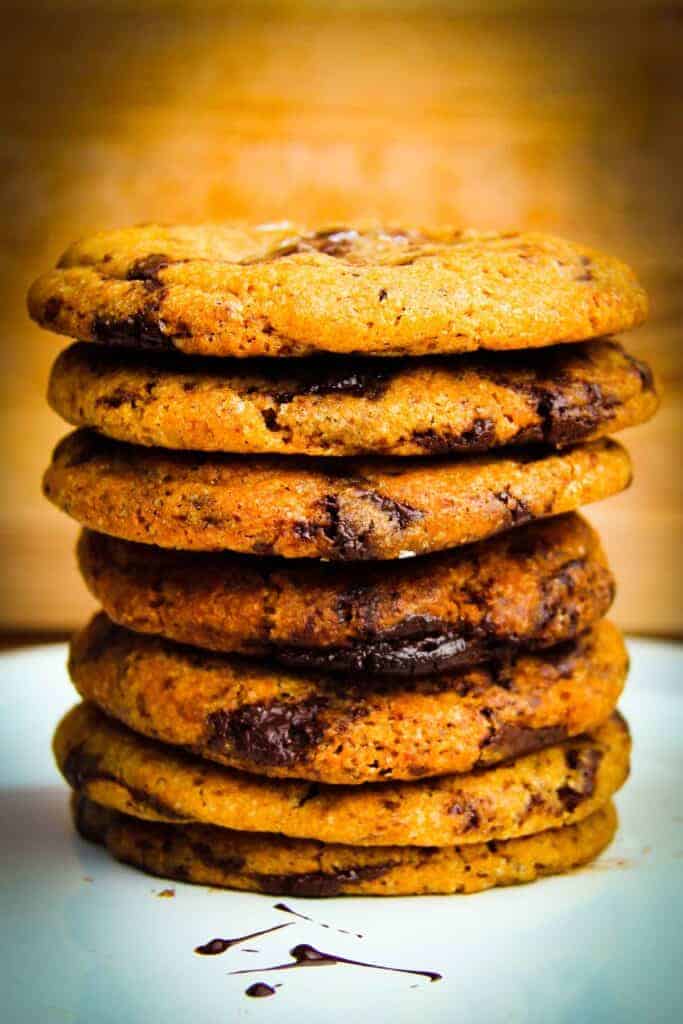 Throughout our "research" we decided that there are some golden rules to achieve chocolate chip cookie perfection and they are as follows:
Only Chocolate is Allowed in the Ultimate Chocolate Chip Cookies
That means no nuts, spices or anything else to distract us from chocolate chip purity. Only chocolate chunks or chips are allowed.
The Cookie Dough Must be Rested Overnight in the Fridge.
I know it's difficult not to bake them right away but I can't stress how much better the cookies will be if you do this. When you rest the cookie dough overnight in the fridge, the flour has time to properly absorb the rest of the ingredients and the result is a thicker and tastier chocolate chip cookie.
There Must be A LOT of Chocolate.
Nobody wants a cookie that is skimpy on the main ingredient. Go big or go home.
Use Dark Chocolate Instead of Milk Chocolate
Dark chocolate balances much better with cookies then milk chocolate.
There is nothing better than eating a chocolate chip cookie that just oozes with warm dark chocolate as you break it open. I take a whole bar of chocolate and cut it up into rough pieces with a bread knife to achieve massive chunks of chocolatey goodness.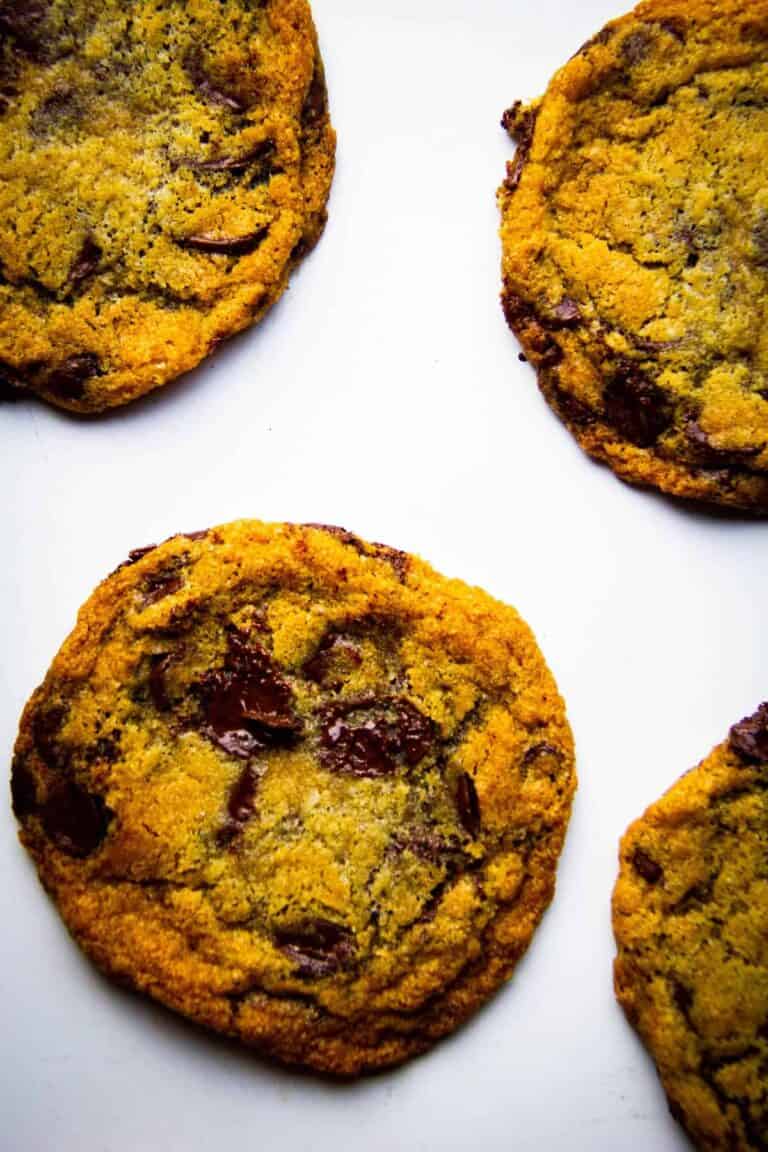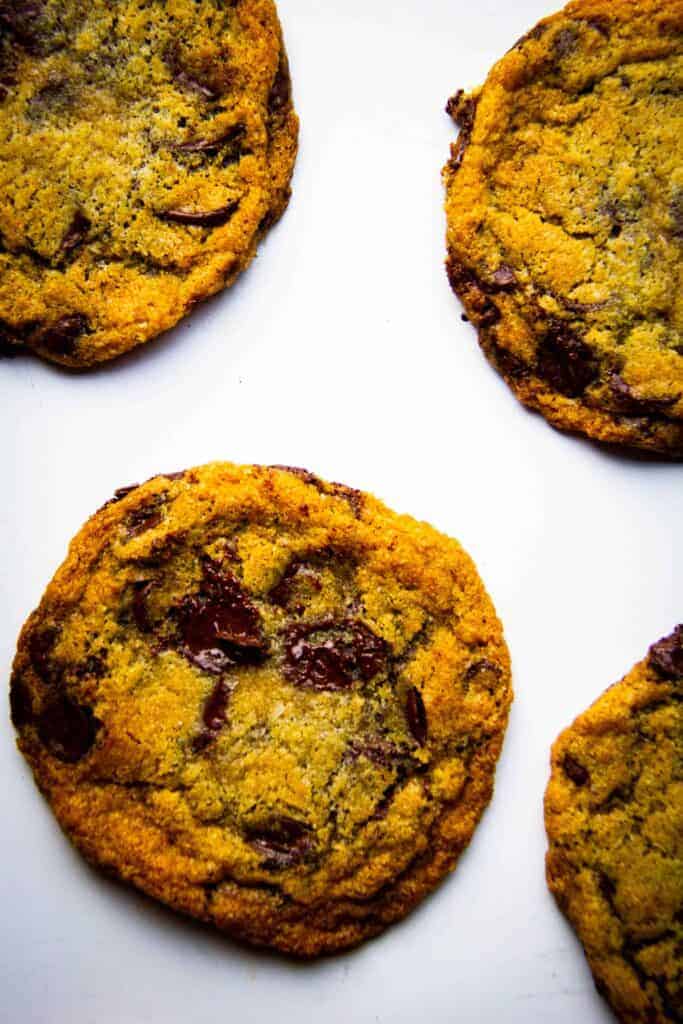 Test One Cookie Before You Bake the Rest
Everyone has a different oven and some ovens are hotter than others, especially if you have an oven with a good convection fan. Test one or two cookies with different times to really nail it before baking the rest. One minute too much can be fatal for a cookie because they can overcook so fast and then you are left with dry cookies.
You know you've nailed the cookies when:
The outside is slightly golden, giving a crispy crunch to the exterior
The inside is soft and gooey
They can still be picked up without falling apart after resting for 10-15 minutes
Chef's Tips
The day after baking the cookies, they will still be good but not as soft. Keep them in a sealed cookie jar or plastic bag to stop them from getting stale. The next day place the cookies in the microwave for 10 seconds and they will be soft again.
If you have a strong oven with convection set your temperature to 190°C/375°F or if you have a small, not so powerful oven like me, set the oven to 200°C/400°F.
Recommended Tools for the Ultimate Chocolate Chip Cookies
Digital Scale – When making pastry recipes it's always important to use a scale. Precision is necessary to achieve better results and if you're going to take the time to make something you might as well do it right. Always use a good scale, preferably one with single gram increments when making pastry recipes.
If you weigh the cookie dough before you bake you will get perfect cookies every time.
This recipe is inspired from french pastry chef Christophe Michalak's cookie recipe.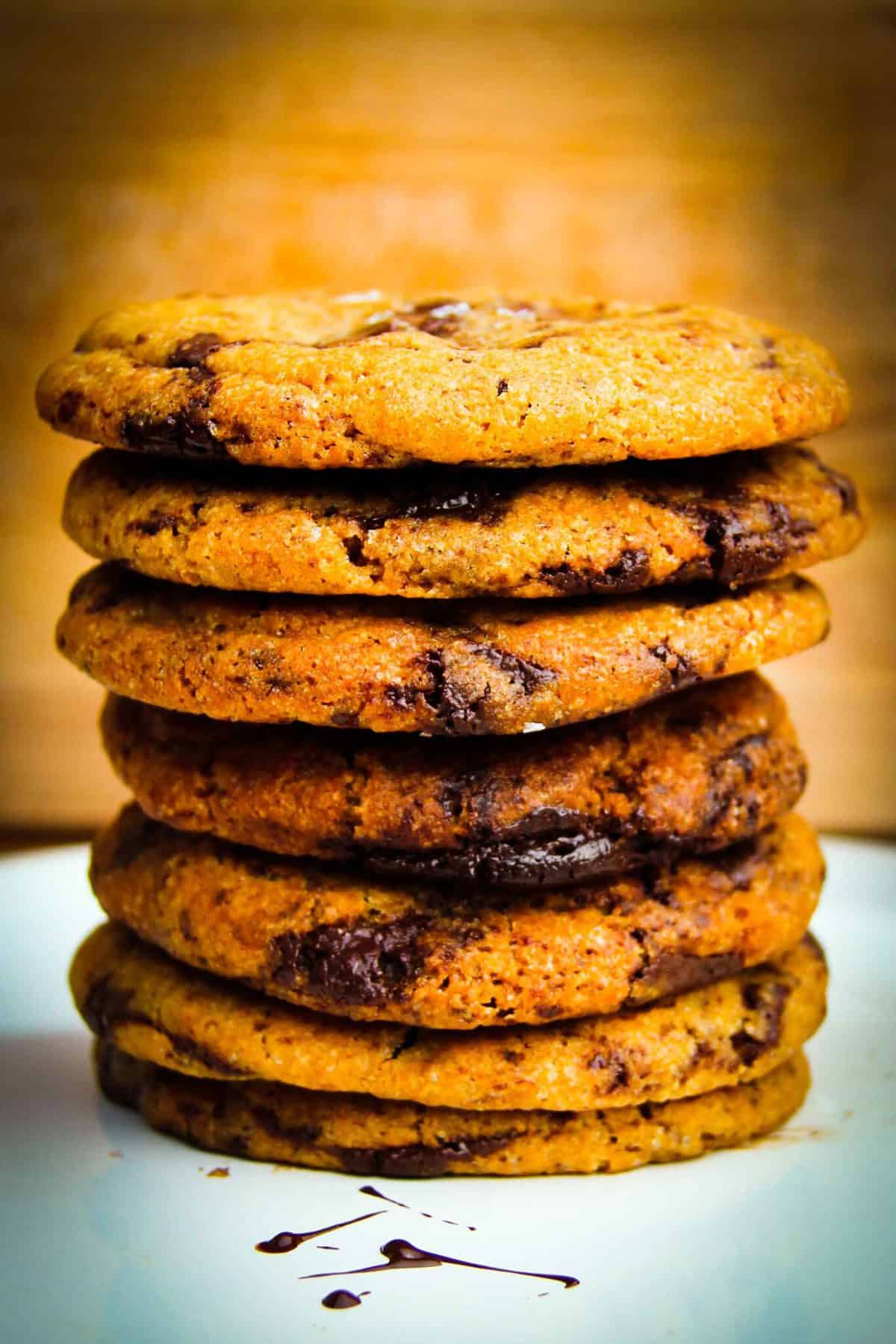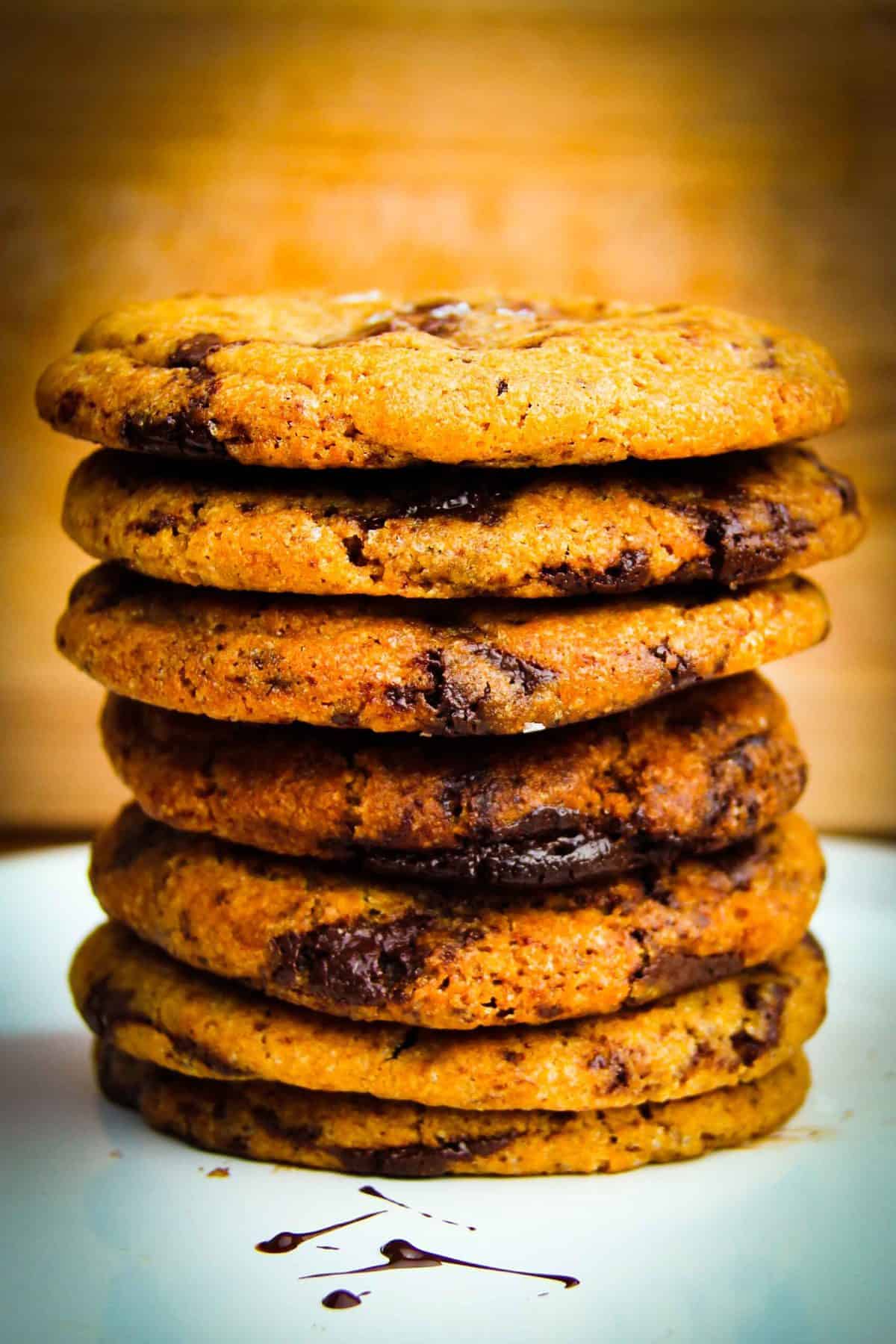 Equipment
scale

Eectric mixer with paddle attachment

spatula
Ingredients
80

g

white sugar

80

g

brown sugar

100

g

salted butter

softened at room temperature

1

whole

egg

3.5

g

baking powder

225

g

dark chocolate

use your favourite dark chocolate

Maldon sea salt

fleur de sel, or any big sea salt

170

g

all-purpose flour

sifted
Instructions
Cut the chocolate into big chunks with a bread knife and reserve in a bowl.

Measure out the rest of the ingredients. Mix the flour and baking soda with a whisk in one bowl and set aside.

Cream the butter and sugars together with an electric mixer on the paddle attachment until it begins to lighten slightly but not too much, about 5-10 minutes.

Add the rest of the ingredients except the chocolate chunks and mix.

Add the chocolate chunks and mix. Make sure all the flour is properly mixed in and no flour is left at the bottom of the bowl. Cover the top of the cookie dough with plastic wrap and let sit overnight in the fridge.

The next day set your oven to 200°C/400°F (190°C/375°F if you have a good quality oven with convection). Line two baking trays with parchment paper.

Weigh out 75g balls of cookie dough and set on the tray with enough space in between. Sprinkle one or two flakes of Maldon salt on top of each cookie.

Bake the cookies for 9:30 minutes (that is the sweet-spot on my oven but your oven might be a little different).

Once you see the cookies develop a nice golden brown colour then pull them out right away. Let them stand on the tray for 10-15 minutes. (YES you do need to wait 10 minutes more! Don't skip this step!)
This post contains Amazon affiliate links to products I recommend.
How to Make Ghost Mini Meringue – Halloween Treats
A recipe for cinnamon ghost meringue that's easily the most hilarious Halloween dessert.
Check out this recipe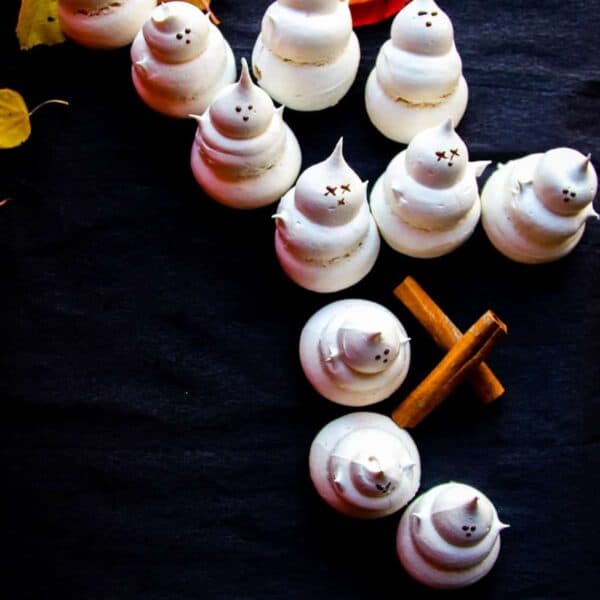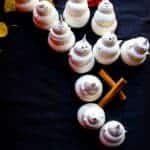 Chocolate Hazelnut Spread – Vegan Nutella
A quick and easy way to make a vegan nutella at home that is better than any store bought hazelnut spread. A delicious mix of toasted hazelnuts and high quality dark chocolate that you will want to put on everything.
Check out this recipe