This is my ultimate chocolate chip cookie recipe and likely the last cookie recipe you'll ever need.
And if you're wondering how they taste, let me tell you – they are ridiculously good.
These cookies are thick, with crispy golden brown edges, gooey chocolatey centres, bursting with giant dark chocolate chunks and finished with Maldon sea salt for a sweet and salty finish.
Need I say more?
5 Tips for the Ultimate Chocolate Chip Cookies
My girlfriend and I took the "trouble" of testing various recipes for the ultimate chocolate chip cookies all claiming to be the best and have finally found the answer to that question.
Throughout our "research" we decided that there are some golden rules to achieve chocolate chip cookie perfection and they are as follows:
#1. Only Chocolate is Allowed in the Ultimate Chocolate Chip Cookies
That means no nuts, spices or anything else to distract us from chocolate chip purity. Only pure dark chocolate chunks or chips are allowed.
#2. The Cookie Dough Must be Rested Overnight in the Fridge.
I know it's difficult not to bake them right away but I can't stress how much better the cookies will be if you do this.
When you rest the cookie dough overnight in the fridge, the flour has time to properly absorb the rest of the ingredients and the result is a thicker chocolate chip cookie crispy edges and a soft interior.
#3. There Must be A LOT of Chocolate.
Nobody wants a cookie that is skimpy on the main ingredient. I use almost a bar and a half of my favourite Belgian dark chocolate in this recipe. Go big or go home!
#4. Use Dark Chocolate Instead of Milk Chocolate
Dark chocolate is better for baking because it doesn't have milk added to it which will mellow out the chocolate flavour. Because we're adding butter and flour, the dark chocolate will be much more balanced than cookies with milk chocolate.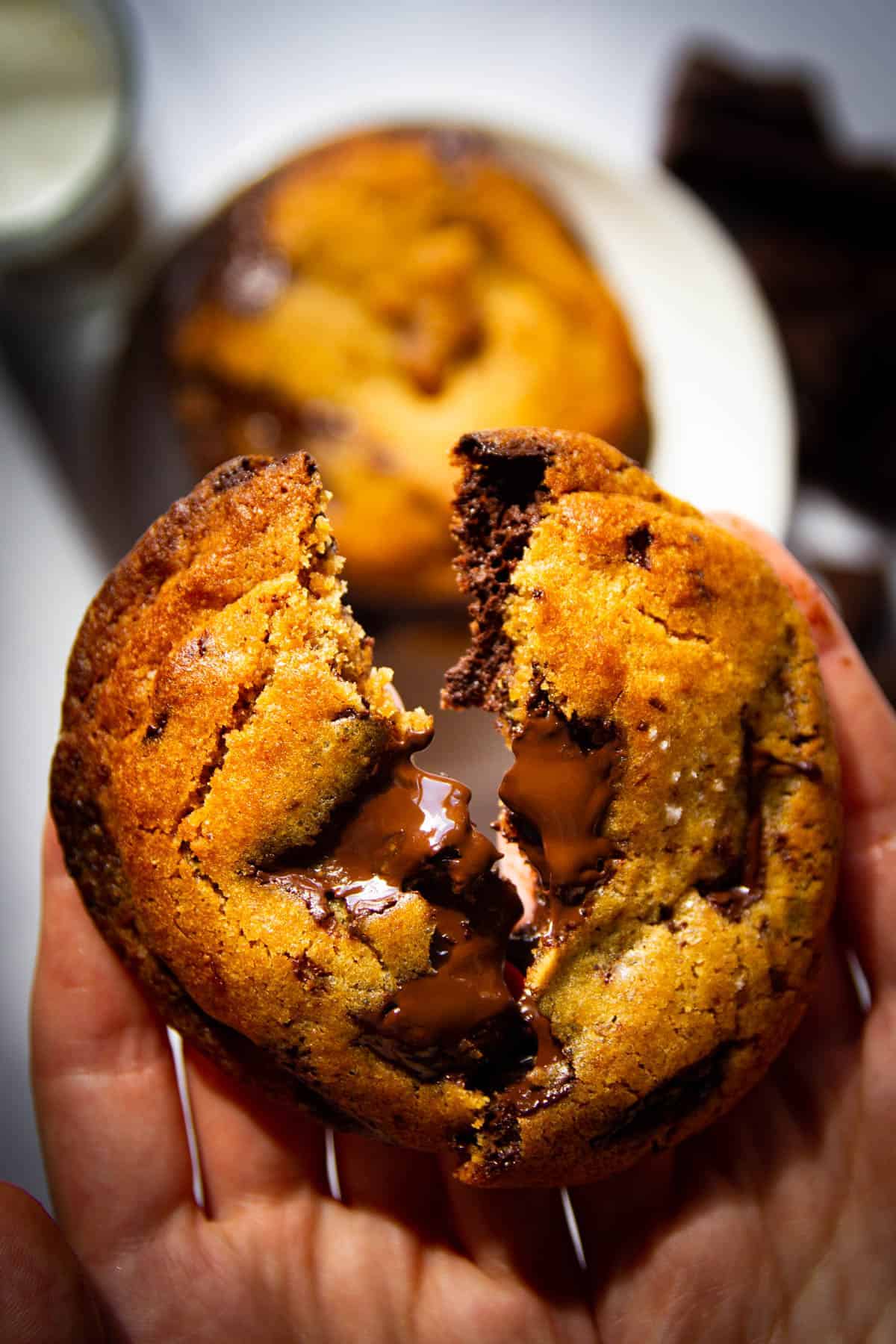 #5. Test One Cookie Before You Bake the Rest
Everyone has a different oven and some ovens are hotter than others.
Test one or two cookies with different times to really nail it before baking the rest. One minute too much can be fatal for a cookie because they can overcook so fast and then you are left with dry cookies.
My cookies were perfectly baked for 10 minutes at 190°C/375°F at 75g.
#6. Use a Digital Scale
When making pastry recipes it's always important to use a scale. Precision is necessary to achieve better results and if you're going to take the time to make something you might as well do it right.
Always use a good scale, preferably one with single gram increments when making pastry recipes.
If you weigh the cookie dough before you bake you will have perfect cookies every time.
How to Know When You Have the "Perfect" Cookie
The outside is slightly golden, giving a crispy crunch to the exterior.
The inside is soft and gooey.
They can still be picked up without falling apart after resting for 10-15 minutes.
They're instantly devoured with none left over the next day.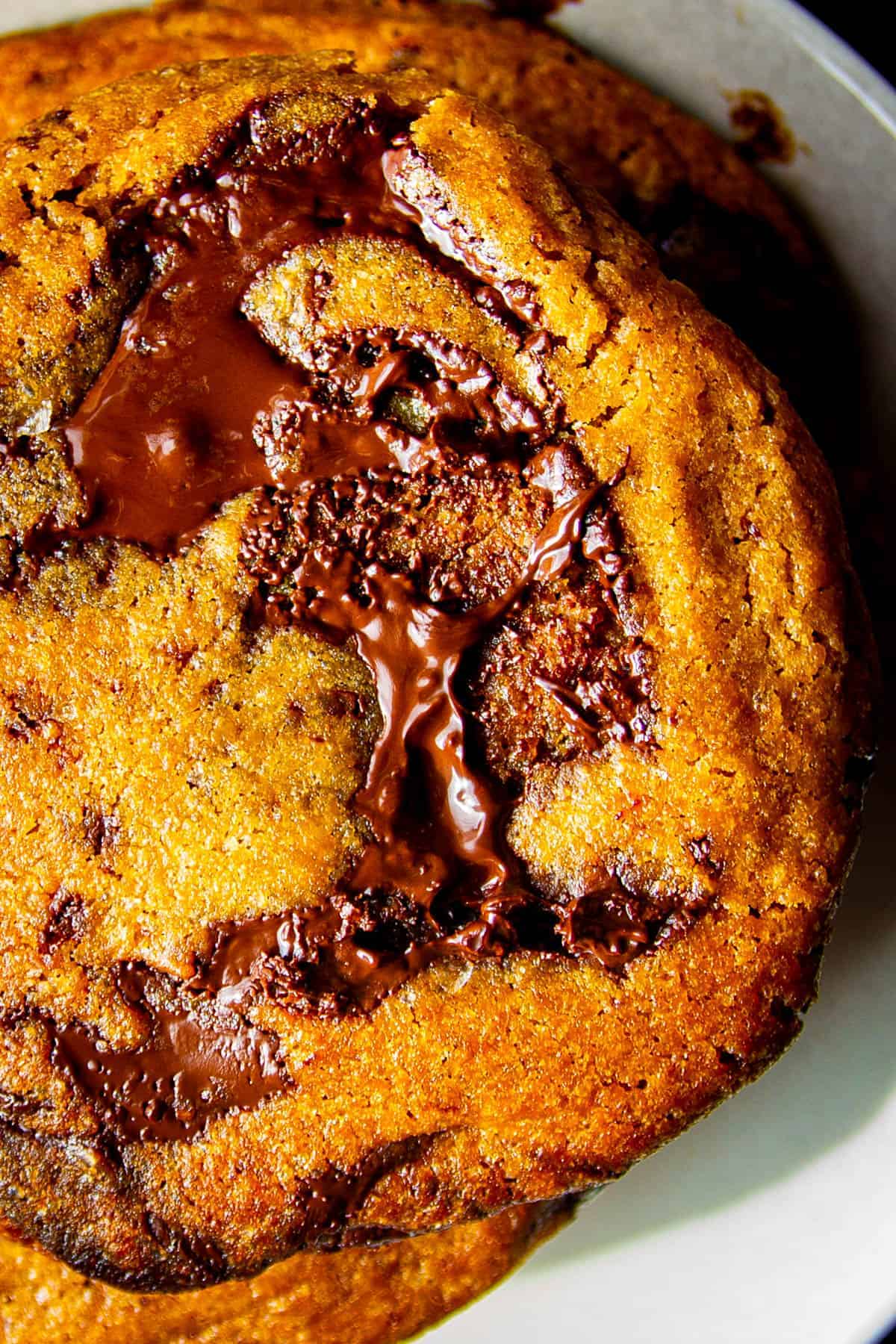 How Long Do Chocolate Chip Cookies Last?
The day after baking the cookies, they will still be good but not as soft. Keep them in a sealed cookie jar or plastic bag to stop them from getting stale. They're good for 3 days tops.
The next day, put the cookies in the microwave for 10-20 seconds to soften them up.
Happy Baking!
Looking for More Recipes?
This Salted Caramel Sticky Toffee Pudding
Is it time for new knives? Then definitely check out my ultimate guide to The Best High End Knife Sets and Why I'll Never Buy a Cutco Knife Set.