This is my go-to milk bun recipe because it's made in only a few hours and it's super easy.
It's actually the same recipe I used for my hamburger buns but instead of rolled into individual buns, this one is baked together in one massive loaf of buttery, fresh-baked comfort.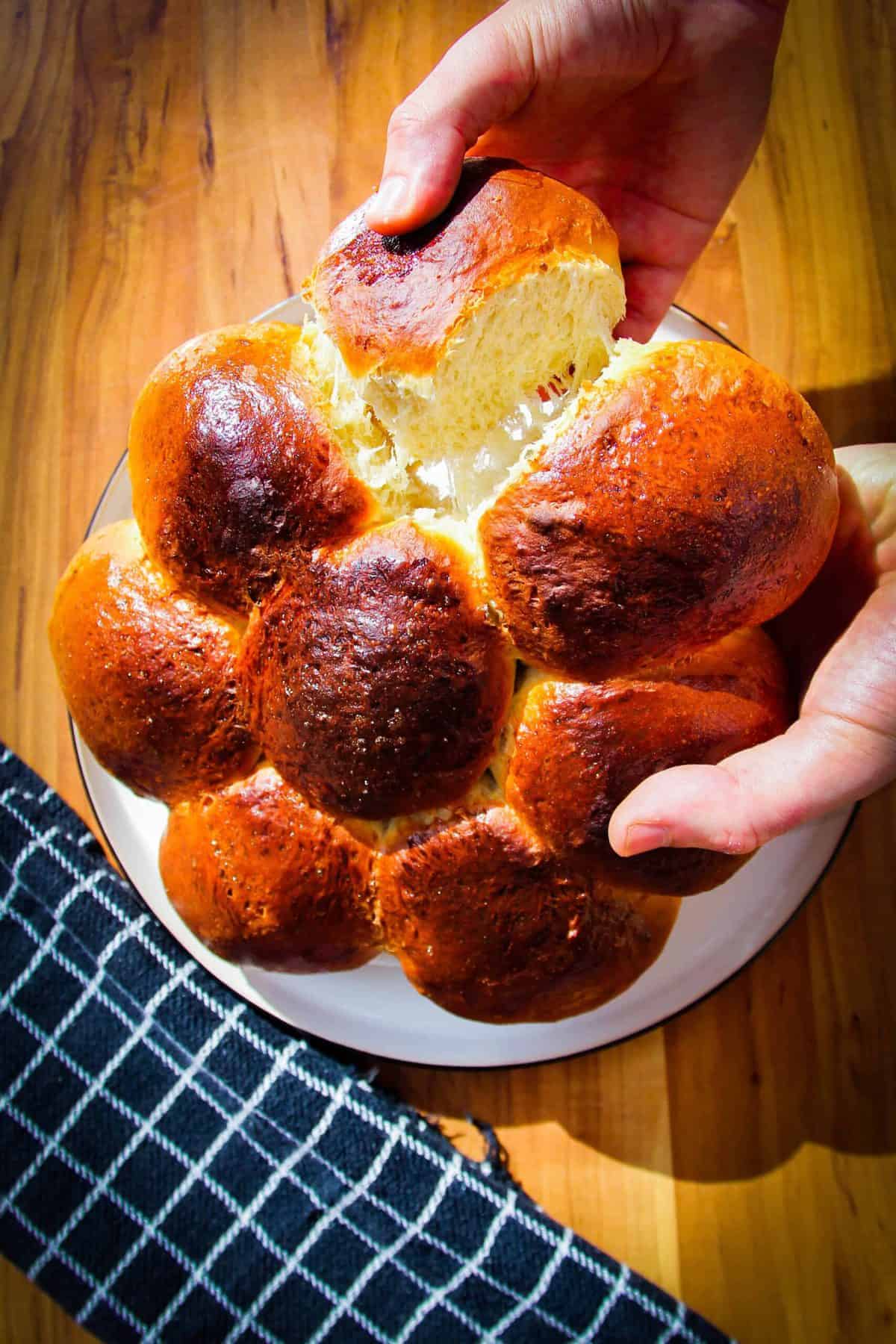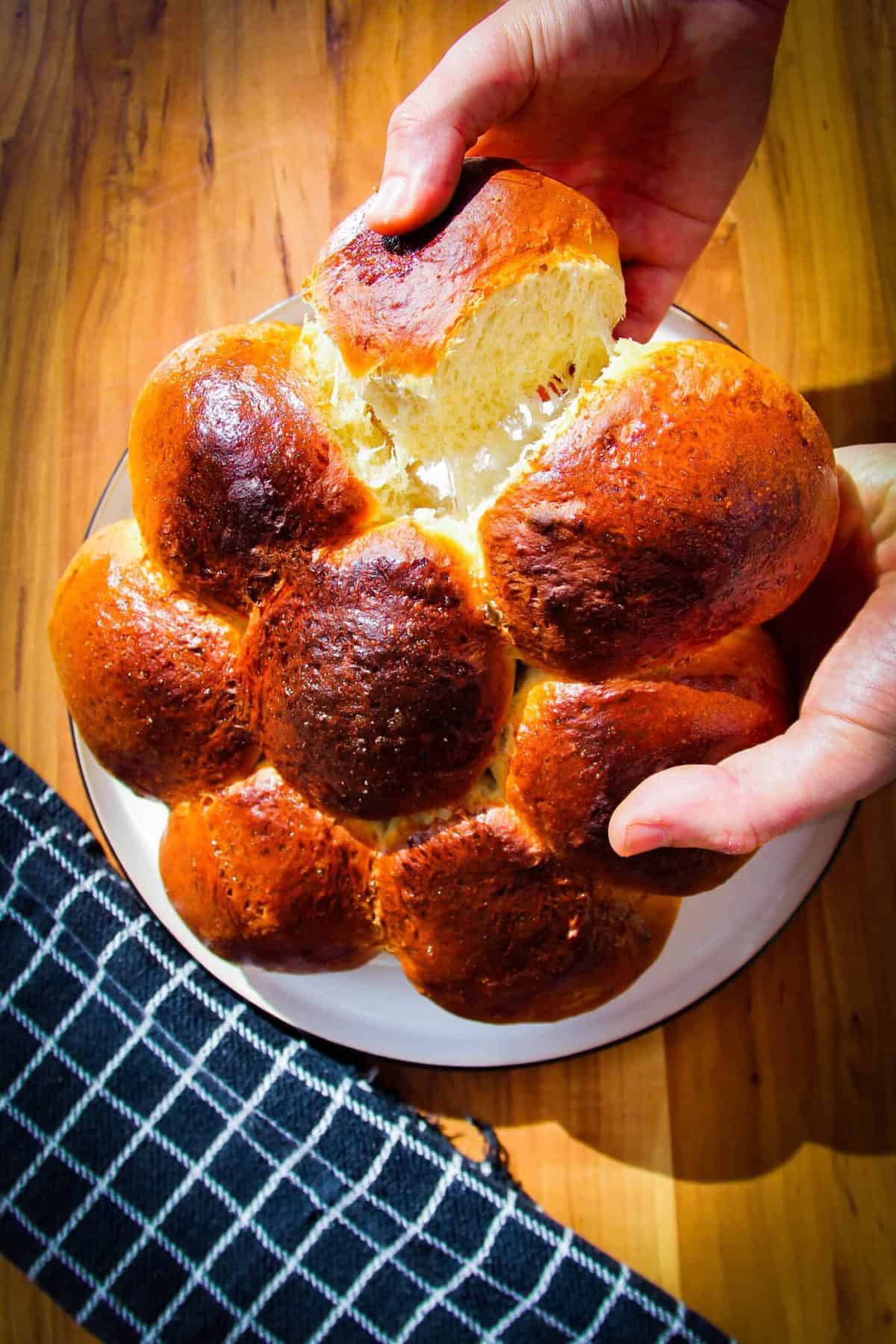 Next-Level Baking Technique – Enter, the Tangzhong
What makes this recipe special is the use of a Japanese tangzhong starter.
Tangzhong is similar to a roux except instead of butter, it is made with milk and a little water [1].
It is then cooked just like a roux until thickened and added to the dough. This process helps to keep the buns soft longer and makes it extra tasty.
Unlike a sourdough starter which can take months to prepare with daily feeding, this "starter" is ready in minutes.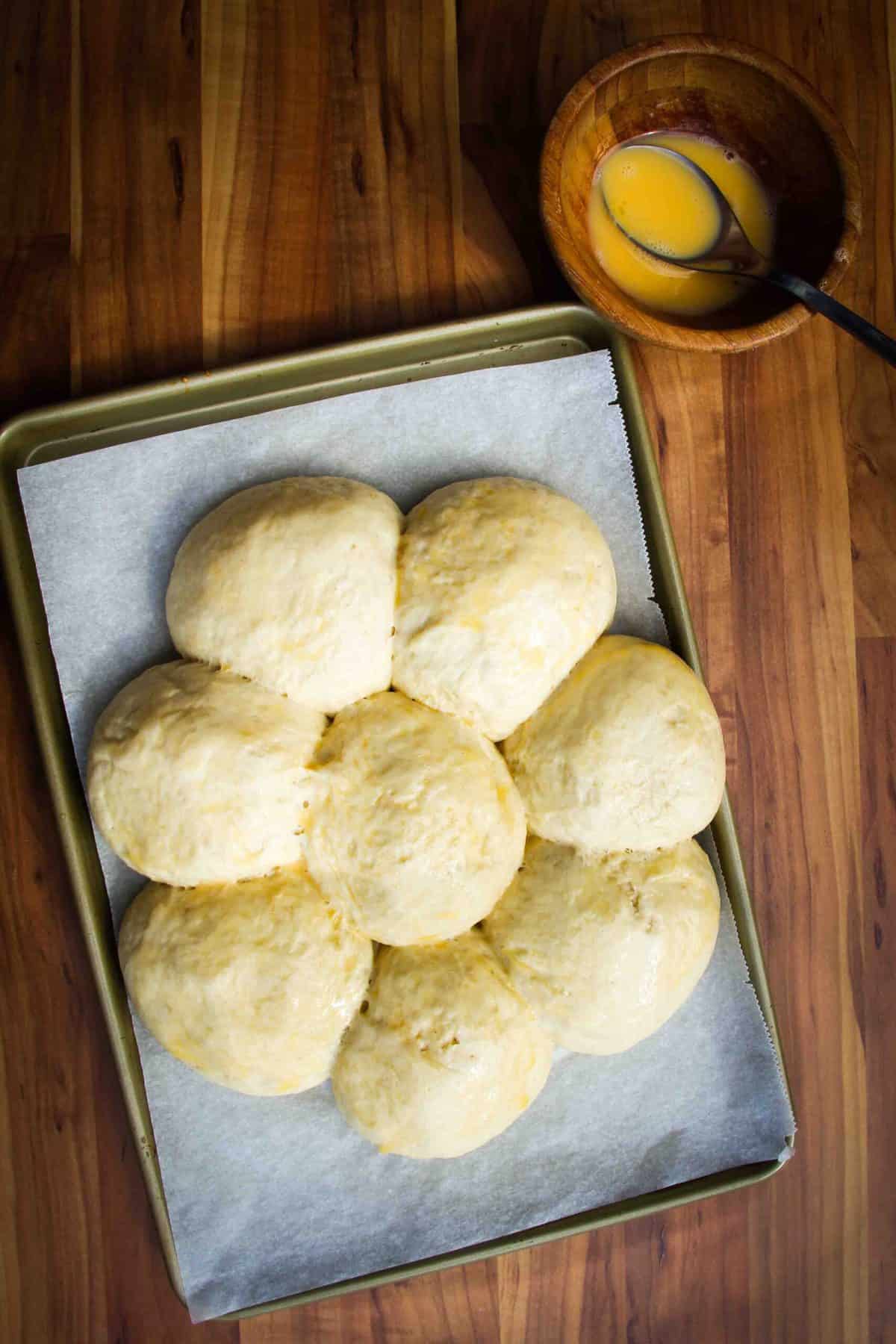 Easy Pull Apart Milk Buns
Super soft and fluffy milk buns that can be made in one day. These buns are amazing hot out of the oven with a little butter and crunchy sea salt.
Ingredients
Tangzhong (starter)
3

tbsp

water

43g

3

tbsp

whole milk

43g

2

tbsp

bread flour

14g
Dough
400

g

bread flour

2 ¾ cups

50

g

sugar

1/4 cup

1

tsp

salt

1

tbsp

dried yeast

113

g

whole milk

1/2 cup

1

large

egg

60

g

butter

melted and cooled (1/4 cup)
Instructions
Mix all of the ingredients from the tangzhong into a small saucepan and heat gently. Whisk for about 3 minutes until there are no more lumps and the whisk leaves lines on the bottom of the pan. Let this cool briefly.

Put the rest of the ingredients together with the cooled tangzhong in a bowl and knead until a smooth elastic dough is formed. If the dough is too sticky add a bit of flour until it is smooth.

Roll into a giant ball and place in a lightly floured bowl. Lightly dust the top with flour and cover with a tea towel or plastic wrap. Rest for about one hour.

After an hour or so, the dough should have almost doubled in size. Lightly press the air out and begin shaping into 8 smaller balls.

Attach them together on a parchment lined baking tray and lightly dust with flour. Cover with plastic wrap and let rise for 40-50 minutes.

Preheat the oven to 175°C/350°F. Lightly brush the dough with an egg wash (1 egg with a splash of cold water mixed in). Bake for about 23-35 minutes or until nicely golden on top and a thermometer reaches 88°C/190°F.

Transfer to a resting rack and let cool for ten minutes. These buns are amazing hot out of the oven with a little butter and crunchy sea salt.

They also makes an incredible egg sandwich the next day with a little fried egg.
Notes
When measuring the yeast, sugar and salt, always place them apart in the bowl. Too much salt and sugar can actually kill the yeast. So when measuring, place them on opposite sides of the bowl.
The dough should be smooth after it's mixed but it may take a while for the flour to absorb the liquid. If you use a stand mixer, you'll get better results as the the longer you work the dough, the more liquid it will absorb. Try to add only as much flour as you need because too much flour will make the buns less soft.
Nutrition
Calories:
386
kcal
|
Carbohydrates:
73
g
|
Protein:
13
g
|
Fat:
4
g
|
Saturated Fat:
2
g
|
Cholesterol:
52
mg
|
Sodium:
635
mg
|
Potassium:
174
mg
|
Fiber:
2
g
|
Sugar:
15
g
|
Vitamin A:
156
IU
|
Calcium:
80
mg
|
Iron:
1
mg
Caesar Salad – The King of Salads
Still to this day my favourite salad. A rich, creamy dressing made with fresh egg yolks and loaded with umami flavour from the anchovies, sharp parmigiano cheese and fresh garlic. Finished with loads of cracked black pepper and fresh lemon. It's the king for good reason.
Check out this recipe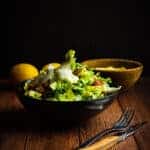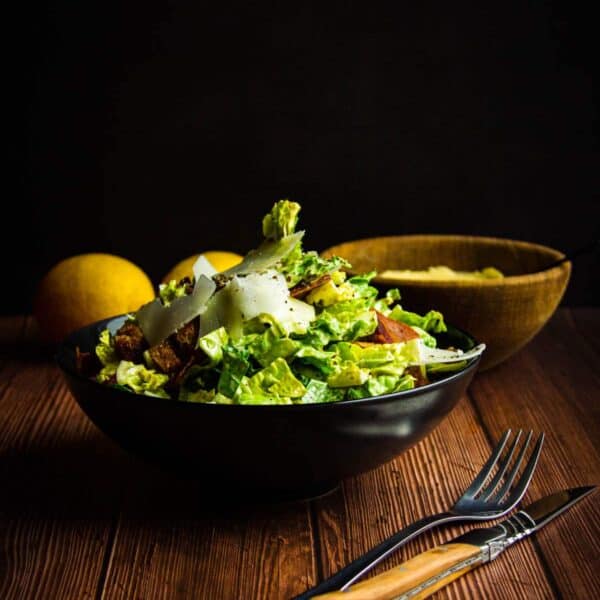 Marmite and Chili Baked Chicken Wings
These baked chicken wings are salty, sticky, sweet and loaded with umami flavour from the marmite. Try this recipe for marmite and chili baked chicken wings for your next wild, weeknight dinner.
Check out this recipe