This BBQ sauce recipe is so good, I contemplated between posting the recipe for free or starting my own BBQ sauce brand. Luckily for you, I chose to give it all away for free because life's too short for bad sauce…
The secret to this sauce is the addition of the dried ancho chillies. Ancho chili gives this sauce another dimension of smokey, chocolatey and rich flavours with just the right amount of heat.
What Makes the Best BBQ Sauce?
If you're like me, then you're pretty critical in your search for the best BBQ sauce.
I don't like overly light bbq sauces that are made with too much onion and garlic because this weakens the flavour of the sauce. The sauce needs to be bold enough to handle the meat, but balanced enough to be enjoyed on it's own.
The perfect BBQ sauce is not too spicy, not too sweet and doesn't mask the true flavour of the meat. The sauce should complement the meat and not compete for attention.
This sauce checks all of the right boxes for me. Beautiful colour, balanced sweetness, just the right level of spice and a range of chocolatey, nutty and smokey flavours from the ancho chili.
What's in the Best BBQ Sauce?
Let's break down each ingredient and its purpose in the sauce.
Double Concentrated Tomato Paste – This is the bulk of the sauce and vehicle for carrying the flavours. It adds sweetness, umami and an intense tomato flavour that cannot be replaced by anything else.
Ketchup – Yep. It's not the classiest ingredient but it works. It's nearly impossible to replicate that BBQ sauce taste without the ketchup. Also, some kinds of ketchup include emulsifiers like xanthan gum which also helps to bind the BBQ sauce.
Apple Cider Vinegar + Mustard – Apple and mustard are two great BBQ flavours that will give the sauce that tanginess we all know and love in good BBQ. You can substitute this vinegar with red wine vinegar, balsamic vinegar or sherry vinegar for slightly different variations.
Worcestershire Sauce + Soy Sauce – Both of these ingredients adds umami and depth to foods as well as a darker colour to the sauce. Soy sauce is also a protease which means it will help to tenderize meats.
Dark Brown Sugar – Dark brown sugar contains molasses which gives the sauce a dark, sweet and sticky flavour to the sauce. You could substitute the dark brown sugar for molasses and have similar results.
Cinnamon – I love adding a touch of cinnamon to BBQ foods because it gives more depth to the sauce. But go on easy on the stuff because if you add too much cinnamon the sauce will be too dessert-like.
Smoked Paprika – This is another way to add a little smokeyness into the sauce without having to turn on the grill.
Ancho Chili – As mentioned above, this is the star ingredient to the sauce. It's chocolatey, smokey, and bold flavours turn any boring bbq sauce into a pitmaster-worthy sauce.
Fresh Garlic – I tried one batch of bbq sauce with garlic powder and it felt like something was missing. Fresh garlic will make this sauce a little bit lighter, but with a much better flavour than garlic powder.
Vegetable Oil – The oil gives the sauce a nice sheen and extracts the flavour from the fresh garlic and ancho chili. You can also try adding butter instead of the oil for an even richer sauce.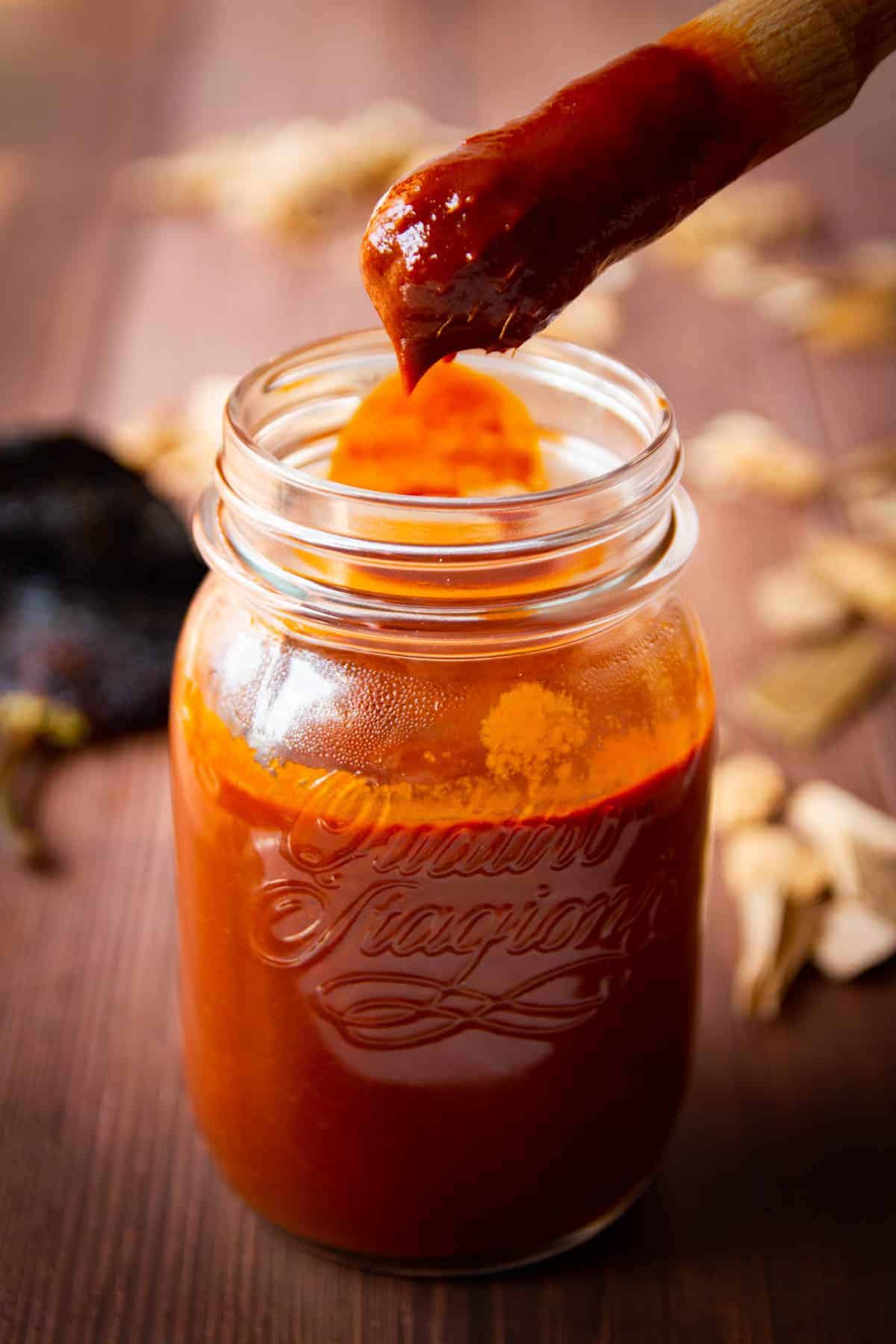 Tips on How to Make the Best BBQ Sauce
Use fresh garlic, not garlic powder.
Toast the chili and garlic in the oil to extract the flavour.
If you like a spicier BBQ sauce, leave the ancho chili seeds in.
Use flavourful dried peppers like ancho chili, cascabel, guajillo, mulato or even chipotle peppers for the best sauce.
What if I don't Have Ancho Chili?
That's a tough one because the ancho chili is really the star ingredient and the secret to the sauce. You can experiment with substituting other dried peppers for a similar sauce but be mindful of the different levels of heat in each pepper.
Ancho Chili Substitutes:
I wouldn't recommend adding regular bell peppers or poblano peppers because they have too much water which will drastically dilute the BBQ sauce. If you don't have any dried peppers then the best option is to skip the peppers and add less water to the sauce.
How to Store Your Homemade Sauce
To be safe, expect this sauce to last no more than 5 days in the fridge, in a sealed jar or container. Unlike the store-bought sauces, there are no added synthetic preservatives which means it won't last as long. However, there is a lot of sugar, which will increase the shelf life.
Make a big batch of this sauce before the grilling season starts and portion it out into a bunch of small sealable containers. Leave out what you think you'll use in a week and freeze the rest for up to 1 year in the freezer.
This post contains Amazon affiliate links to products I recommend and I may earn a small commission if you purchase something.
Put that BBQ Sauce to Work with These Recipes!
These No-Fail Smoked Chicken Thighs