When the weather gets dark and cold there's nothing more comforting than a big cup of rich bone broth.
And this is not your average broth – it's an Instant pot chicken bone broth. With this magical machine, you can shave off a whole day of cooking compared to the normal stovetop simmered tradition.
And to be completely honest, it's better than any stovetop stock I've ever had, and I've tasted a few broths in my day.
Stock, Broth, Bone Broth or Instant Pot Bone Broth?
What's the difference between the 4 options? I won't go into too much detail about this because my Instant Pot Beef Pho recipe has already answered those questions.
Basically, bone broth is a longer extracted broth which you drink on its own. It should be rich and intense from the extra cooking time of the bones and meat. Although, I may use the terms stock and broth interchangeably because they are pretty much the same thing.
Instant Pot Chicken Bone Broth Benefits
Bone broth has a lot of health benefits including beneficial amino acids such as collagen, it's healthy for your gut, helps with digestion, increases immune system strength, it's good for your joints and may even help you get a better night's sleep. This is because of the collagen which is very healthy.
Stock is Life
Any good Chef will tell you that good stock is the foundation to a good sauce.
Georges Auguste Escoffier, a founding father of French fine dining knew that proper stock preparation was so important it was only to be made by the highest-ranking cook in the kitchen – the saucier.
The saucier was in charge of making all of the sauces, and was the only one trusted to make the stock.
Anyone can make stock, but good stock requires skill.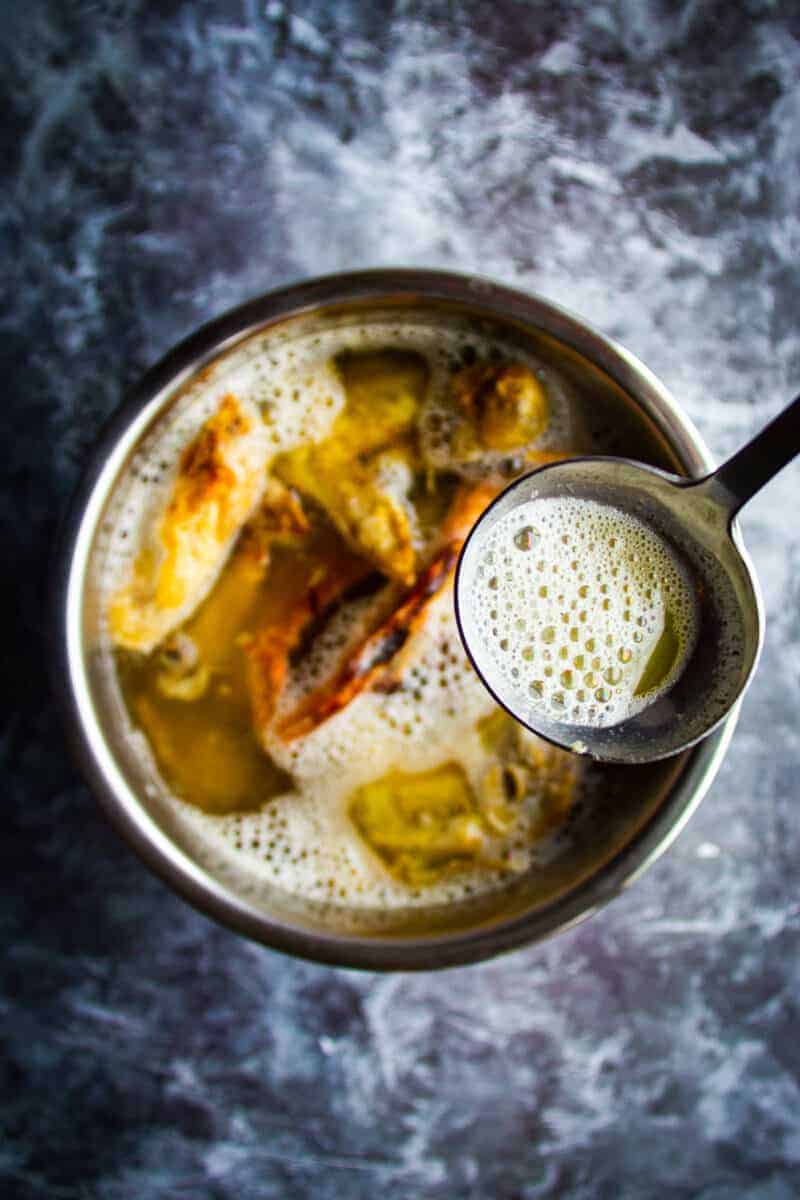 Instant Pot Magic
I know by now I'm starting to sound like an Instant pot salesman.
I just can't stress enough how delicious a pressure-cooked stock is compared to a normal stove pot stock. I've tasted 12-hour and even 24-hour broths that simply do not taste as good as my 2 hour instant pot bone broth.
Better taste with even less cooking time? You better believe it.
What's the Catch?
It's almost hard to believe how much time it saves.
The only downside to cooking in an instant pot is that it can't make very much. My 3L Instant Pot Duo Plus when maxed out, yields only one litre of bone broth after cooking.
Although in theory, you could make multiple batches in the same amount of time as a 12-24 hour regular bone broth.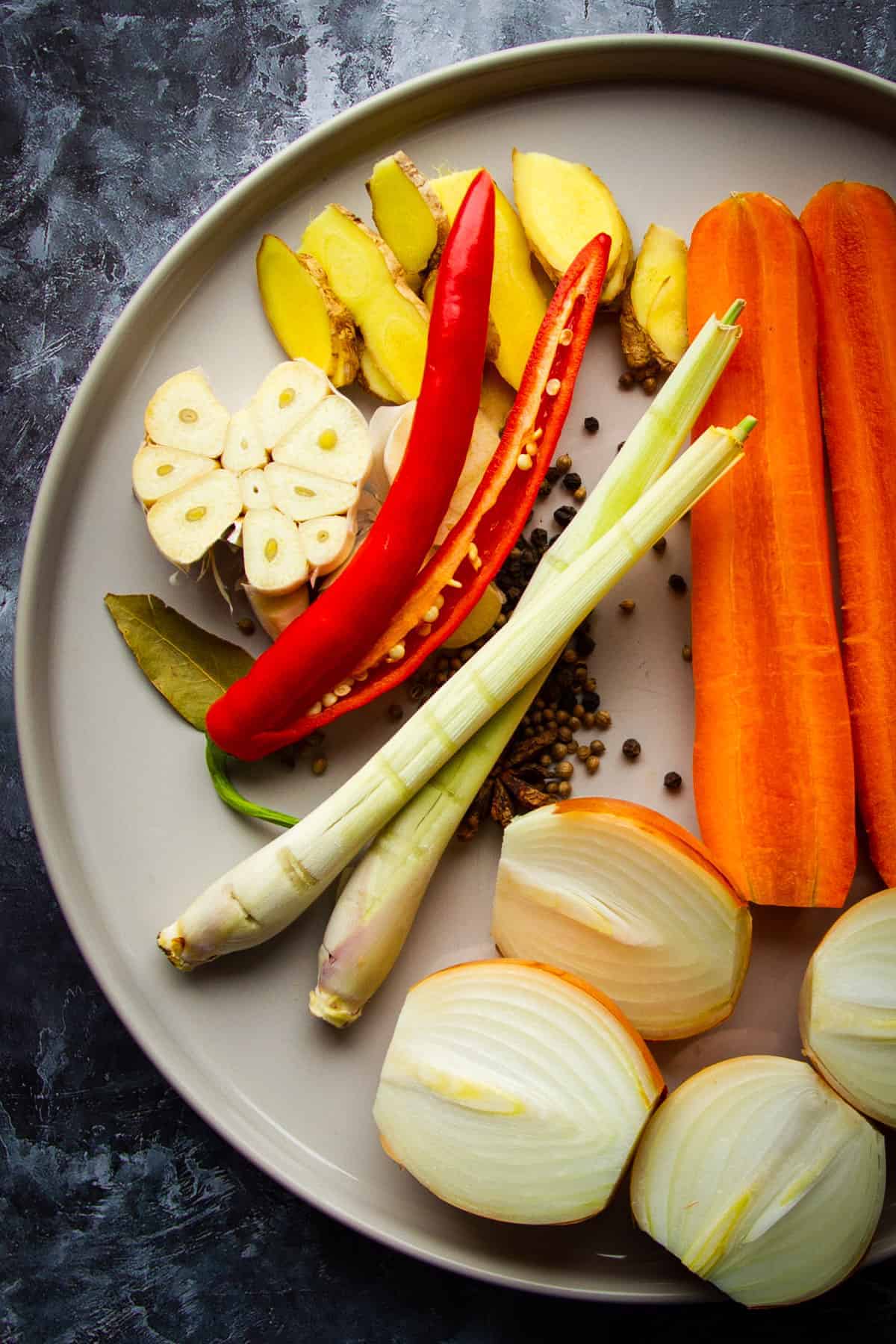 Skim that Scum! What is Scum Anyways?
Scum rises to the top of the stock after boiling and looks like white foam.
Skimming is very important because it helps to keep the stock clear and always tastes better when removed. Scum is not fat.
Fat will look like oil droplets on the surface of the broth whereas scum will be white and foamy.
Natural Depressurize vs Quick Release
It may sound technical but it's really simple. Naturally depressurizing the instant pot will happen automatically when the timer shuts off or the machine is turned off.
When the recipe calls for a natural pressure release, it means to do nothing. It will do this automatically.
Quick-release is when you press the quick-release button down to manually release the pressure. This is handy when you want to speed up the cooking process a little or don't feel like waiting.
It's important to note that natural release is almost always better than a quick release.
This is because when you quick release the instant pot you lose a little bit of flavour as it shoots out the top. With the natural release, these flavours stay in the liquid. Try to naturally depressurize whenever possible for the most flavourful food.
Should I Save the Cooked Chicken Meat?
After pressure cooking the chicken legs for 2 hours, the meat will lose most of its flavour into the broth.
However, there will still be a little flavour left in the meat and I think it's nice to add a bit of texture to the dish. Although this is completely up to you.
Tips For Making a Tasty Instant Pot Chicken Bone Broth
Bring the broth to a boil and skim the broth of the fat and scum before pressure cooking. This will make a much clearer and tastier bone broth.
Add cold water to the roasted bones and vegetables before cooking to prevent the broth from becoming cloudy.
If you can wait an extra day, let the bones cool in the cooked broth and chill overnight. The next day bring to a boil and then strain. The flavour will be even more intense.
Leave the skin on the onions for slightly darker broth.
Recommended Tools
Instant Pot – This tool is really a game-changer for making broths. You can still make this recipe without but you will need to simmer your bone broth for 12-24 hours to get similar results. Even then, the flavour is still much better with an Instant pot or pressure cooker in my opinion.
Spider Strainer – This little tool helps to easily lift the cooked bones and vegetables out of the pot after cooking. It makes it a little easier than just pouring it all into a fine strainer. You will still need the fine mesh strainer if you want a nice clear broth.
Fine-mesh Strainer – After cooking you will need something that can catch all the cooked spices and herbs that might fall through the spider strainer. I use this tool all the time and I highly recommend this one.
Looking to buy a knife set? Read my guide on Why I'll Never Buy a Cutco Knife Set.
This post contains Amazon affiliate links to products I recommend.