If you're thinking about buying a Cutco knife set, hold on a second because there are much better alternatives.
I've been using kitchen knives professionally for more than 15 years and can tell you that choosing the right brand matters, even for the home cook.
If you're going to be buying an entire knife set then it's so important that you trust the brand.
Here are 5 better alternatives instead:
Best Knife Set on a Budget – Victorinox Swiss Army Cutlery Swiss Classic Knife Block Set, 22-Piece
Below I'll be breaking down exactly why these knife sets are way better alternatives to a Cutco knife set.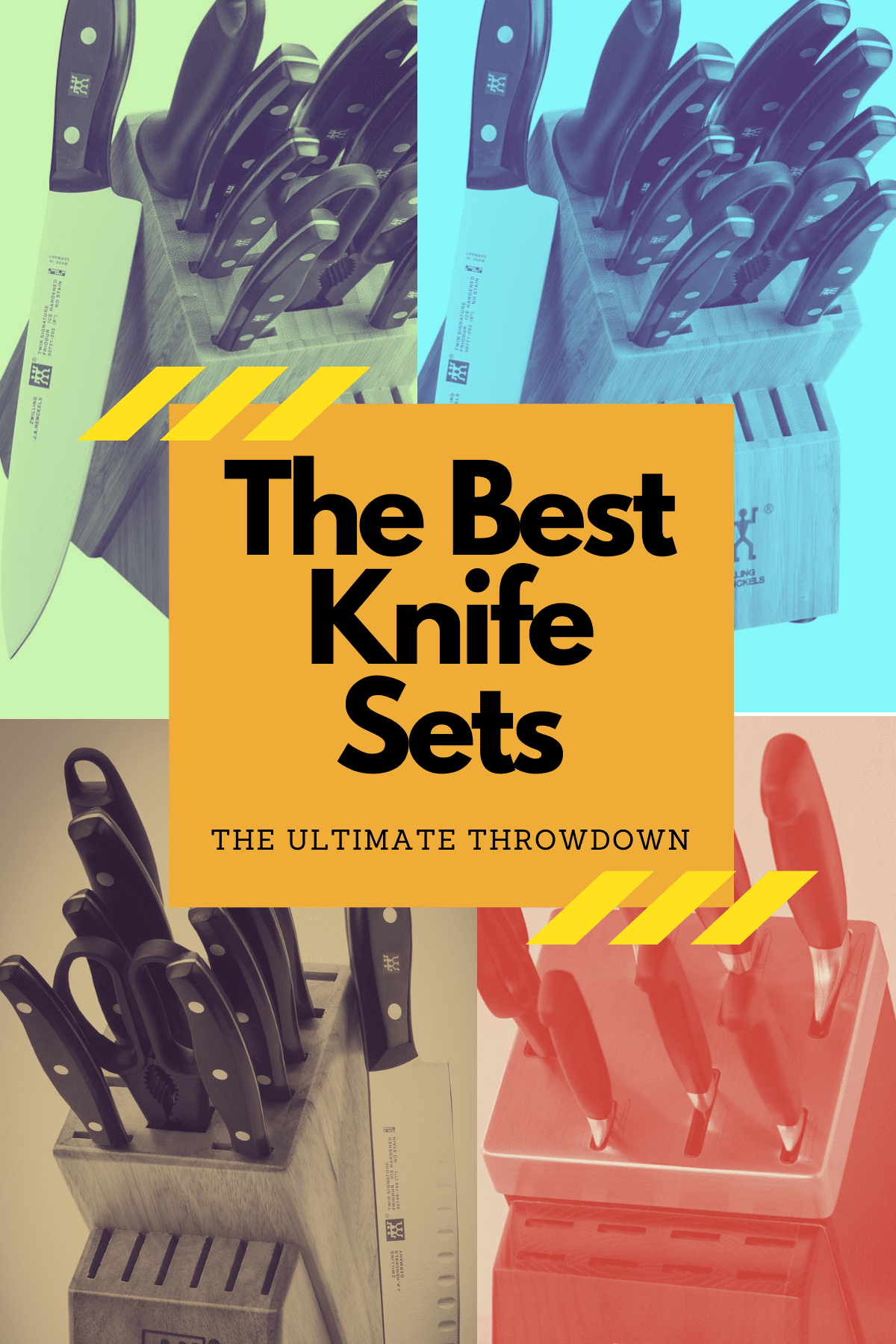 Table of Contents
Cutco Company Background
Formerly known as Alcas Corporation, The U.S based Cutco company is the parent company of Vector Marketing and has been producing knives since 1949.
They even have an "Amazon Choice" award for the knives. Sounds pretty good right?
Cutco prides itself on American-made knives which is true, however, some of its other products are also made in Mexico and China.[1]
They have a small number of retail locations across the U.S but they don't make most of their sales here.
Instead, most of their sales come from hired students who aggressively sell their knives through door-to-door sales. [1]
What's worse, The Los Angeles Times claims that their company meets the FTC regulations for a pyramid scheme (although Cutco denies this). [2]
Yikes!
Although the company has been around for some time, I think it's pretty fair to say it has had some serious red flags in the past.
There's a reason why BMW or Mercedes doesn't need aggressive sales tactics to sell their cars – the cars are built with quality and the cars sell themselves.
Still not convinced?
Let's look at the most important part next – the steel.
What About the Steel in a Cutco Knife Set?
So Cutco has a bit of a shaky past, but are their knives any good?
Short answer: Not really.
Cutco makes all of their knives with stamped 440 A steel which is relatively low-quality steel and nothing to get excited about.
While Wusthof and Victorinox both use a much higher quality chromium-molybdenum-vanadium steel [3] in their high-end knives.
Zwilling also uses high-carbon German stainless steel in its base-level knives.
All of these knives use similar to better quality steel in their knives with much cheaper prices than Cutco.
What's the Deal with Stamped and Forged Knives?
Generally speaking, forged knives are superior to stamped knives.
Cutco knives are made using stamped steel which means they're cheaper to produce.
Although there's nothing wrong with stamped knives, they don't always hold their edge as long as forged knives.
To put this in perspective, Henckels has mostly stamped knives and Wusthof is almost always made of forged steel. (Although Henckels have some forged knives in their higher-end models)
That means that you'll have to sharpen stamped knives sooner than forged knives.
Also, unlike other popular knife brands, Cutco doesn't offer a higher-grade steel or premium knife set so anyone looking for higher-quality steel is out of luck.
The Cutco Handle
Something definitely worth mentioning – is the "unique" Cutco knife handle.
The way a knife feels in your hand is extremely important because you need to be able to hold it firmly and safely.
The handle is made of thermo-resin plastic which is similar to Henckel's knives – which is good.
But...
Cutco puts a weird handle on their knives which I find really annoying.
Cutco adds a strange curved edge handle which they call the "Universal Wedge Lock".
Sounds more like "Universal Marketing Baloney" to me…
I grew up with traditional Western handles from knives like Wusthof but others may prefer the octagonal shape of a high-end Japanese knife.
Still, for reasons I'll never understand, some Amazon buyers love the shape of the Cutco handle.
What's more important is whether or not the knife is comfortable in your hands and not mine and this is different for everyone.
The Blade Design
The good news is that Cutco blades are built with a full-tang.
This means that metal from the blade runs all the way through to the end of the handle and helps to keep it balanced.
One positive point for Cutco knives!
They also put a hollow ground edge on the bottom half of the knife to prevent foods from sticking.
But in my experience, hollow ground edges don't really do much to prevent foods from sticking while slicing. Wet foods are just going to stick to your knife while cutting and any knife company that says otherwise is just selling you nonsense.
The Double D Edge Myth
The "Double-D edge" of Cutco knives is nothing more than a snappy-sounding marketing gimmick.
What sounds like progressive patented technology is basically just another name for a serrated knife edge.
That's it.
Serrated knives are great for citrus, bread and tomatoes but not much else. The rough edges of serrated knives (and Cutco's Double D-edged knives) will leave rough cuts in delicate foods like meat and fish which is not recommended.
Plus, you can't sharpen a Double D edge at home which means you'll be forced to send it to Cutco (and pay for shipping by the way) every time it needs sharpening.
On the contrary, properly sharpened straight-edged knives work with all types of food.
It's important to keep this in mind when choosing a knife set as too many of the knives included in the Cutco knife set are serrated.
Warranty and Guarantee
Probably the biggest draw to Cutco knives for a lot of people is their Forever Knife Guarantee.
They promise to replace any knives you're not happy with, whether they're chipped, broken or even if they need sharpening.
And I can understand why many home cooks would like the sound of that.
But keep in mind you'll still have to pay for shipping and the cost of sharpening each time.
Whereas with a trusted brand like Wusthof, you'll likely not have to ever replace anything and can sharpen them on your own for free.
I've had my Wusthof knife set for more than 10 years with absolutely no problem at all.
Plus, if there's anything wrong with the knife after purchase, Wusthof offers a Lifetime Warranty on all of their knives meaning they'll replace any defects free of charge.
You also get a 45-day return policy if you're not happy with it and they won't make you pay for shipping!
Sharpening and Maintaining
All knives can be sharpened to a razor-sharp edge, but the difference is how long the knife can hold that edge.
Cutco knives are made with average-quality steel which means they'll have to be sharpened more frequently than knives from Wusthof or Zwilling.
Although they do offer their own knife sharpening service, you'll still have to pay for the shipping costs and send them in more frequently.
Cutco Knife Colours
Cutco knives do come in some nice-looking colours including, black, pearl and red.
Wusthof and Henckels don't offer these colours but I would never buy a knife just for the colour.
In-Home Only Demonstrations
If you want to test out their knives before you buy, you'll have to request an in-home demonstration.
Remember that Cutco is infamous for its aggressive sales pitches from students?
That'll be a hard no for me, thanks!
The only other option is to visit one of the retail stores which are only available in the U.S at these locations:
Olean, NY
Atlanta, GA
Wilmette, IL
Castleton, IN
Novi, MI
Okemos, MI
Edina, MN
Creve Coeur, MO
North Olmsted, OH
Erie, PA
North Wales, PA
Austin, TX
Fort Worth, TX
Houston, TX
Plano, TX
Price
In my honest opinion, Cutco knives are highly overpriced.
Because they're made in the U.S the production costs are higher than producing them elsewhere. Although the idea of U.S-made knives sounds great on paper, the quality of the knives is severely lacking.
All Cutco knives are stamped which means they're cheaper to produce but won't hold the edge as long as other knife brands.
And with the heavy price tag that comes with Cutco, I'd expect to at least receive a set of forged knives.
With a full knife set breaking the 4 figures' price tag, I'd much rather get a set of the world-renowned Wusthof or Zwilling knives for a similar price.
The Pros of a Cutco Knife Set
They come in some nice colours.
They're made in the U.S.
They have a Forever Guarantee.
The Downsides to a Cutco Knife Set
The knives are overpriced.
The steel is a weak 440 A steel which is relatively low-quality steel and has nothing to get excited about.
The handle is annoying.
You cannot sharpen the Double D edge yourself.
They only make stamped knives, which are inferior to forged knives.
Cutco doesn't have many retail locations which means you won't be able to test out the knives before you buy.
The company has a bad history of multi-level marketing, and aggressive sales tactics and uses poorly informed students to sell its products.
If you can't find a retail store, you must sign up for a dreaded at-home-only demonstration.
You have to pay for shipping on returns and for sharpening.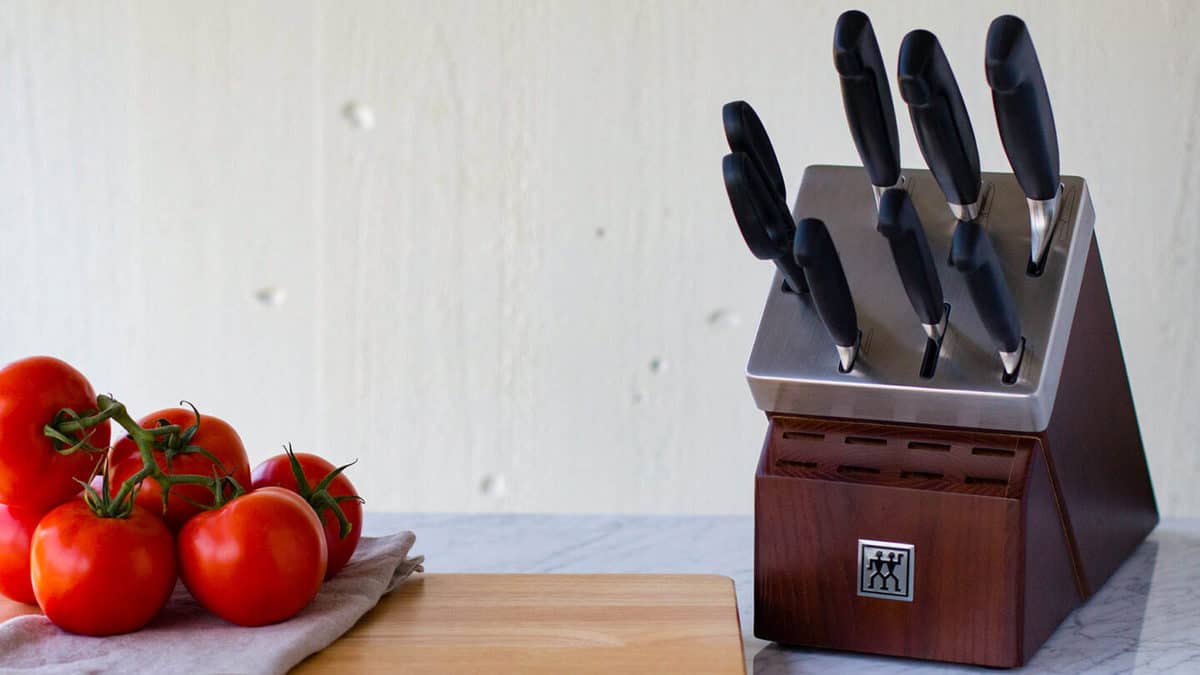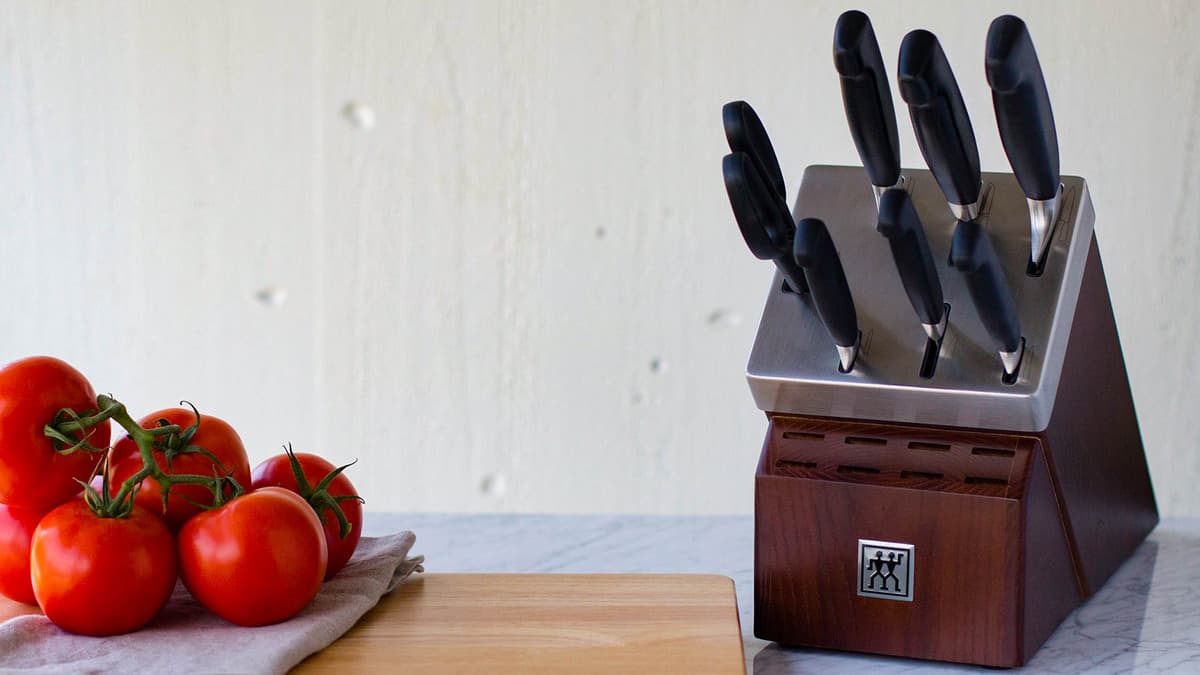 Better Alternatives
So what are the better options for the Cutco 19 Pc Kitchen Knife Set?
Let's take a look at some better options in the same price range.
Wusthof was the first set of knives I bought to begin my cooking career and they've never once let me down. Even back then, all of my culinary instructors recommended these knives also because they'll last a lifetime.
For a similar price to Cutco, you can get so much more quality with the top-of-the-line IKON series from Wusthof.
It's worth pointing out that Cutco does include 7 more knives than this set but of those 7, 4 are steak knives and the other 3 are those "Double-D" edge knives…
Plus the price of this set is still cheaper than Cutco.
Consider this too: do you really need 19 kitchen knives? Or is 12 enough?
You can always add on extra knives later with the money you would have spent on a Cutco knife set.
The Amazon reviews of this Wusthof set are the best of any knife set I found and I can see why.
The knives have a strong Rockwell score of 58 and are made with high-carbon stainless steel.
The new design of these knives looks extra sleek and would look great on any kitchen counter. 
You can't go wrong with these knives!
Even though the 18pc Zwilling Professional S series is more than twice the price of their Gourmet Classic series, it doesn't sacrifice quality.
This is a set of forged knives made in Germany with quality that's so much better than Cutco, it's hard to even compare the two.
They have a Rockwell of 57 which is harder than Cutco knives and means they'll stay sharp longer. They're a little bit cheaper than the IKON series but come pretty close in quality.
Although some reviewers felt cheated that the steak knives included in this set are not forged and instead stamped and produced in Spain.
Personally, I don't really care that the steak knives are slightly cheaper as the most important for me is the quality of the kitchen knives.
Still, it's worth pointing out.
In the end, this is a solid set of German-made knives that knocks any Cutco knife out of the park.
Although this set has 3 fewer knives than Cutco, it has the added bonus of some great kitchen sheers, which Cutco doesn't include in their set.
The knives are forged instead of stamped and have a much higher Rockwell of 58 meaning they'll hold the edge much longer than Cutco.
All their knives are made in Germany and come with a 45-day Lifetime Warranty.
Although I would much rather purchase the Zwilling Pro Series, this 18pc Twin Gourmet Classic is probably the closest option to the Cutco knife set.
They're stamped blades just like the Cutco set but the price is less than half of what you would pay for Cutco. You get 18 knives in the Twin Gourmet Classic instead of 19 from Cutco but you also get free kitchen shears.
Although the Rockwell of these knives is estimated to be in the range of 53-55 and lower than that of Cutco, I'd still rather buy these knives for the price.
With the money saved from not buying the Cutco set, you could afford a high-quality Japanese knife to add on.
Victorinox has been making knives since 1884 and they're a trusted brand by many chefs around the globe. I'm a huge fan of Victorinox because I think they make great quality knives for a very fair price.
I love their simple and minimalist design and comfortable grips. My personal favourite is their 4inch serrated utility knife (included in this knife set) that's perfect for cutting tomatoes, light vegetables are even carving pumpkins.
Although for serious home cooks looking for a bit more quality, these knives may feel a little "cheap".
Just like Cutco, the Rockwell scale on these knives is around 56 and will need to be sharpened and honed more than knives from Wusthof or Henkels.
But considering the price, I think these knives are a steal (sorry, not sorry for the pun).
At less than half of what you would pay for the Cutco 19pc set, this 22 pc set even comes with 3 extra knives. Bonus!
The Bottom Line
My advice: Don't buy Cutco knives.
Instead, the 12pc Wusthof Classic IKON series offers far more bang for your buck.
The Cutco company has a history of shady sales tactics with average-quality products at unfair prices.
They do offer a Forever Guarantee on their knives, but that's probably because their stamped knives are cheap to replace. Plus you'll be the one paying the shipping costs for sharpening or if they break, not Cutco.
Brands like Wusthof, Zwilling, and Victorinox make great factory knives and won't break the bank like a set of high-carbon Japanese knives.
Buying a knife set is like buying a car except a good knife set can last a lifetime. It's always a good idea to do your research and find which brand best suits your need.
And if you're looking for a higher-end knife set, then don't miss this guide!
More Guides
Recipes to Put Those Knives to Work
No-Fry Crispy Sweet Potato Wedges
The secret to oven-baked sweet potato wedges. Crispy on the outside and mashy on the inside and preferably dunked in spicy mayo.
Check out this recipe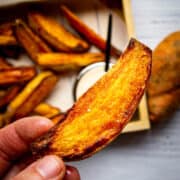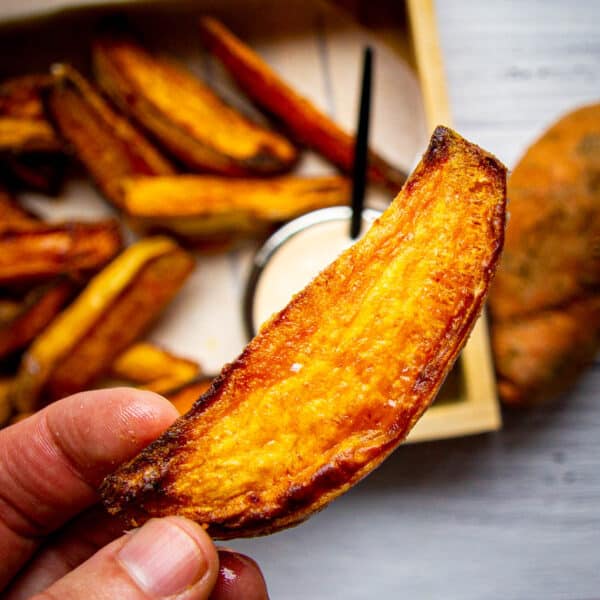 Bitterballen – Dutch Secrets Exposed
An extremely addictive Dutch snack consisting of slowly braised beef that's thickened with a roux and deep fried into little crispy balls.
Check out this recipe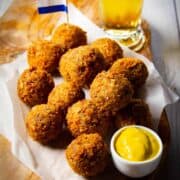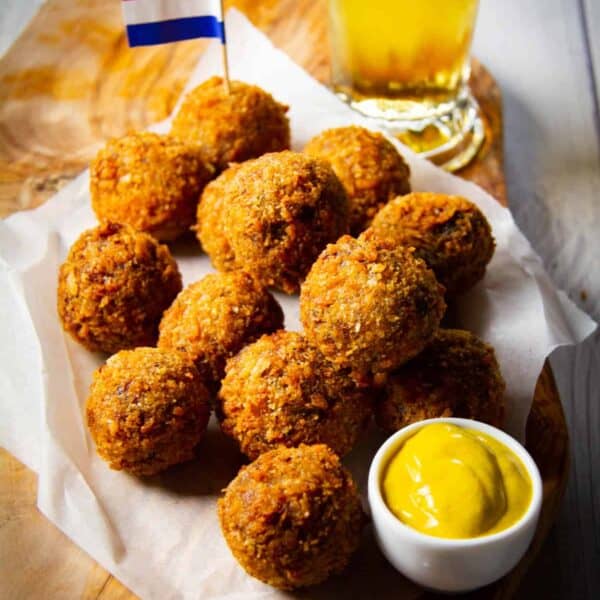 Pho Tai – The Ultimate Beef Bone Broth
How to make Pho Tai – a Vietnamese beef bone soup with rice noodles, basil, ginger and thinly sliced beef. This recipe uses the instant pot to make it in 3 hours start to finish.
Check out this recipe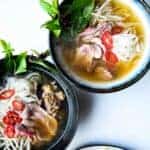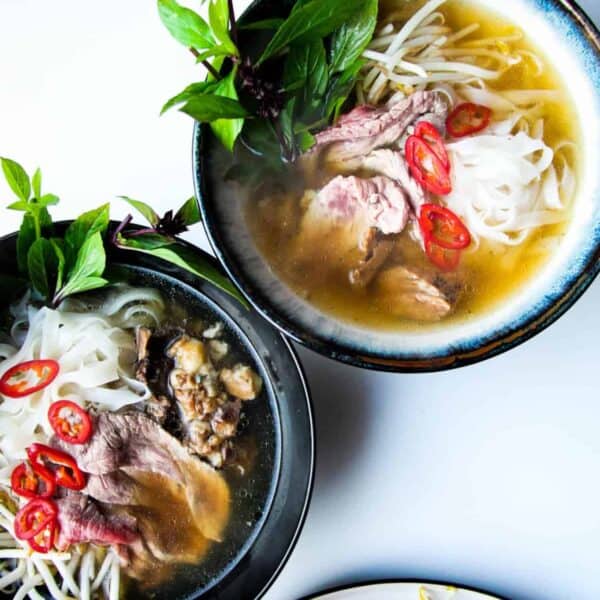 How to Cook Chestnut Mushrooms with Butter, Garlic, Parsley and Lemon
These chestnut mushrooms are cooked in loads of foamy butter and finished with fresh garlic, lemon and parsley.
Check out this recipe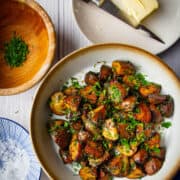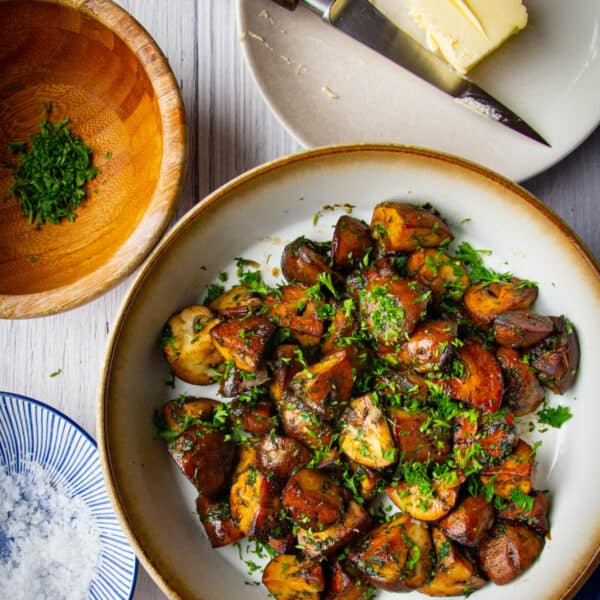 Copycat Big Mac Sauce
This copycat big mac sauce recipe is better than the real thing. The best part is most of the ingredients are readily available in your home. What are you waiting for?
Check out this recipe