Unlike my cinnamon ghost meringues from last year, these mini marshmallow ghosts are A LOT easier to make.
Plus, who doesn't LOVE the soft and chewy texture of a homemade marshmallow?!
Yep, these little guys are made using a simple recipe for piped marshmallows with only a few ingredients and they're totally gluten-free.
Finding gelatin can sometimes be tricky, so I'm providing recipes for both powdered gelatin and sheet gelatin in case you can only find one (finding powdered gelatin in the Netherlands is near impossible!).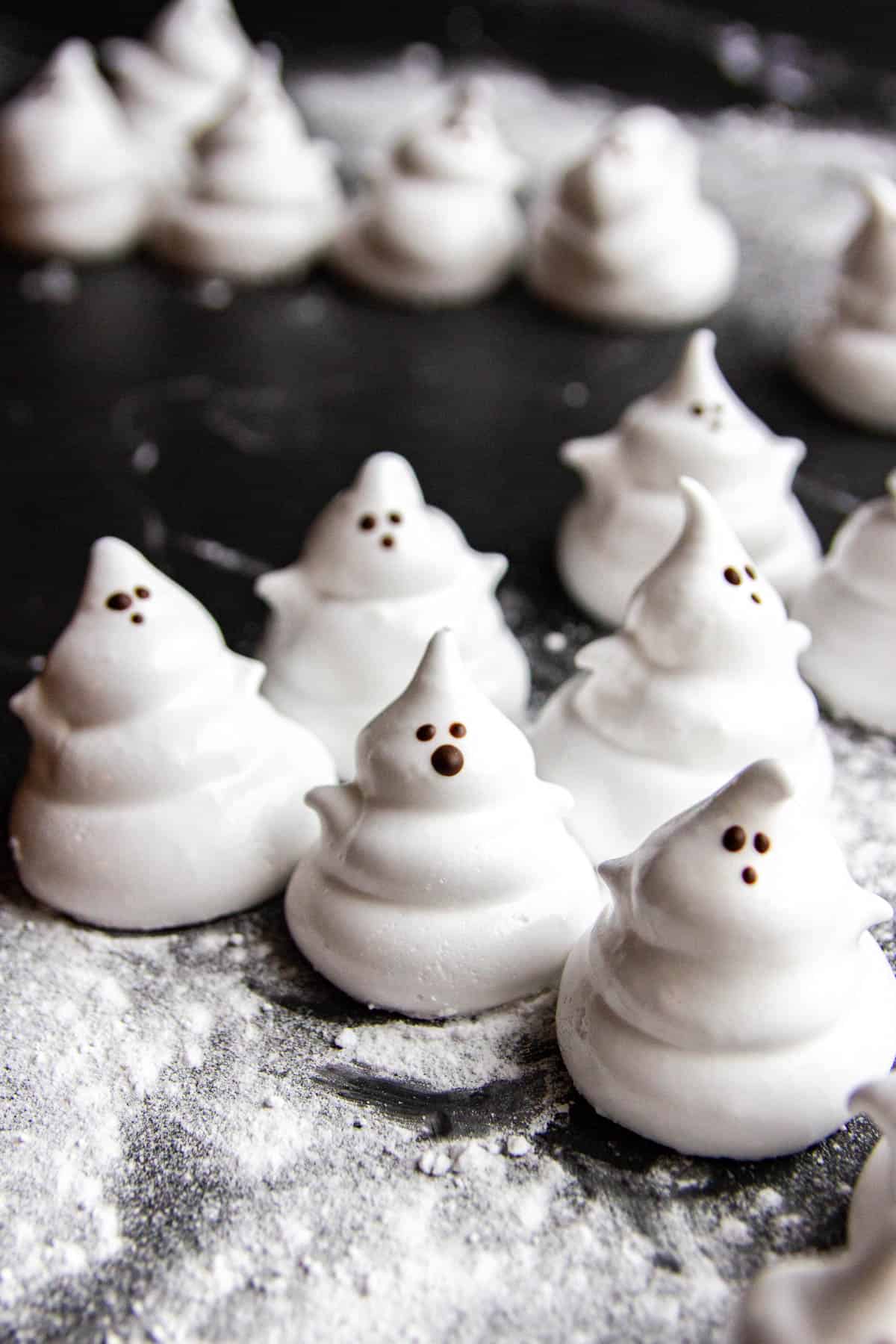 How to Make Mini Marshmallow Ghosts
Here a the quick recipe summary for these Halloween treats:
Bloom the gelatin in the measured cold water.
Bring another mixture of sugar and water to 238°F/ 114°C on a candy thermometer (soft ball stage).
Mix the bloomed gelatin and syrup together.
Whip with an electric mixture until stiff peaks are formed.
Pipe the marshmallow mixture onto a tray coated with icing sugar.
Use a spoon to make the arms.
Use some melted chocolate with a toothpick to draw a face.
That's it!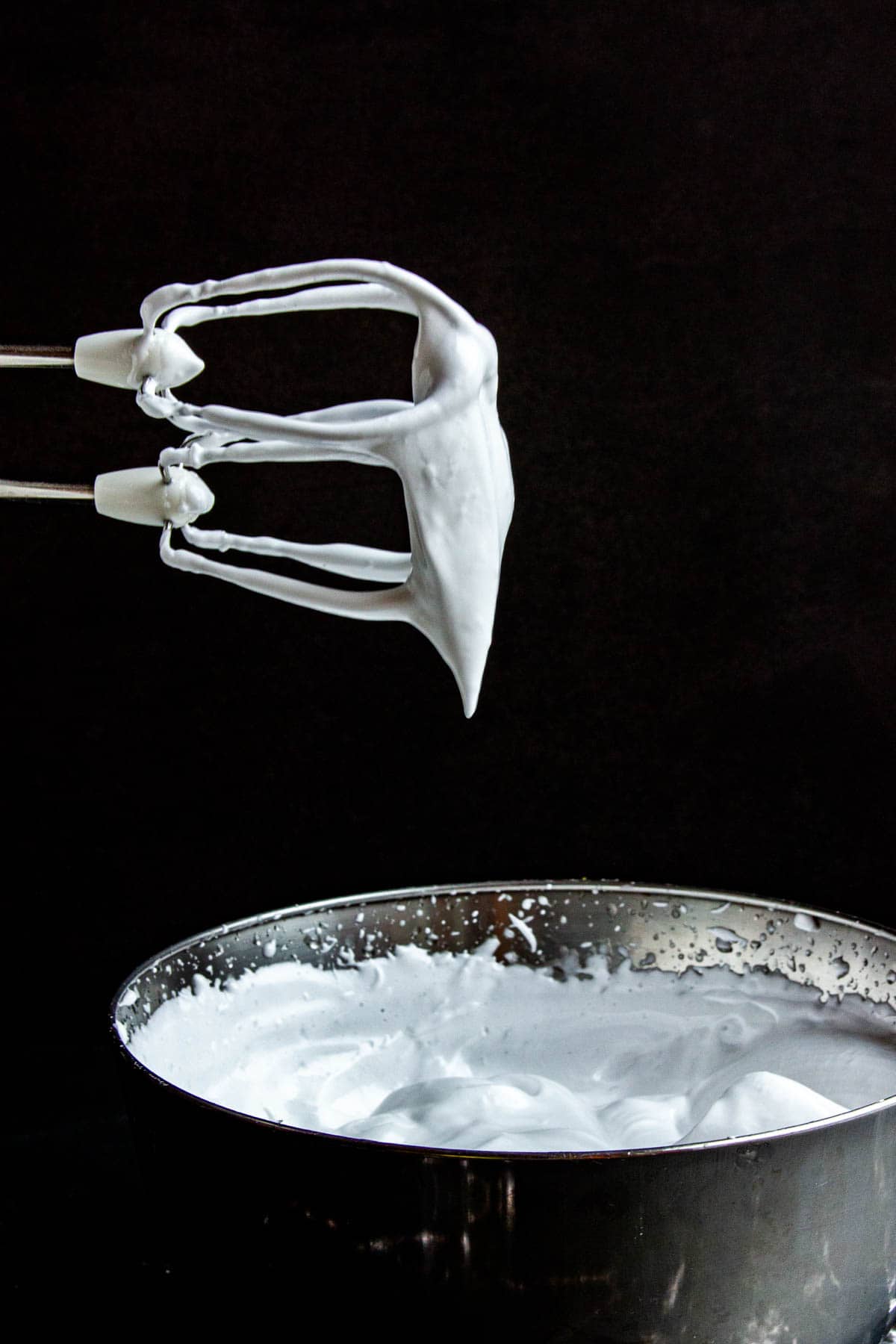 Gelatin Buying Guide
The most difficult part about this recipe is finding the right gelatin. There are two types of gelatin: sheet gelatin and powdered gelatin.
To make things even more confusing, there are different strengths of gelatin called "bloom strength".
I'm using Dr. Oetker Gelatin Sheets from the Netherlands and despite my best efforts, I can't find the actual bloom strength. However, this handy guide from Chefsteps indicates that it's most likely the higher 250 bloom.
Still, European gelatin strengths may be different compared to other parts of the world (even with the same brand).
Note: my gelatin sheets are 3 inches by 5 inches and not the larger ones that are commonly used in the restaurant industry.
If you can't find gelatin sheets you can also substitute the sheets for 2+1/2 tsp gelatin powder.
For gelatin sheets try these (Dr. Oetker Brand).
For gelatin powder try this (Knorr Brand).
Tips For Working with Gelatin
Don't boil gelatin. Gelatin breaks down when boiled and becomes less effective.
Acidic ingredients like wine, vinegar, and citrus will decrease their effectiveness.
Don't mix with foods such as pineapple, kiwi, or papaya which contain an enzyme that can break down the gelatin.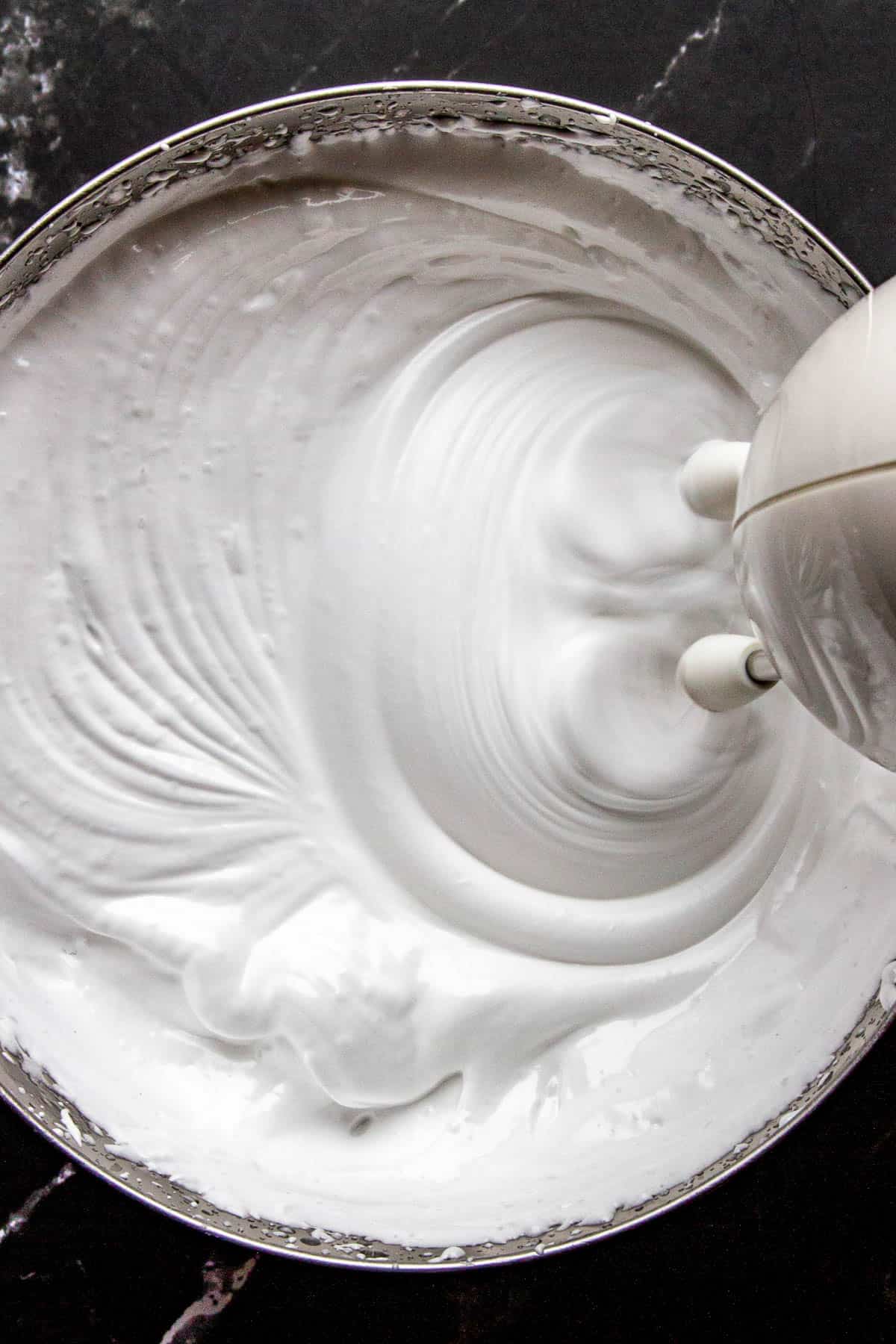 Recommended Tools For These Mini Marshmallow Ghosts
Electric Mixer: You'll need a high-powered mixer with a whisk attachment as this recipe cannot be made by hand.
Kitchenaid stand mixtures are great but a cheaper hand mixer also works and takes up a lot less room in your kitchen.
I really love this one from Breville which is powerful but still quiet.
Candy Thermometer: This is important because a regular kitchen thermometer will probably not be able to reach the high temperature needed for this recipe.
Make sure you've got a thermometer that can reach at least 238°F/ 114°C.
I'm still using this cheap ThermoPro thermometer which doubles down as a meat probe for roasts and BBQ. But you may want to invest in a candy thermometer that clips on the side of your pan like this.
Recipe FAQ
Are Marshmallows Vegan?
No. Traditionally, marshmallows contain gelatin which is derived from pork or beef. There is, however, vegan gelatin, although I have not tested it with this recipe.
Are Marshmallows Gluten-Free?
Yes, this recipe is 100% gluten-free!
Can You Freeze Marshmallows?
Yes. Freezing marshmallows is a great idea because they'll last longer and the texture of a frozen marshmallow is still a little bit soft.

To freeze these marshmallows, dust them first with a little icing sugar and carefully store them in a large Tupperware container for up to 4 months in the freezer.
To defrost, let them sit overnight in the fridge until softened.
Marshmallows were actually invented and enjoyed first by Ancient Egyptians as early as 2000 B.C! [1]
Marshmallow was first made from the mallow plant and mixed with honey and nuts. Much later, French candy makers discovered that gelatin worked much better.
Mini Marshmallow Ghosts – Halloween Sweet Treats
Who doesn't want to eat these mini marshmallow ghosts on Halloween? Made with minimal ingredients and gluten-free.
Ingredients
For Blooming the Gelatin
3+½

sheets

Dr. Oetker gelatin

(Or 2+½ tsp powdered gelatin)

113

g

cold water

(⅓ U.S cup)
For the Syrup
200

g

white sugar

(1 U.S cup)

85

g

water

(¼ U.S cup)
Other
icing sugar for dusting

dark chocolate, for making the eyes

¼

tsp

vanilla extract

(optional)
Instructions
Add the gelatin sheets with the 113g cold water and stir. Let sit for 5 minutes.

In a small saucepan combine the sugar with 85g of water. Bring to a boil and stir until the sugar is dissolved.

Once the sugar is dissolved, stop stirring and reduce the heat to medium.

Bring to a temperature of 238°F/ 114°C on a candy thermometer.

Carefully stir the hot syrup into the other bowl of bloomed gelatin and stir. Keep stirring to cool the mixture slightly (about 2 minutes).

Using the whisk attachment with your electric mixer, whip the mixture on medium-high speed (8-10 minutes).

Once the marshmallow can hold its shape after being lifted, it's ready to go.

Optional: stir in the vanilla extract now.

Put the mixture in a pastry bag and cut the tip.

Cover a sheet tray with icing sugar.

Pipe the ghosts holding the piping bag straight down. Pipe upwards, then a quick pause, then pipe upwards, then a quick pause and pipe again upwards until you have a ghost shape.

Use a spoon to dip into the sides of the ghosts and make arms.

Let chill in the fridge for at least 2 hours.

Melt a small piece of chocolate quickly in the microwave (about 10 seconds). Dip a toothpick into the chocolate to make a face for the ghosts.

The ghosts are now ready to eat.

Store them in large sealed containers with a dusting of icing sugar to prevent them from sticking.

Happy Halloween!
Notes
Once the marshmallow is in the piping bag it must be piped right away otherwise it will set in the bag. 
The marshmallow ghosts will continue to set while in the fridge for up to 24 hours. After that, the gelatin will not set any further.
More Dessert Recipes
Salted Caramel Sticky Toffee Pudding
This salted caramel sticky toffee pudding is deliciously rich and comforting with a no-fail salted caramel sauce and the perfect Christmas dessert.
Check out this recipe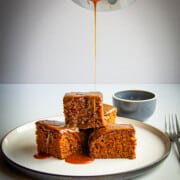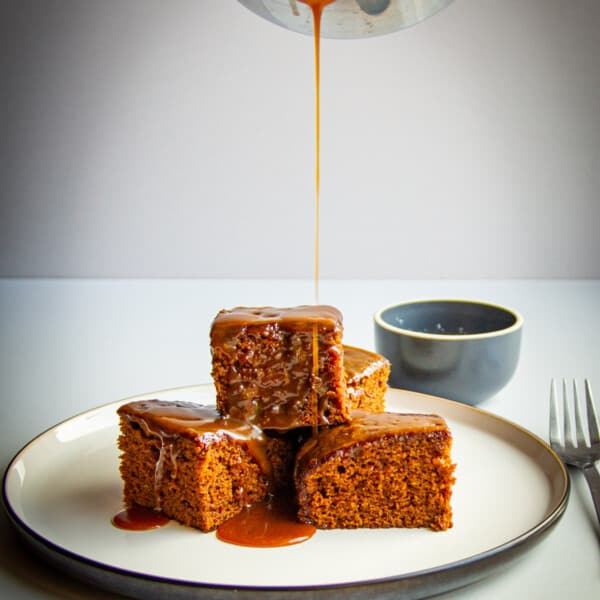 Buttery, Flakey All-Purpose Pie Crust – Pate Brisee
Pate Brisee – Use this unsweetened, all-purpose pie crust for sweet and savoury pies or quiche. This can be made in one day but it's much better if made the day before.
Check out this recipe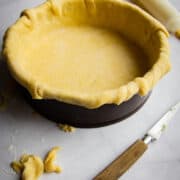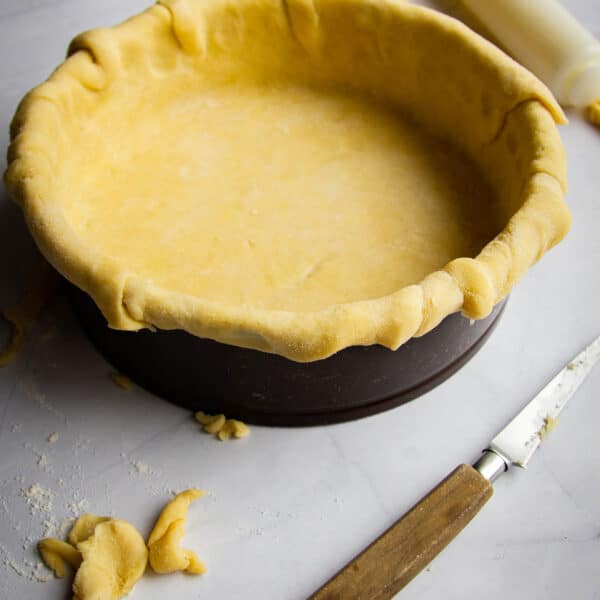 Pistachio "Ferrero Rocher" – Vegan Chocolate Truffles
These vegan "ferrero rocher" chocolate truffles use pistachios instead of hazelnuts for an easy but delicious Valentine's day dessert.
Check out this recipe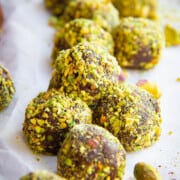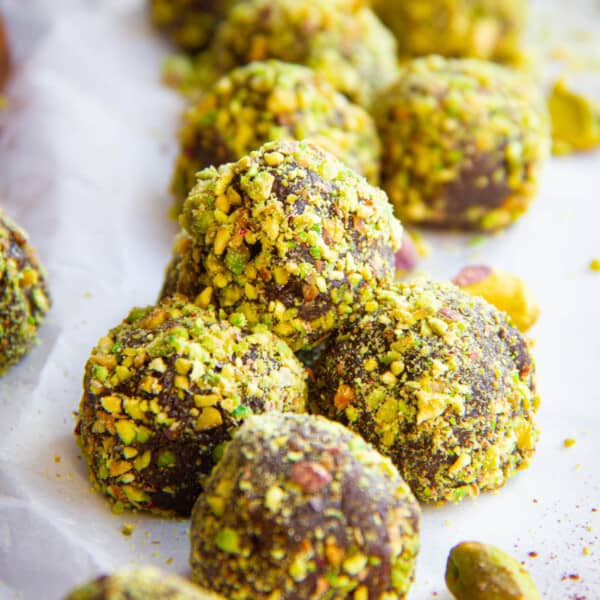 How to Make Ghost Mini Meringue – Halloween Treats
A recipe for cinnamon ghost meringue that's easily the most hilarious Halloween dessert.
Check out this recipe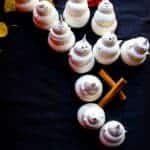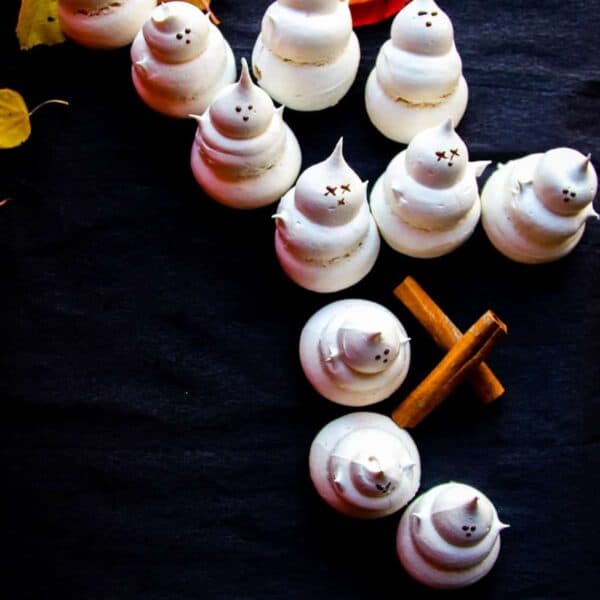 3 Ingredient Strawberry Sauce with Fresh Lime (Topping)
A strawberry sauce topping that's delicious on pancakes, toast, ice cream or mixed into yogurt. Vegan and gluten free.
Check out this recipe