After a little bit of freestyling and the help of the awesome recipes at Cheftsteps, I've devised a pan-fried gnocchi dish that's best described as: *a punch in the face of autumn flavours*.
Imagine fluffy pillows of brown-butter-injected ricotta gnocchi that are fried in a bath of hot foamy butter until the edges are rendered crispy and golden brown.
The golden pillows are then tossed with some usual fall heavy-hitters – caramelized apples, crispy sage leaves, toasted pumpkin seeds and tender brussel sprout leaves.
A blast of fall flavours so fierce, you may even forget to buy the usual Pumpkin Spice Latte. *GASP!*
Making and eating this dish is immeasurably satisfying and what I like even more about this gnocchi is that it's EASY to make.
If you've never made gnocchi before, there's no better time than NOW to start because I'm going to walk you through it step by step.
You CAN do it!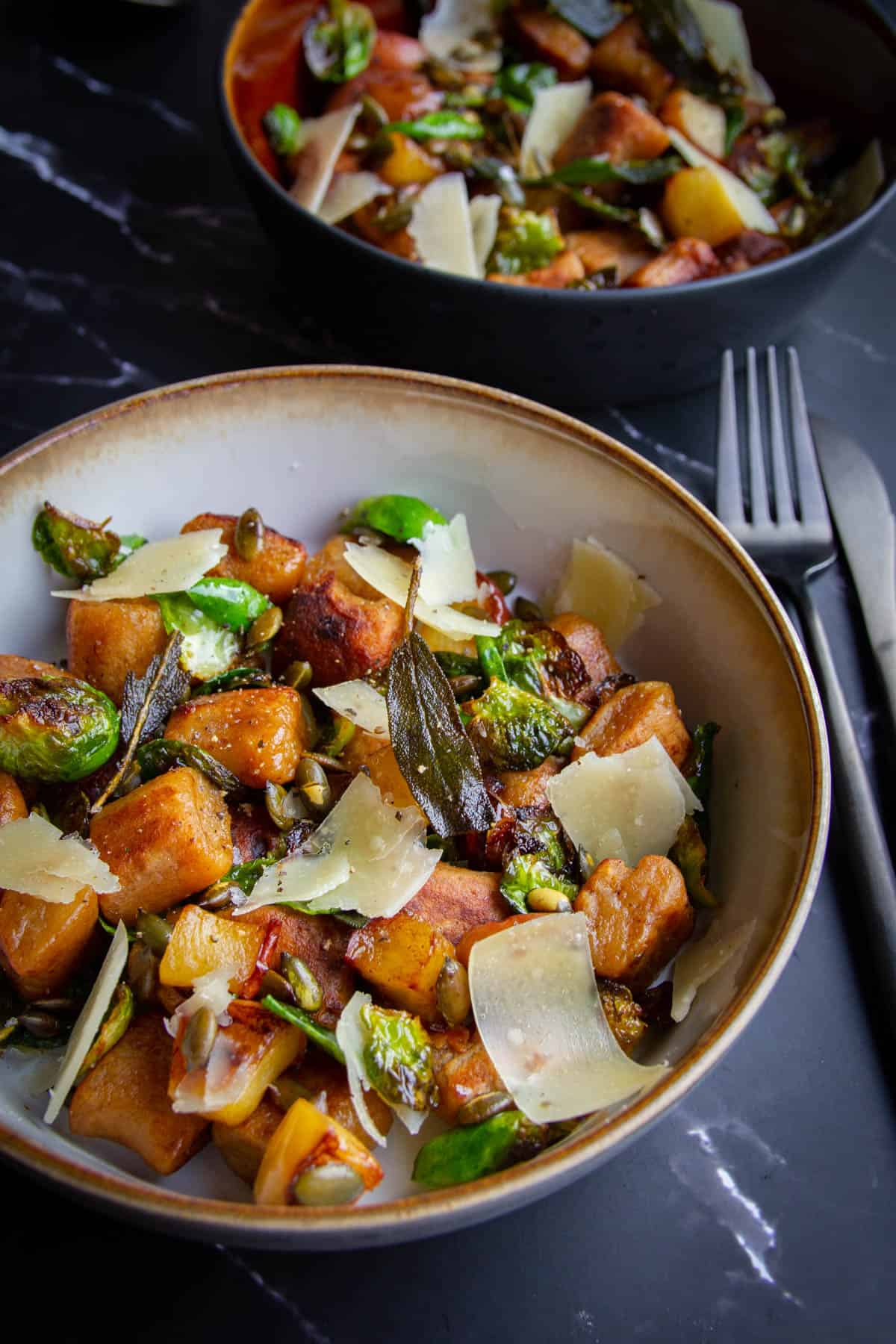 What is Ricotta Gnocchi?
For those that don't know, ricotta gnocchi is a bit like pasta, but the dough is made with ricotta (go-figure) instead of just eggs and flour.
The dough is then cut into little pillows of deliciousness and is usually finished with a sauce of hot foamy brown butter.
Normally the most difficult part of making gnocchi is controlling the moisture level in the cooked potatoes. Overcooked potatoes lead to a watery dough that falls apart and undercooked potatoes make an inedible dough.
But with ricotta gnocchi, it's much easier to control the moisture level in the cheese and that means making this gnocchi is EASY!
Bonus, you don't have to wait hours for the potatoes to roast in the oven.
Just pick up some nice ricotta from the store or better yet, make your own!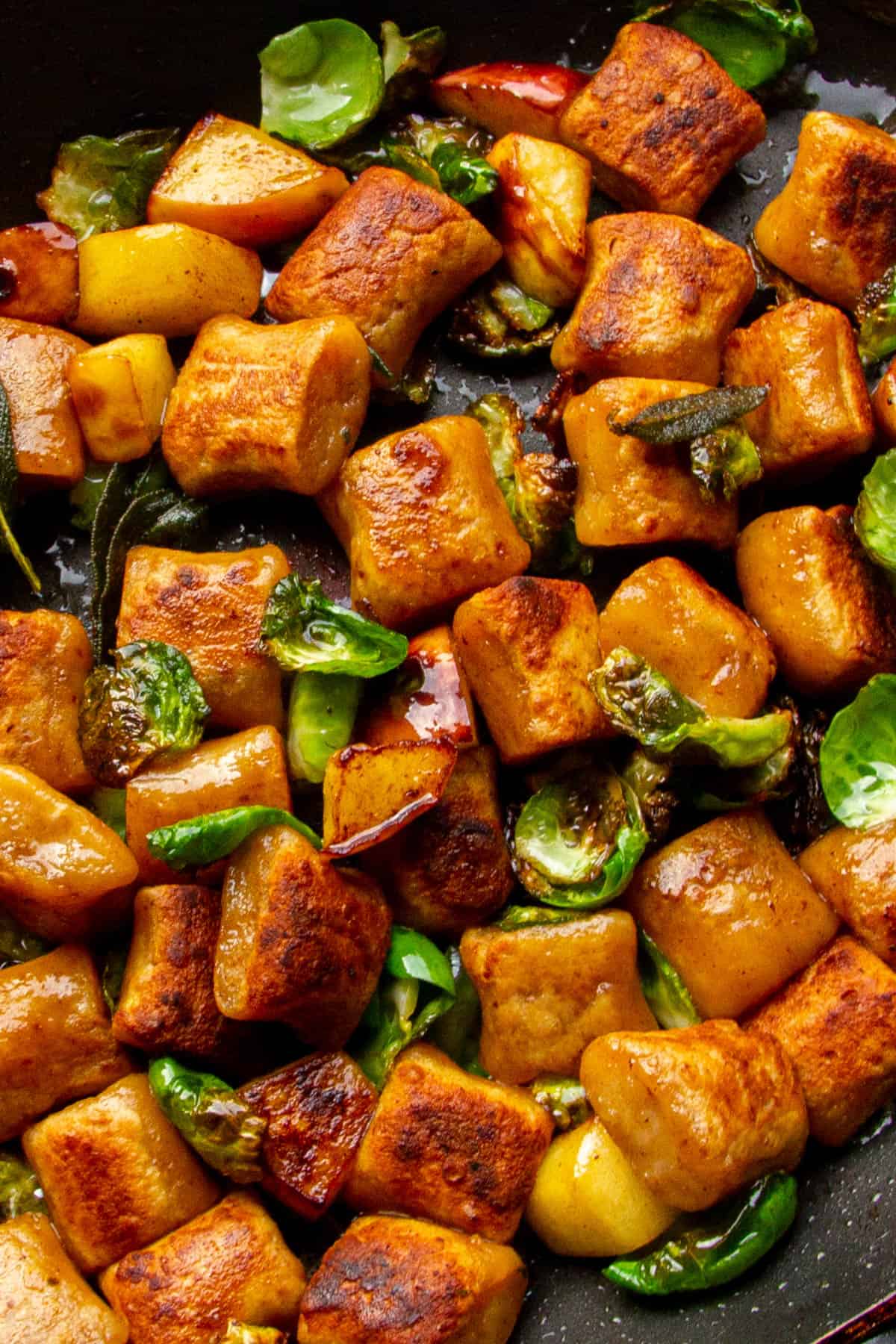 To Fry or Not to Pan Fry Gnocchi?
There's really no wrong answer here and just depends on your mood.
Try both ways and see what you like better. Fried gnocchi can be a little more difficult as it can stick, but the crispy brown edges are 100% worth it!
With that being said, boiled gnocchi tossed in a sauce will be lighter, softer and just as tempting as pan-fried gnocchi…
If you do go the pan-fry route, now is the time to bring out the non-stick pan as these little guys can be a bit sticky.
The Secret Gnocchi Ingredient: Caramelized Cream
Gnocchi with brown butter is great, but have you ever had brown butter injected gnocchi?
The benefit of this technique is that it yields more browned milk solids (a.k.a. the little brown bits) compared to regular browned butter and it's just as easy.
Making the caramelized cream is very simple:
Cook a small amount of 35% cream in a pot and stir with a spatula until it separates and turns golden brown.
Strain through a mesh strainer and add the little brown bits into your gnocchi dough for a boost of brown butter flavour.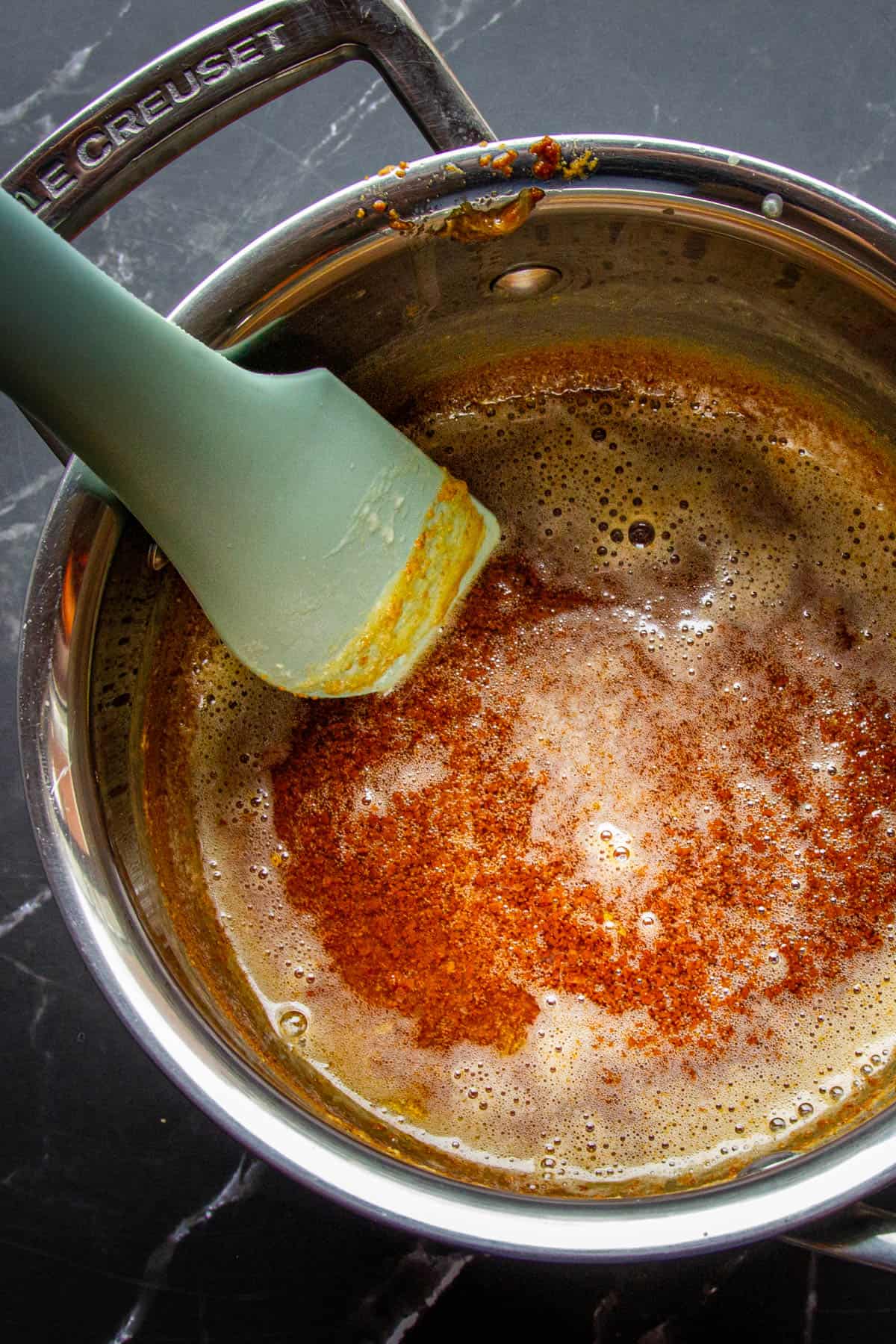 Tips For Making the Best Pan Fried Gnocchi
As mentioned above, ricotta gnocchi is much easier to make but there are still some important tips to follow:
Try not to work the gnocchi dough too much otherwise, it will end up tough and chewy.
Give the dough at least 1 hour in the fridge to allow the gluten to relax.
Blanching the gnocchi first makes it more tender and prevents it from breaking apart in the pan.
Hang the ricotta overnight for the best results. If the ricotta is too wet, the dough may fall apart.
Use a non-stick pan to prevent the gnocchi from sticking.
Recommended Tools for Pan Fried Gnocchi
There are a few tools that will make this recipe a lot easier:
Bench Scraper: I use this inexpensive tool all the time. It's great for picking up chopped herbs off a cutting board, or for cutting the dough into nice shapes like in this recipe. It's useful because it won't damage your table like a regular knife will, but can still effectively cut the dough into nice shapes.
If you do get one, make sure you get a metal one like this.
If you don't have one, you can also use a dull kitchen knife but be careful as it may scratch your table.
Non-stick Pan: A nonstick pan will make your life a lot easier because sometimes fresh gnocchi can stick to the pan. Cast iron also works, although not as well as a non-stick pan like this one from Le Creuset.
Spider strainer: Unlike regular pasta, the gnocchi is more delicate and needs to be carefully lifted out of the boiling water with a spider strainer instead of dumped into a colander.
Try My Other Pasta Recipes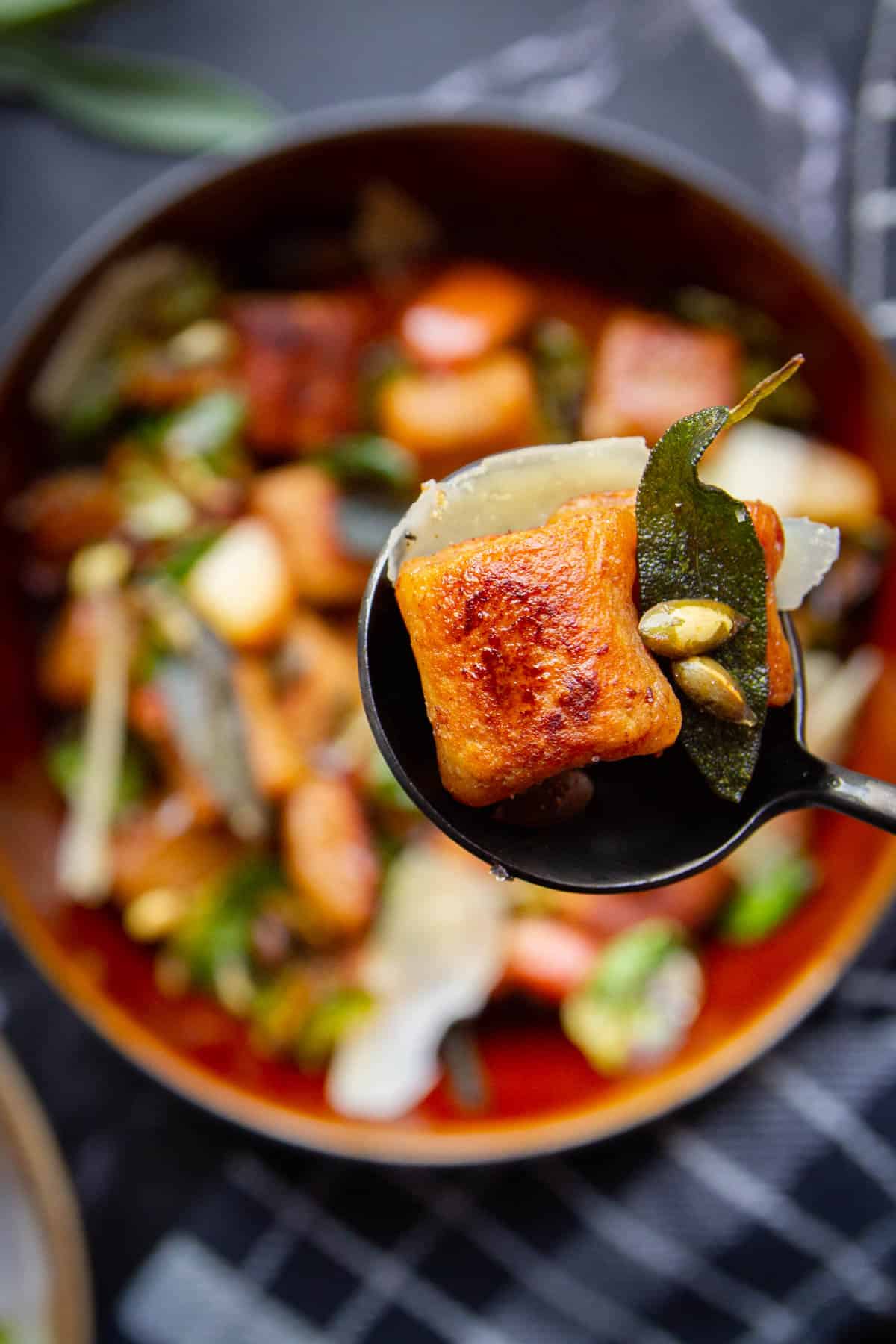 Recipe FAQ
Can You Pan Fry Gnocchi Without Boiling?
You can, but it's not recommended.
Because this gnocchi is fresh and soft (unlike packaged grocery store gnocchi), it should be cooked first in boiling water to allow it to set first. This also helps to cook the inside of the gnocchi better and makes for a softer end result.
Can You Freeze Gnocchi?
Yes! Gnocchi freezes beautifully.
To freeze, blanch it first in lots of boiling salted water until it floats and refresh it in ice water to cool it. Dry it off and put the cooked gnocchi in a freezer bag with plenty of olive oil to prevent it from sticking.
It will last for about 3 months in the freezer.
How Do You Keep Gnocchi From Sticking to the Pan?
The quickest answer is to use a non-stick pan but it's not mandatory. Make sure there's plenty of butter or oil in the pan and that it's hot. Hot fat prevents the gnocchi from sticking.
Can You Fix Mushy Gnocchi Dough?
If your dough is too sticky it means there's too much water in the ricotta. You can try to save it by adding some grated parmesan cheese and more flour to thicken it up.
How to Pronounce Gnocchi?
The G is silent and sounds more like this spelling "NYO-KEY" said in two syllables.
Pan Fried Gnocchi with Brown Butter Flavoured Ricotta, Apple, Pumpkin Seeds, Sage and Brussel Leaves
This pan fried gnocchi is injected with brown butter ricotta for a rich flavour nutty flavour. Tossed with crispy sage leaves, pumpkin seeds, caramelized apples, brussel sprout leaves and topped with shaved Parmiggiano Reggiano cheese.
Ingredients
For the Brown Butter Gnocchi
100

g

all purpose flour

32

g

egg yolk

(about two egg yolks)

2.5

g

sea salt

(¾ tsp)

150

ml

35% cream
For the Fixings
10

slices

shaved Parmiggiano Reggiano

15-20

pc

brussel sprout leaves

6

leaves

sage

14

g

butter

(1 tbsp)

1

pc

apple, cut into a medium dice

(gala apples, pink lady or honey crisp)

black pepper for garnish

¼

pc

lemon, juiced
Instructions
Begin by heating the 35% cream in a pot with high sides over medium heat. Stir the bottom with a spatula to prevent it from burning.

Keep stirring and cooking until the cream splits and turns a golden brown colour. When it's ready it should smell just like brown butter.

Strain the brown bits (milk solids) from the pan and reserve the fat that's left over.

Let this cool completely before making the dough.

Combine the ingredients for the gnocchi dough plus the brown bits from the cream in a medium sized bowl.

Use your hands to gently bring the dough together being careful not to overwork the dough.

The dough should be smooth and not tacky at all. If it is, add more flour and continue mixing.

Gently press the dough into a rectangle shape and cover with plastic wrap. Chill in the fridge overnight or for at least 1 hour.

Meanwhile, prepare the brussel sprout leaves by cutting the sprouts in half and using the outer leaves that fall off.

Use a speed peeler to make thin slices of cheese.

Toast the pumpkin seeds in the oven for 8 minutes at 400°F/200°C or until golden brown.

Once the gnocchi dough is ready to shape, bring a large pot of salted water to a boil.

Flour the table lightly and cut the gnocchi into 4 pieces like this.

Roll each slice into logs with our hands. Try your best to keep it a consistent size.

Using a bench scraper (or dull knife) cut each log into little pillow shapes.

Dust the gnocchi in some extra flour and reserve on a plate or tray.

Before continuing have all of your ingredients ready to go like this.

Heat a non stick pan over medium heat and add the reserved fat from the caramelized cream plus 1 tbsp butter to the pan. Fry the apples until golden brown and soft.

Add the gnocchi to the boiling, salted water and stir. (Make sure they don't stick to the bottom of the pot).

Add the sage leaves and brussel leaves to the pan with the apples and season with a bit of salt and pepper.

Once the gnocchi floats, carefully scoop it out with the spider strainer and add it to the hot pan.

Continue cooking until the gnocchi is browned nicely on both sides. If it gets too dry, add a little bit more butter to the pan.

Once the gnocchi is browned, squeeze a quarter of a lemon into the pan and toss.

Scoop the gnocchi onto a plate and garnish it with toasted pumpkin seeds and shaved cheese.

Enjoy right away.
Notes
Make sure the ricotta is as dry as possible, if it's too soft you may need to add more flour to get a consistent dough.
This recipe is designed to use up brussel sprout leaves that would normally be thrown away. If you're making these crispy brussel sprouts, you can save the excess leaves in a bag for this recipe.
The original ricotta gnocchi recipe is from Cheftsteps. I've added some caramelized cream to it but you can leave it out if you'd like.
More Fall Recipes…
These GARLICKY and BUTTERY Chestnut Mushrooms
How to Cook Chestnut Mushrooms with Butter, Garlic, Parsley and Lemon
These chestnut mushrooms are cooked in loads of foamy butter and finished with fresh garlic, lemon and parsley.
Check out this recipe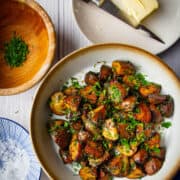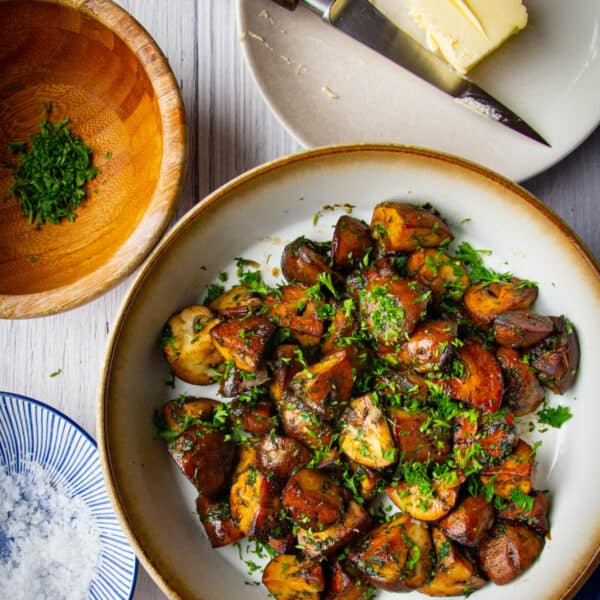 This Easy Fall Burrata with Pear and Thyme
A Warm Fall Burrata Recipe with Toasted Marcona Almonds, Pear and Fresh Thyme
A burrata recipe with roasted pears, fresh thyme, toasted Marcona almonds and finished with warm brown butter. One of my favourite ways to enjoy the pear season.
Check out this recipe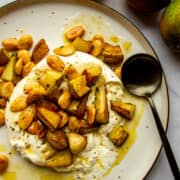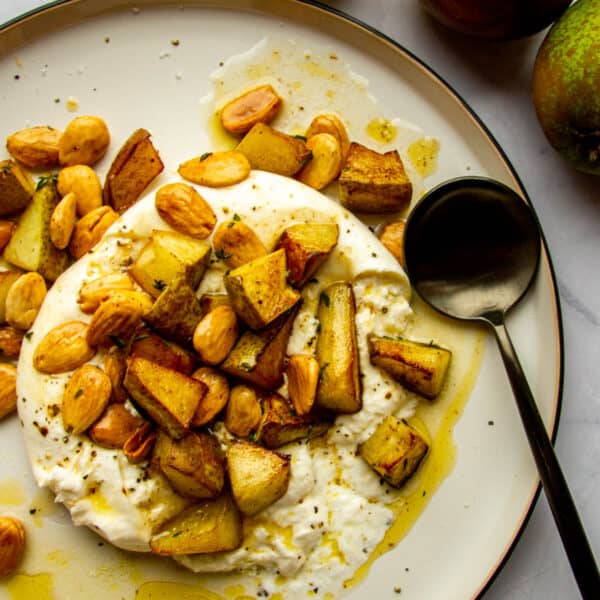 How to Make Fresh Pasta with Cacio e Pepe
Buttery Smooth Tagliatelle – Cacio e Pepe
Tagliatelle is easy to make at home and delicious when prepared with the iconic Cacio e Pepe sauce. Freeze any leftover tagliatelle for later.
Check out this recipe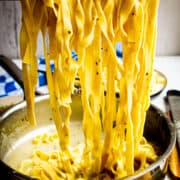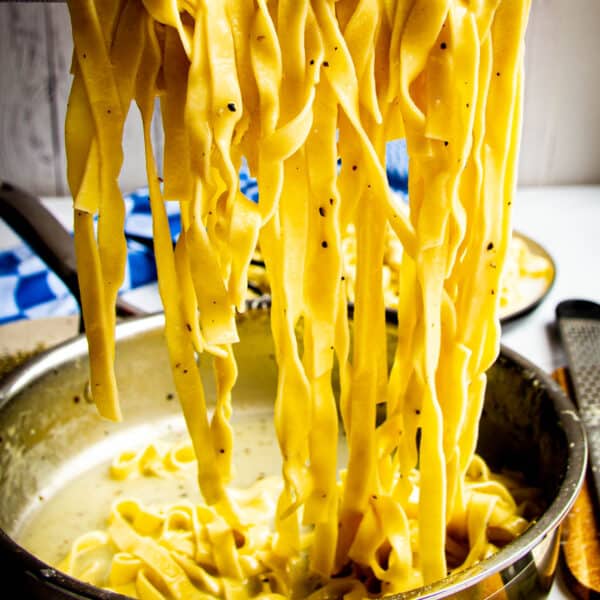 An Easier, Gluten-Free Alternative to Apple Pie
Easy, Buttery Cognac Apple Crisp Without Oats
This apple crisp without oats is made with almond flour and shaved almonds for a gluten-free alternative that's better than the original. Can be made in a little more than an hour.
Check out this recipe