My mind on August 31: WOW it's SO HOT…let's BBQ everything! Oh man, I love BBQin!
My mind when the first day of September drops 5 degrees: Did you smell that? Is that cinnamon spice? Pumpkin spice? I want dishes with more FAT, and I want COMFORT FOOD! (this may be me always actually…)
It only takes 1 day of slightly colder weather during the end of summer and my mind flips like a light switch to fall recipes.
And this roasted apple spelt salad is the result of my mind craving all things autumn.
It makes a great side dish for Thanksgiving, Christmas/Hanuka and it's hearty enough to be enjoyed when the temperature gets a little bit colder.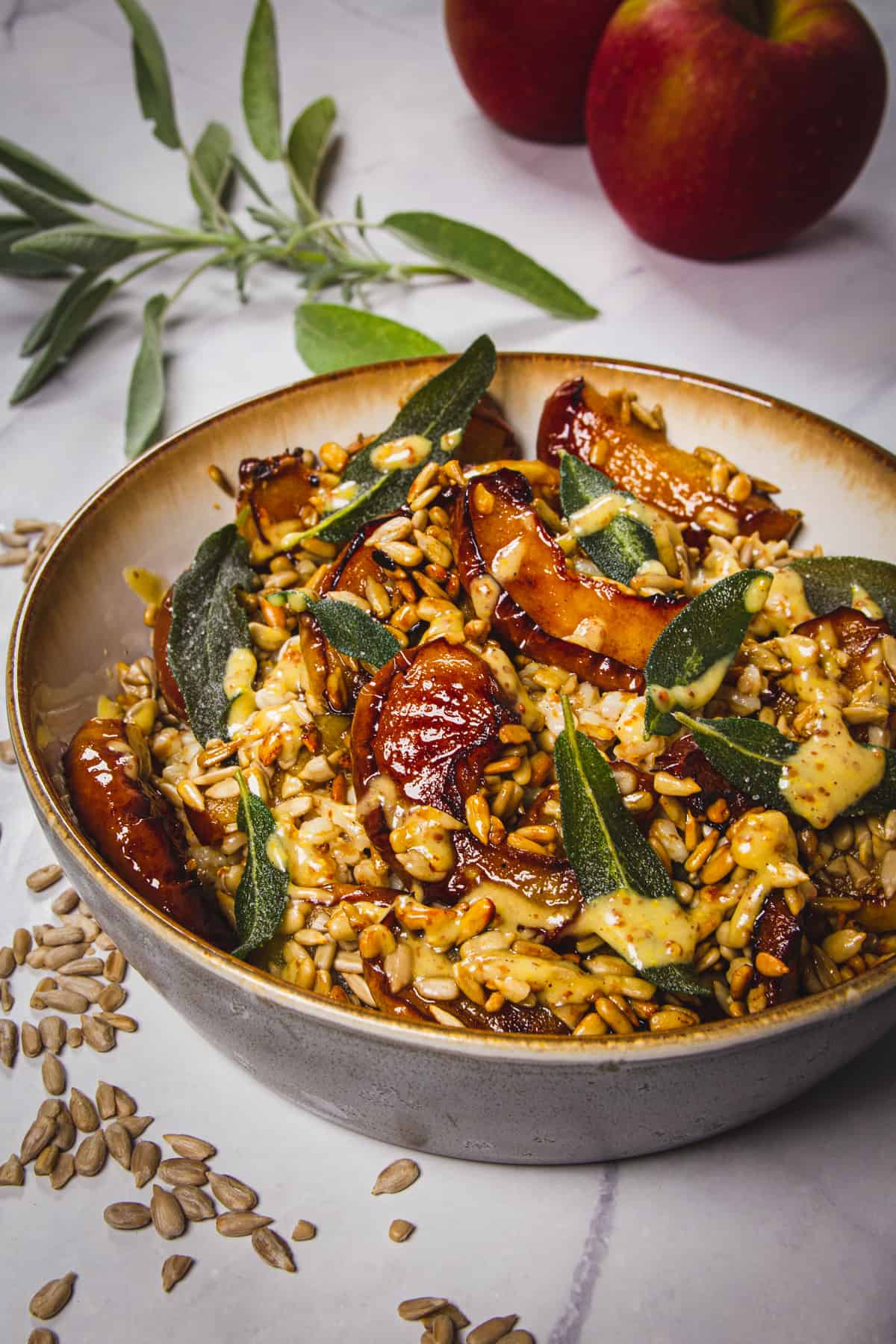 This Warm Spelt Salad is the Pumpkin Spice Latte of Salads
There's a lot of fall flavour going into this dish, so I hope you've already accepted that summer is over because there's no going back now.
It will probably hit you the hardest once you start frying the apples in butter.
The house will start to smell amazing and fellow roommates/family members may come running, wondering if you're already breaking out the apple crumble.
But the star of the show today is the spelt. It's a little heartier than barley, very similar to farro and always reminds me of autumn.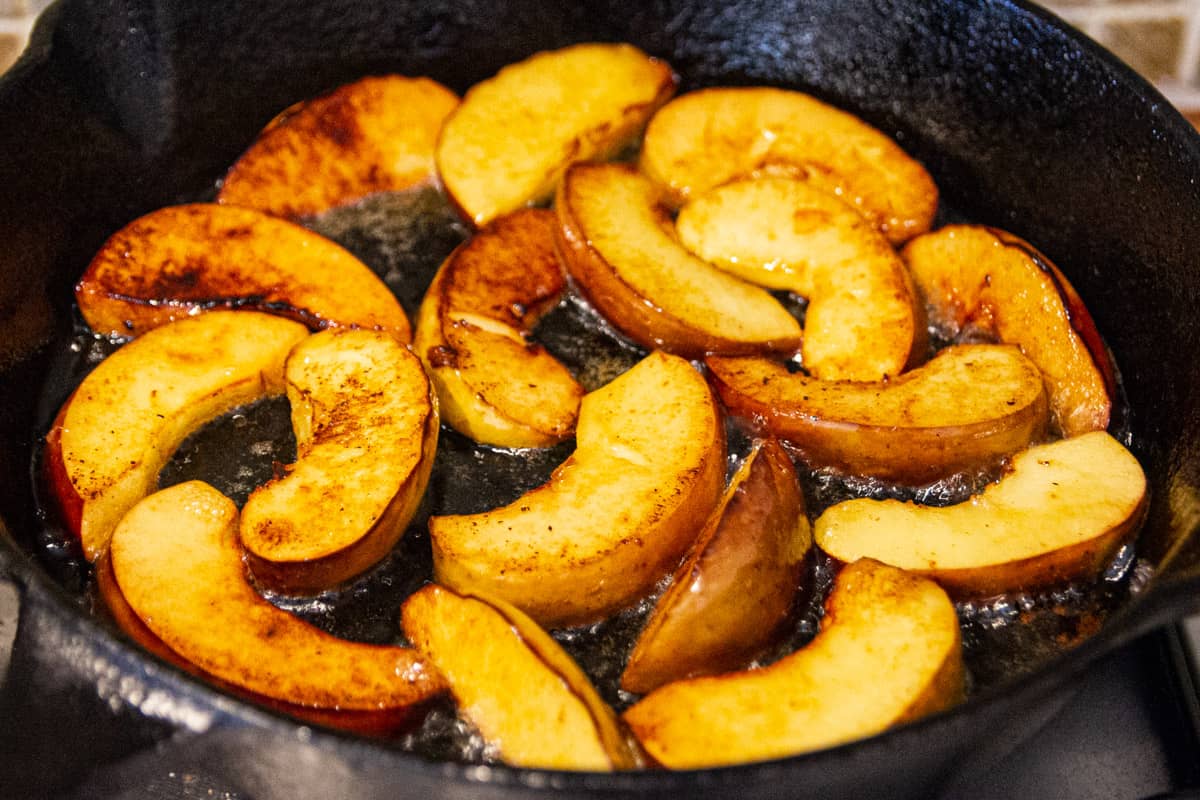 What's the Difference between Spelt and Farro
The words spelt and farro are often used interchangeably but that's incorrect, as mentioned in Heidi Julavits' New York Times article.
I've seen spelt labelled farro, farro labelled spelt and at least 5 different types of "spelt" grains in various grocery stores.
The package I used said "spelt" on the bag but I'm convinced it's actually a different type of farro or emmer.
Then again, things in the Netherlands are labelled differently so it's hard to say.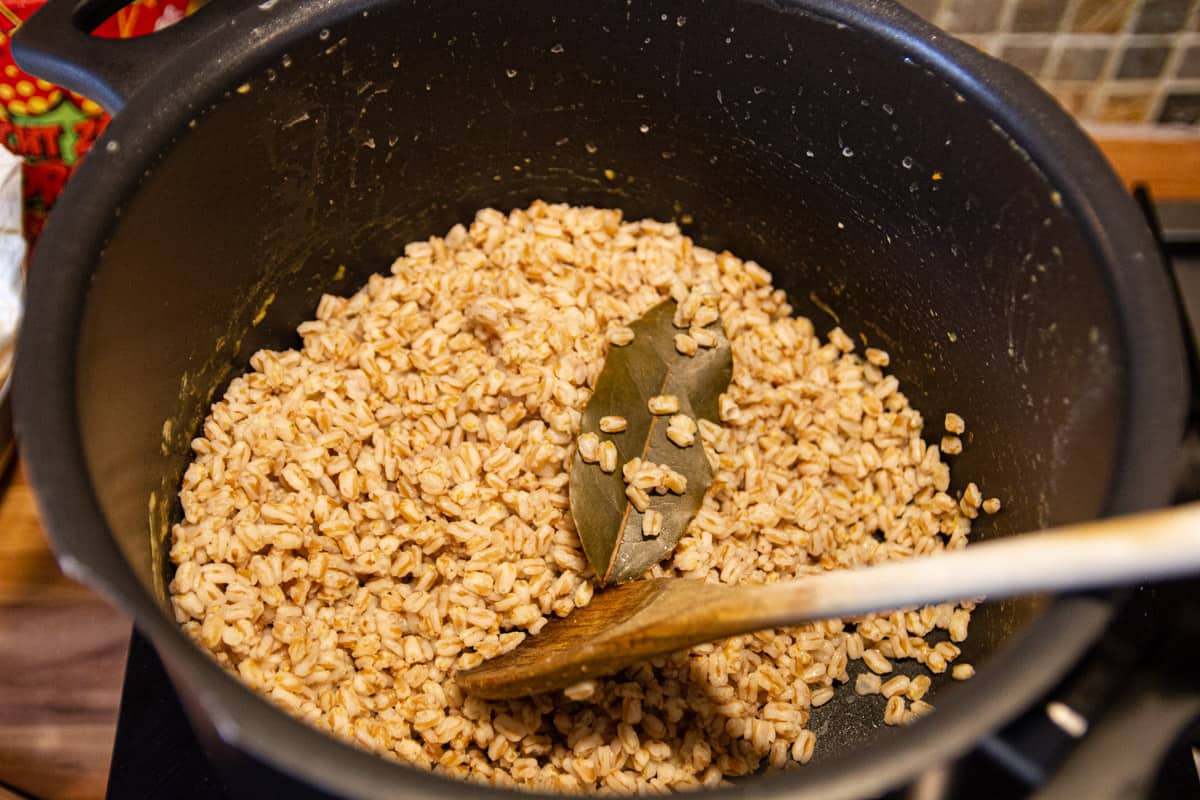 But generally speaking, spelt has more of a bite whereas farro is softer and with more starch.
That makes spelt the better choice for salads whereas the creamy starch from farro is better in risottos.
Spelt is usually darker and with shorter grains; farro is usually lighter and with longer grains.
I've always preferred spelt (especially the juicy, al dente crunch of spelt berries!) but don't worry if you can't find that grain because you can use both in this recipe.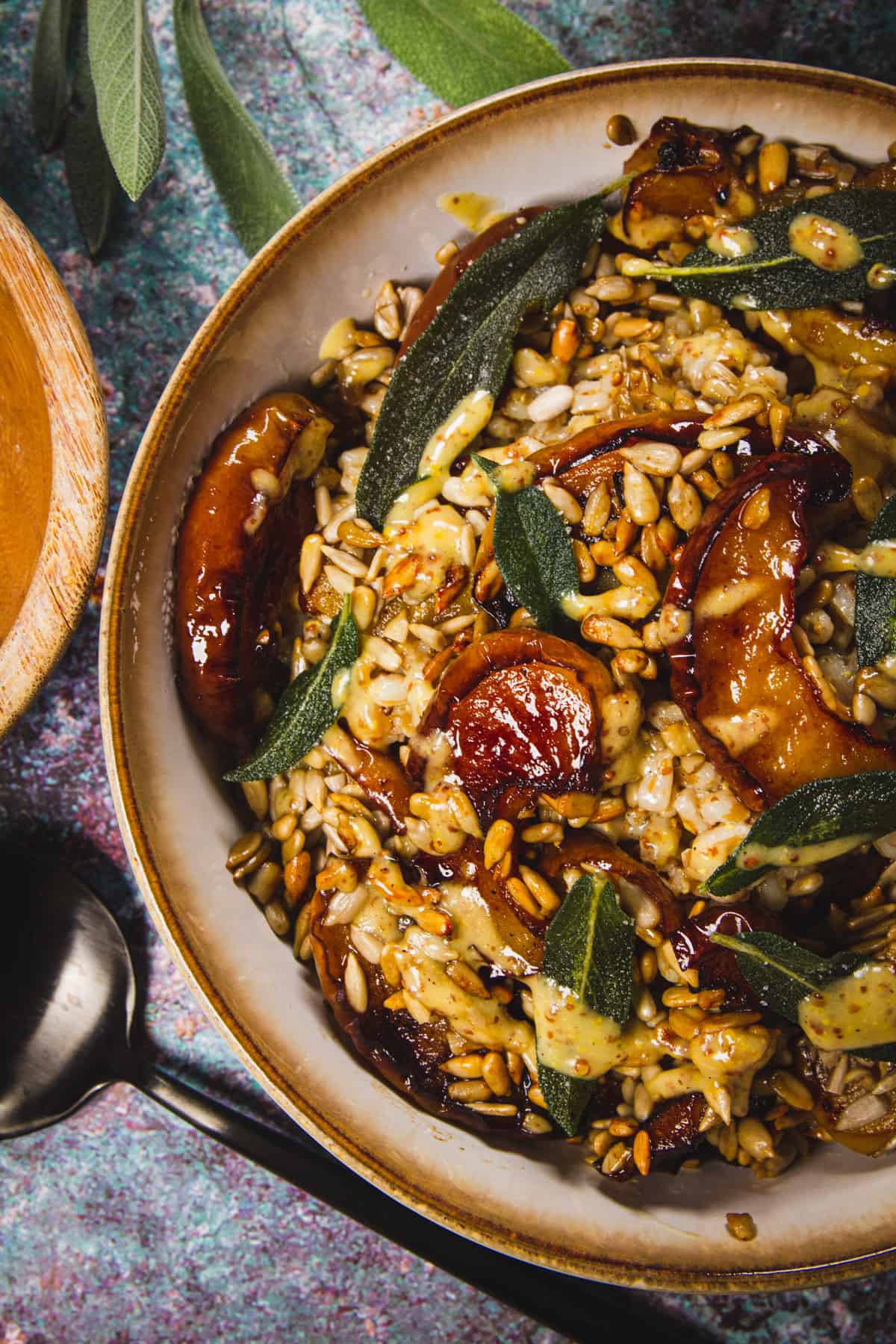 How to Cook Spelt Perfectly (and Know When it's Ready)
If you're not sure what grain you have don't worry, just use your cooking intuition.
Some farro grains can take upwards of 45 minutes of cooking time whereas some farro cooks almost as fast as barley.
The trick is to just plan for at least 1 hour of cooking and keep a close eye on it while it cooks. Spelt berries will always have a bite to them, even if you cook them for 2 hours long (I've tried).
But you won't have to worry about over-cooking spelt as you do with rice as spelt and farro grains are pretty forgiving.
Think of cooking spelt like cooking pasta. Once the grain has a desirable bite to it, it's ready. If it needs more water, then add more water and continue cooking.
Spelt Salad Ingredients
Here are the key ingredients you'll need for this spelt salad:
Fuji Apples: Fuji apples are perfect because they'll hold their shape after roasting. Other good choices would be Crispin, Honey Crisp, Gala, Pink Lady and Spy apples work well too. Avoid McIntosh, Golden Delicious and Red Delicious apples which will turn to mush.
Sage: The crispy sage makes a great garnish for this dish. But you could also add chopped sage to the apples right before roasting for a similar flavour. Just please don't use dried sage! You'll miss out on so much flavour.
Sunflower seeds: Toasted sunflower seeds are AMAZING with apples. But toasted apples, pecans or walnuts would be a good fit too.
Butter: I mean… it is autumn now, right? Butter adds so much flavour but you can leave it out if you're lactose intolerant. Use vegan butter or more vegetable oil instead.
Spelt: As mentioned above, there are many different types of spelt and farro. Try to find spelt, but if they don't have that then farro will also work. Just keep in mind that the range of cooking time can vary from 45 minutes to 1 hour.
(Optional) Chicken stock: Cooking spelt in chicken stock is a match made in heaven. It adds so much flavour but the downside is it can be expensive. Although it won't be as good as fresh chicken stock, you can also add a bouillon cube to the cooking water. Vegetable broth or bouillon will make a great vegetarian alternative.
Spelt Salad FAQ
Spelt or farro?
Aim for spelt, but farro will also work. Spelt is usually better suited for salads whereas the starchy farro grains work better in a risotto.
How do you cook spelt?
Spelt cooks more like barely instead of rice. Boil it in seasoned water until it's soft. Spelt berries will always have a bite to them, whereas farro may be softer. Once it's ready, simply drain off the water.
How do you eat spelt?
Spelt is great in salads, warm side dishes or even made into a risotto. Although, it's better to choose farro than spelt if you're making risotto as farro generally has more starch.
Is spelt gluten free?
Nope. Both spelt and farro are derived from wheat which means they are not gluten-free.
Warm Roasted Apple Spelt Salad with Toasted Sunflower and Sage
A warm roasted apple spelt salad with toasted sunflower seeds, crispy sage and a grainy mustard vinaigrette. An ideal side for Thanksgiving, Christmas or any day during the colder months.
Equipment
cutting board

metal spider or fish spatula

to lift the sage leaves out
Ingredients
For the Spelt
½

lb

spelt grains

(200g) spelt berries are ideal, but farro also works

1

pc

bay leaf

4

cups

chicken stock, vegetable stock or a bouillon cube

salt to taste
For the Mustard Vinaigrette
2

tbsp

cider vinegar

2

tbsp

grainy mustard

½

tsp

salt

½

tsp

honey

(optional)

¼

tsp

black pepper

4

tbsp

sunflower oil

or any other neutral oil

2

tbsp

extra virgin olive oil

use the good stuff
The Rest
½

bunch

fresh sage

5

tbsp

sunflower seeds

2

whole

Fuji apples, cored

1-2

tbsp

vegetable oil

1

tbsp

butter, unsalted
Instructions
Rinse the spelt in cold water a few times to wash it.

Fill a large pan with chicken stock, vegetable stock or add a bouillon cube to about 4 cups of water. Season with a little salt but not too much as some chicken stock can be salty.

Bring to a boil and cook for about 45 minutes or until grains are tender but still have a pleasant bite.
Make the Mustard Dressing
Meanwhile, make the mustard vinaigrette. The best way to make the dressing is to blend everything except the oils in a blender and very slowly add in the oil until an emulsified dressing is formed.But you can also add everything to a mason jar and shake really well before serving. It won't be emulsified, but it's a lot simpler.
Make the Crispy Sage Leaves
In a large cast iron pan, over low-medium heat, heat the vegetable oil.

Before you start, have a plate lined with a paper towel and a metal fish spatula (or spider strainer) ready by hand.

Once it's hot (but not too hot), add the sage leaves to the hot oil and move around in the pan until crispy. *The sage leaves will make a loud frying sound at first and may spit hot oil so be careful*.

Once the bubbles stop, the sage leaves are ready. Drain them over the paper towel and season them right away with salt.

Discard the excess oil (or save it for something else) and keep the pan ready for the apples.
Finishing Up
Once the spelt is ready, strain it from the water and let it cool on a tray or leave it in the pan.

Preheat the oven to 400°F/200°C.

Core the apples and cut them into large slices. Fry them in some butter over medium heat.

Once the apples turn golden brown, flip them over and continue cooking for 1-2 minutes.

Add the sunflower seeds to the pan and then put the pan in the oven for about 5 minutes.

Remove the pan from the oven once the sunflower seeds are light golden brown.
Plating
Scoop the cooked spelt into a bowl and add a few tbsp of the mustard dressing. Mix well and check the seasoning. Add salt or pepper as needed.

Mix in the hot apples and sunflower seeds, but save a few for the top.

Finish the spelt salad with the rest of the apples and seeds. Garnish with a little more mustard dressing and top with the crispy sage.

Enjoy!
Notes
If the water level gets too low while cooking the spelt, just top it up with more water and continue cooking. The grains should always be submerged in water during the cooking process. 
This spelt salad is delicious when served warm, but the leftovers can also be eaten cold the next day.
Leftover spelt is better left undressed, so only mix what you think you'll eat that day.
Nutrition
Calories:
650
kcal
|
Carbohydrates:
59
g
|
Protein:
15
g
|
Fat:
43
g
|
Saturated Fat:
7
g
|
Polyunsaturated Fat:
7
g
|
Monounsaturated Fat:
27
g
|
Trans Fat:
0.2
g
|
Cholesterol:
10
mg
|
Sodium:
536
mg
|
Potassium:
437
mg
|
Fiber:
10
g
|
Sugar:
7
g
|
Vitamin A:
162
IU
|
Vitamin C:
0.5
mg
|
Calcium:
57
mg
|
Iron:
5
mg
More Fall Recipes
A Warm Fall Burrata Recipe with Toasted Marcona Almonds, Pear and Fresh Thyme
A burrata recipe with roasted pears, fresh thyme, toasted Marcona almonds and finished with warm brown butter. One of my favourite ways to enjoy the pear season.
Check out this recipe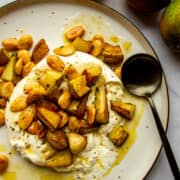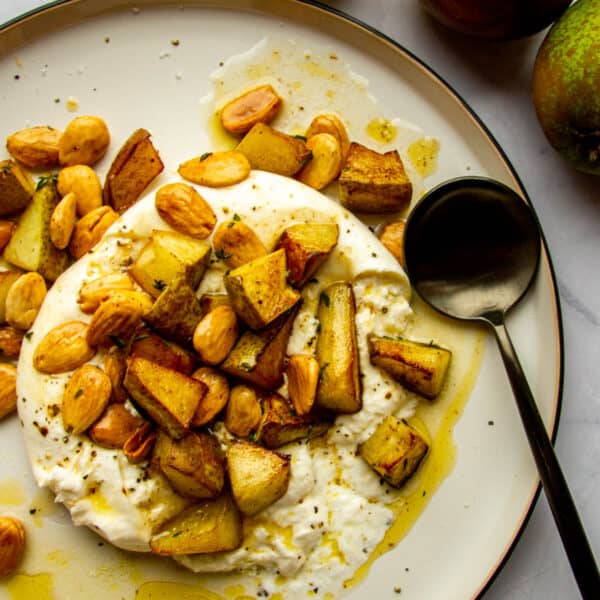 Easy, Buttery Cognac Apple Crisp Without Oats
This apple crisp without oats is made with almond flour and shaved almonds for a gluten-free alternative that's better than the original. Can be made in a little more than an hour.
Check out this recipe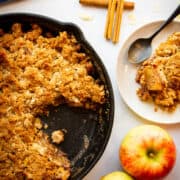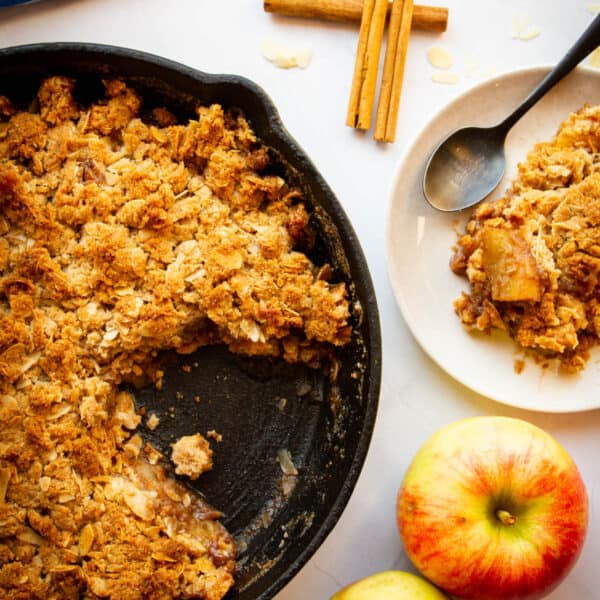 Pan Fried Gnocchi with Brown Butter Flavoured Ricotta, Apple, Pumpkin Seeds, Sage and Brussel Leaves
This pan fried gnocchi is injected with brown butter ricotta for a rich flavour nutty flavour. Tossed with crispy sage leaves, pumpkin seeds, caramelized apples, brussel sprout leaves and topped with shaved Parmiggiano Reggiano cheese.
Check out this recipe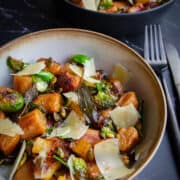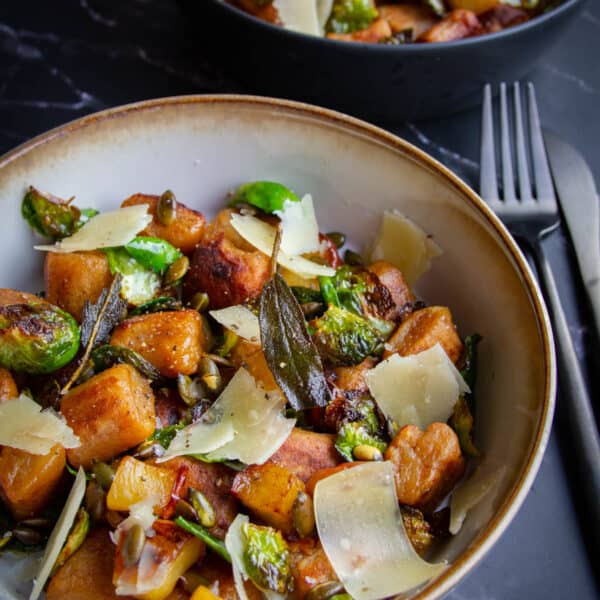 Butternut Squash Pasta with Chili & Toasted Pumpkin Seeds
A delicious way to enjoy butternut squash this fall in a pasta with brown butter, toasted pumpkin seeds, chili and parmigiano reggiano cheese.
Check out this recipe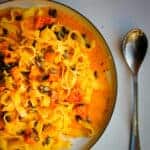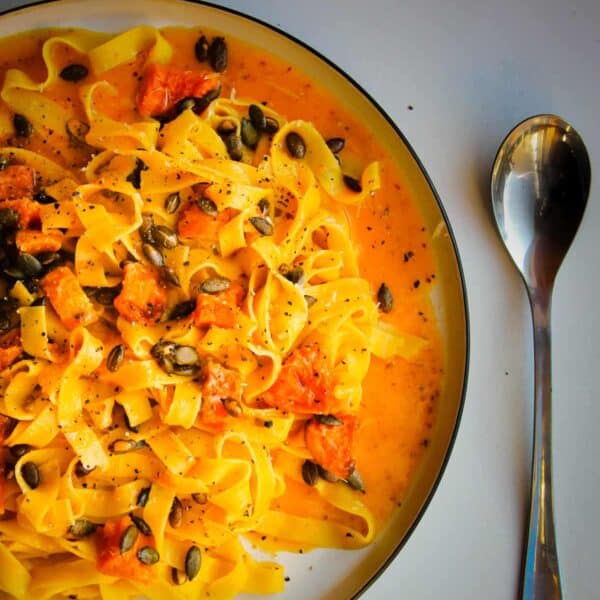 Red Kuri Squash Soup – Squash Ajo Blanco (Vegan)
A plant-based Red Kuri squash soup with an Ajo Blanco spin. Unlike the classic, this soup is blended with roasted squash and served hot.
Check out this recipe