I discovered the idea for this simple burrata recipe while briefly working in Tuscany, Italy.
It was there that I first encountered the delicious combination of sweet pear with salty cheese. One of the dishes on the menu was a fresh and light ricotta cake, paired with fresh sliced pears and honey.
The combination of the ripe pear with the salty, cheesy ricotta is a brilliant blend of flavours and something that always reminds me of autumn.
After finding a very high-quality burrata at the supermarket here in the Netherlands, I wanted to try out this classic flavour combo again.
The beauty of this recipe is that it can easily be made at home and is an awesome way to enjoy the pear season.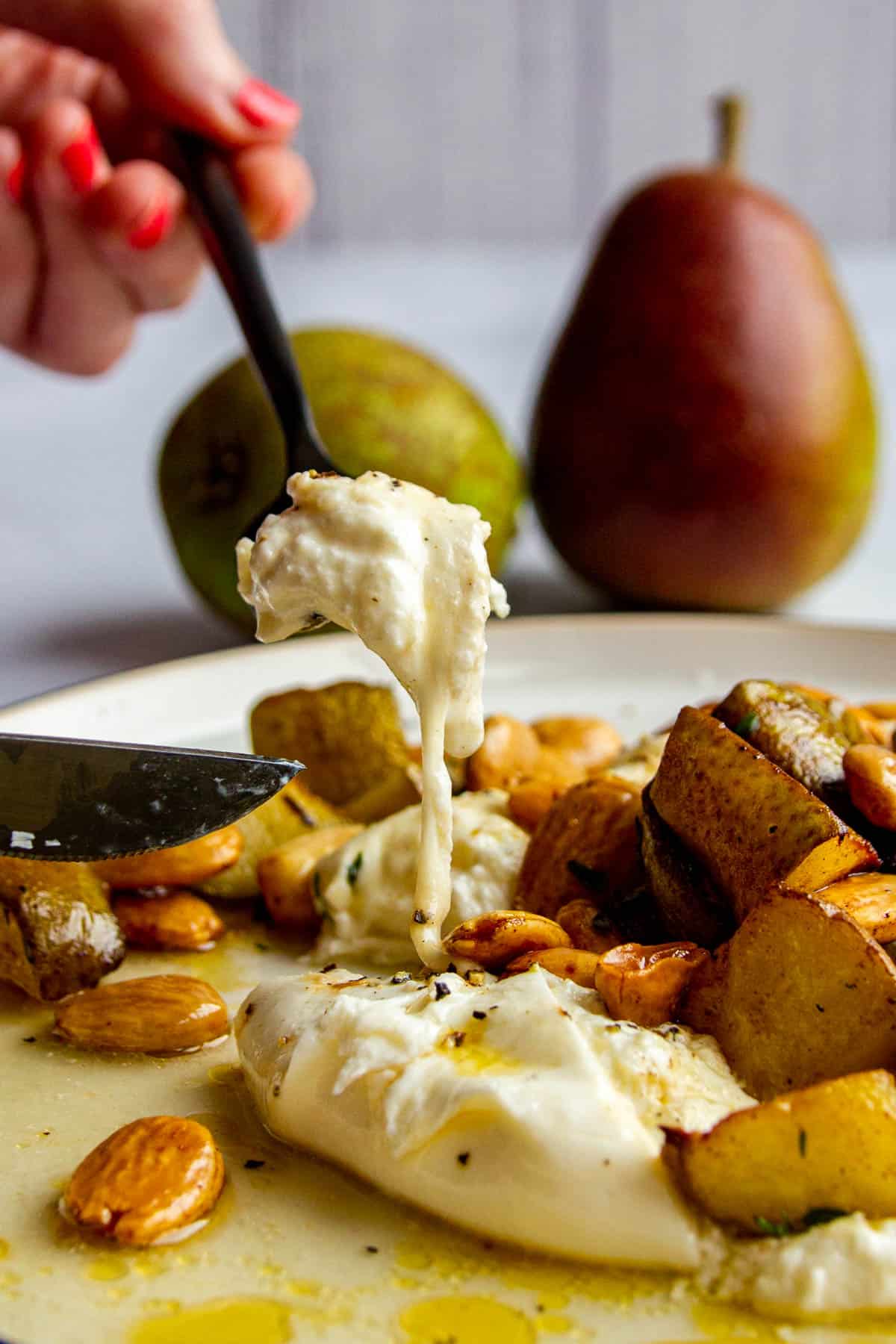 What is Burrata?
Basically, burrata is the Mercedes Benz of fresh mozzarella.
It's a fresh mozzarella from the Puglia region of Italy that's made by stretching the cheese into a pouch and filling it with a mixture of fresh cheese curds and cream.
The result of this genius process is a mozzarella exterior that bursts open with the pinch of a fork with a ridiculously creamy interior.
This extra creamy mozzarella is so good that it's no longer just an Italian restaurant classic, but a popular dish for many restaurants worldwide. In fact, during my time at Frenchie Wine Bar in Paris, we sold so much burrata that the chef declared it one of the few dishes that would never leave the menu.
Where to Find Burrata?
In Italy, the best burrata is made fresh every day and is eaten before seeing the dark of a refrigerator. But for most of us, finding burrata cheese that fresh is near impossible.
Still, many specialty grocery stores or Italian shops do sell fresh burrata cheese and it's definitely worth a buy. Burrata will be stored in little boxes in its own whey which prevents it from drying out.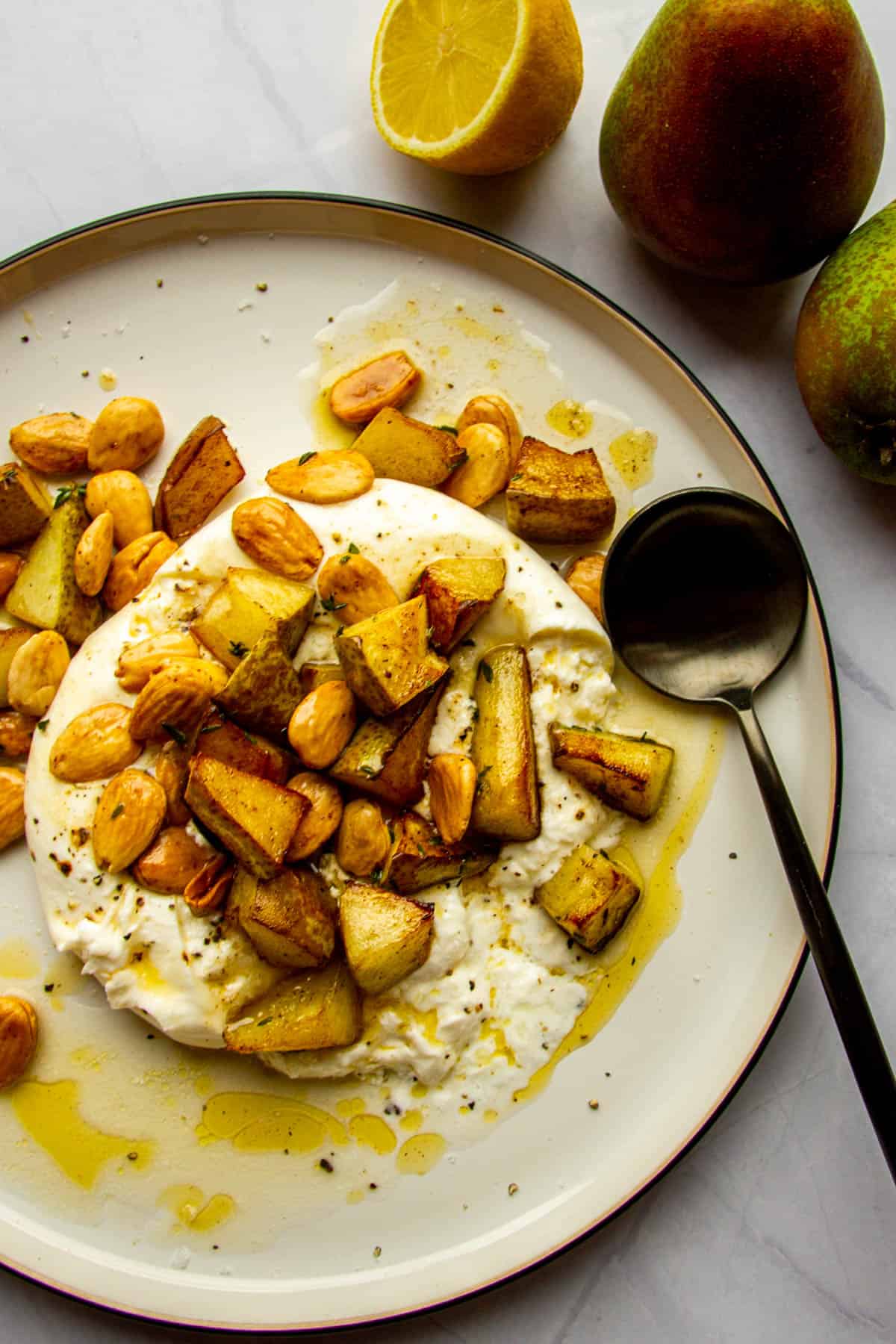 Tips for Storing and Serving Burrata
Buratta cheese should be tempered for at least 30 minutes prior to eating for the best taste. In Italy, it's commonly served fresh and warm on the same day without any refrigeration.
To temper the burrata, pull it out of the fridge 30 minutes prior to serving. Leave it in its whey (the liquid it comes in) so it doesn't dry out.
Once the burrata is broken open, it should not be put back in its whey. This is because the soft inside filling will become watered down as it's no longer protected from the skin of the mozzarella.
Leftover burrata cheese can be stored in a sealed container for up to 3 days in the fridge (as long as it's not past the expiration date of the cheese).
Warm Burrata Recipe Ingredients
Here are some of the key ingredients for this burrata recipe:
Roasted Pear: Hot roasted pears with browned butter makes an extra interesting contrast of warm ingredients with a slightly chilled burrata. Look for ripe pears that are sweet but not too ripe otherwise they'll be near impossible to sear without falling apart. Bosc pears, Anjou, Concorde and French butter pears are all great choices for pears that can hold their shape after cooking.
Marcona Almonds: These slightly fancier almonds are sweeter and better flavoured than regular almonds. Regular almonds will also work as well as toasted hazelnuts, walnuts and pecans.
Brown Butter: Hot browned butter drizzled over creamy burrata cheese. Do I really need to say more?
Thyme: Fresh thyme gives this dish more of an autumn feel. Don't use dried thyme because it won't have a strong enough flavour for this dish. Fresh sage will also work well.
What to Serve with this Burrata Recipe
Burrata is an epic, guaranteed-to-impress appetizer that is suitable for any occasion but best paired with lighter entrees.
If you're serving burrata as an appetizer, pair it with something lighter for dinner such as grilled fish, roasted vegetables or lean pork tenderloin.
Here are a few other recipes that will pair nicely with this dish:
A Warm Fall Burrata Recipe with Toasted Marcona Almonds, Pear and Fresh Thyme
A burrata recipe with roasted pears, fresh thyme, toasted Marcona almonds and finished with warm brown butter. One of my favourite ways to enjoy the pear season.
Ingredients
200

g

Buratta

(1 ball)

20

g

butter

(1-1+½ tbsp)

45

g

Marcona almonds

(1-2 tbsp)

½

pc

lemon, juiced

2-3

sprigs

fresh thyme

190

g

pear

(about 1 pear) Bosc pears, Anjou, Concorde and French butter pears are all great choices

Maldon sea salt

black pepper
Instructions
Pull the burrata cheese from the fridge and temper for 30 minutes prior to serving. Leave it in its whey while tempering. Set the oven temperature to 400°F/200°C

Slice the pears into small cubes as shown in the picture.

Chop the thyme, and have the rest of the ingredients ready to go before you start.

Brown the butter in the pan over low heat until brown and fragrant. Immediately add the chopped pears and brown on all sides.

Once the pears get some colour, add the Marcona almonds and fresh thyme to the pan. Toss the ingredients in the pan, and place the pan in the oven for about 5 minutes or until the pears are slightly soft.

Hit the roasted pears with a squeeze of fresh lemon juice as soon as they're done roasting.

Open up the burrata slightly by piercing with a knife. Season generously with Maldon salt and pepper.

Spoon over the roasted pears, almonds and any remaining brown butter over the burrata.

Enjoy right way while still warm!
Notes
Make sure to season the burrata well with salt and pepper as the cheese itself is not seasoned. 
Temper the burrata for about 30 minutes prior to serving for a better taste.
Looking for More Recipes
Buttery Smooth Tagliatelle – Cacio e Pepe
Tagliatelle is easy to make at home and delicious when prepared with the iconic Cacio e Pepe sauce. Freeze any leftover tagliatelle for later.
Check out this recipe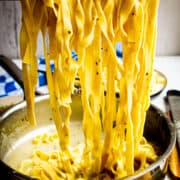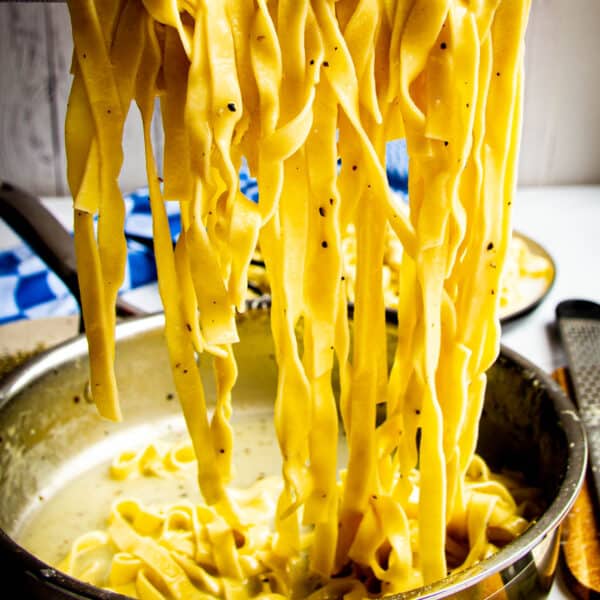 Mutabal – A Creamy Eggplant Dip with Fresh Pomegranates and Mint
This delicious mutabal dip is rich, creamy, garlicky, pleasantly smokey and peppered with plenty of fresh mint, good olive oil and crunchy pomegranates. Serve with lots of warm pita bread.
Check out this recipe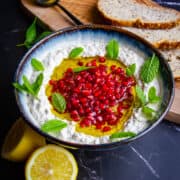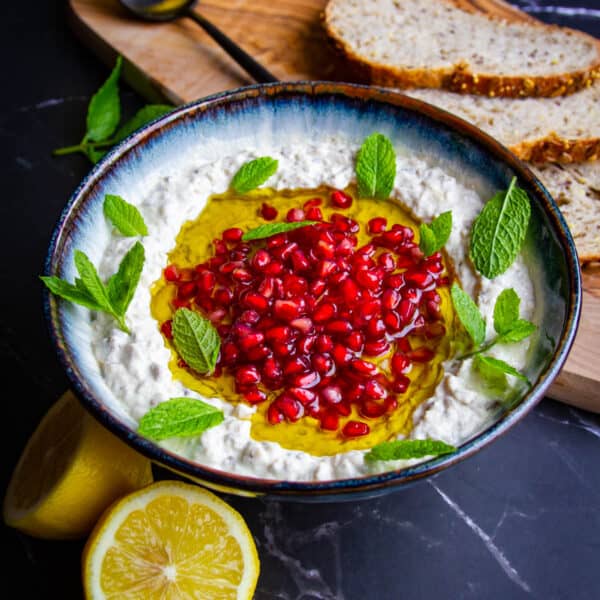 The Most Amazing, Flakey, Buttery Quiche Florentine
This is a recipe for an epic Quiche Florentine with Spinach, cream, milk, eggs, onions and garlic baked in the most buttery, flakey pie crust.
Check out this recipe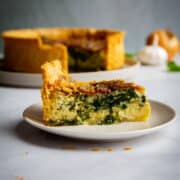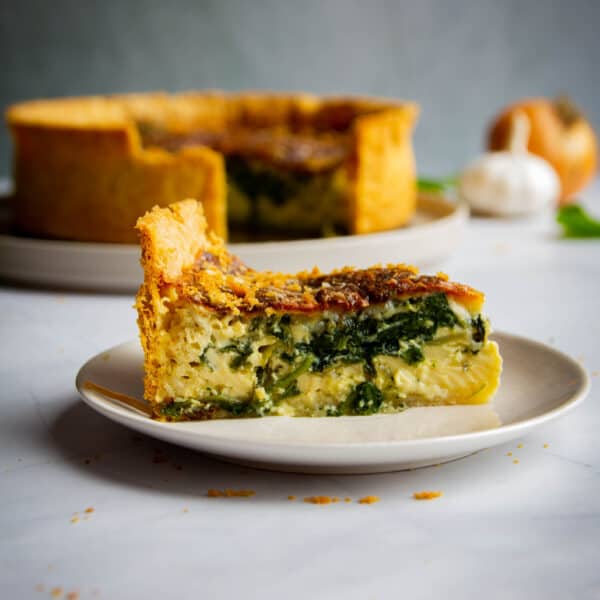 Shrimp Salad Lettuce Wraps with Avocado
Shrimp salad lettuce wraps are a great summer appetizer and a nice move for a dinner party. Full of fresh summer flavours like creamy avocado, crunchy veggies and wrapped in cold, crispy romaine lettuce.
Check out this recipe