What do spicy tuna rolls, buttermilk-fried chicken and these crispy sweet potato wedges all have in common?
They're all legendary candidates for this *very* underrated sauce: spicy mayo.
That weeknight sauce that always saves the day and brings leftovers back to life.
A.k.a, the well-known chef secret that never actually makes it into a cookbook but always makes it into our staff meals.
It's umami-packed, versatile and…
*Drumroll please*
It's ready for any weeknight dinner in less than 5 minutes!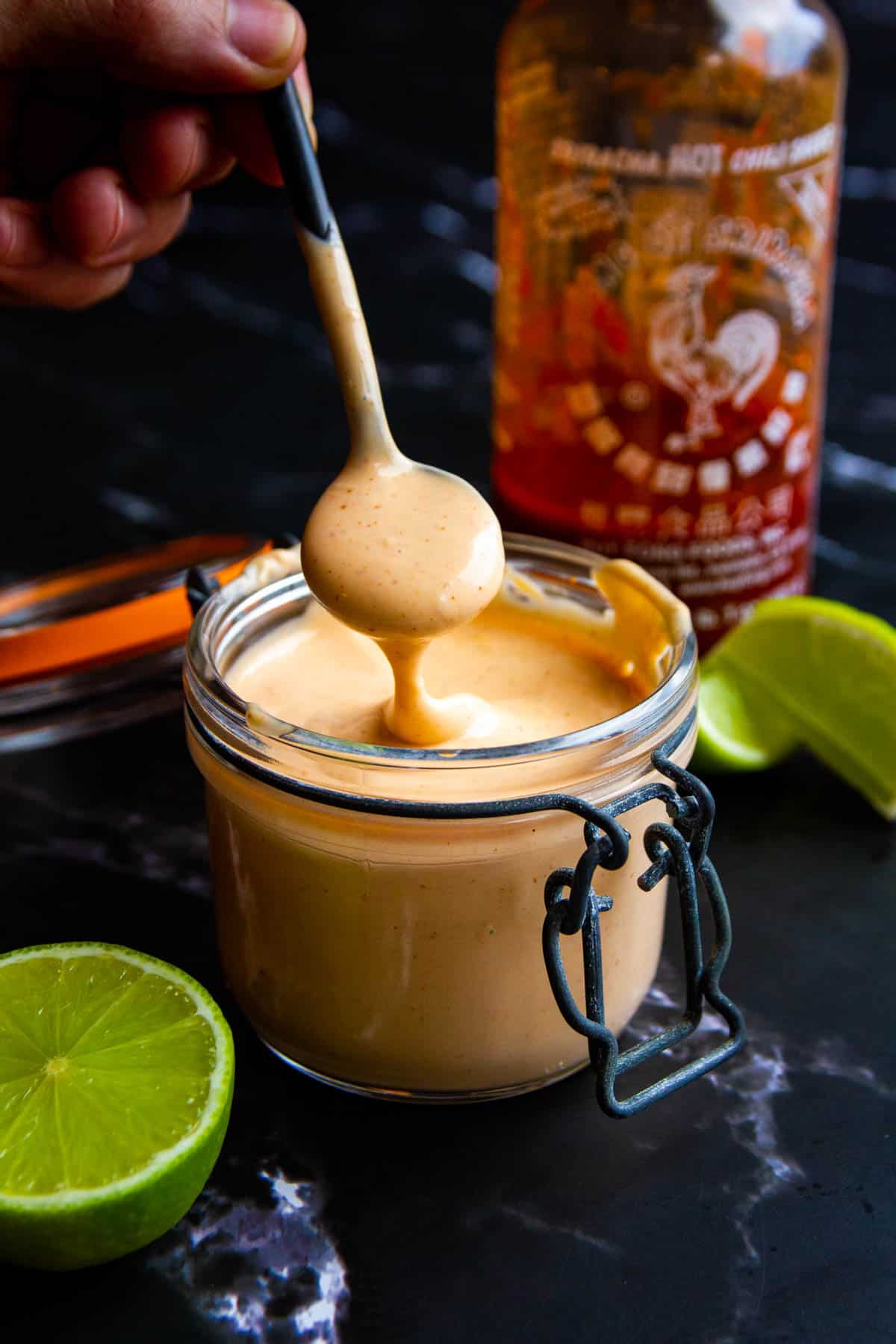 What is Spicy Mayo?
This next part contains Amazon affiliate links to products I recommend, and I'll earn a commission if you purchase something.
As the name implies, spicy mayo is exactly that: regular mayonnaise hit with some form of hot sauce or spicy pepper. It's pretty popular in many Japanese sushi restaurants and the foundation of my personal favourite, the spicy tuna roll.
My hot-sauce weapon of choice for this sauce is none other than the world-famous Sriracha sauce. I think it has just the right amount of heat to blend with the mayo and still provides a good amount of flavour.
As I don't love spicy foods as much as some, spicy mayo is the perfect balance of heat, flavour and richness without being too hot for my sissy taste buds. The best part about making this sauce at home is that you can add more or less Sriracha to find the perfect level of heat.
Don't like Sriracha? Here are some other solid options for making Spicy Mayo:
When to Whip out the Spicy Mayo
I think the real magic of this sauce is when it's served alongside some steamed vegetables and rice.
It also pretty decently covers up the not-so-fresh flavour of leftover veggies. If I've got a jar of spicy mayo sitting in the fridge, then leftover veggies never go to waste in our house.
Other options for spicy mayo include just about everything you'd use regular mayo for. Think sandwiches, burgers, grilled cheese (or my personal favourite, with these crispy sweet potato wedges).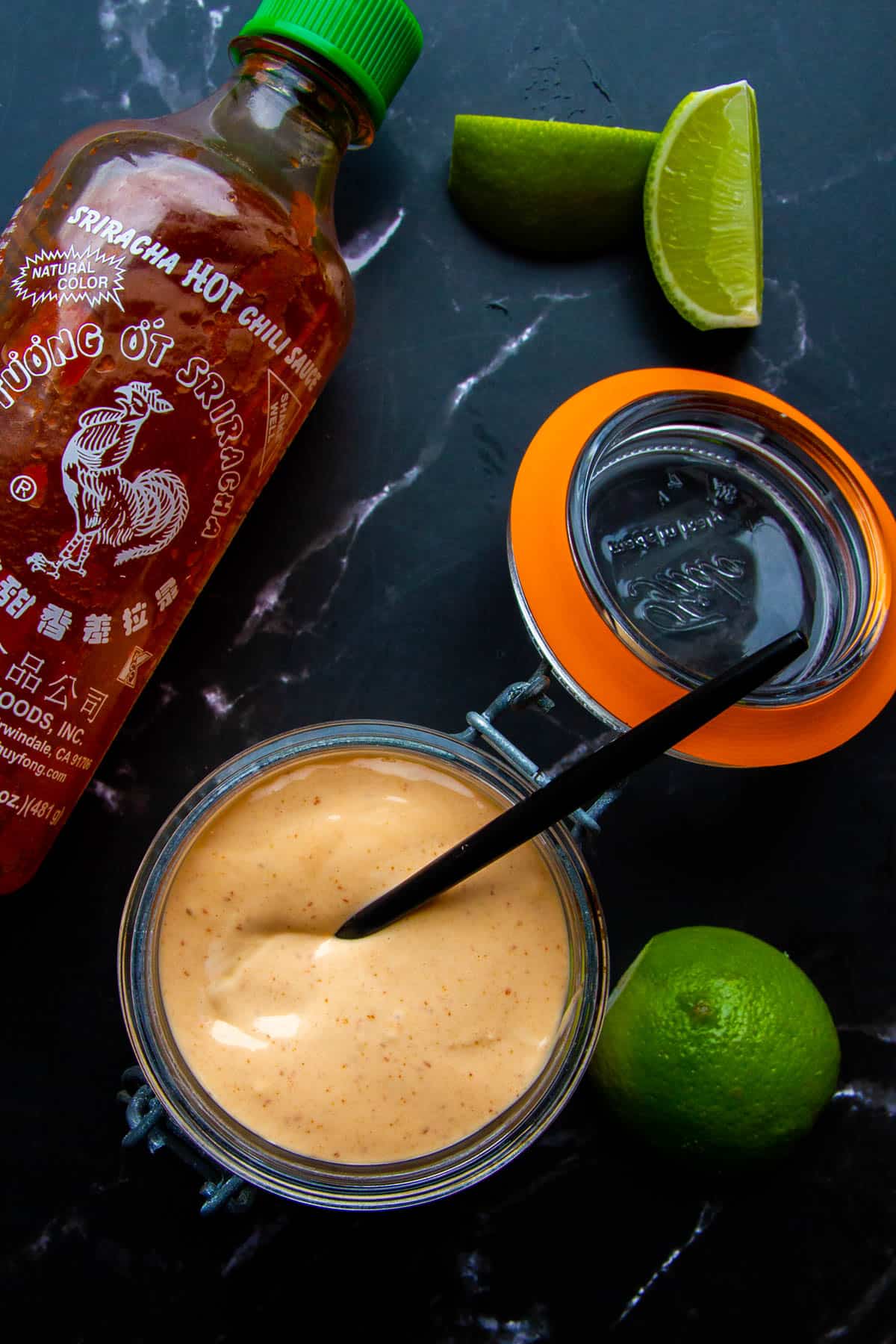 Here are a few more ideas:
Spicy Mayo Ingredients
Let's talk spicy mayo ingredients and substitutions:
Sriracha: As mentioned above, this is my go-to hot sauce for spicy mayo. It's thick enough to not water down the mayo too much and packs the perfect amount of heat without blowing your socks off. Other hot sauce substitutions include chipotles in adobe sauce, Frank's Red Hot Sauce and Japanese Togarashi seasoning.
Fresh Garlic: This is the real secret weapon that adds flavour and umami to the sauce. If you use a Microplane on the garlic, you'll have this sauce ready in under 5 minutes. Remember that a little raw garlic goes a long way so always start with less than you think you need and only add more after tasting the sauce first.
Lime: Lime and Sriracha are very good friends, but you could use lemon juice instead. I also like to use the Microplane to add a bit of lime zest to the sauce and increase that fresh lime flavour.
Soy/Worchestershire: Both add a bit more umami to the sauce but can definitely be omitted if you're on a gluten-free diet.
Optional Addition, Sesame Oil: A small amount (think 1/8 tsp or less) will add a little sesame flavour. I usually leave this out because it can be quite strong but feel free to give this a try if you like sesame oil.
How's the Heat Level of This Sauce?
We find the spicy level of this sauce to be perfect, but keep in mind we're both not crazy about spicy foods. I'd rate this sauce a 4 out of 10 with mild Aleppo chilli being a 1 and Indian Vindaloo curry being a 10.
I've served this sauce to many people without any complaints (spice-wise) and I think it's a good starting point. If you like it hotter, try a hotter hot sauce or simply add more Sriracha.
How to Make Spicy Mayo
To make this spicy mayo:
Mix all of the ingredients together in a bowl except the garlic.
Use a Microplane or garlic press to finely puree garlic into the sauce.
Mix well with a whisk and season with salt to your liking.
Store in a sealed container for up to 5 days in the fridge.
Hi I'm Devan and I'm Addicted to Spicy Mayo
More often than not, there's an emergency bowl of spicy mayo sitting in our fridge. Throw it on fried rice, dip your fried chicken in it and sauce up those left-over vegetables with this easy but super tasty sauce.
Ingredients
150

g

mayo

30

g

sriracha sauce

or your favourite hot sauce

4

g

soy sauce

3

g

fresh lime juice

½

clove

garlic

peeled (use a small clove)

10

dashes

Worchestershire sauce

pinch of

salt to taste
Instructions
Grate the garlic into a bowl using a Microplane.

Mix the rest of the ingredients together. Add more hot sauce or salt if you desire.

Zest half a lime into the sauce and mix well.

Store in a squeeze bottle or sealed container in the fridge for up to 5 days.
Notes
Depending on the mayonnaise you use, your final sauce may be different. I'm using the Dutch Mayonnaise (Calvé Brand) which is a little sweeter than most. 
You can also add a pinch of sugar or honey to make the sauce a little sweeter although I prefer it without.
Nutrition
Calories:
257
kcal
|
Carbohydrates:
1
g
|
Protein:
1
g
|
Fat:
28
g
|
Saturated Fat:
4
g
|
Cholesterol:
16
mg
|
Sodium:
437
mg
|
Potassium:
11
mg
|
Sugar:
1
g
|
Vitamin A:
24
IU
|
Vitamin C:
6
mg
|
Calcium:
3
mg
|
Iron:
1
mg
Let's Get Saucy!
Grilled Green Onion Chimichurri – A Healthy Steak Sauce
A recipe for a light, healthy, charred green onion chimichurri sauce. Gluten-free, dairy-free, vegan and perfect with steak, pork chops, chicken or grilled veggies.
Check out this recipe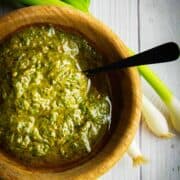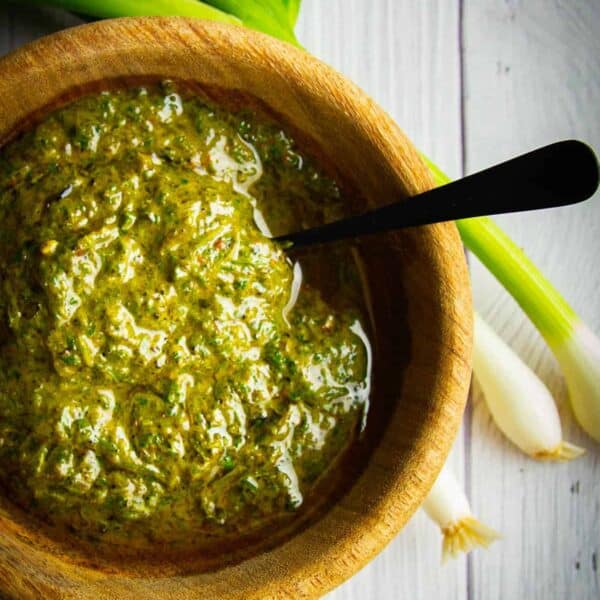 Alabama White Sauce – A White BBQ Sauce
This Alabama white BBQ sauce is a nice dip for smoked meats, raw crunchy veggies or mixed into coleslaw. Did I mention it only takes 5 minutes?
Check out this recipe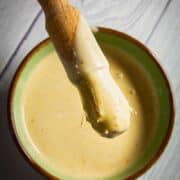 Sweet and Spicy Peanut Sauce – The Real Deal
A delicious recipe for peanut sauce that is a must-have with chicken satay. Sweet, tangy, slightly spicy makes and the perfect accompaniment to any steamed vegetable, rice, chicken or pork dish.
Check out this recipe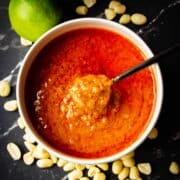 My Best BBQ Sauce
After many trials, I've got a BBQ sauce that's worth writing down. It's bold, not too sweet with just the right amount of heat.
Check out this recipe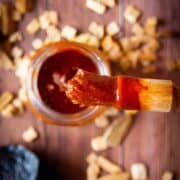 Copycat Big Mac Sauce
This copycat big mac sauce recipe is better than the real thing. The best part is most of the ingredients are readily available in your home. What are you waiting for?
Check out this recipe