Who doesn't love soup?
It's that smooth and silky texture of any soup that's so desirable. And this soup is a genius way to use up any leftover white asparagus trim. That's especially important when you are paying top dollar for it too. 
You can save the trim from the other white asparagus recipe and use it to fortify the flavour in this tasty soup. 
Lighter is Better
The traditional method for this soup is usually made with a heavy, floury roux and I think that really takes away from the delicate flavour of the white asparagus. 
Instead, I use only a touch of xanthan gum to blend it together nicely at the end. To keep it lighter I don't use any cream, just milk and a little splash of brown butter (of course!).
What's the Difference Between White Asparagus and Green Asparagus?
Nicknamed "white gold", white asparagus has a slightly sweeter taste and is less bitter than its green cousin. The flavour is really unique but if you like green asparagus then you're gonna love white asparagus!
Can I Make this Vegan?
Yes. Simply replace the milk with oat or soy milk and you will still have a creamy and delicious soup. Swap the brown butter for either vegan butter or a nice olive oil.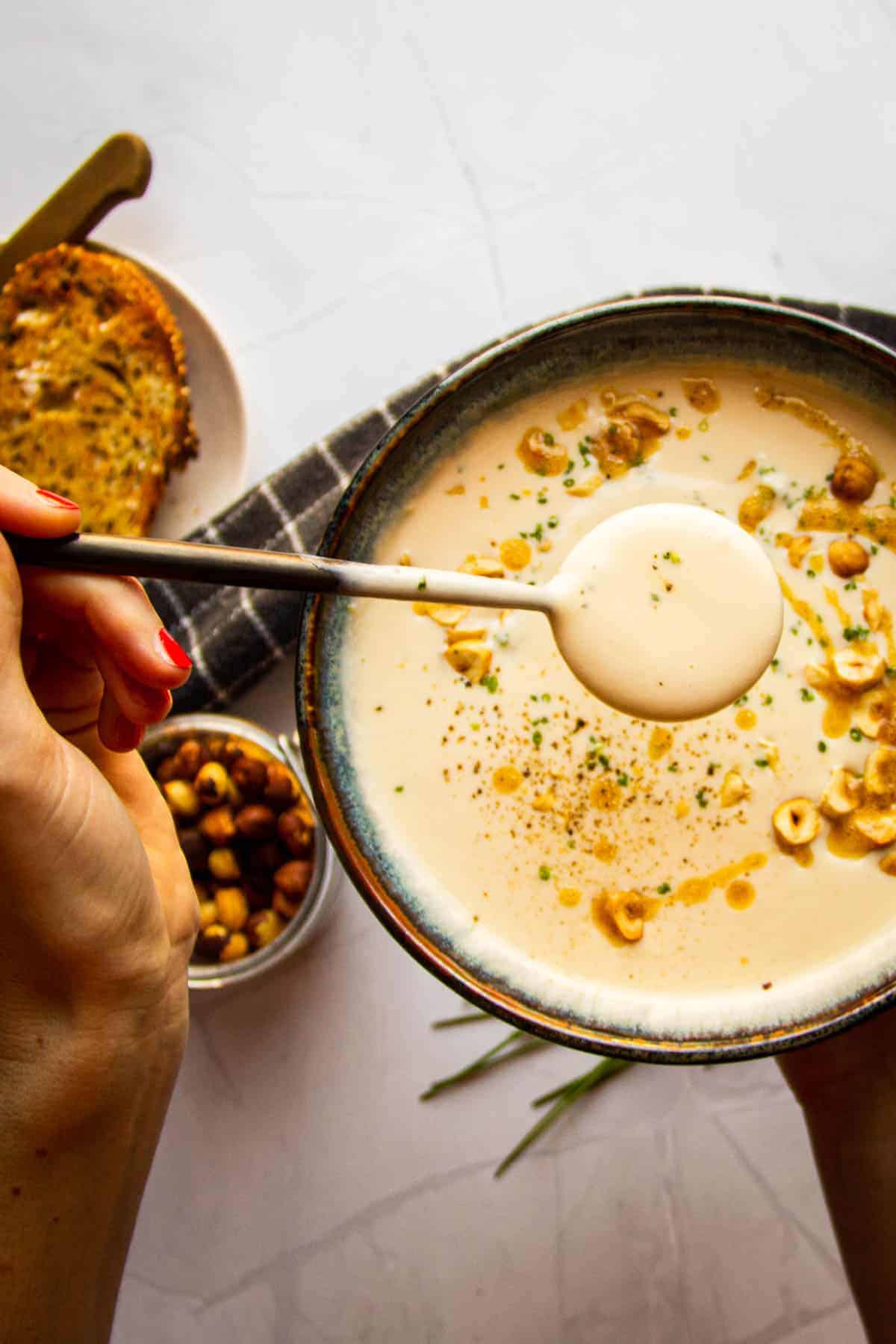 Can I Use Green Asparagus Instead?
No. Unless you want a grey, dull-looking soup I'd only recommend you use white asparagus for this recipe. 
This is because the white asparagus can be cooked low and slow as there's no chlorophyll that can turn grey. 
If you'd like to make this soup with the same ingredients but with green asparagus instead, then try this:
Peel the asparagus and save the trim separately. 
Bring the milk to a simmer and then add the asparagus trim. Simmer for 5 minutes then strain, saving the milk. 
Add the peeled green asparagus and boil in salted water until completely soft (about 5 minutes).
Immediately add the hot, cooked asparagus to a blender and half of the infused milk. Blend until smooth, adding the milk as you need to get to the right consistency. 
Season and add lemon juice right before serving. Lemon juice will turn the soup grey so don't add it to the soup if you are storing it for later. 
Tips For Success
Here's how to properly nail this recipe:
Save the asparagus trim to infuse into your milk for extra flavour. 
Blend with a high-powered blender to achieve the smoothest, silky texture. 
The addition of brown butter helps to make the soup smooth.
Peel the asparagus from top to bottom in clean, long strokes to prevent it from tasting bitter.
How to Store
Soups freeze very well. Store for up to 6 months in the freezer and no more than 5 days in the refrigerator.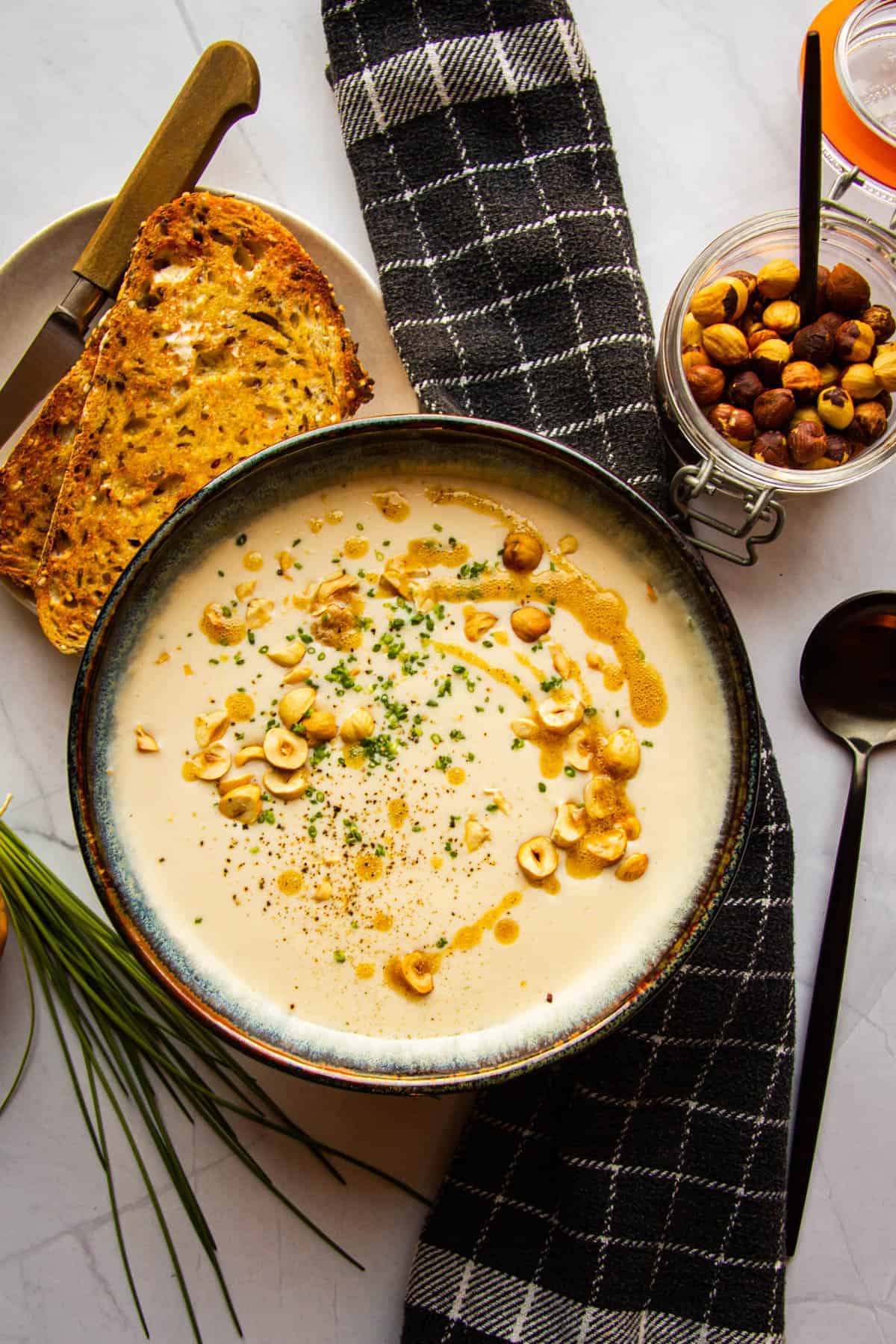 White Asparagus Buying Guide
White asparagus, like most vegetables, is at its best when they're new and fresh. Fat stems are seen as higher quality and usually the first to be snatched up. Look for fat stems that are bright white, stiff and without blemishes.
When you peel the asparagus, it should be juicy and with firm stalks.
Have You Tried these Recipes Yet?
This White Asparagus with Ham, Egg, Brown Butter and Chives