I have a little obsession with roasted vegetables. It's one of my favourite techniques for maximizing flavour and it's also very effective in soup preparation. The natural sweetness and concentrated flavours from the roasted vegetables give the soup a bold carrot flavour that you don't get from boiling the carrots. This vegan carrot ginger soup is rich and velvety smooth from the addition of coconut milk and a great way to get more vegetables in your life.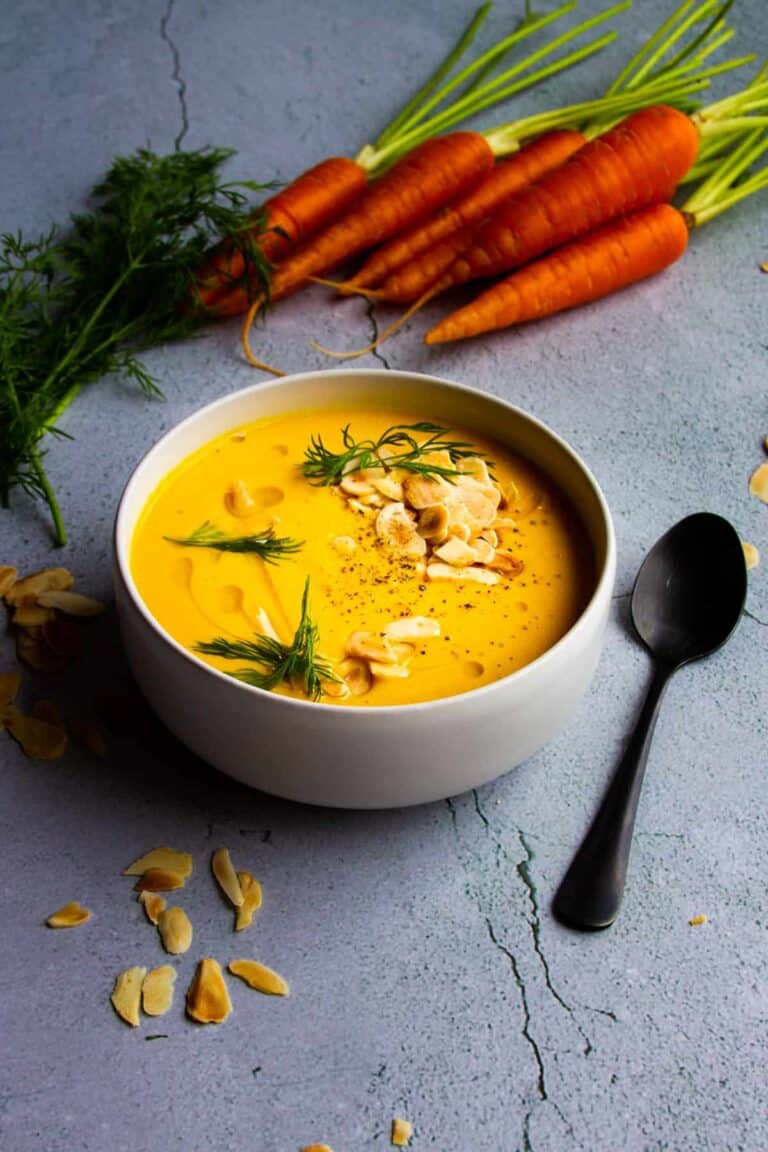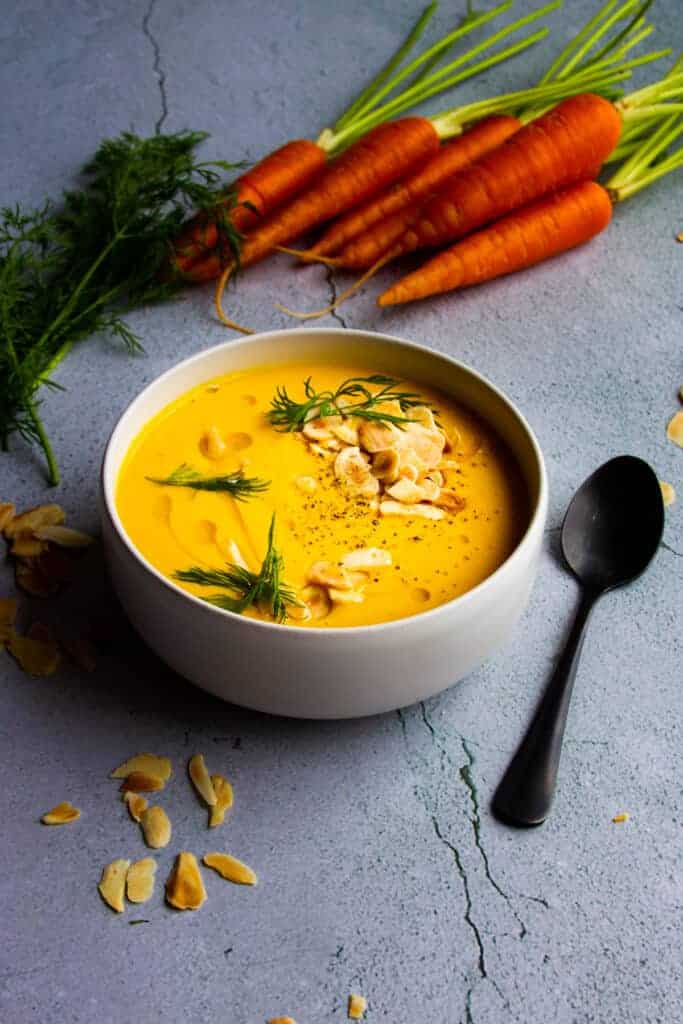 Why Vegan?
Because I've recently discovered that I'm lactose intolerant, vegan recipes are a lot more appealing to me. It's estimated that about 65% of the world's population is lactose intolerant. Don't get me wrong, a carrot soup injected with a ton of brown butter is incredibly delicious, and tempting. So why don't I just use lactose-free butter? Well, I can (and do) but I think that now is a perfect time to try something different.
Lactose free products are great, but they're still made from dairy which has a much bigger environmental impact than vegetable farming.
The Future is Exciting For the Food Industry
We are living in a very exciting time as we make the transition from a meat and dairy-heavy diet to a more sustainable plant-heavy diet. I personally will probably never go completely vegan but I respect those that do. With so many cool ideas coming out like artisan fermented cashew cheeses from Miyoko's Creamery, or plant based burgers like the Impossible Burger and even lab-grown meat it's not going to be as hard to reduce our meat consumption in the future. In the meantime though, this vegan carrot ginger soup is delicious enough that you won't even notice you're only eating plants.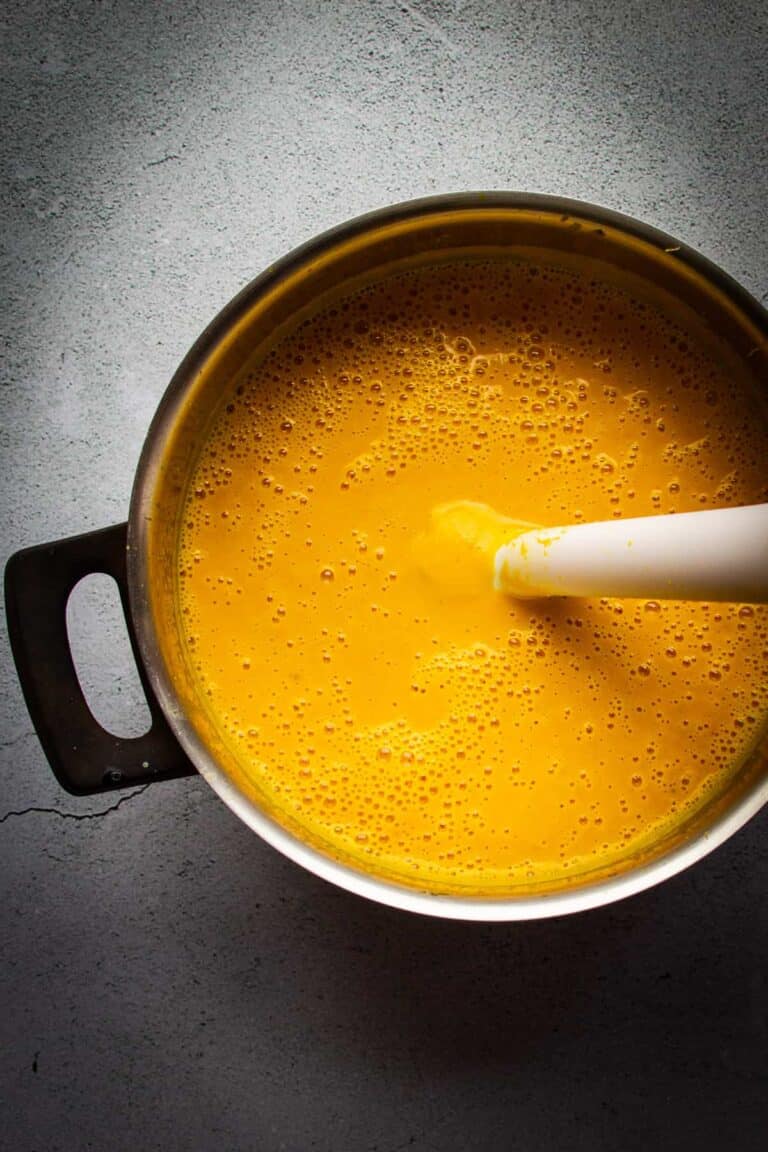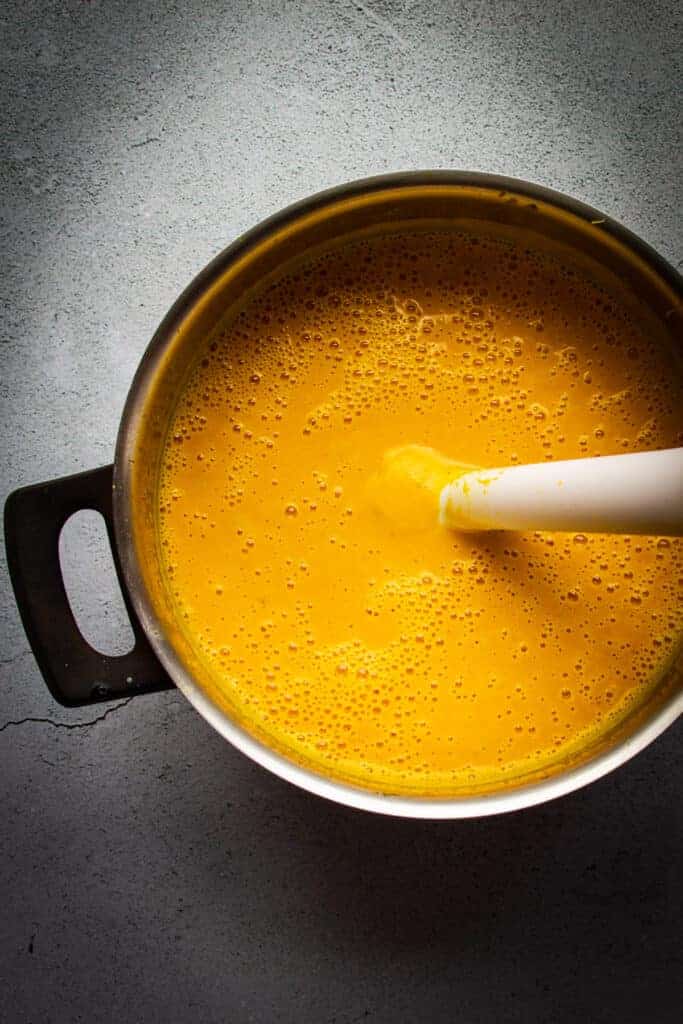 Carrots are Very Healthy
Carrots are good for your eyes because they're packed with vitamin A, lutein, and rich in beta-carotene. They also contain carotenoids which are antioxidants that have been proven to reduce your risk of cancer.
What if I Don't Have Enough Time to Roast?
Roasting the carrots gives this vegan carrot ginger soup a much stronger, and naturally sweeter flavour. This is because the flavour is concentrated by "drying" the carrots in the oven and adding a slightly caramelized exterior from the maillard reaction. Basically, we're making carrot raisins and adding an infused coconut milk to make magic.
Roasting the carrots does take a while. If you are in a rush, add the raw peeled carrots to the infused coconut milk and cook all together until soft. I'm sure the flavour will not be as good but it will still be a pretty decent soup and definitely healthy.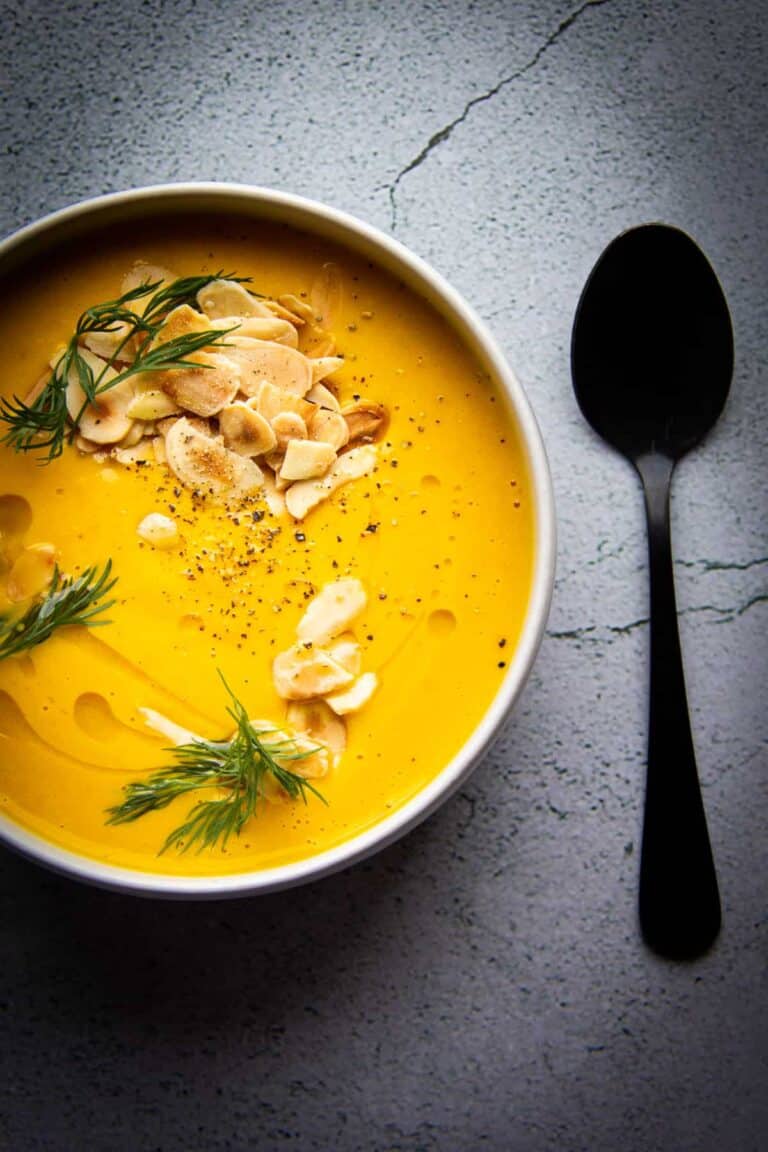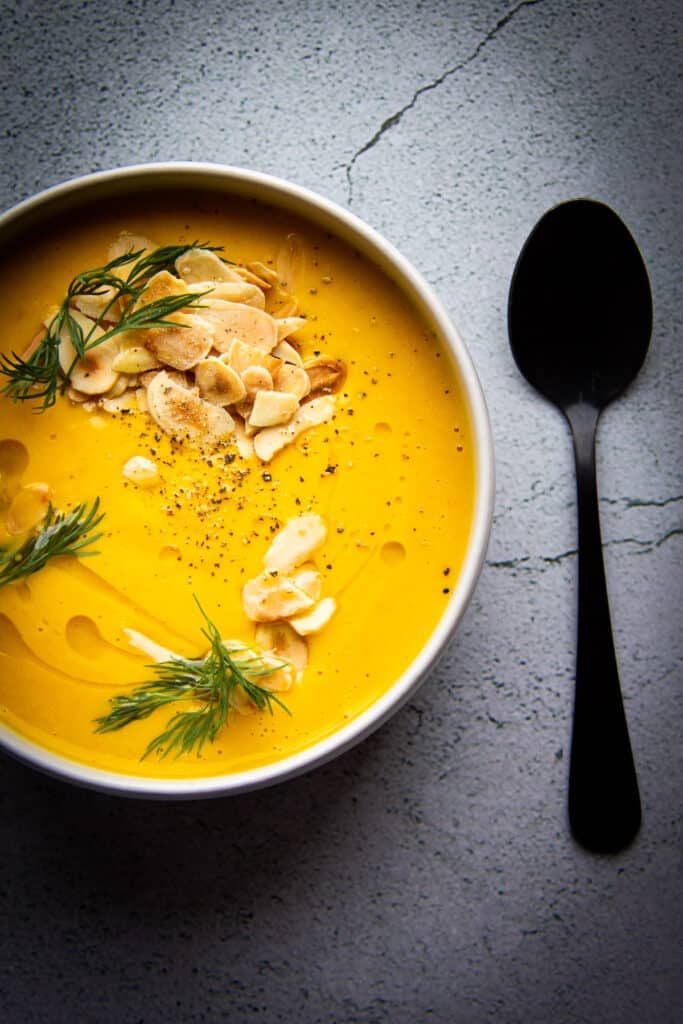 How Long Does this Carrot Soup Last?
This soup is good to go for up to 5 days in the fridge and freezes very well. It's easier to make a big batch and have some soup frozen in small containers ready for when you need a quick and healthy lunch.
How to Get an Ultra-Velvety Soup
An ultra-smooth soup or purée makes eating the soup even more enjoyable because of that silky smooth mouthfeel and is the epitome of French cuisine.
Here's a few tips I've learned for making ultra smooth purées and soups:
A high powered blender like the Vitamix makes the smoothest purée and cheap blenders won't be able to achieve the same consistency.
The addition of fat like olive oil, canola oil or butter while blending makes the soup smoother.
Adding a small, peeled, cooked potato can sometimes make the purée extra smooth and shiny. In this recipe I use a very small amount of Xanthan gum that also works in a similar way to make the soup very shiny and smooth.
Recommended Tools
Vitamix – This is the ultimate tool for blending soups and the industry standard for most restaurants. That being said you can still make a decently smooth soup using a hand blender.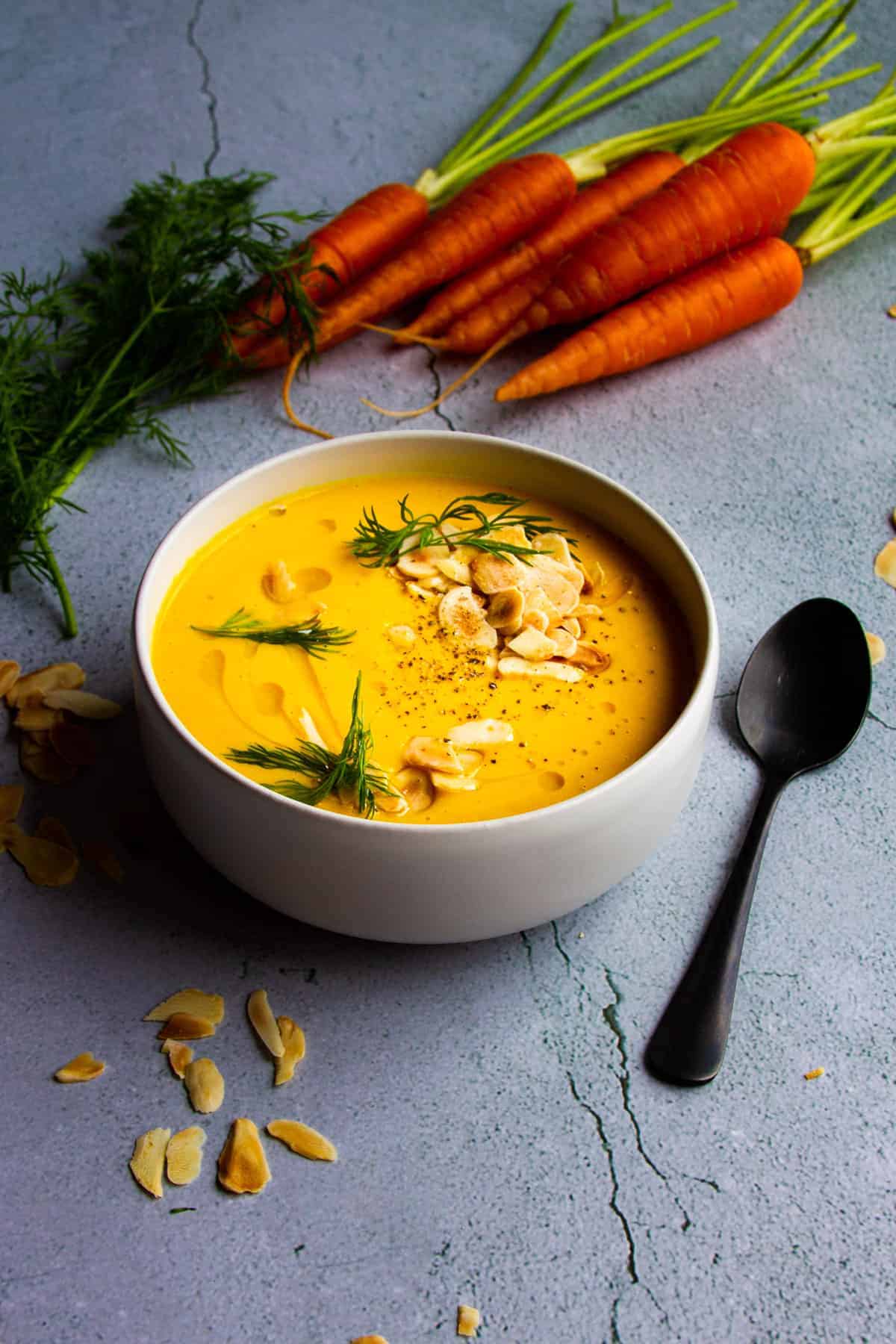 Equipment
Stand blender/Hand blender
Ingredients
For Roasting the Carrots
500

g

carrots

1

tbsp

vegetable oil

1

tsp

salt
For the Infused Coconut Milk
⅛

tsp

aleppo chili

⅛

tsp

black pepper

½

tsp

salt

800

ml

coconut milk

2 cans

100

g

coconut cream

2 packages

1

tbsp

turmeric

ground

20

g

ginger

about the size of your thumb

250

ml

water
For Finishing the Soup
½

pc

lemon

zested and juiced

1/16

tsp

xanthan gum

optional

50

ml

olive oil

extra virgin
For Garnish
½

bunch

dill

3

tbsp

shaved almonds
Instructions
Set the oven to 200°C/400°F. Wash and peel the carrots. Trim off the tops and cut in half lengthwise then in half horizontally like shown in the picture.

Toss the cut carrots in bowl with vegetable oil, salt and pepper. Place on a tray lined with baking paper. Roast for 35-45 minutes or until golden brown and completely soft.

Peel the piece of ginger and slice thinly. With this, add all of ingredients from the "infused coconut milk" section and bring to a boil in a big saucepot. Reduce to low heat and simmer for 5 minutes.

(I used a small pan in the photo but it makes more sense to use a big pot as you will need the space for the carrots later.)

Toast the almonds quickly in the oven until golden brown. About 5 minutes at 200°C/400°F.

Once the carrots are completely soft and golden brown, add them to the infused coconut milk and continue to simmer all together on low heat for about 5 minutes. Use a spatula to stir the bottom of the soup and be careful as it can burn easily now.

Add the xanthan, olive oil and lemon juice and blend on high speed until as smooth as possible. Check the seasoning and add more salt if you desire.

Pour the hot soup into bowls and garnish with the toasted almonds, fresh dill, a drizzle of olive oil and a crack of black pepper. Enjoy!
Notes
You can easily freeze this soup for later in a sealed container.
If the soup is too thick add more water or coconut milk and blend further. Adjust the seasoning after.
Nutrition
Calories:
722
kcal
|
Carbohydrates:
23
g
|
Protein:
8
g
|
Fat:
72
g
|
Saturated Fat:
50
g
|
Trans Fat:
1
g
|
Sodium:
993
mg
|
Potassium:
1043
mg
|
Fiber:
6
g
|
Sugar:
6
g
|
Vitamin A:
20911
IU
|
Vitamin C:
11
mg
|
Calcium:
107
mg
|
Iron:
9
mg
This post contains Amazon affiliate links to products I recommend.
Vegan Pasta Pesto with Hazelnuts, Peas and Miso
A super easy vegan pasta pesto that's insanely healthy, gluten free and dairy free. It's ready in 15 minutes making this an easy and delicious weeknight meal.
Check out this recipe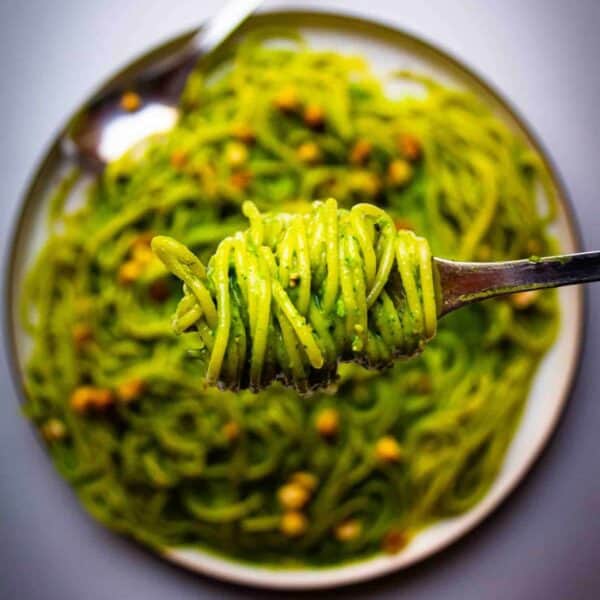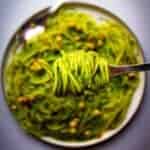 The Best Vegan Chocolate Hazelnut Brownies
A recipe for vegan brownies loaded with intense chocolate hazelnut flavour and drizzled with vegan nutella. Soft, rich and insanely chocolatey. I promise you won't miss the dairy or eggs.
Check out this recipe