This roasted carrot soup is ULTRA creamy, smooth and perfect on a cold day.
The secret to a flavourful vegetable-based soup? Roast the veggies.
Roasting the carrots before blending them into soup concentrates their flavour unlike a soup made with boiled carrots.
How to Get an Ultra-Velvety Carrot Soup
An ultra-smooth soup or purée makes eating the soup even more enjoyable because of that silky smooth mouthfeel.
Here are a few tips I've learned for making ultra-smooth purées and soups:
A high-powered blender like the Vitamix makes the smoothest purée and cheap blenders won't be able to achieve the same consistency.
The addition of fat like olive oil, canola oil or butter while blending makes the soup smoother. In this case, coconut milk helps with that.
Adding a small, peeled, cooked potato can sometimes make the purée extra smooth and shiny. In this recipe, I use a very small amount of Xanthan gum that also works in a similar way to make the soup very shiny and smooth.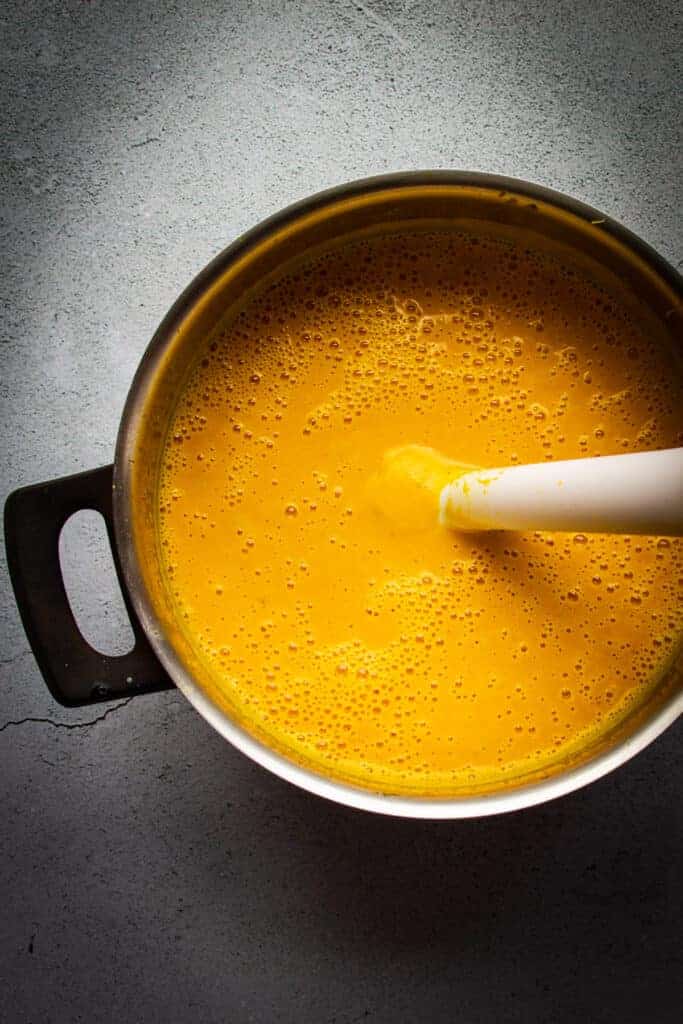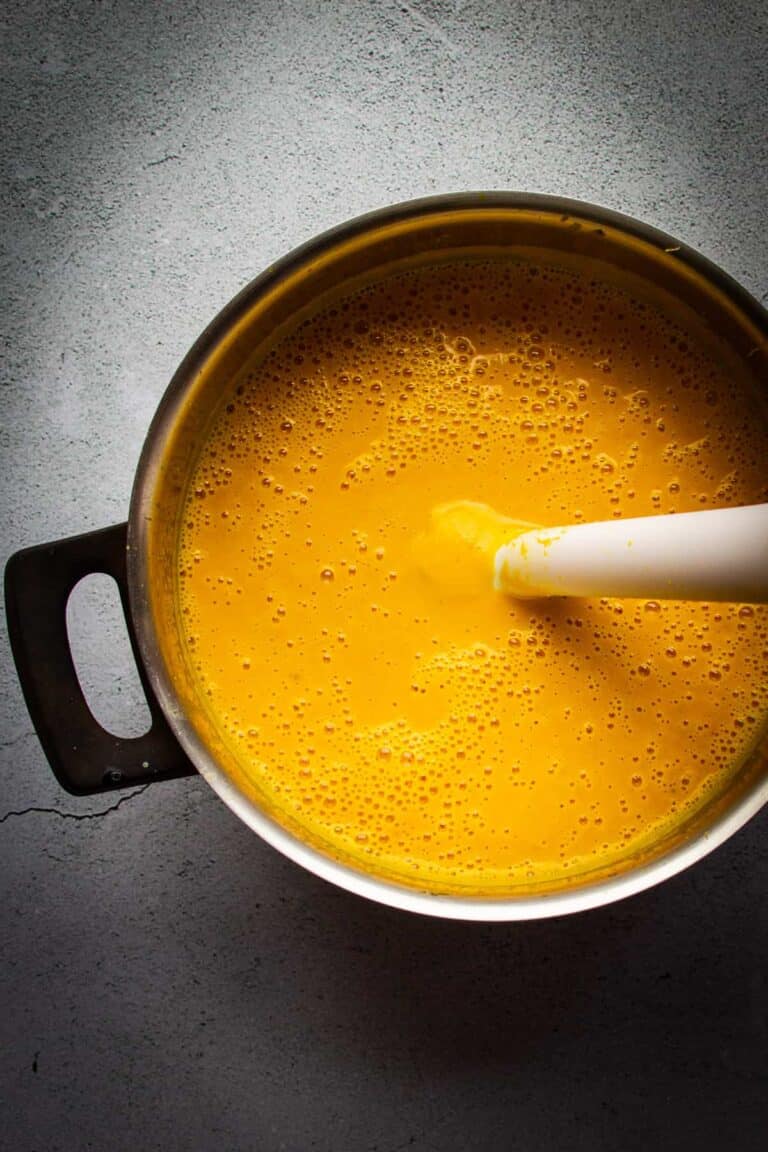 Carrots are Very Healthy
Carrots are good for your eyes because they're packed with vitamin A, and lutein, and rich in beta-carotene.
They also contain carotenoids which are antioxidants that have been proven to reduce your risk of cancer.
Why Do You Peel the Carrots?
I'm not normally a peeling-carrots-kinda-guy, because vegetable skin contains lots of nutrition and healthy fibre.
BUT in this recipe, the goal is to get an ultra-smooth carrot soup without any bitterness.
The skin of carrots, especially after roasting can add bitterness to the soup and will prevent that extra smooth texture.
If you don't care for a smooth soup or a little added bitterness, then don't peel your carrots.
What if I Don't Have Enough Time to Roast?
Roasting the carrots gives this vegan carrot ginger soup a much stronger, and naturally sweeter flavour.
This is because the flavour is concentrated by "drying" the carrots in the oven and adding a slightly caramelized exterior from the Maillard Reaction.
But I know…roasting the carrots in the oven does take a while (about 35-45 mins).
If you have the time, roasting the vegetables is almost always better, but you save a little time by cooking the carrots directly in coconut milk until tender.
The flavour of the soup will not be as good as a roasted carrot soup, but that's the trade-off for saving time.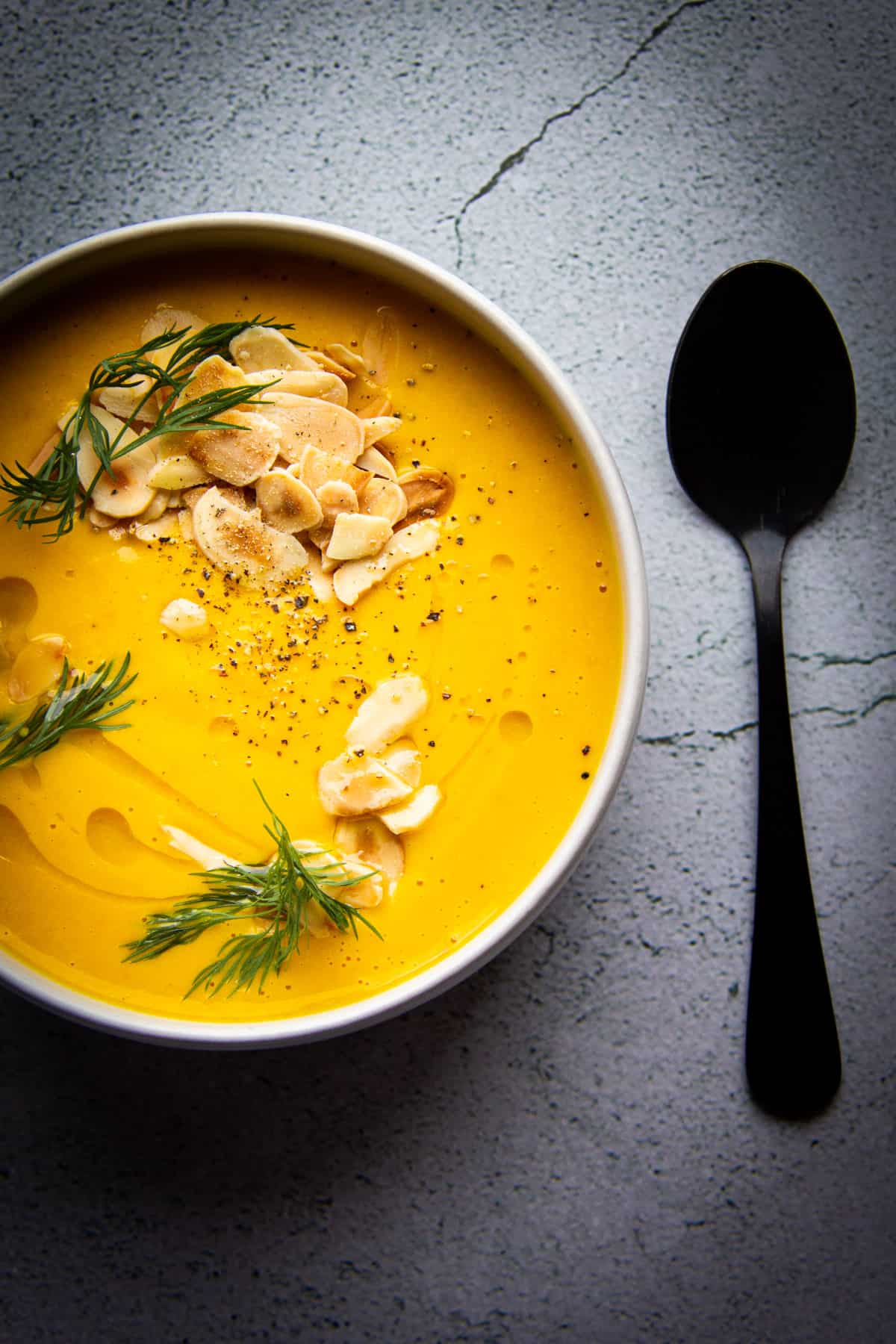 How Long Does this Carrot Soup Last?
This soup is good to go for up to 5 days in the fridge and freezes very well.
It's easier to make a big batch and have some soup frozen in small containers ready for when you need a quick and healthy lunch.
Recommended Tools
Vitamix – This is the ultimate tool for blending soups and the industry standard for most restaurants.
That being said you can still make a decently smooth soup using a hand blender.
The BEST Bitterballen Recipe (Dutch Deep-Fried Meatballs)
Looking to buy a knife set? Read my guide on Why I'll Never Buy a Cutco Knife Set.