This pea puree looks fancy, but it's actually (don't tell your guests!) SUPER easy to make.
I like to pull this one out for a special occasion such as Mother's Day brunch or a spring dinner that requires a little more finesse.
Its smooth and slightly sweet taste bring a fresh and vibrant spring flavour to just about anything you use it with.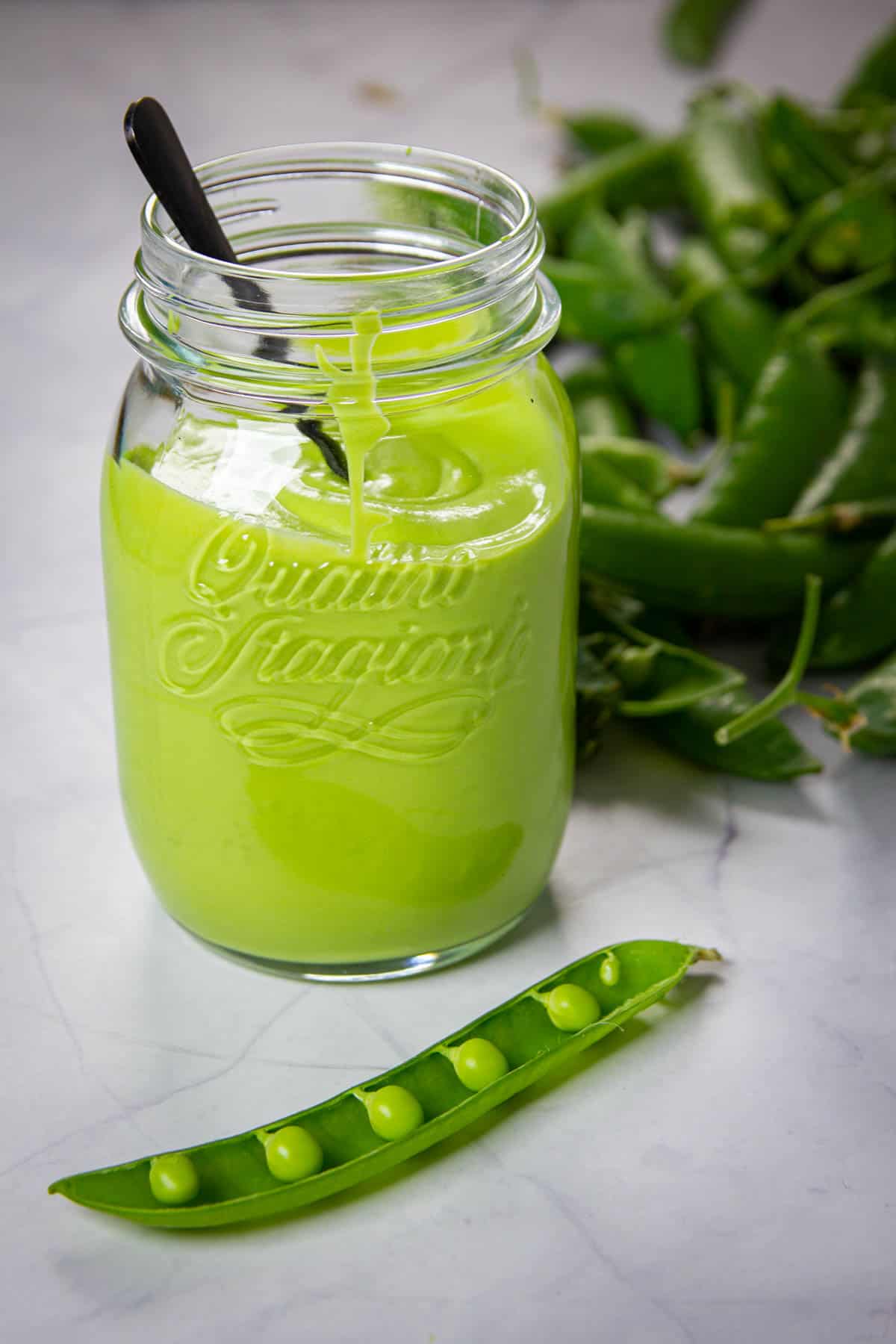 What Can I Use This Pea Puree For?
You can serve this puree hot or cold, depending on the dish of choice.
Here are some ideas for what to use this puree with:
As a cold spread on toast
As a hot puree served alongside fish
Mixed into pasta last minute
As a base for a soup (just add more stock or water and you have pea soup!)
Ingredients You'll Need
Frozen peas: I use frozen peas because they're cheaper and they work fine in a puree. You can definitely use fresh peas for this puree.
Cold butter: Cold butter not only adds extra flavour to this sauce, but it also makes the sauce extra smooth and shiny. If you're looking for something dairy-free or vegan, try substituting olive oil instead of butter.
Sugar: A little bit of sugar makes frozen peas taste like they're fresh from the farm. If you're using fresh, peak-season peas, you probably won't have to add any sugar. Of course, feel free to omit the sugar if you're not into that, but a little sweetness makes this puree shine.
Lemon Zest: Lemon zest adds a fragrant lemon flavour and won't turn the puree grey as lemon juice would. A little squeeze of fresh lemon juice will work nicely in this sauce, but just keep in mind it will turn the puree grey, so it's better to add it right before serving.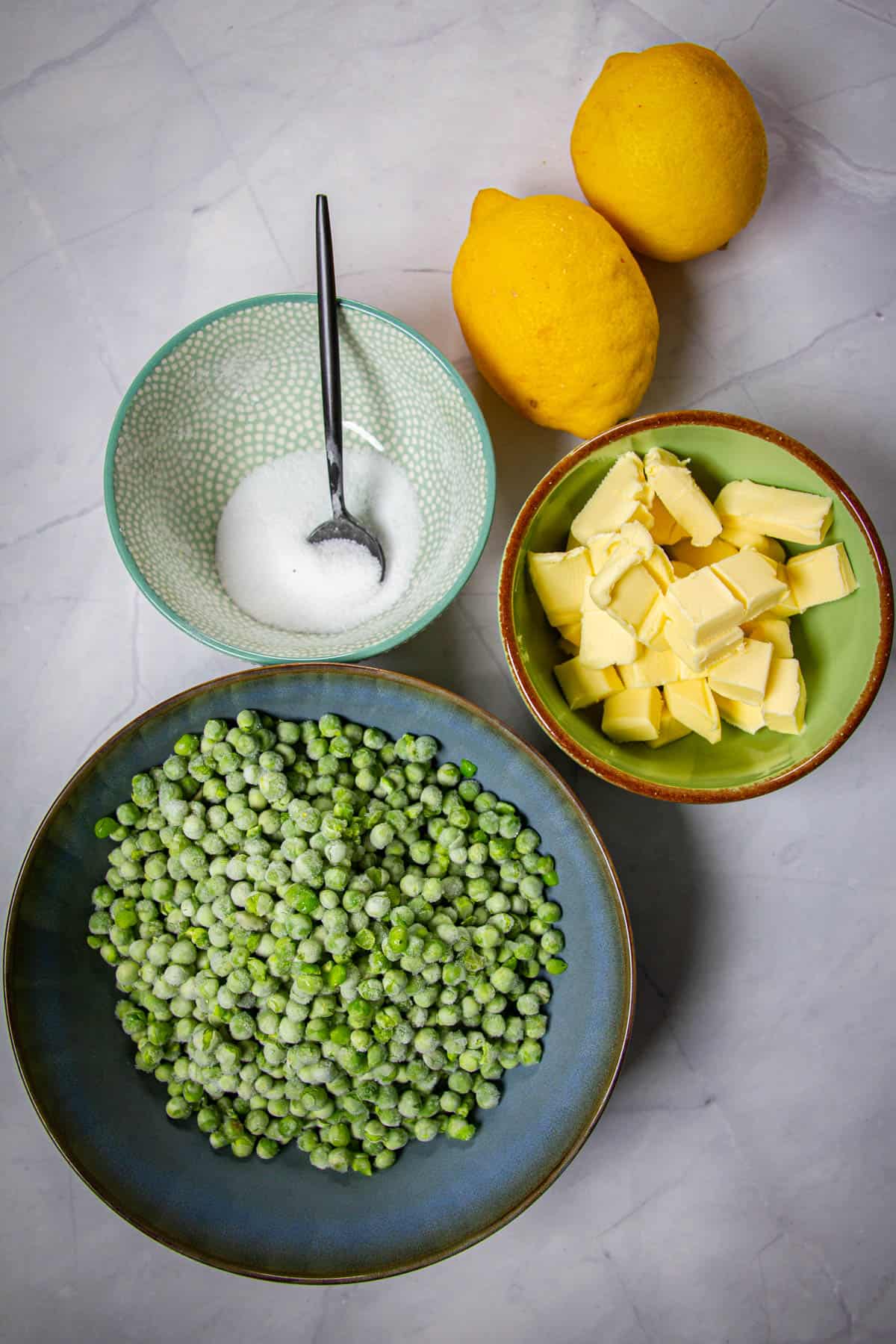 How to Make this Pea Puree (Quick Summary)
Because there are only 6 ingredients in this puree, the true flavour of the peas shines.
Here is a quick summary of how to make this puree:
Blanch the peas in boiling salted water until very soft.
Immediately transfer the cooked peas to a blender.
Add the rest of the ingredients, except the butter and blend.
Add the cold cubed butter in stages until completely melted.
Cool the puree over a bowl in an ice bath.
Store in a mason jar in your fridge.
Enjoy!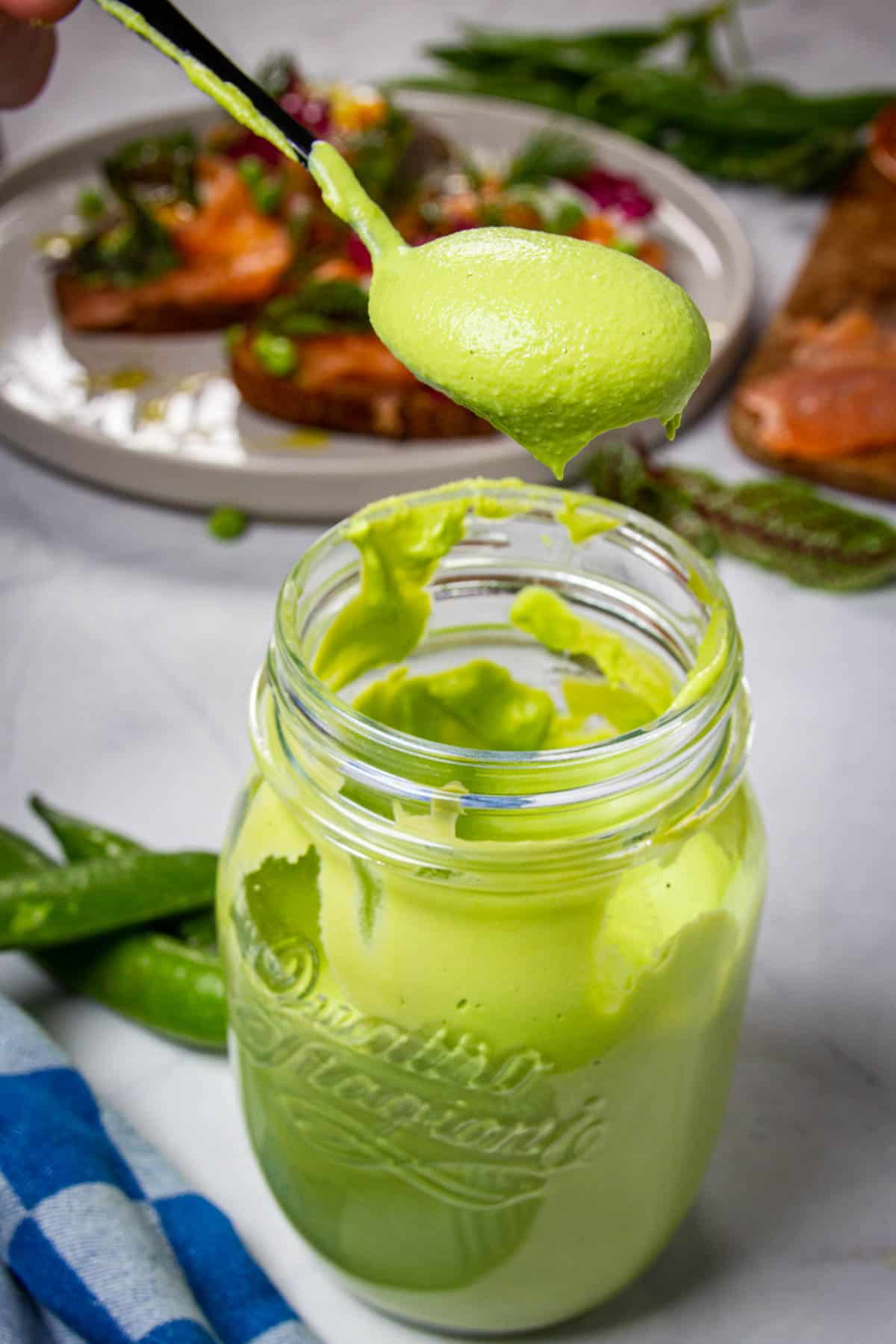 Tips to Nail this Pea Puree
Make sure the water is at a rolling boil before adding the peas. This prevents them from oxidizing.
Adding salt to the blanching water will prevent the puree from turning grey.
Adding a little sugar to the boiling water will prevent the peas from losing any natural sweetness in the water.
Blending the puree while it's hot will make a smoother puree.
Cooling the puree over an ice bath will preserve the bright green colour.
Get Saucy with these Other Sauce Recipes
Here are some other spring sauces:
Why use frozen peas and not fresh?
Frozen peas are delicious and underrated. Because they're picked and frozen during peak season, frozen peas usually have just as much sweetness than fresh peas. Plus, they're inexpensive and conveniently ready to go in your freezer.
How long does this puree last?
If stored in a cold fridge in a sealed mason jar or container, this pea puree should stay good for up to 5 days.
Can I freeze the leftovers?
Extra puree freezes very well and will last for 6 months in the freezer in a sealed container.
Super Easy Pea Puree (Pea Butter)
This easy pea puree is great on toast, mixed into pasta or served as a warm sauce for most seafood and fish dishes. Gluten free and vegetarian.
Ingredients
2

cups

frozen peas

(277g/10oz)

3.7

oz

cold butter

(100g)

2

pc

lemons, zested

1

tsp

sugar

(optional)

¼

tsp

salt

3+½

tbsp

water

(about 50 ml)

ice
Instructions
Bring a large pot of salted water to a boil.

Cut the butter into small pieces and keep it cold. Set up your blender so it's ready to go.

Once the water is at a rolling boil, add the frozen peas and continue to boil for 2-3 minutes or until completely soft.

Immediately scoop the peas out of the boiling water using a spider strainer and place them into the blender. Add a few tablespoons of the hot water, the salt, the sugar and the zest from two lemons into the blender.

Blend until the blades catch the puree and you can see the puree turning in the blender.

With the blender still running, add the chunks of cold butter in stages until completely melted.

Once the puree is smooth, transfer it to a bowl with an ice bath bowl underneath it. Stir with a spatula until cool.

Once cooled, store your pea puree in a sealed mason jar with a lid in the fridge for up to 5 days.
Notes
You may need to add a little more water to the peas to allow the blender blade to catch the puree. Add enough water for the blades to catch but be careful not to add too much water.
Cooling the puree over an ice bath will prevent the colour from going grey.
Nutrition
Calories:
167
kcal
|
Carbohydrates:
8
g
|
Protein:
3
g
|
Fat:
14
g
|
Saturated Fat:
9
g
|
Polyunsaturated Fat:
1
g
|
Monounsaturated Fat:
4
g
|
Trans Fat:
1
g
|
Cholesterol:
38
mg
|
Sodium:
212
mg
|
Potassium:
123
mg
|
Fiber:
3
g
|
Sugar:
3
g
|
Vitamin A:
807
IU
|
Vitamin C:
20
mg
|
Calcium:
17
mg
|
Iron:
1
mg
Super Easy Rhubarb Sauce
The easiest and most delicious rhubarb sauce you can make with no water added. Vegan, gluten-free and dairy free.
Check out this recipe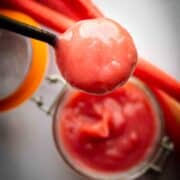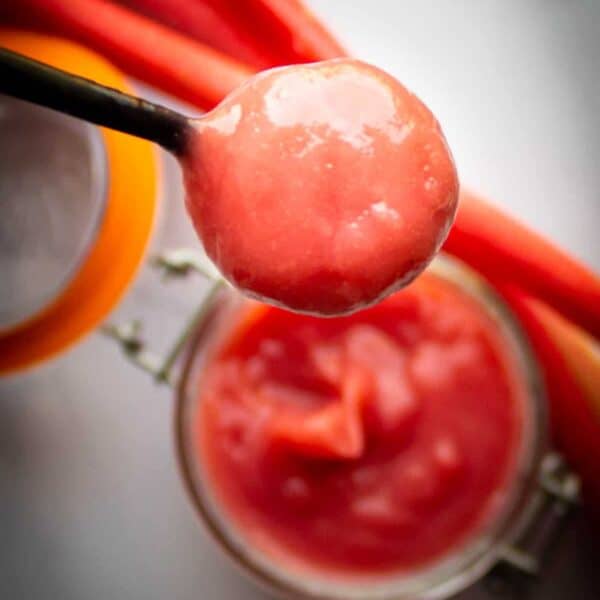 Sauteed Asparagus WIth Citrus Mayonnaise
This tasty sauteed green asparagus with citrus mayonnaise is ready in less than 20 minutes. Gluten free and vegetarian.
Check out this recipe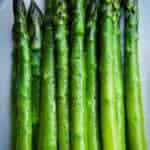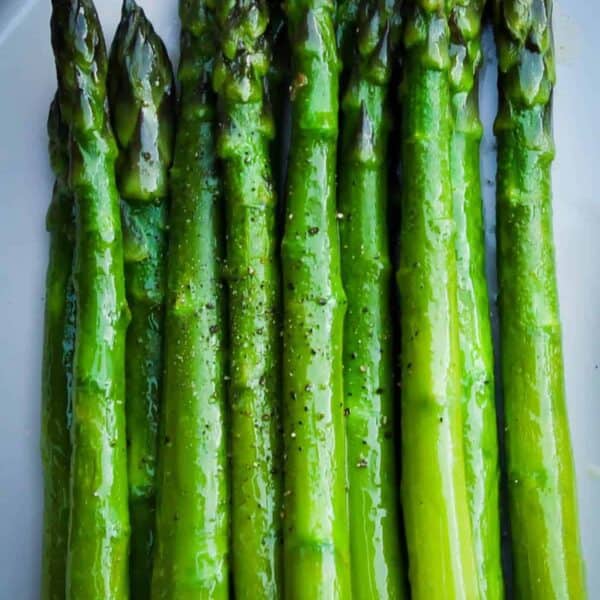 One Pot Instant Pot Navy Bean Soup
One of my favourite soups is this instant pot navy bean soup. It's easy, comforting and a perfect dish for the start of spring. Gluten free.
Check out this recipe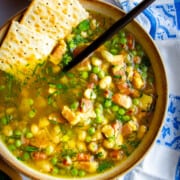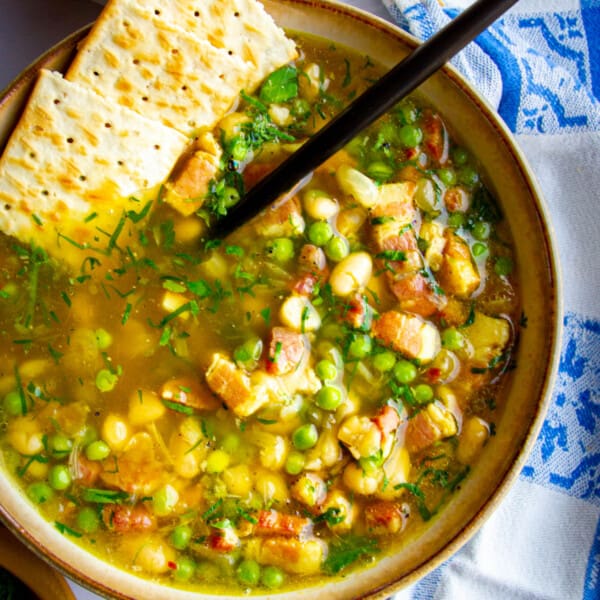 An Intense Strawberry Puree with Lime
Use this strawberry puree for a sweet topping for pancakes, ice cream, or yogurt. Gluten-free and can easily be made vegan.
Check out this recipe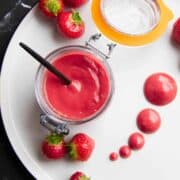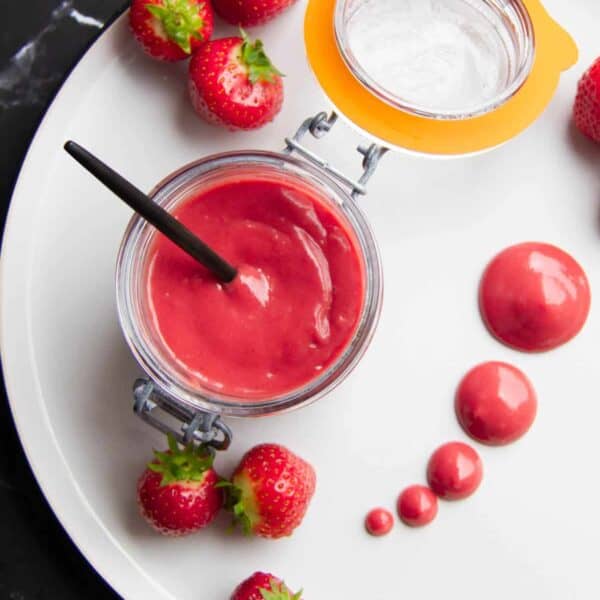 Strawberry, Pea, Basil and Pistachio Salad with Lemon Vinaigrette
A recipe for a delicious strawberry salad with peas, pistachio and basil. Vegan, gluten free and dairy free.
Check out this recipe