This is one intensely flavoured rhubarb sauce…
I don't know about you, but I like profoundly flavoured sauces, especially when it comes to fruit sauces.
Many people add water to their sauce when it's really not necessary. This recipe has no added water, so the flavour of the rhubarb is strong and intense. And there are only a few simple ingredients that make this really easy.
What's the Trick?
I cure the rhubarb in salt and sugar for 30 minutes before cooking. The sugar and water pull out moisture from the fruit, intensifying the flavour and providing a liquid to cook the sauce evenly.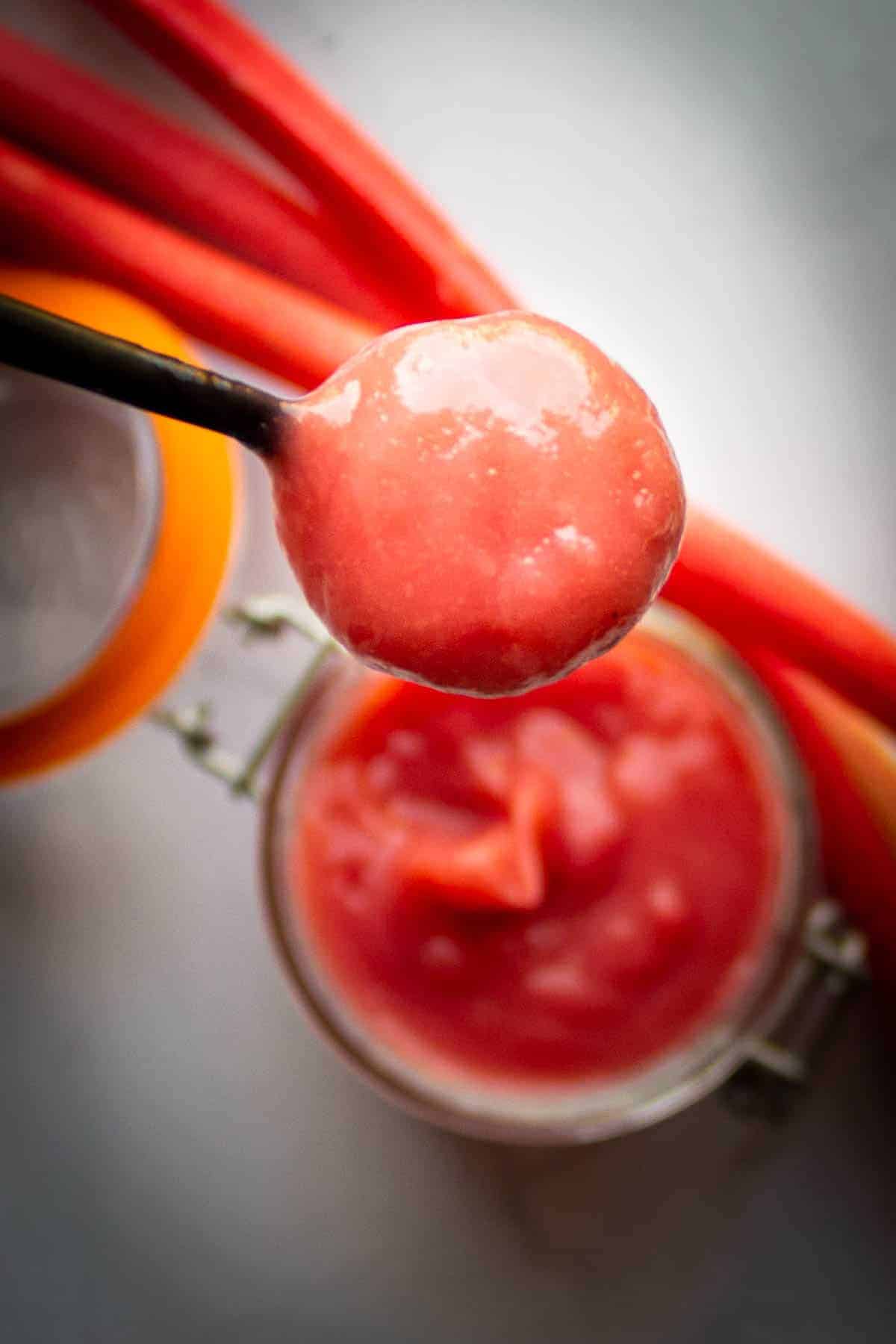 What Can I Make with Rhubarb Sauce?
You're probably wondering what is this sauce actually for, sweet or savoury dishes? Well, both.
This rhubarb sauce is more sweet than savory but that doesn't mean you can't use it for both kinds of dishes.
I think the obvious choice here is going to be rhubarb pie but this tasty-looking Norwegian rhubarb cake comes close!
Here are some more rhubarb ideas:
Sweet Rhubarb Options
Pour over vanilla ice cream.
Use it for a rhubarb cake or pie.
Mix into granola.
Make a bowl with sweetened crème fraîche, fresh strawberries, fresh lemon balm, toasted hazelnuts and this drizzle this sauce over top.
Spread it on toast like jam.
Did someone say pancakes?
Savory Rhubarb Options
If you're going savoury on this one, add a little less sugar and mix in some cold fresh butter at the end to make a richer sauce.
This sauce goes well with game meats like pheasant, quail and duck.
Roast chicken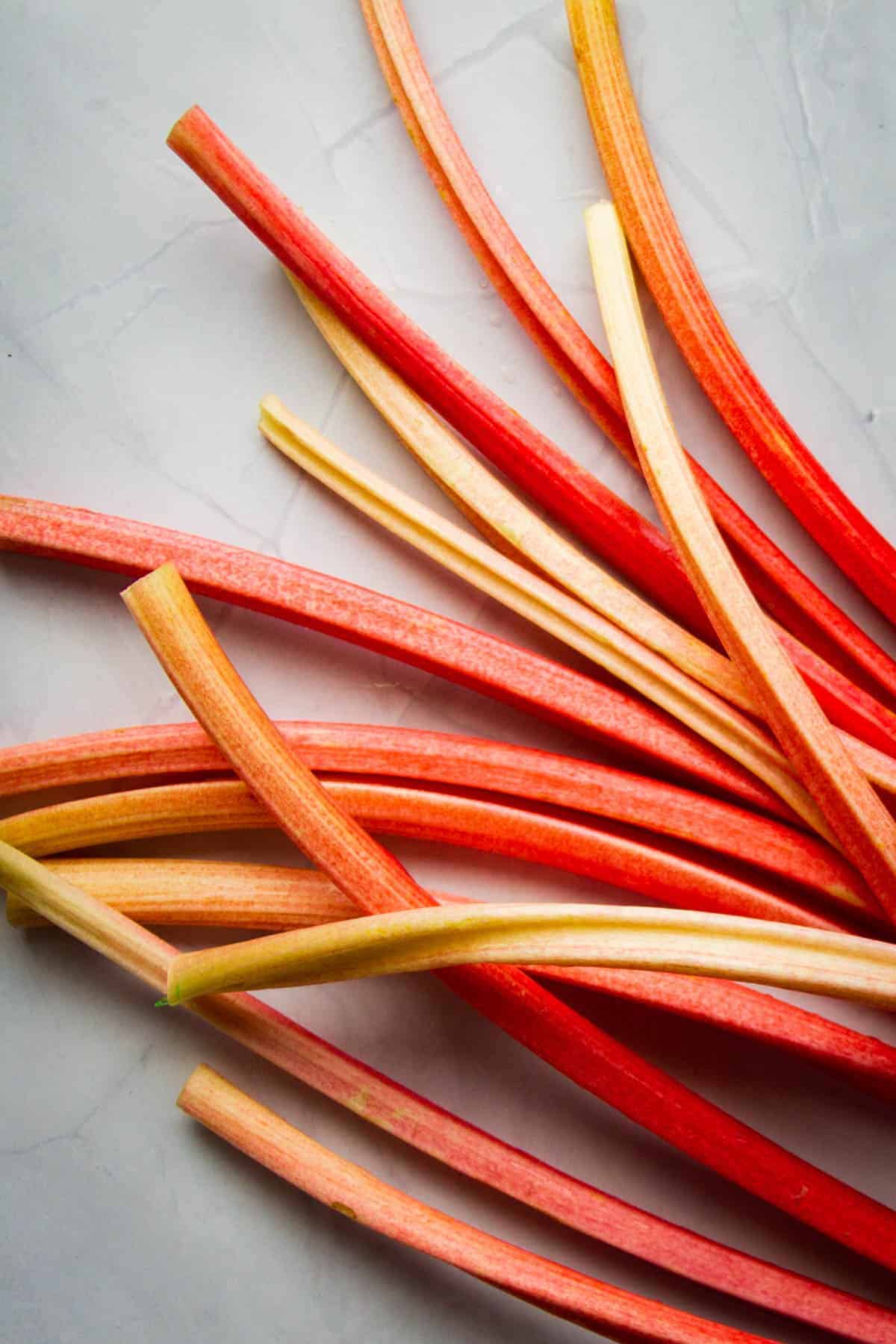 Other Ways to Eat Rhubarb
Probably my favourite way to eat rhubarb is to slice it thin and toss it in a bowl with a little sugar. I like to eat this as a little snack, fresh from the garden or mix it into a salad.
You can also shave the rhubarb with a peeler to make shaved rhubarb salad that is delicious with strawberries. Maybe even with this strawberry salad?
Do You Need To Add Sugar to Rhubarb?
Most likely. It's just too sour without.
Because of rhubarb's delicious sour taste, you'll need at least some sugar to balance this sauce out. Think of it like lemonade, you need that sugar.
If you're keto or trying to cut back on sugar, I'd recommend using your favourite sugar-free sweetener and adding that to replace the sugar. Unlike cakes and meringues, this sauce doesn't need the sugar to thicken it properly.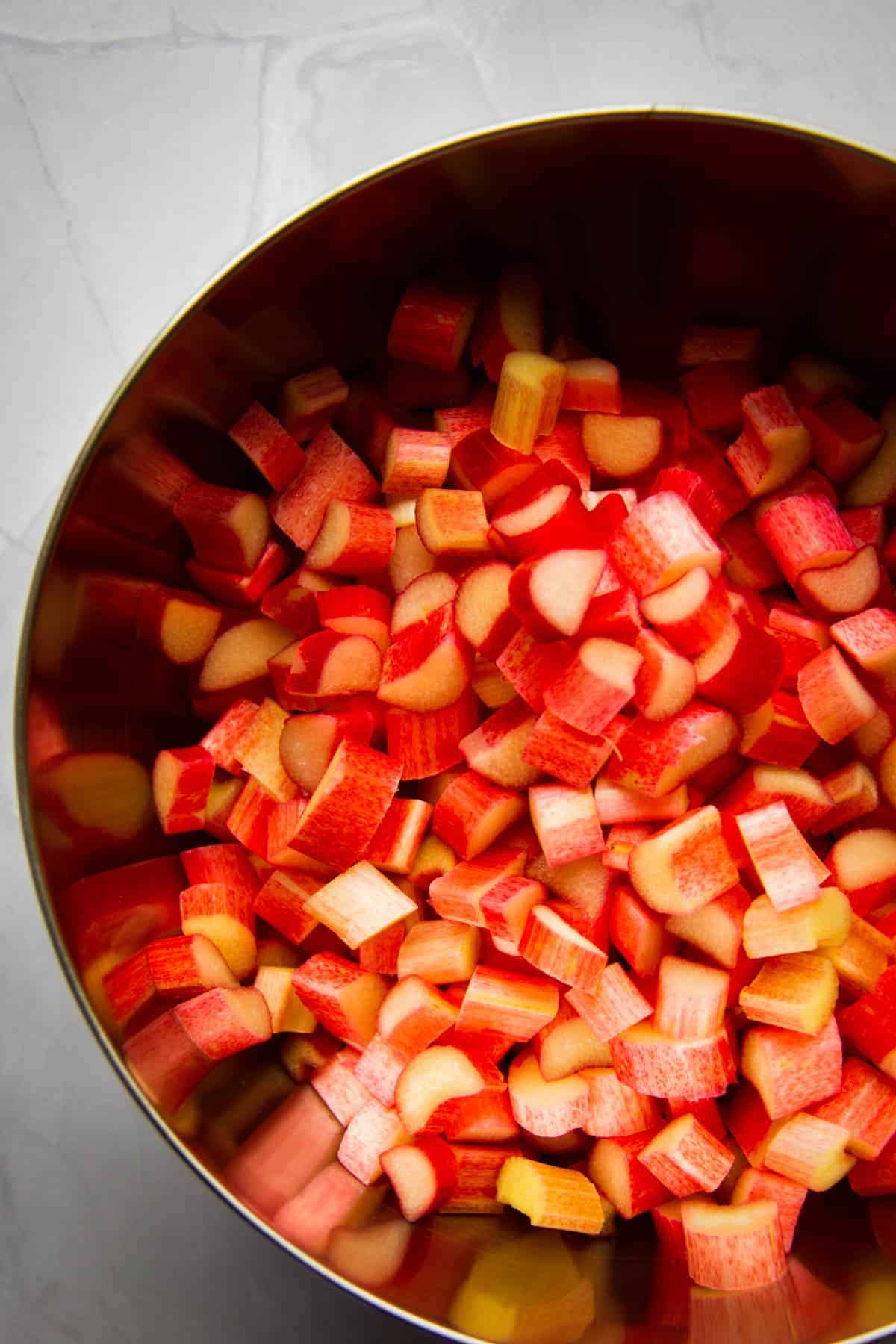 Don't Eat the Leaves
Did you know that the leaves of rhubarb are actually poisonous?! Don't eat the rhubarb leaves. Seriously.
How to Thicken Rhubarb Sauce
This sauce uses pectin, a thickener that's naturally found in lots of fruits to thicken the sauce. That's why it has an almost jammy-like consistency when finished.
There are plenty of ways to thicken a sauce but my favourite for this recipe is the tiniest bit of Xanthan gum at the end. And I mean tiny, like 1/32th of a tsp! The Xanthan gives it a little extra shine but it's totally optional.
You could also use icing sugar to replace the white sugar and thicken the sauce as icing sugar contains cornstarch which will thicken the sauce. But it's really not needed.
If you're interested in learning more about how to thicken sauces you can check out this guide I made with 6 effective ways to sauce thickening.
Recommended Tools
Blender
You're going to need a blender for this one. I'm a big Vitamix kinda guy because they've never let me down before but any high-powered blender should do.
Pan with a Lid
I'm using this le Creuset pan with a lid that provides a very tight seal. This means very minimal water loss so I don't have to add any extra water to make a perfect sauce.
Make sure you find a pan with a tight fitting lid for this recipe to work properly.
That's it! Did I miss anything? Let me know in the comments!
Happy Cooking!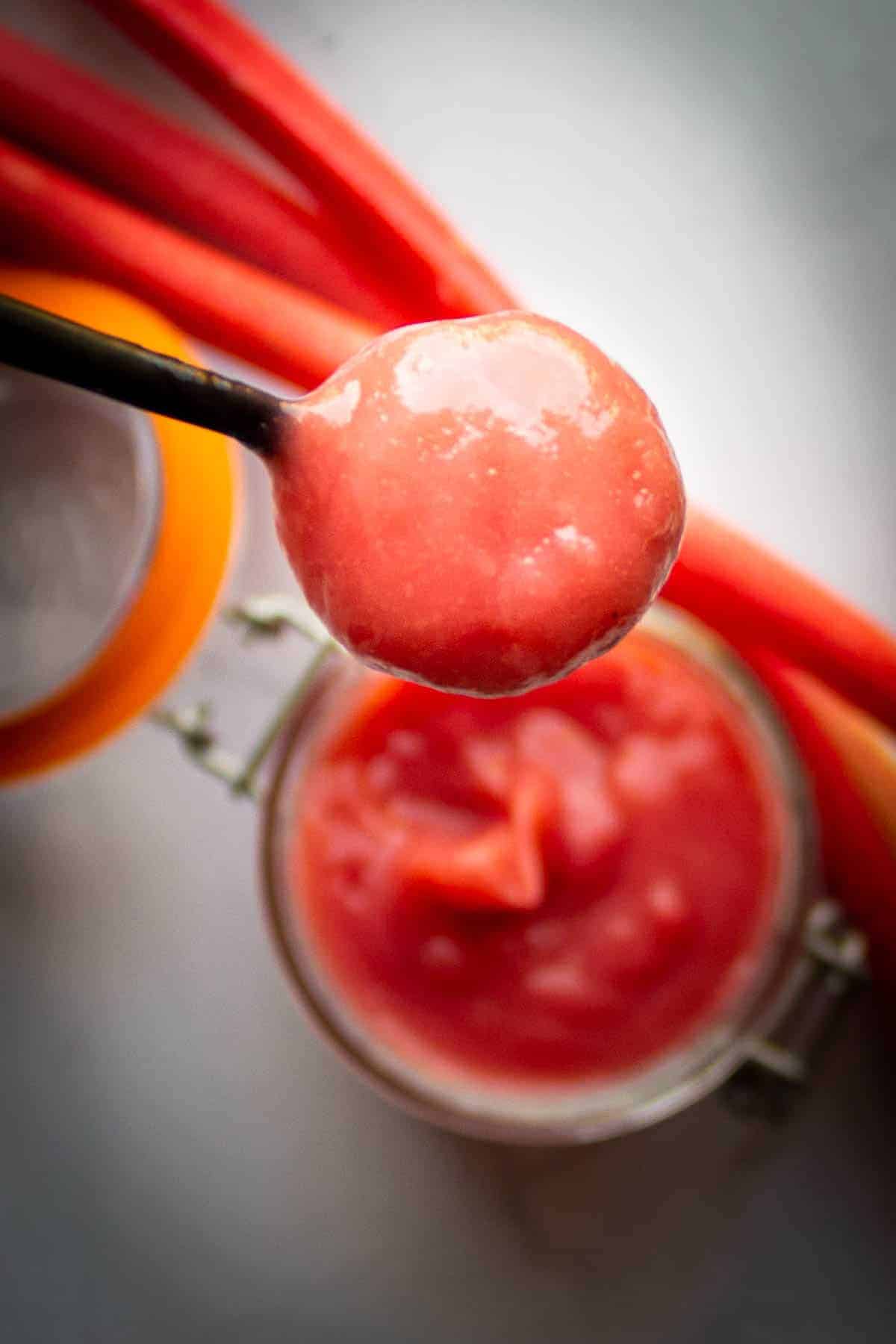 Equipment
High powered blender

Peeler
Ingredients
454

g

rhubarb

cleaned, leaves removed

100

g

white sugar

⅛

tsp

salt

1

pc

star anise

5

strips

lemon zest

using with a peeler

pinch of salt

1/32

tsp

xanthan gum

(optional)

5

drops

lemon juice
Instructions
Wash and cut the rhubarb into tiny pieces.

Mix all of the ingredients except the xanthan gum together in a bowl. Cover and let this sit for 30 minutes.

Add everything from the bowl to a pan with a lid and bring to a boil. Reduce to the lowest setting, put the lid on and cook for about 10 minutes or until the rhubarb is completely soft.

Remove the lemon zest, star anise and add to the blender. Start on low speed until it catches and then increase to high speed for about 1 minute.

You may need to use the feed to blend it properly.

Once the texture is smooth, add the Xanthan gum, a little squeeze of lemon juice and continue blending.

Keep in a mason jar or lid with container for up to 5 days in the fridge. Enjoy!
Notes
If the pan gets too hot and the rhubarb sticks to the bottom of the pan, you may need to add more water. 
Nutrition
Calories:
489
kcal
|
Carbohydrates:
122
g
|
Protein:
4
g
|
Fat:
1
g
|
Saturated Fat:
1
g
|
Sodium:
313
mg
|
Potassium:
1337
mg
|
Fiber:
9
g
|
Sugar:
105
g
|
Vitamin A:
469
IU
|
Vitamin C:
45
mg
|
Calcium:
405
mg
|
Iron:
1
mg
This post contains affiliate links to products I recommend.
Have you tried these other vegan recipes?
The World's Finest Vegan Pancakes
The World's Finest Vegan Banana Pancakes
They're soft, light and made entirely from plants. I love this recipe for vegan pancakes because it's easy to make, lighter than normal pancakes and ridiculously comforting.
Check out this recipe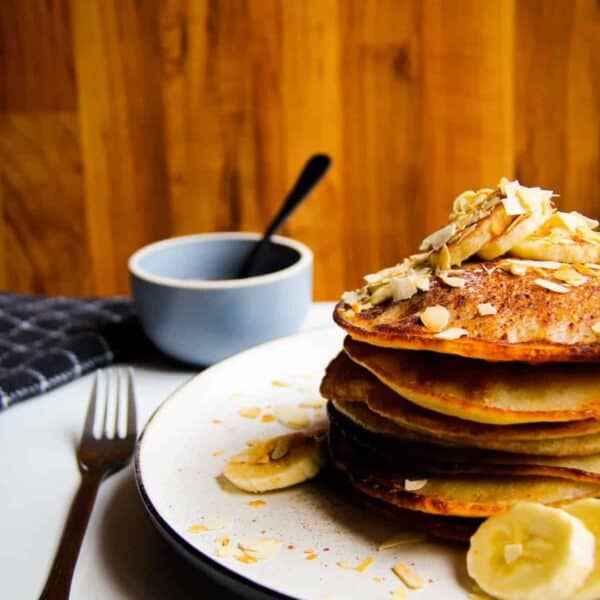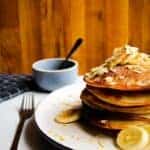 Vegan Chocolate Hazelnut Brownies
The Best Vegan Chocolate Hazelnut Brownies
A recipe for vegan brownies loaded with intense chocolate hazelnut flavour and drizzled with vegan nutella. Soft, rich and insanely chocolatey. I promise you won't miss the dairy or eggs.
Check out this recipe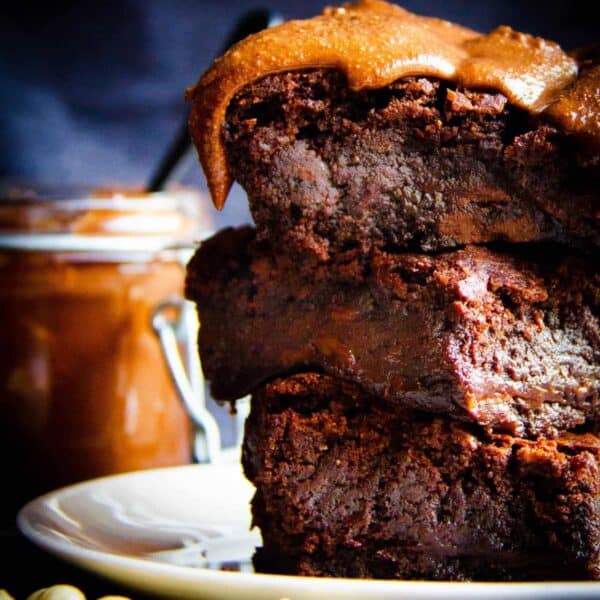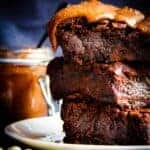 Vegan Chocolate Hazelnut Spread
Chocolate Hazelnut Spread – Vegan Nutella
A quick and easy way to make a vegan nutella at home that is better than any store bought hazelnut spread. A delicious mix of toasted hazelnuts and high quality dark chocolate that you will want to put on everything.
Check out this recipe