I actually prefer this vegan Nutella to the original (and I'm not even lactose-intolerant anymore!)
As I have a weakness for ANYTHING chocolate, this chocolate hazelnut spread really hits the spot with an even more intense chocolatey flavour than the original.
Store-bought Nutella is usually cut with milk, cream, emulsifiers, preservatives and/or palm oil to keep it shelf-stable for a long time.
A long shelf life is always a plus, but it's not that important when you know that your freshly made pot of homemade chocolate hazelnut spread will be *devoured* before the end of the week.
Plus this recipe is completely vegan! Plants are healthy right? (I keep telling myself that…).
All you need is some good-quality dark chocolate, hazelnuts and a little salt and sugar to get going…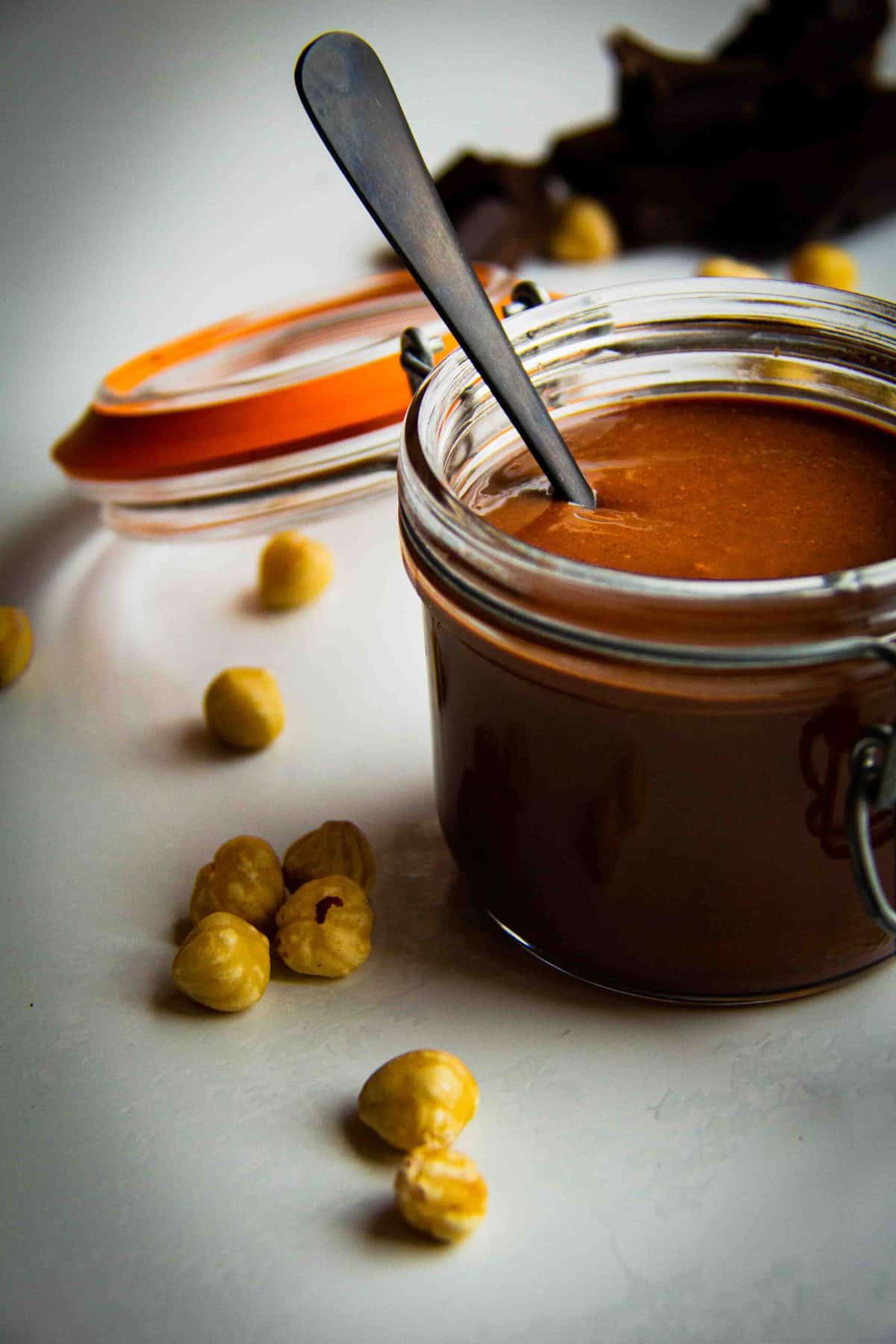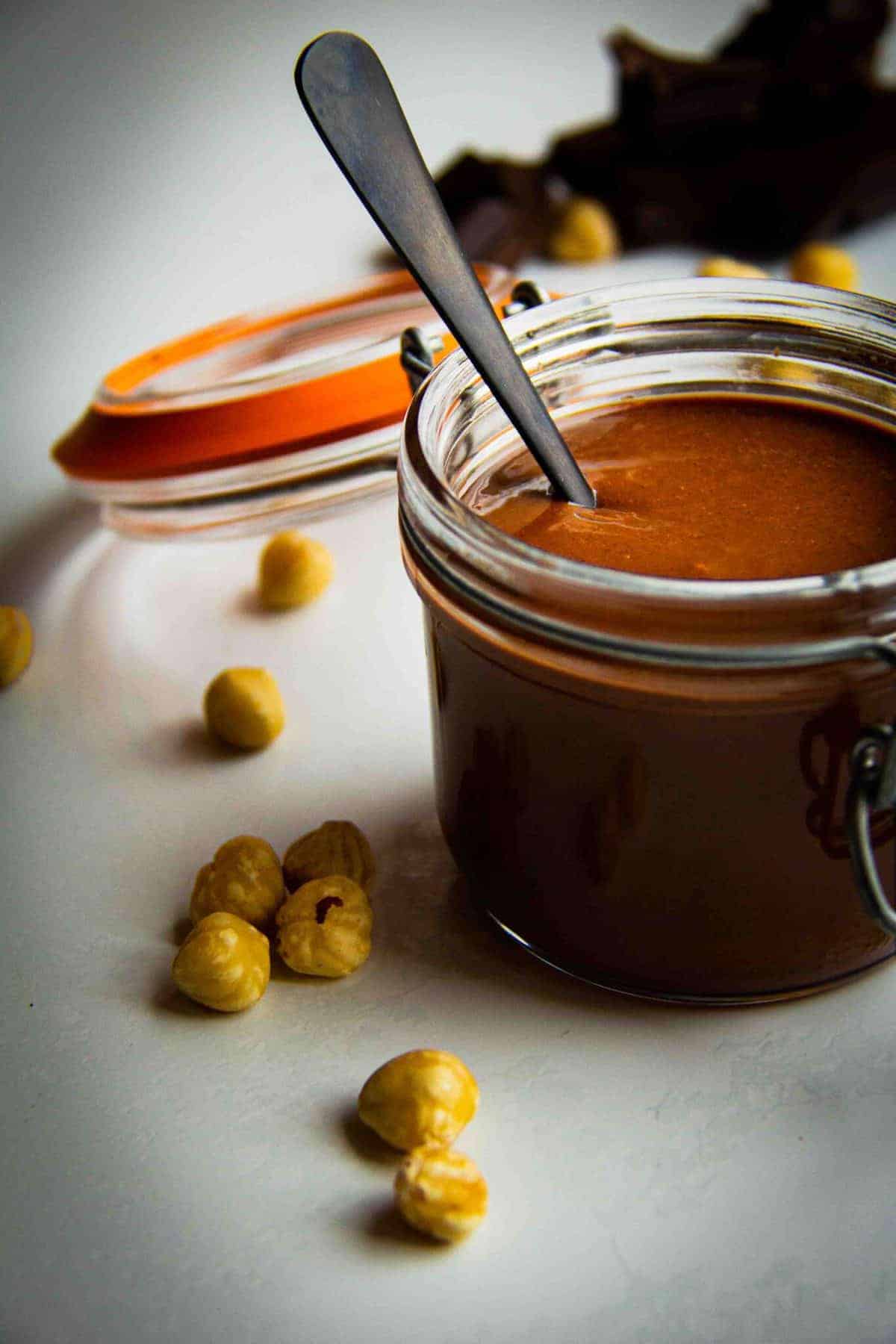 Why Not Just Buy Vegan Nutella?
Well of course you can, but this chocolate hazelnut spread is BETTER than Nutella (yes, you heard that right).
The results are rich and delicious with an intense toasted hazelnut flavour that you won't find in any store-bought spread.
And if you do find a high-quality vegan Nutella somewhere, you'll likely pay a lot more than you would for a batch of the homemade stuff.
But one of the biggest draws to this recipe is that it's super EASY!
You can basically just whip everything in the blender and call it a day.
What Can You Use Vegan Nutella With?
A chocolate-hazelnut stuffed crepe is the winner for me.
Or mix it with chopped nuts and bananas to make a quick dessert.
Spread it over cakes, cookies and brownies.
Use it on toast.
Pancakes! (Or thin this out a little more to make vegan crepes!)
Banana bread.
These Vegan Brownies.
How Long Does Vegan Nutella Last?
This vegan Nutella keeps for about 1 week at room temperature (about 21°C).
If you store it in the fridge it will harden like cold butter and you will have to melt it again over a water bath.
You can prevent this by adding a little neutral oil to the spread while blending. You'll lose a bit of the intensity of the chocolate but it may be a fair trade-off for something a little more spreadable the next day.
More Vegan Desserts to Try
Chocolate Hazelnut Spread – Vegan Nutella
It's quick, easy, cheaper and just way better than any store-bought hazelnut spread. It's your own homemade vegan Nutella.
Ingredients
100

g

hazelnuts

peeled

2

tbsp

sugar

75

g

dark chocolate

high quality, 70% or higher

¼

tsp

sea salt
Instructions
Set the oven temperature to 190°C/375°F.

Toast the hazelnuts until a deep dark brown colour is formed. Approx. 8 minutes. Immediately transfer the toasted hazelnuts off the hot tray to a plate to cool. Add the salt while they are still hot.

Heat up a small pan with high sides and fill ⅓ with water (make a double boiler).

Chop the chocolate roughly and place it in a metal bowl.

Heat the bowl of chocolate over the hot water to gently melt it. (Bain-marie)

Once the hazelnuts are toasted blitz them while they're still hot with the sugar in the food processor until a hazelnut butter is formed.

Add the melted chocolate and continue to blend.

Store in a sealed mason jar at room temperature for up to 3 days.

Enjoy!
Notes
Be careful when working with chocolate to not add any water as it can "seize".
Always wipe the bowl clean of any water before adding the chocolate to the bowl. 
Take care not to drip water into the chocolate when pulling the melted chocolate bowl off the boiling water.
Don't store this in the fridge as it will thicken up too much.
Nutrition
Calories:
292
kcal
|
Carbohydrates:
19
g
|
Protein:
5
g
|
Fat:
23
g
|
Saturated Fat:
6
g
|
Cholesterol:
1
mg
|
Sodium:
149
mg
|
Potassium:
304
mg
|
Fiber:
4
g
|
Sugar:
12
g
|
Vitamin C:
2
mg
|
Calcium:
42
mg
|
Iron:
3
mg
The Best Vegan Chocolate Hazelnut Brownies
A recipe for vegan brownies loaded with intense chocolate hazelnut flavour and drizzled with vegan nutella. Soft, rich and insanely chocolatey. I promise you won't miss the dairy or eggs.
Check out this recipe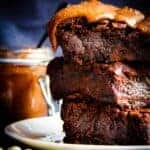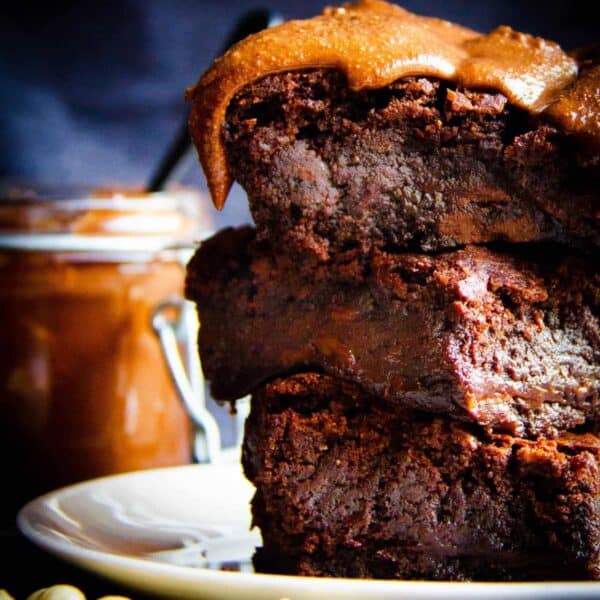 Vegan Pasta Pesto with Hazelnuts, Peas and Miso
A super easy vegan pasta pesto that's insanely healthy, gluten free and dairy free. It's ready in 15 minutes making this an easy and delicious weeknight meal.
Check out this recipe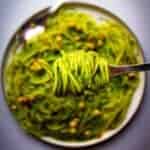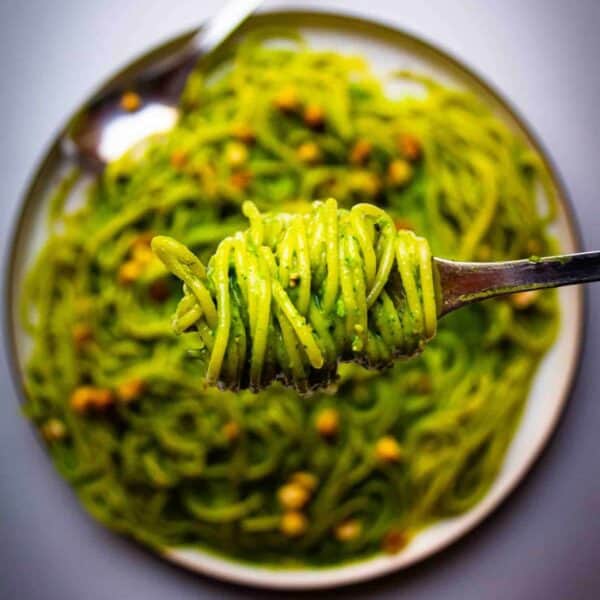 Roasted Rainbow Carrots with Sumac, Mint and Toasted Sunflower Dressing
These roasted rainbow carrots are incredibly delicious, vegan, dairy free and gluten free. Sprinkled with sumac, toasted sunflower seeds and a creamy sunflower dressing.
Check out this recipe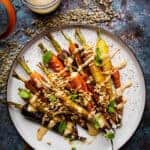 Vegan Carrot Ginger Soup with Dill + Toasted Almonds
This vegan carrot ginger soup with dill and toasted almonds is rich, velvety and full of sweet flavours from the roasting of the carrots. Gluten free, vegan and dairy free.
Check out this recipe